Free crochet leg warmers patterns offer a new set of winter accessories for you to work on – no more bare legs when there is a bit of a chill in the air. With these crochet leg warmers patterns, you will be able to stay warm, while looking cool with a wide range of colors. These leg warmers patterns make it fun to crochet for your legs for the cooler months. Crochet leg warmers patterns are not hard to find. You will find some free crochet patterns for leg warmers online that you can use to make your own homemade leg warmers. There are many different colors and styles of crochet leg warmers. They are perfect for the cold winter days when you need something to keep your legs and lower body warm but don't want to wear boots or long pants.
Crochet Leg Warmers

These patterns are a great way to add some flair to your wardrobe, and also provide a warm accessory that will make your legs look nice and shapely. These crochet leg warmers patterns are not difficult to make, and you can use any type of yarn or fiber that you want. There are many different crochet leg warmer patterns available today. Some are designed for specific uses, such as outdoor winter activities, while others are designed more for the fashion conscious. It all depends on what you want out of your crochet leg warmers patterns in terms of functionality and appearance. Tighter-fitting crochet leg warmer patterns can offer increased warmth than looser-fitting ones, which makes them great for outdoor winter sports or other activities where you need to keep the cold out.
These Crochet Leg Warmers patterns are available in different colors and styles so that you can pick out one that will work well with your outfit.
Willow Leg Warmers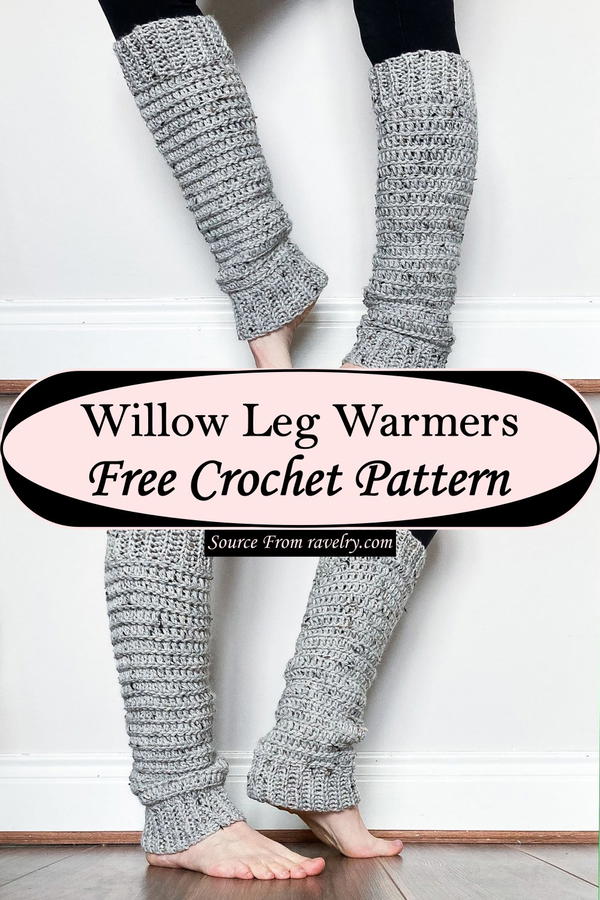 These quick and cozy leg warmers are a great way to add a bit of cheer to your winter wardrobe. The patterns include sizes from baby to adult large, so no one will be left out. They're also totally customizable – you can use any yarn you want and change the size of your hook to make them however thick you like. Choose your favorite worsted weight yarn and add a touch of sparkle to keep you warm this winter. You'll create a gift sure to be worn throughout the year with this crochet leg warmer pattern set that includes sizes from baby through adult large.
These easy crochet patterns were originally published in Interweave Crochet magazine.  Take them up in soccer season, wear them while riding the train, or bring them with you when you travel – it's never too early to start making holiday gifts! Willow Leg Warmers are quick and easy to crochet, and totally customizable to suit the mini-adventurer in your family. Make a whole troop of warm-but-stylish legwarmers for everyone who wants to join in on the fun...
Super Slouchy Leg Warmers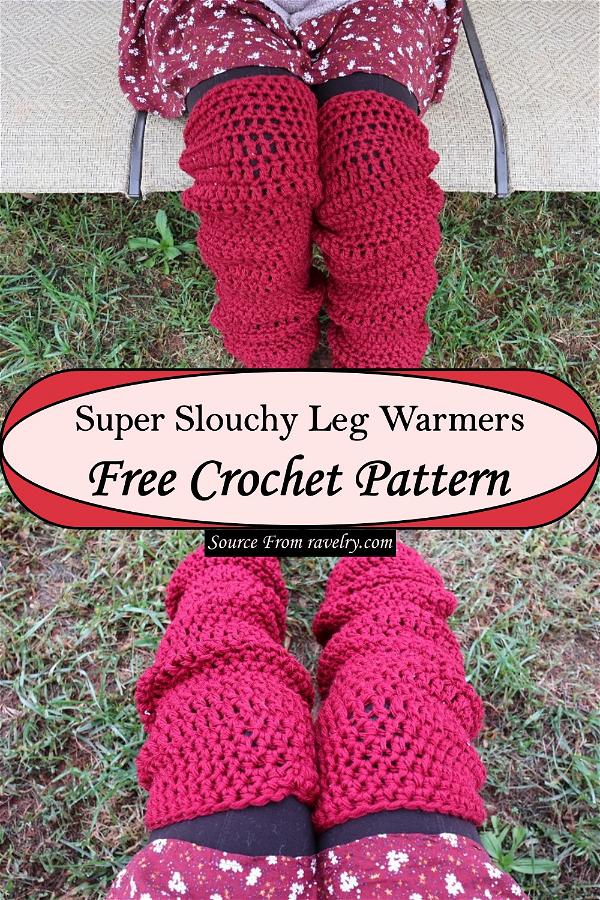 These slouchy leg warmers are a great last-minute gift! They are super cozy and so quick to work up! This pattern is written for 8 sizes, from Baby up to Adult Large, so you can make them for everyone in your family. Each leg warmer is a simple rectangle that is worked flat in one piece and then seamed to form a tube. The main body of the leg warmer is a combination of half double crochet and slip stitches which creates a fun ribbed texture. And the ribbing at the top and bottom has the most satisfying knit/purl look! These crochet leg warmers are worked flat in one piece then seamed for assembly, so there is no shaping required. They are worked in an easy-to-remember pattern stitch, and the stitches you will be using are mostly half double crochet and slip stitches.
Leftover Leg Warmers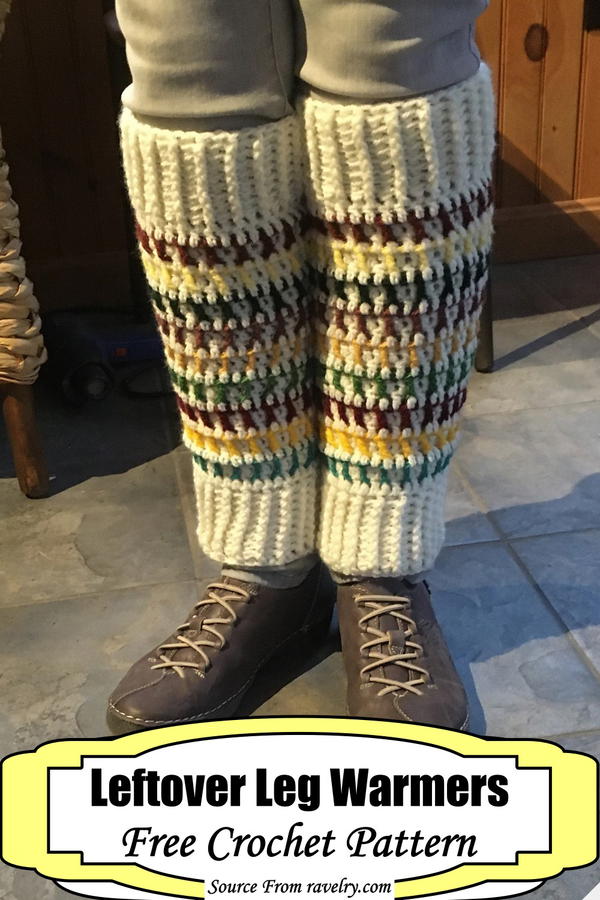 The windy streets and the biting frost don't make it any easier. Make sure your legs are protected with these cute and warm leg warmers. The best part--they are made from leftovers of yarn, so you don't need to spend money on purchasing new yarn but can use up all the small bits of yarn cluttering your sewing room instead! These complimentary crochet Leftover Leg Warmers are a quick and easy accessory that is perfect for layering under leggings, tights, or shorts this fall and winter. The lace pattern has a very simple repeat so they go together pretty quickly, but you'll want to make a few pairs to last you through the season!
These crochet Leftover Leg Warmers are a must-have for any outdoor sport. Whether you're hitting a practice round on the golf course, going for a jog in the park, or hiking up to your favorite mountain lookout, don't let cold weather stop you from doing what you love. Made with warm polar fleece, they slip right over your socks to keep your feet warm on chilly days. Who knew leftover yarn could be so useful!
Sesame Leg Warmers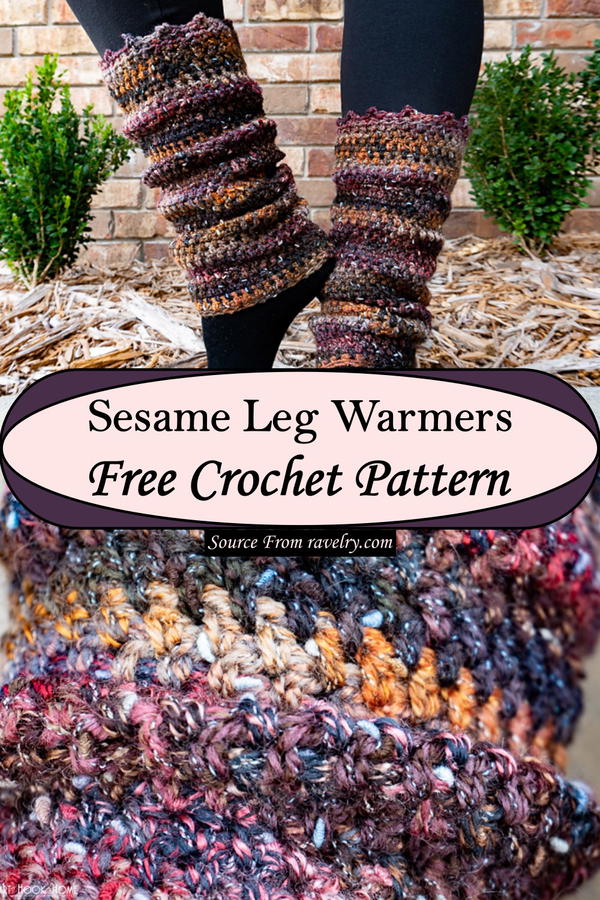 These Sesame Street leg warmers will keep your little ones cozy while they get in touch with their inner Cookie Monster. Sesame Leg Warmers are a crochet project worked in sport weight yarn. They are a nice, warm accessory that can be worn in place of traditional tights. They also make a perfect last-minute holiday gift! These leg warmers can be made easily as wristlets too.
The pattern uses an intermediate skill level and requires basic crochet stitches. Yes, these lovely leg warmers are an adorable rainbow of bright, bold colors that are sure to stand out in a crowd and make you smile. When your little one grows out of them and needs a gift for a baby sibling, this crochet kit may be the perfect solution! Sesame brings luxuriously soft yarn to this leg warmer and wristlet set, which is made with an easy-to-read chart of top-down flower motifs. Knit with luxury yarn that is perfect for gifting and everyday wear, this pattern uses standard crochet terms along with clear written instructions. These cozy accessories will keep your hands warm when the temperature drops, plus they make great gifts!
Peppermint Candy Leg Warmers
Crochet recipe for Peppermint Candy Leg Warmers! These adorable and colorful knee-high tube socks aren't only a fashion statement, they will keep your legs warm in the winter. These crochet peppermint candy leg warmers are quick and easy to make, with a decorative candy cane accent at the ankle. Whether you're holiday shopping, or just waiting for a cold day to turn warmer, these festive holiday leg warmers are an enjoyable project that won't take much time out of your busy day! These leg warmers are lightweight and easy to make. They are crocheted with an even number of stitches. It has a unique stitch pattern that creates a beautiful drape and all-over stretch, so these peppermint candy legwarmers are as beautiful on the inside as they are on the outside!
Simple Leg Warmers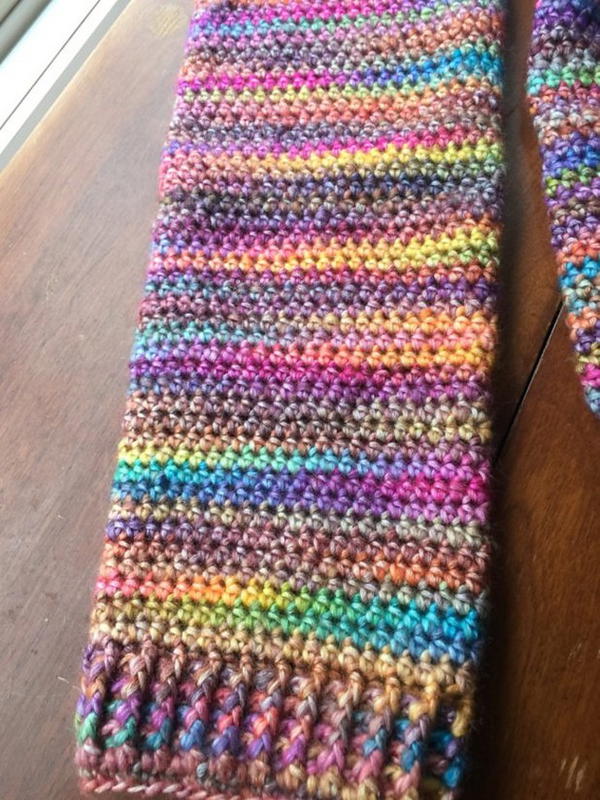 These soft and cozy leg warmers are a wonderful addition to your wardrobe. They stay intact up to your knees, so you can wear them over jeans or tights, skirts or pants. These are quick projects that you will use on a daily basis. Keep your legs cozy, warm, and looking fashionable with these leg Warmers. These crochet Leg Warmers are a quick and easy project that works up in one day. On a chilly winter evening, it's nice to have simple projects so you can sit down and relax. Warm-up your legs and get rid of those goosebumps with these crochet leg warmers.
They would also make great gifts for friends or family. Crown yourself the Crochet Monarch of Winter with these Simple Leg Warmers. Sometimes all you want to do is throw on something easy like a pair of pants, but then you realize you'll be cold. These leg warmers are a simple crochet pattern that can come to the rescue by keeping your legs warm and cozy. The leg warmers are also great for people who run cold in general, as well as people who do a lot of work outdoors. Easy care instructions are included so all you will have to do is clean them in the washing machine when necessary.
Harlequin Leg Warmers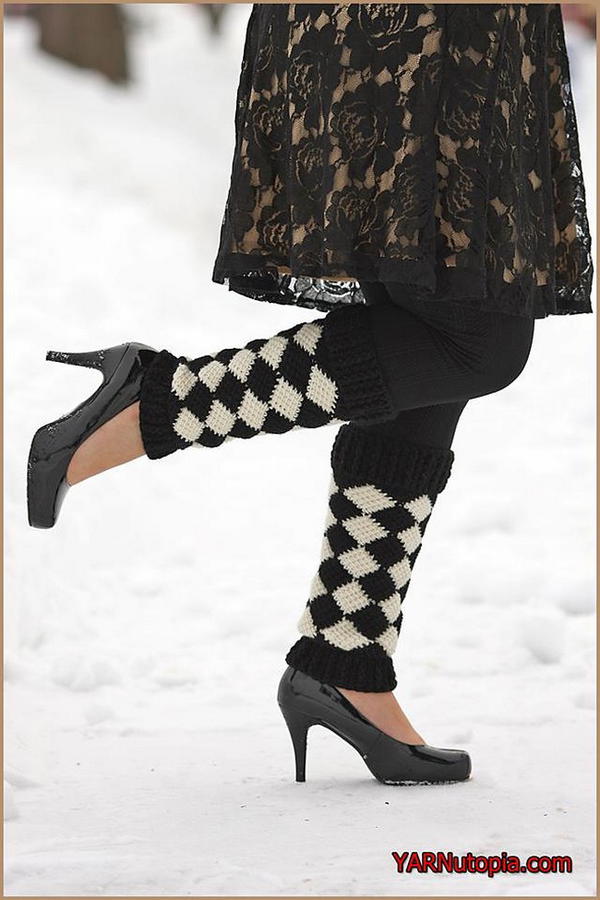 Make your outfit stand out with these bold and beautiful leg warmers! They are an easy accessory that can be worn with virtually any outfit. The simple, elegant design can coordinate with other Harlequin items or be worn to make a simple outfit pop. Includes sizes up to adults large (exact measurements will depend on the size of your legs). We have crocheted our Leg Warmers large enough to cover the upper thigh, so they will be able to accommodate even larger adults.
Liven up your favorite leggings or jeans with a pair of these crochet Harlequin Leg Warmers. Made with super-stretchy and light-weight acrylic yarn, they will be equally at home on the ski slopes or by the beach as they are at a ballet performance or in the club. Mix and match these leg warmers with our other Harlequin accessories for that added flair to your outfit. Warmers for all of you who live on the edge, who can't get enough of adrenaline. These wild crochet leg warmers will spice up any leggings or jeans that you already own, or keep your legs warm during your next ski day. Pair them with a printed dress and black boots, and you are set!
Easy Leg Warmers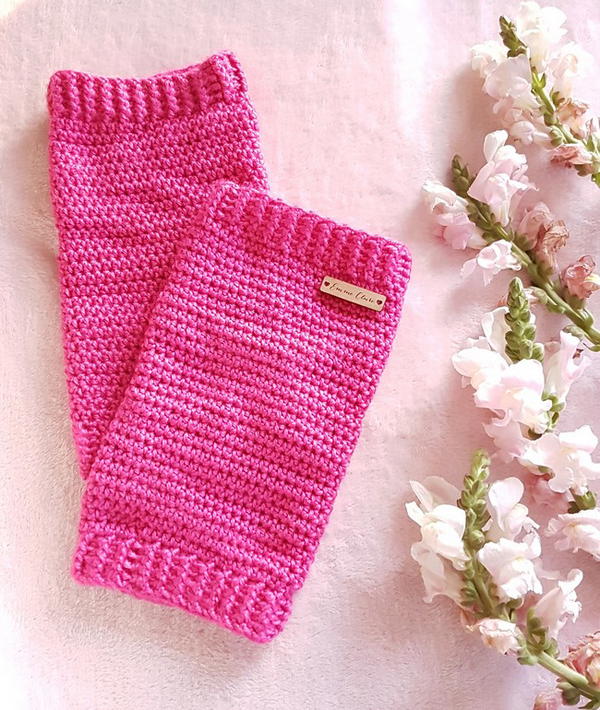 These easy crochet leg warmers are perfect for keeping your little one's legs warm and cozy. The double crochet stitch creates a beautiful texture while still being super simple. And they won't slip down or slide around thanks to the elastic that creates a comfortable fit. They look extra cute worn over cozy socks, but you could also wear them all by themselves or with shorter boots or shoes. Quick, easy, trendy, and cute.
The double crochet stitch creates a beautiful texture while still being super simple. And they won't slip down or slide around thanks to the elastic that creates a comfortable fit. These simple crochet leg warmers are perfect for any outfit. This easy design is ideal for beginners and creates a beautiful texture while still being super simple. You'll be finished so fast that you'll have time to make another pair.
Wisteria Leg Warmers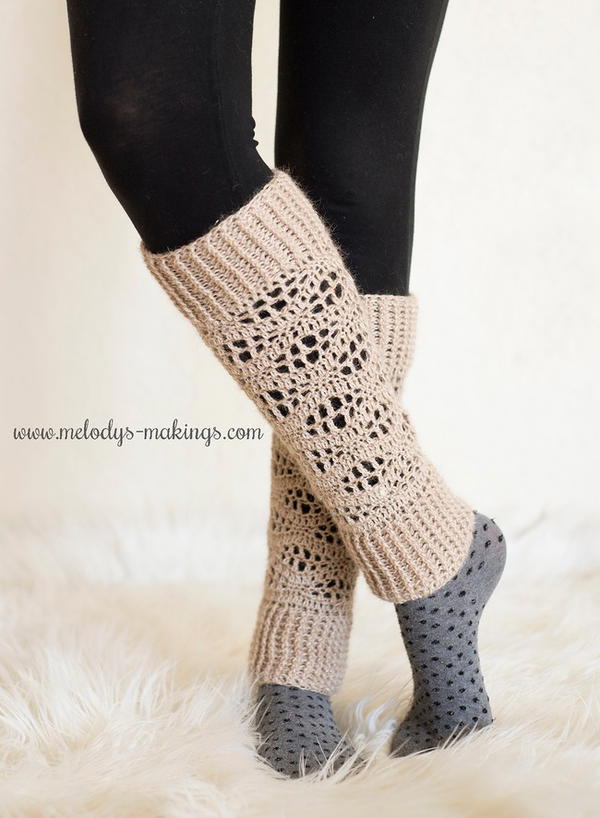 Crocheted Wisteria Leg Warmers are so pretty they are a pleasure to wear. These leg warmers can be made in any color scheme that you like. Worked in the round from the top down, this crochet sock pattern is suitable for a beginner who has mastered the Chain Stitch and Single Crochet.   These gorgeous crochet leg warmers are perfect for cold days, a bit of yoga, or even just to add a fun touch to your favorite outfit. Whatever you wear them with, they'll be sure to keep you cozy while looking stylish as ever.
These gorgeous Wisteria crochet leg warmers are the perfect accessory to add a pop of color and texture. Wear them in place of pants on those cold winter days, or use them to add an extra layer to your favorite summer outfit. They look awesome with skirts and skinny jeans, but these beautiful crochet leg warmers can be worn with almost anything!  They are a bit more intricate than some of the other leg warmers available, so they wind up taking longer to make than most, but they're totally worth it! Pairs particularly well with boots (like riding boots) and skirts.
Super Stretchy Leg Warmers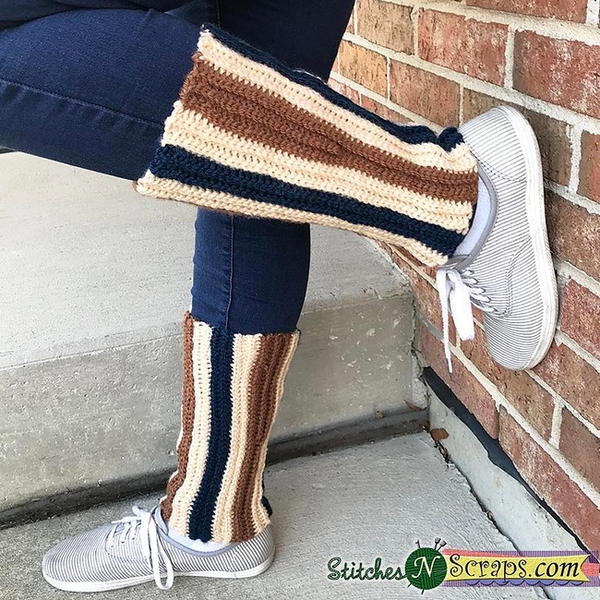 Looking for tons of stretch and lots of warmth? These crochet leg warmers are super stretchy and will fit any size leg, from baby to adult! Perfect for any season. Made with super-stretchy yarn and an elegant lace pattern, these leg warmers are as pretty as they are comfortable. Wear them under your boots during the colder months, or just by themselves when you want to keep your shapely legs cozy. These super stretchy leg warmers are the perfect gift for friends, family, and yourself. Get them to keep your legs warm while sitting on the couch or at the office or wear them while doing a brisk walk outside on a chilly day.
With ribbed fabric that is super stretchy and a vertical stripe pattern, these leg warmers are as cozy as they are attractive. Worked sideways in ribbing only, they employ basic crochet stitches to create a graphic pattern reminiscent of classic argyle socks and sweaters. The large size fits almost anyone. The ribbed fabric is dense and warm and the vertical stripes in neutral colors will match a variety of different outfits. Leg warmers are also great for gifting, as you can easily fit multiple sizes with only one skein used per pair!
Crossing Stitches Leg Warmers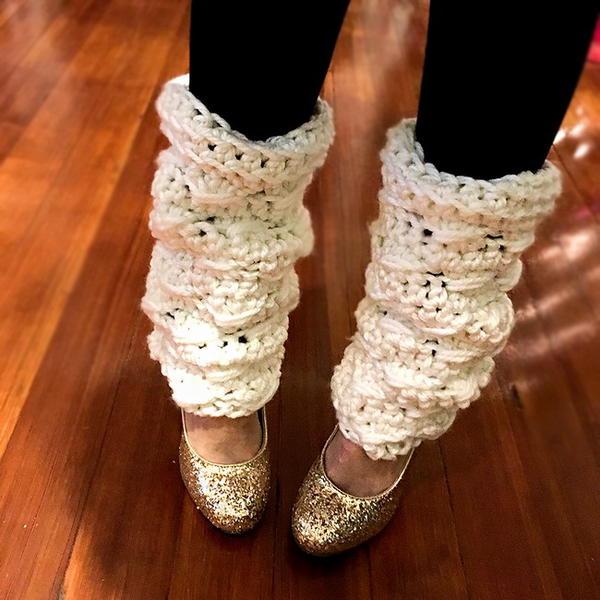 Winter is a snap when you are wearing these super cute crochet Leg Warmers by Crossing Stitches! These still would make great year-round leg warmers for spring, summer, and fall if you live in warmer climates! These designer crochet leg warmers make the perfect gift for your favorite gal pal. Wear them for fun or match 'em up with a cute skirt for a look that will turn heads! These fashionable and fun leg warmers are a great way to add some flair to your outfit while displaying a creative and unique pattern.
These leg warmers were inspired by the several classic cable crossings on the Brooklyn Bridge and incorporate these designs in a pair of wonderfully warm and comfy leg warmers. They are worked top down with a large hook and lots of chunky yarn. This is an easy skill level and does not require many sts per round. These leg warmers are so comfortable and fashionable,  you'll want a pair in every color! They're crocheted with two strands of super chunky yarn held together. A fun and unique gift idea.
Guitar Frets Baby Leg Warmers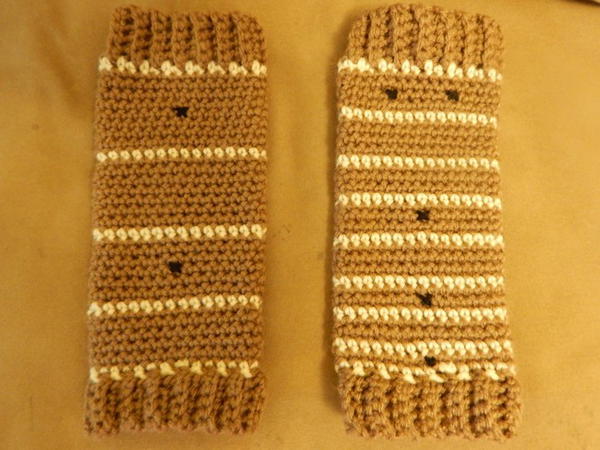 They are a great way to introduce your little one to music from day one! Whether your baby is old enough to kick their legs or just trying to move their feet, these over-the-knee leg warmers are soft, stretchy, and comfy. These leggings are super simple to knit, and the design can be customized to suit your needs. The length, width of the leg warmers, and row spacing in the ribbing section are easy to adjust to fit most babies and toddlers.
These will definitely keep your little one warm on a cool spring day. These are made by crocheting across the width of a long rectangular piece of yarn rather than lengthwise. This creates a nice knit look, even though it's made by crochet. The length can be adjusted by adding or subtracting rows to the main body of these leg warmers, which features an extra long rib at the bottom. These are crocheted in rows, as turning chains count as a new row/round.
Heart Stitch Leg Warmers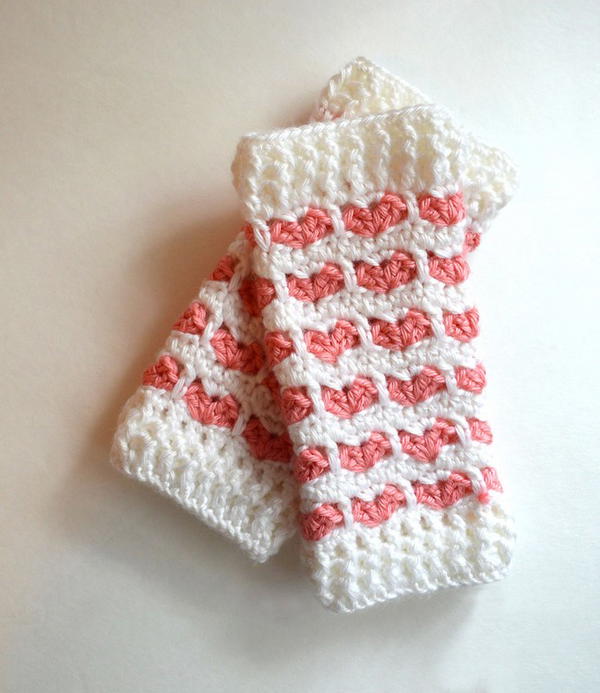 These sweet and simple crochet Heart Stitch Leg Warmers are fun to make and easy to wear. Worked flat in rows, they are crocheted in the round with increases in the center at the bottom of each leg warmer. The stitch pattern is easy to memorize and creates a pretty lace heart. The Heart Stitch Leg Warmers turn a lot of heads when worn with a cute outfit. Being sweet and simple, these adorable leg warmers fit everyone's personality. Put a smile on everyone's face by crocheting one pair for a friend or loved one.
These crochet leg warmers will certainly keep your legs warm in the colder months with their extra stretchy band that fits comfortably around the calf. these leg warmers are worked in the round making them even easier to create. Not only that but they are crocheted with an original lace stitch which creates a pretty lace heart in the center of each piece.
Ribbed Leg Warmers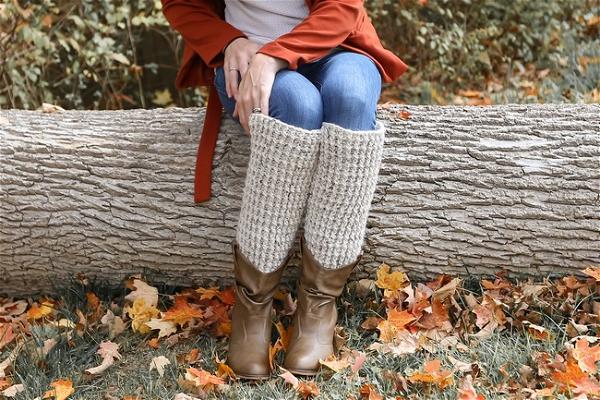 These crocheted Ribbed Leg Warmers look like little tube dresses and they are worn with boots or sneakers - a perfect accessory to add a little bit of flair to your outfit! There's no need to worry about the cold with these stretchy ribbed leg warmers. They're available in three different sizes and are very easy to customize for a perfect fit! For everything from cool fall weather to an added layer in winter, these ribbed leg warmers slip on and off easily with a lace-up front. Worked in a soft worsted weight yarn, they show off the texture of the stitch to best advantage. Keep your legs warm without the bulk of attached leggings with these easy-to-wear leg warmers.
Easy to slip on and off, these ribbed leg warmers are knitted from merino wool, a warm and soft fabric that retains heat. You'll find them comfortable to wear throughout the day thanks to their soft and stretchy construction. A quick look at the Wool Week story on Ravelry will show you just how many color options there are for these ribbed leg warmers - ensuring that you can match almost any outfit! They're a great addition to the wardrobe of anyone looking for an easy way to add warmth this winter or a stylish way to dress up jeans.
Berayla Leg Warmers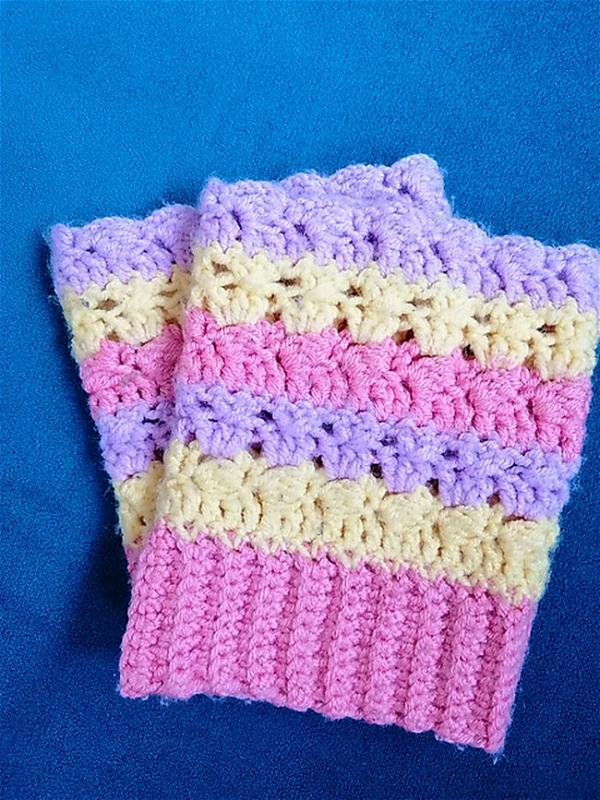 Every girl needs a pair of leg warmers to cozy up during the cold winter months. Soft and lightweight material keeps your legs extra warm, while our simple but elegant crochet design makes for a lovely fashion statement. This uniquely designed pair of Betrayal Leg Warmers are made by hand using high-quality yarn and vibrant colors -- perfect for all seasons. The leg warmers can easily be adjusted to any size that you want; from toddler to adult, with the skills that you already have. They are made in two sections. First, make the ribbed cuff work in rows and then start the leg worked in joined rounds. you can use three colors but feel free to play around with this design.
Crochet Berayla Leg Warmers in this fun leg warmer pattern. Crocheted using Berayla yarn, these leg warmers are the perfect accessory for any occasion. These leg warmers are intended for children and adults, but you can modify them to fit any size that you want by changing the number of single crochet stitches in each row and then adding some rows to adjust it to your exact calf measurement. These leg warmers also make great boot cuffs!
Slouchy leg warmers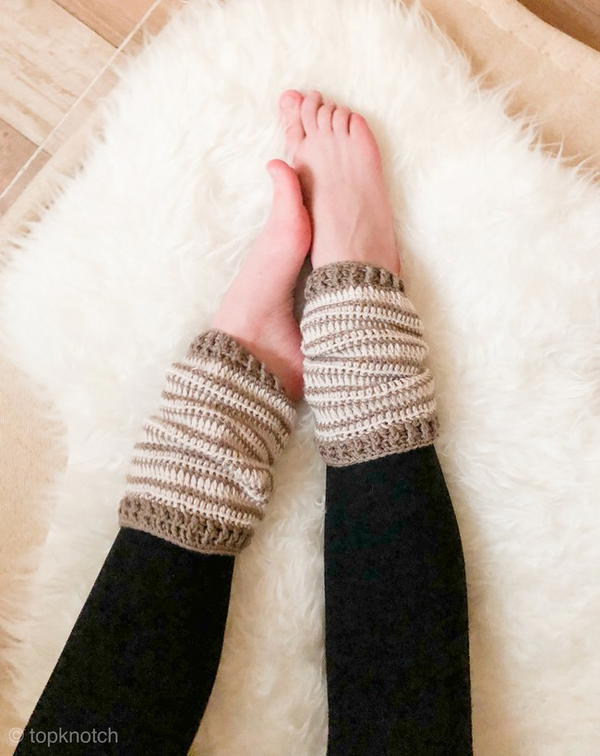 Make and wear these fun crochet Slouchy Legwarmers in any size. Perfect to wear on their own and to layer with tights or shorts, sweaters or skirts during the cooler seasons. This listing is for crochet, slouchy leg warmer pattern. These leg warmers have a smocked side and a wide cuff. They tapered from top to bottom, so they're nice and cozy around the ankle.
These cozy Slouchy leg warmers would be perfect for your next trip to an outdoor winter event. The long length and extra stretch in the fabric allow for a nice, cozy fit. The crochet ribbing adds extra warmth. Slouchy crocheted leg warmers with a wide cuff that tapers from top to bottom. These leg warmers have a smocked side and are very stretchy. These would be great for keeping your legs warm during the cold seasons, but you could also use them on your arms if you got creative!
Tooti Fruity Leg Warmers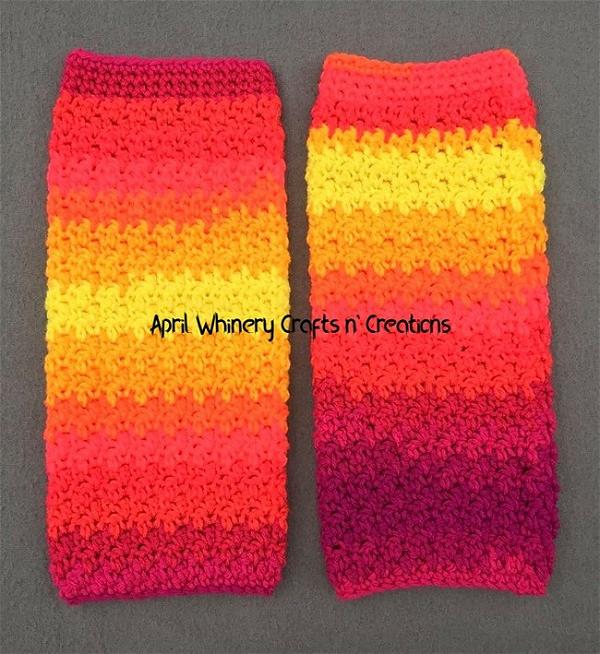 Browse the latest styles of Tooti Fruity crochet Leg Warmers to accentuate your legs in a fun way. Many cute tops and outfits have been designed specially to be worn with these Leg Warmers. Crochet legwarmers with a fun fruit motif. These legwarmers are crocheted in a lively and colorful fruit motif. Tooti Fruity Leg Warmers will keep your legs warm and fashionable at the same time.
Crochet these fun fruity legwarmers and keep your legs cozy but fashionable all winter long! You can wear them with jeans, leggings, or tights. Tooti Fruity Leg Warmers will keep your lower legs toasty but will not cause overheating in the rest of your body. They are so quick and fun to make that you'll want to make multiples so that you can change them as often as you change your clothes! Love one of these adorable leg warmers for yourself or as a fun gift. These cozy leg warmers take just one skein and are great to give away to your friends.
Love Me Tender Leg Warmers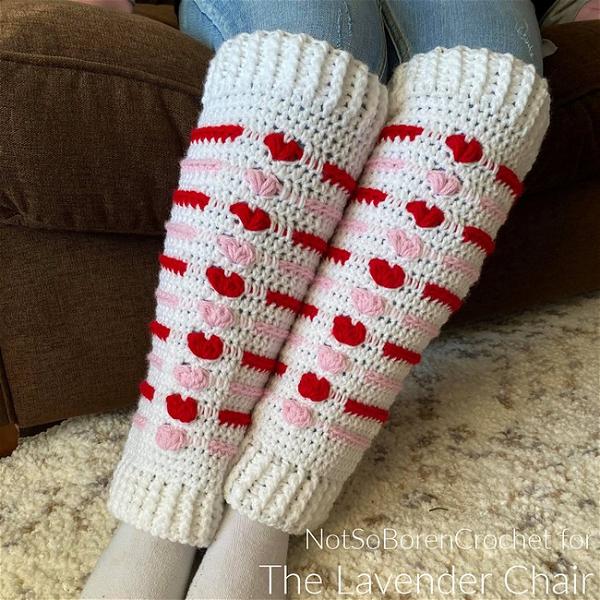 Cute and cozy Love Me Tender Leg Warmers will help you show off your romantic side while keeping those legs warm. These cozy crochet leg warmers look good paired with a sweater dress or a simple tee. It's time to get cozy and comfy. Hit the town with a pair of Love Me Tender Leg Warmers and you will love how complete your look is. With the right amount of crochet, you have a look that is so chic and yet fashion-forward.
These love me tender leg warmers make the perfect accessory when looking for that extra something to go with your cute designer outfits. These trendy leg warmers feature crochet love me a tender pattern that is displayed over the top of a soft and cozy grey background. These cute and cozy love me tender leg warmers are made from acrylic yarn making them perfect to wear on a cool autumn night with a pair of jeans or tights under your favorite old sweater.
Dance Leg Warmers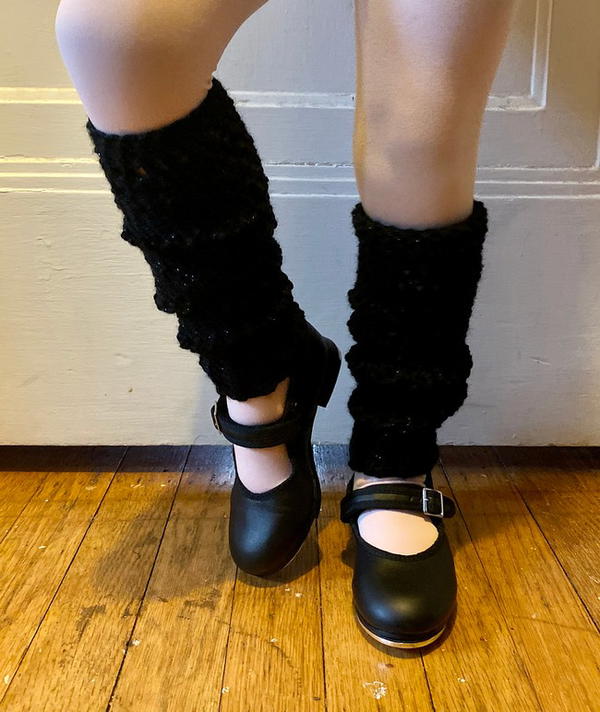 Dance in comfort with these crochet dance leg warmers! These beautiful leg warmers are crocheted of acrylic yarn, offering a wide variety of fun and vibrant colors. The leg warmers have many different uses and can be worn by both men and women. Crochet dance leg warmers are pro-designed to keep the dancer's legs warm and dry. Made from a high-quality material, Dri-Dance, it will not cling to the foot. You can practice and perform in these classic Dance Leg Warmers. Made of classic Wool, they are extremely soft, warm, and stretchy. They do have an elastic top and thumb loop which make them fit a variety of leg sizes.
It is soft and silky and has a stretchy band around the top to ensure they stay put on the leg. The side edges are also crocheted to prevent chafing. They make great gifts for yourself or someone else! These are perfect for keeping your legs warm when at competitions or practice! A simple and affordable gift for a dancer or a dancer in training! Dance in comfort with these crochet dance leg warmers! These beautiful leg warmers are crocheted of acrylic yarn, offering a wide variety of fun and vibrant colors.
Boho Leg Warmers
These gorgeous boho leg warmers are hand dyed with a professional yarn dyeing process that makes them soft and gentle. These stunning handcrafted leg warmers are made from soft acrylic yarn, they match perfectly with our boho dresses and sweaters, shrugs, and more. Boho Leg Warmers are one of a kind and can make your outfit look stylish, unique, and stand out on its own! You will look gorgeous and feel warm and comfy when you put on these gorgeous boho leg warmers.
These boho leg warmers are designed to make you look beautiful even in cold weather conditions. The quick and artistic dying process makes them very soft and gentle. Get closer to nature with this one-of-a-kind, stylish fair-made leg warmers; perfect for yoga, running, or any outdoor activities that make you proud No wardrobe is complete without a touch of boho chic, so pick up a pair of our Boho Leg Warmers to cinch your look. Made from a hand-dyeing process that makes them soft and delicate, these leg warmers are must-have accessories for completing any outfit.