Crochet necklaces are a great way to add a stylish, handmade touch to your outfit. For both beginners and those who want to try something new, the options are endless. If you're looking for a gift, these can make unique keepsakes that they'll treasure forever. And once you've mastered the basics, you can branch out with more complex designs — maybe an intricately beaded necklace or a filigree design with glass beads. There's no right or wrong choice when it comes to finding the right crochet pattern for your necklace. Just make sure it's one that fits your personal style and budget. You may also want to look at what kind of material you'd like to use – some patterns call for metal chains while others suggest using fabric instead.

For those who enjoy the thrill of completing a project and seeing their creations come to life, Crochet is a wonderful activity to get started in. With these 20 Crochet Necklace Patterns, you'll be stitching up an assortment of colorful and original items without fail. Get ready for the added satisfaction of learning something new, whether you're looking for new accessories or just need an excuse to add a little panache to your wardrobe. These necklaces are much easier than they look and range in complexity from very easy to being made in just a few minutes.
Each of these crochet jewelry patterns is unique and will let you make a statement. Browse our collection of colorful, handmade rings that look like flowers, butterflies, or stars.
Tips For Crochet Necklace Patterns
Crochet is a fun craft, and it's especially great for making jewelry. The best thing about crochet jewelry is that you can make it suit your taste since you choose the yarn and the type of stitches or patterns you use. Here are some tips to help you make your crochet necklace patterns!
Choose the right yarn: You can use any type of yarn with crochet, but if you're just starting out, it might be better to use acrylic yarn so that it's easier to work with. If you're using wool or silk, pick a softer yarn because those kinds of yarns are difficult to manage when they're new.
Create a slipknot: A slipknot is used at the beginning of a chain so that your hook will have something to grab onto as you start working.
Create a foundation chain: A foundation chain is used for items like scarves or blankets. It helps keep your work from stretching out too much as it grows.
Work single crochet stitches into the foundation
Uses of Crochet Necklace Patterns
Crochet necklaces can be fashionable and classy
Necklaces are the most versatile and popular jewelry pieces
You can wear them with anything: day or night, formal or casual
Save money and make personalized jewelry
Crochet Necklace Patterns are versatile and can be made in a lot of ways
Crochet Necklace patterns could be used as gifts
It's jewelry that's cheaper and more creative than other options
The best part is you can use up old yarn
Crochet Necklace Patterns are a good way to repurpose your old items
Add an artful and personal touch to your wardrobe
Embrace a bohemian chic look instantly
Crochet necklace patterns are inexpensive, easy, and quick to make!
Spring Blossom Necklace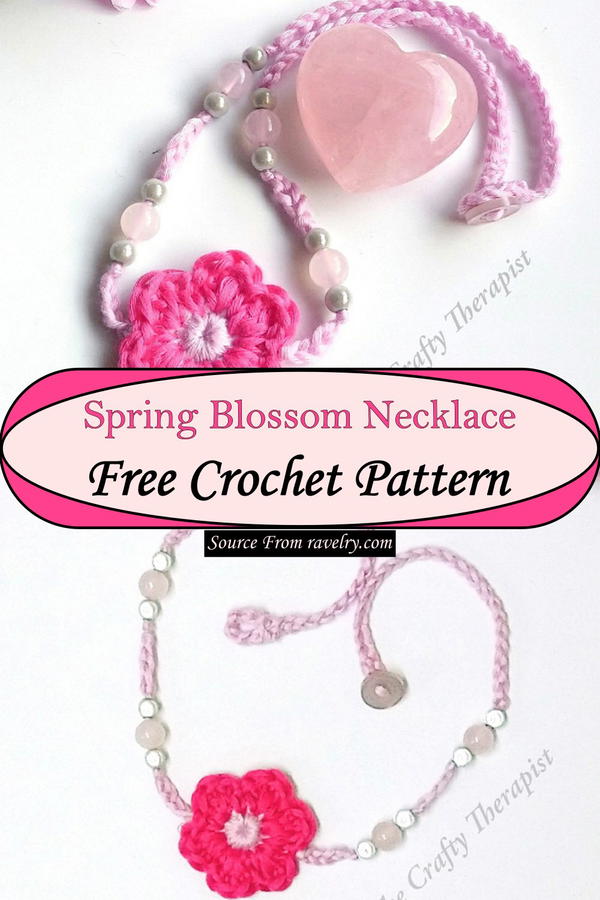 If you are looking for a quick piece of jewelry to make or a gift, then this is the perfect project for you. This pretty Spring Blossom necklace is a simple and fast project to complete and very versatile too. It could be used as a bridesmaid's gift, or as part of your wedding outfit, or great as an easy way to accessorize yourself on an evening out – either way, it will match whatever you decide to wear! You can make it any length you like and the easy button closure ties around your neck.
Ibiza Necklace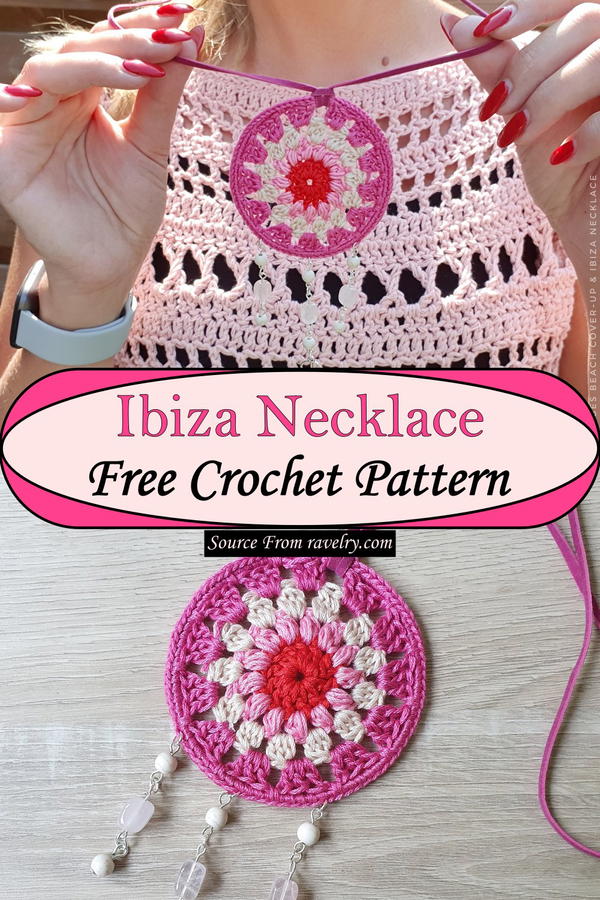 If you love crochet and also fashion, this is a way of combining both! Or If you are looking for a crochet pattern for a unique necklace then this pattern is perfect for you. It has different colors of discs together with some interesting patches that you can use to create it. The best thing about it is that you don't have to worry about threading the needle each time as it can be done piece by piece. You can make your necklace as big or little as you'd like.
Boho Necklace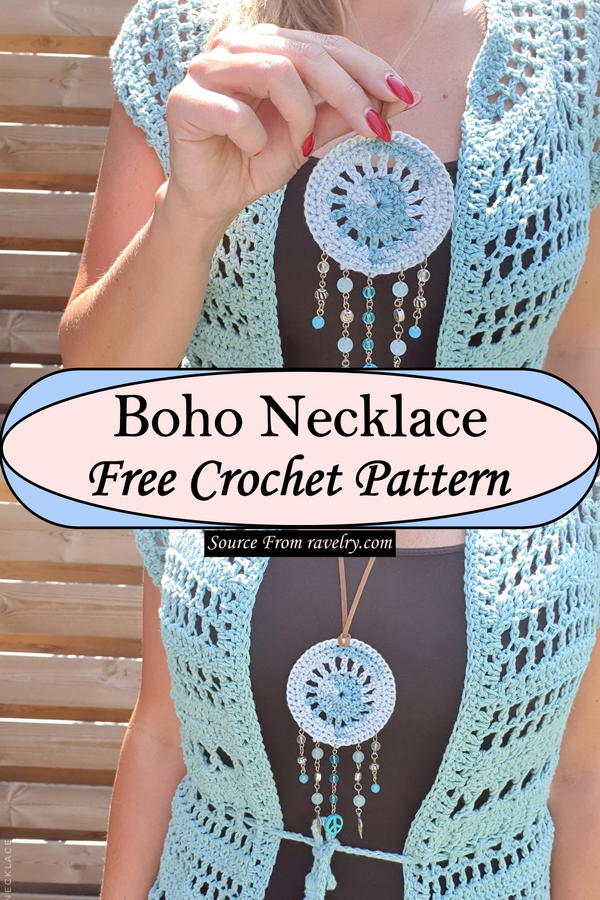 This simple, one-size-fits-all necklace is perfect for the beginner or advanced crocheter who wants to make a statement with their newest piece of jewelry! This beautiful necklace is made of crochet boho flowers, with a handmade flower pendant for the focal point. It's lightweight and flows freely with good length to wear over a crop top or t-shirt. It has an elegant look to personalize your look from casual to chic. Look great while you are doing it in this cute and modern crochet boho necklace.
Diamond Necklace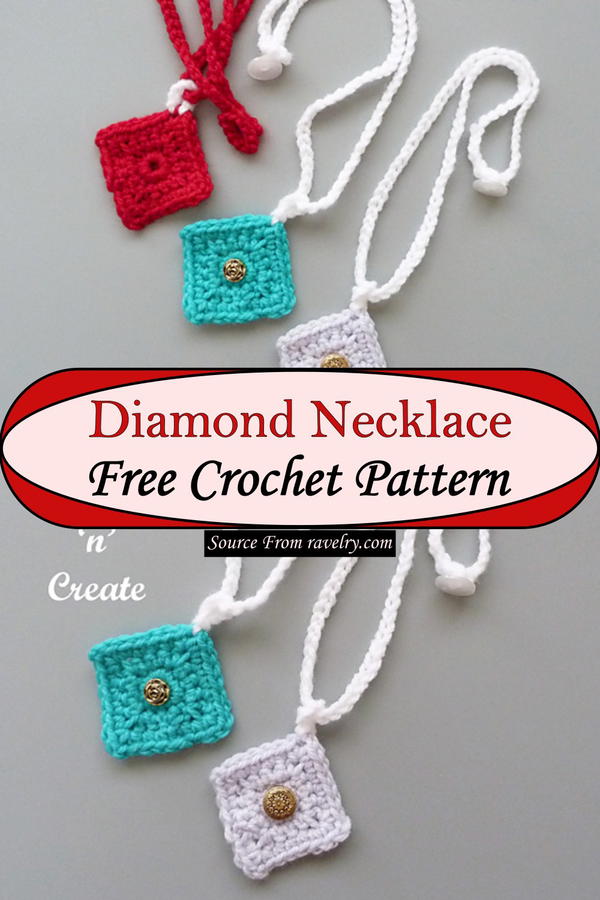 There are no rules or limits to what you can crochet, so mix and match different fashion items for a unique look. No previous experience is needed, just grab a hook and yarn and you'll be making stylish necklaces in no time. This Crochet Diamond necklace is an easy, quick little project that any age or skill level can make. This Crochet Diamond Necklace is a perfect gift or reward for kids who have fun playing with yarn. Made with fashion-forward colors, this fashionable and affordable necklace is a quick and easy project that can be pulled out at any time to wear or share when the mood strikes. It is a perfect little gift for any occasion!
Queen Of Hearts Necklace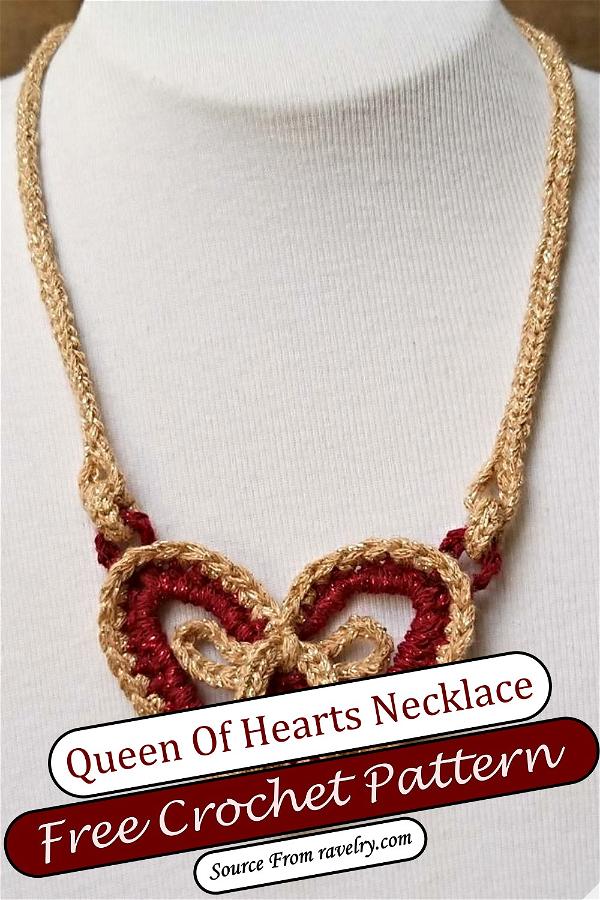 This Queen Of Hearts necklace was designed to be quick to make and requires very little yarn. The pattern is simple enough to put together in less than an hour. This sophisticated accessory is perfect for mom and grandma, or to add a touch of whimsy to someone's special day. Wear it to her birthday in a color that coordinates with her outfit, or make it in one color and change the accent color to match her outfit. The design features a sassy heart and a small metal plate with a name engraved on it. It will be a fast granny and a great gift for Valentine's Day or Mother's Day!
Circles Necklace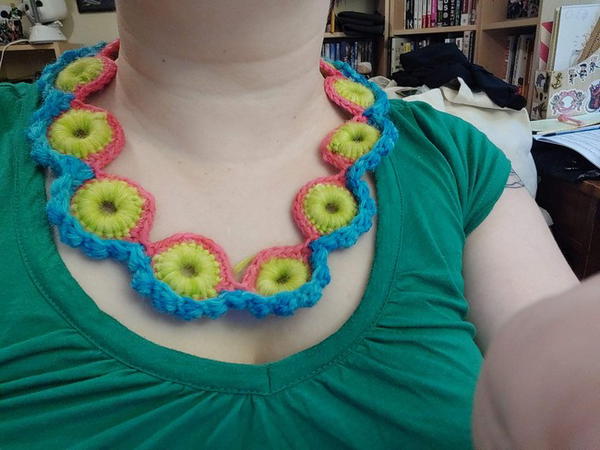 The Crochet Circles Necklace will enable you to create your own unique and pretty designs. A fun, quick project that lets you get some practice on joining your yarn in a way other than the traditional single crochet, this simple necklace uses the single crochet built-in join and makes a nice gift for loved ones who have struggled and learned. The main feature of this project is that you are knitting the circles around a series of wooden dowels, then joining them together to make a necklace. This lets you knit on the move, and the rings can be made with whatever yarn or colors you like.
Summer Cactus Pendant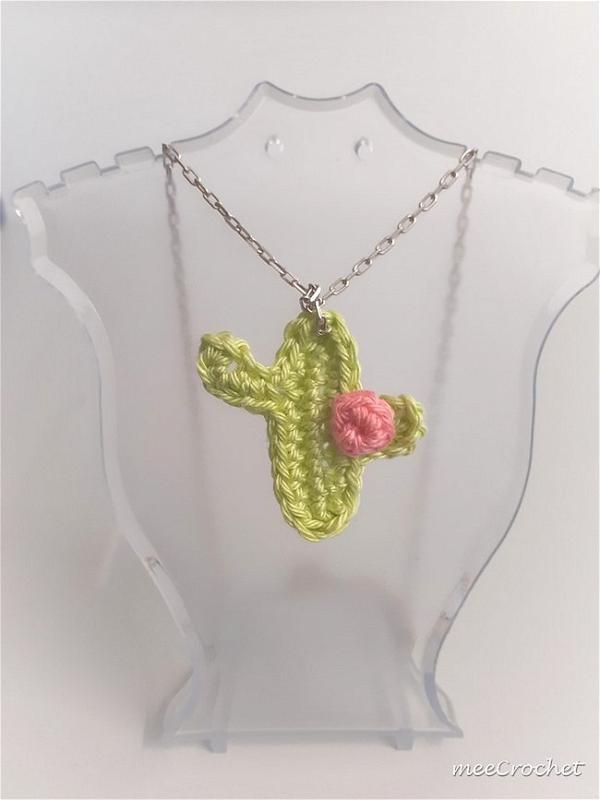 Looking for an attractive and unique summer accessory? Step up to the Crochet Summer Cactus Pendant, a must-have for hot, sunny days. Crochet the Summer Cactus Pendant, a unique and beautiful necklace that you can make in just no time. Perfect for any summer outfit, wear it with a t-shirt and flip flops, or dress it up with a peaceful evening ensemble. This Crochet Summer Cactus Pendant is an adorable add-on to any outfit. Made using Schachenmayr Catania yarns, this cactus pendant is neat and perfect as a gift.
Easy Mask Necklace
Looking for a way to keep your mask together and prevent it from floating around the classroom while you teach? This crochet project is perfect. The mask can stay secured in place thanks to this easy crochet pattern, and the fasteners keep it from getting tangled up in the laundry. Next time you need to get ready for the dance or try a different style of the mask at school, get this easy crochet pattern for your kids to make their own mask. It's quick and easy, and fun for everyone!
Fantasia Necklace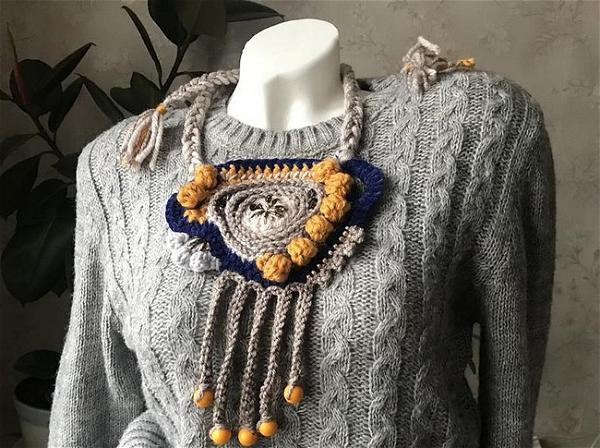 This necklace will make you smile! Crocheted with a multicolored mix of yarn, it's a reminder that things don't always have to be black and white. Give the gift of comfort with this crocheted fantasia necklace. The seasonally-themed selections are sure to enchant! Bring some homeliness to your wardrobe with chic crocheted necklaces. Each hand-crocheted piece is unique and original, incorporating bold colors and a variety of sizes, shapes, and textures. Let your imagination soar as you select your own favorite design.
Easy One Round Flower Necklace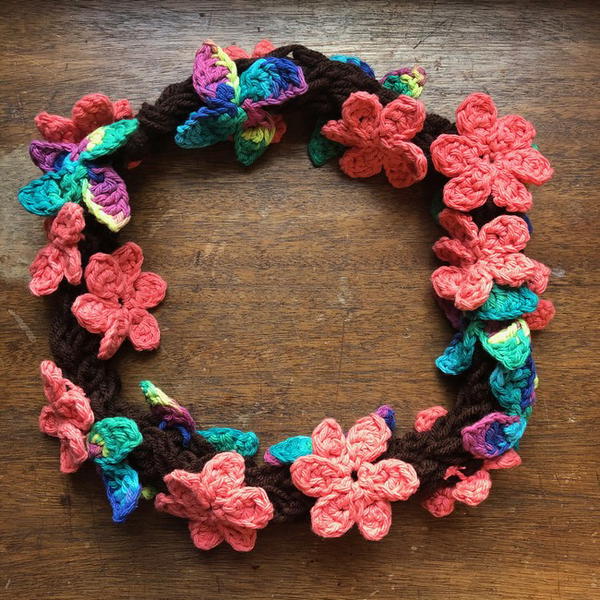 Thanks to their spiraling, playful shape, chain-made crochet flowers are a perfect casual wear accessory. Crocheted in tiers, this flower looks like a child's drawing of a flower. But the elongated petals and fat leaves make it into something more — a cluster of leaves forming petals. A beautiful bunch to pull off a top or wrap around the wrist, this necklace is made with hand-crocheted cotton yarn and embellished with tiny raffia flowers and leaves. The cotton used for this yarn is so soft – it feels like thread but knits up in a nice squishy honeycomb.
Boho Love Necklace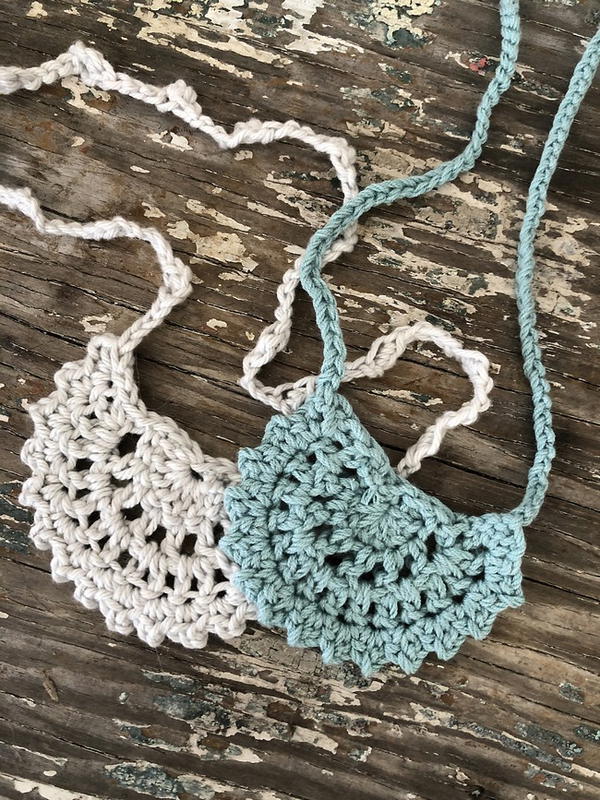 This is one of those necklaces you may have wanted to make at some point but never had the occasion. The Boho Love necklace is easy and fast to make and looks great on its own, or layered with a choker! This crochet piece has two ends, so you can wear it in any direction. It is made of a lightweight chain and can be adjusted to accommodate your neck size. Choose your favorite yarn color, and start crocheting! Wear it on your favorite outfit to add some individual stamps to your style.
Collar Cristina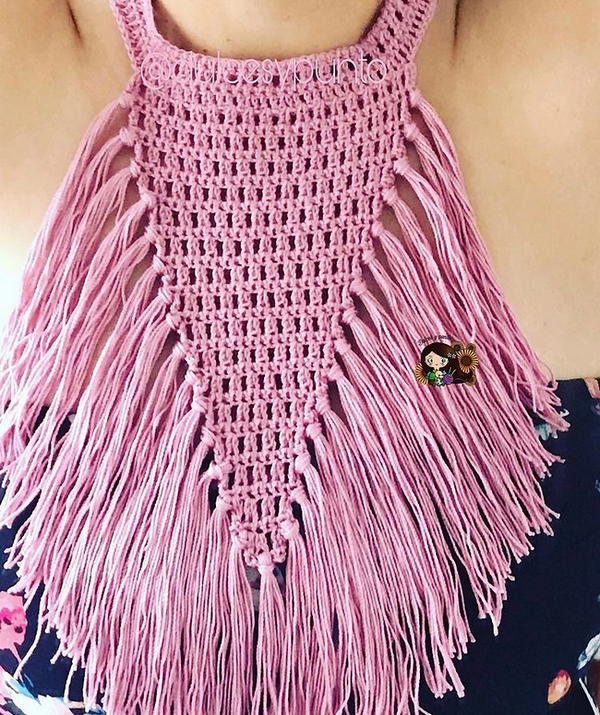 This Christina crochet collar allows you to customize it for your personal style. This necklace of a band of soft and stretchy cotton yarn is accented with the addition of an ornamental metal buckle, a traditional symbol of Caribbean charm, and feminine beauty. It's a perfect wear-with-anything piece during spring and summer. Wear this Christina crocheted collar with your favorite lacy tank and jeans, or dress it up with some pearls and a pair of heels for a more formal outing. It's lightweight, breathable, and fits comfortably on your neck while still emphasizing the jewelry details.
Moonrise Necklace
Do you knit, crochet, or crochet your stitches? Then you'll love this Moonrise Necklace. This DIY accessory can be used as a stylish and chic lanyard to keep your stitch markers close at hand for all of those intricately beaded garments. Or, you can use it to wrap around your wrist as a beautiful bracelet to show off your latest convertible lace creations. The carabiner clip means that you can attach all of your favorite stitch markers—no more getting entangled in the yarn! Includes three patterns to get you started.
Beaded Granny Square Pendant
Granny Square Day is here! Join forces with the crochet world and crochet a Granny Square today! That's not all though - why not add a little crochet to your outfit by decking out your outfit with this wonderful beaded Granny Square pendant. It is quick and easy to crochet and it is just the perfect accessory to show the world your love for crochet. This Granny Square pattern would also make a wonderful gift idea for someone special in your life.
Hook Necklace
This Crochet Hook Necklace is a well-made and sturdy necklace with a clear acrylic display case. The necklace is made of premium hair Japanese crochet hooks, to ensure you will never lose your hook when not used. This is the perfect gift for a crocheter or any craft enthusiast. This necklace is perfect for stashing your hook while watching a movie or while on the go so that you don't have to worry about losing it! Take this with you wherever you go.
Astral Earrings And Necklace
Show a little extra adornment with these lovely Astral earrings and necklace. Whether it's an everyday piece handcrafted with love, or a special gift picked up at the market, these Astral earrings and necklace are always a wonderful addition. Make each piece custom suited to your style. Whether you prefer the subtlety of a neutral color scheme or like to add just the right amount of bling, this jewelry will have you reaching for your stitch numbers. Many of these pieces make wonderful gifts for yourself or other crafters.
Crochet Necklace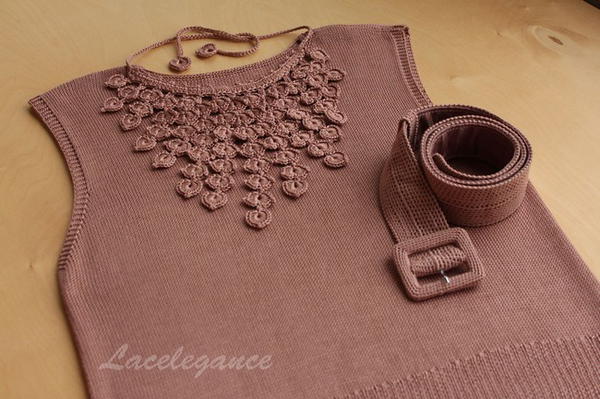 A stunning crochet neckpiece designed by a recent college graduate with a passion for fashion, teaching you how to create your own in just minutes. Your new favorite accessory adds stunning sparkle and bling to any outfit and can help complete the look of any outfit. Great as an everyday accessory or one to wear when you want to add a little extra glamour and style. It has a beautiful bulky and bulky design, which adds style to your daily activities. And the material is durable, it will stay with you longer with its real silver finish.
Rose Necklace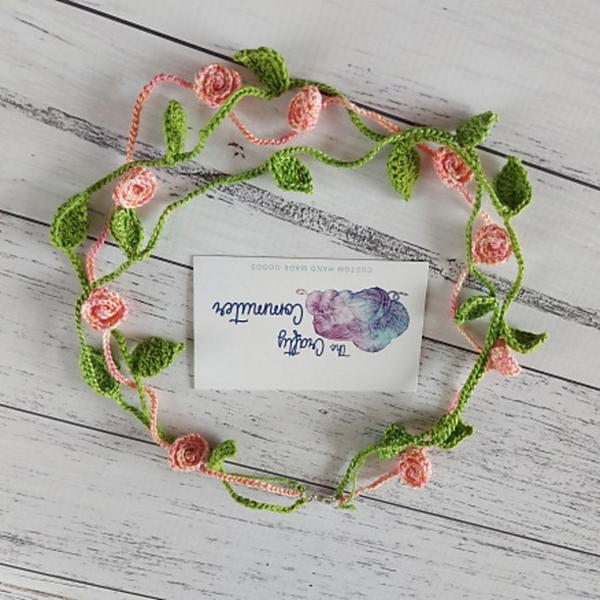 Crocheted roses are fun to make and beautiful to wear. Not only can you customize your own necklace with a personalized pattern or two, but the chains are sure to match any wardrobe or accessories. Once you have made a necklace once, you will find that this craft is not difficult and best of all, it is inexpensive! You will use whatever materials you decide, including several types of yarn…incredible hanks and rovings of thread…various beads, and a variety of crochet hooks.
Obsessed Pendant And Earring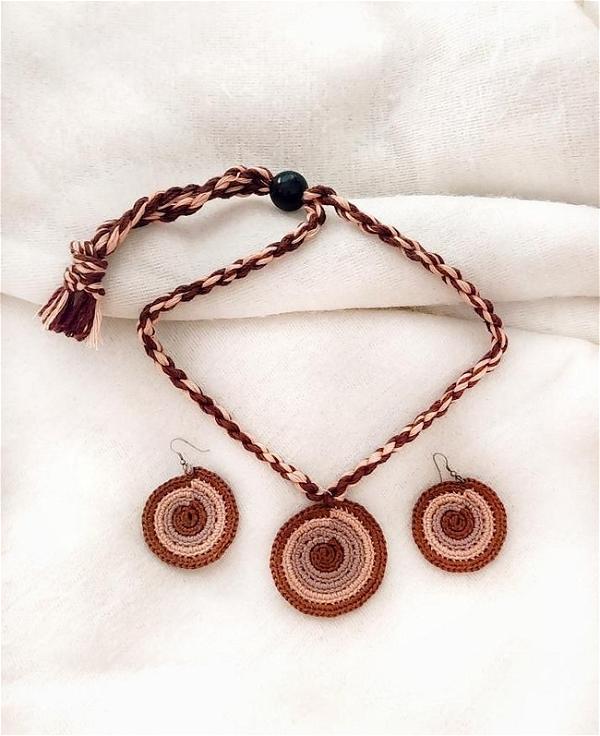 Crochet Obsessed earrings and pendants are perfect to show your crochet addiction or just because you are obsessed with crochet. Beautiful, charming, and funky necklace and earrings in the form of a crocheted flower. This pendant will match any outfit or style and will make you stand out on a day-to-day basis. Wearing it for a few days, you will get hooked to crochet and know what it is as you will feel that we are sharing with you our passion through this Pendant and Earring.
Easy DIY Pendant Necklace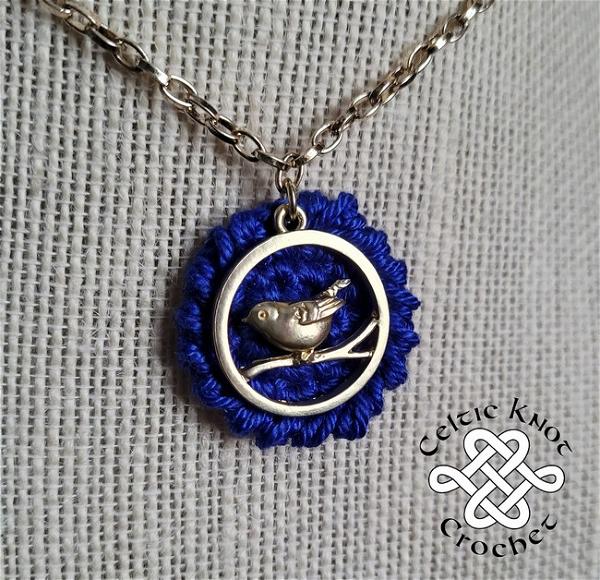 This beautiful Easy DIY Pendant Necklace will help you to use up your scrap yarns and is both quick & fun. The Easy DIY Pendant Necklace uses basic crochet stitches and only basic jewelry supplies. This can be an easy project to create, or a great one to take on as a first project to modify. The instructions give you detailed instructions for making it in any size you want for the chain length, so you can customize this necklace however makes you happy! This jewelry creation is suitable for beginners and is one that can be made from pure scrap yarn.