Crochet shorts are the perfect addition to your summer wardrobe, providing a unique and comfortable option for those hot sunny days. With these 22 free crochet shorts patterns, you can create an array of stylish and fun designs to mix and match with your favorite tops.
Crochet Shorts Patterns

With summertime in full swing, it's the perfect time to make a pair of crochet shorts for you or someone you love. These shorts are great to wear at the beach, pool, or just lounging around at home, saving you lots of money. We've gathered 22 Free Crochet Shorts Patterns for you to choose from. There's something here for everyone, from cotton tops and shorties to lacy shorts and boyshorts. You'll find shorts in sizes from newborn to adult, using all kinds of yarns, weights, and colors. These crochet shorts patterns are great for girls and women. Perfect for hot weather. Crochet shorts for girls, women, and teens. This is your chance to play with color and texture – what could be better? So grab your hooks, and let's get started!
These 22 Free Crochet Shorts Patterns are perfect for those hot days when you want to wear something light and comfortable but look stylish.
Tips For Crochet Shorts Patterns
There are a lot of different crochet shorts patterns out there, and it can be challenging to find the one that is right for you. Below, we'll review some tips to help you make the right decision when picking a pattern.
1. What kind of yarn should I use?
This is probably the most critical question you will have to ask yourself. Yarn comes in all sorts of different colors, textures, and materials. Some prefer cotton or wool, while others prefer acrylic or polyester blends.
2. What type of stitches do I want to use?
Some people like single crochet stitches better than double ones because they're easier on their hands and wrists. Others might prefer treble crochet for its versatility (you can make squares with them!) or triple stitch because it creates beautiful lace patterns correctly!
3. How long should my shorts be?
You can make them as short or long as you'd like! For example: if your legs are very skinny, then maybe go with something that hits below the knee for added coverage over those curves 😉 Or, if your legs are thick, choose something above knee height so they don't bunch up around them awkwardly! You could also just stop at mid-th.
Materials Used For Crochet Shorts Patterns:
Crochet shorts patterns are fun to make and wear. They are an excellent way to show off your crochet skills. Crocheting shorts is not very complicated, but it does take some time to complete.
You will need a crochet needle, a plastic hook, and a yarn needle.
You will also need a yarn ball of the color you want to use for the shorts.  If you plan to add a pattern or design to the shorts, you should buy extra yarn because a lot of crocheting will be involved in designing it.
The amount of yarn you need depends on how long you want the shorts to be and if you plan on using any special stitches or techniques when making them. For example, if you plan to use embroidery floss instead of regular yarn, you should buy more than enough yarn for your project.
Crochet Child Shorts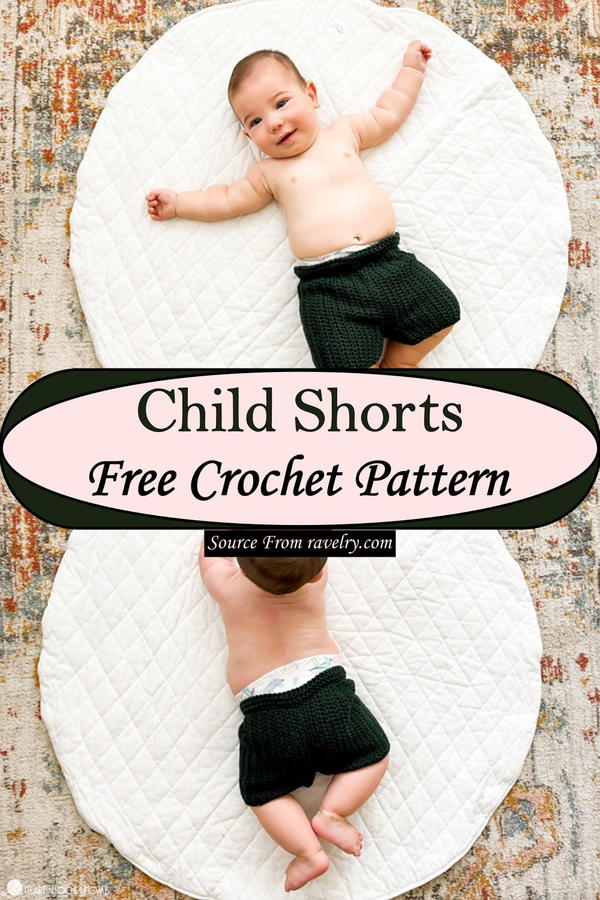 Crochet Child Shorts are the perfect project for beginners; they're fun and simple. This one-size-fits-most pair features a fold-over waistband, side seams, and an elastic band at the hem. The lightweight material makes these shorts comfortable to wear as a standalone piece or layered with leggings or other shorts. Crocheted with a lightweight cotton blend, these shorts fit a child from 4-to 8 years of age but can be easily modified to fit any size with different weight yarns and hook sizes.
Summer Breeze Shorts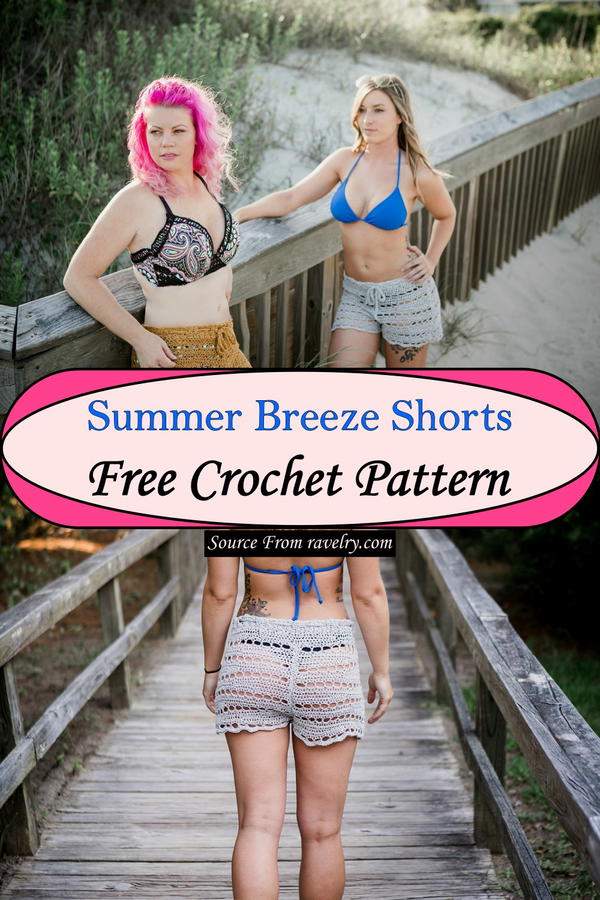 With so many different styles of shorts, these crochet shorts are just what you need. These crochet shorts will make you feel like you are floating on air! They are made from cotton thread that is sheer and soft, not scratchy and uncomfortable. Soft and stretchy yet durable enough to withstand the weather, these handmade shorts will help you find your Summer Love! These shorts will be your go-to piece for spring, from lounging around an outdoor café or enjoying time with family on the lawn at a music festival.
Crochet The Beachside Shorts Pattern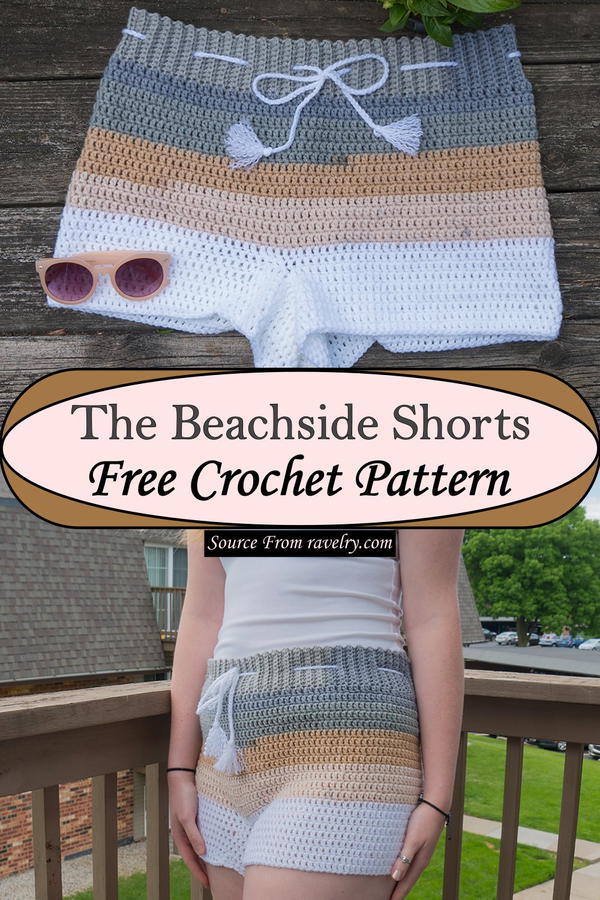 The Beachside Shorts are a fun and easy way to make yourself something cute to wear this summer. These crochet shorts can be made using one skein of worsted weight yarn in a day. They feature an easy-to-wear elastic waistband for style and comfort. Crochet them to be any length you like, and make adjustments easily by working more or fewer rows of each size. These shorts are fun to mix and match with other patterns because they are stylish yet simple.
Crochet Shell Shorts Pattern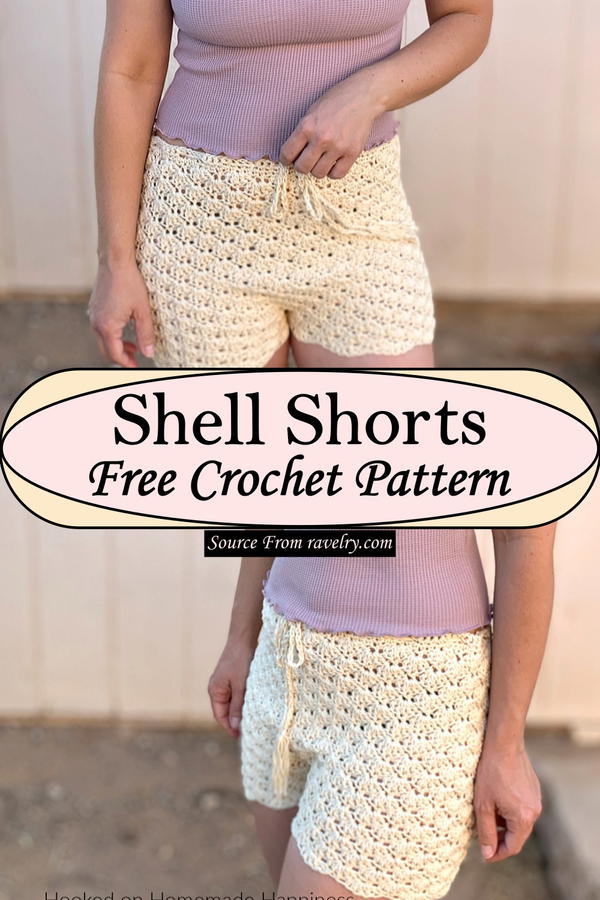 These crochet shell shorts are a great summer project, designed to last for years of comfortable wear. This is an easy pattern for beginners, or even if you are an advanced crocheter, to create your fashion style in many colors and beach prints. They are great for the beach or poolside relaxation or even just wearing around the house. The elastic waistband is flattering and comfortable. Trust your abilities and be proud that you have completed your first and most challenging project. Keep mastering your skills because with your talents comes the power to create things of great value.
Crochet Sideways Shorts Pattern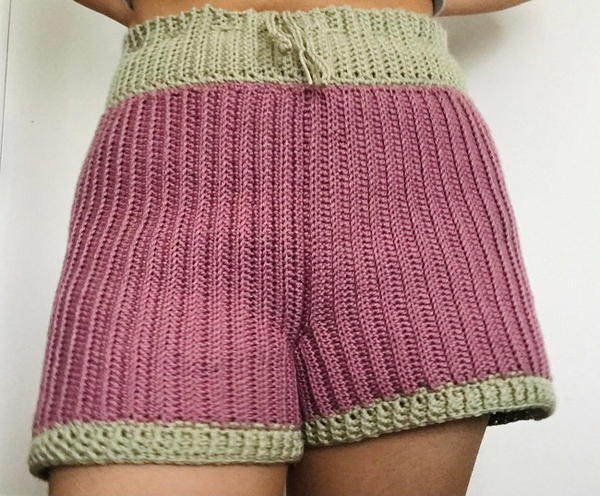 With very little counting, these shorts are super easy to follow and customize to fit any body type. Minimal math is required because this pattern is constructed sideways, with only increases and decreases on one side of the shorts. In addition, very few stitches are worked across a long distance like top-down construction often requires, so getting lost in the design is almost incomprehensible. These shorts are non-constricting, comfortable, and easy to make! These super simple to-crochet shorts are a fun way to play with texture. They're great for warmer days and can be personalized in many different ways!
Crochet Normas Shorts Pattern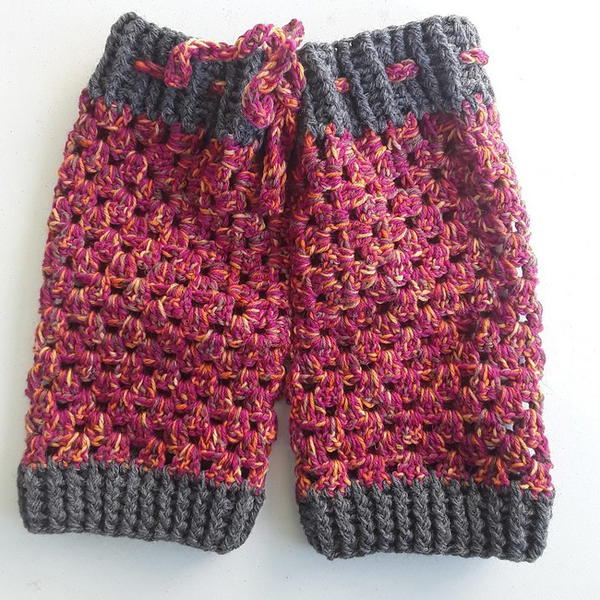 The pattern is easy to follow as you crochet your way to unique, modern shorts with a modern spirit. Worked up in less than a week, stitch these would be the perfect gift for yourself, a friend, or a loved one. Using a simple 2-row stitch, you can make these summer shorts overnight! Knit The rounds of the magical ring create a simple design, while the rib design at the waistband adds a modern look. This pattern is simple to crochet with a beginner-friendly method to work your way through it. You'll never want to take these off- shorts make a quick project, and you can whip up a pair for any special occasion.
Crochet Cambridge Velvet Shorts Pattern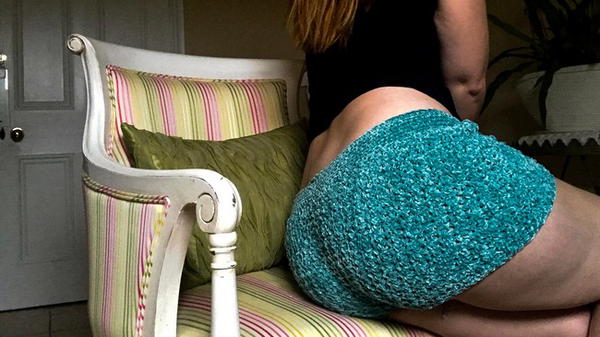 You are going to love making this gorgeous pair of shorts! They're a variation on a traditional Victorian design, not just for the winter months. The little squish of Chain stitch against the smooth velvet gives a gorgeous depth to the design. Made in three sizes, mainly using Chain stitch, Double Crochet, and Treble Crochet, you can whip them up in no time. The pattern comes with instructions for minors, ladies, and men's sizes. The Cambridge is an elegant little number perfect for special occasions or lounging about the house. Make it for yourself or a loved one, and you won't be disappointed!
Crochet Pineapple Shorts Pattern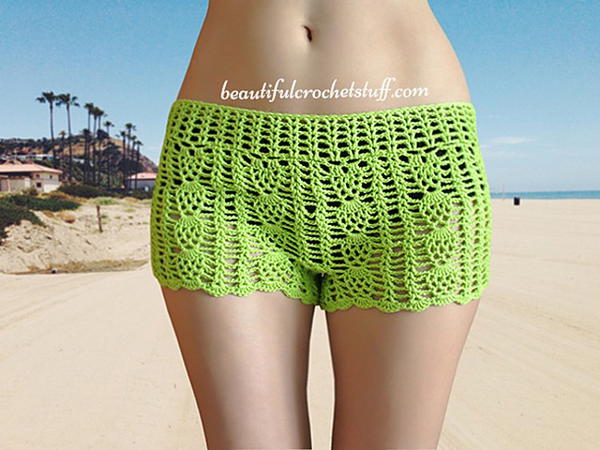 Crochet yourself with these fabulous pineapple shorts! If you are looking for something that is not too girly but not too boyish, these crochet shorts are a perfect choice. These shorts are trendy, cute, and fun to make during the last days of summer or whenever you want a change. It will work up fast and easily, and it's a great introduction to crocheting shorts with all the relevant details. Get your crochet hooks and yarn, pick your favorite color and get ready to be summer fashionably fabulous! It will let you capture the attention of everyone around you, even if they don't know that it's made out of crochet!
Crochet Micaela Shorts Pattern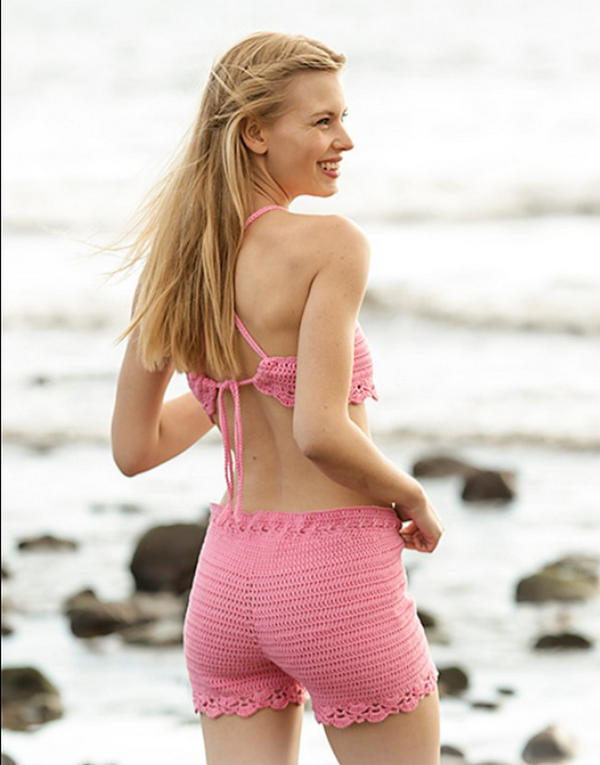 Be ready to be noticed at the beach in one of these crochet Micaela shorts. You can wear them on the beach or in town. Make a bikini top and shorts using this crochet pattern. Micaela Shorts are perfect for all your summer adventures. Wear these shorts as you lounge on the sunny beach, go for a walk, or go out for a night on the town. They're double-layered and made with eyelet detailing on the top, which is adorable! It is the perfect choice when you're looking for a stunning look to make all the beach-goers jealous of your style! This easy-to-crochet pattern consists of a crochet bikini top and shorts that will have you looking fabulous!
Crochet Baby Shorts Pattern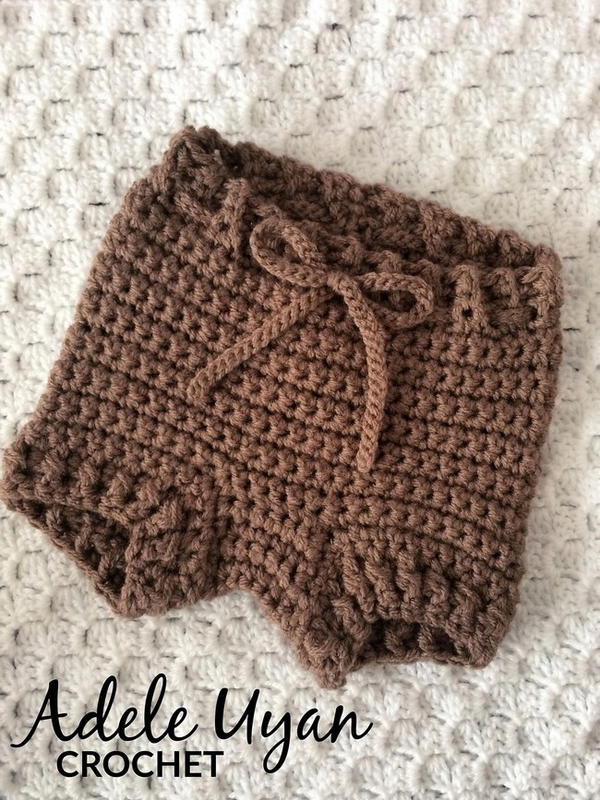 This crochet baby shorts pattern is an excellent option for children. This pattern uses half-double crochet with a slide switch at the top of the legs to add texture and detail. These can be easily customized by adding more rounds to make them longer or broader fitting and can be used as an under-kilt for older children! This pattern was specifically designed with customization in mind, so you can make these shorts fit any size baby, from newborn to sizeable 4-year-old toddler! They are sometimes used under kilts, given as newborn gifts, or worn as a daily piece.
Crochet Simple Shorts Pattern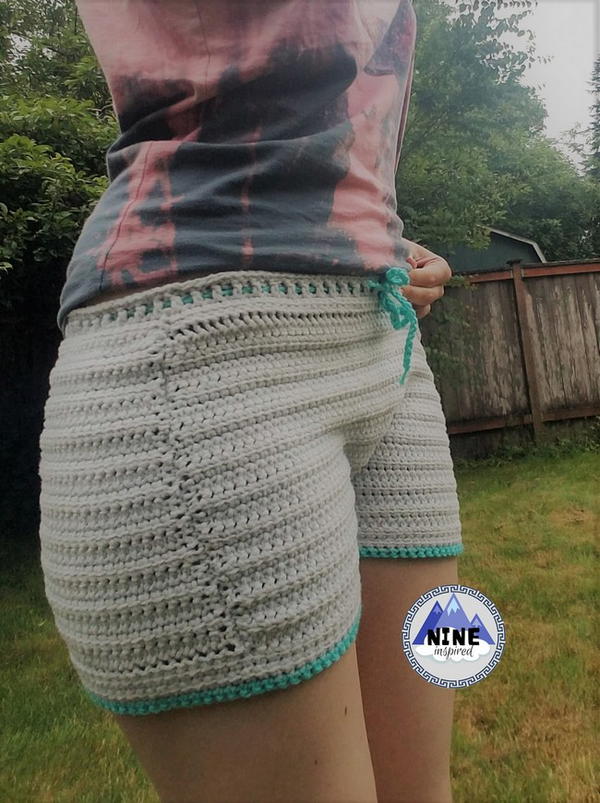 If you love to crochet, you will fall in love with making these Crochet Simple Shorts. It is an easy Pattern! Anyone who can do double crochet should be able to make these. They are adjustable in length by simply continuing the stitch at the length you desire. Change your yarn color to match a different outfit, or customize them in your favorite color. These shorts are effortless, making them pleasant to wear to the beach or just hanging out in your backyard. They are fully customizable to fit your body!
Crochet Build-A-Bear Shorts Pattern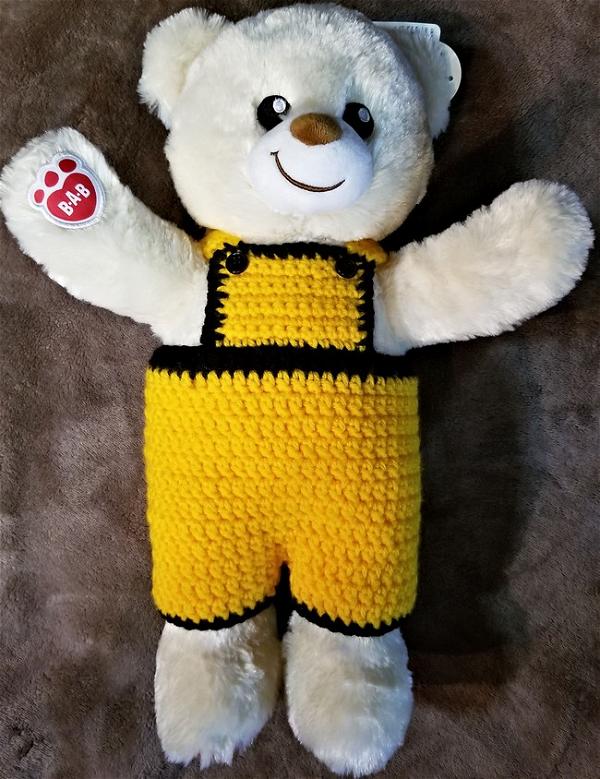 Have you ever wanted but hesitated to make an adorable pair of shorts for your Teddy Bear because you thought it was difficult? Well, not anymore; this pattern is easy to follow and super fun. This crochet pattern is a two-part pattern that you can use to make a pair of shorts for your Build-A-Bear Teddy Bear. To follow this pattern, you will need to know basic crochet stitches, like double crochet, slip stitch, and chains. The gauge is not very important for these shorts, so using a different type of yarn or color should not be a problem.
Crochet Summer Shorts Pattern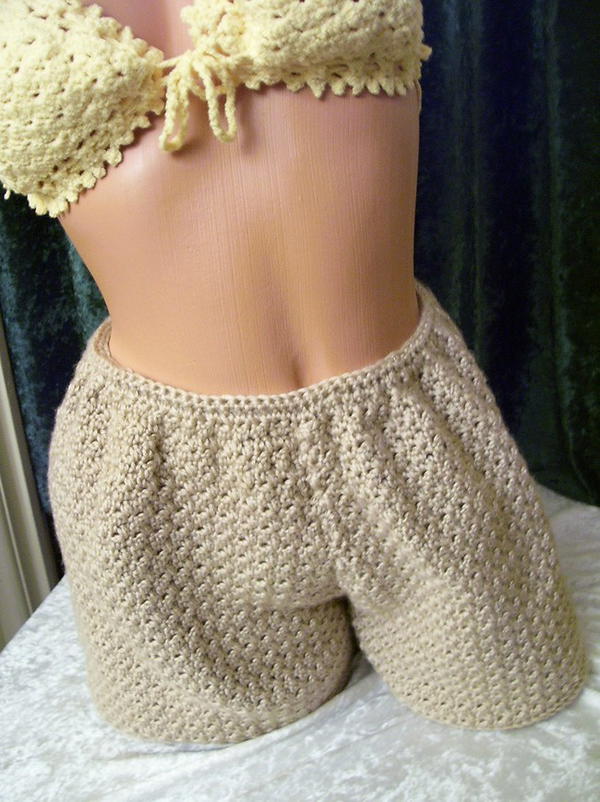 Why not crochet yourself these super easy shorts? You will love wearing them poolside, to the beach, or even around the home. Crochet a pair of shorts to wear in the summer or any season! These are ultra-versatile for lounging, sleepwear, over a bathing suit, and more! They're great for you, or gift them to your friends as gifts! This pattern is easy for beginners and intermediate crocheters. Whether you want a short crochet pattern or are more into long tank-style cloths, this pattern is all thought out. This garment is so comfortable that you might be tempted to wear it all day!
Crochet Staycation Shorts Free Pattern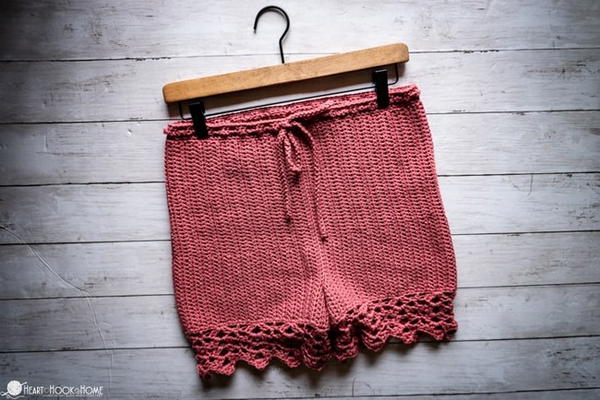 Crochet shorts are a new wardrobe staple that will get you through the sweltering days of summer. If you love our Crochet Shorts, you will adore the Staycation Shorts. This free crochet shorts pattern features a drawstring waist and flowy bottom, providing short-length coverage. This comfortable shorts pattern is excellent for summer adventures or lounging on the patio made of cotton yarn. It is a great crochet project that you'll be able to make in a relatively short amount of time.
Crochet Granny Stripe Shorts For Men Pattern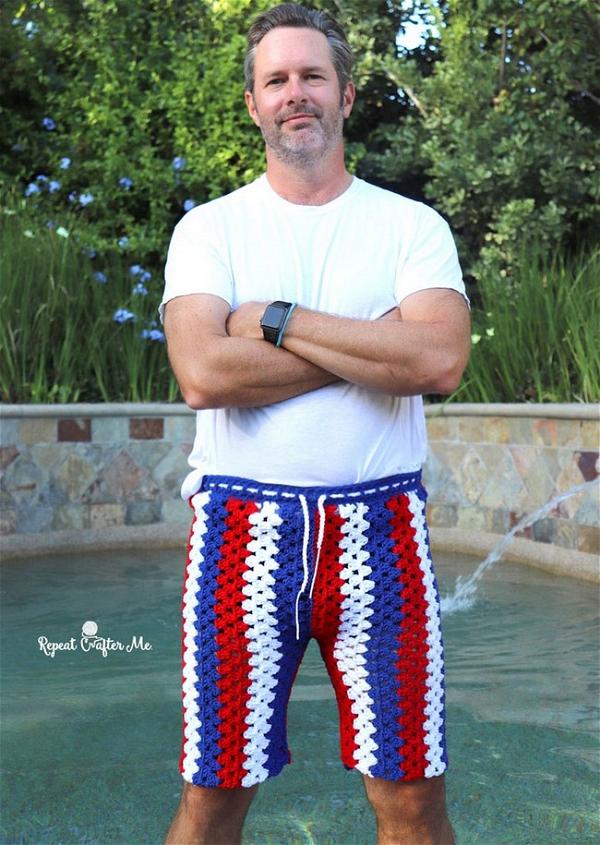 A new pattern to crochet a 4th of July outfit for those boys in your life. This is a cute and easy-to-crochet shorts pattern with a 3" waistband. These shorts are perfect for your little man to wear for a holiday party! The granny stripes give them some extra character, and the denim blue and white colors are adorable! These stylish shorts are a fun and practical way to spice up your little boy's wardrobe. Pair them with cute t-shirts and "boy-approved" sneakers for a look he'll love. Having a crochet pattern like this ready on your computer will be more beneficial because of the lack of productivity.
Easy Crochet Shorts Pattern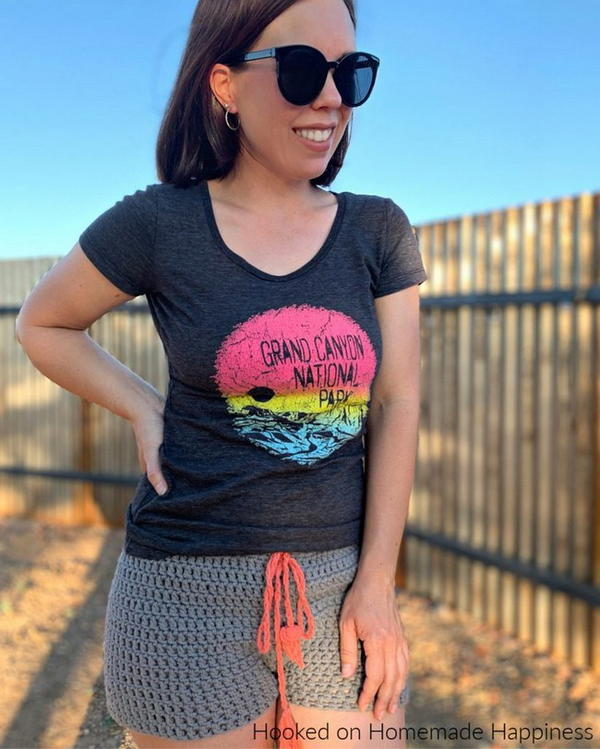 This pattern is for a comfortable pair of shorts that you can wear over your swimsuit, play in the water, or lounge about in! These are soft and cool- perfect for warm weather. The shorts are worked from the top down, so you will be sure to get a good fit as you go. They are crocheted from cotton yarn on size F hooks. This pattern is very beginner-friendly and works quickly, so it is excellent if you need an extra pair of shorts or want to whip up a last-minute gift.
Crochet Shorts Beach Cover Up Pattern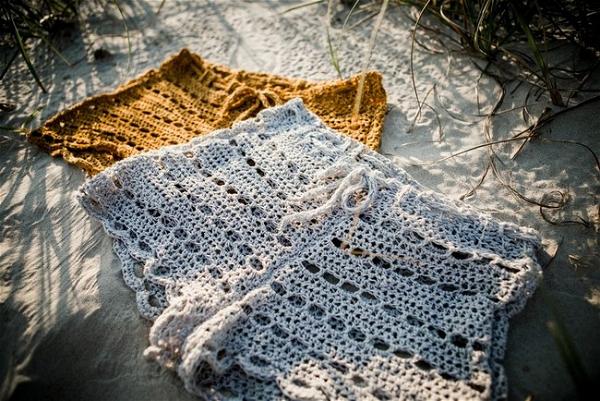 This is it if you want something more distinctive than the average pair of crochet shorts. It is accessible to crochet patterns that you'll be able to wear both at the beach and around town. This boxy crochet beach cover-up features plenty of texture and a comfortable fit with no elastic needed. Bring some color to your wardrobe this summer with an easy-to-crochet bikini bottom that is fun to wear and quick to complete! Wear this tunic over your favorite tank and a pair of tied-back loose shorts. Or wear it over a bathing suit. This crochet pattern is straightforward and made up quickly. You will love wearing it!
Crochet Stria Shorts Pattern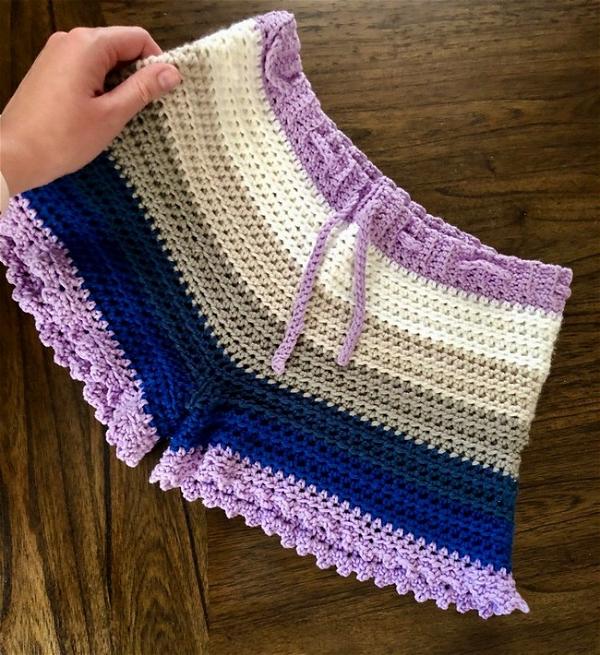 This pattern is for women's shorts created from a simple crochet pattern and a tank top underneath. The combination of crochet and knit/spandex creates a versatile short that can be dressed up or dressed down depending on your mood. Make this pattern and wear it to a party, and everyone will ask where you got them. Crochet them in any colors & patterns of your choice; there are so many possibilities! These crochet shorts are perfect for summer. They are stylish, comfy, and can be worn anywhere with the right top! The intricate crochet pattern is easy to do, and they convert easily from shorts to a tunic top.
Bella B Shorts Crochet Pattern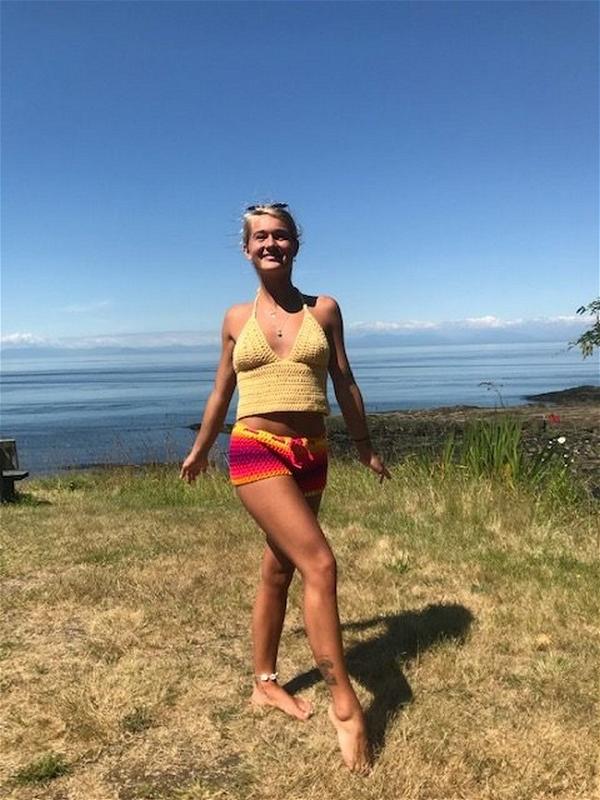 The Bella B Shorts crochet pattern is great for showing off your beach body. This warm weather shorts pattern is worked in the round and is an excellent project for beginners looking to expand their skill set to garment construction. Perfect for summer, vacation, or a trip to the pool, these shorts are comfortable and stylish. . They would be perfect for summer concerts and outdoor events in the sun. They pair perfectly with your favorite bikini top or bralette, but why not show off those arms and shoulders by wearing them on their own?
Granny Square Crochet Shorts Pattern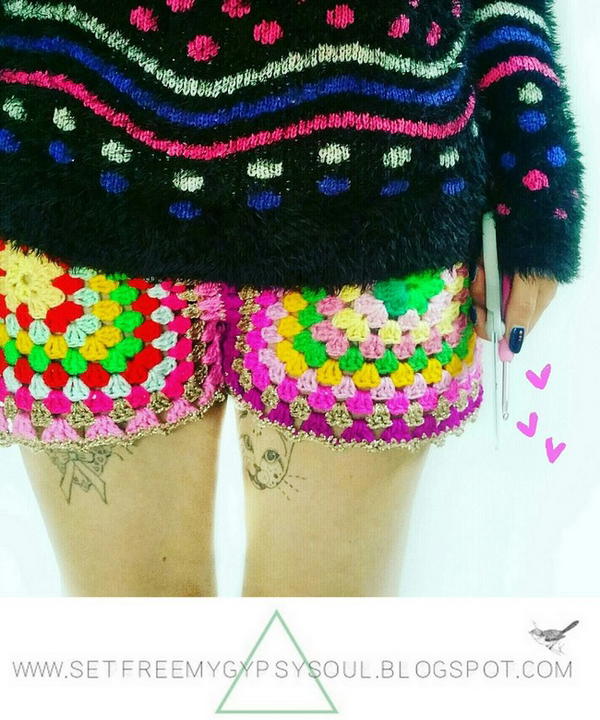 Whether making these crochet shorts for yourself or as a gift, look no further! These crochet granny square shorts are super cute and comfy. There is no need to spend the money on the expensive pairs of crocheted shorts in the clothing stores when you can make your own with this fun and free pattern. These crochet shorts are perfect for summer, and you can use any color you want! They work up very fast and are great for beginners too!
Crochet Shorts Beginner-Friendly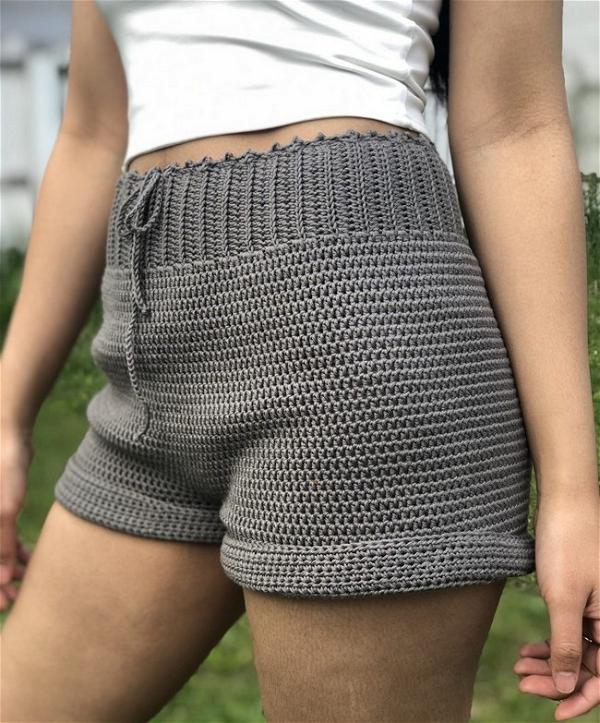 Cute crochet shorts that you can wear as is or over your bikini. These shorts will be your new favorite summer outfit. Isn't it time to make a change from board shorts and bikinis? Crochet bikini shorts are the answer! It's a one-size-fits-most pattern, and they take less than an hour each to make! These are perfect if you always forget to grab your bathing suit at the beach. They're perfect for the hot weather—they go great with a tank top or spaghetti strap top and look cute on their own. Plus, they'll save you money! These crochet shorts are a terrific way to stretch your buying power during summer.
Crochet Summer Breeze Shorts Pattern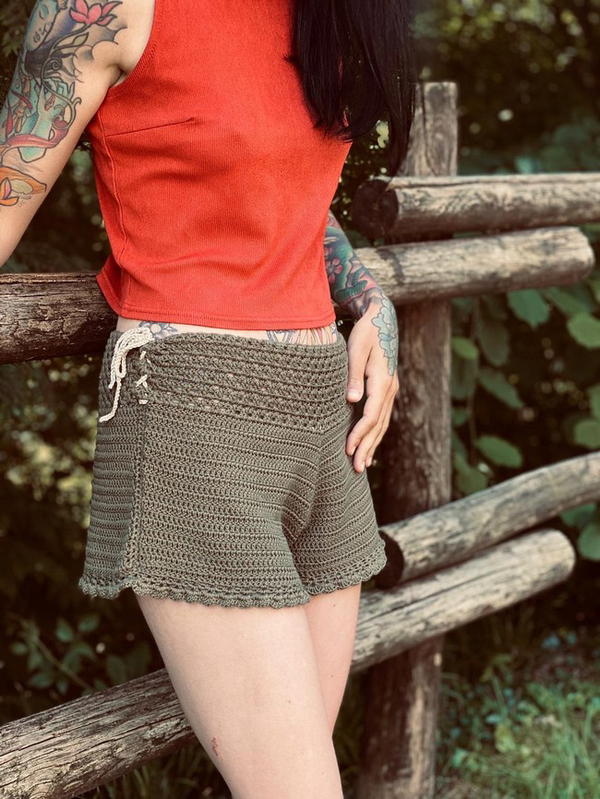 Summer is warming up, and you'll want to be ready for the beach and other hot adventures. Why not crochet yourself with a breezy pair of shorts? Crochet these comfortable, breezy shorts for a flattering look for warm summer days. They can be finished in one day and only use a small yarn. Wear them with a tee and a pair of sandals or a tank top underneath for extra added warmth. These shorts are made for summer, so take advantage of those long, light evenings and wear them to the beach or around town. The crochet cord straps are cute accessories, especially when you add them to your favorite tank top and wear them around town on a hot day.