We all have belongings that need to be kept with proper care, like cards, keys, currency notes, and more, but keeping them along all day is harder, and sometimes sweating ruins some of our very important stuff. So to cope with this situation with something impressively useful, here we come with this series of crochet wallet patterns. Learn to make these adorable crochet wallet patterns and make loveable additions to your home decor and personal crochet collection.
With so many great wallet patterns to choose from, it makes a perfect gift for your favorite crafter or would be wonderful holiday decor at your home. Make these handy crochet wallets for your home decor or as an extra gift for a friend or family member. These are adorable, and you can use them wherever you go to store important stuff like money, credit card, ID cards, and more!
Free Crochet Wallet Patterns

Regularly using a wallet is hard on your hands and can make them feel sore. Checking your phone constantly to track how much money you have left in the bank can also result in bad posture. Thankfully, a solution involves crochet and provides a few minutes of playing with softer yarn and showing off your creativity to other fellows. These amazing crochet wallet patterns will surely be going o blow your mind with a superb range of ideas, and I hope you'll find the best wallet pattern for almost everyone.
Easy Mini Wallet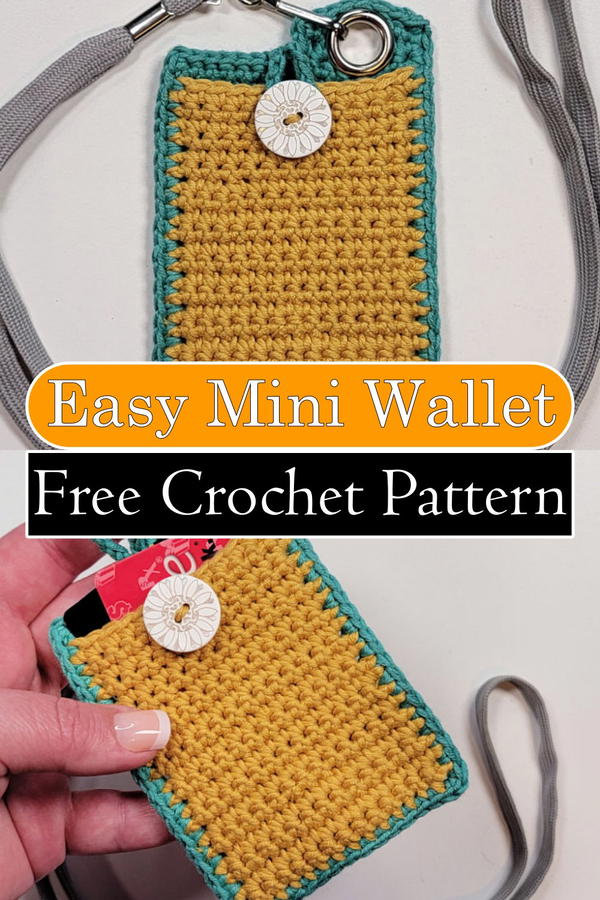 This easy crochet mini wallet pattern is the perfect quick and easy crocheting project for gifting, stocking stuffers, lanyards, keychains, or anything that needs extra bulk. This beginner-level crochet project features a simple pattern that works up quickly. Whether new to crochet or looking for a fast and easy crochet mini wallet tutorial, this is a great pattern to add to your crochet collection! This is a small wallet pattern, perfect for lanyards and keychains. Your money will not fall out because it's enclosed inside the wallet. Perfect for beginners to learn basic stitches!
Shaggy Wallet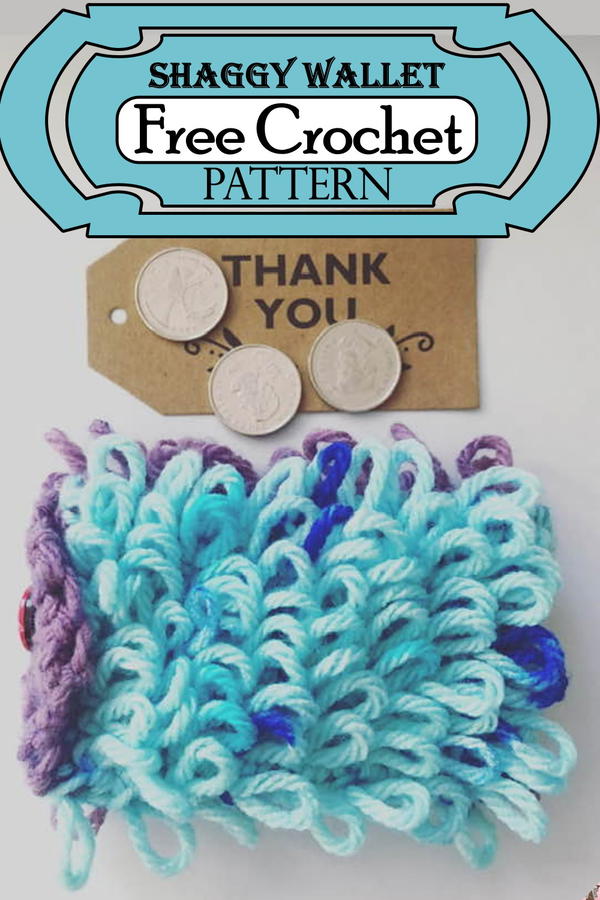 Do you feel like a good wallet can never be found? We have created this simple yet beautiful crochet Shaggy Wallet pattern. It is made of soft materials and a sturdy design, perfect for throwing in your bag or putting in your pockets. This crochet pattern is ideal for any beginner crocheter who wants to learn how to make a beautiful and sturdy bag. This pattern can be used for any size of wallet or purse so that you can make them for your friends too!!
Valentine's Day Wallet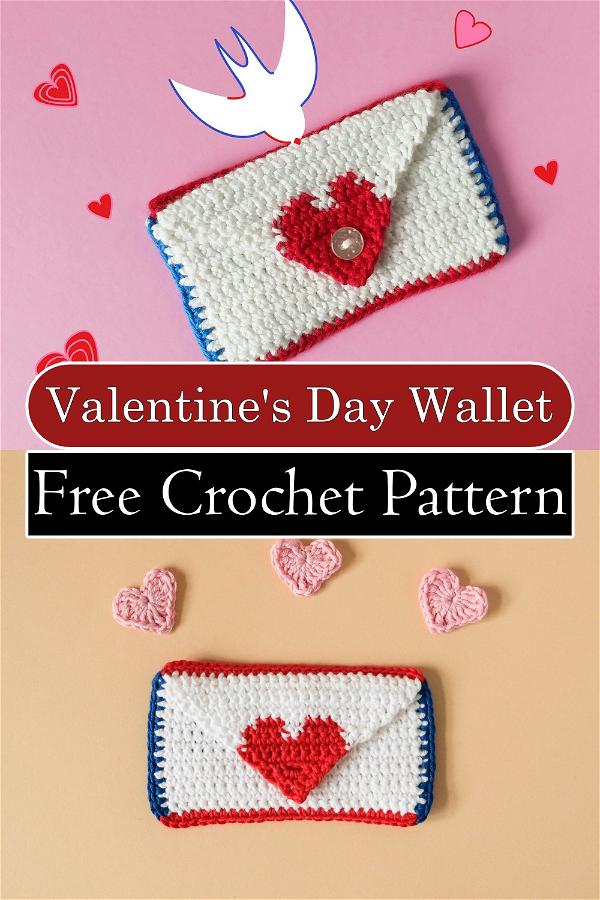 Love is in the air! Make Valentine's Day wallet for your loved one this year or yourself. This crochet pattern is perfect if you're looking to make a customized gift for your Valentine. It's simple enough to be made by both beginners in crochet and advanced crocheters alike. The heart shape is cute and has a practical purpose: with the right size made out of the suggested yarn (or even better, in super fluffy yarn), it fits cards perfectly!
Litoral Wallet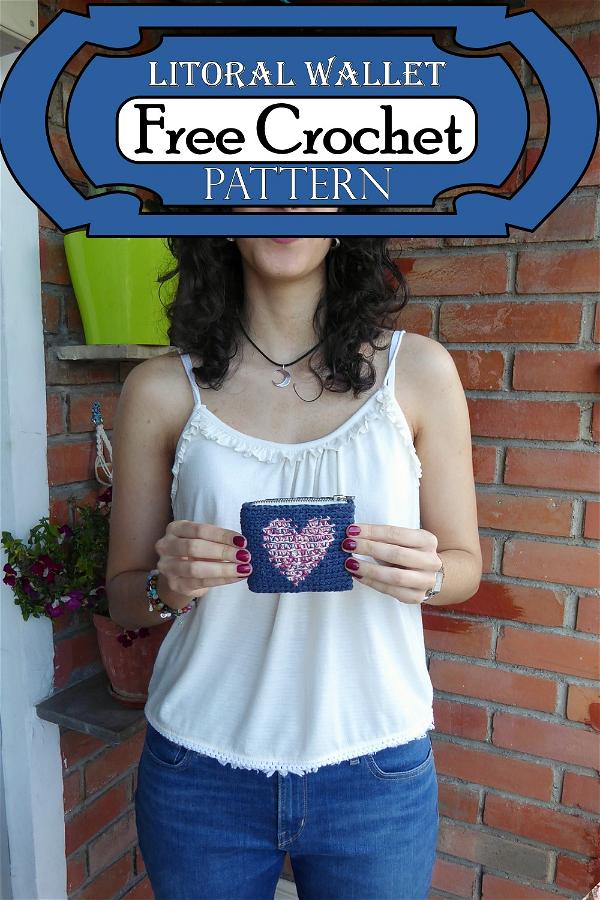 With the summer in full swing, nothing is more essential than a literal wallet to store all of your money, notes, and cards. This bright and colorful wallet is lightweight and perfect for the beach. The Crochet Litoral Wallet is the perfect crochet project to take along on a summer vacation, and it'll keep your valuables safe in the beach bag. The wallet features a zipper closure, so you don't need to worry about losing any essentials tucked inside.
Card Holder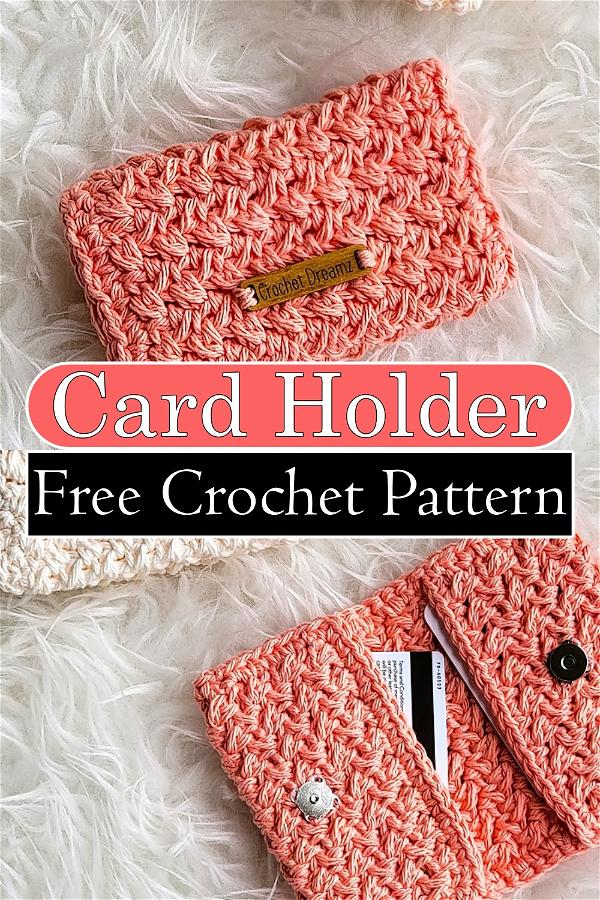 This pattern is great for beginner and experienced crocheters alike. The finished pattern will make your friends and family smile and keep their cards clean and tidy! This can also be sold at craft fairs or wherever you think it may fit. This fun crochet pattern is a great way to use up yarn left over from other projects and make something that will be very useful. You can make these for a more promotional event than a craft fair and use them for business cards, giveaways, or to have on hand.
Zip Coin Wallet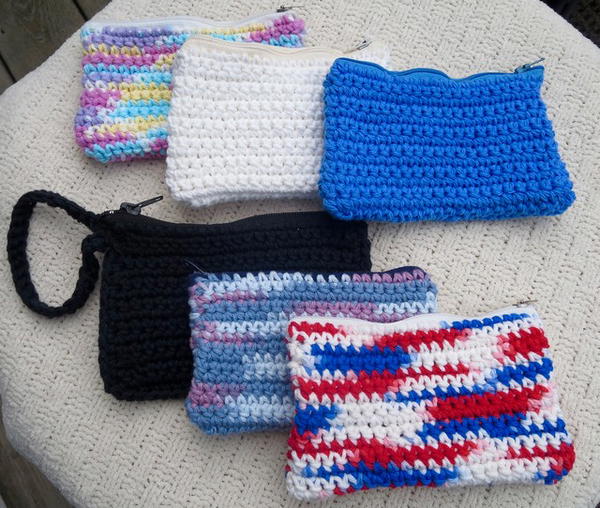 If you are interested in making your own custom crochet zip coin purse, this adorable zip coin wallet pattern is quickly crocheted and has multiple uses. Create this cute and simple zip wallet using buttons or snaps instead of zippers. It is small enough to fit in your purse or pocket, making it the perfect place to keep your coins and other small accessories. With a solid color or blend of two, you'll love the way your friends will comment on this wallet. It has easy-to-follow step-by-step instructions and lots of pictures for an enjoyable project experience."
Boom Box Belt Bag & Mix Tape Wallet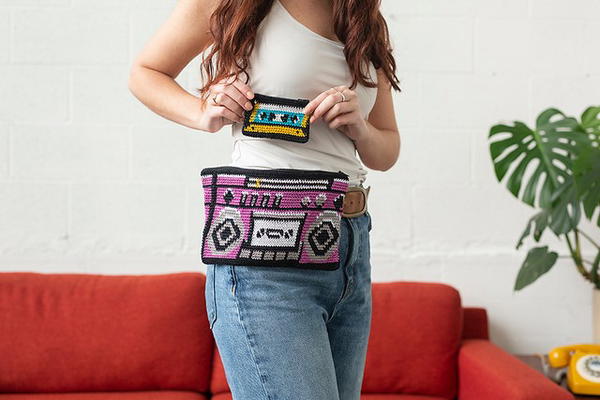 Explore the 80s in style with this Boom Box Belt Bag & Mix Tape Wallet crochet pattern. This retro mashup of a boom box and cassette player features soft colors, vintage hardware, and a fun mix-and-match design that you can make in any color combination you choose. With instructions to make both the Boom Box Belt Bag and Mix Tape Wallet, nothing is stopping you from cranking up your favorite tunes on your next trip. These patterns are designed for beginner to intermediate crocheters to try and experience something new.
Retro Mixtape Wallet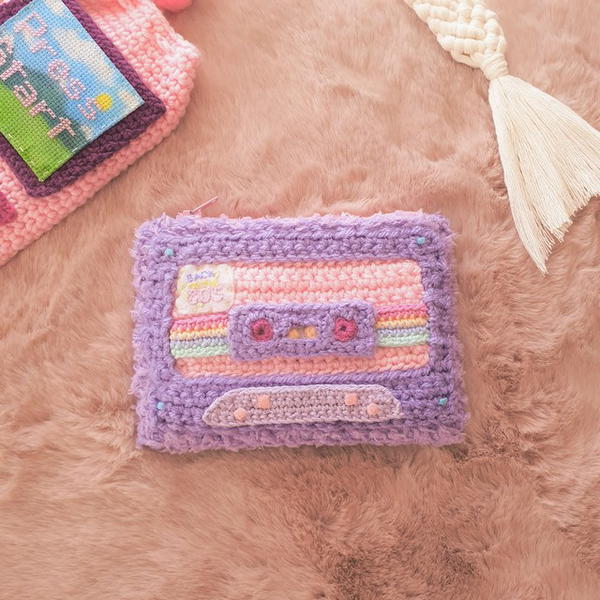 This crochet pattern is written to make it easy for you to crochet a retro mixtape wallet. Learn how to do single and double crochets while making them unique with your color scheme. With a simple slip stitch detail, the wallet goes from professional to casual in seconds and can be used on many occasions and seasons of the year. With its gorgeous contrasting colors and unique cable stitches, this one-of-a-kind wallet will surely draw compliments from all your friends.
Chevron Hearts Wallet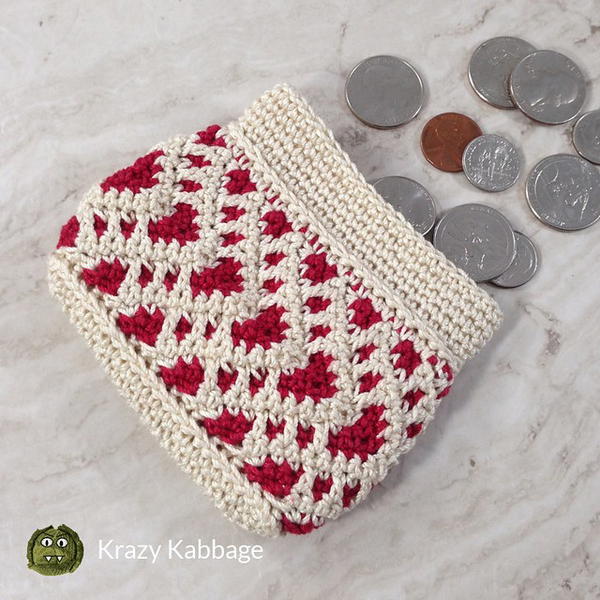 The Chevron Hearts Wallet is perfect for keeping coins or cards safe and secure. This wallet is versatile, durable, and constructed with a strong, 100% mercerized cotton thread in various vibrant colors. Add a lining and zipper to finish your project easily and create a unique handmade gift for the special ladies in your life this season! This project is perfect for keeping coins or cards safe and secure. It requires little time, as most of the work comes from joining pieces such as the sides, bottom, and top.
To Go Wallet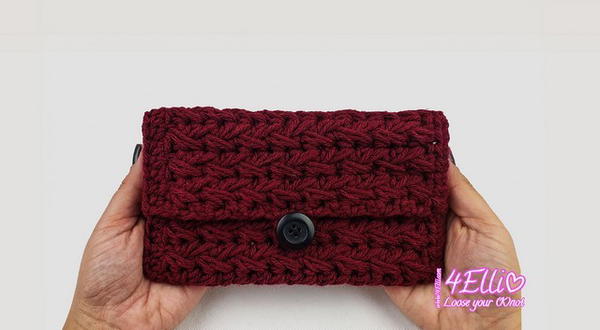 This crochet-to-go wallet pattern is so easy you can whip up a great gift for any wedding, baby shower, or birthday! The instructions are for using a half double crochet stitch, and following this pattern, you can make the wallet in every color and size you like. Keep your change, id/credit cards, and a few other things organized in this super easy-to-follow crochet pattern. This pattern allows you to crochet a small wallet in any size and yarn you like. It is elegant and practical.
Crochet Wallet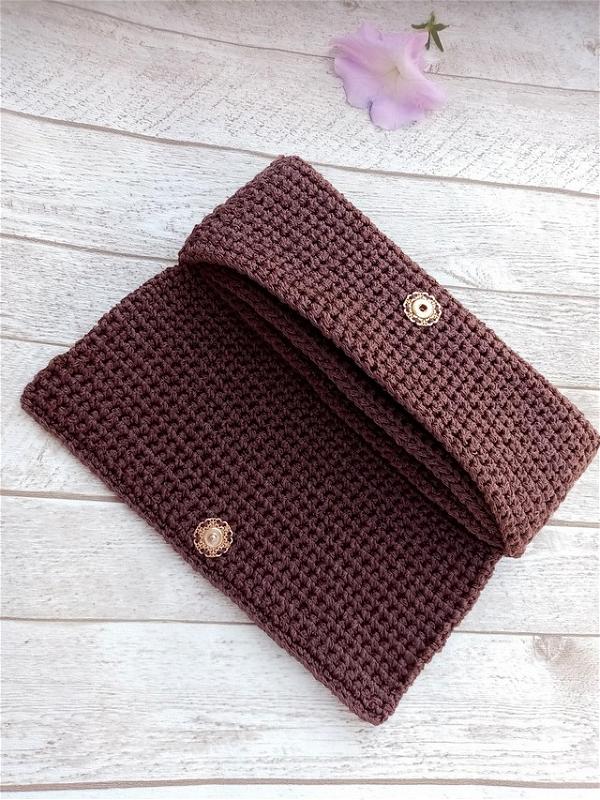 This wallet is a great way to use any leftover yarn you have lying around. Rather than spend money on something that ends up sitting in your drawer. Use this super-simple pattern to create an elegant and sturdy accessory you will use! Keep your change in the zippered back pocket, which folds neatly inside the wallet when not in use. The exterior of this wallet is crafted with garter stitch. While the interior consists of single crochet stitches, making it sturdy and functional.
Wallet Doll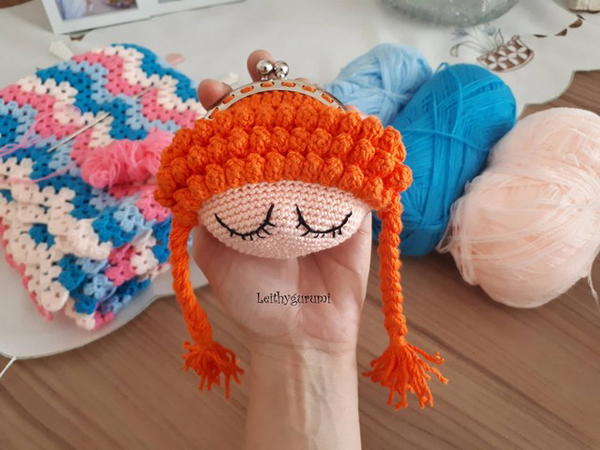 The Crochet wallet doll is an easy crochet pattern that creates a fun and cute addition to your home decor. Learn how to crochet this cute coin purse that is quick and easy to make. You will learn how to make the crocodile stitch, slip stitch, and how turn & even add a face to your crocheted creation. This pattern is perfect if you've ever been interested in handmade crafts or wanted to try crochet!
Pop Tart Wallet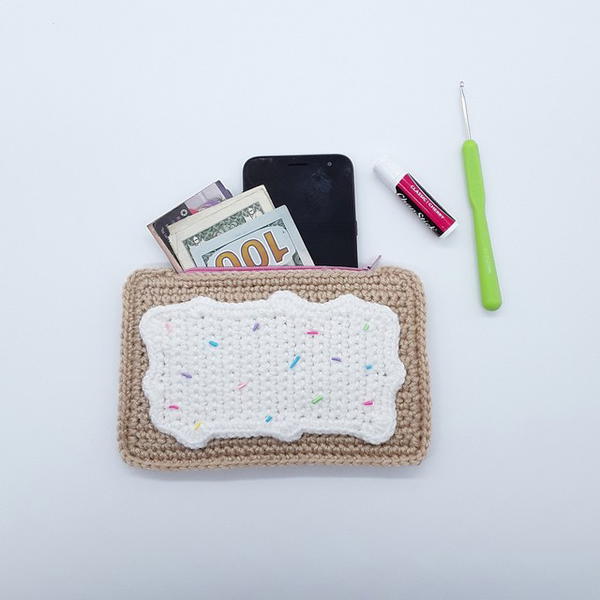 This crochet pop tart wallet pattern is an excellent project to practice new stitches, techniques, and color combinations and an excellent opportunity to showcase your skills. This will become a favorite accessory with delightful cables and a pop tart twist. It is a great way to re-discover the joy of making things yourself. It is a practice that can be done with any skill level. From simple stitches to more complicated ones like the color layout and advanced shaping methods.
Amaryllis Keychain Wallet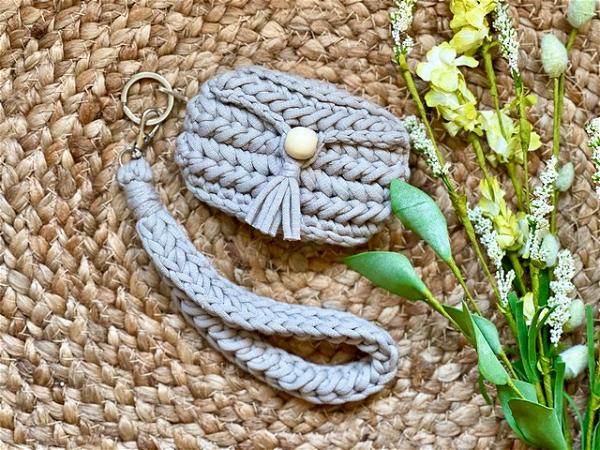 This adorable keychain wallet makes a great gift for women, children, and teens! It's the perfect size for running errands and is handy to have on your wrist or belt buckle. The keychain wallet pattern is a great weekend project that makes a perfect gift. This keychain wallet is easy to make and will be a favorite addition to your handmade collection. The wallet is perfect for running errands and can easily add with a wrist strap or swivel clasp. So, it can remain at your side wherever you go.