Going barefoot has never been so fashionable! In the past, wearing your bare feet outside might have prompted some strange looks, but now people are getting in touch with the natural world and bringing barefoot sandals back. Barefoot sandals are always a great addition to your summer wardrobe. They are an excellent alternative for the beach because they give you the perfect amount of coverage and comfort that regular flip-flops can't bring. Plus, you don't have to worry about tan lines! If you can't find the perfect barefoot sandals at your local clothing store, you can always DIY them! It's actually easier than you would think, and it doesn't require a lot of materials. You can even find everything you need in your own craft box! Here are 23 DIY Barefoot Sandals Ideas to get you started – let us know which ones are your favourite!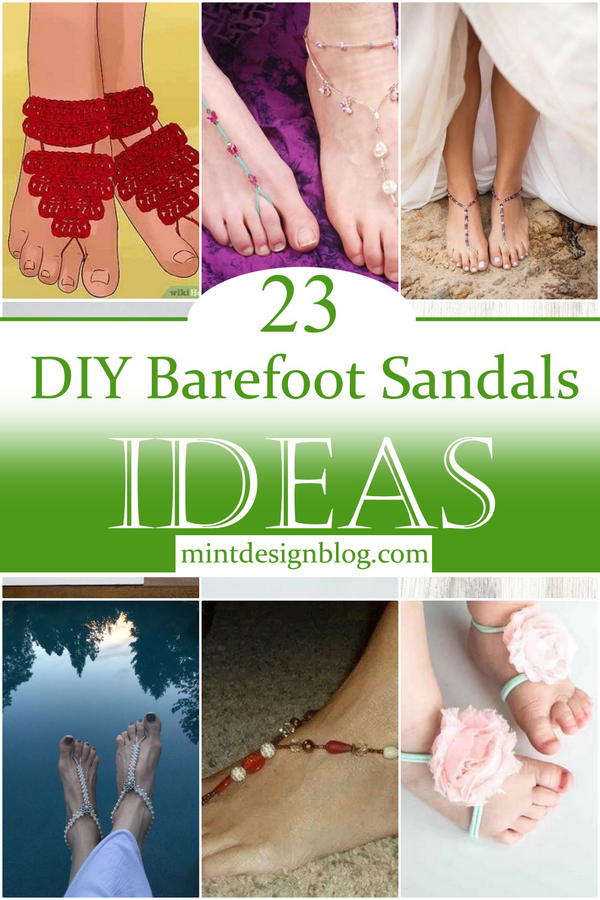 These sandals are the perfect summer wedding shoe for a beach or outdoor ceremony. Consider making your own barefoot sandals if you are looking for something more subtle than flip flops but more casual than a heel. It is easy to do, and you can be as creative as possible! These DIY Barefoot Sandals Ideas are typically worn with an open-toed shoe such as a flip flop or sandal but can just as easily be worn on their own. While making them for yourself is fun, they also make great gifts for friends and bridesmaids!
Here are 24 DIY barefoot sandals that will keep your feet cool and are way more stylish than flimsy shoes.
You might be wondering: What are barefoot sandals? What are they for? And how do you wear them?
Barefoot sandals are a type of accessory that has been worn in different cultures for thousands of years. They're meant to be worn on the feet, but not as a replacement for shoes—they're more like jewellery for your feet.
DIY barefoot sandals are the best thing in the world! And here's why:
They allow you to add a pop of colour to your summer wardrobe without having to wear actual shoes.
They're great for slipping into after a long day of walking around in heels.
You can pick the colours and materials you love, so you end up with something that's uniquely you.
You get to create something beautiful with your own two hands—and there's nothing better than that!
Wearing barefoot sandals is a perfect solution to avoid feet injuries on the beach or swimming pool, especially when you have kids running around.
You can wear barefoot sandals anytime during the summer, not just on the beach.
They can be made from scrap pieces of fabric and you don't have to buy them in a store.
Benefits Of DIY Barefoot Sandals
If you don't know what DIY barefoot sandals are, now is the time to find out. These easy-to-make accessories are a great way to add some flair to your summer outfits. Here's why you should try making your own:
You'll save money
You can customize them however you want
They make great gifts
They're just plain fun to make!
DIY barefoot sandals are a great way to be creative in your own style.
They also allow you to show off your feet, which look so cute in sandals!
You can express yourself with these accessories.
How To Make Barefoot Sandals For Wedding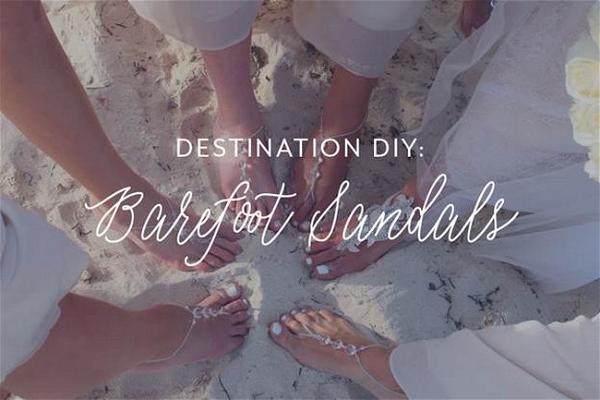 This is a step-by-step tutorial on making barefoot sandals; they are perfect for a beach wedding. If you have a seaside marriage but want your legs to be free of shoes and sandals, go with barefoot sandals. Creating your barefoot sandals is a way to compliment the look of your wedding dress. These barefoot sandals can fit any size and add that finishing touch to your special day. They can also be used at informal weddings and are a great way to keep your feet cool and comfortable in the sand. They can be made at a fraction of the cost of regular sandals from the mall.
DIY Barefoot Sandals For Babies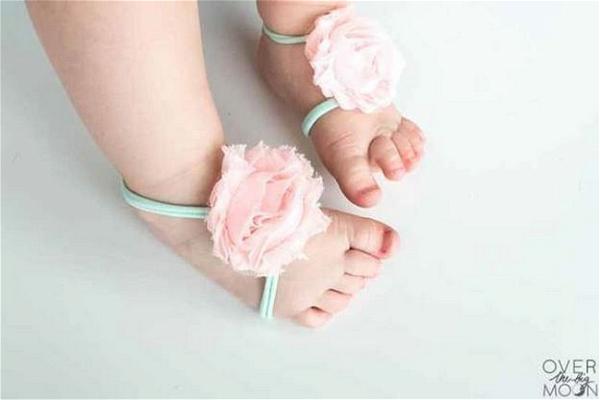 You might be tired of seeing the same crochet barefoot sandals on infant outfits and looking to make something more unique. However, we're sure that you love working up the cap-toe slippers and boaties! Your little girl will be the talk of the town at the beach with these baby barefoot sandals. These crochet sandals feature an intricate floral design that will jazz up her summer outfits. The open-toe design keeps her toes free and doesn't risk suffocating her toes like traditional sandals.
DIY Beautiful Barefoot Sandals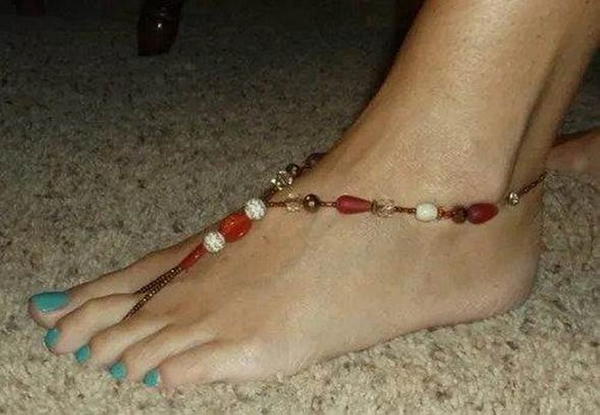 These DIY barefoot sandals are perfect for matching any outfit you wear. You could even craft it after a dress that matches your own. This tutorial really is one that anybody can follow. You will need to start by gathering your materials and tools. You will require your old flip flops, a hole punch, embroidery thread or beads, pliers, and elastic thread or sting. The materials can entirely be cheap. The whole technique should not take longer than 10 minutes to do. You will be amazed at the result and will look at your feet differently. It makes your feet look neat and very attractive.
3 Methods Of Making Barefoot Sandals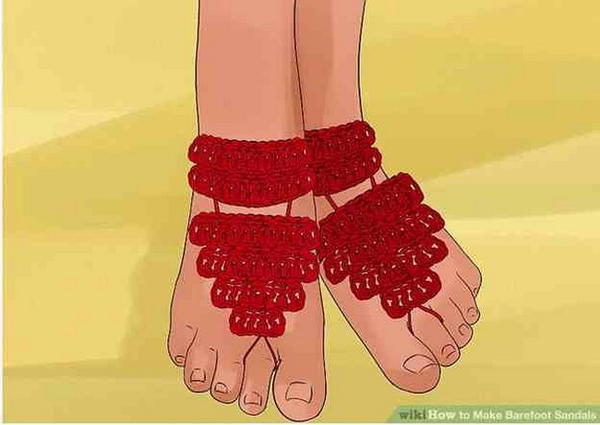 Wouldn't you rather create your own pair of barefoot sandals? With this guide, you can learn how to create your own from scratch. These sandals are so easy to make that you will have a pair of your own completely customized sandals by the end of this article. There are three ways to go about making these basic barefoot sandals. The experience will prove to be fun, exciting and rewarding. You'll finally have the perfect pair of sandals for the summer heat, with a personalized touch that makes your own.
DIY Barefoot Sandals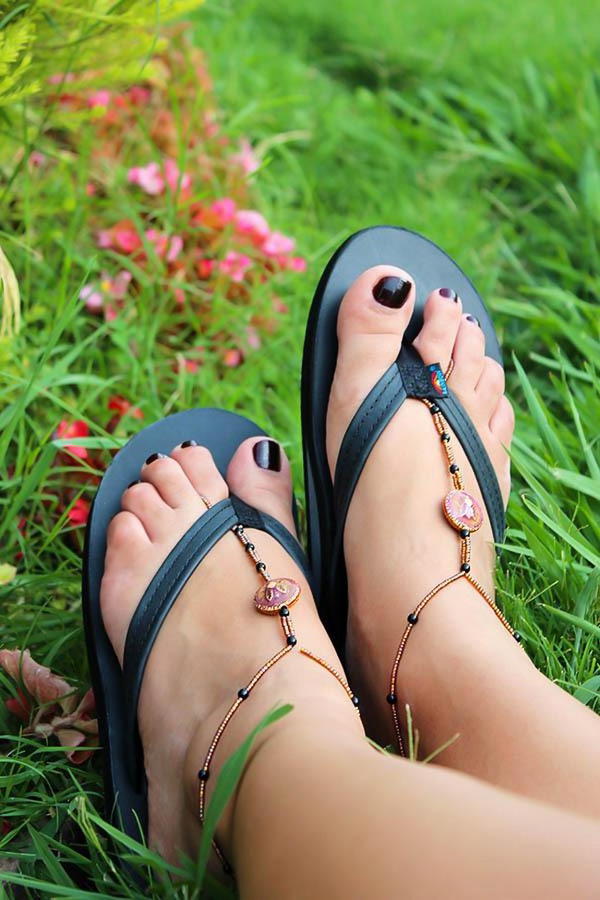 For a quick summer outfit, try DIY barefoot sandals. It is a super easy project that costs very little. The biggest plus of this project is the opportunity to hit up local craft stores for perfectly perfect beads! This is probably the easiest and fastest DIY you will ever do. This can be one of the best gifts you can give to your special someone. This DIY is for travellers and beach lovers who want to create a quick yet super cute look. It's only simple beads and string attached, and you're good to go.
DIY Barefoot Sandals with Beaded Lace Applique
These lovely DIY barefoot sandals with beaded lace appliques are a must-have for this summer season. Are you tired of wearing identical old flip-flops? Do you want to try alternative footwear with a unique style? Then why not give these lovely craft ideas a try. They would make an excellent addition to your summer wardrobe. This beaded lace makes a great summer craft project. The shoes can pair with anything from dresses to shorts, and you still look like you're at the beach. So if you're searching for a new craft activity your kids can join in on, this project may be the one for you!
DIY Crochet Barefoot Sandals
The summer is here, and you need something to protect your feet from the burning hot ground. That's why these crochet barefoot sandals can come in handy! You should give it a go for those of you who love knitting but have no idea how to crochet, or those who never tried it before. Making crochet barefoot sandals is an excellent summertime project or fun activity to do with the family. An elegant pair of sandals will get your feet from one sunny place to another.
DIY Wedding Barefoot Sandals
Here is a simple design that can be made at home and worn to a wedding. Made with cork fabric, this pair looks like a simple shoe version of the comfort trend of now, open-toed shoes. You don't need a lot of tools for this project. DIY Wedding Barefoot Sandals are exquisite and can serve many purposes. The sandals can be worn by the bride, bridesmaids, mom and groom's mother during the wedding ceremony if they don't know how to walk properly in heels or flats. You can also wear it at home every day because of the comfortable heels that wouldn't rub off your feet. It will add to your beauty as it enchants your flowing dress at the wedding ceremony.
DIY Barefoot Sandals For Beach Wedding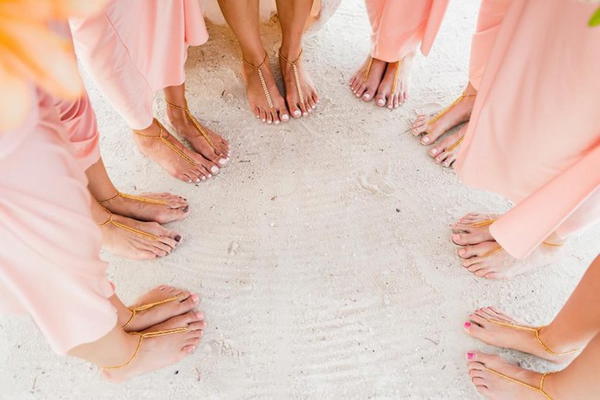 Want to create beautiful barefoot sandals like these? These cute DIY shoes will look fabulous at your beach wedding. Even if you live in a cold location and can't imagine a wedding on the beach, barefoot sandals will look fantastic with your wedding dress in any weather! They're straightforward to do. The first step is to find a bag of assorted beads. Next, cut two pieces of leather longer than the width of your foot. Sew these together using a decorative stitch and leaving an opening large enough to fit a shoehorn through. You will look unique and special, and this sandal will match any dress as long as you choose elaborate beads. Enjoy your own style!
Macrame Barefoot Sandals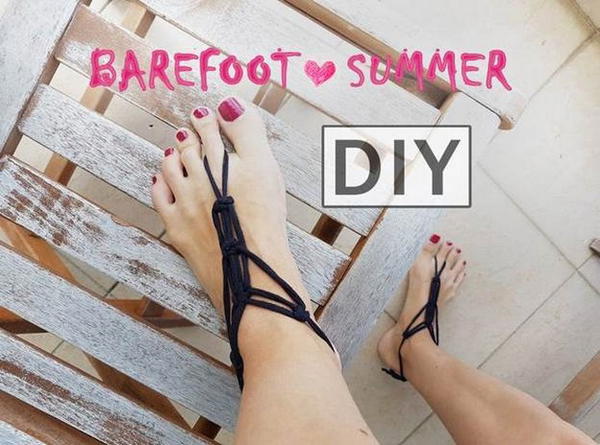 These free Macrame Sandals patterns are for those who love feet! Wear the soles of your feet to the beach, paint the bottoms of your feet, wear them with tights for a hip look…how about no footwear at all? These Instructable patterns have been tested and tried many times over. Make the perfect summer sandals with this easy-to-follow knit pattern. They are a great gift, they take only an afternoon to make and are perfect for slipping on when you want to run out to grab some groceries or lounge by the pool.
17. DIY Rubber Band Barefoot Sandals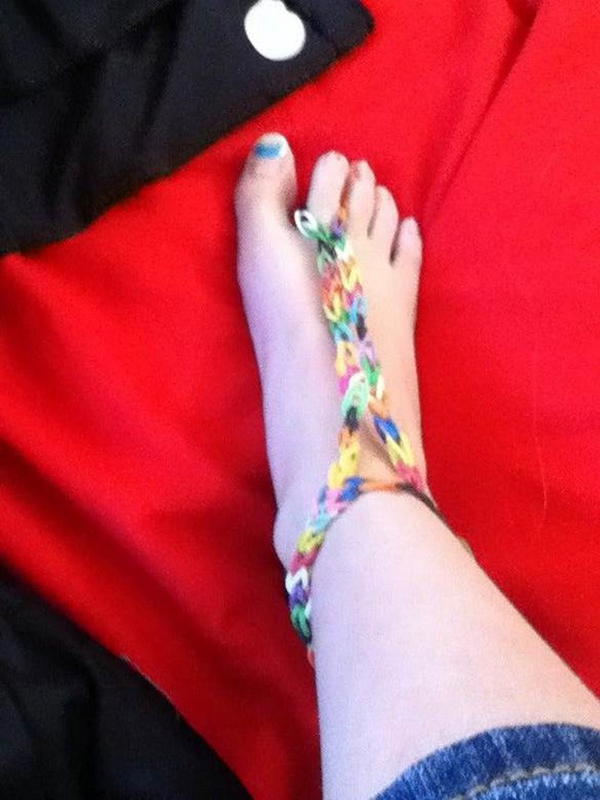 Attach some colourful rubber bands to the bottom of your sandals and you have a cute pattern barefoot sandal that those girls will just love. You will love this DIY project for your kids, it's an invitation for them to make it their own with a splash of colour! They work perfectly on the beach or in the pool, and the best part is you can find supplies you already have around the house or dollar store. . It's cost-effective, simple to work out, and goes with both long dresses or shorts. Also excellent for being worn by babies at the beaches, lakesides and riverside walk!
DIY Barefoot Beach Sandals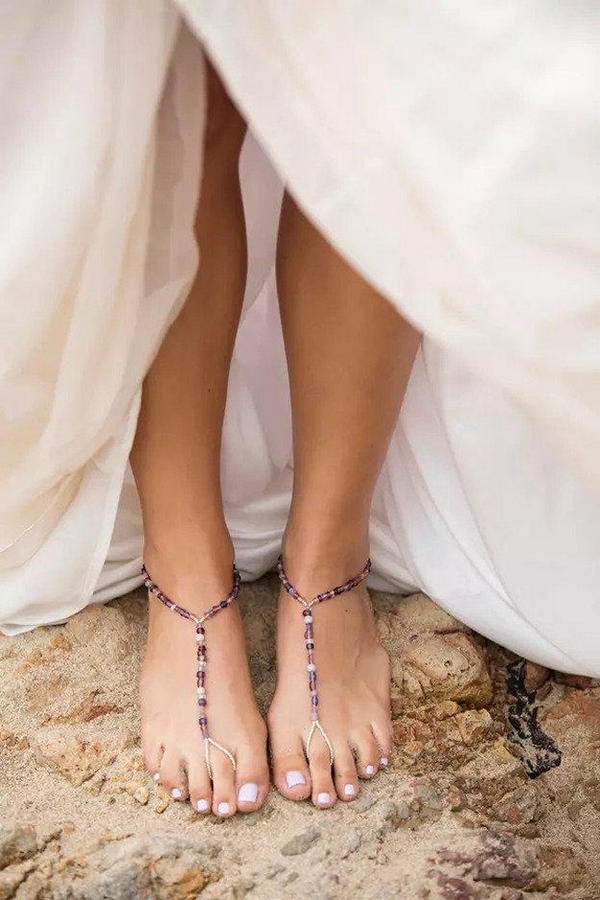 This is a great little project if you want to make your own pair of sandals, as this makes use of beads and a variety of coloured yarns. Using two strands of yarn simultaneously will make your weaving more visually exciting and give you an excellent finish. They are comfortable, plus it takes you only 5 minutes to make a pair. So think about making these as a gift for next summer, or buy one and put it on now while looking at this tutorial.
Barefoot Sandal Tutorial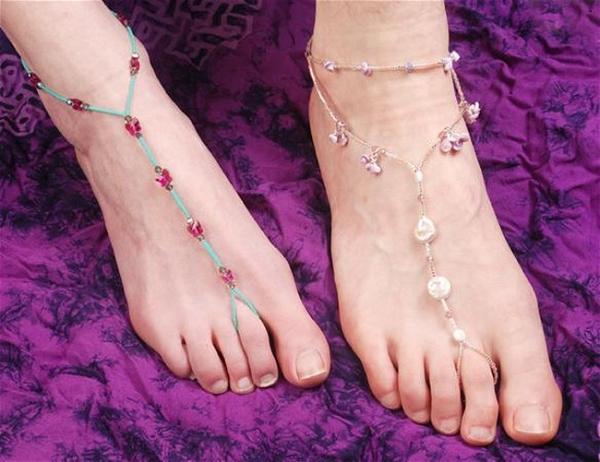 No matter what colour your shoes are, you'll definitely find a matching set of sandals that will look great with them. The best thing about making your own barefoot sandals is that you can make several pairs in just one day! Furthermore, you can create whatever style and design you want for your pair of shoes. So make sure to try this Barefoot Sandal Tutorial, and surprise others with your new footwear. You can use different materials and create a stunning pair of sandals for yourself.
DIY Barefoot Sandals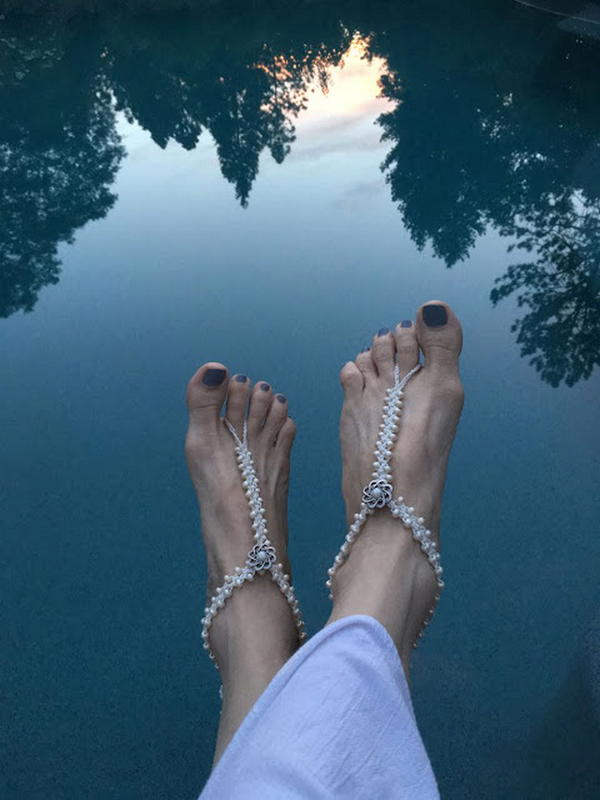 Here is a super cute DIY barefoot sandal for your summer getaway. Not only do they look adorable, but they are comfortable to wear! They are stunning and also easy to make. They are an absolute summer must-have. This is an excellent project for those who like to get creative with their footwear and for those who want to take their summer wardrobe to the next level. If you're ready for a barefoot adventure and want to stay comfy in the water, on the sand, or on almost any surface, this pattern is perfect for you. These barefoot sandals are cute enough to wear anywhere and will liven up any outfit. There are even options to customize these fun shoes with your own flare.
DIY Barefoot Sandals For Summer
These barefoot sandals are ideal for beach time or for vacation - sandals that you can walk barefoot in and even run and jump with confidence because you know that they're securely on your feet! A pair of barefoot sandals takes no more than 10-15 minutes to create. This DIY is so easy to follow that even beginners won't get lost and will make a pair of sandals once they get started. Even though they're done in a few steps, these barefoot sandals look really professional and elegant if you know how to pick out the suitable yarn, beads and charms. You can start practising now and show off your new barefoot sandals this summer!
How To Make Barefoot Sandals
Do you have your summer vacations in mind? If yes, you should start preparing for that with a pair of beaded barefoot sandals. The pattern is straightforward to follow and can be accomplished with a pair of beads and elastic strings. You will indeed feel the fantastic look while wearing it while swimming, playing on the beach or having that barbecue night with your friends. The beaded bare feet sandals are an excellent way to put them to use and will complete your look. If you are glimpsing for a more explicit style that's great for going out, this may be what you're looking for.
DIY Cute Barefoot Sandals
Looking for gorgeous sandals that are perfect for summer when you do not feel like wearing shoes? Looking for classy, handy, cute, and cheap sandals that you can make yourself? Well, then look no further! This is the original tutorial for the DIY Cute Barefoot Sandals. The materials are common to craft supplies and can be found in most craft shops. The process of making process is very easy and doesn't require any special skills. All you need to do is to find a jewellery chain that is close to your ankle size, find the three biggest hanging beads for the buckle, then use jump rings and connector beads for the rest of the sandals, and you will have a pair of fashionable and comfortable barefoot sandals in no time!
DIY Baby Barefoot Sandals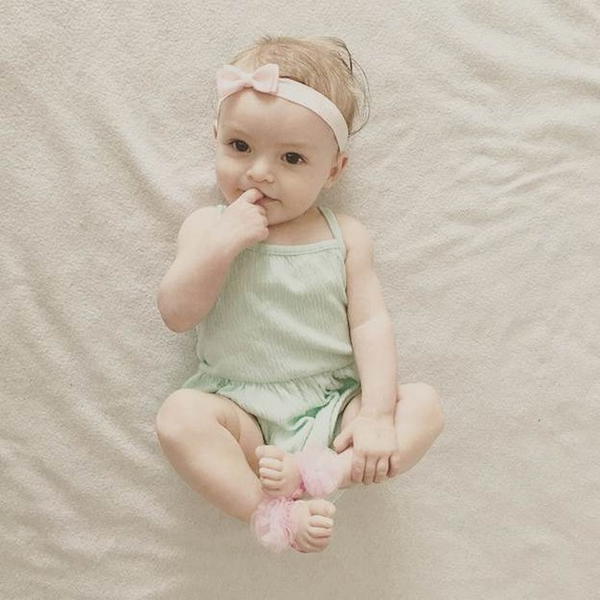 Since baby's feet grow fast, and you may not see them often, it is excellent to take your time and look at your baby's little feet. Your baby deserves everything cute and special because they are, after all, unique! These barefoot sandals give a hip appearance while allowing the toes to be free and exposed. This can be a great Do it yourself project for you and your little one to work on. Plus,, you will get the bonus of making them yourself and save a ton of money!
DIY Barefoot Sandals
Whether you're a DIY enthusiast, want to create something for your own wardrobe, or need a quick, last-minute Christmas gift for a friend, this DIY Barefoot Sandals tutorial is perfect for you. Here is an easy DIY sandals design, perfect for Summer and Spring. They are versatile and will match many styles, whether you wear them with jeans or maxi skirts. This pattern will show you how to make a pair of fabulous flowery open-toe sandals that you can wear in the spring and summer. They are super comfortable and fun! Enjoy!
20. DIY Beaded Barefoot Sandals
Whether you're a DIY enthusiast, want to create something for your own wardrobe, or need a quick, last-minute Christmas gift for a friend, this DIY Barefoot Sandals tutorial is perfect for you. Here is an easy DIY sandals design, perfect for Summer and Spring. They are versatile and will match many styles, whether you wear them with jeans or maxi skirts. This pattern of sandals will show you how to make a pair of fabulous flowery open-toe sandals that you can wear in the summer and spring. They are super comfortable and fun! Enjoy!
Tribal Barefoot Sandals DIY
Step up your summer style with these fun and festive tribal barefoot sandals! These handmade crocheted tribal barefoot sandals are made to order in your colour choice. Double-thickness crochet yarn and adjustable tie at the back mean you can wear them all day and night with no problems. Wear with everything from flip-flops to formal dresses, or relax at home after a long day. A unique fashion accessory in soft, stretchy cotton. They're a great accent to any outfit, especially when worn next to the beach or pool. Plus, they're so easy to recreate!
DIY Beach Barefoot Sandals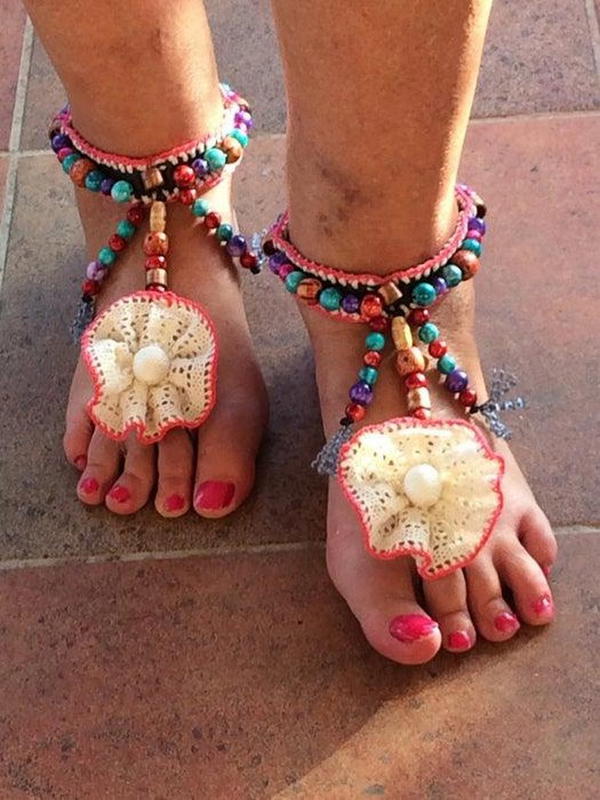 As it can be seen, this barefoot sandals design uses a variety of coloured beads. The look is simple and very unique, perfect for beach outings. Beads are also used for accents on the back of these sandals, which will complete your look. However, do not think that making these jewellery pieces is easy. You will need a lot of patience and tools such as pliers and needle-nose tweezers. This can be a delightful project for your next beach outing. They are perfect for summer and the beach, but they are also great for the pool or when spending time walking around town. It is straightforward to make, and it only takes a few minutes.
23. How To Make Barefoot Sandals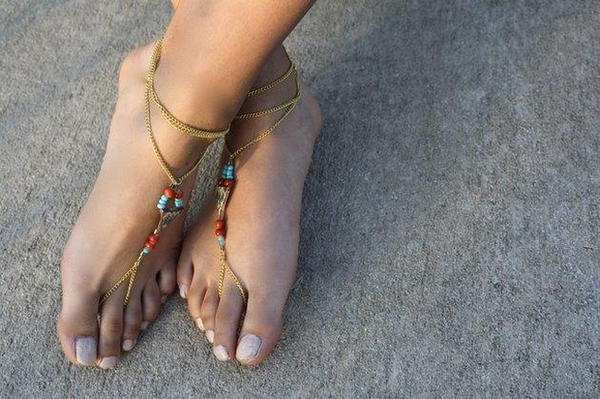 Making barefoot sandals is fun to make, but it also may be an idea for you to enjoy the summer without the stress of shoes. These barefoot sandals are an attractive way to make something simple but look more elegant. There are others ways to put them together, so be creative and make what works the best for your feet. You can create your own style while dancing on the beach, playing in a river, or just sitting around a bonfire.