Summer is here and it's the perfect time to style your wrist with some fabulous DIY bracelets. From sea glass beads to colorful tassels, there's a variety of options that you can wear alone or stacked high with other bracelets. These 15 DIY friendship bracelets are perfect for anyone who loves stylish accessories and making their own jewelry. Cute and colorful, these string bracelets are fun to make and share with friends. These projects are an easy way to make the most adorable friendship bracelets! The best part is that they take almost 20 minutes to make, which means you can create a whole bunch in no time.

Friendship bracelets are as much a sign of summers like ice cream, flying kites, and barbecues. These colorful hand-made accessories are fun to make, easy to personalize, and just the thing for fans of DIY jewelry. Whether you're planning a birthday party or looking for a way to keep the kids entertained on a rainy afternoon, learning how to make friendship bracelets is a great way to make sure everyone has a good time. Getting started with friendship bracelet patterns is easy — all you need is some string and a little know-how. Here's everything you need to know about making beautiful friendship bracelets from scratch!
These 15 DIY friendship bracelets are the perfect summer craft for girls of all ages, they are so cute, and make fabulous gifts for your friends!
How To DIY Friendship Bracelets
DIY friendship bracelets are a great way to get some new accessories, and they're super easy to make! All you need is some embroidery floss, a little bit of time, and the proper knowledge.
DIY-ing your friendship bracelets doesn't have to be a pain, but they can be if you're not careful. Here's how to make sure that doesn't happen:
Grab a friend.
Buy some supplies.
Get crafting!
And follow these steps
Cut your embroidery floss into four equal pieces.
Fold one piece of embroidery floss in half, and use the middle of the fold as the starting point for your bracelet.
Lay your remaining three strands of embroidery floss on either side of your starting strand, with two on one side and one on the other. Make sure that all of your strands are lying flat.
Take the outside strand from the side with two strands, and loop it over to cross to the other side. Make sure it's snug against your starting strand.
Now take the outside strand from the other side, and do the same thing—loop it over so that it crosses to the original side. Make sure this strand is snug against your starting strand as well.
Repeat steps 4 and 5 until you have a chain that's as long as you want it to be!
Now you can use these strands as a guide
Why You Need To DIY Friendship Bracelets
Making friendship bracelets may be the perfect way to spend your next girls' night in.
Why?
They are fun to make and customizable.
They're a great way to get you and your friends talking about what you want out of life and to share your hopes and dreams for the future.
You can use them as stocking stuffers for Christmas!
Benefits Of DIY Friendship Bracelets
They're Easy & Fun To Make
It's A Great Activity For All Ages
It's An Inexpensive Way To Accessorize
They Make A Great Gift Idea For Friends & Family
You Can Customize The Colors
You Can Make Them At Home
They're Very Easy To Make
They Are Affordable
They Are Fun And Easy For Kids
A fun way to pass time
Allows you to create unique bracelets
Great way to bond with friends
they are a great gift idea
How To Make Friendship Bracelets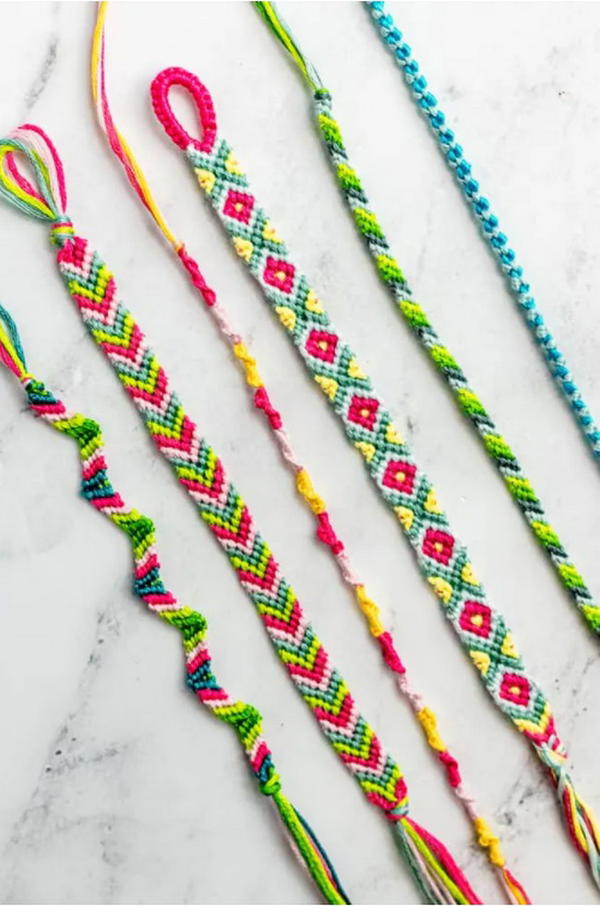 Do you have a hard time finding the words to say "I miss you" or "I love you"? Are you worried that your words will just not be enough? If so, you'll want to start giving your friends and family friendship bracelets. These bracelets allow you to showcase how much they mean to you in a simple, effortless way. Bracelets have been around for ages and their significance is clear. They can be worn to express your interests, show off a cause you stand by or even let others know you're open to new friendships!
3 Easy Beginners Friendship Bracelets
Looking for a fun and thoughtful gift for a friend that you've just made? These three friendship bracelets are easy to make, affordable, and perfect for any occasion. Just because you're taking your friendship bracelet making up a notch, doesn't mean it's time to break out the sewing kit! These easy beginner friendship bracelets are so fun and cute to make, that you'll want to make more than just one. Great for kids, teens, and adults of all ages! They make great gifts, party favors, or simple tokens of appreciation.
DIY Friendship Bracelets
These DIY friendship bracelets are so easy to make, and it's totally up to you how many colors you want your bracelet to be. Go back to a simpler era of handmade craft projects and friendship bracelets with these DIY Friendship Bracelet kits. Each kit comes with the necessary tools and materials to bring an adorable pair of friendship bracelets to life. Bonus points for gifting this fun craft project to friends or family on their next birthday!
DIY Friendship Bracelets For Beginners
Great friendship bracelets do not have to be difficult or expensive. They can be a great project to enjoy with friends while creating beautiful, long-lasting accessories that can add color and texture to any outfit. Make and keep friends with these easy friendship bracelets! Friendship bracelets are a timeless handmade gift that is both colorful and stylish, making them the perfect gift for anyone on your list. These beautiful friendship bracelets for beginners make the ideal craft for sleepovers, road trips, slumber parties, or any other kind of get-together
DIY Friendship Bracelets
Do you have a friend or family member who loves to make handmade crafts? Do they love wearing accessories too? Well, this is the DIY kit they need! Create friendship bracelets in all shapes and sizes with this easy-to-follow kit from Beados. It includes all the materials needed to make a blingy bracelet, including cute animals, geometric shapes, and more, not to mention simple instructions on how each part is assembled. Let your little one explore their creativity with its multi-level instructions.
DIY Friendship Bracelet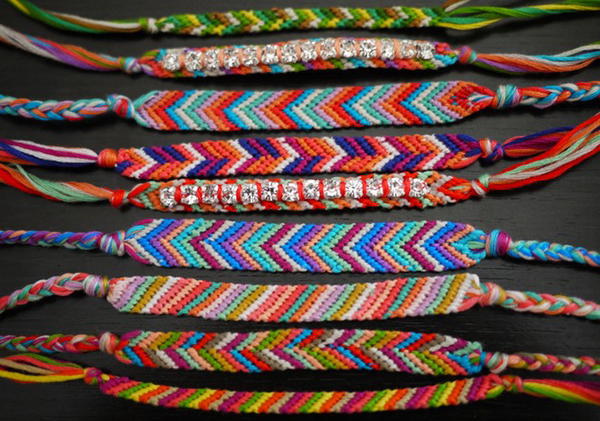 Friends know best! And nothing says "best friend" more than a cute friendship bracelet. Make one for a friend you met in class, a fellow athlete you bonded with over tryouts, or even your mom (who knows? maybe she used to make them with her friends when she was your age). If you used to whip up friendship bracelets like a champ in grade school and have since forgotten how to consider today's post a refresher course.
Colorful Beaded Friendship Bracelets For Kids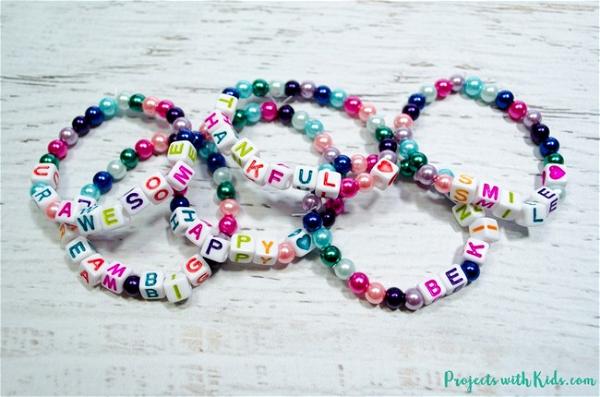 You can now make friendship bracelets that are just for kids! These beaded friendship bracelets for kids are fun to make and give to friends or classmates and contain hidden messages of encouragement within the bead strands. This cute bracelet kit includes colorful beads to make 8 bracelets, letter beads to spell out encouraging words or names of friends or family members, a clasp, and easy-to-follow instructions with pictures. You can customize the bracelets with your own personal messages using our letter beads. It's so much fun to make these colorful beaded friendship bracelets together as a family and give them out as gifts for birthdays, holidays, and other celebrations.
Easy Braided Friendship Bracelets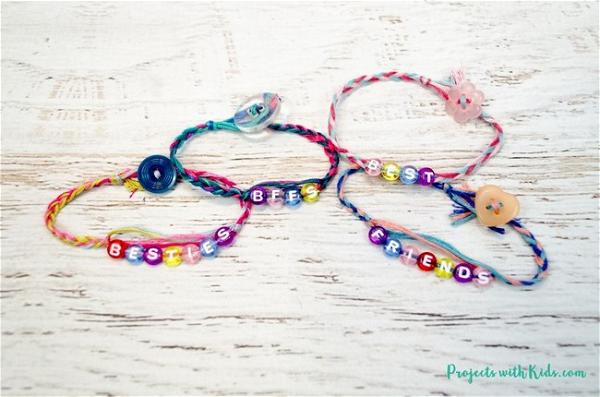 Summer camp crafts for kids are always fun, especially when they do not involve paint! These easy friendship bracelets require just a few materials. They are perfect for your summer camp crafting activities. This is truly one of my favorite summer craft projects for kids and adults alike! Make these fun braided friendship bracelets for your kids and their friends! Great summertime craft for kids, a must-have for playdates, sleepovers, and weekend camps – Easy Braided Friendship Bracelets are a fun way to say you care! They will write their name on the bracelet or give it as a gift.
How To Make Friendship Bracelets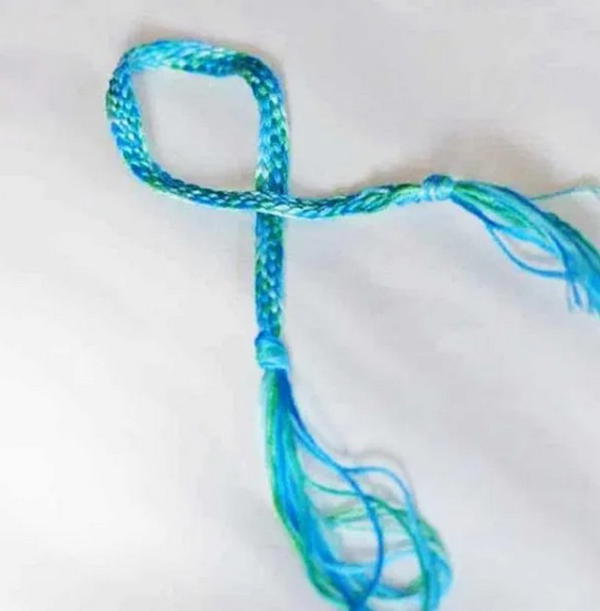 Making bracelets can be fairly straightforward and is great for kids because it involves a few small knots and very basic braiding. Kids will love this fun craft! And, as you'll see, friendship bracelets make for perfect summertime accessories, so bring on the sunshine! This super fun craft is not just for the kids. Adults love friendship bracelets, too! They make great gifts, maybe even a Mother's Day gift idea! There are so many different ways to make friendship bracelets; the combinations are endless. Friendship bracelets are something that has been around for a while now. Everyone can learn how to make their very own.
Spiked And Braided T-shirt Bracelet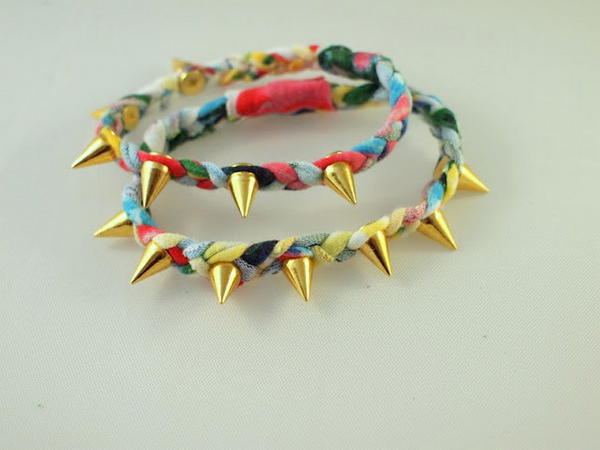 This Spiked And Braided T-shirt Bracelet is the perfect gift for the Rockies in your life. Made of soft but durable cotton, this bracelet features seven spiky metal pieces and a notched, braided black rubber strap. It's adjustable, so it can grow with you or fit perfectly with a favorite shirt. Either way, it's cool and different. This bracelet is made from recycled T-shirts, jeans, and leather bracelets. So there will be some color variations, as each bracelet has a unique style.
Braided Thread And Rhinestone Bracelets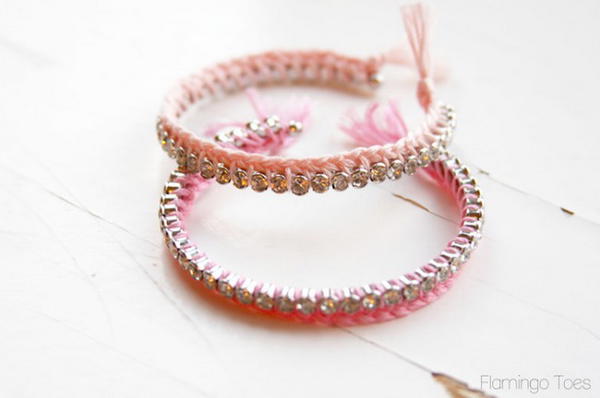 When it comes to friendship, there isn't much that we wouldn't do for our best friends. Love is in the air, at least around Valentine's time. Need a way to tell your bestie how much you care for her? Try making this chevron patterned friendship bracelet. It is also a beautiful friendship bracelet for Valentine's Day! Whether it's staying up late sewing them a dress shirt or hacking through a thorny jungle to find the cure for their latest malady, we'd go to any length to make sure our pals are happy. But how does your BFF show their appreciation? With heart patterned friendship bracelets, of course!
DIY Heart Friendship Bracelet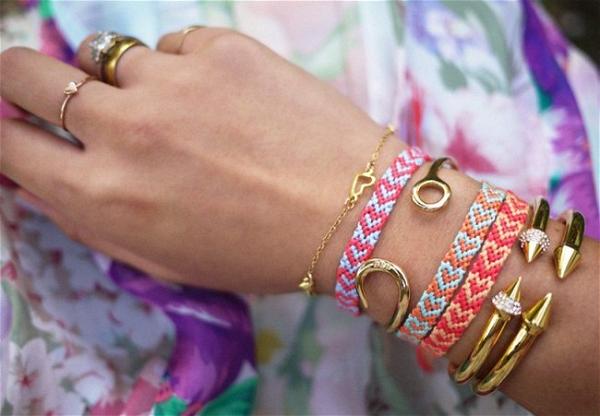 The beauty of this friendship bracelet is in its simplicity. All you need are a few colors of embroidery floss and your favorite beads to thread in between the chevron stitch. This bracelet only requires a couple of basic stitches that are repeated in five different rows. Just alter the color of the stitches when needed to create the desired pattern, and leave extra room to add beads before finishing off with tassels! Use your jewelry-making skills to show someone how much they mean to you. These DIY heart friendship bracelets make the perfect gift for Valentine's Day, a birthday, or any special occasion.
DIY Multi-strand Bracelet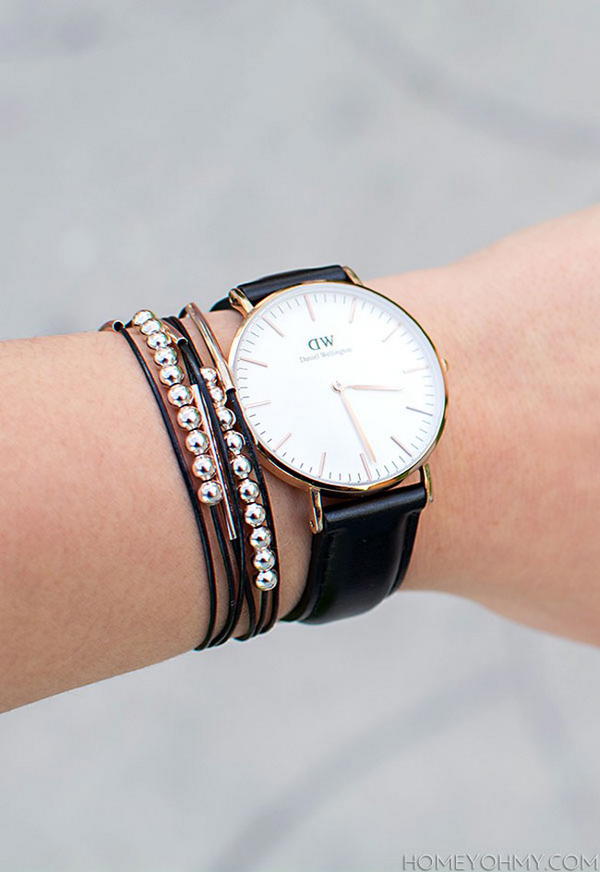 The ultimate "DIY" kit for anyone interested in learning a new skill. This kit includes everything you need to create beautiful and meaningful bracelets. Each bracelet is handcrafted using the multi-strand technique, which makes it possible to create a lasting piece of art. This idea can be used for any occasion. It can be a gift for someone or a souvenir for yourself after vacationing somewhere special. The supplies and the blending of colors into the bracelet are endless. There's no question that winter will be here soon, and you know what comes with winter- Christmas shopping.
How To Make A Twisted Friendship Bracelet In 2 Minutes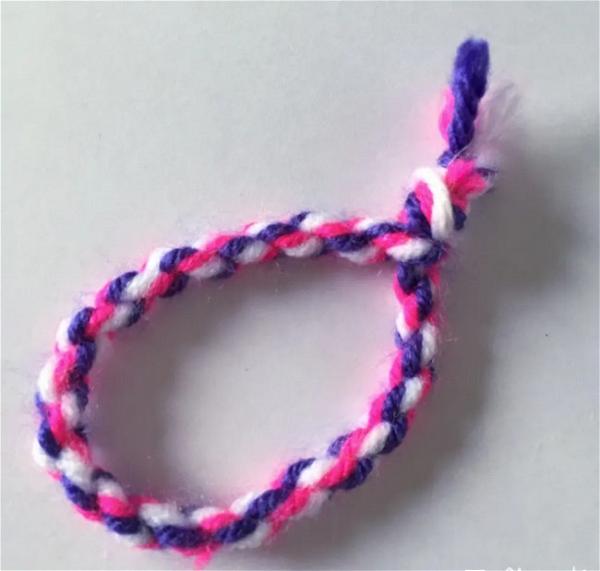 This is the perfect craft to do with the kids before they go to sleep. It couldn't be easier, and they can make it by themselves. They can twist many bracelets before they drift off to dreamland. The color of the yarn you choose does not matter. However, you might choose different colors if you are making a friendship bracelet for a friend so you can write their name on each strand. Twist the strands together and fold them in half. Wrap the loop over one of your fingers then take the end, go through the loop, and pull tight. Continue this process until your bracelet is as big as you like!
Easy Diy Button Friendship Bracelets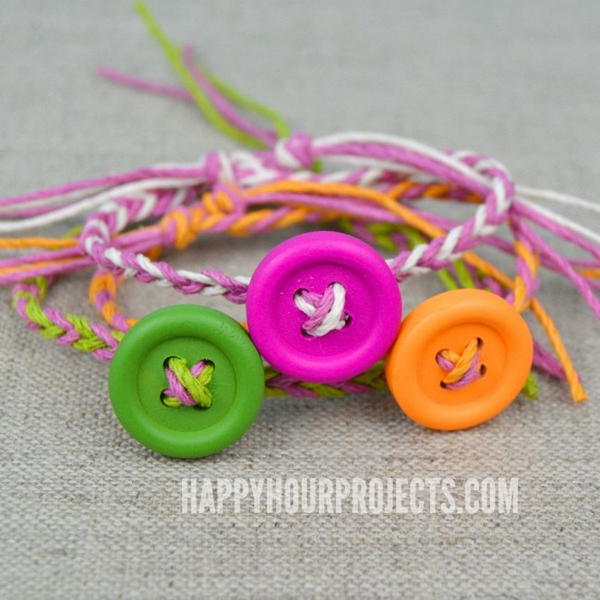 DIY button bracelets are a quick and easy way to make a gift for anyone on your list. These colorful button friendship bracelets are a fast and easy project and they can be tied on like any good friendship bracelet. These bracelets are simple and inexpensive to make, but you could add a clasp if you want it to be removable. They take only minutes to whip up, and you probably have everything you need in your craft supplies or around the house already!