DIY luggage tag ideas are a great way to get noticed at the airport, tell your luggage apart from all the other black bags on the baggage carousel, and add some personality to your suitcase. Instead of using a store-bought tag that hundreds of other travellers may have, make your luggage tags a creative and memorable way to identify your bags. These free printable 25 DIY luggage tag ideas can be printed on regular printer paper, or you can use card stock for sturdier tags.
DIY Luggage Tags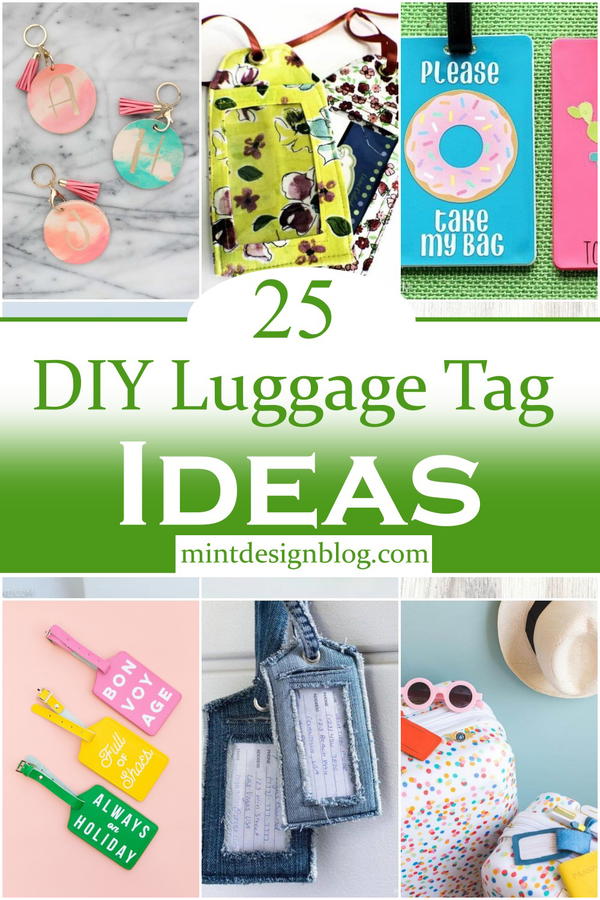 And these DIY luggage tags are full of personality, too! From pizzas to surfboards, you'll be sure to find fresh inspiration here. Plus, they're super easy to make! Each of the following tutorials is full of step-by-step instructions that account for every detail. Your bag has never looked better (and will never get lost!). These DIY luggage tags are also a great way to add personality to your bags. Stand out at baggage claim and make it easy for your friends to pick you out in a crowd with these clever tag ideas. These super admirable and iconic DIY Luggage Tag Ideas can be used to personalize your travel bags, athletic equipment, and more with fun.
Usual Materials and Tools:
 fabric
scissors
thread
sewing machine
needle and thread for sewing on the tags by hand.
hole puncher
DIY Luggage Tag Sewing Tutorial
If you love to travel, you know the importance of a good luggage tag. Not only can it help identify your bag when it is lost, but it can also do so in a stylish way. This DIY luggage tag sewing tutorial will show you how to make your own personalized luggage tag using fabric and a little bit of ribbon. This project is great for beginners as it doesn't require any complex sewing techniques. It's also a great way to use up some fabric scraps you may have laying around the house. This tag is made out of fabric, and you can sew it yourself! The best part is that you can make a bunch of different designs for each member of your family so it will be easier to find your bags.
Skill level: simple
DIY Personalized Luggage Tag
A luggage tag is a travel essential that not only helps your bag stand out from the rest, but also helps you keep track of your bags. This DIY project will allow you to create a unique luggage tag to add personality to any suitcase or bag. This project is quick and easy, and the finished product looks polished and professional. It's a cheap way to notify your luggage so you can spot it easily at the carousel. And because these luggage tags are personalized, they can help you identify your bag if it gets lost in transit.
Skill level: easy
DIY Duct Tape And Leather Luggage Tag
Luggage Tags are a really helpful but often overlooked accessory. They help identify your suitcase to ensure that it isn't lost in transit. But luggage tags also have a little spot for contact information, so if the airline does lose your bag, you can still get it back. That's why luggage tags should have a little bit of personality and not just be a boring rectangle of plastic or paper with your name printed on it. This project takes less than an hour, and the results are really cool. All you need is some duct tape, leather scraps, scissors, and a printer or pen. You can find all of these materials at most craft stores.
Skill level: simple
DIY Embossed Leather Luggage Tag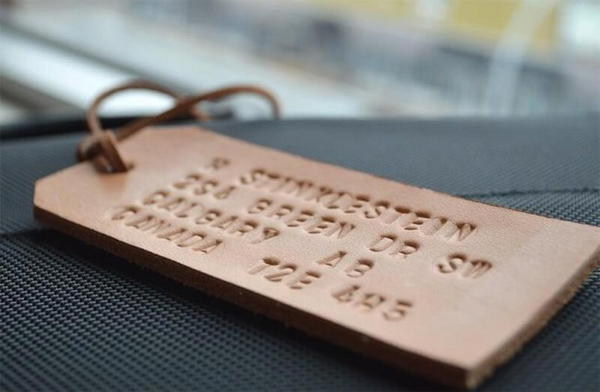 In the age of carry-on bags and roller luggage, you may think that luggage tags are a thing of the past. But a stylish leather tag attached to your suitcase actually helps it stand out in a sea of black bags, making it easier to spot. Making this luggage tag was a little more involved than a simple bracelet or key chain, but it was still very easy to do. This quick DIY project that you can do using some leather scraps, along with embossing tools. The tools you need are fairly basic: a utility knife, scissors, pencil, and ruler. And the skill level for this DIY is about the medium — it's not going to take you a long time, but it does require some patience.
Skill level: moderate
DIY Leather Luggage Tags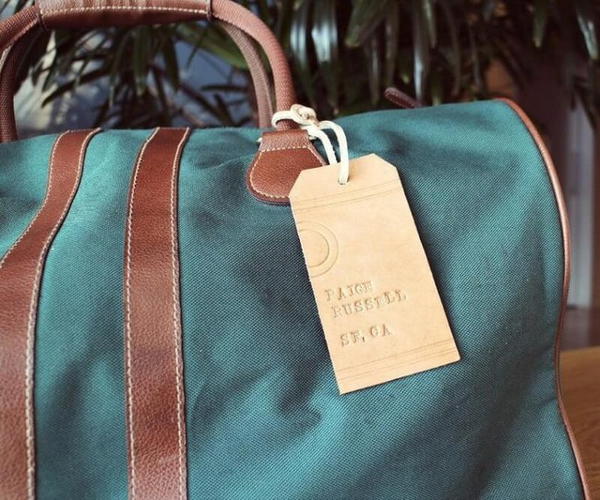 Leather is an extremely durable and sturdy material that is used to make everything from belts to wallets, to handbags and luggage. Leather luggage tags are usually engraved with the owner's name and address, making them easier to identify at an airport or bus station. You can make your own leather luggage tags with a few simple tools and a little bit of patience. This easy project is perfect for anyone who wants to add a touch of class and personalization to their travel bags. All you need are some simple materials and you'll be gliding through the airport in no time.
Skill level: simple
DIY Luggage Tag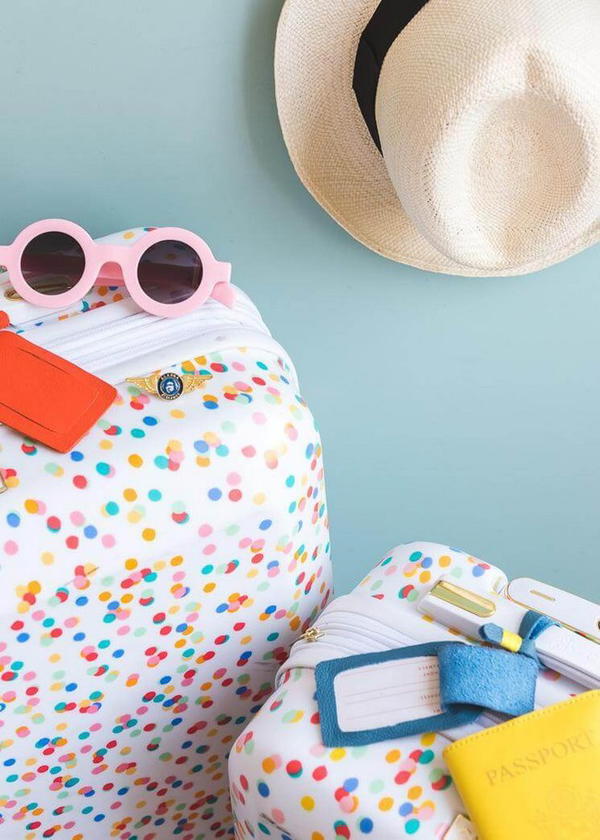 Making your own luggage tag to mark your bag is super easy. It will make you stand out from the crowd and allow you to find your bag in a second! There are many ways to make a luggage tag, but this one is the easiest and quickest. It involves leather, so it will be sturdy enough to withstand the test of time. The leather isn't going to tear or rip easily like paper tags, and the cord is thin enough that it doesn't get caught on a lot of things. This project requires basic sewing skills. If you don't know how to hand sew, then check out this beginner's guide first (or just use a sewing machine).
Skill level: simple
Homemade Luggage Tag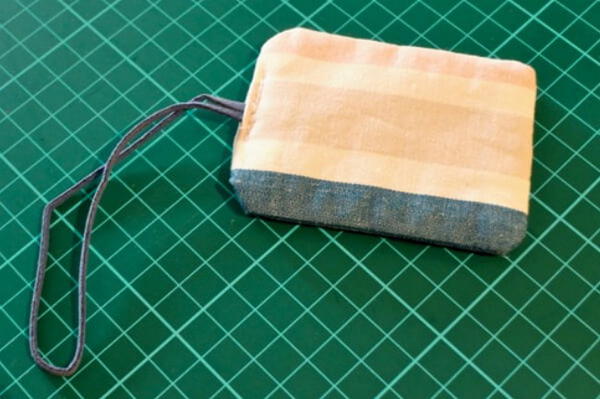 A bag tag, luggage tag, baggage tag, travel bag, or suitcase tag is a travel luggage identifier attached to items or to a carry-on bag. A typical bag tag includes a luggage strap for attachment, a printed identification card, and a detachable flimsy (paper) part with a printed bar code. The bar code is encoded with the same information printed on the identification card. The best part of this luggage tag is that it's a soft material rather than a traditional plastic or leather tag. It won't make any noise when you're trying to wheel your bag through the airport, and it's machine washable if any dirt gets on it. Best of all, you can use any fabric you want!
Skill level: easy
DIY Luggage Tag Using Duct Tape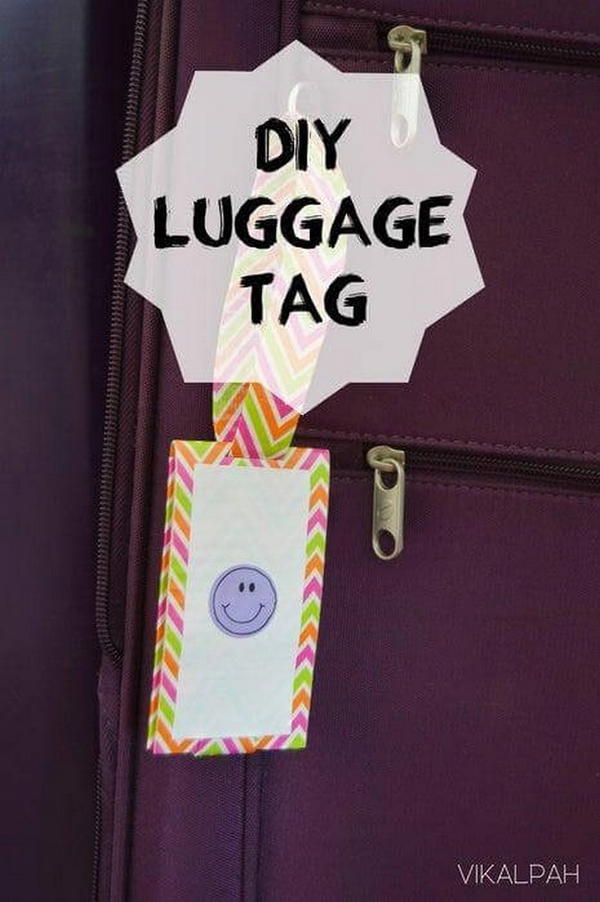 DIY luggage tags are a great way to make sure that no one picks up your luggage by mistake. They also make your luggage stand out so you can easily identify it in the airport baggage carousel. Making your own luggage tag is easy and inexpensive, especially if you use duct tape. In the event that your luggage is lost in transit, you want to make sure that it has as many ways to be identified as possible. In addition to filling out an ID tag with your contact information and attaching an address label, you can also decorate your luggage with decorative tape. This tutorial learn how to make a luggage tag using duct tape.
Skill level: easy
DIY Luggage Tag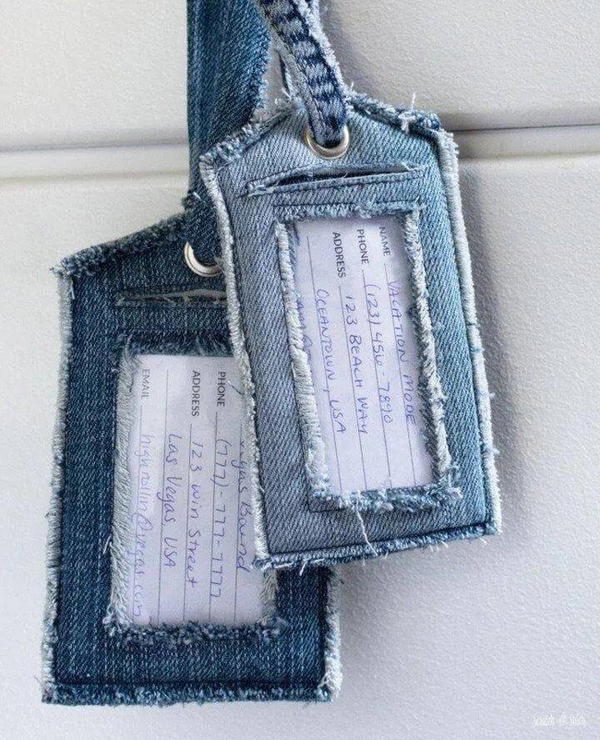 Luggage tags are a wonderful way to identify your suitcase at baggage claim. You can make one from recycled blue jeans, or any other denim material. These are easy ways to customize your luggage or backpack. It's stylish, sturdy, and easy to make, so you can go from zero to travel-ready in no time! This luggage tag is made from denim and features a handy vinyl window for inserting an information card. The large size is perfect for full-size suitcases but can be scaled down to fit a carry-on bag or laptop case by reducing the size of the cut fabric.
Skill level: advanced
DIY Laminated Luggage Tags
Luggage Tags are the perfect accessory for all your luggage, travel bags, and even your backpack. But they're not very durable or secure. You can't write your contact information on them, which means you're stuck with hunting down a pen and writing your info on the back. And if it rains? Forget about it — the ink will run off, leaving you with illegible scribbles on the back of your tag. So you can make some new ones — and added a laminate to protect the paper from water damage and make them last longer. These DIY luggage tags are laminated, so they're waterproof, sturdy, and easy to read. The best part is you can make them in just a few minutes, with materials you probably already have at home!
Skill level: moderate
DIY Typographic Luggage Tags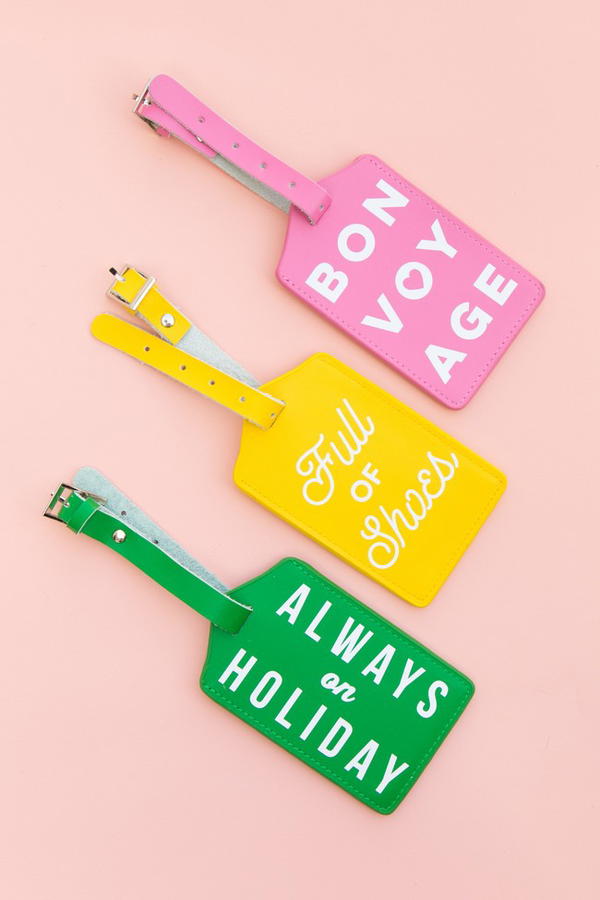 There's nothing worse than getting to your destination and having to wait around a carousel while you try to spot your luggage. One of the best ways to make sure that doesn't happen is to make your bags stand out from the crowd with these DIY typographic luggage tags. The best part about this project is that you can use any font you have available and customize the text to say anything you like. It's the little things that can really make a space yours. These luggage tags are a fun and easy way to add a personal touch to your room. You can choose your own phrases, colors, and fonts to make them totally unique!
Skill level: advanced
DIY Fabric Luggage Tag
This DIY Fabric Luggage Tag is a great way to identify your suitcase. It's easy to make and adds a touch of stylish flair. You can use any fabric or ribbon you want, so it's easy to match your luggage tag to the rest of your luggage or bag. This is simple to make. It only takes a few minutes, and it's a great way to customize your luggage! Sewing your own luggage tag is a great way to add a personal touch to your bags. This is fun and easy to make, and it adds a pop of color to an otherwise boring piece of luggage.
Skill level: easy
Make Your Own Watercolor Luggage Tags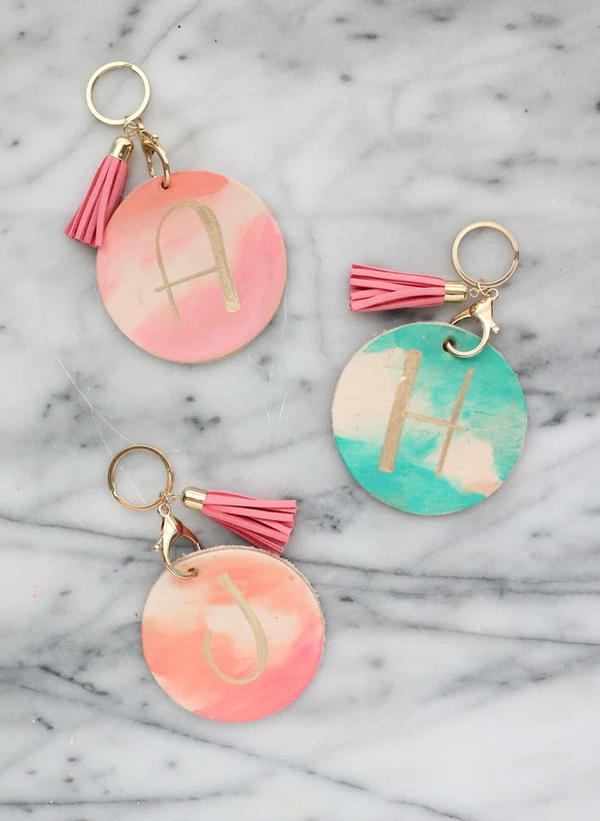 If you're worried about losing your luggage, make sure to write down your address and phone number on the tag so you can be reached. There are a few ways to ensure your bag gets back to you if you misplace it or leave it behind at the airport, but they all require you to put some sort of identifying info on your luggage. And who wants something boring and business-like on their vacation bags? So, these cute luggage tags use washi tape and watercolor paper which are great for adding a pop of color and personality to your bags. And don't forget, besides looking super cute, these DIY luggage tags will also make it easier for someone to identify and return your lost bag should you ever need them.
Skill level: easy
Homemade Luggage Tag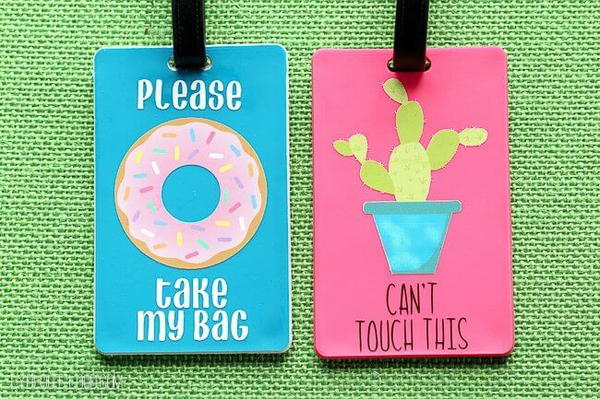 Make your luggage stand out from the crowd with this easy-to-make Homemade Luggage Tag. You can get super creative with this project and make a statement with your luggage tag. You could also make these for family members as gifts for any occasion. This is actually super easy to make and it will add a unique touch to your luggage. These are so much fun, you'll want to make one for each of your bags. Making your own tag is a fun and inexpensive way to add some personality to your suitcases, backpacks, or beach bags. This tutorial shows you how to use an old gift card to make a durable, attractive luggage tag.
Skill level: advanced
How To Make A Luggage Tag
Don't let your luggage be confused with that of another traveler. Make a special tag that will let you spot your bag right away. Most luggage tags have the same boring design that looks like a business card, but there's no reason yours needs to be like that. You can make your own tag that reflects your personality, or an unusual shape or color scheme that will make it stand out in a crowd. You can solve the problem by making leather tags, perfect for giving your bag some personality. These DIY leather luggage tags are also great gifts for travelers, and they make excellent stocking stuffers. The best part about this project is that you can use anything for your design.
Skill level: simple
DIY Quilted Luggage Tag
Luggage tags are very easy to make once you get started. They are a great way to use up some of your fabric scraps. You can make them any size you want, and you can use any type of fabric you like. Quilted luggage tags make great gifts and are wonderful to use yourself. They are easy to sew, even if you are a beginner. This tutorial is a quick and easy way to make a luggage tag using fusible webbing, so there is no need to pin all your layers together. This luggage tag can be made out of any fabric, just be sure it is thick enough that your information on the back won't show through. You can use some scraps of quilting cotton, but you can also use canvas or leather if you would like.
Skill level: easy
DIY Fabric Luggage Tag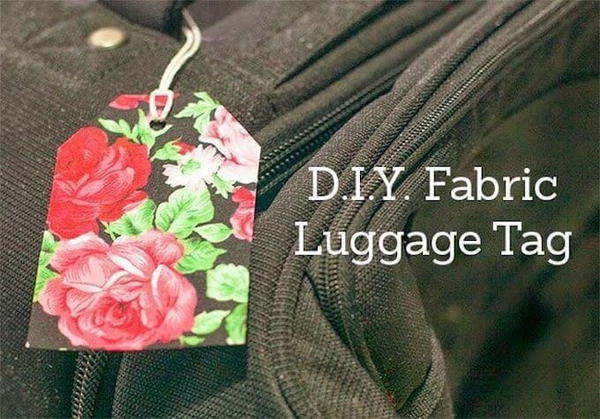 There's nothing like packing up your bags and taking a little trip. Whether it's for vacation or an extended stay. This luggage tag has a little bit of flair with a fun design you can quickly sew up before your next trip. It's made from 100% cotton fabric, so it's durable and will hold up on any journey. The backside is laminated to protect the information on the card inside. It would be fun to make a handmade luggage tag for each of your family members' suitcases. Not only does this DIY make our bags super easy to identify, but it allowed you to add a unique, personal touch that helps us stand out in a sea of black bags.
Skill level: advanced
How To Sew DIY Luggage Tags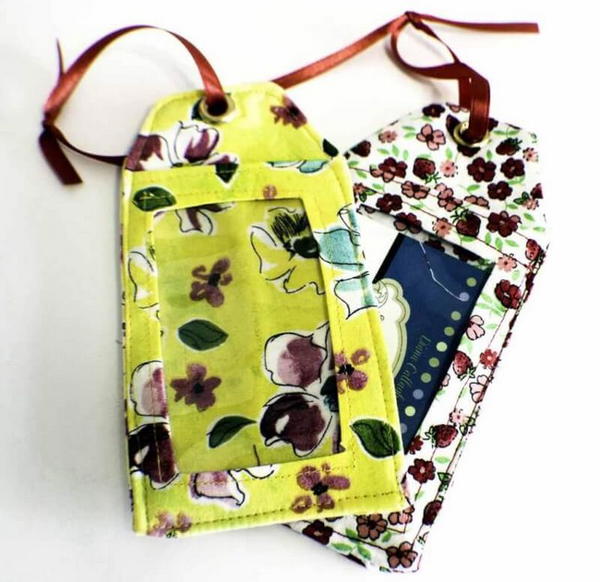 When you're traveling, it's hard to keep track of your luggage. You may have a cool suitcase, but it's always helpful to have something that makes your bag easily identifiable. If you're going on vacation or even for a long weekend, you should make these easy luggage tags! They're simple to make and will help you keep track of your things. With a few basic sewing supplies, you can make easy luggage tags for your next trip. They're also a great way to cover up old stains or marks on your bags. In this tutorial, I'll show you how to sew DIY luggage tags using scrap fabric remnants!
Skill level: moderate
DIY MDF Luggage Tags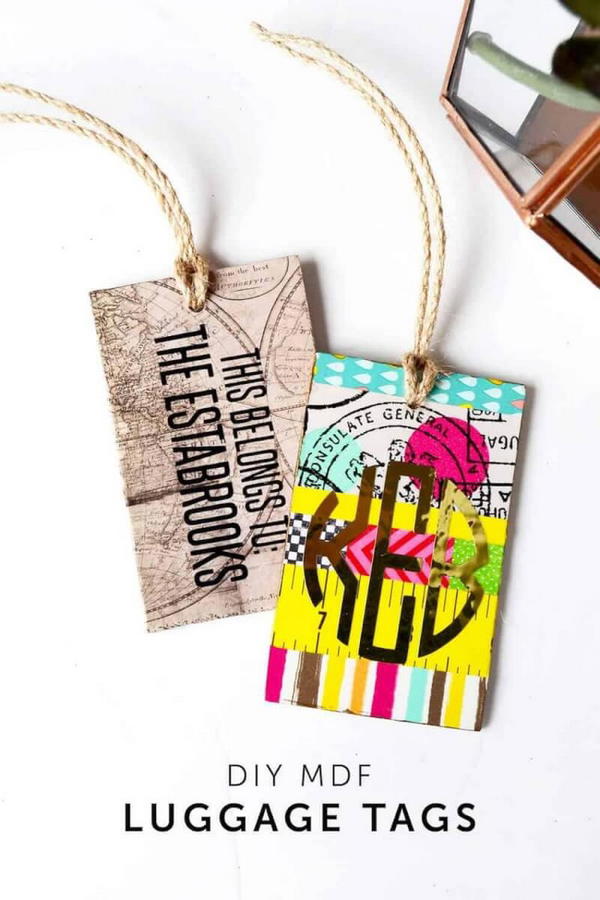 Click for more details
These luggage tags are made using MDF (medium-density fiberboard), which is a wood composite material that's easy to cut and sand. Some companies carry pre-cut and laser-etched shapes for DIY projects that can be finished however you like. You can use these tags on luggage or as gift tags for friends who love to travel. This is a great way to personalize your luggage and make it easier to spot at the baggage carousel. Plus, these fun luggage tags are made with a few items you probably already have on hand. It's so easy to work with and paint, and it takes a design to the next level with its smooth surface.
Skill level: advanced
DIY Luggage Tags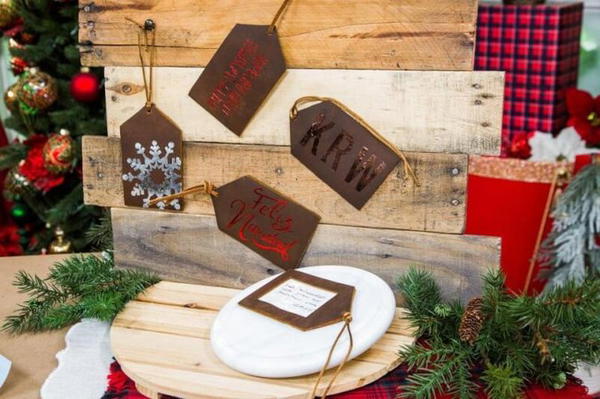 There's nothing like heading off on a vacation. Whether you're jetting to a faraway destination or just driving down the road to visit family, it's always fun to pack your bags and getaway, even if only for a few days. But all too often, you end up standing at the baggage carousel recognizing everyone else's luggage before yours comes around. You've tried everything, from bright ribbons to colorful luggage tags. Well, here are some DIY luggage tags you can make that will help you spot your luggage a mile away. They're easy and inexpensive (or even free) to make, and they'll help you spot your stuff in no time at all.
Skill level: simple
How To Make A Luggage Tag In Leather
A luggage tag in leather is an easy but useful thing to make. It can be used as a key ring, bag tag, or luggage tag. There are many ways to make a luggage tag, but if you want to make something that is durable and can withstand the challenges of travel, leather is your best choice. Leather goods such as luggage tags can last for years, even when used as frequently as you might use a luggage tag. The most important thing is to make sure you have a great leather strap and a nice brass plate. The strap is so important because it will be the first thing people see when they look at the luggage tag. So, make it look good!
Skill level: moderate
Leather Luggage Tags DIY
These leather luggage tags are super easy to make and a great way to personalize your suitcase. You can also use them as gift tags for birthdays, or name tags for those little ones in your life. This luggage tag is not only beautiful but also very practical. They're durable and easy to spot on a crowded bag carousel. They also can carry your contact information so finding you if your bag is lost is easier. Most people use business card size paper, but leather is more durable and classier. Once your letters are firmly attached, punch the holes for the rope and attach a small clasp so it's easier to open and close.
Skill level: simple
How to Make Rustic Wooden DIY Luggage Tags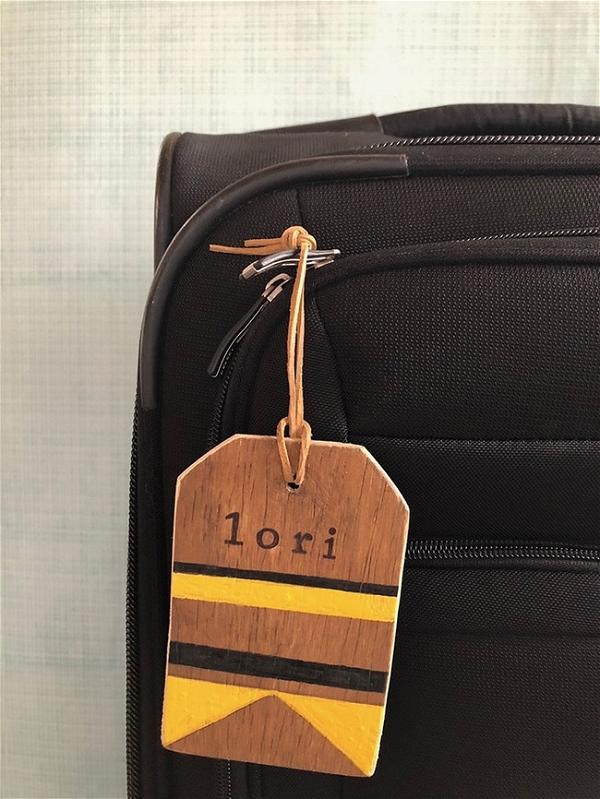 At the end of a long vacation, there's nothing scarier than standing at baggage claim, waiting for your bag to come around, and then seeing every other bag on the conveyor belt but yours. But that doesn't have to happen if you make your own luggage tags! You could buy some at your local drug store ... but they're not very personal, and they're certainly not as fun as making your own. You can make your own luggage tags from wood, so they're not only easy to make but also durable enough to last through all of your travels. It's easy to customize with the traveler's name and destination, and it has cute vintage-style hardware for an added touch of style. And best of all, it can be created from materials you likely already have at home
Skill level: advanced
Easy DIY Luggage Tags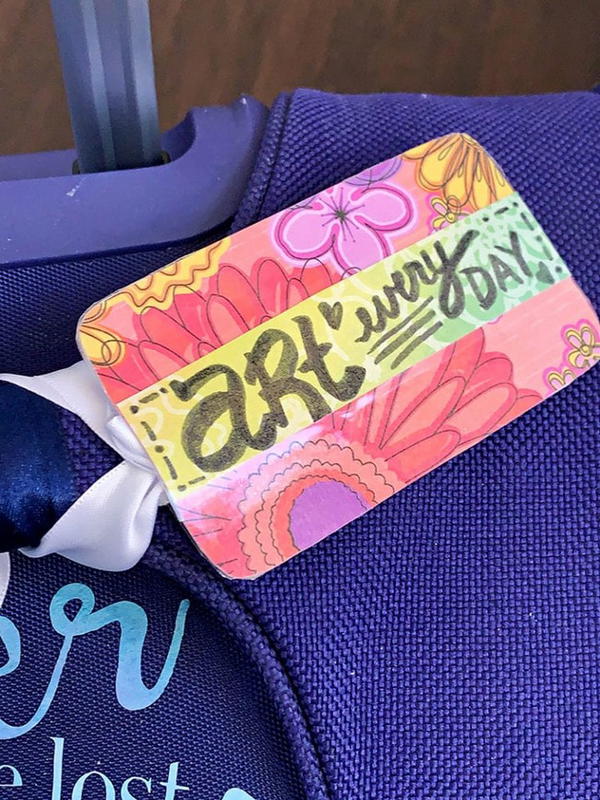 Luggage tags can be a bit boring. You could go for the store-bought ones, but why not have some fun with it and make your own? This DIY is cheap, easy, and will make your luggage stand out from the crowd. Even if you don't check your luggage, it's a good idea to tag it with your name and contact information. That way, if it accidentally gets left on the plane or picked up by someone else, you've got a better shot at getting it back. This is such a simple project and you can make them as colourful and patterned as you like.
Skill level: simple
DIY Shrinkable Plastic Luggage Tags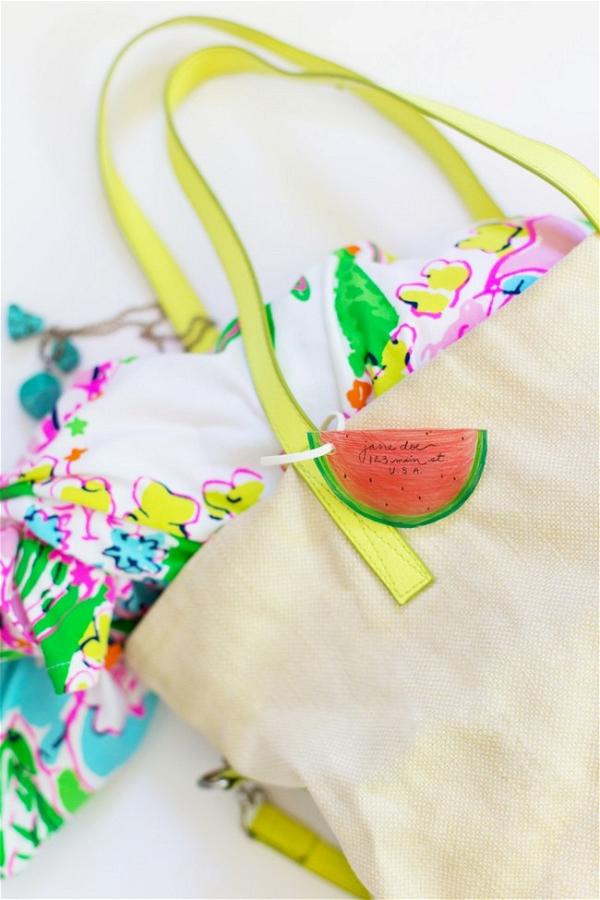 This is the perfect solution for anyone who travels with a lot of luggage. It's also the first step to becoming a true DIY luggage tag-making project. The most important thing about luggage tags is that the information (name, address, phone number) is durable and not easily removed. This DIY shrinkable plastic luggage tag project requires just a few basic materials and is easy to complete in under an hour. You may already have some of these materials on hand at home. Make sure that your luggage is easy to spot at the airport baggage carousel with these fun luggage tags. These are made from clear shrinkable plastic and feature a colourful tag design.
Skill level: advanced
Conclusion:
These DIY luggage tags are great for when you're on the move, whether you're travelling for business or pleasure. If you've ever had your luggage gets lost in transit, you know that it's a huge hassle to get it back. Luckily, these clever luggage tag ideas will help ensure your bag makes it to its final destination — and back again! Never lose your luggage again with these easy-to-make DIY luggage tags. Think outside the box and create luggage tags for the kids' backpacks, gym bags, computer cases, school notebooks, and more.