Pumpkins are the quintessential fall decor element. Their bright orange color can brighten up any space, making them perfect for indoor and outdoor decorations. If you're looking to add some pumpkin crafts to your fall decor, you don't have to go out and buy expensive supplies. You can easily create pumpkin crafts with stuff you have at home. Pumpkins are versatile _ they can be carved into jack-o'-lanterns, decorated as fall centerpieces, displayed in window boxes, or used as Christmas ornaments. How can you use pumpkins to decorate for Halloween, Thanksgiving, or Christmas? Here are 15 DIY pumpkin crafts to add a bit of fall fun to your home decor.
DIY Pumpkin Crafts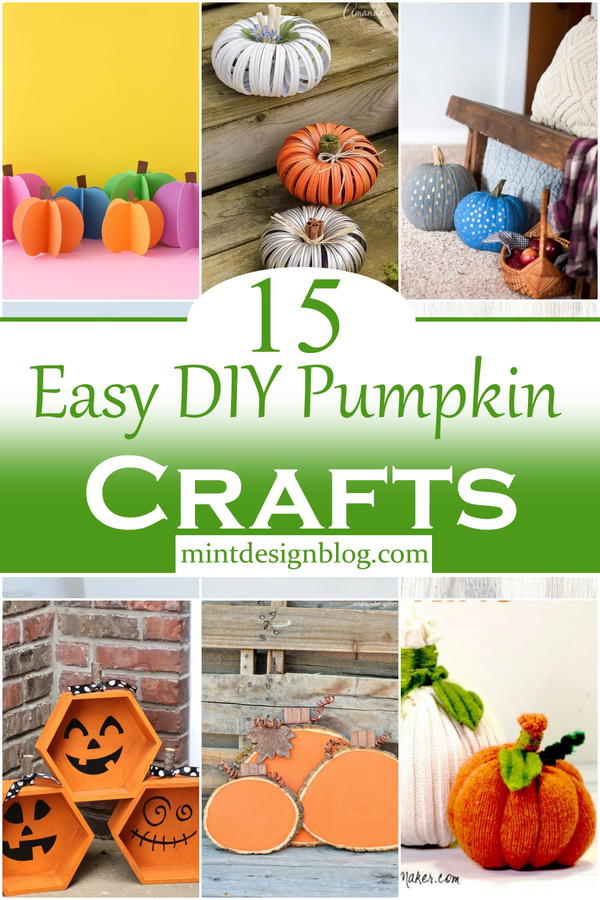 Whether you're crafting for a Halloween party, school break, or just because you love this time of year, there are tons of great DIY pumpkin crafts to inspire you. Some pumpkin crafts are about putting pumpkin guts to good use, like the pumpkin planters, paint pumpkins, and decorative craft pumpkins that look gorgeous on mantels and tables. Others are more intricate, like the pumpkin pillow, pumpkin rug, and beaded pumpkin, which will add beauty to your fall decor.
Materials:
Whether you're looking to spruce up your home for the fall or host a Halloween party, DIY pumpkin crafts have you covered. We've rounded up our favorite pumpkin ideas, including pumpkin crafts inside and outside your home, plus easy Halloween decor.
All you'll need is:
a few pumpkins,
a little paint,
some freehand,
stenciled,
stamped designs
craft paper
glue
glitter
any kind of fabric or even your stashed sweaters
or you can take any other material that you can use to make your pumpkin craft.
How to make DIY pumpkin crafts in different ways!
Make homemade pumpkin crafts with your children. Pumpkin carving is one popular activity during Halloween, and pumpkin carving kits are widely available. However, you can make homemade pumpkin crafts using real pumpkins. Pumpkins make great craft projects for preschool, kindergarten, and early elementary age children.
Get creative with pumpkin crafts. Use food coloring to color the pumpkin for even more fun. You can make pumpkin patterns or draw faces. All you need is a pumpkin, some food coloring, a marker, and some newspaper.
Decorate your pumpkin with markers. If you plan to paint on the pumpkin, make sure it's completely dry first. Paint the pumpkin with paint. Let the pumpkin dry.
Draw a pumpkin face on the pumpkin. Draw the pumpkin face on paper first so you can transfer the drawing to the pumpkin. Cut the drawing out and place it on the pumpkin.
Decorate the pumpkin with markers.
Cut a pumpkin from the pumpkin. Use your carving knife to cut out the top of the pumpkin. Scoop out the insides.
Paint the pumpkin with markers. Use the pumpkin as part of a larger craft project. For example, make a simple pumpkin lantern with yarn, glue, and a candle.
Remove seeds and strings. Use a vegetable peeler to remove small strips of pumpkin skin. Cut the strings from the pumpkin.
Turn a pumpkin into a Halloween decoration. Place the pumpkin in a decorative pot.
Mason Jar Lid Pumpkins:
Recycle your canning lids by making these instant pumpkin centerpieces for your fall table. Or use them to adorn a mantel or mirror. They're super simple to make, and they look great! These new mason jar lid pumpkins are crafted from recycled canning lids and durable polypropylene rope, so they're reusable year after year. The pumpkin itself is a shred-proof mesh pumpkin that's sized to fit on the top of a standard mason jar lid. It's perfect for displaying on Halloween décor, parties, and everyday fall art projects.
Mason jar lids from used jars make a cute top for these little pumpkins. You can write messages or draw on the lid with a sharpie marker to make it work best with your decorating project. It's a great DIY craft to make for fall, and it's as easy as pie (or carving jack-o-lanterns into your doors). These charming pumpkins are really easy to make. You can use an electric drill or a screwdriver with a large tip to make the holes in the lids, and the funnel at the bottom of the lid makes it easier to fill your jars with a funnel. A few coats of paint will give these pumpkins an excellent finish, and they're really easy to make. You can make them in less than an hour with supplies you probably already have on hand.
Easy Metallic Patterned Painted Pumpkins: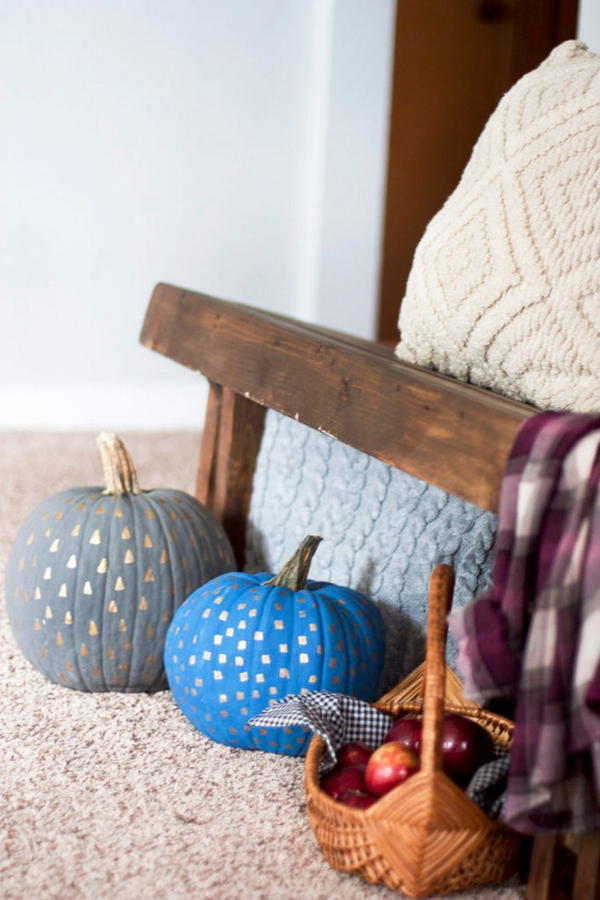 Are you never painted before? No problem! These metallic DIY fall decor pumpkins are seriously uber easy to create. Are you looking for a fun and simple fall or Halloween project? It doesn't get much easier than this! These painted pumpkins take minutes to make and are the perfect decor for your front porch, entryway, mantel, or even set out on a table as decoration for your Halloween party. They're made with acrylic paints, making them perfect for beginners.
These look amazing on a porch or mantel and take just a few short minutes to create! Here's the easiest way to decorate for fall with metallic painted pumpkins. They're easy, realistic, and oh so cute with their shades of deep blue, grey, and silver. Try this DIY with all your favorite pumpkins or gourds, then be surprised at how they light up any space! Painted pumpkins aren't just for fall or Halloween decor. They can add a colorful and trendy touch to any room year-round. With the help of this patterned painted pumpkin tutorial, you'll be able to add glimmer to your space easily and stylishly.
small stuff counts
Halloween Kitty Cat Pumpkin Craft: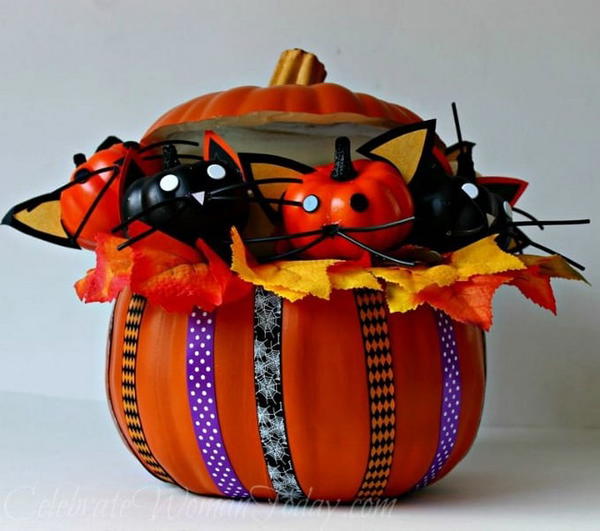 Take out your autumn items and think of fun, festive ideas for this Halloween Kitty Cat Pumpkin Craft, as it's the easiest craft you ever had. All you need is a plastic pumpkin, a few googly eyes, and some wires. Apply some glue all over the pumpkin to attach those items, and voila! Your Pumpkin Craft is ready to display on your table or on your door. Enjoy! This is a perfect project to use those plastics pumpkins you got last year. Kids will be delighted with the final product!" It is easy to follow the step-by-step instructions, and it will be so cute when done. It is fun to be crafty every day. By using simple materials, they can learn to make neck, head, eyes, whiskers, ears, and noses.
They might even count the number of seeds on the squash to figure out how many faces they want their cat to have. The results are always fantastic with this Halloween. This Halloween Craft and is a very easy project that you can do by yourself for this holiday. This pumpkin has wire on the inside, so you just have to put it on top of your real pumpkin and decorate it with googly eyes and other alternatives..  The pattern is easy and you will need only a little bit of time to finish it. Halloween will come soon, and your house, yard, or even office will be full of scary decorations and kitty cats. Why not combine the two and make a unique decoration – a pumpkin with a grinning kitty cat face?
3d Paper Pumpkins: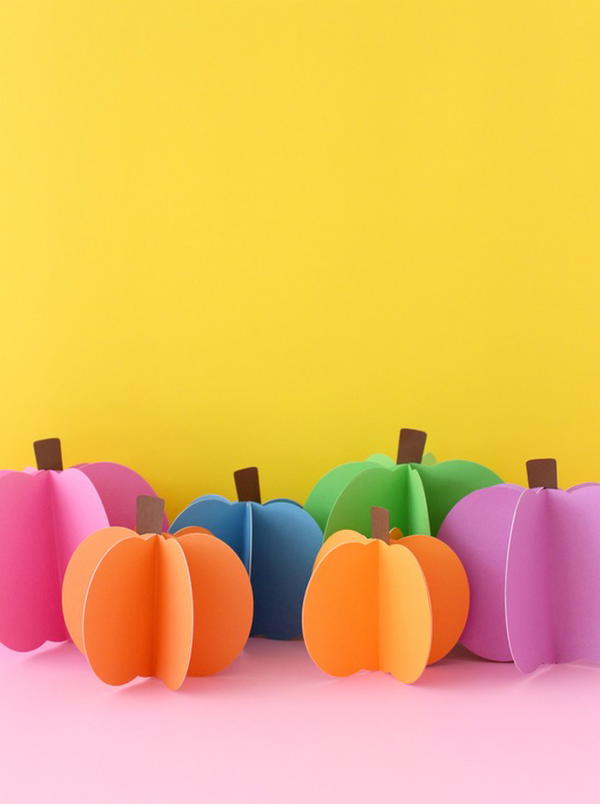 These adorable little pumpkins will be a great addition to a fall vase or mantle. Use the template provided to cut out the shapes, "Growing" Paper Pumpkins craft is a fun and easy way to celebrate Halloween. Let your imagination run wild as you create the pumpkins of your choosing. Create mini pumpkins, or a whole patch full. It's a great unique decoration for a Halloween party, or a fun class project too! This would also be a great school craft project to do with small children - let their creativity shine through as they decorate these mini pumpkins or make them into place cards at your Halloween party dinner table. They really can bring fun to your fall party.
They are straightforward to make, and I bet you have all the stuff at home. If not, don't worry they still turn out equally stunning even with a few substitutions. These pumpkins are so easy to make, and they only require the simplest of materials: thin cardboard, glue, and paint. Once they're assembled, embellish them for a seasonal touch and to personalize your pumpkins. If you're feeling festive, decorate them to match the holiday; paint them red and green, or cover them with snowflake confetti for a fun winter look.
Painted Wood Slice Pumpkins: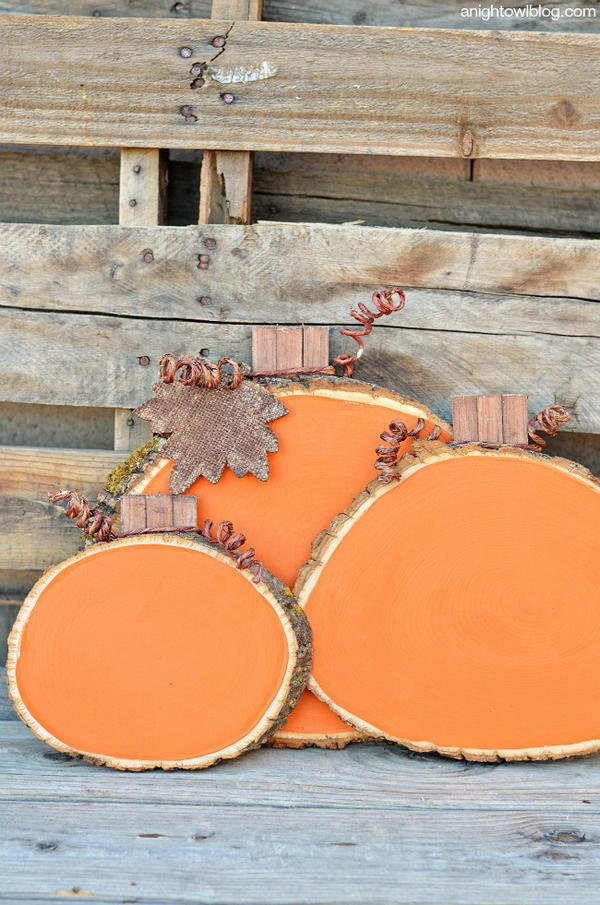 Why bother with real pumpkins when you can bring the season indoors with these colorful porcelain pumpkins? A patch of gems around their stems is just one of the ways these painted wood pumpkins are more special than your average gourd. Make fall magic last all season long with these pretty, painted wood pumpkins. A great value, they'll add a festive note to your entry hall or bathroom counter. Or scatter them on the mantel or table for a charming seasonal decoration.
The pumpkins are real wood—on the inside, at least! Painted wood slice pumpkins add a pretty touch to your fall decoration. Available in three sizes, these festive pieces will last year after year, and you can mix and match them for myriad looks. Add stems and leaves, or leave them plain. Their classic charm is unmistakable. So, Celebrate autumn, harvest, and all things beautiful with our painted wood slice pumpkins. Featuring a variety of pumpkin shapes ranging from simple to detailed, these carved pieces will fit any décor. Use them as part of your fall display or screw them into an easel for a whimsical tabletop display. The possibilities are endless!
DIY Large Pom Pom Pumpkins: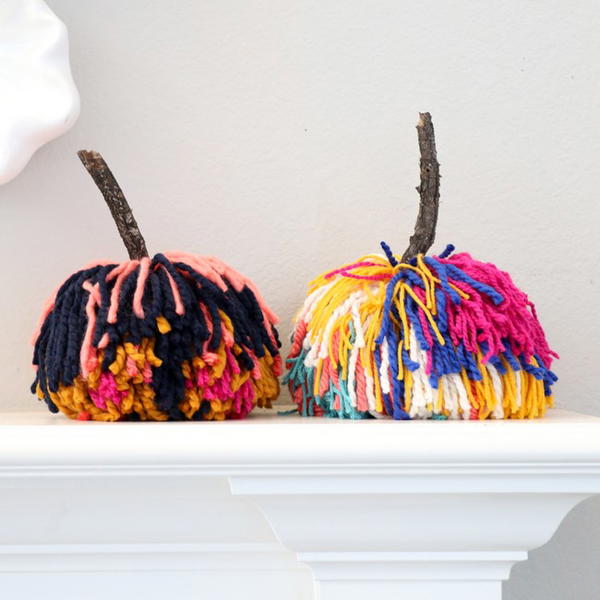 DIY Crafts is the home to lots of free tutorials for unique, chic, and budget-friendly projects! We have a wide variety of tutorials for popular crafts such as macrame, sewing & embroidery, origami & paper crafts, print making, cross-stitch, and more. Turn giant pom poms into DIY large pom pumpkins with this unbelievably simple step-by-step tutorial! I can honestly say there's never before been a tutorial on the internet so fun and so easy. Have you experienced Fall yet?? If not, then find some extra time to do these cute little pumpkins.
Your kids will love them, as will any other pumpkin lover. With a little pine cone on the bottom that has been dipped in Mod Podge to hold everything together, these pumpkins can be hung from a ceiling or put on display on a table. And if you're extra crafty, add some yarn pumpkin leaves! Are you sick of seeing my DIY giant pom pom pumpkins yet? If not, then I'm sure that you love Halloween and everything that comes with it as much as I do. Today we're going to look at these cute and spooky DIY large pom pom pumpkins and learn how to make them for yourself.
Sweater Pumpkins: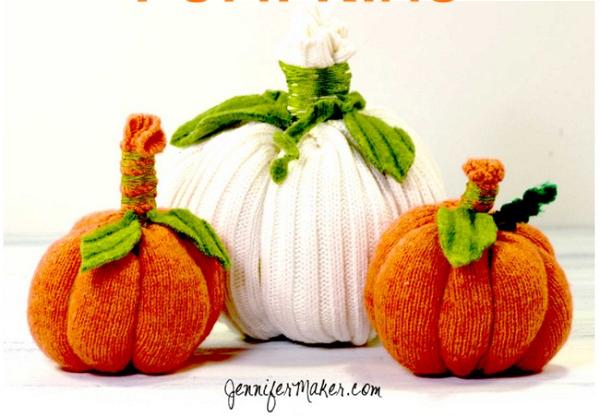 If you're like me, you're starting to see a lot of sweater pumpkins in stores and websites. They're adorable, and they make great decorations for your home. Finding the time to make them often takes a lot of effort since you not only have to knit or crochet an entire sweater but also cut it up and sew it back together in a creative way. The Sweater Pumpkins book shows you how easy it is to make no-sew pumpkins from old sweaters! You'll fall in love with these festive pumpkins, a funky version of a timeless classic. This project has three no-sew sweater pumpkins that are made from vintage sweaters you can find at thrift stores and yard sales.
They're really fun to make and take hardly any time! This is an easy project which can be done in less than 30 minutes. A "sweater pumpkin" is a fun project with children while teaching them about reusing/recycling clothing while keeping them entertained while traveling or waiting in lines! When finished, you will have three pumpkins that do not leak seeds, do not require staking, and will last for years to come!
Hexagon Pumpkin Jack-o-lanterns: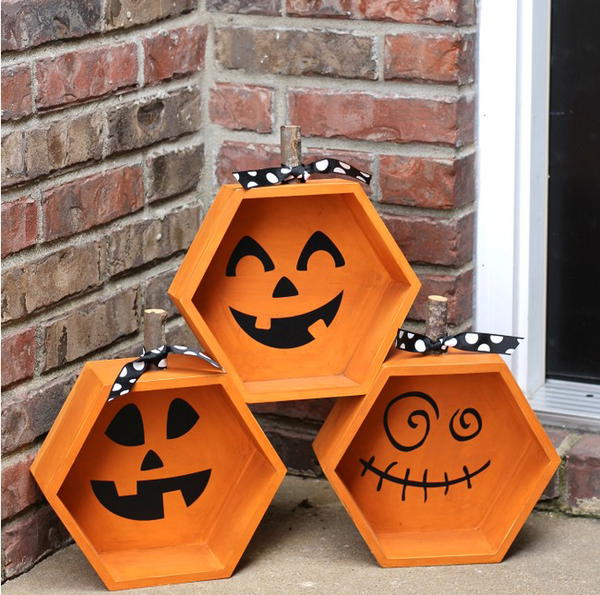 These fun jack-o-lanterns look adorable on your front porch. These reusable, lightweight lanterns each have a hand-painted black face and a handy carrying loop. These fun pumpkin jack-o-lanterns are sure to please! They're small enough to fit on a front porch table or inside a window, and they have a 75-hour burn time. Just remove the lid to place a tealight inside.  Hexagon Jack-o-Lanterns! Jack-o'-Lanterns are all the fun of carving pumpkins, but with no mess. Plus, they will last forever.
All you need to do is print out the pattern, tape it together, cut out the shapes with a pair of scissors or a Xacto knife, and voila! You now have your very own pumpkin lantern. Even if you're not crafty, rest easy knowing that everything is clearly labeled for you to follow along.  Add either crayons or white school glue to the tip of each triangle, then use your fingers to tuck the tips inside the pumpkin. When dry, you'll have an adorable jack-o-lantern!
Gorgeous Faux Pumpkins: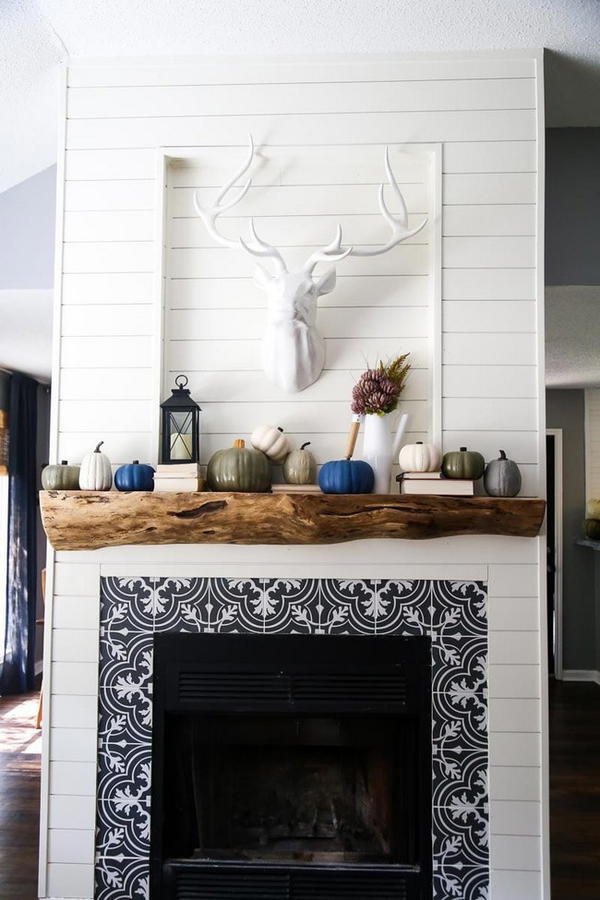 What? You didn't know pumpkins were so versatile? We love using both small and large dollar store pumpkins in fun DIYs. Their natural colors are perfect for fall decorating, so you can easily create gorgeous faux pumpkins for Halloween… If you're looking for a fun fall craft to turn your plain old ordinary pumpkin into something extraordinary, you'll want to try this easy DIY tutorial. Using basic crafting supplies and dollar store pumpkins, we'll show you step-by-step how to transform them into gorgeous and realistic faux pumpkins!
Add a little fall flair to your home with these gorgeous faux pumpkins – they're so easy to make with just three supplies! These faux pumpkins can be used as a fall decoration for your home or an autumn party prop! They're made from the top of a pumpkin and some leaves, and they're easy to make with items found at the dollar store. Not only are these stylish as fall decor, but they also make for excellent fall party props as well! Try them as part of your DIY Halloween décor!
DIY Mercury Glass Pumpkins: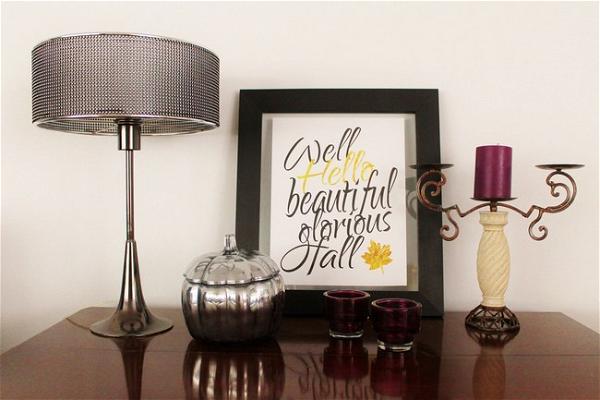 If you love the look of mercury glass but are pinched on time or don't have the skill to craft it, then these DIY Mercury Glass Pumpkins are right up your alley. They're super cute and easy to make – which means you can make a lot of them! Get everyone in the fall spirit with these fun Pumpkins! Mercury glass pumpkins are really easy to make using dollar store pumpkins, some spray paint, and inexpensive mercury glass votives.
These DIY Mercury Glass Pumpkins are so easy, and the results are beautiful! All you need to make these mercury glass pumpkins is a few dollar store pumpkins, some Modge Podge, and metallic acrylic paint.  With just 3 steps, you can make your own Pumpkins. You can make them for less than $5, and they look like you spent much more. Using the Glitter-It spray paint makes them stand out too. They make fantastic decorations for fall parties, backyard barbecues, and more. These would be awesome to sell at fall craft fairs or during Christmas.
DIY Painted Pumpkins: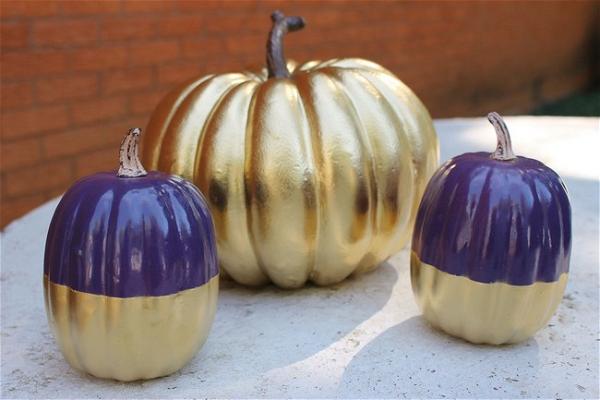 This set of four pumpkins are all made to look like copper, so you can display them in your home to make it fall-ready. They are wired on the inside, so if your decorating ideas don't include keeping them fresh, you can even put little candles in them to create a more decorative fall display. These Pumpkins will give a glittering, golden glow to any corner of your table, mantle, or tabletop. Use them as props for a DIY photoshoot, or display them proudly in different rooms of your home to make it fall-ready, too!
Take a shine to a rustic scene this fall with these shimmering, sparkling pumpkins. Available in Clear, Pearl White, or Jade Green, they have a classic shape to fit any décor. Dip-dyed and painted by hand for an authentic look, every glittering pumpkin is the perfect accent to the home. So, Add festive fall colors to your home with these DIY Painted Pumpkins. It's the perfect way to bring the season inside for Halloween. The pumpkin's subtle metallic finish lets you use them all year long, not just during October.
DIY Pumpkin Succulent: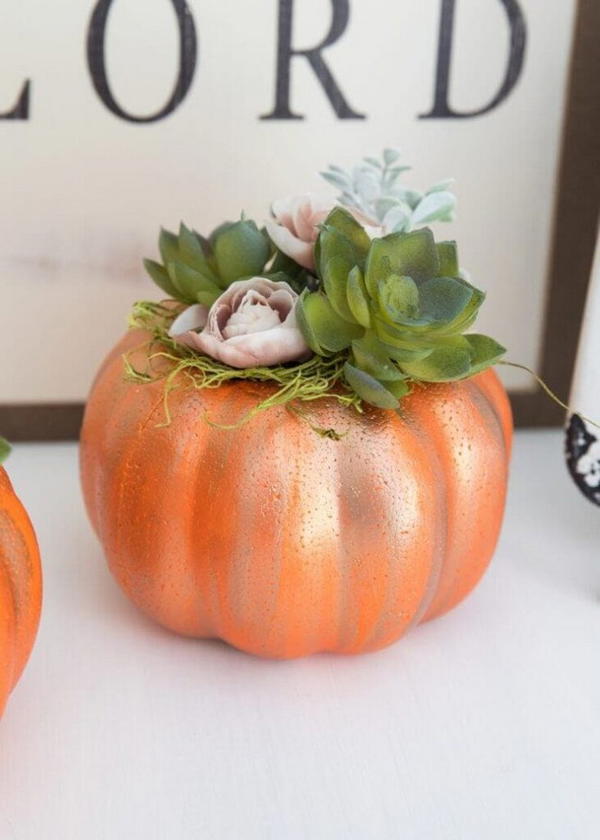 Throw a couple of pumpkins and some succulents and you've got a chic and inexpensive centerpiece for your fall or Halloween mantel or Thanksgiving tablescape. They're so cheap too — all of the supplies for this project cost us $12, but they look like something straight out of a high-end shop! This DIY fall centerpiece is super easy to make but looks incredibly sophisticated. Perfect for your fall mantel, Thanksgiving tablescape, or patio table! The succulents are grown in terra cotta pots using floral cement.
The coquito pumpkin has a painted ceramic face, moss-wrapped stem, and candle inside. Includes full planting instructions. They're super easy to make on the cheap but look so expensive and flashy you'll a small plant, a drill, some soil, and a few other items for this crafts. The faux pumpkins make the perfect base, and filling with succulents is both fun and easy (especially if you use a pre-made pumpkin kit as crafter did!). They make the perfect centerpiece for your fall or Thanksgiving tablescape.
DIY No-sew Fabric Pumpkins: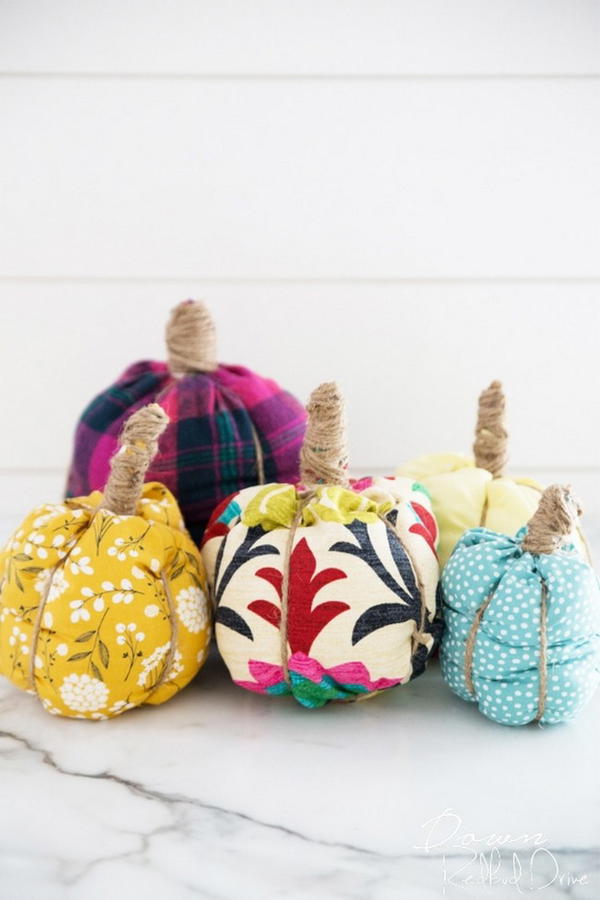 Our No-Sew Fabric Pumpkins are the perfect fall DIY! Make them as a group or as a class, and they're great for kids or adults to make! Available as scarf no-sew pumpkin, pom pom no-sew pumpkin, fabric snowball no-sew pumpkin, and wool roly-poly no-sew pumpkin. Perfect for teachers and parents to make during the Halloween season! These adorable fabric pumpkins are easy to make, and a great addition to your fall decor. Use the printable templates with simple no-sew instructions to create a one-of-a-kind pumpkin! They're even better when you personalize them – have kids decorate with washable markers or colored pencils before stitching on their stems. Make these adorable pumpkins in minutes with no sewing skills needed!
DIY Glitter Pumpkins: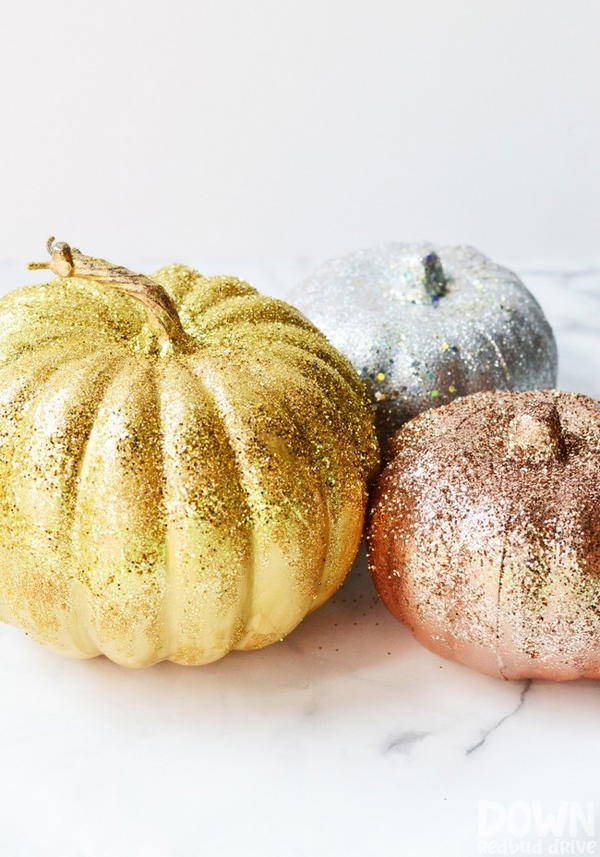 What could make fall decor even better? Glitter pumpkins! At a dollar store, you can pick up a plain pumpkin and a few other simple supplies. It would cost a lot more at a craft store! The best part is, you can make your own for way less. Just in time for Halloween, this DIY glitter pumpkin decor is easy to make with dollar store pumpkins! Simply use clear tape to create a pattern on each pumpkin, then paint accordingly. Once they've dried, brush them with a coat of glue, then give them a half-coated glitter.
Use Dollar store pumpkins and glitter gourds for a really special look. Glitter is all the rage, and not just for your nails! We brought Glitter Pumpkins to decorate your Halloween parties and Thanksgiving feast. These DIY pumpkins are so much fun to create and will liven up any event. Leave them plain, or add a stem and a black candle for a spooky effect.. With a few craft supplies and a little pumpkin carving know-how, you can have a batch of sparkling jack o' lanterns to decorate your porch or your house!
How To Make Paper Pumpkins For Your Fall Decor: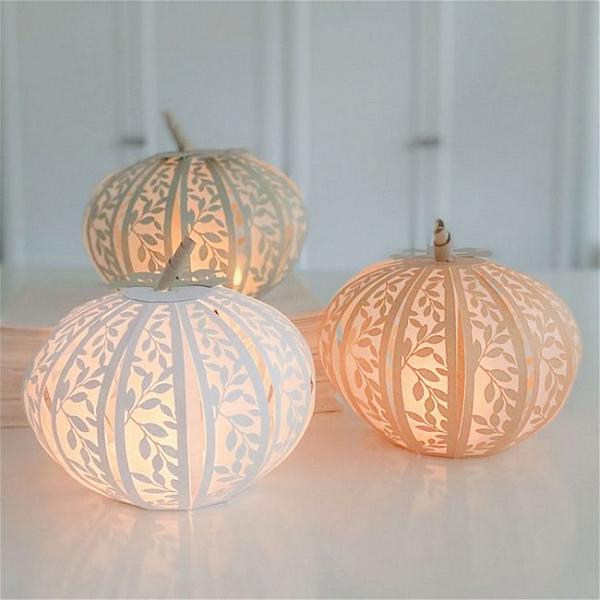 Who doesn't love fall decor!? Pumpkins and carved gourds and tiny acorns and tiny pine cones are fun to create for autumn! These instructions will show you how to make these paper pumpkins that glisten with light. The special place on the underside of each pumpkin holds an LED tea candle; use those tea candles indoors or outdoors (depending on the wax) and battery-operated tealights for safety and convenience. Do you love the look of large, full pumpkins but you don't have the space to tend to one? These adorable pumpkin flowers take away all the stress and mess of caring for a plant. You can simply create these stunning decorations and display them out of direct sunlight.
There is even a special place on the underside for LED candles to add a warm glow to your home in the evenings! Need some decorating ideas for your fall mantle? These paper pumpkins are delicate and beautiful with their patterns allowing the light to shine through in orange, yellow, or red. You can put them around the house or hang them in the window during the day to add festive beauty to your home. They also have a special place on the bottom where LED candles can be placed for an extra warm glow when it gets dark outside.