Crochet birds are fun to make, and you can get creative with them. Most people love these beautiful creatures and enjoy watching birds from their windows or garden. You can make a bird for yourself or your loved ones by using these free crochet bird patterns. These crochet birds are made using yarn and a crochet hook, so it is not difficult to make them. It is a great hobby that you can use to make lovely little creatures for yourself or your loved ones. Crochet birds are ideal for adding a touch of nature to your home or as a gift. You can make a variety of crochet birds, and this list of 20 free crochet bird patterns will help you get started. These cute and colorful birds will become your favorite crochet projects.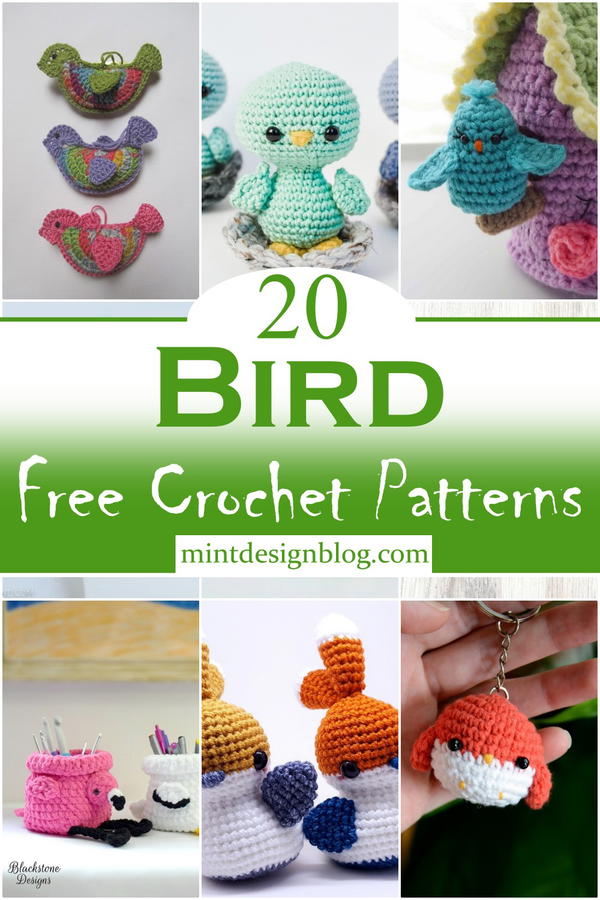 You can make these birds using different yarns and stitches, making these patterns easy and perfect for beginners. These patterns are designed for all skill levels, and the detailed tutorials will guide you step by step. The list includes various birds like parrot, macaw, hummingbird, cardinal, snow owl, raven, etc. These patterns are fun to make, and you can enjoy making these adorable birds with your kids. You can garnish your home by placing them on shelves or hanging them from the ceiling using a piece of string.
These cute little 20 Free Crochet Bird Patterns will look great on your Christmas tree or any time of the year.
You Can See : 25 Free Crochet Butterfly Patterns
Tips For Crochet Bird Patterns
Crochet bird patterns are a beautiful way to add a touch of nature to your home. Check out our tips below to learn how to get started with crochet patterns for birds!
Choose your yarn. Most crocheting is done with yarn, but some use thread or ribbon. Using yarn, use a medium weight (4) for the body and tail and lightweight (3) for the wings and feet. The gauge will be about 18 stitches = 4" in a single crochet stitch with a size G hook (4mm).
Pick your hook size. Hook size is important because it determines how tight or loose your stitch will be when you start crocheting! A good rule of thumb is that the thicker the yarn, the bigger the hook; if you're using yarns of different sizes, choose hooks accordingly to match up nicely in your finished project.
Make sure all of your materials are ready before starting any project, as this will save time later on down the line by not having to stop work halfway through just because something isn't ready yet!
Start crocheting! Follow the pattern instructions below.
Uses Of Crochet Bird Patterns
Birds are lovely, and their joyful chirping can brighten anyone's day. But the colors of the birds are even more beautiful! There are so many different colors, patterns, and shapes of birds that you might want to crochet your own.
Crochet bird patterns are not just for making adorable little feathered friends. You can also use them to make:
Christmas ornaments
A brooch
A hair clip
Clothespins
Coasters
Decorations for a wreath, tree, or another decorative item
A key chain
Sweet Bird Amigurumi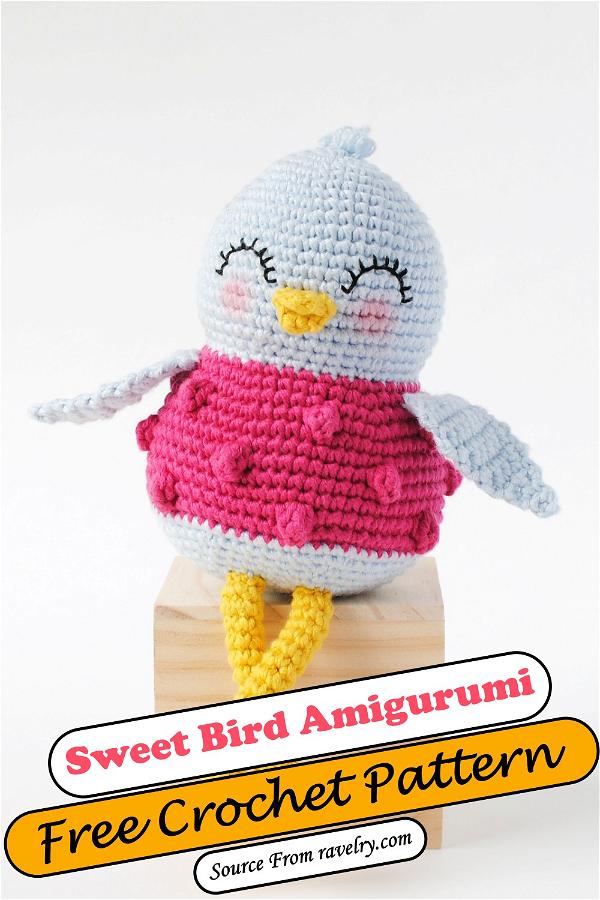 Sweet Bird is a big bundle of happiness, and she wants to cuddle with you as soon as you finish making her. Easy-to-make bobbles are included in the pattern, and easy embroidery will highlight her cheerful expression! Make one or make a flock. It's up to you! Sweet Bird and all of the supplies needed to make her can fit into a 5-inch cube, so stash some away for yourself and others when you're done. Add a sense of fun and delight to your day with a cuddly bird friend that you can take anywhere.
Cheerful Bird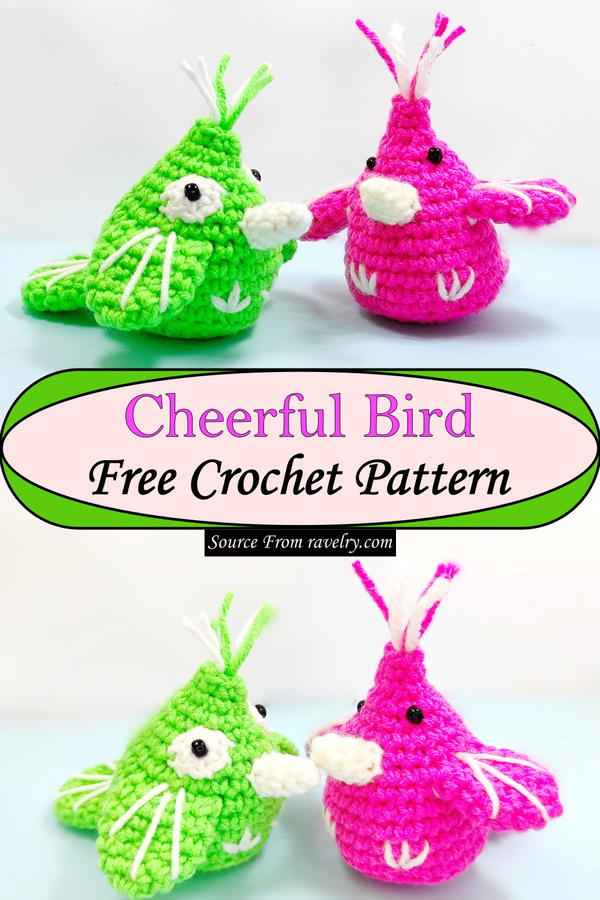 Inspired by a bird, this uniquely designed square granny afghan is made from simple single crochet stitches with an easy-to-remember pattern. It's great for baby showers or any springtime occasion. Made with simple single crochet, this pattern is super quick to work up and makes an excellent gift for friends or family. You can make him in any colour combo that you want--he's the perfect way to customize your decor. Perfectly sized for a baby's crib, this bird would also make a darling wall hanging. It makes a great gift as well!
Angry Bird Red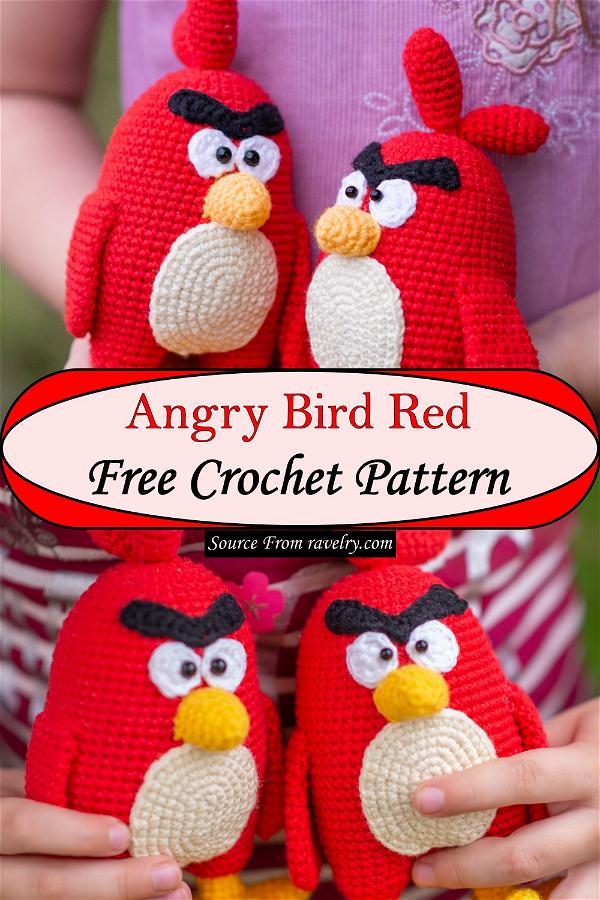 Crochet Angry Birds Red is a very easy pattern. It's not just the bird, but you can make the whole set of angry birds. This pattern is excellent for beginners or people that have only been crocheting for a short time. If you know the chain stitch and double crochet stitches, and maybe some fundamental color changes, you should be able to make this! Very easy to make and an excellent gift for the Angry Birds fan! This crochet bird looks excellent on a keychain, or you can make a big bird like this and have bright red hanging from your backpack strap.
Little Bird Kiwi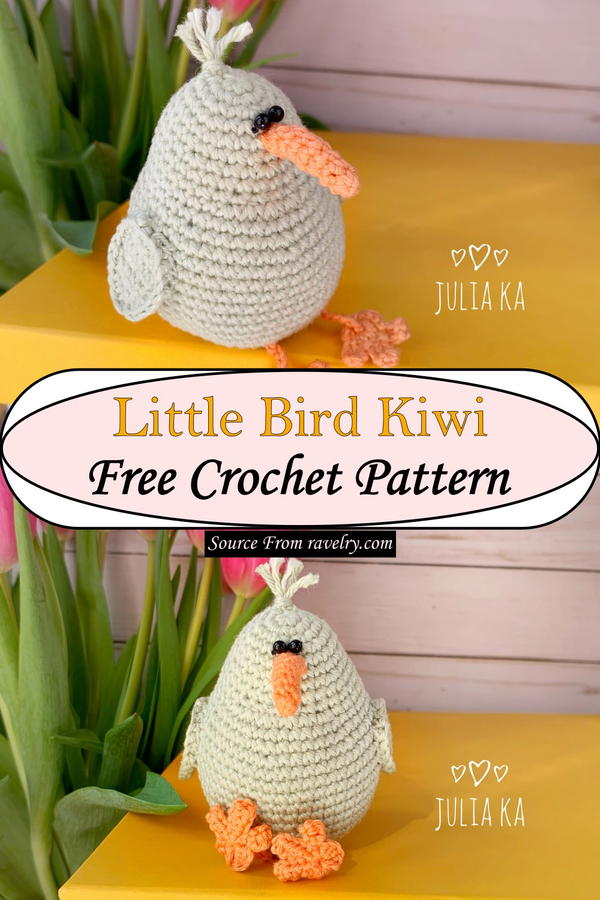 This is a pattern for creating a very funny little bird Kiwi. Even if you are a beginner in crocheting, you will manage to create it. This amigurumi creature is happy, loveable, and brings joy to your home or someone who will receive it as a present. For anyone who loves crochet and for anyone who has a love for birds, Crochet Little Bird Kiwi does a fun project. Even if you're a beginner in crochet, this little bird is easy to create. It's a funny little crochet toy with a super sweet expression and puffed tail feathers.
Party Bird Ornament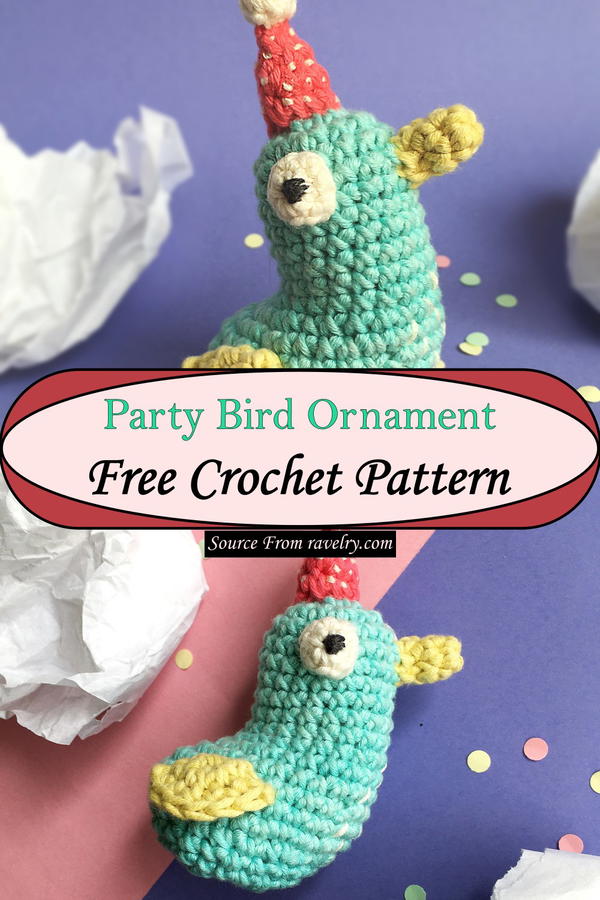 The Party Bird Ornament is a cute little bird. It would look great this holiday season on any Christmas tree or as an addition to your wreath. You'll love how easy and fun it was to make. Except for the stuffing, all of the supplies are things you most likely already have lying around the house! The older kids will enjoy helping, and they will be able to use their creativity to add individual touches such as a tie or bow. However you personalize your Party Bird, he will make the perfect decoration to celebrate the holidays.
Cube Birdie Bird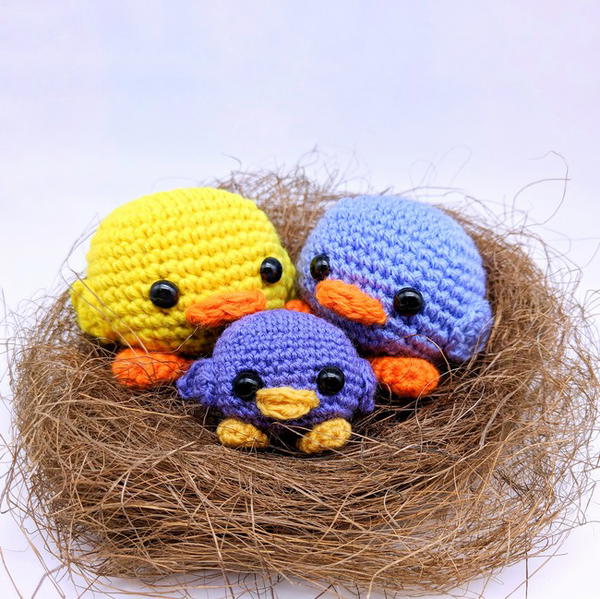 This amigurumi crochet pattern, Birdie Bird, is a simple and fun project to do. Create a little flock of colorful birdies to adorn your room or give as gifts. They are easy to customize; change the color of the beak and tail, and you'll have a whole new pet. This pattern uses basic stitches and some simple sewing to assemble. The birdie can be customized with various shelled body colors and wing decorations. This little amigurumi pattern is super easy to follow, great for beginners - or even experienced crocheters who feel like a quick break.
Tiny Bird Amigurumi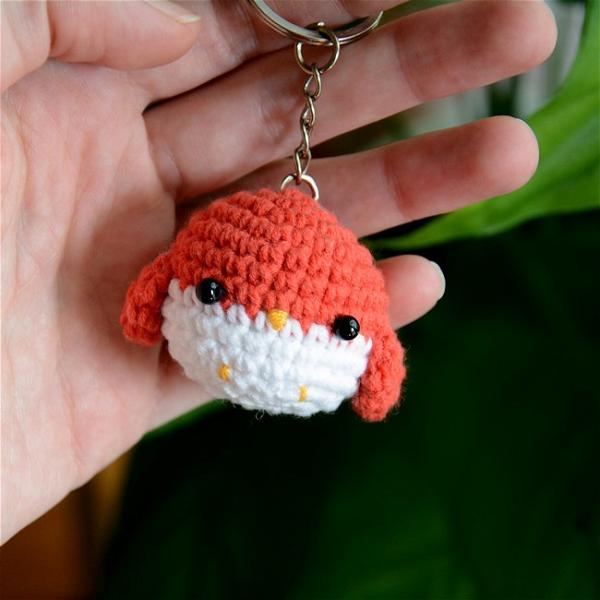 This little amigurumi bird kit is a fun but challenging project for beginners. Its wings are double-sided, so there is no sewing and no loose yarn ends to weave in. The finished size of this beautiful creature is about 6 inches tall. Though it has a somewhat primitive look, it turns out to be surprisingly realistic.This amigurumi pattern is so easy to follow! The bird is crocheted using the Magic Ring method and stuffed with polyfill instead of a bag of stuffing. This makes it much easier to make than it would be otherwise. The finished bird will fit perfectly in the palm of your hand.
Round Plush Cockatiel Bird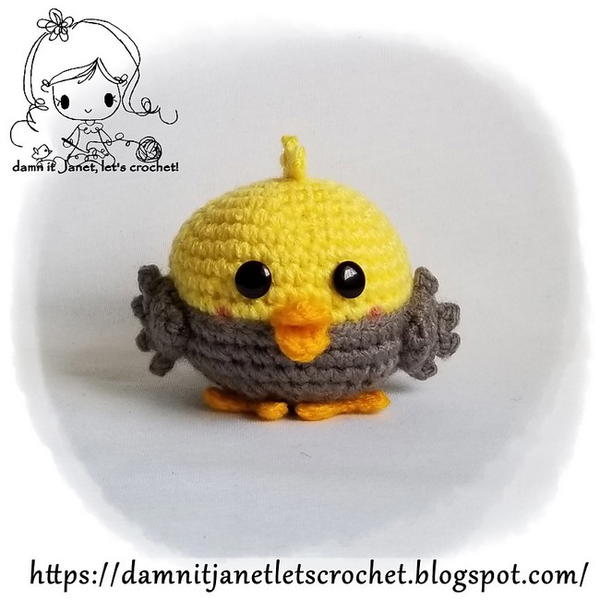 The Crochet Round Plush Cockatiel Bird is an adorable companion for your bird-loving Christmas. It is made from the finest materials, and it showcases a realistic-looking cockatiel with vibrant colors and a round body covered in plush feathers. It has sturdy legs to stand on flat surfaces and round eyes, making the toy look like a real bird. This toy is ideal for children of all ages and can be easily maintained by cleaning it with a damp cloth. It is easy to make and fun to decorate. Using a very soft yarn makes the bird feel like real down feathers. This is an excellent gift for anybody looking for that perfect little buddy!
Bird And Birdhouse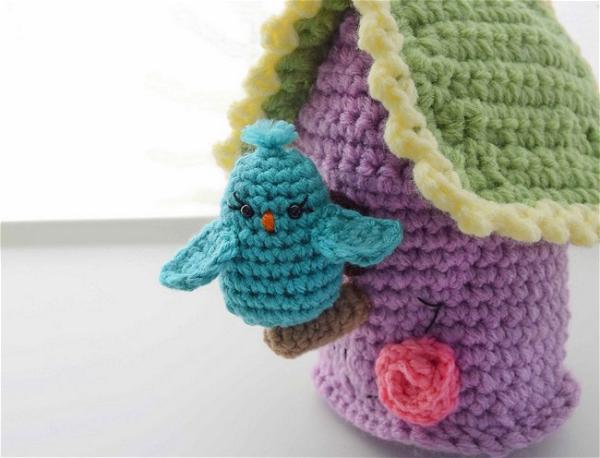 Imagine the sweet sounds of birdsong that will fill your home with the crafty goodness of this crochet bird and birdhouse set. You can have it sitting in your garden or on a shelf, or you could even make it into a Christmas ornament to bring some springtime cheer all year round. This adorable, eco-friendly doll set has everything a bird needs to thrive. Easy enough for young crafters to stitch, the huggable, handmade bird and charming little birdhouse come alive with bright colors.
Amigurumi Blu The Bird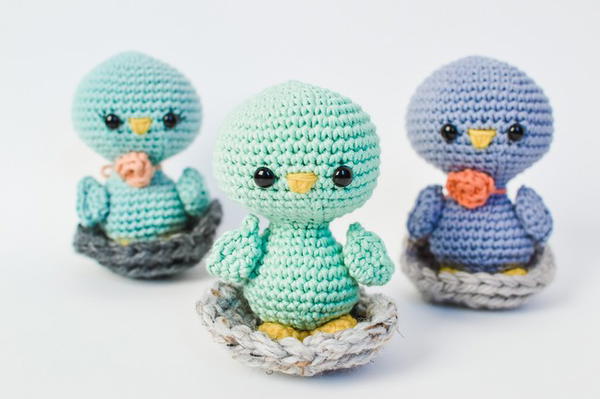 Crochet Amigurumi Blu the Bird is a baby bird that is so cute. Blu is a sweet little bird amigurumi that makes the perfect gift for a child or a cute decoration for a baby's nursery. She's adorable and will make anyone smile whenever they catch sight of her tiny beak and head. This little bird can be crafted in any color choice you would like but make sure the head, wing, and body are set in blue. The eyes, beak, and feet can be set in any color.
Bird Baskets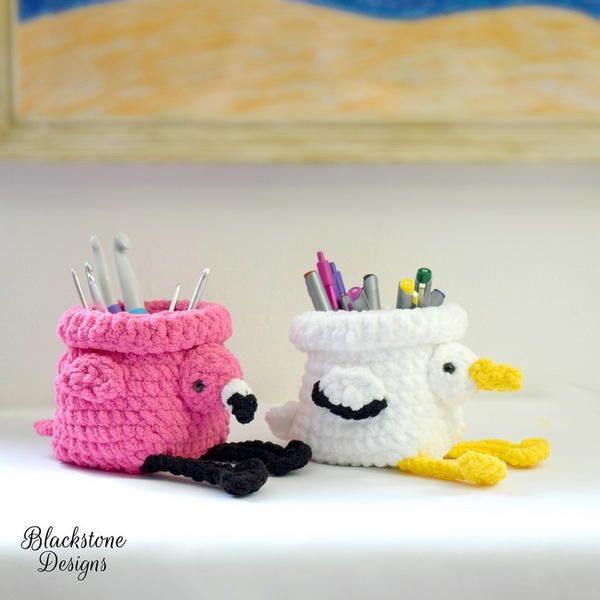 In this handy little guide, you'll find instructions on crochet bird baskets with a flamingo or pelican motif. You can choose your own colors and customize the basket's shape to create your own unique birdie. Perfect as a gift or decoration, they're fun and easy to make! This is an excellent gift for that special someone in your life! These little baskets are perfect for holding your earrings or jewellery while getting ready. Their small size makes them great for holding keys, loose change, cards, or other little items. Each basket is unique and handmade.
Tulla The Bird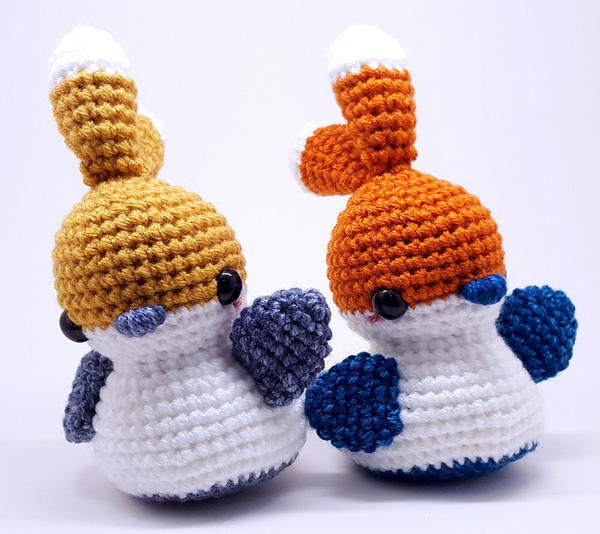 Crochet Tulla, the Bird Pattern, is a fun design that will have you crocheting away in no time. This collectable Owl is a great gift, soft, squishy, and perfectly colorful. It is easy to make since it only uses chain stitch and stitches. Make them big or make them small. Use any yarn of your choice. This darling little bird makes an excellent decoration for your home or an adorable gift for someone special. The pattern is easy to follow with only a few basic stitches, and it works up pretty quickly. They'd be great on a Christmas Tree or, even better, ornaments for a holiday gift.
3 Little Birds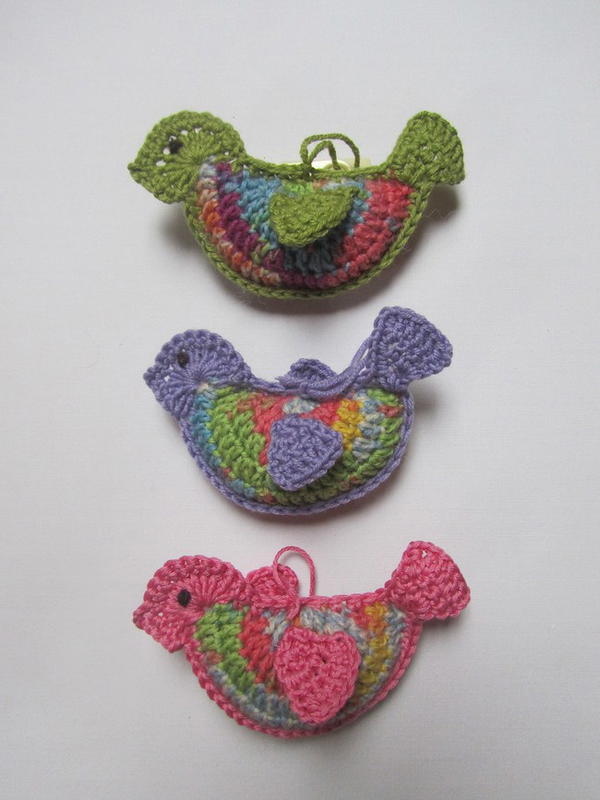 Crochet 3 Little Birds is a straightforward pattern that will help you develop your basic crochet skills. These little birds are quick to make, and they can be stitched up in small quantities of any double knitting yarn. The completed birds are perfect for embellishing various decorations and gift items throughout the year - they make great Christmas tree ornaments, gifts, or gifts tags. This pattern is small, and you can make the ornaments in no time. It would be best to have a small amount of double knitting yarn and a 3.5mm crochet hook.
Woodland Bird Amigurumi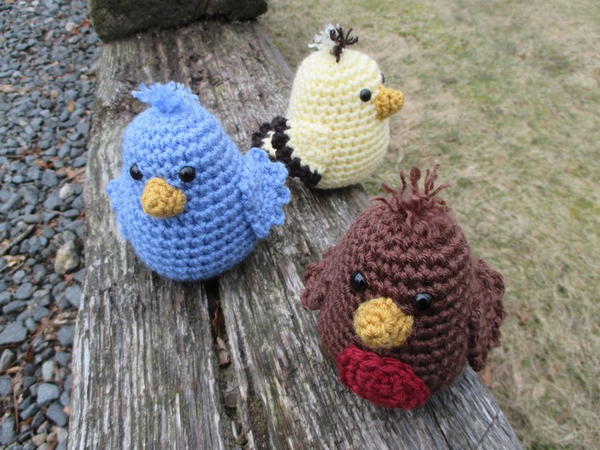 These adorable woodland birds are great amigurumi, they are small and easy to make, and the sitting and standing poses give plenty of visual interest. These woodland birds are also excellent stash busters if you're trying to use up some of your yarn scraps. The designs include a range of bird species with intermediate-level crochet stitches, including increasing and decreasing, crocheted eyes, number shaping, and simple sewing techniques. They would make a great decoration or gift, perfect for making as a group or part of a nature conservation project.
Bird Paper Clip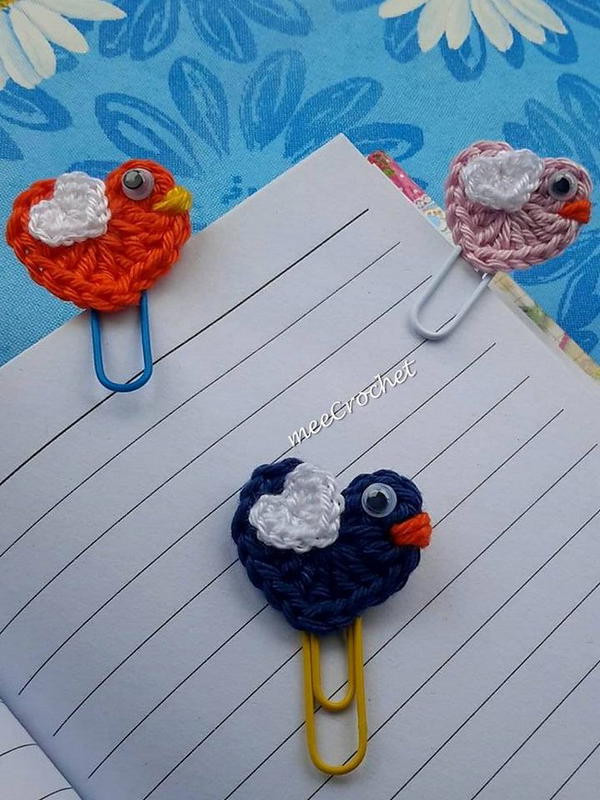 Use this cute decorative paper clip to help keep your thoughts organized. With a colorful crochet cover, this paperclip is perfect for adding a touch of whimsy to any page. This paper clip is both valuable and beautiful. This small paper clip can help you keep your papers, gifts, and emails organized and elegantly. Please attach it to the mail/gift and make your recipient feel special. Attaches easily to most types of paper, cards, and documents. Make a statement and add a bit of hand-crafted charm to your desk, office, or studio! Makes a great gift!
Bird Ornament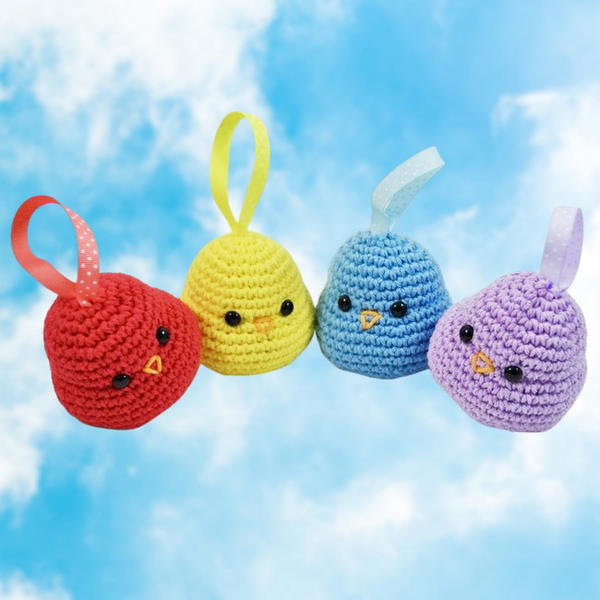 Whether you use these as cute little pincushions or as an adorable addition to your Christmas tree, the Crochet Bird Ornament is a quick and easy project. Perfect for hanging on a mobile or from your pet bird's cage, these are such cheerful little creatures you'll want to make them in all sorts of different colors! They also make lovely showers or baby gifts and can act as small keepsakes for a newborn. They can be used as a pincushion or made with beads added to make a rattle. You are sure to find the perfect pattern in this collection.
Bird In The Hat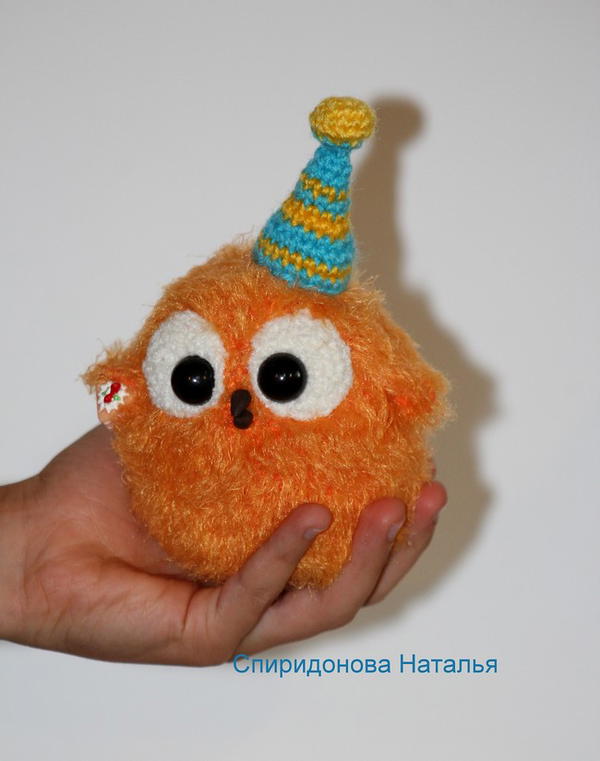 Cute Crochet Bird In The Hat pattern! This cute little bird will make an adorable addition to any child's hat. His body is made by crocheting in the round, and his beak and feet are made separately and sewn on. This bird hat features one of your favorite crocheted characters, perched on the brim and ready to be a part of your new adventures. This bird in a hat is perfect for anyone who needs a little extra company in two stylish color combinations.
Bird Hat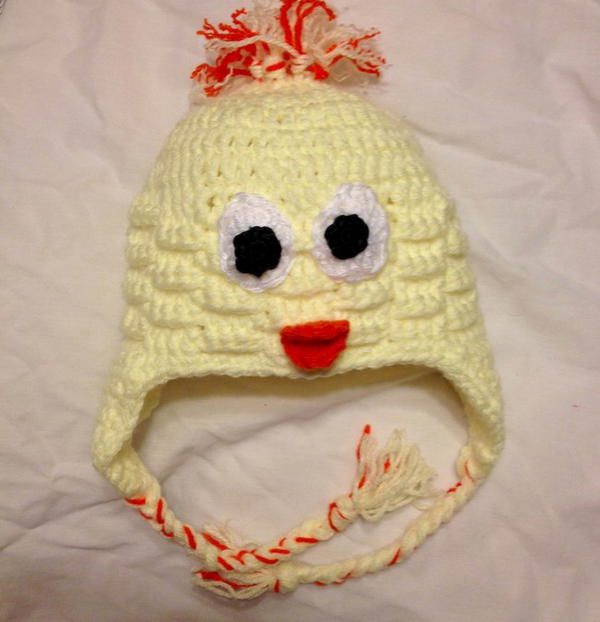 Make a hat in the style of an easy-to-wear cloche! This decorative hat, consisting of various stitches, is an excellent addition to your collection. It has an attractive lace pattern on top and an overall rib-style stitch below. The hat stretches to fit most adults. So beautiful and realistic, these little hats will delight the bird lover in your family. Perfect for the children's nature theme party, use this as a photo prop for those adorable baby shoots or an incredible costume. It is an excellent out-of-the-box pattern for a beginner to intermediate crocheters who are comfortable following directions.