Create beautiful crochet butterfly patterns for your next project. These beautifully crafted butterflies are great for wearable applique art, home decor, and more! These are an easy 25 Crochet colorful butterflies patterns, including triple-layered butterflies, small and large round butterfly motifs, 3D butterflies, and more. From easy to complex, these crochet butterfly pattern designs will inspire you to make these wonderful creatures at home. You can also use them as a good gift idea for special occasions like Mother's Day or Valentine's Day.

If you are planning to make a unique statement in your wardrobe or home decor, this is a perfect way. This colorful 25 crochet butterflies collection is ideal for appliqué on clothing and accessories such as hairpins or barrettes. These crochet patterns are so versatile that you can create your own garden by adding them to the wall of your room or making a mobile with them. Crochet butterflies are easy to make and can be added to various projects. You can use them as appliques on hats, scarves, or sweaters. Use them to decorate bags, jewelry, or hair accessories. You can even make a whole blanket of them! They are also great craft projects to sell at craft shows and local markets. The possibilities are endless with these gorgeous butterfly patterns!
Tips To Crochet Butterfly Patterns
These butterfly patterns are a great place to start if you're new to crocheting! We've compiled a list of tips that we hope will be helpful for your first few projects.
Get yourself plenty of yarn colors and graph paper. This is the best way to ensure you can find a look that matches your style and home decor.
If you need to figure out how many stitches you need for each row, you can use a calculator!
As you work on your project, make sure to keep track of where you are on the graph so you don't lose your place! Use a highlighter or post-it notes if necessary.
If your butterfly seems to be growing too large, try adding more rows of orange before moving on to the next color. This helps it maintain an appropriate size as it grows larger!
Uses Of Crochet Butterfly Patterns
Crochet butterfly patterns have many uses. Here are just a few of them:
Scaring away spiders
Wiping the tears from your eyes when you cry
Making a colorful picture to hang on your wall
Pillows for your couch or bed
As a gift for someone special in your life
crochet butterfly patterns can be used as decorations.
 You can use them as a crocheted keychain if you attach a chain to it.
 You can use them for earrings.
Ensuring that everyone in your family has an equal number of handmade gifts on Christmas Day
Zipper pouch Butterfly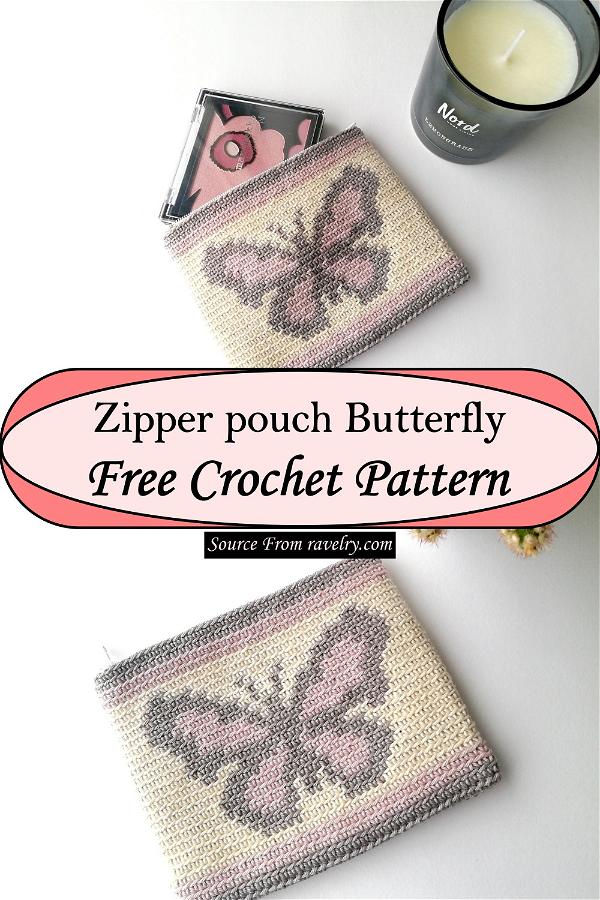 This is a crochet pattern for a zipper pouch with a butterfly, to hold whatever you desire. Keep it in your purse or backpack to help organize the contents! The Butterfly Zipper Pouch is a fabulous carry-all pouch with a stylish butterfly on the front. Crocheted using tapestry crochet, this bag is thick and sturdy, perfect for makeup or other small items. It has a handy zipper to keep contents safe and secure, inside, you'll find a lovely cotton lining creating a soft feel. It is an excellent project for beginners and advanced crocheters who want a quick and easy project.
Ellie The Butterfly Amigurumi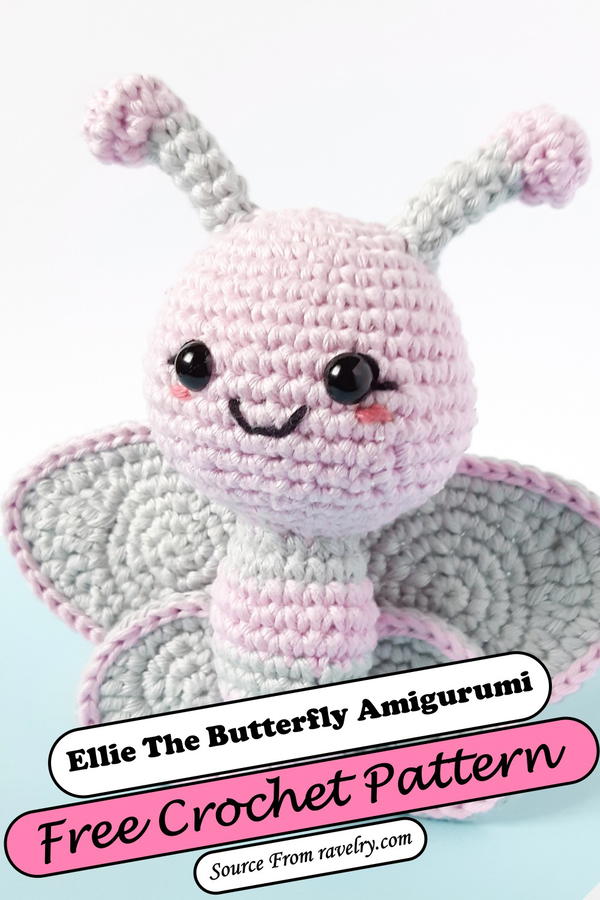 Crochet Ellie the Butterfly Amigurumi is sure to delight. This crochet butterfly pattern is easy to read and crochet up quickly. This purple and grey butterfly is ready to be made into a new friend. The knitting kit contains everything you need to make her, including enough yarn to make two! As with all of our kits, it comes in a custom box with a handle and a velcro closure that's perfect for gifting (and reusing later!). Ellie is a great beginner project for those who are learning crocheting, as it uses just half double crochet stitches.
Mini Butterfly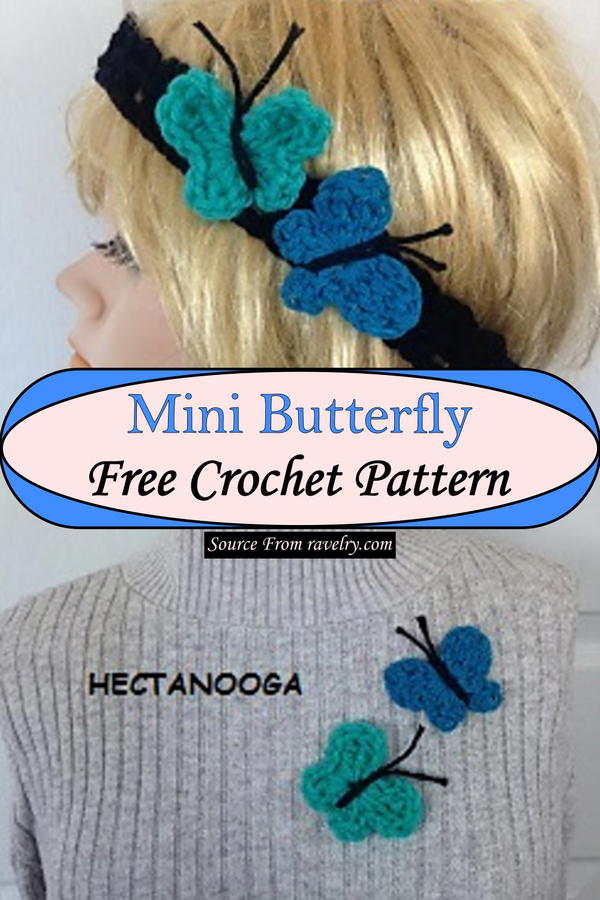 Create these lovely crocheted mini butterflies to use as decoration or accessories on your clothing and jewelry projects. You can crochet them in different colors and make a beautiful accessory to your jeweler box collection. This adorable butterfly is a quick project to make and will add a unique touch to any piece of clothing or accessories. Get creative with this fun butterfly-shaped crochet pattern. This mini butterfly is an easy project for all abilities and can be customized with any yarn color to suit your style.
Bella The Butterfly Rattle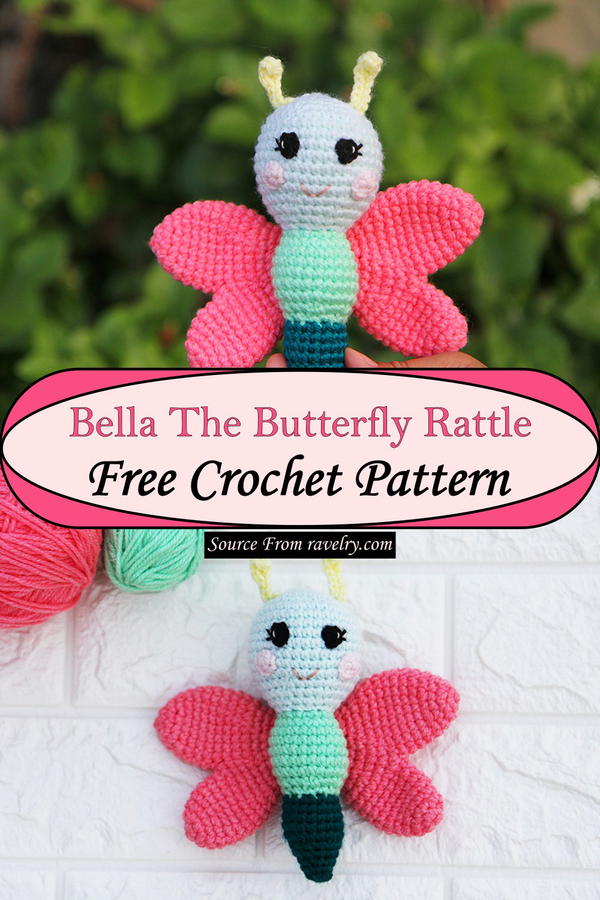 If you're looking for a cute crochet gift this little butterfly is a perfect choice! This free crochet pattern works up fast, and the rattle insert makes it just the right size for a baby's hands! This crochet butterfly rattle can be used as an amigurumi butterfly toy or you can add a rattle insert into the head and it makes for a really cute crochet rattle for a quick and easy crochet baby gift. This crochet butterfly rattle is a great baby shower gift for a mom-to-be!
Bella The Butterfly Appliqué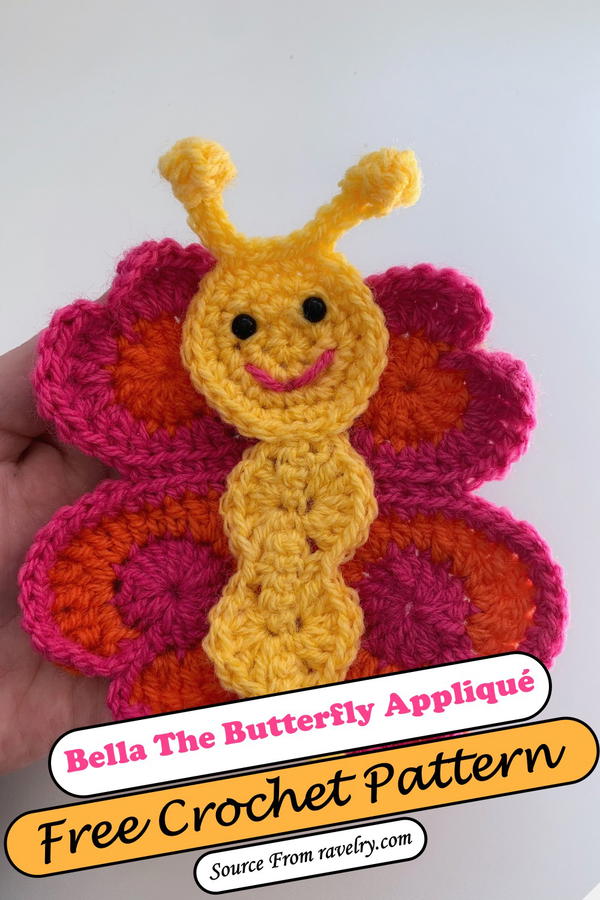 This crochet pattern will help you create a cute butterfly appliqué to adorn your projects. Add a crochet butterfly appliqué to almost anything! This crochet pattern will help you create a cute butterfly appliqué that you can sew onto almost any of your crochet creations. A great gift for craft enthusiasts, the appliqués can be sewn onto almost any crochet creation.' The pattern will help you create a bright, cheerful butterfly appliqué that can be added to jackets, hats, blankets, bags, and many more items.
Small Butterfly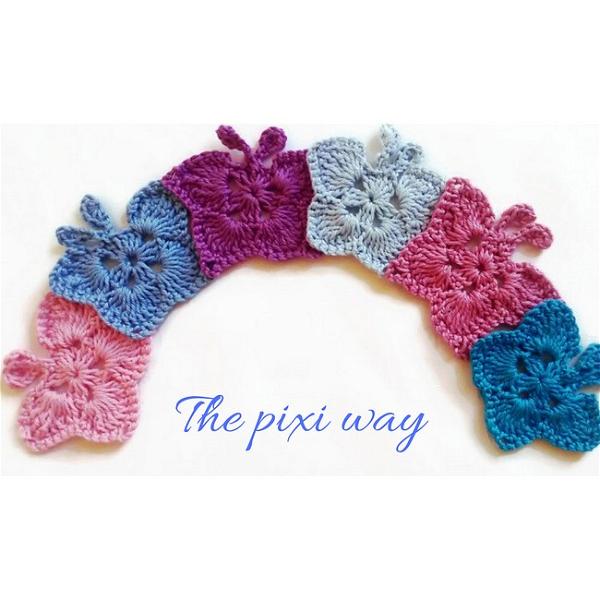 Create a cute little butterfly to adorn gifts, decorations, or even hair clips! This butterfly is easy and fun to make! With so many different colors and styles, you can use your butterfly crochet as a beautiful embellish to many things such as bags, hats, scarves, blankets, headbands, and much more. A great way to personalize your DIY projects! This is a very simple crochet pattern for a small butterfly suitable for decorating hair clips, studs, etc.
Granny's butterfly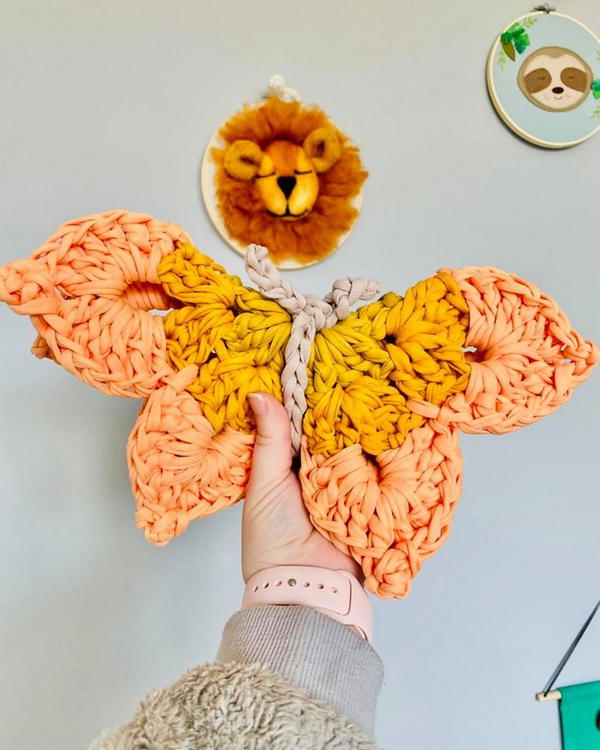 A decorative and fun piece that you can use to compose your environment. Granny butterfly for the lover of grannies, crochet, and butterflies. Perfect for hanging in your window or nursery, dangling on a lampshade, suspended from a tree branch, or anywhere in your home to add color, whimsy, and charm! You can make this butterfly in any weight yarn or thread with a matching hook for a lovely decoration for your home. This is an excellent pattern for adventurous beginners who are ready to try at least one new technique.
Valentine Butterfly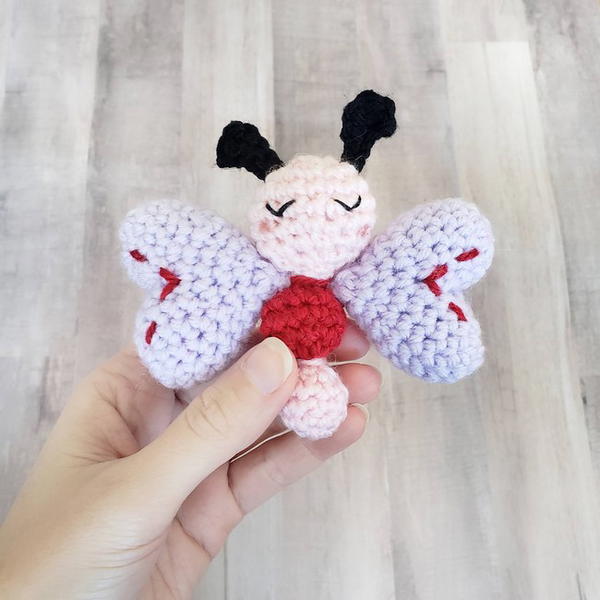 Little love bugs will melt hearts this Valentine's Day! They're quick to crochet and great for needlecrafters of all skill levels. Customize them by using different yarn colors or embellishments. They make a cute gift for a loved one, or anyone really!" The Crochet Valentine Butterfly will be a perfect addition to your Valentines' Decor and will look beautiful, whether it be hanging on a door or on the wall. This pattern is versatile and easy to use, perfect for beginners. It also allows for customization, so you can make your butterfly unique!
Butterfly Blossom Blanket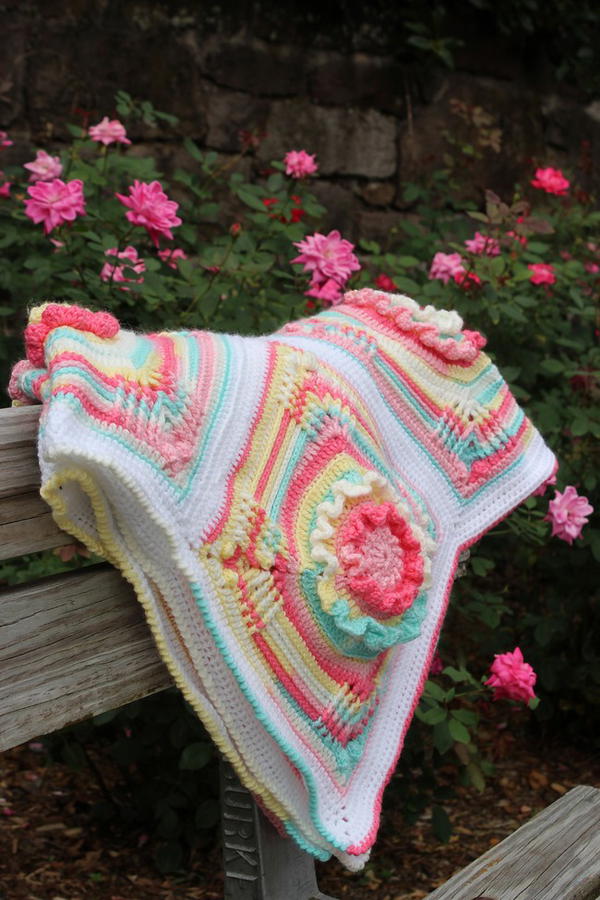 This colorful blanket is made up of different sections of beautiful butterflies and flowers. It is a one-of-a-kind design that is sure to please anyone who uses it. This crochet blanket is perfect for a baby blanket, a lapghan, or even as a throw for the foot of your bed. Anyone who receives this as a gift will treasure it for a lifetime. This is a great blanket to cuddle with when you are watching television or hanging out outside on a cool evening.
Crescent Butterfly Shawl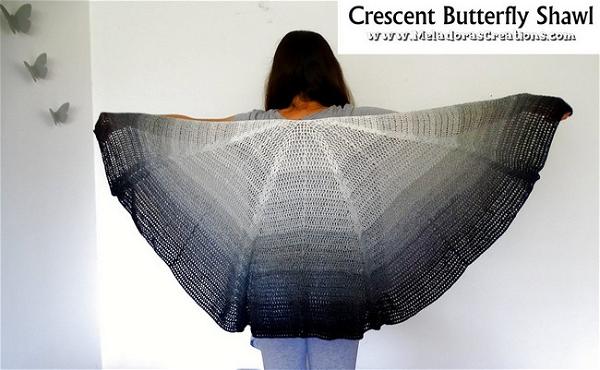 Enter a dimension of light and shadow with this butterfly shawl knitted in a gradient yarn. Shaped to form wings, it's perfect for standing out at your next event. The Crochet Crescent Butterfly Shawl is classic and versatile, with an eye-catching butterfly stitch in the center. The crescent shape adds to its versatile wear, while the gorgeous drape makes it a perfect piece to lounge around the house in. It's also great for date nights, weddings, or other special events.
Butterfly Pals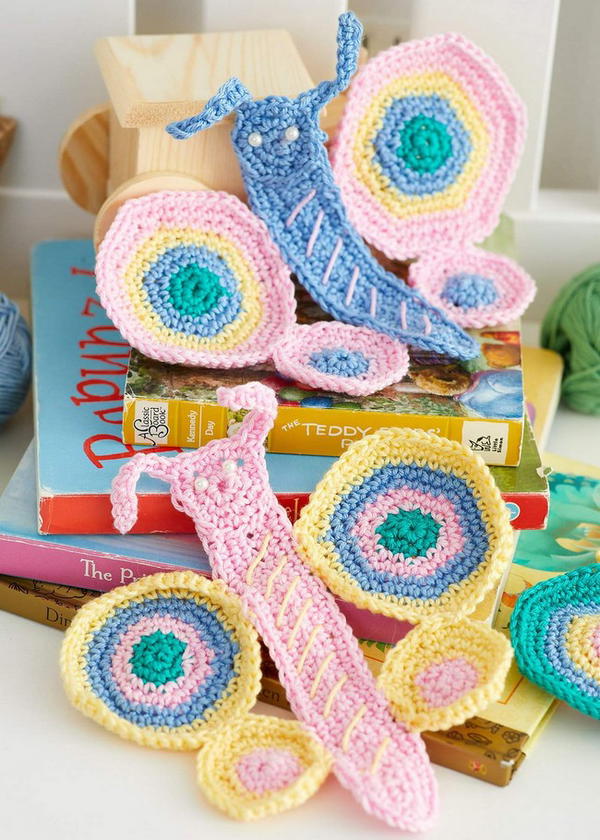 Butterfly Pals These colorful little creations make great friends for fairy dolls and sweet little girls alike. Your newborn will make a colorful display with this set of crochet butterfly pieces for babies. Soft, pastel colors create a beautiful and feminine accent for your baby girl's new wardrobe. Add a feminine touch to your look with our Crochet Butterfly Pals. These fluttery friends feature hand-sewn details and colors that pop. Pair them with a dress for weddings or brunch.
Crochet Butterfly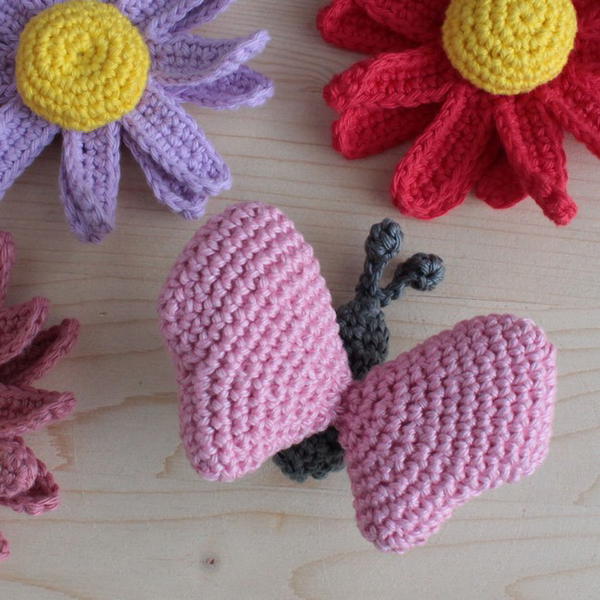 This Crochet Butterfly is a great addition to any room! They can be placed anywhere on your wall with just a little bit of blue tack to give a 3D effect and add some life to any dull room. Decorate your home with this handmade crochet butterfly. You can use it to dress up a present or as a toy for a little one. It's light, soft, and easy to hang anywhere in your home. Use them to adorn a birthday invitation, baby shower announcement, or even the cover of your family photo album!
Small Butterfly Keychain & Bag Charm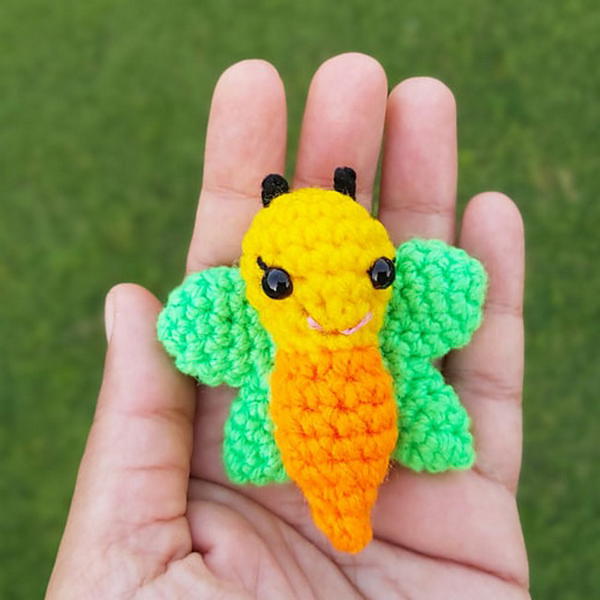 Add a touch of spring to your keys or bag with the Crochet Small Butterfly Keychain & Bag Charm! This easy-to-follow crochet pattern is simple enough for beginners to complete and creates a beautiful little butterfly that you can use as a mini toy or to brighten up your accessories. The free pattern uses DK yarn, but feel free to use any yarn to suit your own tastes too. Use this free crochet pattern to make as many big or small butterflies as you want, as decorations for your home, or to make beautiful baby mobiles, bag charms, and keychains.
Easy Crochet Butterfly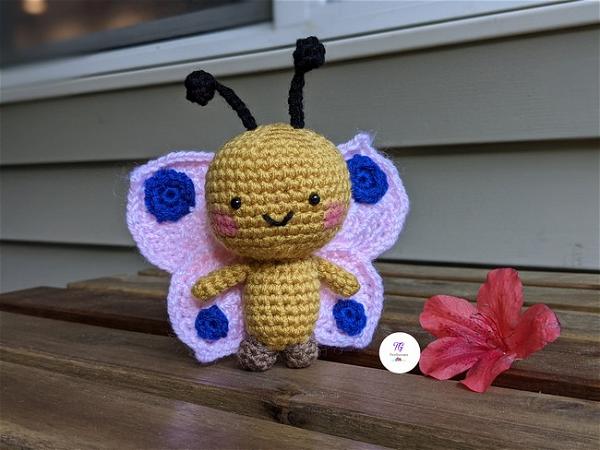 This small butterfly is beginner-friendly to crochet so that you can get a swarm of butterflies for your home decor in no time. It's great for wall art, embellishing packages or making window treatments pop with color, or as an applique on clothing and bags. Use your imagination! This butterfly is easy to make and versatile. You can make it in any color, in different sizes depending on your hook and yarn choice. Use it as a decoration, an appliqué, or just to play with! This cute and easy pattern is the perfect way to add a little spring decor to your house.
Butterfly Pop Flower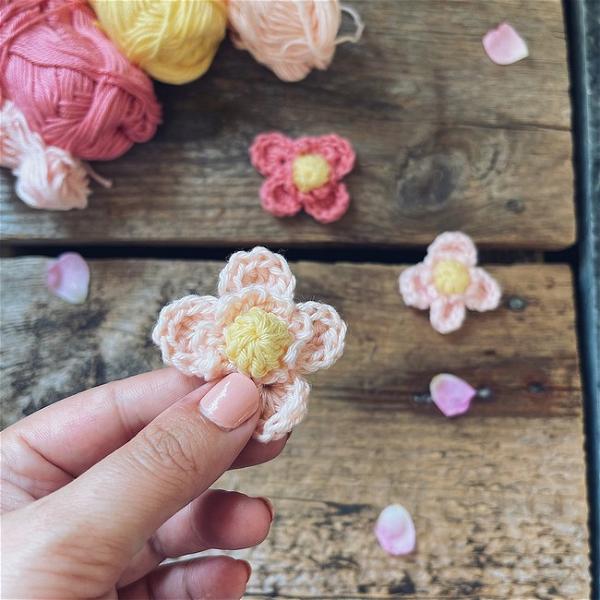 Make beautiful embellishments and appliqués with this super cute and quick little flower with petals that look like a butterfly's wings. This quick and easy Butterfly Pop Flower is a simple flower with petals that brings to mind a butterfly's wings. You just need a few pieces of yarn, in any color you choose, to make all kinds of butterflies for your next craft or sewing project. After creating this cute little flower, use it to embellish scarves, hats, and more! Bring springtime into your home all year long with these fun and funky crochet butterfly pop flower embellishments.
Bria The Butterfly Amigurumi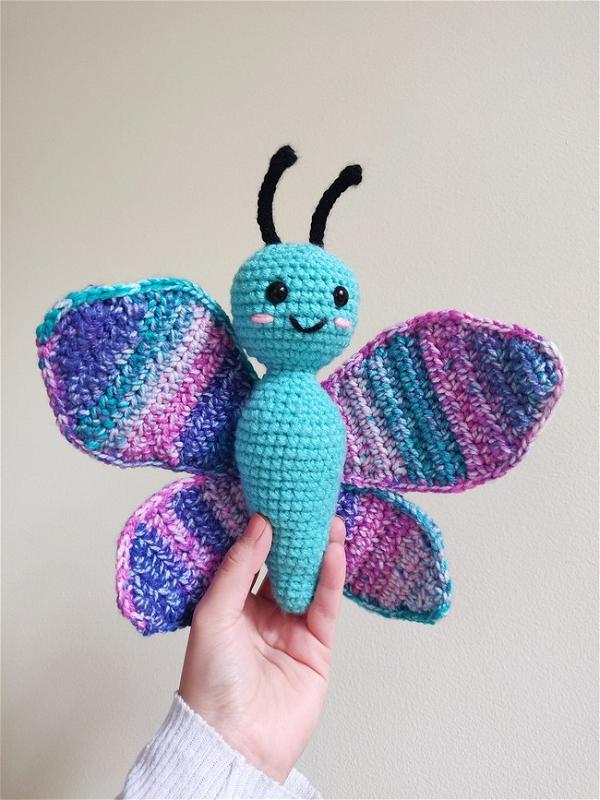 Bria the Butterfly is a great friend to any child or young and young at heart with her fun and colorful wings that just want to flutter about! Add this adorable Bria the Butterfly to your amigurumi crochet collection. This pattern is easy to fly through with easy and quick stitches such as magic ring, double crochet, half double, and single crochet. Adorable for the butterfly lovers in your home! Perfect for a child who loves butterflies, Bria will be a fun new pal to have in the house. She is crocheted using cotton yarn and has a very sturdy design to last forever.
Betty The Butterfly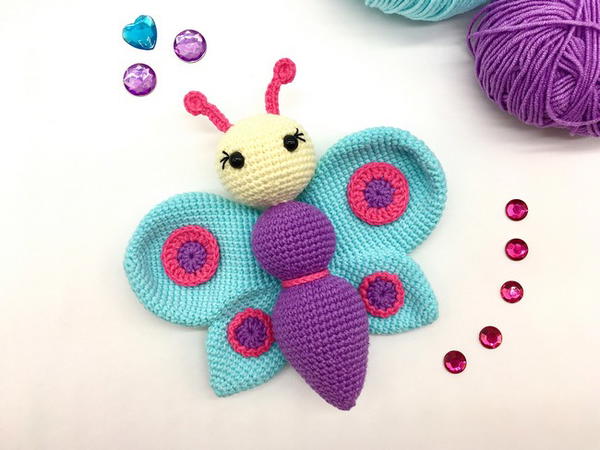 Betty the Butterfly is one of your favorite projects to make for friends and family. She's easy to crochet, her design is timeless, and she looks great sitting on top of a gift package or basket. Keep her for yourself, or give her as a gift. Betty the Butterfly is ready to flutter home and put a smile on someone's face. A crochet butterfly is a nice decoration for clothing, bags, furniture, and other accessories. And if you make a toy with this cute butterfly pattern for kids, your little ones will never be bored!
Stella The Amigurumi Butterfly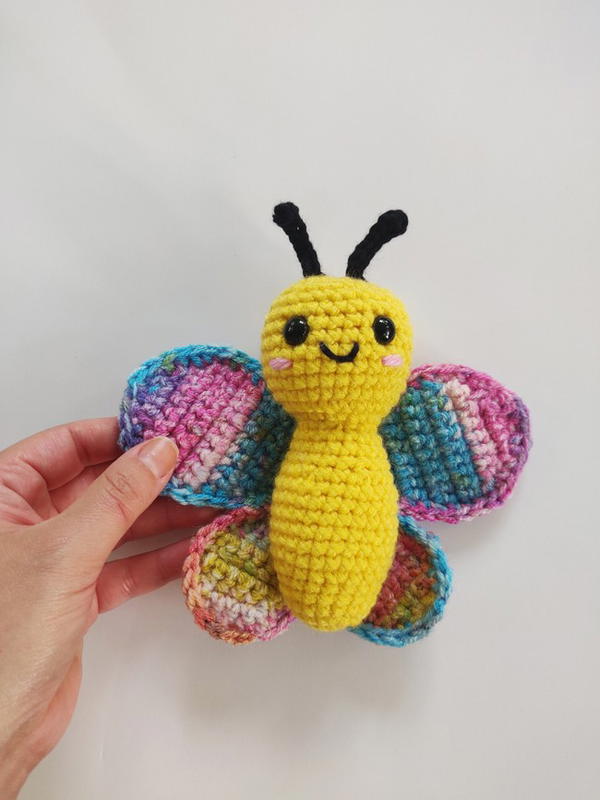 This beautiful crochet butterfly is an excellent pattern for those new to amigurumi and looking to try something different! She is simple and quick to make, and the detailed step-by-step photos will guide you the entire way. Stella is made for kids, adults, and even toy lovers like me! Add a dash of color to any room with Stella the Amigurumi Butterfly. This whimsical butterfly is made from worsted weight yarn and is about five inches tall. Your children will love playing with this adorable amigurumi, or you can hang her as a piece of home decor. The possibilities are endless!
Butterfly Mug Rug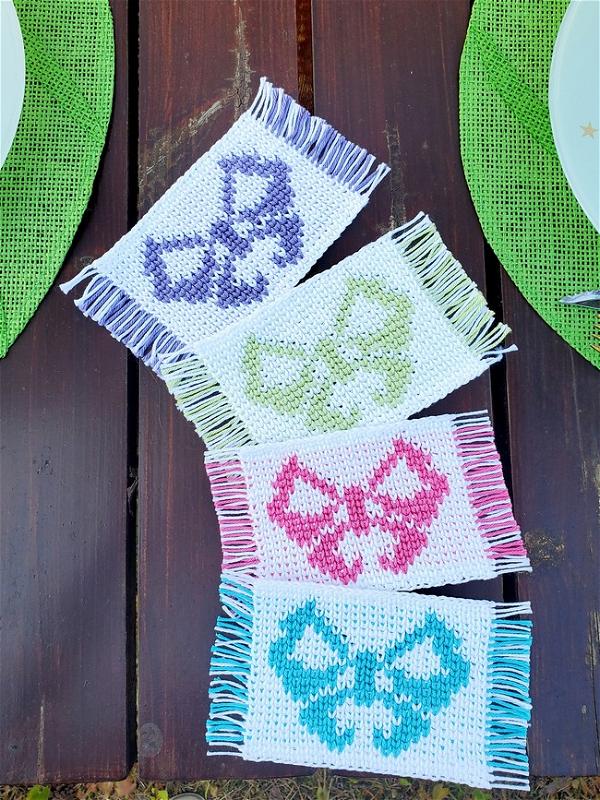 A versatile piece of functional home decor, the Butterfly Mug Rug is small but convenient tabletop linen to place your coffee mug and snack plate on. This Butterfly Mug Rug pattern is quick and fun to make. It's a beginner-friendly project that requires minimal materials and basic stitches. The delicate butterfly applique makes this practical piece into a cute decor for your kitchen or living room. While it's a perfect mug rug, you can also use it as a coaster or pin cushion. Being smaller than a washcloth, this crocheted textile fits easily into your favorite teacup or coffee mug.
Butterfly Stitch Tube Scarf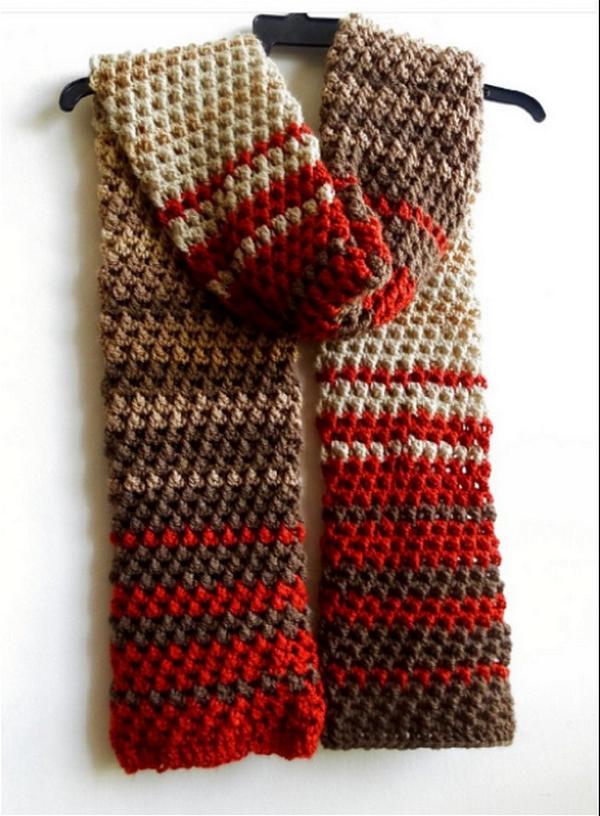 Whether you prefer to call it a neck gaiter, buff, face mask, or tube scarf, the Crochet Butterfly Stitch Tube offers something more than just an accessory that's warm and cozy. The Crochet Butterfly Stitch Tube Scarf is double thick and perfect for cold weather. Protect yourself from the cold with this double thickness butterfly stitch tube scarf. It's super easy to make and quick to finish too! The only thing you have to worry about is picking your favorite color; crochet it for yourself or for your friend!
Mini Butterfly Toy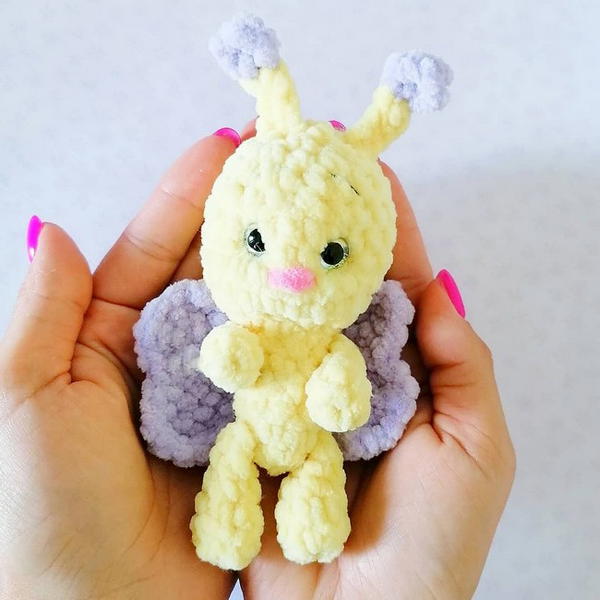 Your favorite little one will love this adorable Crochet Mini Butterfly Toy. This hand-knit toy is made locally and features cute elastic antennae and a smiley face. This cute little butterfly is the perfect toy for your favorite kid. Knit from a local artisan, this butterfly has adorable cheeks and curly antennae, which help it stand out from other butterfly toys. It also comes in three different colors to ensure it's a perfect fit for your child's style, reflecting their personality and needs. Buying local is important; you can feel good knowing your purchase helped support an entrepreneur.
Funny Butterfly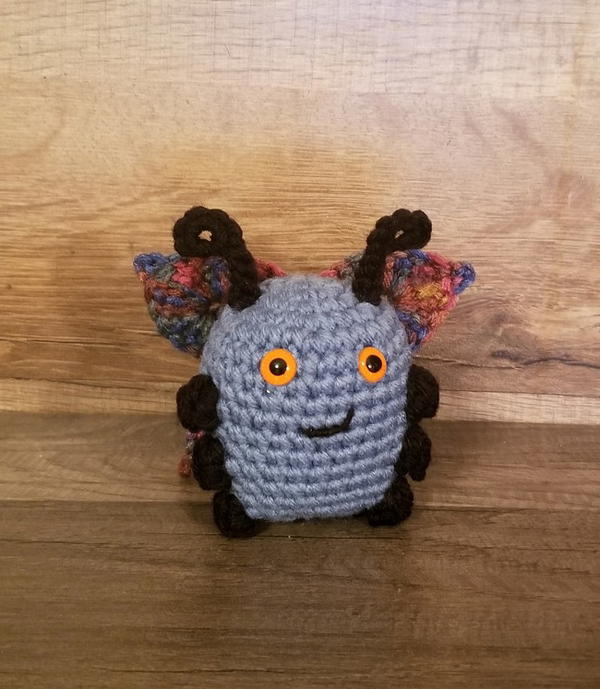 This little Buddy works up fairly quickly using small amounts of yarn and minimal sewing of the wings and antennae. This Happy little Crochet Butterfly is fun to make and fun to give! It works up fairly quickly using small amounts of yarn and would be a great addition to any gift basket or dress-up outfit. A butterfly on the windowsill is a fun way to liven up any room. This little buddy works up fairly quickly using small amounts of yarn and minimal sewing of his wings and antennae.
Pocket Pal Butterfly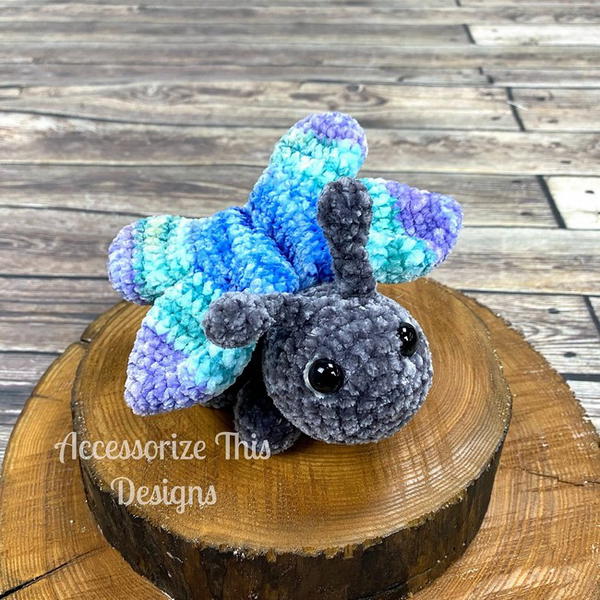 The Pocket Pal Butterfly is the most fun you can have with a crochet hook. Follow this easy-to-follow pattern and create one just for you or as a gift for someone special. These Pocket Pal patterns were designed to be the perfect comforter for little ones and a great distraction for children who are too young to play with toys. Each pattern is easy to follow and produces a cute, quick, fun friend that will last for years to come. Either way, this little butterfly will be loved for years to come.
Luke the Butterfly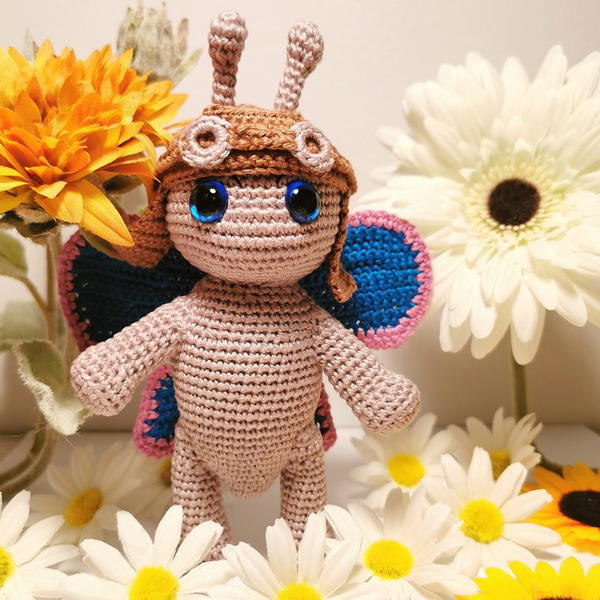 The butterfly has long been a sign of transformation, renewal, and new beginnings. Grace your home with this handmade classic style crochet butterfly, and remember: even out of the darkest cocoon comes a beautiful butterfly. Like the Butterfly is a handmade crochet butterfly with a lot of character. Each one is unique and makes a great gift or a great way to add some fun to your home! A charmingly unique crochet butterfly. Handmade with the softest chenille yarn, these plushies are ideal for snuggle time but whimsical and fun enough to leave around the house as quirky decor.
Butterfly Granny Square Pillow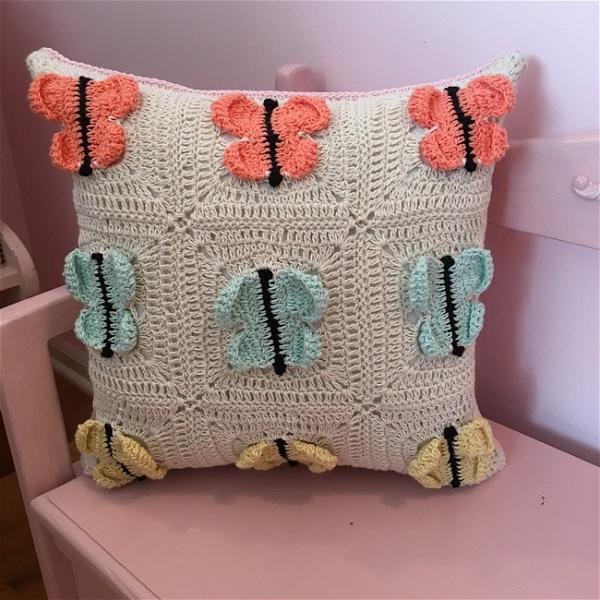 This Butterfly Granny Square Pillow is ready to make your home more beautiful! Be the talk of the town with this attractively designed Butterfly Granny Square Pillow, or give it to a friend as a gift. The pillow cover is crocheted entirely in double crochet clusters, double crochet decreases, and single crochet with some seams. With a single crochet band and whopper of a tassel, your butterfly pillow will be spectacular. The thick, granny square motif adds another layer of texture and fun to the project. It's suitable for advanced beginners and beyond.