Bralettes and tops have become an important staple in any woman's wardrobe, and it's easy to see why. They're comfortable, cute, and versatile enough to dress up or down for any occasion. Crocheting a bralette is surprisingly easy and involves the same stitches required for a simple scarf. Though it might seem difficult, once you learn the basics of making a crochet bralette, you'll be able to create all sorts of stunning styles. And with our range of crochet bralette patterns and easy-to-follow guides, it's never been difficult to get started.
Crochet Bralette Patterns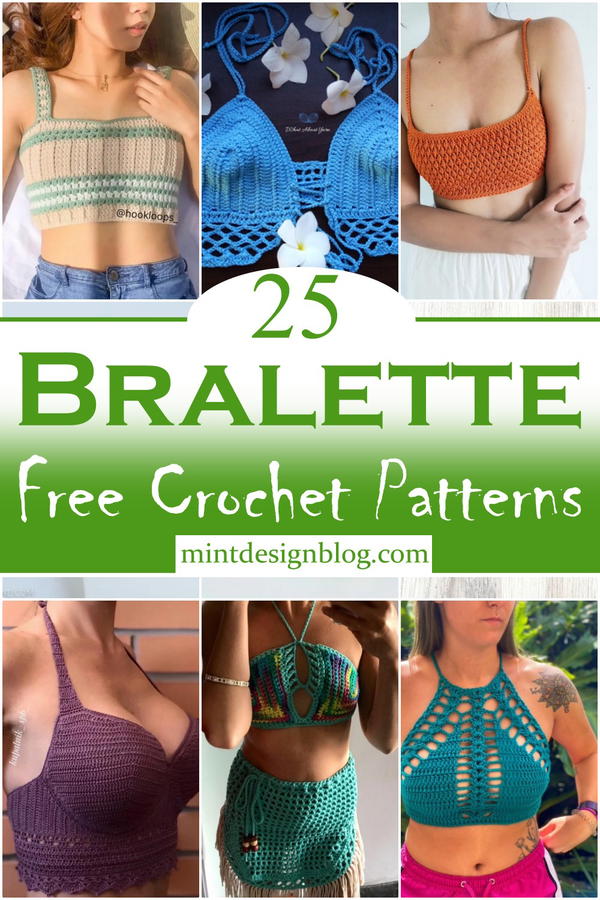 Crochet yourself a new wardrobe essential with one of these easy-to-make crocheted bralettes. With everything from bright and bold to simple and sophisticated, crochet bralettes have the power to wow in any pattern. Learn about the five most common stitches you'll need for your crochet project and the basics of how to use a stitch marker. With this new knowledge, you'll be able to jump into crocheting your bralette in a bunch of different crochet patterns, from lace bikinis to some adventurous patterns.
Crochet Heatherette Bralette
Heatherette was designed with summer in mind and all of the fun, fun fashion that goes with it, summer BBQs in backyards, family reunions at a lake house, or attending your favorite music festivals! It's a versatile pattern that can adapt to any occasion. This bralette pattern is size inclusive and can be made to fit any bra cup size! This trendy little bralette is the perfect addition to summer! It works up super quickly and is so customizable. You can style it with straps, strapless, or work in your favorite color of Meadow to make it pop! Even better?
Eyelet Stitch Bralette Crochet Pattern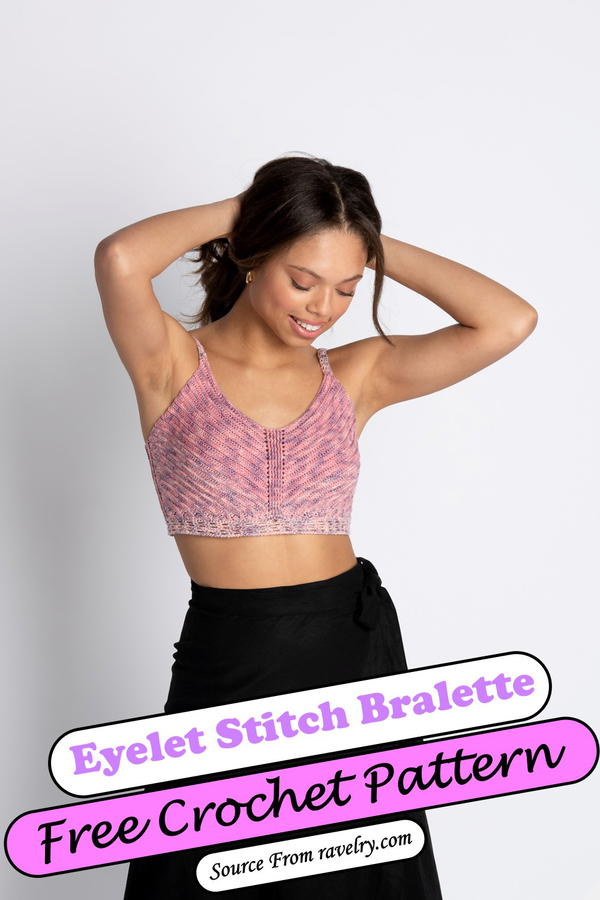 Your latest warm-weather crochet top will be ready to wear this season. This easy-to-make V-neck crochet bralette features a trendy sunburst eyelet stitch and festive fringe trim. Crochet a colorful and comfortable bralette pattern for your summer wardrobe. It's a quick project perfect for a gift, craft market, or donating to charity. It adds versatility to your warm-weather supplies also. This V-shape directional crochet, V-neck top features crochet plus increases and decreases techniques.
Crochet Aphra Bralette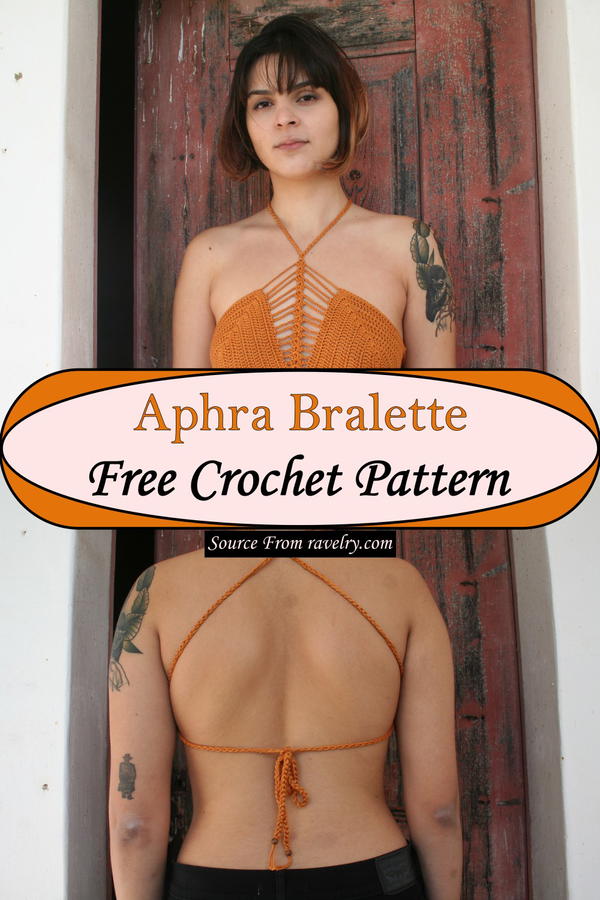 This crochet Aphra Bralette pattern will teach you to make unique and stylized accessories for your warm-weather wardrobe. Whether you're on the trail of the sun or not, this delightful design is a bright addition to anyone's strappy top collection. Made with elastic, this bralette offers lots of styles and plenty of fits. You can even use other yarn colors to coordinate with any style or outfit. So, without wasting any time, make a statement with this stylish bralette, perfect for festivals, music, or outdoor fun.
Bernat Crochet Festival Bralette:
Bernat Crochet Festival Bralette Pattern is perfect for hanging out in the sun on a summer day. This decent bralette is a great way for any crocheter to add something unique to their wardrobe. It's patterned with a subtle floral motif in a deep merlot shade, but you can choose your colors or yarns to make it uniquely yours! If you love relaxed tops but want to crochet something a little more flattering, the Bernat Festival Bralette is just what you need. This seamless, lined, softer bra has easy difficulty for crocheters and makes for a chic top for summer.
Crochet Basic Bralette Pattern: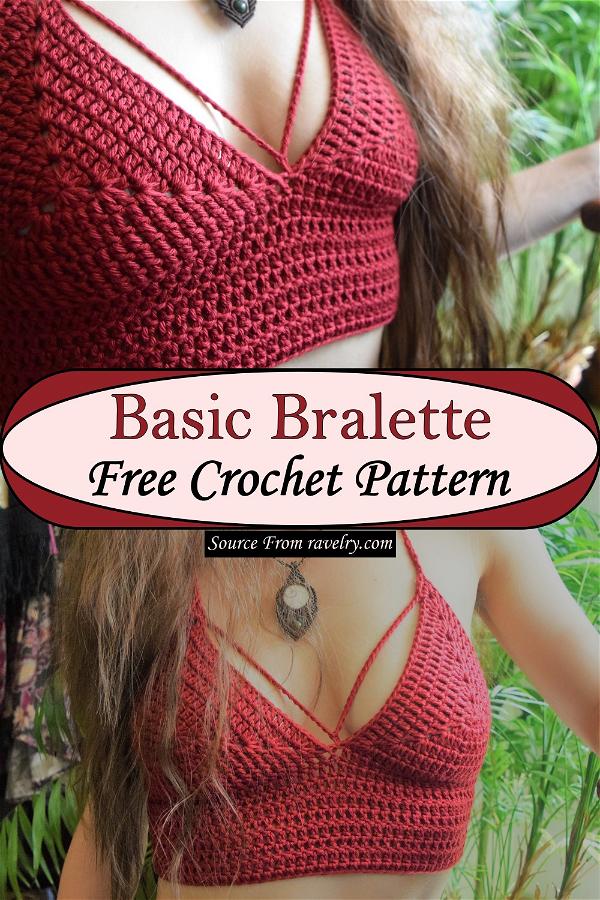 The Hanky Panky Basic Bralette is a classic go-to bra every woman needs in her closet. It's comfortable enough to wear to bed and great for accenting dresses with an open back. It comes in dozens of colors, so you can match it with any outfit. Although the recommended size would be small, you can also choose your sizing. This ultra-comfy bra is perfect for all-day wear. Features include a strappy back and beautiful lace. This pattern is perfect for sleepwear or a little extra confidence boost under your everyday outfits.
Meadow Tie Top: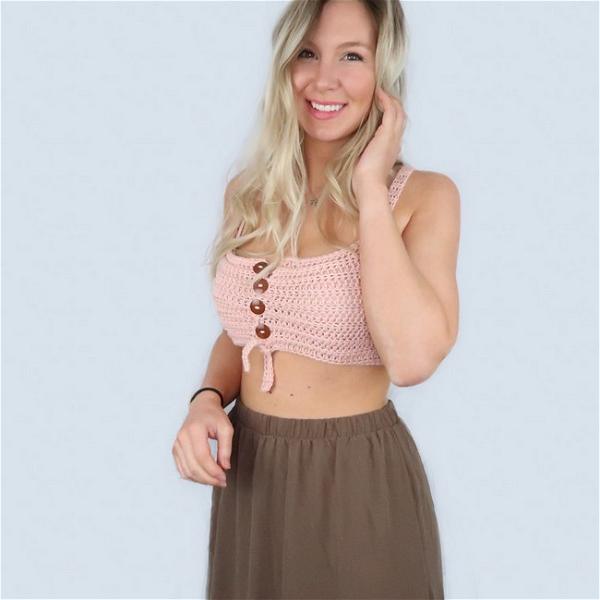 The Meadow Bralette top is a fun and flirty design perfect for any occasion, from the bedroom to the boardroom. The free crochet pattern, like the fun back clasp, walks you through the little details. This summery crop top will have you watching out of the windows on warm days! The tapered straps cross and clasp at the back, and a bottom bow adds sweet style. The whole top is made using an easy chain stitch, making this a quick project. This bralette crochet pattern includes detailed instructions on making the top from scratch and is complete with the buttons and bow at the back. The top utilizes horizontal ribbing, making it both fashionable and functional.
The pretty Picot Bralette: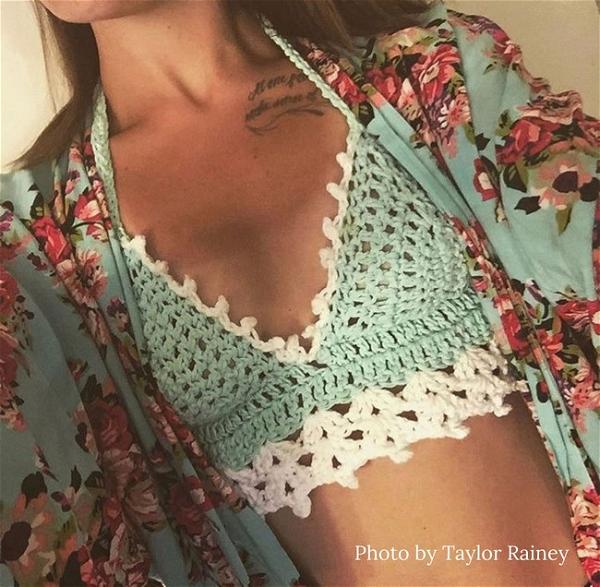 The Picot Bralette has sweet Picot details cleverly placed to flatter your figure. It's crocheted from the bottom up, giving you the freedom to make it smaller or larger as needed. The top is shaped by increasing and decreasing stitches, and the bralette is finished with optional removable/stretchy fabric-covered buttons sewn into each side at the bust. Designed for everyday wear but chic enough for special occasions, this stunning bralette adds support and coverage with the addition of white buttons on each side, and you'll heartedly admire it.
Crochet Hope Bralette Pattern: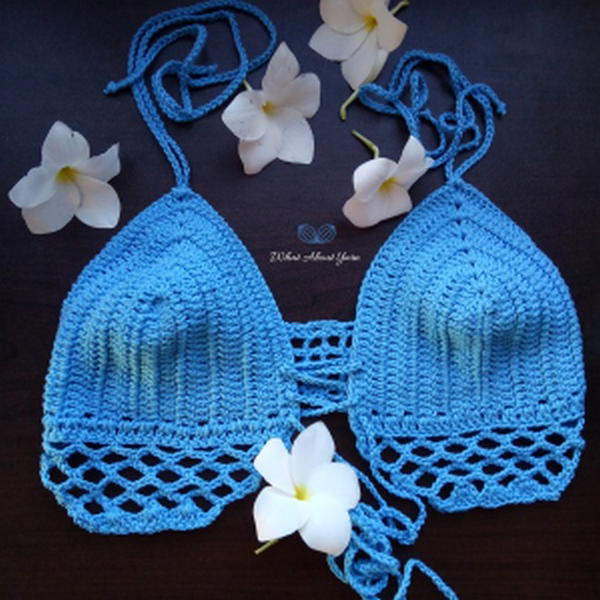 The crochet Hope bralette is a pattern designed for the cotton blend cup but can be used with other fabrics. The straps are adjustable, and the back closure ensures you get a perfect fit. It's comfortable enough to wear any day of the year and makes a great layering garment like undershirts. It features a built-in cotton cup, which feels comfortable and allows air to flow through, and is designed to be worn as an undergarment or as a top as needed. The pattern encourages working with 100% cotton yarn to make this bralette more comfortable for a long time.
May Flowers Bralette Pattern: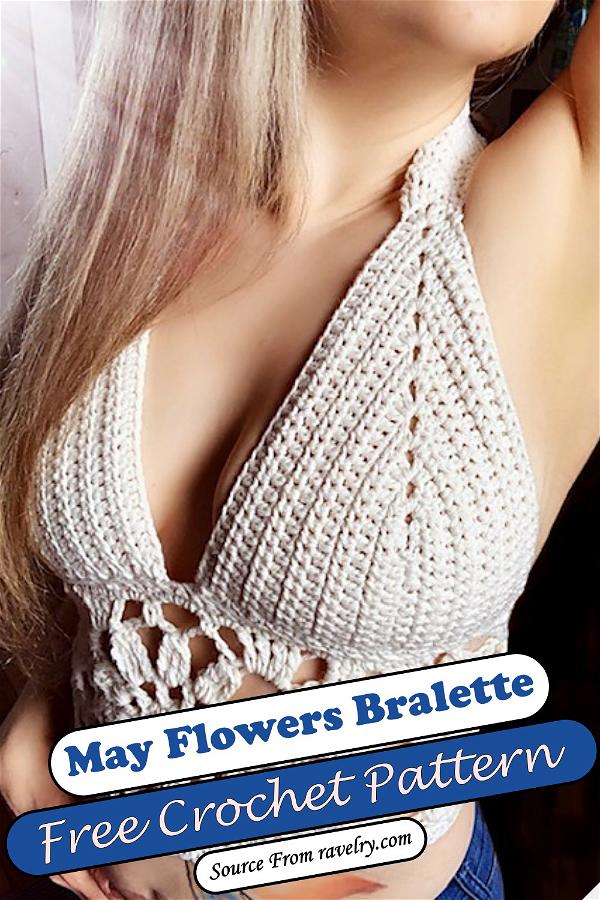 The May Flowers Bralette is perfect for summer festivals and going out at night. It is a super comfy and unique bralette in lace and crochet. With adjustable hook-and-eye closures, the bralette matches with a variety of options in your closet. The straps can be adjusted to fit all body types, making it a perfect gift this season! This pattern includes the details you need to make this unique wearable art. The pieces are worked in worsted weight yarn at a loose gauge to create a soft fabric that drapes beautifully and provides excellent coverage and comfort.
Curvy Bralette Cup Crochet Pattern: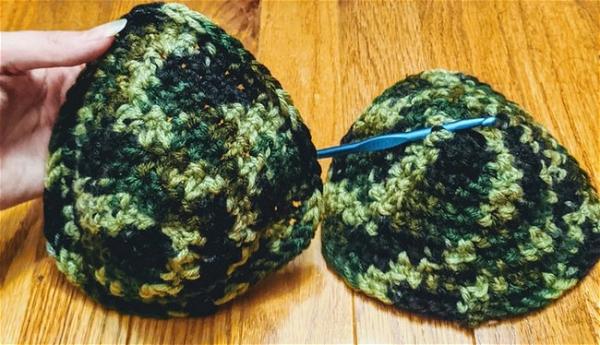 These crochet bra cups are a great way to turn any boring bralette into something beautiful. The pattern takes you through creating these cups with any standard bralette pattern, including front, back, and strap pieces. This crochet pattern was constructed with the larger bust in Mind, and the cups are made with three layers of fabric to offer support and create a seamless silhouette. This bra cup will work with any standard bralette pattern to achieve the look without sizing restrictions.
Basic Bralette Cups:
Made with no underwire, no padding, and a simple ribbon tie to fasten, this easy-to-make bralette can be made for any bust size (extra small through large). Create your trendy crochet outfits in today's hottest fashions with this bralette. The pattern is straightforward because of the simplicity of the bralette cups, but you can customize it to create your scoop-neck or V-neck dress or even a full-coverage tank top. This basic crochet bra is perfect for creating your own trendy, comfortable pieces for sizes extra-small through large.
Easy-to-follow Bralette Tutorial
Easy-to-follow Crochet Bralette Tutorial. Perfect for a beginner who wants to crochet a sports bra or bralette. This video tutorial is excellent to start enjoying exercises with comfort and support in your bralette. This tutorial shows you everything you need to know about the crochet bralette, including sizing chart and measuring techniques, learning and using a new stitch, and even turning it into a sports bra when you're finished. This bralette has all the qualities for a decent undergarment accessory; the creator also gives size suggestions for crocheting your own based on bra size.
Lined Crochet Bralette: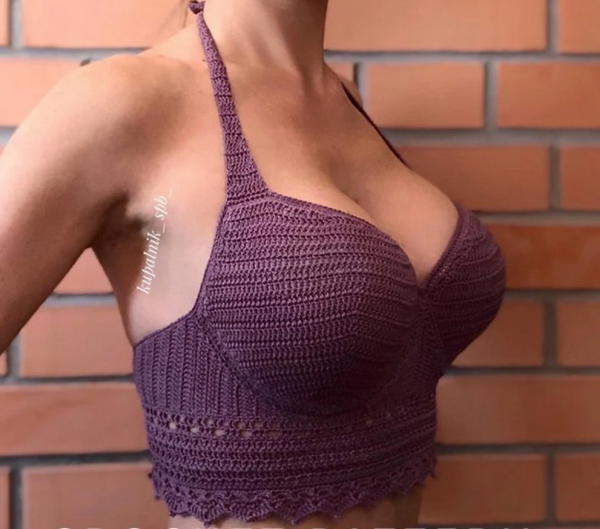 Here we come with a classic crochet bralette that can be worn daily. This top features a triple motif design of treble crochets and single crochets. It was designed to be lined in the cups, but you can also wear it with your favorite wearings or bright-colored bra for a different look! A classic design for everyday wear. Bralette works up quickly and is easily adjusted to fit almost any bra band. Features a decorative motif down the center and on both sides, creating a cute look and added structure on top of the bralette's lining.
Chandra Crop Top: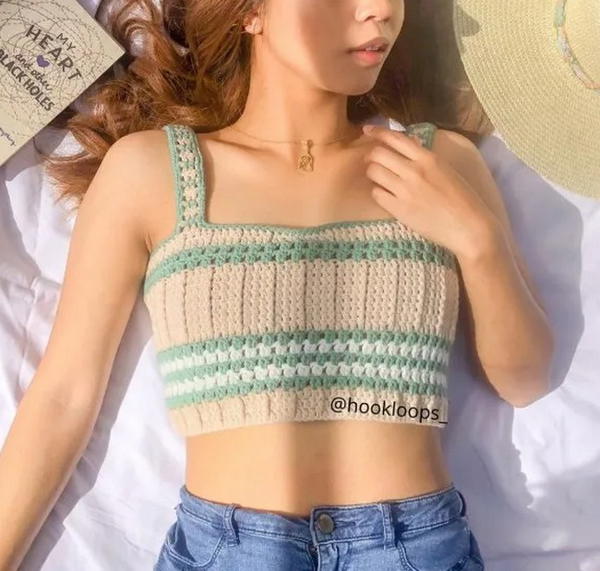 Want to take your crochet skills to a whole new level? Chandra Crochet Top, designed by record-breaking crochet designer Mandy Hunter, will help you do just that. This beautiful pattern features thick bands and straps to ensure security while wearing it under any outfit. It's simple enough for beginners to do but complicated enough for the more advanced crocheter to make it enjoyable. Make sure this fits by entering your model number. This crop top features a wide-body band and thick straps that provide full support and coverage. You'll also find out the best way to wear it and even find out some unexpected ways to style this cute pattern!
The Viper Bralette Pattern: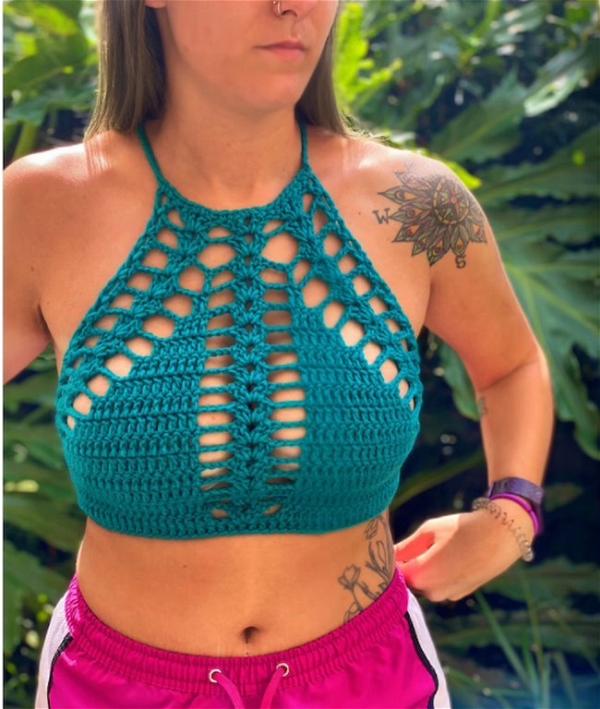 Crochet makes a statement, and the Viper Bralette is a true standout. A halter top design leaves plenty of space for cute cutouts with just the right amount of coverage. A unique strap design lends a touch of minimalist flair to a classic silhouette in this attractive bralette. It's perfect for warmer weather can be dressed up or down, and comes in various colors ranging from black to nude, each helping you show off your unique style. Crochet naturally makes a statement, and this bralette is a true standout, thanks to the unique strap design that combines halter top coverage with an underwire bustier.
Tropical Crochet Bikini Top: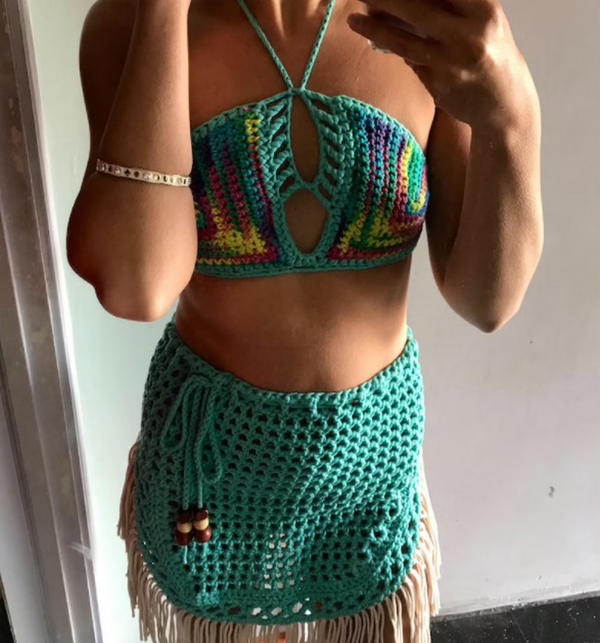 This crochet bikini top is a must for a tropical vacation. The wide straps and soft yarn make for a comfortable and flattering fit. Made with 100% Cotton, this bikini top is perfect for any traveler looking to take their crochet skills to the beach. Create your own retro-inspired bikini set and head straight to the pool or beach. The comfortable straps and timeless shape will be sure to stand out on the beach this summer. This bikini top is a quick project, making it very beginner-friendly.
Sienna Bralette: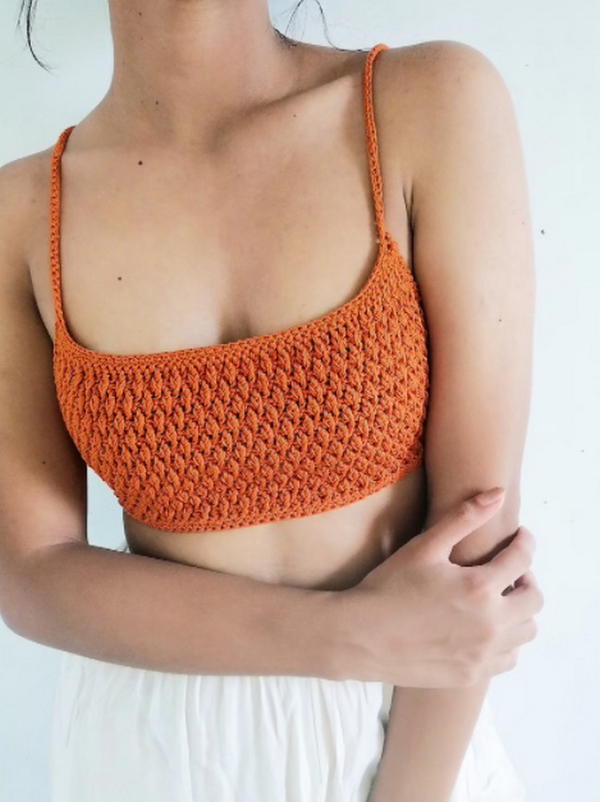 This bralette takes on the traditional halter-style bralette and turns it into a new, easy-to-wear piece. It's seamless, offering a great layer under the tank or low cut tops and being perfect for sleeping. The lace details in this pattern are simple to follow and offer plenty of size flexibility for this bra top. This may be cut out using either knit or woven fabric but will be sewn with stretchable thread. The lace details are simple to follow and offer plenty of size flexibility for this bra top. This pattern is written specifically with cotton but maybe cut out using either crochet or woven fabric.
Pattern Tie Back Bralette: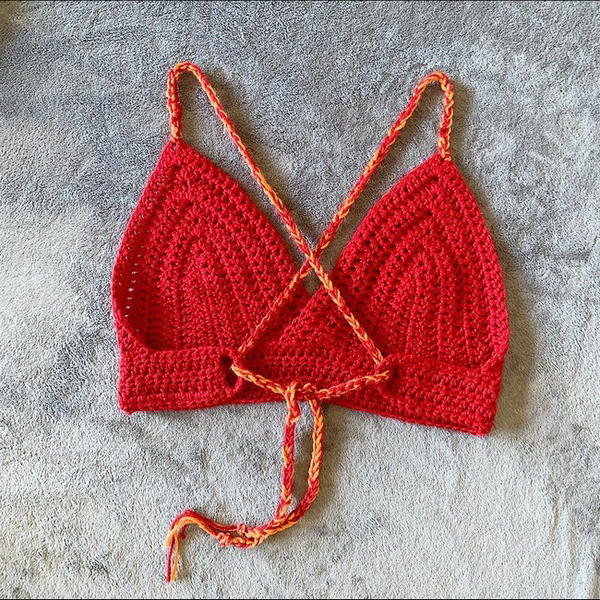 Finally, a bralette pattern that's easy and versatile! You will be able to make dip dye, bright colors, multi-colored, ombré, marled, whatever you can imagine! You will surprise yourself at how easy it is to create such a beautiful design on your top. Also included are instructions for crocheting the bralette cups around elastic for an even more versatile look. Designed with a different type of tie closure in the back, it's very beginner-friendly and is a great way to practice your bralette cups. The neckties use a criss-cross design in the back, with a two-inch gap in the front for tying. With wide, thick straps and sizing comparable to most bras, this top will be your new favorite sports bra!
Marnie Crochet Top: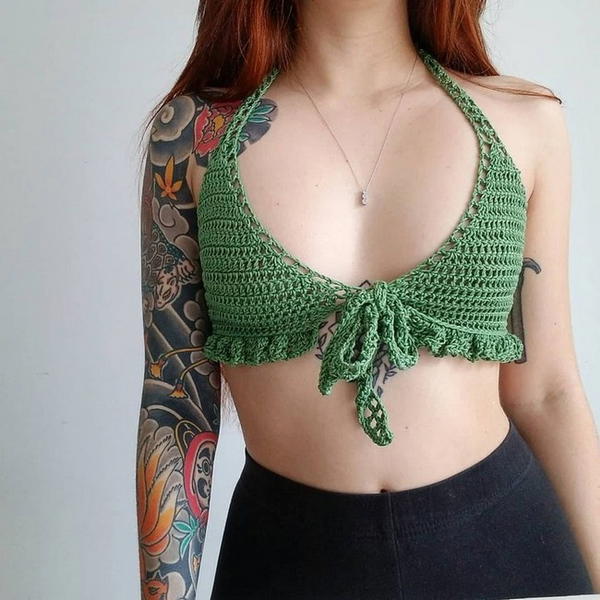 Take your hook to the gorgeous Marnie Crochet Top, a fun-loving bralette top that can be worn alone or paired with a belt. This bralette features simple crochet stitches and many ruffles, offering interest and intrigue to this decorative piece you'll love wearing all summer. This crochet pattern for the Marnie Top is designed to be easy by using simple stitches. The top is made in one piece with no seaming. The pattern is written with full instructions and pictures and a few tips and tricks to guide you. Instructions are included on adapting the pattern to make your top bigger than expected, especially after washing it.
Dolly Ruffle Top: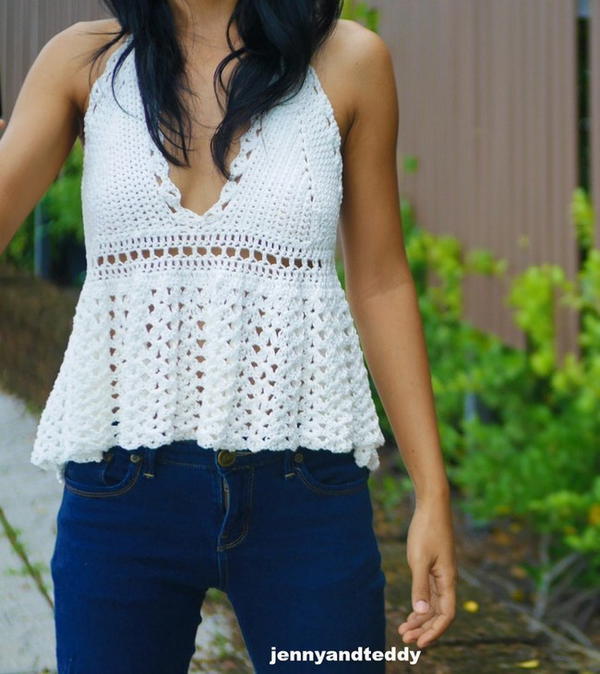 The Dolly Ruffle Crochet Top is a gorgeous new pattern that's soft and flowy, with a stylishly romantic look. The bralette cups are designed to accentuate the bust, while sturdy eyelets in the crochet ruffles add stability to this top. Made from 100% cotton thread, it's lightweight, breathable, and durable – so keep it looking good for years to come. The Dolly Top features a simple design with multiple elements of style. The crochet top starts as a bralette and then turns into an A-line silhouette, allowing for lightweight and flowy comfort on the body. This sleeveless blouse is all the fashion, working well with jeans or a skirt.
Classic Crochet Bralette: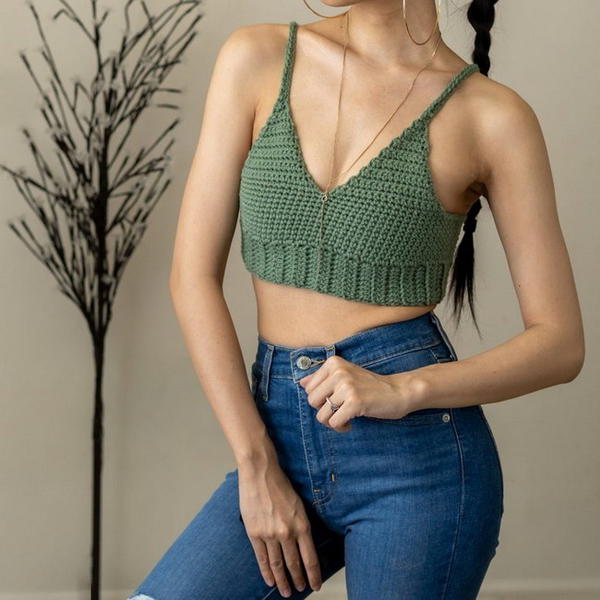 This crochet bralette pattern is the perfect staple for your summer wardrobe. It's just simple enough to keep it classy while still being cute. With a few materials and an hour, you'll be ready to wear this bralette under your favorite tee or tank top! This is a handmade crochet bralette-style top. It's perfect for wearing under any tank that you want to add a little something extra too! This bralette pattern had two main pieces, the band and the v-top. It can be made in any color to fit your style! The Classic Crochet Bralette is the perfect piece to throw on under a sheer top, tank, or t-shirt. It works up quickly and easily using worsted weight yarn, and the adjustable straps ensure you will get a perfect fit!
(via TCDDIY)
Halter-neck Crochet Bralette: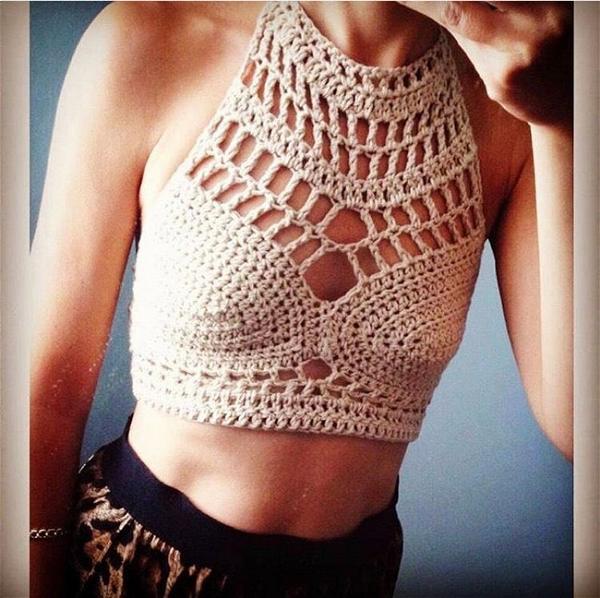 With this crochet bralette, you can create something both functional and beautiful. It features a rich elasticity, ensuring that the bra never feels too tight or uncomfortable. This halter-neck bralette is intricate and will set you apart from the crowd. Our extensive guide will help you stitch this one-size-fits-most pattern by adjusting cup size and length. Reveal your inner beauty with this gorgeous lace bralette! This pattern is made with the most advanced crocheter in mind, but we've broken it down so that it's easy to follow.
Crochet Tie-neck Bralette Top:
The Tie-Neck Crochet Bralette is a gorgeous piece of crochet edging magic. It's a simple bralette-style top with an edging that seems impossible. The length runs a bit small, so if you are in-between sizes or prefer a looser fit, we recommend selecting the next size up. This crochet pattern is a stunning piece of craftsmanship. It's professionally handcrafted with 100% high-quality cotton thread, with the edging being the star of this show. The Tie-Neck Crochet Bralette Top includes a memorable pattern at the front and back. This beautiful bralette also includes a scalloped edge that is unforgettable. This top's unique shape and design will make you fall in love with it.
Halterneck bikini top: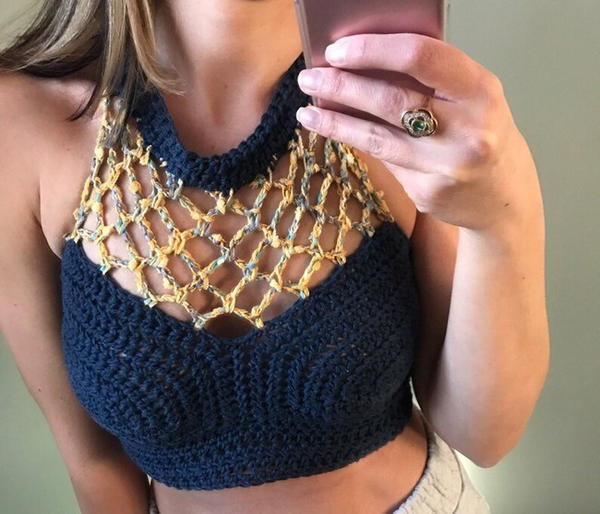 Our Halterneck crochet bikini top in navy blue for those perfect beach days or hot summer nights! This top comes with a slightly different approach to a halter bralette, a tight pattern stitch around the bust, and a little excitement up the neckline. For added style, our Halterneck bikini top works with specific sizing allowing for great fit and coverage. This updated bikini top features our favorite halterneck designs, but with a fun crochet trim that adds a little flair to this classic style. Sizing is specific so you can ensure that your top fits perfectly, with full coverage and great overall style. A must-have for an unforgettable summer!
Crochet Bra Cup Tutorial: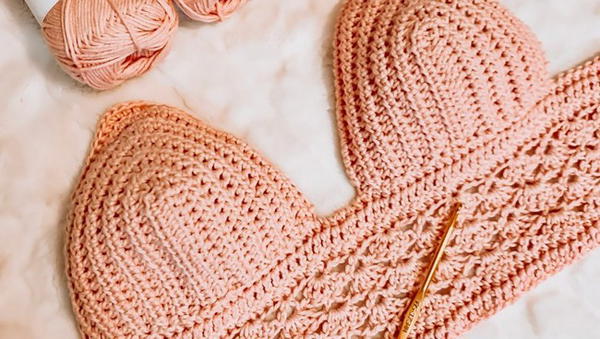 In this free crochet tutorial, you will learn how to crochet a pair of bra cups for a perfect fit every time. After measuring and determining the best yarn and hook size for your specific needs, you'll be able to make a custom-sized pair of bra cups using our simple technique. Great for adding coverage under those sheer tops. This Crochet Bra Cup pattern is an easy-to-follow design that demonstrates how to create crochet bra cups. It teaches you how to customize your crochet bra cups based on your measurements, and it is a great option for plus-size girls when buying larger sizes is more costly.