Tops are an essential part of any wardrobe. These 35 crochet top patterns will help you find the perfect pattern to make for yourself, or as a gift for someone else. Crochet tops can be worn all year long, whether over a shirt in the winter, or by themselves in the summer. There is a wide range of patterns to choose from for beginners and experts alike. You can't go wrong with these crochet tops. They are a great way to show off your crochet skills, without investing too much time or yarn. They're also a great way to use up small amounts of leftover yarn from larger projects. These beautiful crochet tops will make you want to put away your sweaters and pull out the t-shirts! If you need a new top for summer, check out these 35 Crochet Top Patterns!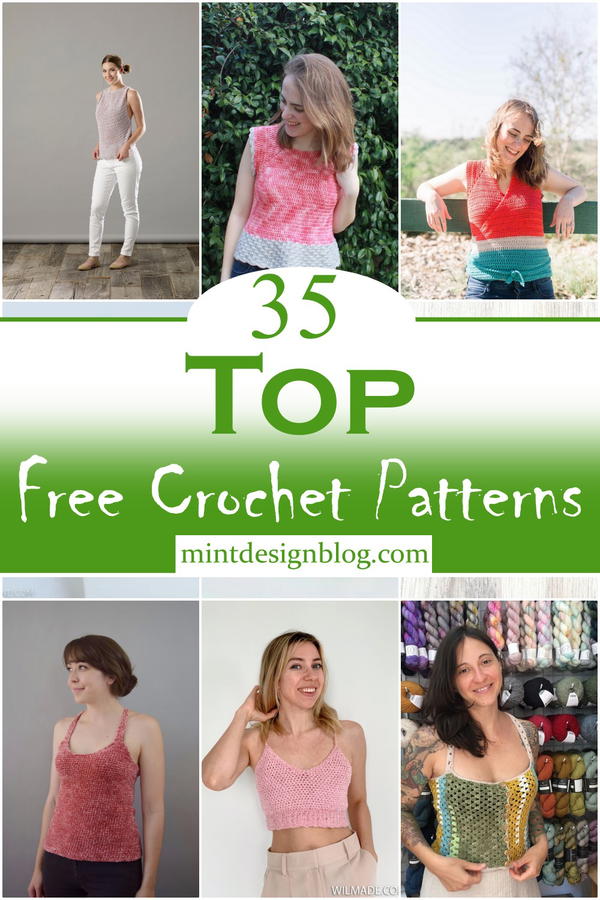 These 35 crochet top patterns can be crocheted in lightweight yarns that are ideal for warm weather—or in heavier-weight yams for cooler seasons--and many can be easily adjusted to fit perfectly. From simple shells that are easy to make and effortless to wear to more decorative pieces embellished with eyelets, fringes, lace edging, cables, and other stitches, you'll have the perfect top for any occasion. - Each project has complete instructions and charts, along with a photo of the finished project--so you know exactly what you'll end up with when you cast on! - Choose from a variety of styles and sizes to create unique garments for yourself or your friends and family. You'll find something for every style and occasion. Most of these are beginner-friendly and easy to follow.
This collection of 35 crochet top patterns will help you update your wardrobe with some gorgeous handmade garments.
Learn how to crochet top patterns
Choose your style and favourite fabric.
Save money while finding out what works best for you.
Make unique designs in your cardigans, sweaters, and tops.
Use the information given here to learn how to crochet.
Get inspired by other crocheters making popular patterns.
Make sure you have supplies on hand.
If you don't know how to crochet, make sure you have followed us for guidance.
Pick the perfect stitches for your project.
Uses of crochet top patterns
Crochet top patterns are great for a quick hobby.
Crochet top patterns are versatile and can be used in different outfits/styles.
You can mix and match pieces to get multiple outfits out of one pattern.
Cotton is a nice material to use because they are breathable and cheap.
You can be creative with the designs.
Use them as a base for your own top design.
Use the different variations to update your wardrobe.
This lets you achieve style with less effort.
Crochet is great for beginners and children.
The best part is that you can sell what you make!
Tie Front Top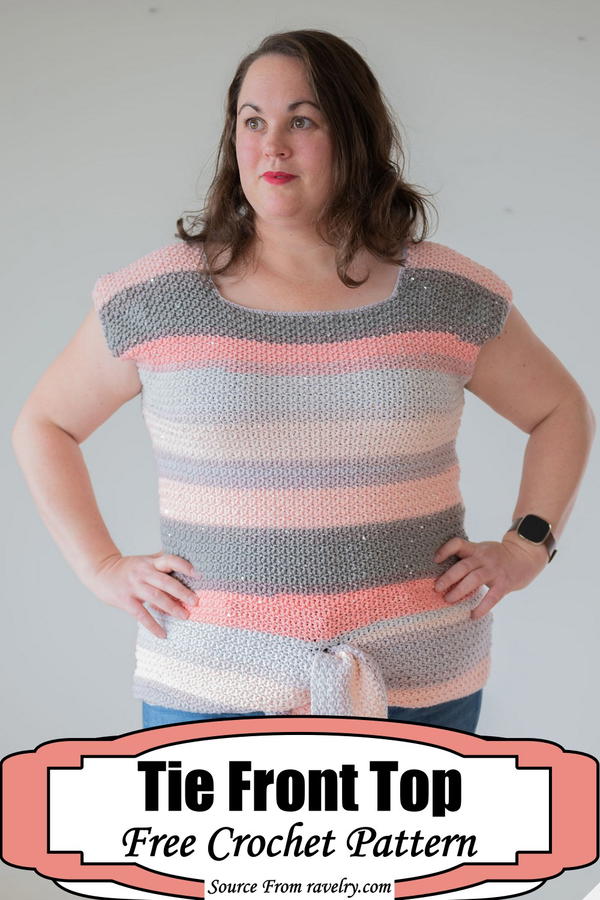 Add a little boho flair to your style with this tie-front top. This crochet tie front top is a chic addition to your wardrobe for those warm summer days. Cut in a relaxed fit, it's perfect for casual days or sunny vacations and is designed with contrasting crochet details. Wear it with some high-waisted shorts and sandals or over jeans to dress things up. Thanks to its on-trend details, you'll be sure to stand out while looking effortlessly cute.
Blaze Bandana Top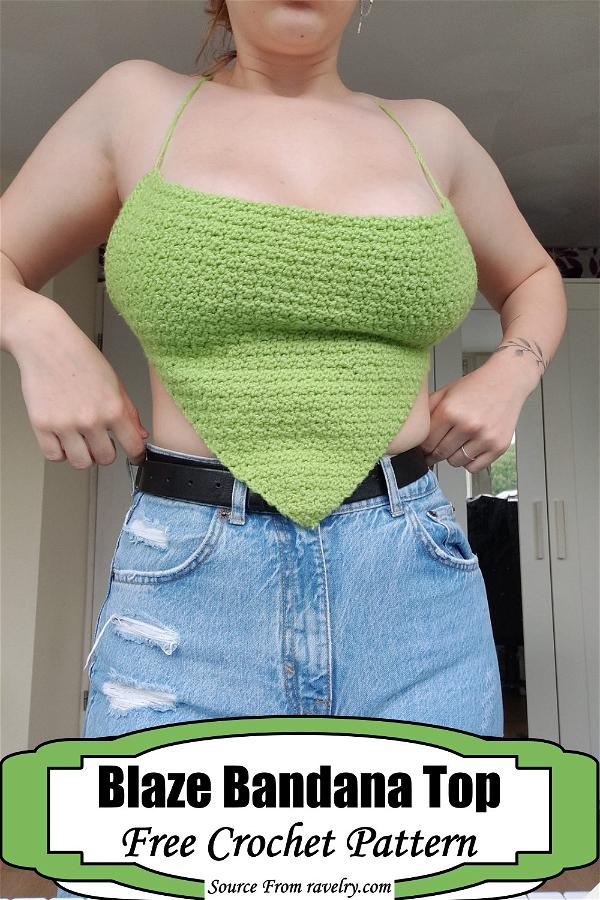 If you love to make your own clothes but the thought of fitting, grading and constructing patterns is putting you off - this is for you! The Crochet Blaze Bandana Top is a fun and creative pattern for a versatile top that can be dressed up or down. The top fits all sizes and is based on your own measurements, with detailed instructions for how to take them. Made with basic single crochet stitches, this pattern works up quickly and easily so you'll be wearing it before you know it!
Coastal Cove Top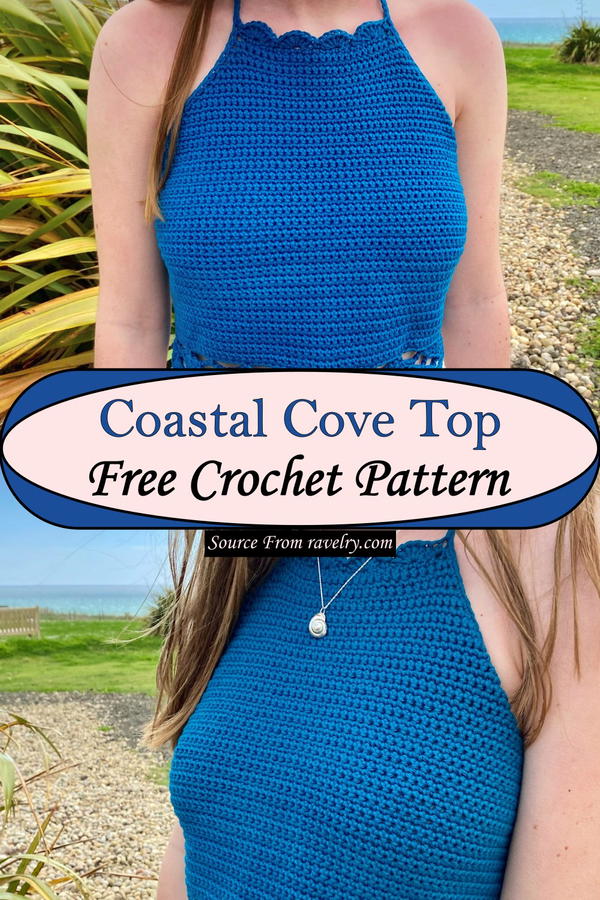 This cute, cropped halter top is perfect for throwing over a bikini or dressing up with a pair of jeans. Made from pretty crochet lace and finished with colourful ribbon ties and elegant lace fastening it is the perfect addition to your summer wardrobe. A cute, crocheted crop top with halter neck ties and back lace fastening. This top has halter neckties and a back lace-up closure. It is made from the top-down, starting at the front neck edge. Increases are made at the beginning and end of each row to create the triangular-shaped front panel. It is easily adjustable to fit a variety of different shapes and sizes by reducing or increasing the number of rows worked in each section.
Crop Boho Top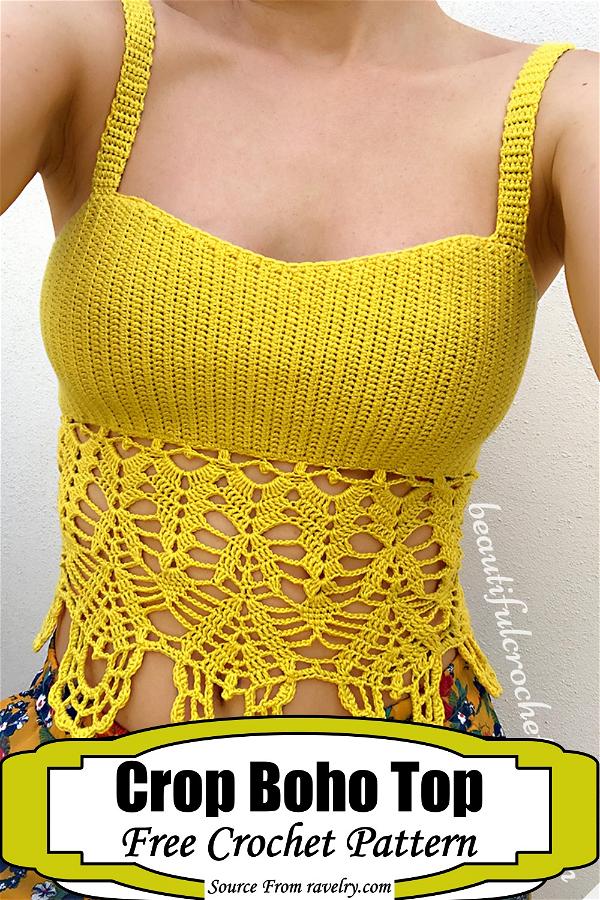 The Crop Boho Top is a cute, crochet top for summer. This is a new design in addition to basic crochet top. It's perfect and unusual pattern for any crochet skirt bottoms, tops or tablecloths. This soft, cotton crochet piece goes well with almost any bottom and is sure to make you feel beautiful. This crochet crop top is really light and refreshing way to keep you cool in hot summer days. The edge looks beautiful and it's very easy to make.
Cloves Tank Crop Top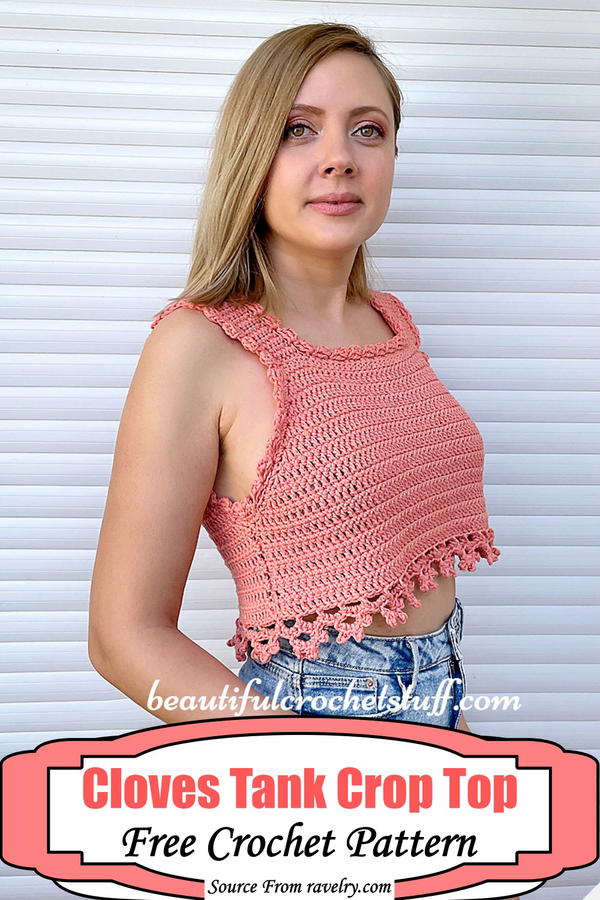 Bold and bright, this adorable tank crop top is perfect for warmer temperatures. The tank features a versatile shape that works with any body type, flattering your figure. This is a very simple and stylish tank crop top. The pattern of the top looks like the cloves spice. Try to feel the fragrance of this spice before you start the project and you will enjoy the aroma during crocheting. The cloves pattern is a very easy crochet stitch, perfect if you haven't done much crochet before. And don't worry, if you haven't crocheted before we've got plenty of other resources on our site that will help you get started!
Jetsetter Lacy Top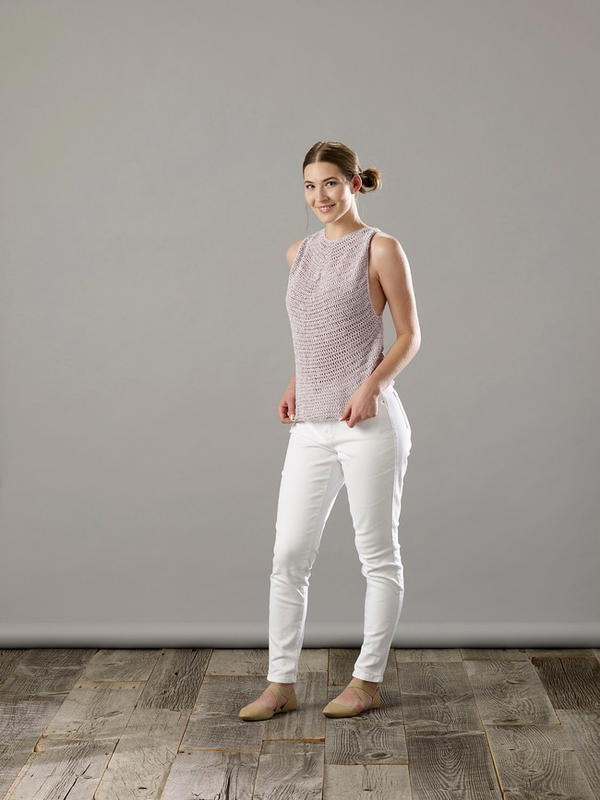 Your wardrobe is not complete without this Crochet Jetsetter Lacy top. Throw it on over some jean shorts and you are ready for a BBQ. Pair it with a light jacket or over a tank and it becomes office appropriate. The scoop neckline makes this piece easy to style, while the relaxed fit keeps you cool all summer long. This yarn is lightweight and has a subtle sheen, giving it a nice luster and polished appeal. The drape of this fabric gives it the perfect summertime vibe and improves as it gets slightly worn in.
Top Ametrina De Ganchillo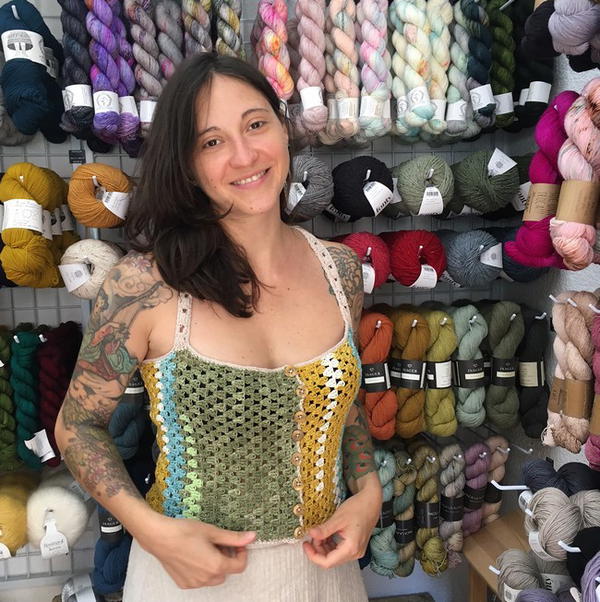 A special design that uses the asymmetry of stripes and a small detail in the back to get you out of any trouble. A feminin, fresh and original model to wear with jeans or colored trousers. You will discover a very easy crochet pattern for the Ametrina Top. The Ametrina Top is characterized by asymmetrical horizontal stripes and it is knit from side to side, which makes it quicker. With some basic notions of crochet, you will be able to adapt it to the size that the wool gives you.
Summer Wrap Top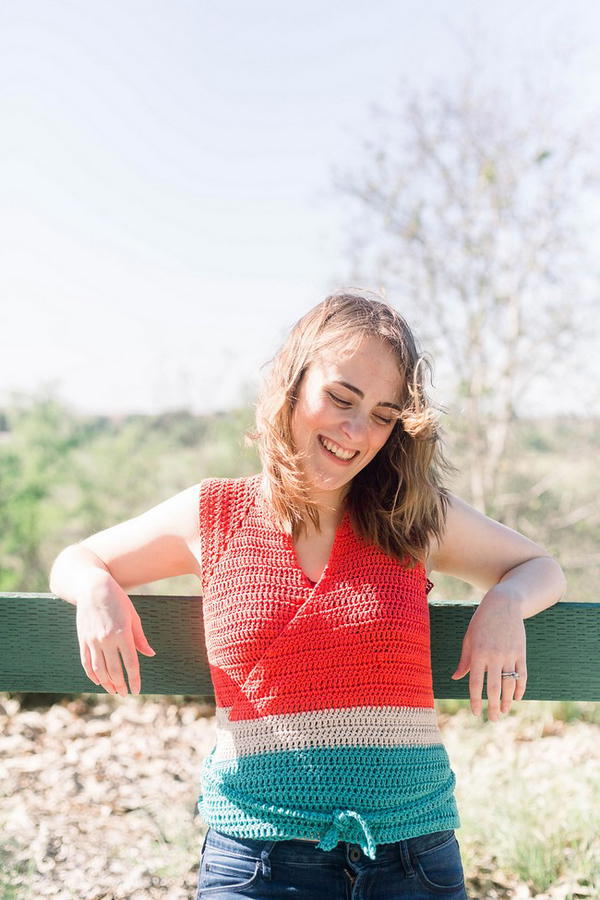 Looking for a summer garment to make this spring or summer? Look no further than the Summer Wrap Top! This easy to make crochet top made from lightweight cotton yarn is perfect for your capsule closet. Its made from cotton yarn, is made in a raglan style with no seaming, and is beginner friendly! Whether you are new to crochet garments or a long time crocheter, this beginner friendly pattern is the perfect project for summer. It has very minimal shaping and only uses double crochet stitches making it easy to customize in your favorite length, width, and armhole depth.
Pink Crop Top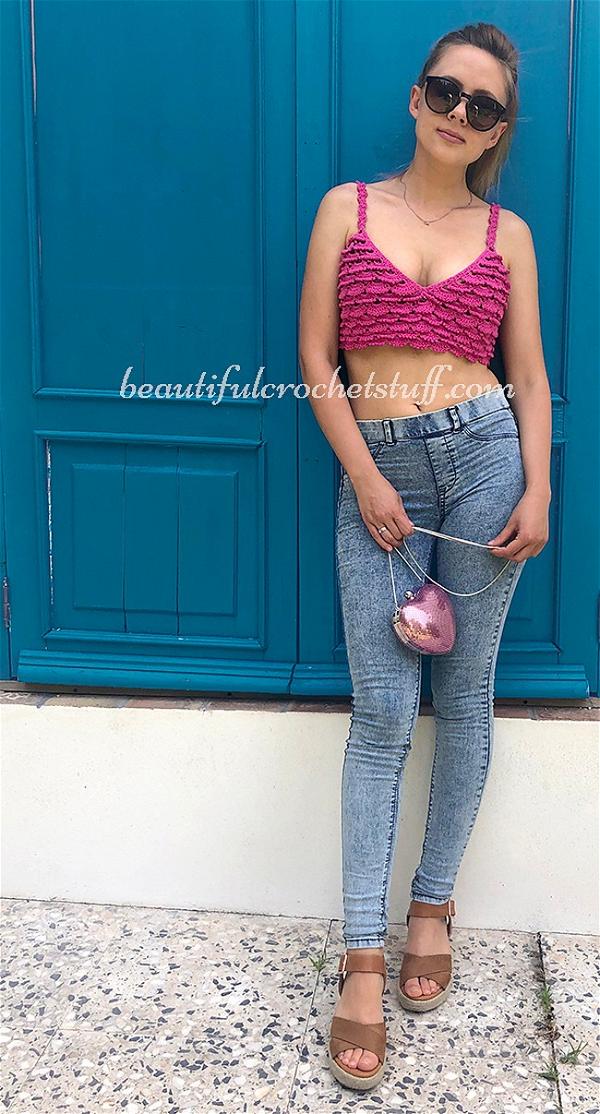 This super cute crop top is hand-crocheted by artisans. The perfect top for summer! This top comes in a soft, sheer crochet fabric with a solid lining. Featuring a fun boho-chic pink print and scallop hem detailing, this top pairs perfectly with shorts or jeans. Throw on some bold earrings and a cute clutch to complete the ensemble.You will love the cool sweatheart neckline, and the scalloped detail along the edge. Wear it alone or pair it with a blouse for extra coverage.
Velvet Tank Top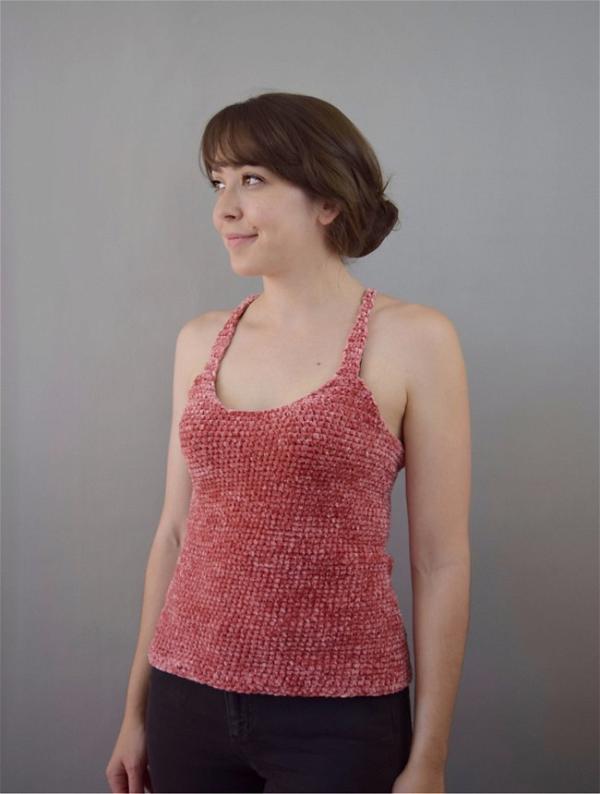 This luxe velvet tank top just might be the coolest thing you'll wear all year. This super soft top has a racerback shape and fits perfectly in your favorite high-waisted jeans. Velvet's just the right touch to make it feel extra special. Made with shiny metallic yarns, it has a very subtle sparkle that shines like the sun on fresh snow. It's so soft and buttery-smooth against your skin, you'll want to sleep in it. This is the kind of cozy you won't want to take off. Somehow both relaxed and ultra-luxurious at once, this one feels so soft against your skin, it will do double duty as loungewear, too.
She Sells Sea Shells Top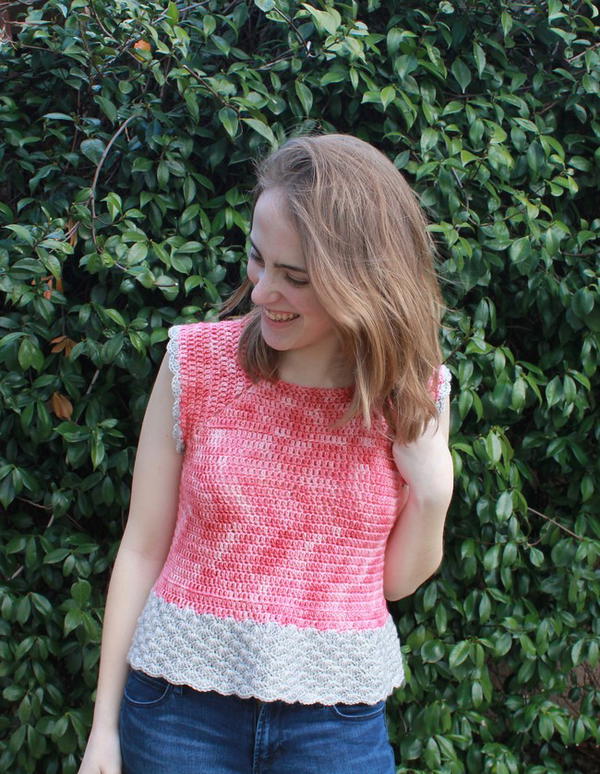 This crochet top pattern is perfect for women who love the beachy life!The She Sells Sea Shells Top crochet pattern is a simple and easy design that works up super fast. Using the raglan construction means no sewing or seaming and it's made in one piece. This top is so simple and easy to make! It's a beginner friendly, raglan and crochet design that anyone can make and feel fabulous! Made using the raglan construction method, it helps to work up super fast and makes it easy for all skill levels to be able to make it.
Velvet Crop Top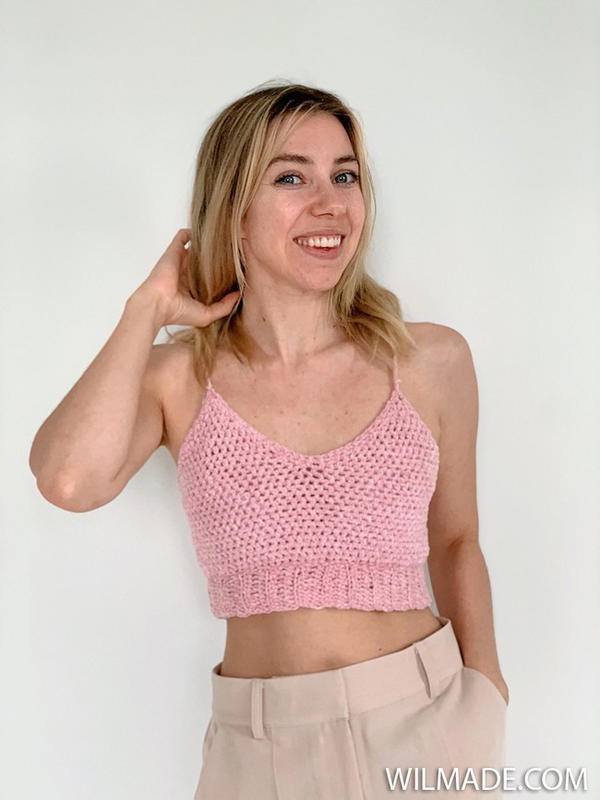 This Crochet Velvet Crop Top is the perfect statement piece for the cooler months. This luxe velvet fabric features a subtle metallic sheen and beautiful floral crochet detail, creating a romantic and eye-catching look that's sure to turn heads. Paired with jeans or your favorite skirt, this piece will be a staple in your wardrobe. This beautiful floral top is perfect for any occasion! With a crochet velvet material, you are sure to fall in love with this look. Pair it with your favorite bottoms and accessories to create the perfect look!
Summers Breeze Top
Make yourself a beautiful summer top in no time at all with this easy to follow crochet pattern. You can make a halter top or tank top using the same pattern and same stitch combination. The Dayspring Summers Breeze Top is one crochet pattern, two tops! The Crochet Summer's Breeze Top is a fun and beautifully textured top that works up quickly and is sure to be your summer go-to! You can make this Top with a racerback halter or a tank top style.
Top-Down Tee With Braids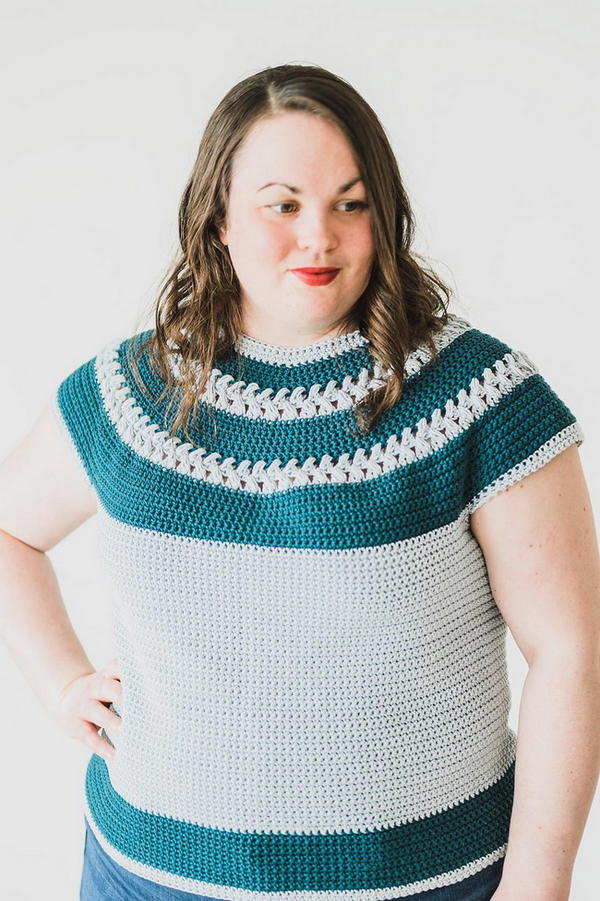 A beautifully detailed crochet tee that is worked from the top down so you can try it on as you go. Beginner-friendly, this project is gorgeous and useful, perfect for a quick gift or you! This easy crochet top pattern is worked from the top down with a chain stripe and braid detail. The chain stripe is comprised of complete rows of chains. The bottom edge of the body has a scalloped pattern created with chain loops. From the top down, this beautiful lace crochet top is a favorite for spring. Lovely braid details make it just a little bit different.
Sweet Tooth Tank Top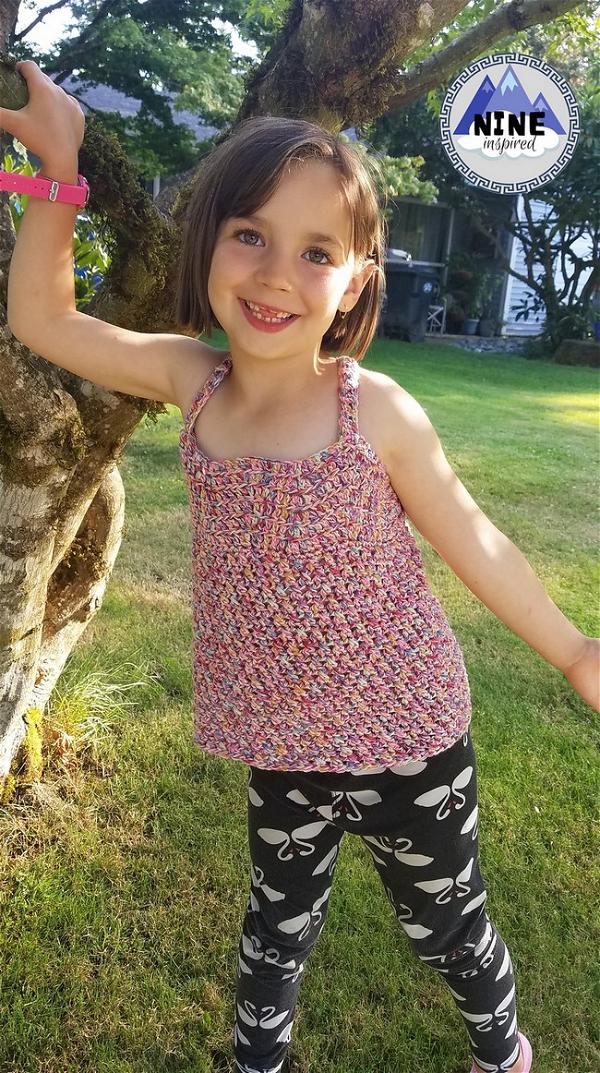 This adorable crochet tank top is perfect for your little girl. A simple ripple stitch for the first few rounds makes a wonderful squiggly silhouette. The rest of the pattern goes by quickly with an easy repetitive lace stitch that creates diagonal lines. This tank top is sure to be your child's favorite! This Crochet Sweet Tooth Tank is sweetly playful and perfect for summer. This tank is a go-to item for warm weather, and the colorful stripes are sure to be a hit. With side ties for an extra girly touch, she'll be wanting to wear this tank every day!
Off The Shoulder Crop Top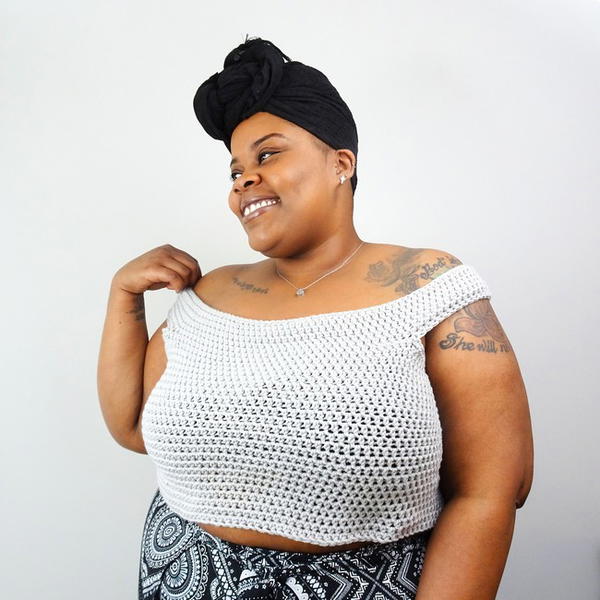 Don't miss out on this adorable crop top for the summer! Get ready for those pool parties and bonfires with this totally boho off the shoulder crochet crop top. Light and airy, it is perfect to wear as a swimsuit cover up or as a going out top!! The Off The Shoulder Crop Top is a perfect piece for all your summer vacations. Its off the shoulder design and colorful accents make it easy to pair with shorts, skirts and jeans. It features a cute and casual off the shoulder design, crochet detailing, and stretchy material. This one is easy to wear and ready for any occasion. Pair with our matching crocheted mini skirt!
Zig Zag Top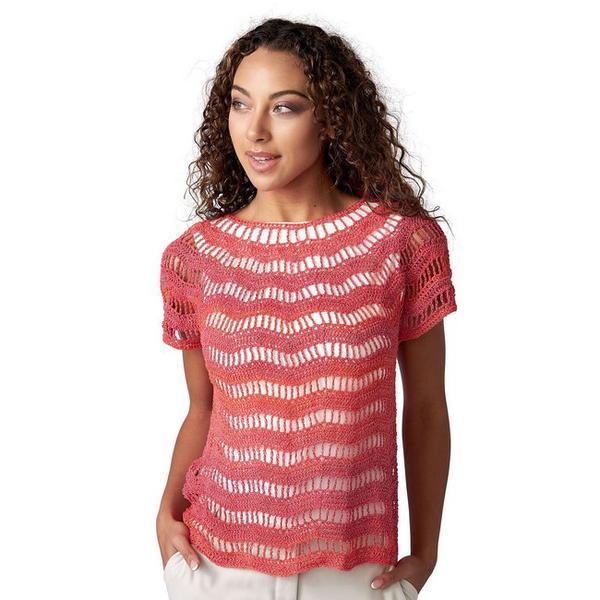 When it comes to punchy, fun fashion every woman should have a crochet zig zag top in her closet! This one is modeled after a real-world shirt, yet the breezy stitch pattern and slightly oversized shape give it a retro vibe. It's the perfect everyday summer top that will keep you cool and comfortable. The Crochet Zig Zag Top was crocheted with Red Heart Croquette yarn, which makes it an easy, breezy hot weather accessory that's machine washable and dryable.
It's the perfect time to crochet a new summer top, and this one is a delight! A flattering cut, pretty openwork pattern, and just the right length for jeans and capris make it a versatile addition to your wardrobe. It's easy to mix 'n' match with pretty earrings, sandals, and a colorful purse to create a variety of looks. Lightweight yarn is perfect for spring and summer days.
Kids Flowy Top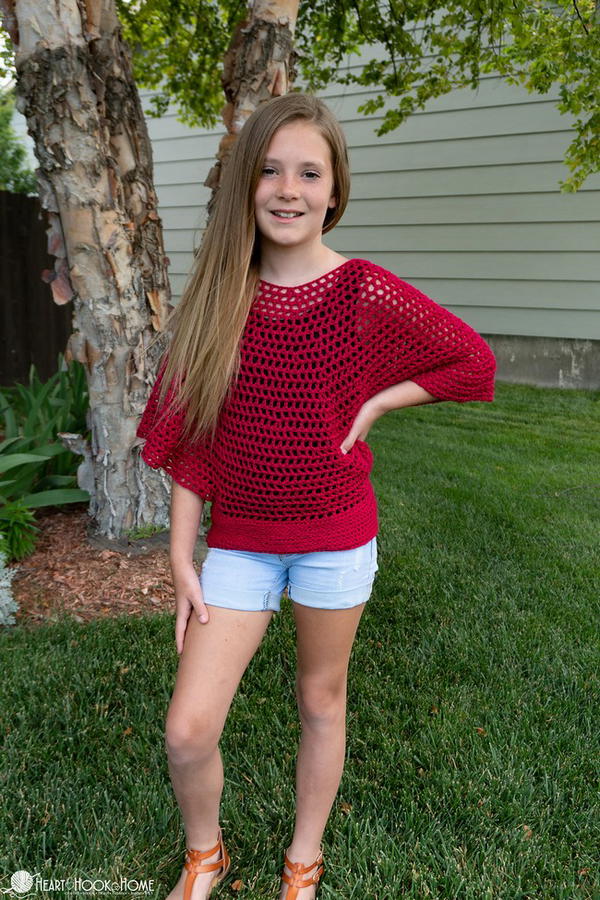 Handmade by our Artisans, this darling top looks great over a tank in summer and a leotard in spring. With its beautiful crochet detail around the neck, it is hand washable and made to last. This flowy top is handmade and perfect for hot days, festivals, or for throwing over a swimsuit. It has sleeves that tie at the shoulder for easy fitting, and a fun crochet texture with a stretchy waist.
Tie Up Top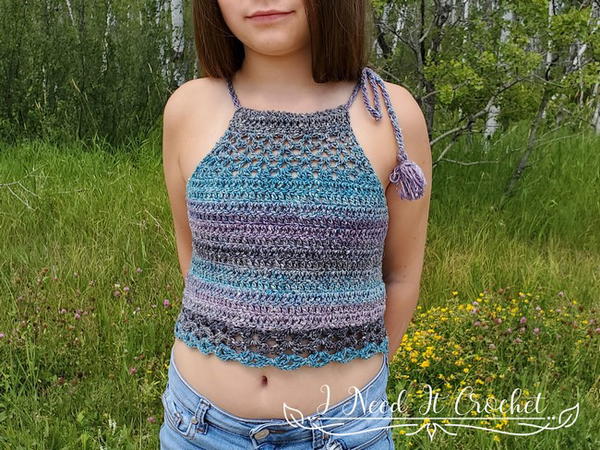 It's perfect to throw on over a swimsuit, or pair with some shorts or jeans if the weather is cooler. The design is topped off with pretty little tassels, making it a lovely accessory to any warm-weather outfit! . Finished with cute little tassels, this hippie, boho top is perfect for keeping babies and toddlers cool during warm weather. Crochet this adorable summer top for your little one! The soft purple colour and pretty tassels make it a fun, boho piece that's perfect for any day of the week. It's made in one simple piece, so you can finish it in no time!
Summer Vacation Crocheted Top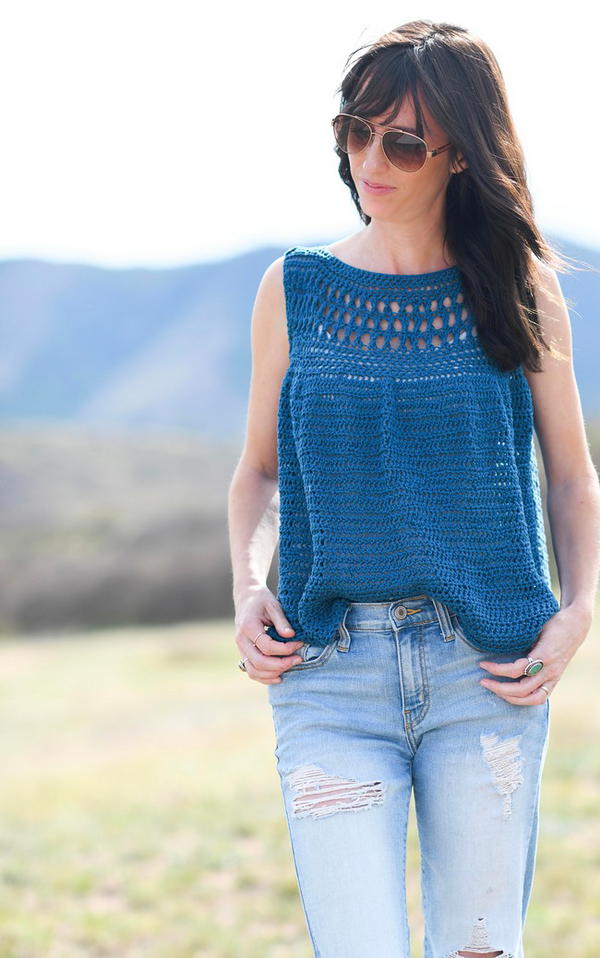 Basic crochet skills and some basic sewing skills are all you need to make this beautiful, summery crocheted top. A flattering baby-doll fit looks great on anyone, and the open stitchwork is perfect for a hot summer day! In no time at all, you'll have a new favorite top that you can wear all season long. Perfect for anyone who knows how to crochet. The stitches require basic crochet skills, and you'll be done in no time! The open stitch design is breezy and cool on those hot days, and it goes great with distressed jeans or a cute skirt.
Arquenne Top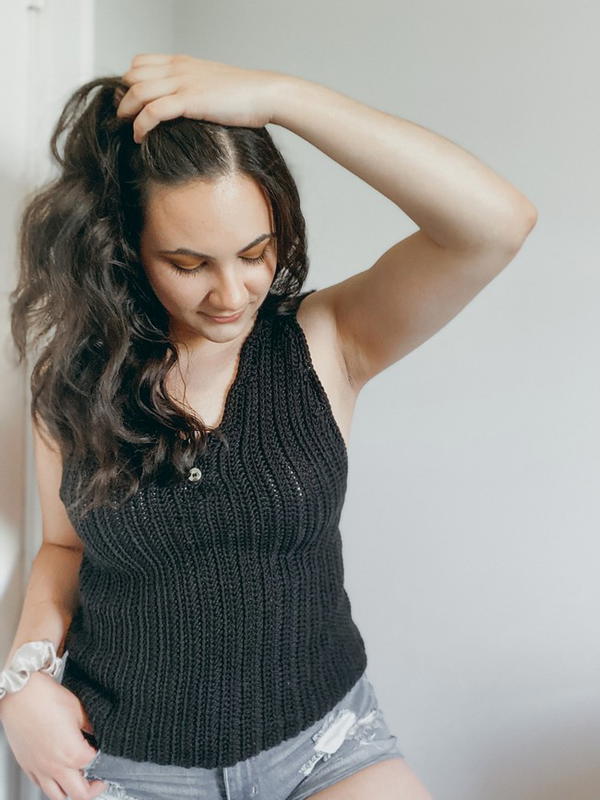 Beautiful and breezy, this elegant off-the-shoulder Arquenne crochet top is perfect for summer events or any day you want to feel ethereal. The Arquenne Top is a special-occasion dress that has a time and place for any event. The crochet material offers beautiful floral detail, thin shoulder straps, and a v-neckline which gives this dress a feminine touch. This gorgeous crochet lace top is the perfect addition to your wardrobe. Pair with a solid cami, shorts/pencil skirt, and statement accessories for an easy ensemble.
The Campello Top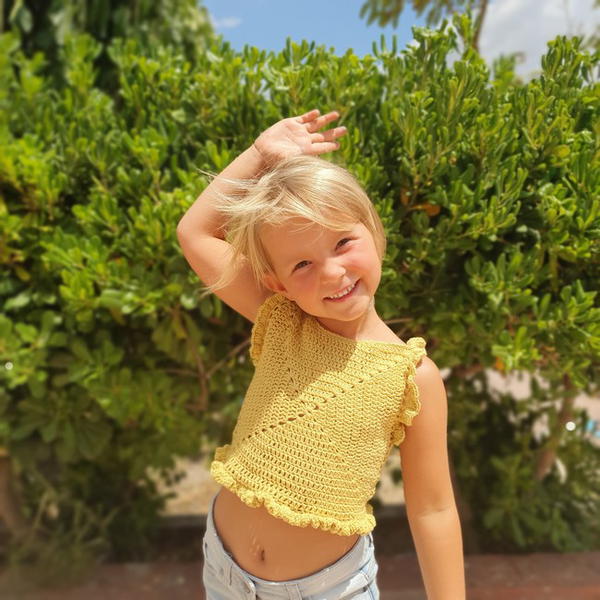 Make your little one a special outfit with The Campello Top.  The Campello is a super cute little top that can be worn with a range of things. It features a fun tie-up back, ruffles, and dolman sleeves so your little girl will look gorgeous in it! The Campello top also features an eye-catching tie-up back, finished off with beautiful frill trim - perfect for adding that little bit of extra girliness. This is great for all ages from young teens to adults - those who are daring enough to offer a little more in the warm months!
Bayswater Top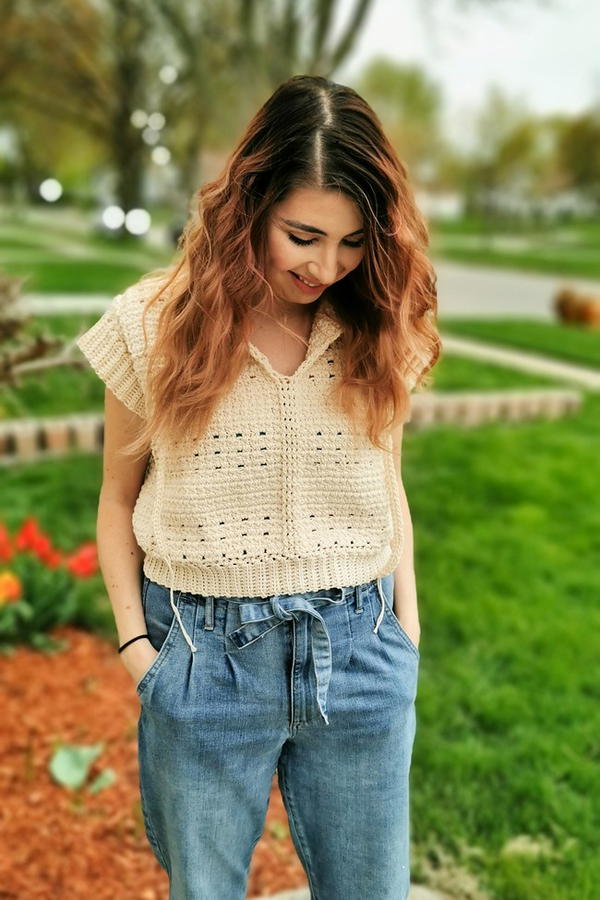 The Bayswater Top is a perfect, breezy layer for summer! This easy filet crochet top was designed to show off the beautiful textures of different yarns and stitches. It's a great pattern for intermediate crocheters who want to try something new. Make a top or tunic for yourself for those hot summer days! The cool comfort of a cotton top, crocheted in an easy filet crochet workup gives a breezy feel that's perfect for summer. A flattering cropped hem and fun texture stitch will make this you're go-to!
Kelsey Tank Top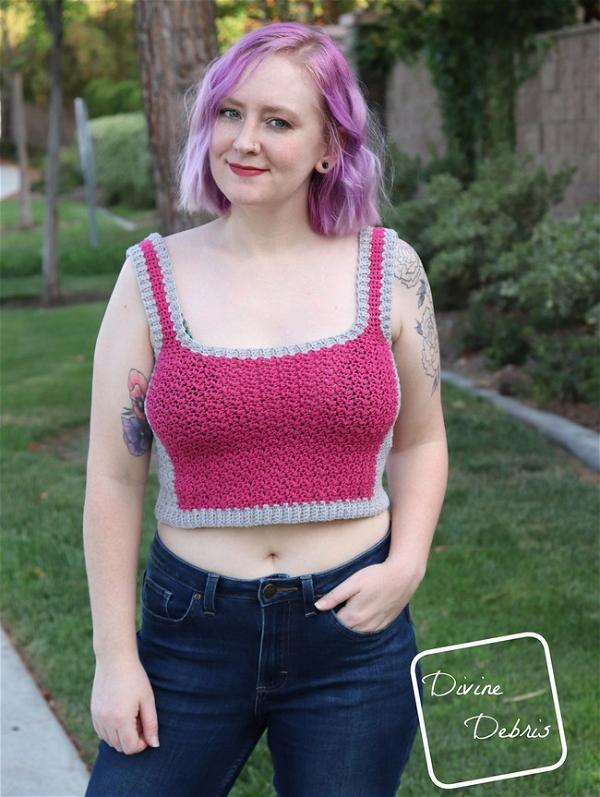 As a beginner-friendly crochet project, the Kelsey Tank Top is super simple to complete, and perfect for Summer warm-ups. You can pick whatever yarn, hook, and color you'd like, to get a truly customizable design. Make it extra long, give it playful stripes and choose a wide trim to finish this top just how you like it. This design is simple and allows you to have loads of fun customizing every bit of the finished product - from the colors to the length and the trim. It can be the perfect tank top all summer long, you just have to pick what you'd like to do with it.
Julia Top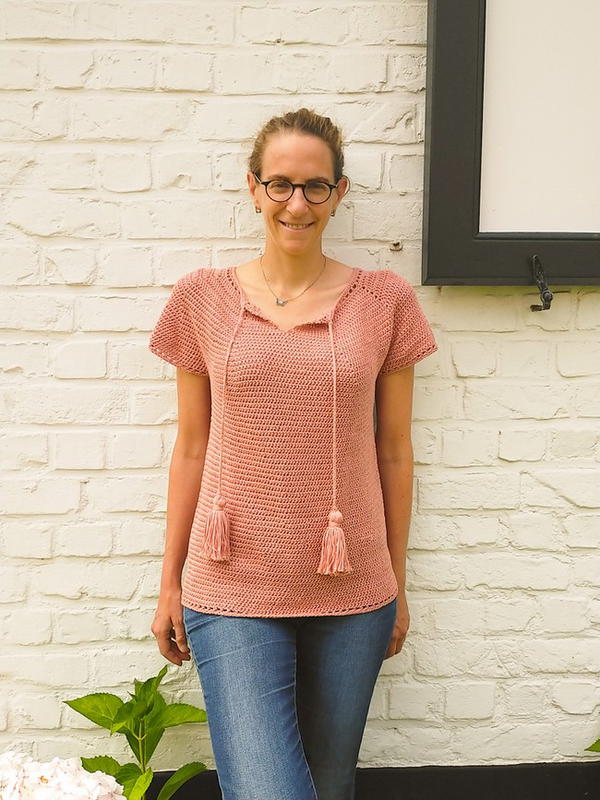 The Julia summer top crochet pattern is a feminine and playful crochet top pattern. Simple eyelets add a lace detail to the sleeves, bottom, and neckline. Wear it with a pair of shorts for a cute everyday casual summer outfit. The Julia summer top crochet pattern is a feminine and playful crochet top that you can wear with shorts for a cute everyday casual summer outfit. Or add jeans and an open cardigan on chiller days. The top-down in the round construction makes it easy to fit as you go.
Eden Crop Top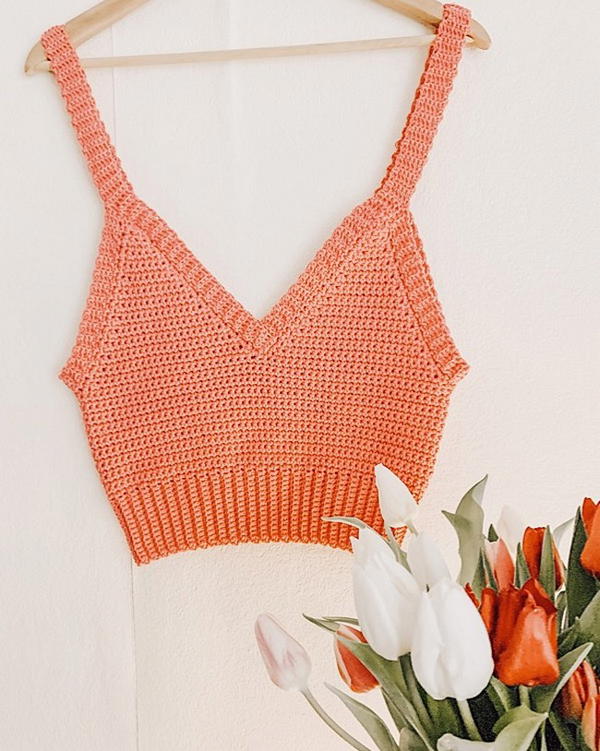 Stand out from the crowd in this stunning, handmade crochet crop top. Show off your summer tan in the Crochet Eden Crop Top! With a smocked bodice and ruffled hem, this adorable woven crop top is perfect for pairing with denim shorts or jeans. This romantic lace crop top is perfect for the spring season and your next beach vacation. Toss it on over your bikini, or wear it with a high-waisted skirt or shorts for a day of sightseeing.
Tide Pool Tank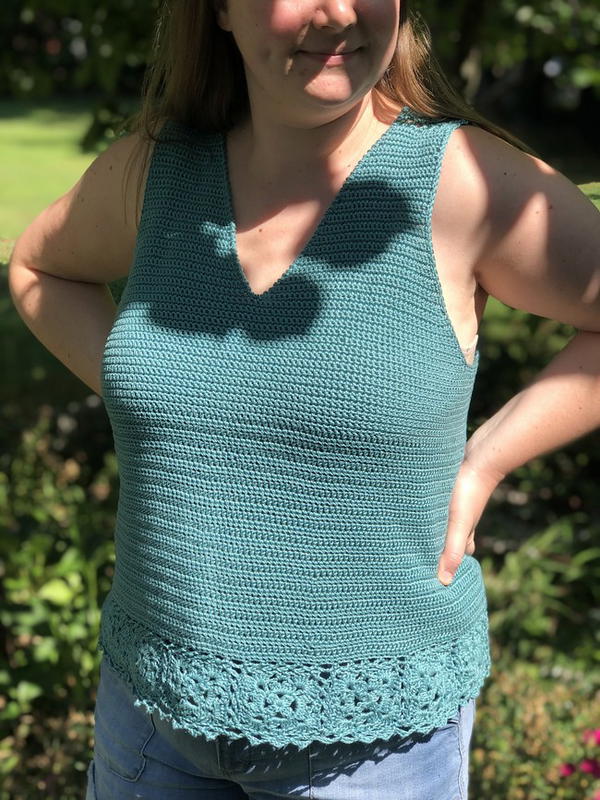 Crochet Tank Tops are always so fun to make and even more fun to wear! The Crochet Tide Pool Tank is perfect for summer and gives you that breezy look while still feeling covered up. This tank uses a simple stitch pattern so you can work the body quickly, then pick up stitches for the ribbing which gives it that extra stretch around your body. This tank is the perfect summer top to wear for any occasion! Pair it with a denim skirt, your favorite shorts at the beach, or white jeans to create a fun look that can't be beaten.
Tunisian Lattice Top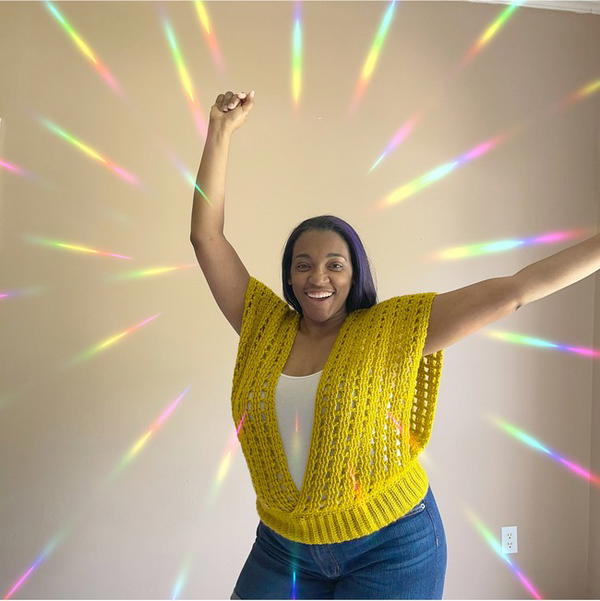 This modern crochet top is the perfect blend of elegance and comfort. The beautiful lattice pattern is constructed by using Tunisian stitches, which give the garment a wonderful structure. Crisp lines, Tunisian techniques, and a rich merino wool yarn combine in this chic v-neck pullover with lattice-style rope accents. The Lattice Top uses short rows to create a slightly flared hemline that falls at the hip. If you're comfortable crocheting and using basic Tunisian stitches, you'll love making it in your favorite colors!
Autumn Lace Top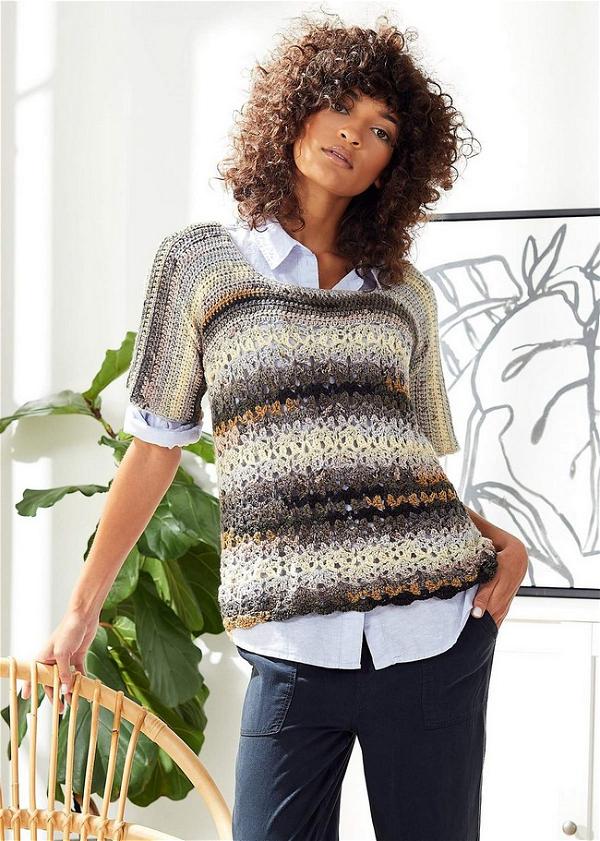 A lightweight, scooped neck tee worked in fan stitch. This Top is the perfect complement to your favorite pair of denim to wear out and about or a great worn over your favorite tank or tee. This top is worked flat in pieces and then seamed at the sides and shoulders. The sleeves and shoulders are worked as one piece and then joined to create the neck opening and body. This pretty shirt is easy to make and stylish enough to wear at home or out on the town. Made with lightweight cotton, it's machine washable and dryer safe.
Blair Ribbed Hem Crop Top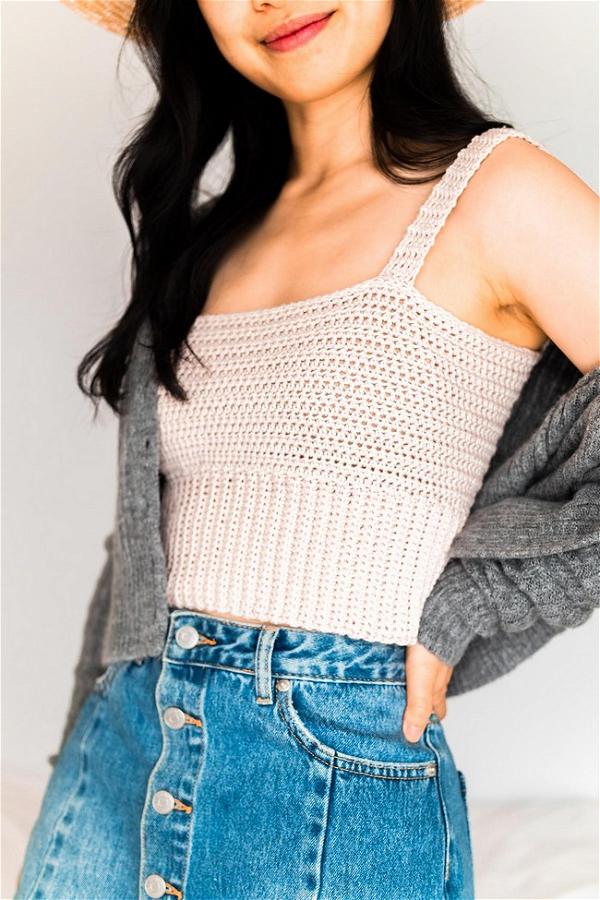 The Blair Crop Top features a square neckline and is ready to be paired with all of your high-waisted summertime favorites. Whether you're looking for a super simple beginner crochet tank top or are just wanting to add some crochet essentials to your closet, the Blair Ribbed Hem Crop Top is a great place to start! The Blair Bralette is perfect for everyday wear and is designed for a close fit to keep it from shifting too much during wear. It takes about three hours to complete, so you can make it in no time. This pattern uses simple stitches – single crochet and half double crochet – to create the modern neckline and hem.
Starburst Tank Top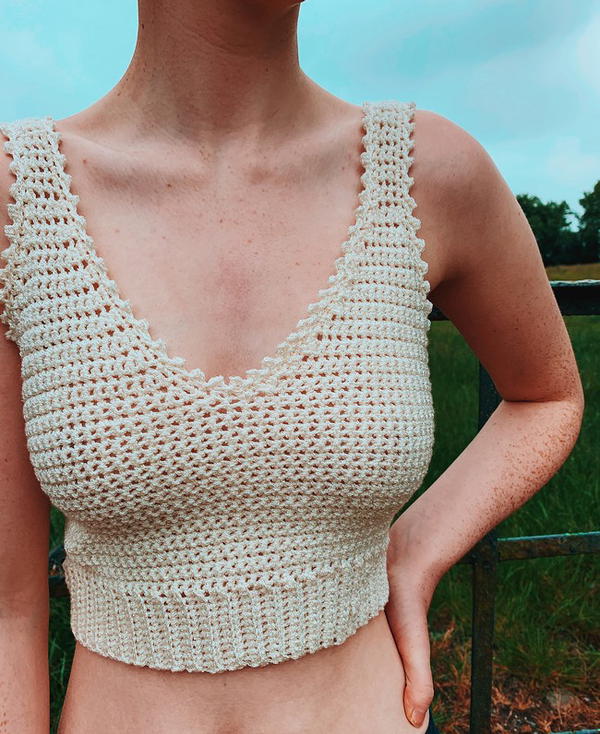 Give your look a little something extra with this flirty crochet top, featuring an all-over pattern and a trendy starburst design. This tank is perfect for summer nights out on the town when paired with your favorite high-waisted denim cutoffs. A stylish take on the classic tank top, this cropped style features an intricate center panel and delicate straps. Pair it with dark-wash jeans for a perfect summer look. This tank top is so versatile you can pair it with anything in your closet, from leggings to bright linen trousers.
Waterlily Lace Top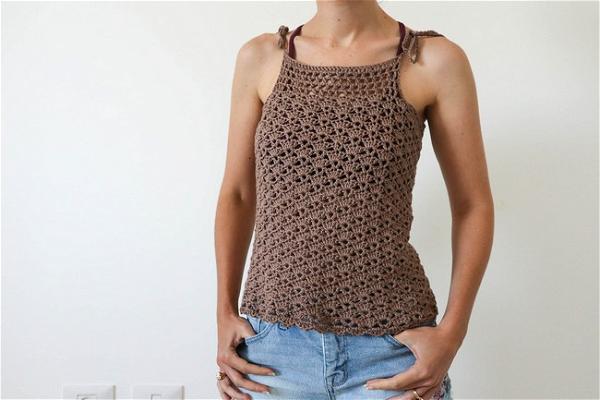 This crochet lace top is an easy way to add a dash of country chic to your wardrobe. The beautiful waterlily lace comes together quickly with no counting required. This project is for advanced beginners, and all you need to know is how to change colors, make a chain, single crochet, slip stitch, and double crochet! Make this gorgeous "country chic" lace crochet top. You'll learn how to create this easy pattern as you make this top that's perfect for spring, summer, and fall. It works up quickly, so you'll have it ready in time for your Labor Day party.
Seascape Scallop Tank Top
Summer plans? We've got your top. Made from light cotton yarn, this drapey tank is perfect for everything from hot days in the city to long beach days. The tie straps and scallop stitch edge add a feminine touch to the sleek silhouette, but there are options for plain straight straps and you can easily leave off the scallops for a simple v-neck tank top! Perfect for mindless crocheting while you listen to waves crashing on the beach, as a road trip project, or while catching up on your favorite show!
Summer Fruits Tank Top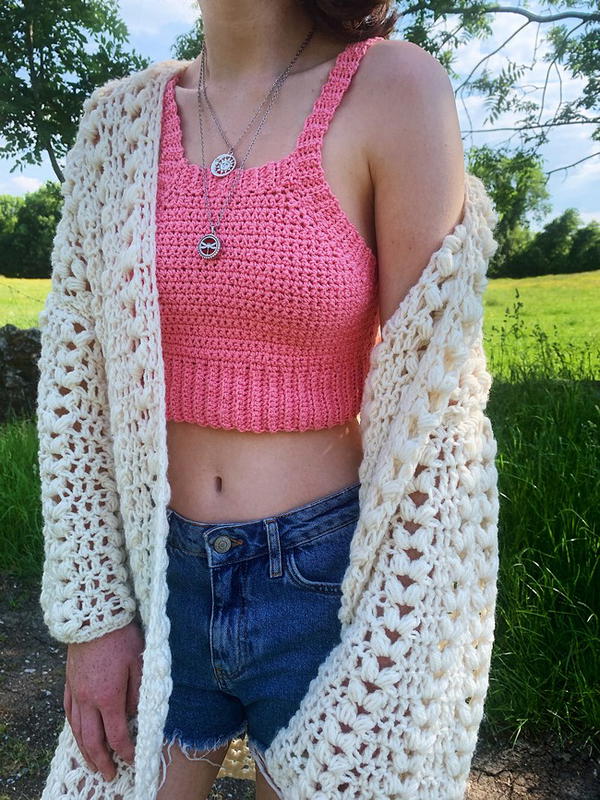 Light enough to mingle with the warm weather, this tank top will see you through the summer. Strappy details and a crochet fruit pattern add a little sunshine to your wardrobe. The sleeveless, scooped front and back neckline design features a colorful crochet overlay with a slightly longer length at the back of the garment so it pairs perfectly with your favorite jeans, shorts, or skirt. Add a playful splash to your summer look with this tank top. Style effortlessly with denim cutoffs and sandals or over a swimsuit while lounging on warm summer days.
Sagebrush Tanktop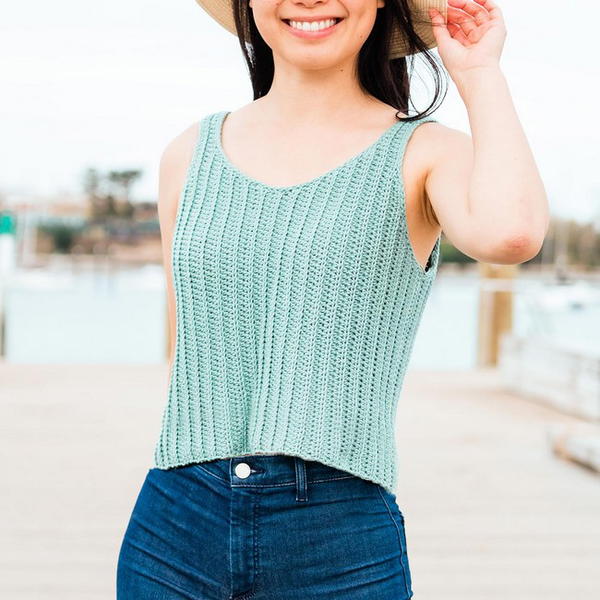 Simple, stylish, and modern, the Sagebrush Tank Top is perfect for summer! This easy ribbed tank top features a flattering round neck and comes in cropped and normal length. This summer crochet top will be a staple piece in your handmade wardrobe with its incredible drape and knit-like look. The Sagebrush Tank Top is so versatile and quick to make, you'll want one in every color! This super simple ribbed tank top is the perfect base layer for transitional weather. The scoop neck and cropped length make it super easy to wear, paired with a blazer in the fall or on its own in the summer!