DIY Cookbook stands are great for displaying cookbooks when not in use and are also a great way to display smaller items on a desk or tabletop. They can be made out of just about anything strong enough to hold the weight of the cookbook but also has a little bit of flex to it. Cookbook stands have been used for ages. In fact, they are perhaps even more relevant today than in the past, as numerous cookbooks come without stands, and many people prefer to read them in a stand rather than holding them on their laps or placing them on the table. Finding the perfect cookbook stand online can be difficult, especially if you are looking for something that will hold a large number of books.
DIY Cookbook stands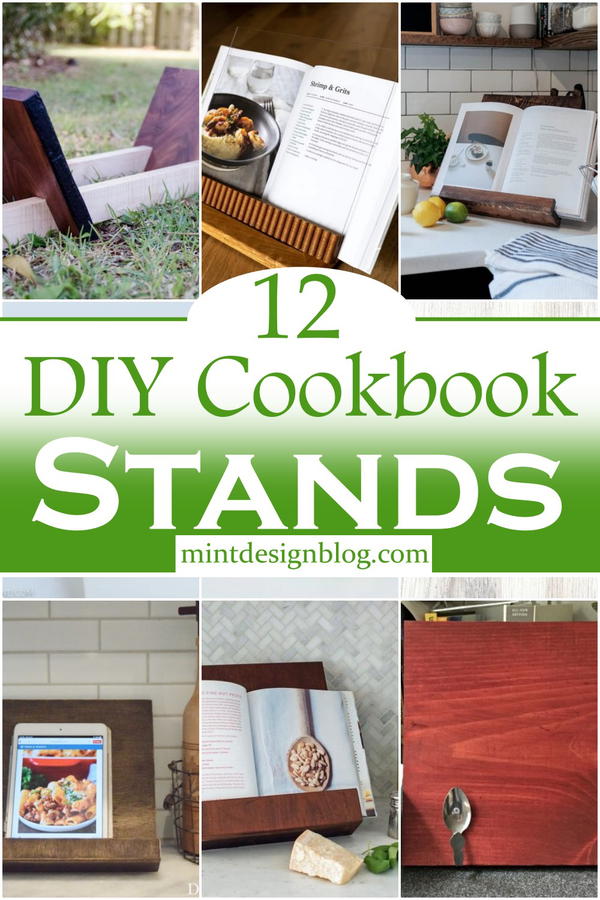 Sometimes the bookstands boast a large number of slots but aren't actually able to hold all of your books at once. Other times, the bookstands are not adjustable, so you can't move them up or down depending on your height. Creating a DIY book stand is as easy as buying some inexpensive cardboard, cutting it into the shape you want, and decorating it however you like. You can search for patterns and designs online or use your own if you feel crafty! The two sizes allow you to arrange your favorite recipes in any way that works best for you. This is a quick and easy project to make yourself!
We have compiled a list of the best cookbook stands for your kitchen, so you can enjoy easy access to your recipes.
Easy to Build DIY Cookbook Stand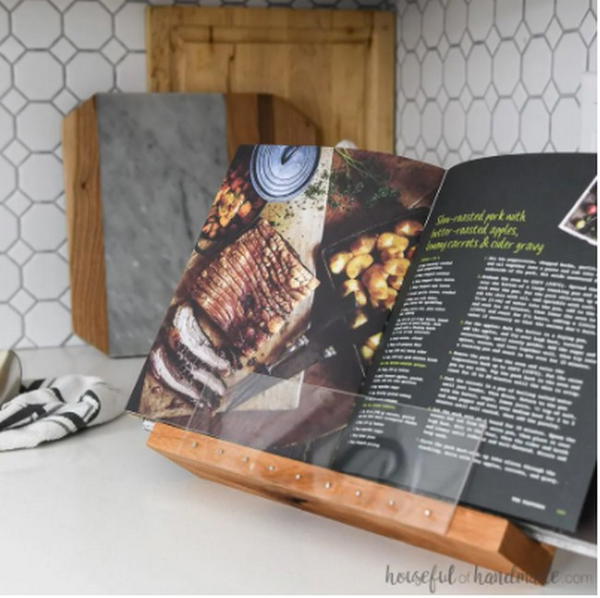 Easy to Build Stand is a project that lets you make your own Cookbook Stand. It uses parts that should be available from any hardware store and fellow a simple cutting, drilling, and assembling procedure. The result is a stand that lets you choose the angle at which to hold your favorite cookbook while making those important notes on the recipes! The stand also has enough room for your mug or glass of wine when you need some self-indulgence time during cooking.
The construction itself is simple; given proper measuring, transferring to the working table is error-free. Press-fit of rectangular parts is also perfect for taking your stand apart and providing more room for moving around. This easy and practical DIY project took me only 15 minutes to make. It is a cookbook stand with no hardware needed. It was made of papier-mache, so you can take it with you when you travel, and all you need to bring is paper, glue, and paint to make it look any way you like. Enjoy!
DIY Cookbook Stand Using Scrap Wood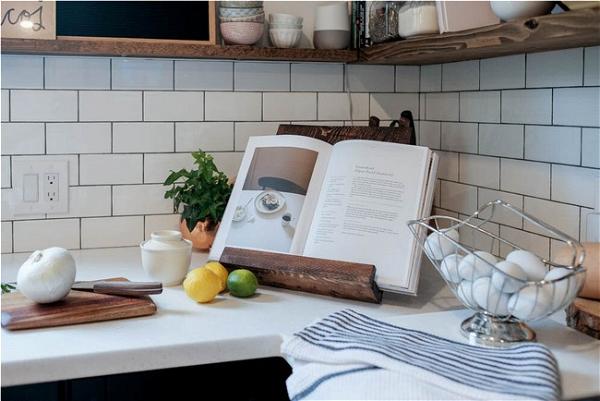 Are you looking for a simple yet functional cookbook stand? Look no further! This homemade cookbook stand is easy to create with only scrap material and basic household tools. It's also very lightweight, so it's easy to carry. A simple stand to help display your cooking or baking books while making your home kitchen look nice. A cookbook stand is that piece of equipment every cookbook lover needs to have. Here is an easy-to-make and yet useful project for all book lovers who are also avid cooks.
With this DIY Cookbook Stand, you can leave your books lying flat on a table while getting the same functionality as a book stand. You just need some scrap wood and a hot glue gun to turn your idea into reality. Are you tired of your books falling over when you get recipes out? This is a simple and stylish way to keep those recipes open for easy reading. And the best part about it is, you can build this great piece of furniture in under an hour with pieces of scrap wood.
How To Make A Modern Tablet Or Cookbook Stand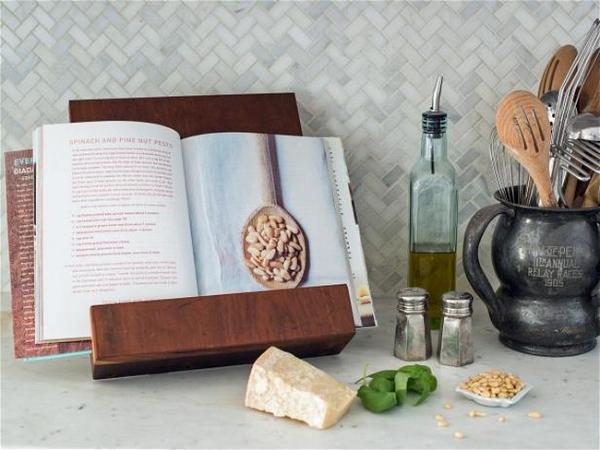 The Cookbook Stand is a contemporary, highly-stylized tablet or cookbook stand that features a simple, elegant look and sturdy construction with no visible screws. Best of all, it installs easily. A simple tablet or cookbook stand can transform any surface into a functional and beautiful workspace. Tablet stands are designed to hold your tablet at a more ergonomic angle, which can help prevent neck and back pain. They can also be used to hold cookbooks open while you are cooking. This simple, easy-to-make stand is inexpensive, easy to customize, and easy to build using materials you likely already have on hand.
Use your tablet or cookbook in the kitchen with this lightweight multipurpose stand. Made of industrial plastic, it has a sleek minimalist design and holds tablets. The stand has an adhesive pad to attach to your countertop. This device raises your tablet or cookbook to a comfortable height, so you can prepare meals and read recipes while you're cooking. The weighted base keeps it put, so the book doesn't topple over. It's also lightweight, so you can take it when traveling.
DIY Tablet Cookbook Stand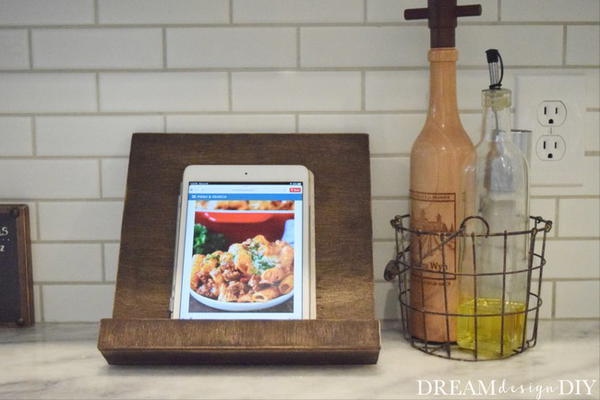 Are you looking for a fun way to display your tablets for hands-free reading in the kitchen? This cookbook stand is the perfect answer! It's simple to make and can be finished in little time. Create your own tablet cookbook that stands out from the materials you already have! And you will be able to choose the size and design that works best for you. This stand will hold your tablet in place so it doesn't fall over while cooking in the kitchen and gives you easy access to your tablet's cooking apps or recipe book while working at the countertop. Turn any tablet into a cookbook with this stand. It's a fantastic way to follow recipes where you can see them on the screen without printing or deciphering handwriting.
This DIY tablet cookbook stand is quick and easy to make and works with almost any recipe book or tablet. Made from fast and inexpensive materials, it's a great gift for the frequent cook. Make your tablet into the perfect multi-functional kitchen assistant by building your own DIY tablet cookbook stand. Learn how to build a simple tablet recipe holder for your favorite recipe book that allows you to scan recipes faster and more conveniently than onscreen browsing.
Cookbook Stand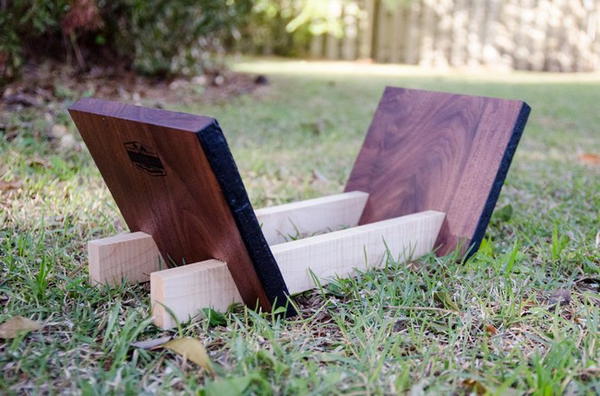 Cookbook Stand is a portable, adjustable, and unique stand for your cookbook. Simply place the Cookbook Stand on your countertop, open up your favorite cookbook, flip to any page and start cooking. Keep your cookbooks organized and at hand at all times with the Cookbook Stand! The sturdy wire stand can be positioned to hold books opened to any page, or folded flat when not in use. Ideal for use while cooking and preparing meals, the Cookbook Stand is also handy for displaying cookbooks on an open kitchen island.
This book stand is the perfect tool for cooks everywhere! Its clever design holds cookbooks, cook magazines, and recipe cards at the proper angle so that you can read them with ease. It's easy and fun to use too. You can easily see your cookbook while preparing a meal, which will also make the cooking process easier. Besides, it allows you to have your hands free when cooking so you won't have to worry about the food being spilled all over your page.
How To Build A Cookbook Stand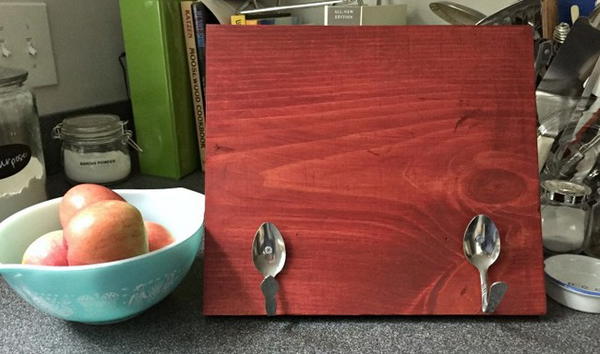 Keep your cookbooks handy with this standing book rack. Made of red oak, it will be a beautiful addition to your kitchen, no matter where you choose to place it. It's easy to build and features casters for mobility. Build a cookbook stand today! Ever have a problem where you just aren't comfortable reading the recipe on Your phone? Your laptop? We decided to solve that problem with our Build A Cookbook Stand. Place your iPad or iPhone on top to display your recipe in an easy, ready-to-read format! Yeah, it's pretty cool. Build your own cookbook stand for your iPad, tablet, or e-reader in just a few moments.
Select from various durable finishes, plenty of storage and display options, and assemble online. Available in many classic shakers finishes Cherry, Walnut, White Oak, Maple. Featuring convenient storage for your reading material and power cords, plus a display surface for your tablet. This beautifully crafted book stand will make your life so much easier! Simply build the three parts and then place them on any flat surface. It holds books and a tablet or laptop computer.
Foldable Recipe Stand Free Plans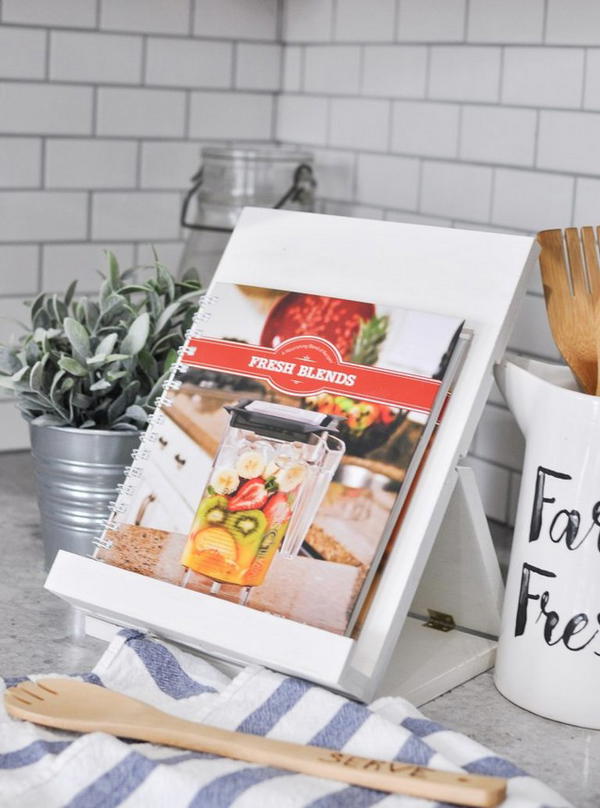 This foldable recipe stand is a great addition to your countertop. It keeps all of your food preparation tools and ingredients within reach, without taking up any extra space. This cookbook stand is designed to fit on a countertop and the perfect organizational tool for your favorite recipe book. Crafted from acrylic and a sturdy black base, it creates a space to display your recipes and store appliances. A recipe stand is used to hold oversized clipboards in place. Normally, these stands are heavy and bulky, making them difficult for an ordinary person to carry around. Our foldable recipe stand opens via a simple but clever little hinge and can be folded when not used.
This product is perfect for demonstrations, displays, cooking classes, or people who need to carry a recipe stand. With this easy-to-use recipe stand, you can have your ingredients right in front of you as you prepare your delicious recipes. It is perfect for use outdoors or while cooking on the stove. This recipe stand folds flat and sits on the countertop or hangs from a hook when not used.
DIY Cookbook Stand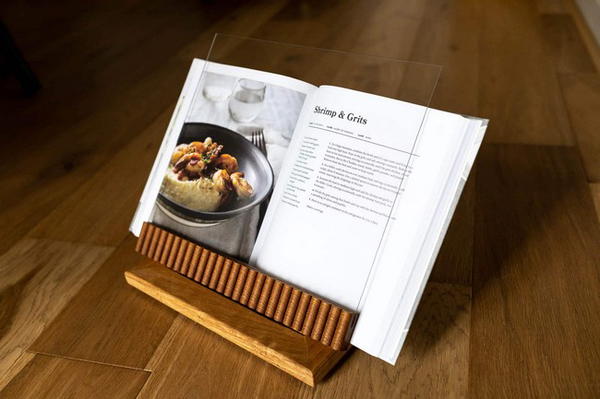 Want to enhance your recipe crafting skills? A cookbook stand is what you need to inspire creativity and cut down on countertop clutter. Whether you're a seasoned home chef or just a beginner, it's a great tool for anyone who likes to practice making homemade meals! This DIY cookbook stand is a great idea to decorate your kitchen and it will be your smartest choice because it is made of wood and can be more durable. Plus, as you know, the book's weight will not damage this cookbook stand. The price is also very attractive. Order one now and make you a far more beautiful kitchen! Its simple adjustable design fits almost any book so you can find the right recipe anywhere.
You can now make that fancy dish you saw or that new recipe you're dying to try. This cookbook stand is one of a kind, and you will love it! It is also a very handy tool to have in the kitchen! Whether you're looking for clever storage ideas or easy crafts, this simple DIY book stand will work in a pinch. And it's so inexpensive. Stop wasting money on expensive cookbook stands at the store. This easy-to-make book stand lets you read and create your next recipe manual!
How To Make A DIY Timber Cookbook Stand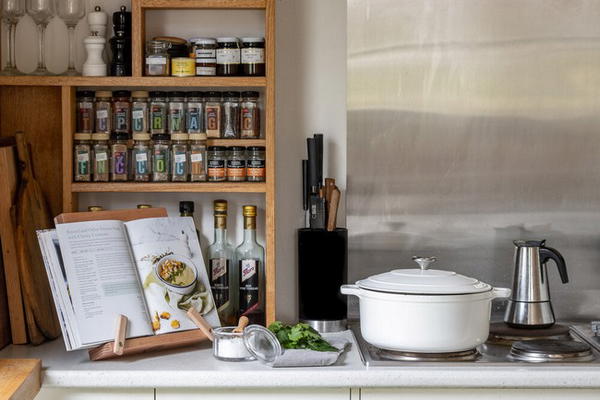 DIY Timber Cookbook Stand is a timber accessory for all food lovers with a cookbook. This design takes inspiration from the stability of tree branches for the stem and the grain of the wood for the pages. The ability to adapt different cookbooks of different thicknesses is also another highlight of this design. Natural timber's rough texture and color stand out while providing a sturdy base to hold your cookbook at an appropriate height and angle. DIY Timber Cookbook Stand is easy to build and perfect to use in the kitchen or on a buffet table.
The solid wood cutting board is suspended between two lengths of beautiful timber and functions as a stand-up or with foldable legs that can be fixed at any height. The bookstand is easy to make using just a few simple tools and features dangling utensils for added fun. The best part? You get to make it with your own hands and family! By adding the template to your cart, you can get started on this project in no time.
Simple Cookbook Or Tablet Stand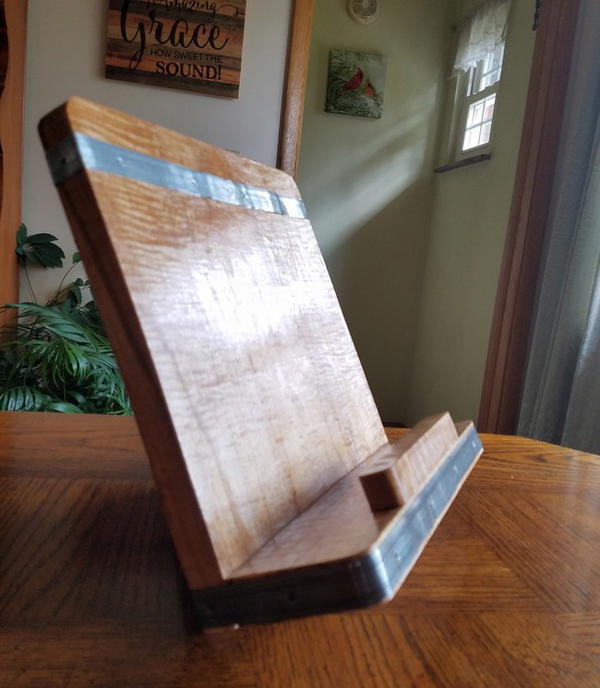 Looking for a way to display your tablet or cookbook in the kitchen? Look no further! With collapsible legs, this versatile stand can be used as a book or tablet holder. The hinged design allows for easy storage and mobility, so you can take it with you anywhere. Whether you're reading your favorite recipe or watching a cooking video, this stand will keep you from having to stop what you're doing and turn the page just to keep following along. A functional stand that props up your cookbook or tablet on your countertop so you can read it while cooking.
The stand is sized to fit the iPad, and most other tablets have adjustable arm height and fold away for easy storage. The Simple Cookbook Stand is made from bamboo and designed to vertically display any tablet or cookbook. angled edges are great for resting a spoon while cooking. Promotions to the side in a clear and distinct tone: The Simple Cookbook or Tablet Stand is the perfect companion for your kitchen. This piece can hold your smartphone, tablet, or cookbook upright in two different positions for two purposes. Made of strong aluminum and vinyl materials, you can use it on any flat surface.
DIY Recipe Book Holder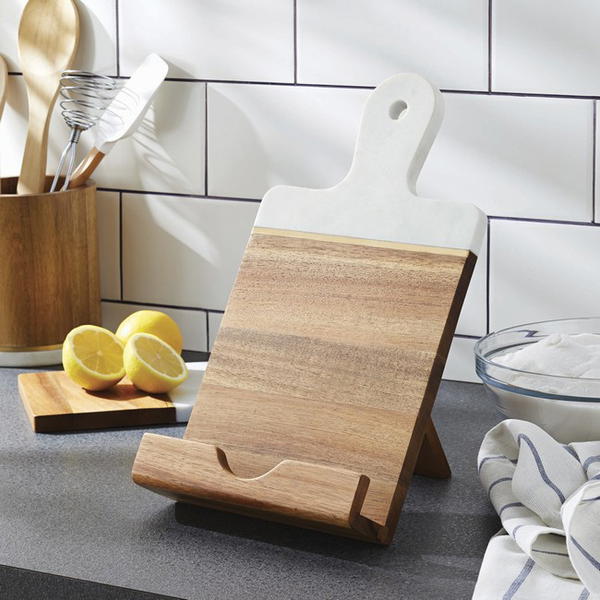 Do you like to cook? This recipe book holder is sure to come in handy. It keeps your book open to the page you're using to mix up ingredients. Some recipes only make one or two meals, and are hard to keep together so this invention is great for that! It's constructed out of wood and has two large holders where you can place your books. Make sure your recipe books stay open and are always in full view, whether you're cooking or trying to find a new recipe on the go. Constructed out of sustainable hardwoods and a hand-stitched canvas binding, the DIY Recipe Book Holder keeps all your recipe books open and available when needed.
The handmade design will only improve with age as it absorbs more oils from your hands and wrists, creating a soft warm finish. This decorative recipe book holder is cute and easy to make. This recipe book holder will hold the book open for easier reading. This can be made in about an hour. It'll look great on your kitchen countertop or bookshelf.
Handmade Wooden Cookbook Stand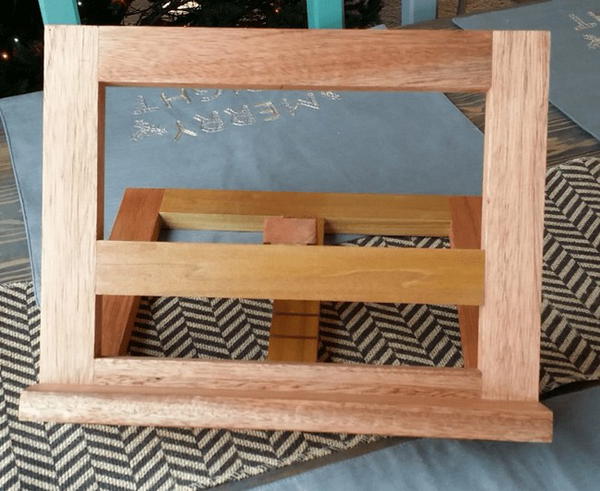 The hand-crafted, handmade wood cookbook stand was born out of the need for an inexpensive way to stand one's cellphone, tablet, or book while using it in the kitchen. A rubber stopper on the bottom prevents slipping and scratching while resting on your countertop. Great as a conversation piece or to hold recipes on your countertop while cooking; the hand-crafted book stand is a must-have accessory for any home. This vintage-style wooden cookbook stand is made to hold your biggest edition cookbooks.
Place this book holder on its side to display an open cookbook or stand up on your kitchen counter to display photos or other items that could use some elevation. Its sturdy design will hold all sizes of paperbacks and hardback books. This handmade wooden cookbook stand will coordinate well with your kitchen decor; making it convenient and incredibly easy to display your favorite cookbooks. The large surface area makes it perfect for cookbooks of all sizes. Slide it over the back of your chair or a large kitchen island for easy access when selecting which recipe to prepare.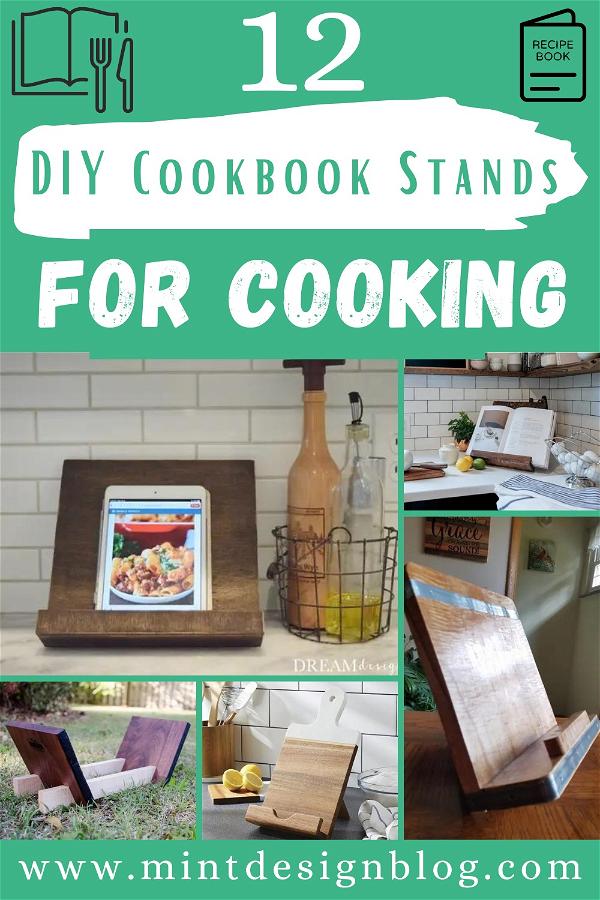 See Other Projects