A journal is a place for you to keep your thoughts, feelings, and ideas. It is a place where you can record what's important to you, be it news events, reminders for the future, or just your random musings. You may have heard that keeping a journal is good for you, but did you know there are actually several health benefits associated with regular journaling? From helping you deal with anxiety to improving your memory, the practice of journaling can change your life in many positive ways. Whether you just want a safe space to vent or are looking to improve your overall quality of life, keeping a journal might be a good idea.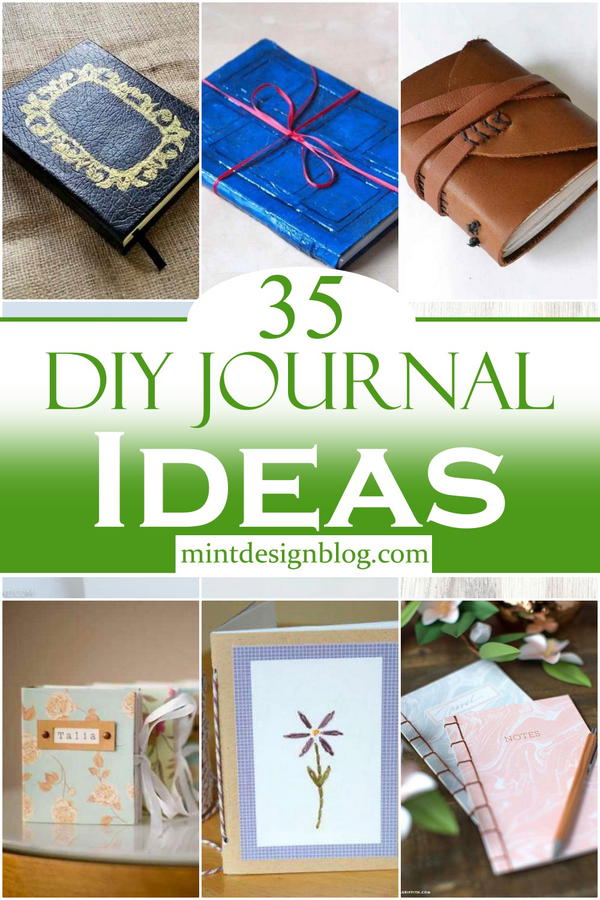 Creating your own journal is a lot more tactile and customizable than simply buying one. You get to design the cover, customize the pages and choose what you write inside. Getting started with journaling can be hard, but when you make your own journal you have the ultimate creative outlet to express yourself in a way that's inspiring and productive. You can save yourself the cost of buying five journals and start making them yourself with little or no cost. Let me show you the best ways to do this!  We have put together 35 DIY Journal ideas that will show you how to make a journal from scratch, you should check it out.
These 35 awesome DIY journal ideas will help you create a journal from scratch, best of all they're totally unique and personalized so you can tell your own stories.
Uses Of DIY Journal Ideas
If you are a creative person, you will love the DIY journal ideas below. They let you make your own journals and notebooks that are not only beautiful but also very functional.
You can use these DIY journals for anything from keeping track of your finances to writing down your thoughts and ideas or even making lists of things to do.
The great thing about these DIY journal ideas is that they are easy to make and cost very little money to make them yourself.
They are also great gifts to give to friends and family members who may have trouble coming up with the right gift to buy them.
If you want to give someone a gift that is truly unique, these DIY journals would be perfect for you!
Keep track of and practice your handwriting.
Record your daily thoughts, feelings, and experiences.
Plan and organize your goals.
Doodle and create art.
Plan out your meals for the week, or write down recipes you want to try.
Use as a gratitude journal.
Tips To DIY Journal Ideas
DIY journals are simply the best. They're an easy, inexpensive, and fun way to get your creative juices flowing and keep track of all the things you want to do in life. Not sure how to start? Well, we've got you covered! Here are some tips for some DIY journal ideas that will get you inspired in no time.
1) Find a blank notebook and write down whatever comes to mind about the book. Maybe it's a quote from a TV show or a song lyric that speaks to you. The possibilities are endless!
2) Think of your favourite colour (or colours!) and find markers or colored pencils that match. Use those colours throughout your journal so that every page is bright and colourful—just like you!
3) Grab some stickers—ideally, ones with words on them. This can be anything from an inspirational quote to a funny cartoon character. Then, use these stickers as the basis for your journal pages: draw pictures around each one, write poems about them, or even just stick them on top of photos! Make it yours!
4) Write down all the things you love about yourself—your sense of humor, how great you dance, whatever! Anything goes here; there's no such thing
How To Make A Simple Journal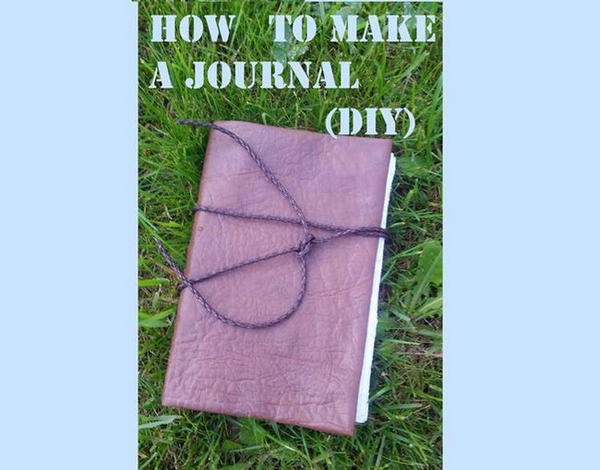 Making a simple leather journal is easy, and you won't need to spend any money at all if you already have the materials. Start by gluing a piece of cardboard paper to the leather, or fabric if you prefer, so that it can be used as a cover. Then, cut out the pages and glue them inside. This way, you'll end up with an amazing handmade diary! Making your own journal is a fun and creative way to keep yourself organized and jot down your thoughts. You can use any materials, but this tutorial uses leather and cardboard pieces that you would find around the house.
Mini Junk Journal
Learn how to make a mini junk journal with this easy-to-follow DIY tutorial. This junk journal is perfect for crafting, gift-giving, or adding a pop of color and flair to any home decor style. DIY journals are an amazing way to record memories and keep track of beautiful moments in your life. They can be used for personal journaling, logistics tracking, and so much more. This mini junk journal is a good way to keep all your special memories. It will give you so much joy and fun. Enjoy lots of those moments that you feel you can never forget. When you reminisce over these times, your soul will be very grateful.
Easy DIY Art Journal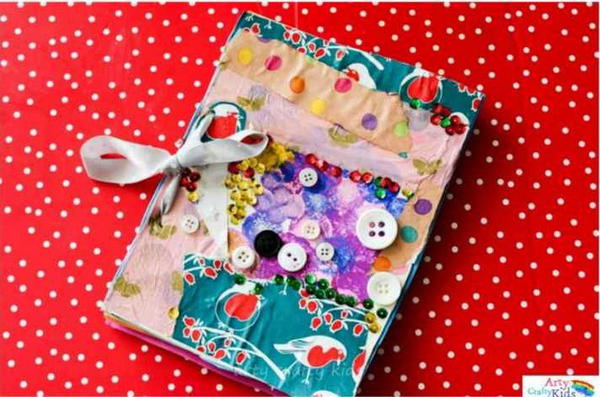 Making an art journal is a fun activity and it's great for kids to improve their creativity. Making it can encourage your child to write, draw or cut and paste things that interest him or her. Creative kids love this book which teaches them how to make their own journals from scratch. This journal is simple, creative, and great for all ages. All you need is some cardboard, your favourite paper, paint, and glue! Let your creativity take the lead. You can make them yourself or with your children by just using some materials you never use around you such as scrapbooks, paint, cereal boxes, etc.
How To Make Your Journal
Making your own bullet journal is fun and easy. Start with a blank cardboard cover, find your favorite decorative paper, and use rubber cement to glue it to the cover! Next, cut out any scrap paper you have lying around and insert it into your cover. Spread Elmer's glue on each page of the journal and glue them together. Leave it out overnight to dry and there you have it - A custom-made bullet journal to make all your organization dreams come true
DIY Bullet Journal
Making a bullet journal is a great way for journalers and artists to create exactly what they want. The pages are designed to give you the freedom to be creative! With this journal, you can easily customize your journal and make it your own by adding more pages and various decorations. This can also help in planning your goals. It can be your to-do list, sketchbook, notebook, and diary, but most likely, it will be all of the above. The pattern will teach you to do more with less." The DIY Bullet Journal Kit makes setup a breeze and gives you everything you need to start planning, sketching, and dreaming.
Basic DIY Bullet Journal
A beginner-friendly bullet journal, this paired with a dot grid printable makes it easy to create beautiful layouts without an artistic background. It helps keep you organized, yet is flexible enough to work for all of your planning needs. This basic bullet journal comes in different sizes and colours. It is not only sleek and slim but also very durable. It is practical, straightforward, and a very convenient size. Another good thing about this DIY journal is that there are pages with the dot grid at the back of the journal for those who do not like to use graph paper.
How To Make A No Sew Journal
This guide goes through how to make a big journal without sewing. This tutorial shows you how to make a big, no-sew journal out of notebooks, cardboard, and fabric. It's perfect for students or anyone who needs to write a lot. You will need seven small notebooks, glue, fabric, a pen, and cardboard or cardstock. First, glue the notebooks together and then cut the fabric to create a neat look on the spine. If your book has a lot of pages or is heavy, you may want to consider using support (like cardboard) to keep it from bending too much. Using cardstock in between each notebook can also help with this.
Making A Journal For Beginners
To make a notebook from scratch, you'll need to cut, fold, and stitch together a series of pages. You'll also need some basic bookbinding materials and supplies, including paper for the pages, heavy cardstock or chipboard for the cover, cloth or paper for the endbands (the long strips at each end of the spine that cover the raw edges of page signatures), book cloth for covering the covers (unless you use decorative paper), and fabric tape to strengthen the spine. It's not necessary to buy fancy tools or expensive papers; your journal can be as simple or ornate as you like.
Homemade Journals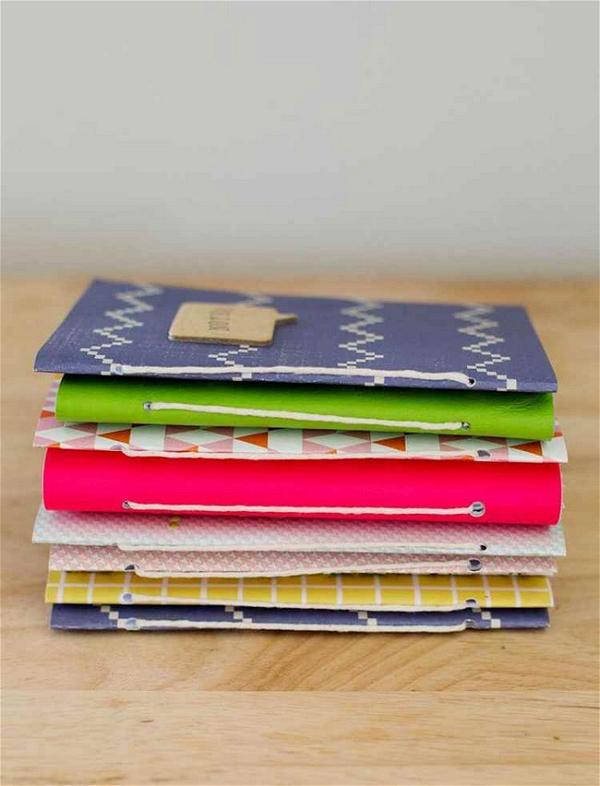 Journals are useful for crafts, scrapbooking, and artwork, but there are many other ways to use them. Travelling and keeping a journal of where you've been and what you've done is a great way to remember the trip when you get home. These mini journals only take about 10 minutes to make and are a great way to use up paper scraps and other scrapbooking supplies. The best part of making your own journals is that you can put whatever you want into them. They can be used as a mini memory book, a travel log, a journal or diary, or anything else you can imagine.
DIY Journal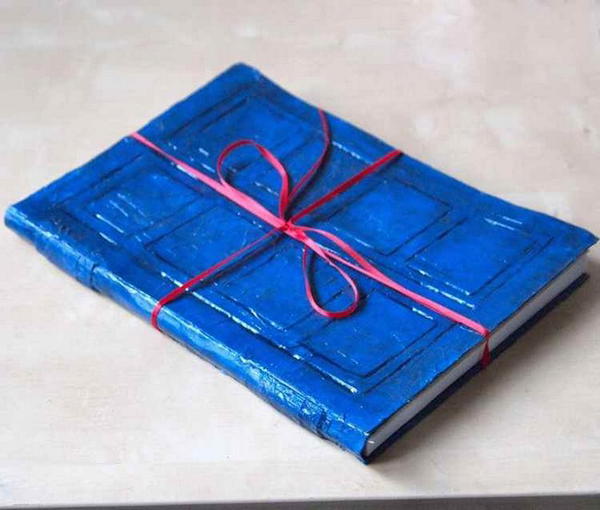 For people who constantly have to take notes and make list, this journal is great. It is made from a notebook/journal that was originally designed for kids. This can cover design, paper type, page layout, or a combination of these elements. You might even add tools like ribbon bookmarks, pockets, or any number of other embellishments to it. The first thing to do is remove the cover on the notebook then design your own cover for it. Then, all you need to do is cut a hole in the cardboard for your pen or pencil. Now you're ready to note down any important information.
10. DIY Notebook
Handmade journals add a touch of style and personality to your writing. They're great for gift-giving, too! To make one, you'll first need to create the notebook itself. Fold your sheets of paper in half, then glue them together along the fold line. When that dries, cut a piece of cardstock for the cover and some binding strips to hold all your pages together. It is so much fun to create a notebook by yourself for your favourite school subject. After you made it, you'll want to handle it carefully. The more you care about it, the more you'll love to use it! It's a very personal process making a notebook!
How To Make A Journal
Making your own journal is a great way to customize something to fit your personality or needs. You can actually create a book from paper, bind it together, and even make your own journal. It's time to take your creativity a step further by showing you how to bind your journal together in just a few minutes and with little effort. You can make the pages out of something as simple as printer paper or even scrapbook paper if you are looking for a little more style.
How To Make A DIY Book Journal
Make your own book journal with these simple steps. It only takes a few items and a few minutes. Transform a book into a bullet journal! This is the perfect craft for someone who enjoys creating and being organized. Create a new personal journal, or make one as an awesome gift for someone who loves to journal. ! Learning to make your own book journal is an excellent way to keep organized, store recipes, and keep track of your year. Check out this tutorial to learn how to make one today.
DIY Leather Journal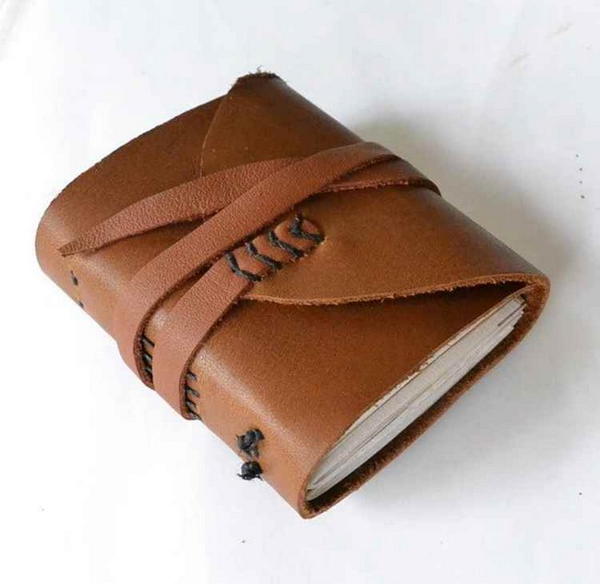 A handmade leather journal is a beautiful and easy project that anyone can make. It is made from a few pieces of cardboard, some leftover pages from old books, and a piece of recycled leather. This journal will help to make your thoughts a reality. It's the perfect place to record your recipes, book club thoughts, or important daily reminders. The leather tie closes securely to keep everything safe and snug inside. The refillable pages mean you'll never run out of space for your musings or doodles, and the beautiful handmade nature of this journal makes it look as good on your bedside table as it does in your purse.
DIY Customized Book Journal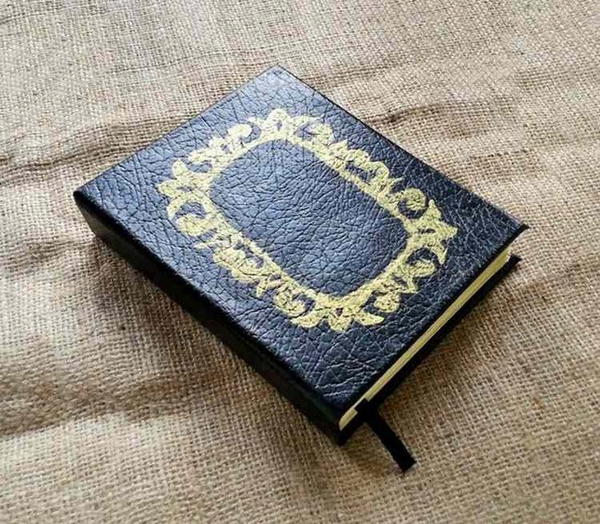 This DIY Customized Book Journal can be used for personal diaries, as a prayer journal, or as a memory book. Once everything is all ready, use gel medium glue, newspaper, and other things to make a cool scrapbook or art journal. You can use this journal to record your thoughts, adventures, or accomplishments, or give it as a gift. The journal can be use as soon as you finish making it by recording an adventure with this wonderful activity. You can also use it for your art and crafts project and use gesso, heavy gels, and more to create pathways of textures!
DIY Decoupage Journal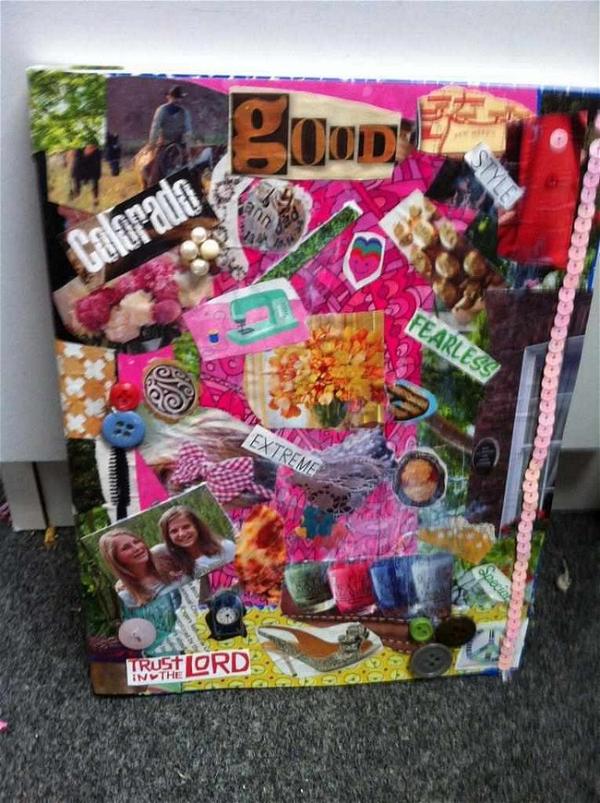 In the Decopodge Journal Project, you will learn to take a plain journal and transform it into something special. You will use a variety of materials, such as Mod Podge glue, acrylic paint, and magazine cutouts. Whether it be a gift for someone that loves writing, or just plain fun to have your own DIY Decopodge Journal. You will be using a plain journal and numerous cut-out pictures, patterns, and logos from the magazine. This project is definitely not just for kids! The project is focused on the process of transforming something dull into a work of art using a combination of materials, techniques, and creativity!
DIY Vintage Journal
Remember how exciting it was to get a new notebook and finally write down all your ideas, dreams, and stories? Go back to those good old days with this DIY vintage leather journal. You'll be amazed at how simple it is to create one, and you'll love that you can use pretty much any material. This is a great project to make with kids as they are learning the basics of writing. They will be thrilled to have their very own journal!
How To Make A DIY Journal
A journal is a place to store your thoughts, dreams, and memories, so why not make one that's perfect for you? Making a DIY journal is easy, and perfectly suited for your needs. It's easy to make your own journal that's perfectly suited to your needs. Customizable and fun, these journals are perfect for those who love to be creative. Plus, it makes a great gift idea! This video tutorial will show you exactly how it's done. Whether you're a beginner or an expert, this tutorial makes creating a custom journal easy.
How To Make A DIY Travel Journal
A personalized travel journal helps you to keep the memory of your trip alive. Making a travel journal is one of the most fun and versatile DIY crafts that makes your traveling experience memorable. Make this easy DIY one with a map of your destination, cardboard, and colored paper. You only need a few materials and it can be done in no time, though you can take as much time with it as you like! You can express yourself creatively, by writing down notes and jotting down memorable things that you experienced on your trip. And, it is also great to look back on later!
Vintage Journal DIY
Vintage journals have a specific texture and feel that you cannot find in any other notebook. Vintage journals are renowned for their style and texture, and this one is no exception. Its distinctive features—from the leather cover to the tea dyeing of the paper—give it an authentic look. Their elegant vintage style makes them collectibles if they are authentic, but even if they are not you can still make your journal look like a vintage notebook by following this step-by-step tutorial.
DIY Journal Notebook From Scrap Paper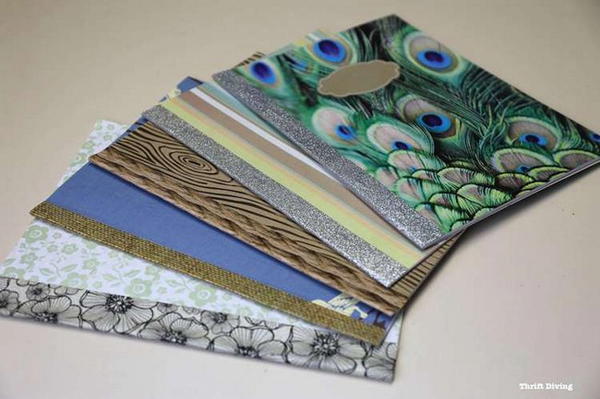 If you have always wanted to make your own journal, but have never had the supplies or the time to do so, this notebook is perfect for you. This one is made using scrapbook paper with a wood background design. It incorporates lined journal pages that are made by downloading the "room makeover" file, printing it on sturdy card stock paper, and then cutting and punching it to size, which takes just five minutes once all of the tools and supplies are ready. This notebook is an easy and inexpensive project that will be fun and simple thanks to our instructions.
How To Make A Handmade Journal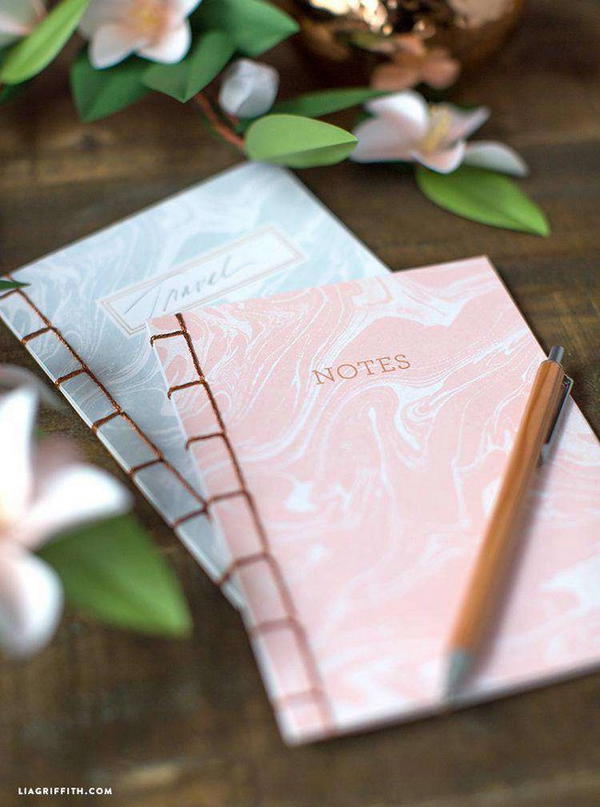 Looking for an easy DIY gift? This handmade journal is a great handmade gift to make and a great thing to keep for yourself. Make several and give them to all your friends! This journal is perfect for writing, sketching, and jotting down ideas wherever you are. It's easy to make, too; all you need is some cardboard, a hole punch, glue, and paper. This is a great project to do with children as it can be done in many stages and levels of difficulty according to the age and skill level of your child.
How To Make A Handmade Journal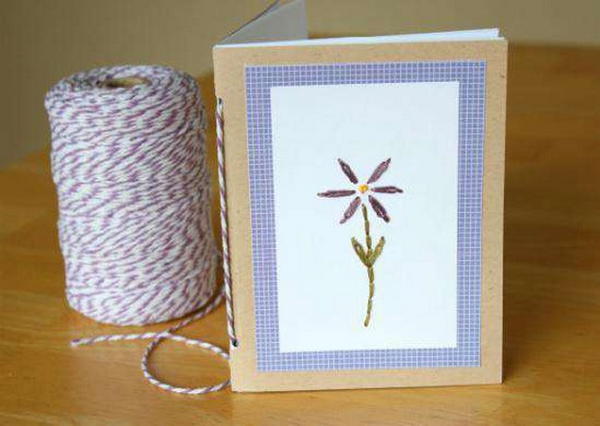 A handmade journal is something you can use for years to come. You can make a handmade journal for yourself or for someone else as a gift. The decorative paper is used to cover the front and back of the cardboard. Lay the card facing down and put glue to the edge then paste it onto the decorative paper. Make sure you put as much glue as you can so that it adheres very well. Handmade journals don't have to be expensive to make, but they have a tendency to look expensive when you're all done.
DIY Gratitude Journal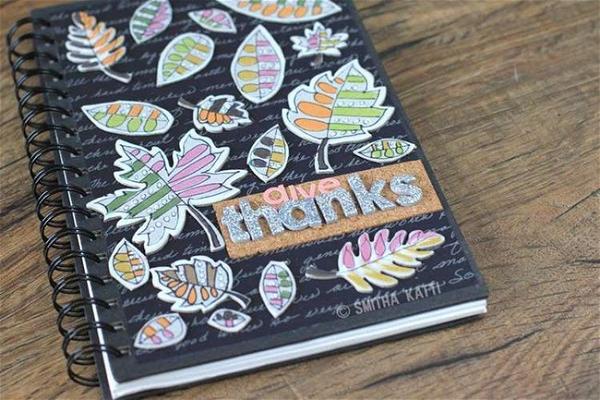 Keep your thoughts and ideas in one place with this hardcover DIY Gratitude journal. A beautiful way to keep up with your gratitude is the daily use of a gratitude journal. The brightness, beauty, and simple elegance of a gratitude journal will light up your days and bring more thankfulness and appreciation into your life. This easy step-by-step guide will show you how to create your very own DIY gratitude journal in 30 minutes or less! Perfect for any occasion! The journal is great to record memories, feelings, experiences, and of course - gratitude.
24. DIY Sketchbook Journal
Make a journal that's all your own with this DIY Sketchbook Journal Kit. It includes everything you need to create your own unique book of blank pages, complete with a decorative cover and simple binding — no sewing or glue required. Just grab some paper, follow the included instructions, then let your creativity flow! Use it as a notebook for writing and sketching, or pair it with one of our specialized journals for even more ways to store your inspiration. This is a very inexpensive way to make your own sketchbook journal. It is a great presentation for kids and adults who are looking to learn something new.
How To Make A Junk Journal
This one signature junk journal is fun and easy to make. Use any sort of paper you would like for the cover, such as wrapping paper or decorative scrapbook paper. Another fun idea is to print photographs of your favourite people or places from Instagram and use those as cover paper. You can also make it more personal by adding small trinkets, buttons, or stamps along the way. Remember to keep it lightweight so that the recipients can write in it with ease.
How To Make A Junk Journal
Learn how to make a junk journal from Cathy of Junk Journal Diaries.A junk journal lets you have an easy and fun place to record all those little things that can get lost otherwise. Make a junk journal out of items you already have at home, or find a variety of vintage items in the thrift store or dollar store. All you need are some recycled materials and a little creativity, and you'll be ready to create your own unique, handcrafted journal that is as beautiful as it is functional. This particular junk journal features some beautiful tea dyeing, along with lots of other fun elements to make your own personal book.
DIY Vintage Journal Notebook
If you love vintage items, then making this vintage journal is the perfect DIY project for you. Here's how to make your own vintage, handcrafted notebook! Cut some plain paper in half and tear all the edges of the paper roughly. Make your coffee and drink about half of it. Heat the rest up and soak the papers in it. Once the papers are dried, take a needle and thread and stitch them together—and voila, cute vintage new notebook! It's easy and quick to make, and you will love to decorate your own journal. The best part about it? You can customize your vintage notebook cover with your favourite washi tapes and/or stickers.
DIY Vintage Hogwarts Journal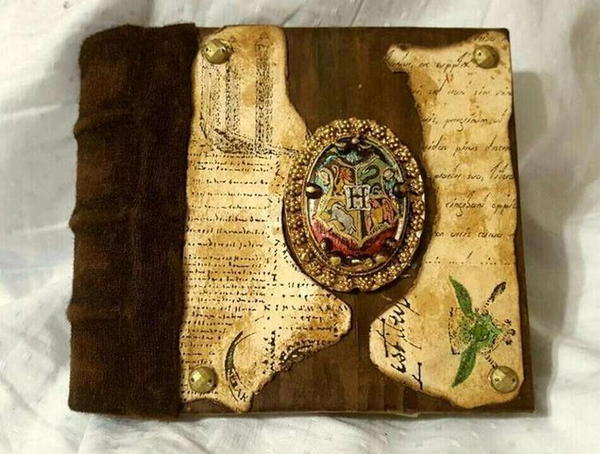 Keep track of all your spells, dreams, and memories with a little help from the Sorting Hat. This handmade journal is unique and one of a kind. It will be your favorite to use and hold on to for years to come, adding that vintage touch to your collection. This DIY vintage Hogwarts journal is the best place to start! Complete with a front cover that appears aged and rusty, this journal will have you feeling nostalgic every time you pick up your pen.
Easy Bound Journal DIY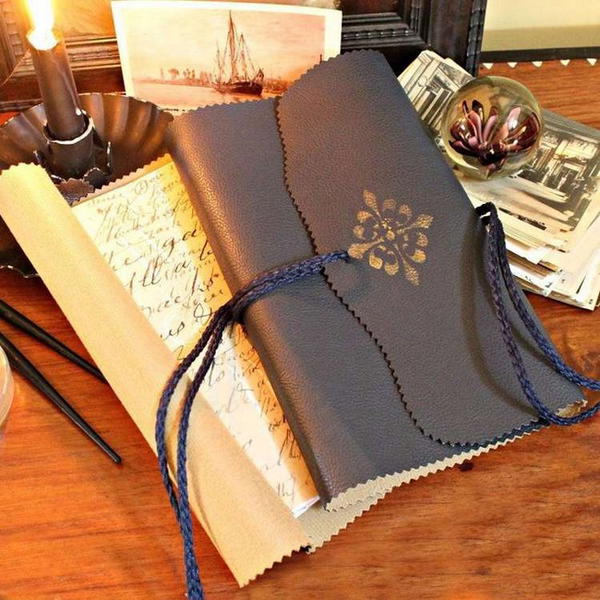 Start with a blank journal, and a needle and thread. Learn how to transform that into your own stunning bound journal to keep as a keepsake or give away as a gift! Not sure if it will look professional? Don't worry, it will be the talk of all of your friends. Create professional-looking books each and every time with this fun, easy to learn the method. Show off at the next craft party, or plan out your next trip while you wait for the shuttle back. Your creativity will always be on hand with the Easy Bound Journal DIY guide.
How To Make A DIY Journal With Tea Stained Paper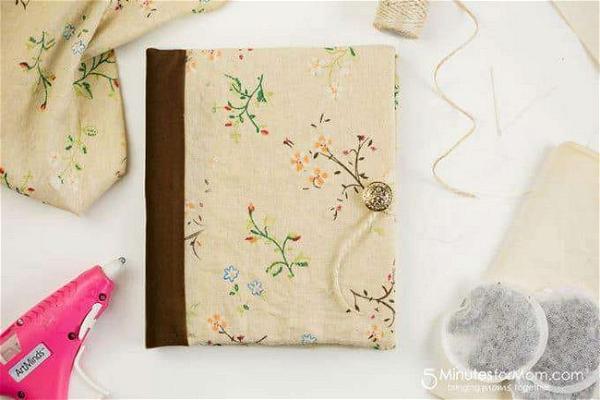 If you're making a blank DIY journal, using tea or coffee to stain your pages will give your book a rustic appearance. It's an easy way to make the white paper look old and yellow like an authentic antique journal. This journal is perfect for your next adventure. The stained paper gives it a rustic feel, and the fabric cover is both stylish and protective. You can make one using tea bags. You can make your own sturdier one and design it to fit your style. Learn to make one with this tutorial.
DIY Bullet Journal
Take note-taking to the next level by creating your own one-of-a-kind Bullet Journal. It is a customizable and forgiving organization system. This journal can be your to-do list, sketchbook, notebook, and diary, but most likely, it will be all of the above. It will teach you to do more with less. Buy a notebook that opens flat, grab your favorite pen, and follow along! The key with this DIY is to upcycle a few materials: an old notebook, some markers, and paperclips. This video shows how you can use the journal for goal mapping, setting intentions, and more.
How To Make Junk Journal Out Of An Old Book
Once you know how to make a junk journal, you can use it as a diary, make a phone book, or let your creativity run free with multiple journals for whatever purpose you want. It is an ideal way of repurposing books that are no longer being read and in all honesty, we never thought how easy it is to make a junk journal. The only difficult task here is finding a book that you don't mind turning into a junk journal, not the making itself. So if you want to try something new or if you are already into this craft and are looking for ways to decorate your journals, join Larin on this wonderful journey through the art of making a junk journal out of an old book and letting your imagination run wild!
DIY Journal
Are you looking for a fun, easy, and adorable project to do? Then all you need is a journal! Check out this video to learn how to make one just like it with simple materials. Create a personalized and beautiful DIY journal with this arsenal of supplies. Made from an AC Jen Hadfield Sticker Book, Re-Collection chipboard and paper pad, Planer Disc and Disc Power punch, Acetate Pad, Freestyle Pen, and Snap Bag. Simple to follow step-by-step instructions make it easy to create an adorable journal that you can use again and again!
DIY Easy Journal
If you have kids and want them to have a diary of what they did this summer, you can make a simple one that they can use to draw or write on each page. This will give them a better feeling of what they did each day. They can get creative with the pages especially if it's not specific to writing and drawing and more about pasting stickers in there. This journal also helps to keep your mind calm and focused as you would have to slow down to write in it. It improves your writing skills