When giving a gift, look no further than our 15 handmade gift ideas. You'll find something for every occasion and person in your life: homemade jewelry, candle and potpourri crafts, paper goods, food gifts, etc. These handmade gifts are unique and meaningful -- the perfect way to show someone how much you care about them. Inspire someone with these handmade gift ideas. These super-easy and fun DIY gifts will show how much you care and give loved ones a lasting reminder of your thoughtfulness. Hands-on fun for the whole family!
Handmade Gift Ideas
Enjoy the holidays even more with these handmade gift ideas. These Homemade gifts are thoughtful, useful, and fun to create. Save time, money, and stress this holiday season by making homemade gifts for everyone on your list. This list is full of amazing ideas for handmade gifts for people of every age and special occasion. Practical tutorials are included to guide you through making these personal gifts that are sure to delight anyone on your list. Everyone loves homemade gifts, and they're surprisingly easy to make. We'll give you 15 inexpensive handmade gift ideas that anyone will be happy to receive.
DIY Homegrown Gift Basket: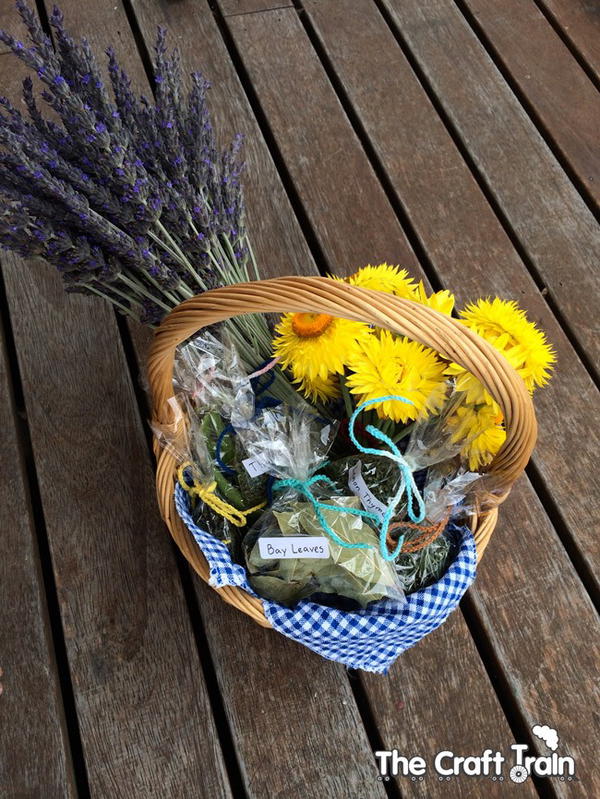 We know that cooking from fresh products is best done from scratch. Here are a couple of quick tips for anyone who wants to make a gift basket like this one themselves! This is a pretty awesome homegrown gift basket, considering I pretty much made it myself. It's awesome because you can do this for almost anyone on your list, and it will be awesome to take something homegrown to someone far away from you! It will be an attractive alternative to store-bought plastic buckets.
DIY Braided Essential Oil Diffuser Bracelets: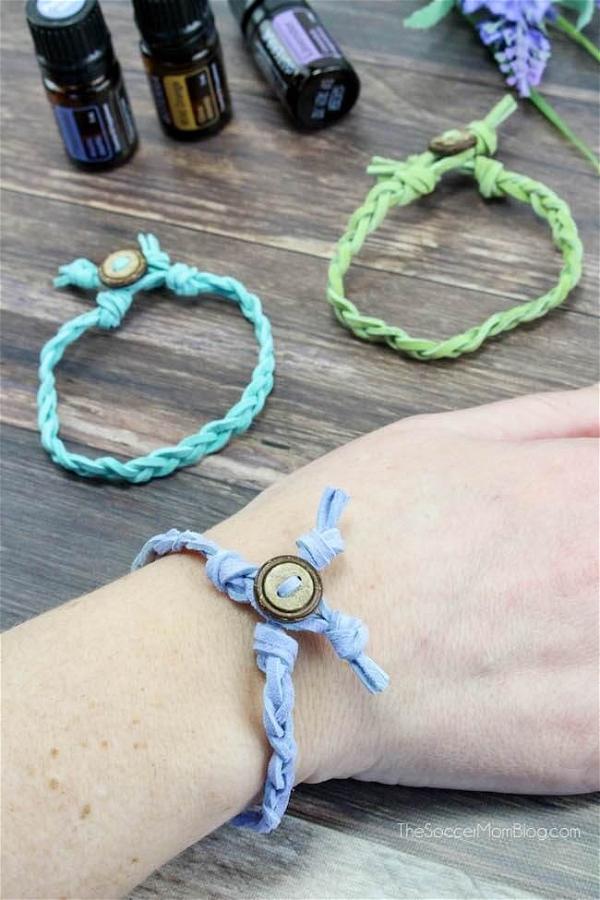 These beautiful essential oil diffuser bracelets offer a simple and stylish way to carry your favorite scent by always keeping a few drops of your favorite oil with you. Slip them on for a splash of color and to spread your favorite scents far and wide. These braided bracelets are handcrafted with 100% genuine leather and feature beaded tassels for added texture. It will be a stunning handmade gift for your loved ones, which can be done easily in a few minutes.
DIY Silhouette Christmas Ornament For Kids: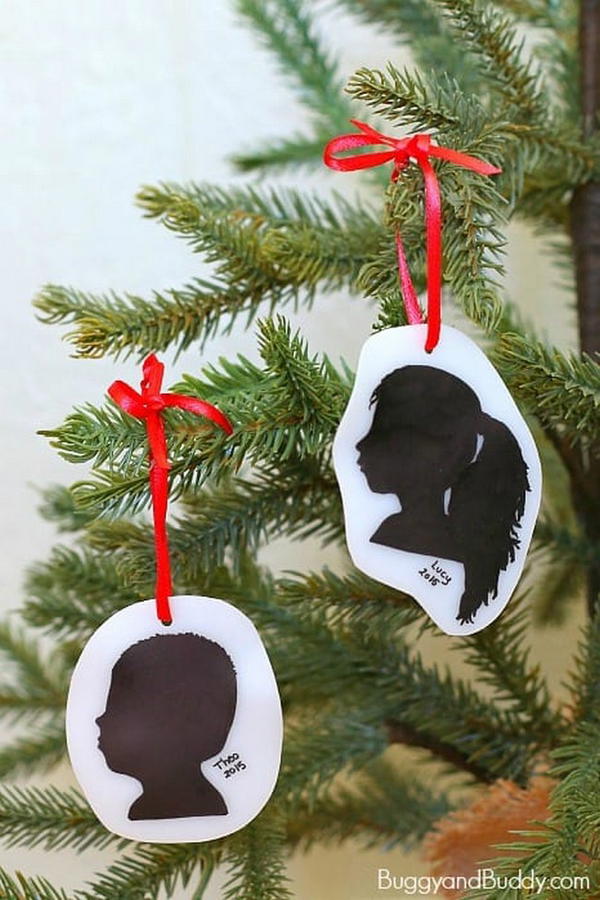 Creating this homemade silhouette Christmas ornament isn't just fun; it's easy too! This super simple project is worth making with your child, and older children can even make their own! They're also great to use as gift tags! This homemade silhouette Christmas ornament is an easy craft that looks great on the tree and is a great keepsake to be made with your child. Just trace your child or pet's silhouette onto felt, cut out, then hot glue on some fun embellishments - you'll have the cutest homemade Christmas ornament around!
DIY Glass Cracked Gems And Stones Jewelry: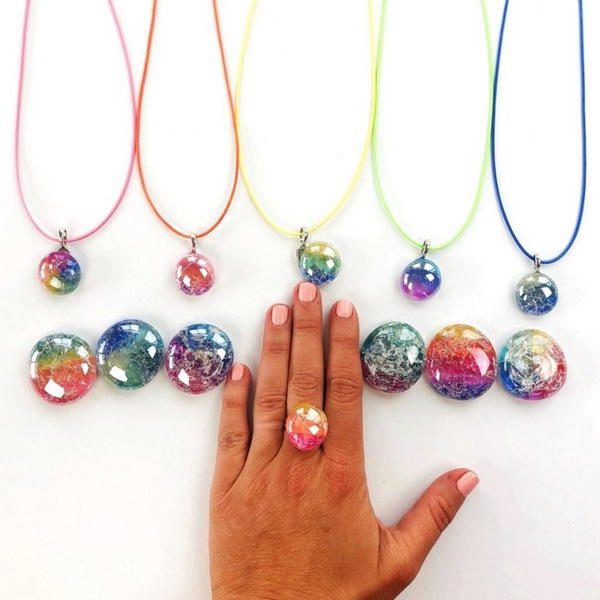 Make your glass cracked gems with these simple directions. I found the clear flat-backed glass stones on clearance for $1. I came across a neat technique here to make these glass gems using Mod Podge. The stones are called Cracked Glass or Glass Cracked Jewels, used mostly for scrapbooking projects. Well, I thought it would be fun to turn them into something that could be used for jewelry or other craft projects. With just a few basic supplies, you can make these stunning DIY glass cracked gems in no time at all.
Christmas Plate Gift: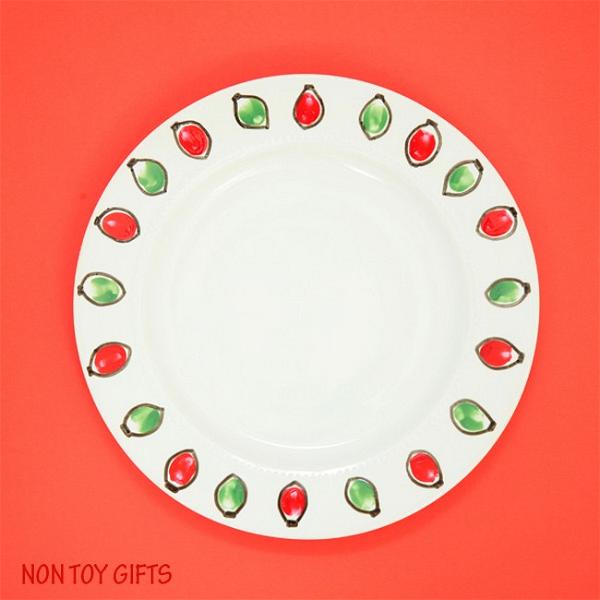 The Christmas plate gift is a fun and easy present that kids can make for their grandparents, babysitter, or teacher from things from around the house. The plate is covered with red wrapping paper and topped with a clear plastic lid and a beautiful gold bow. The gift has an opening made from red card stock for attaching the gift tag. The gift tag template provides full-color options for your child to print out on their home computer or color at school.
Make Your Own Lace Pottery: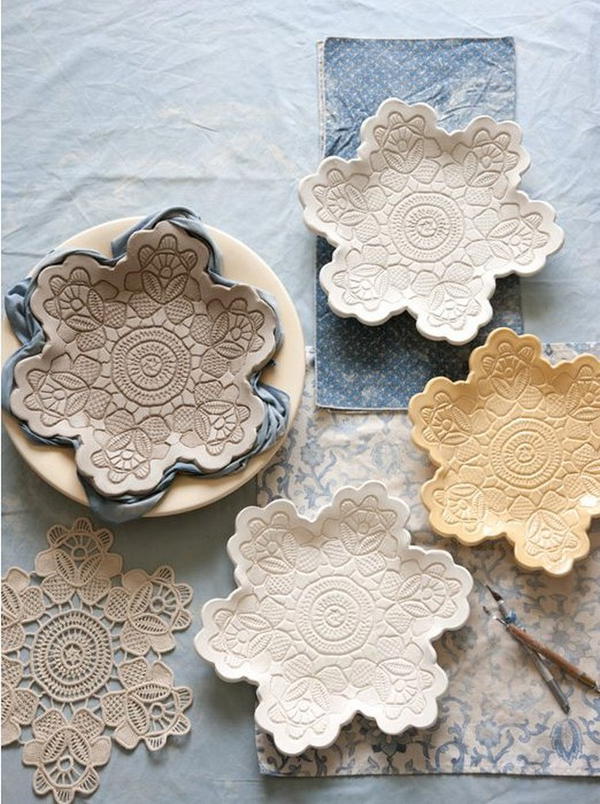 Maggie Weldon has crafted a line of attractive dishes, mixers, bowls, and serving pieces out of lace. The dishes are fired, glazed, and fired again to create pastel-colored pieces that add warmth and charm to any kitchen environment. Because the tableware pieces are handmade, each piece is unique in its coloring, shape, and size. And when you take your plate to the sink or load up your mixer with sweets for dessert, let your friends admire what they think is precious china, but reveal that it's made of earthenware and lace!
Fancy Chalkboards: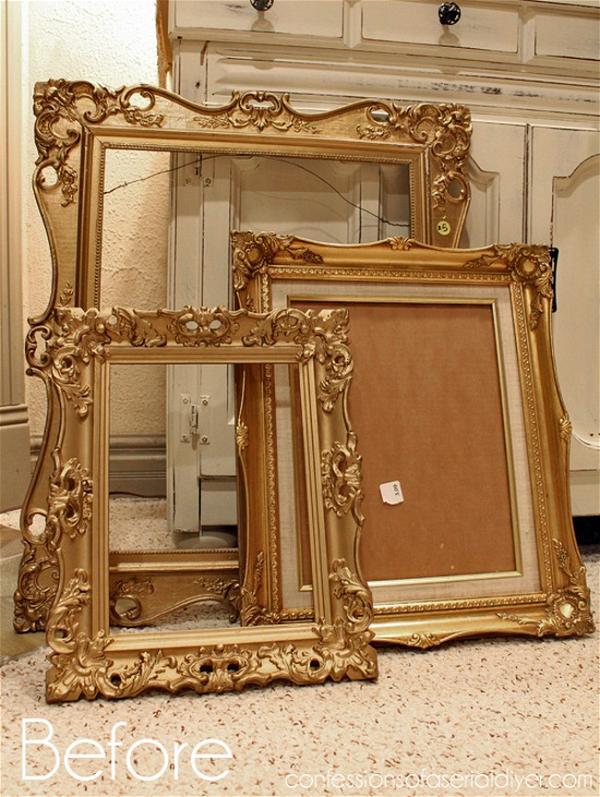 Finally, pretty chalkboards that are NOT just for the classroom! The perfect combination of fabric and wood to create an inviting place for your family to write important notes, grocery lists, reminders, and homework assignments. The list goes on. The sturdy wooden frame holds easels in both landscape and portrait positions (with two different panels), while the fabric panels offer a beautiful background for any room. You'll never get tired of seeing them or writing on them!"
30 Minute Bunny Sleep Mask: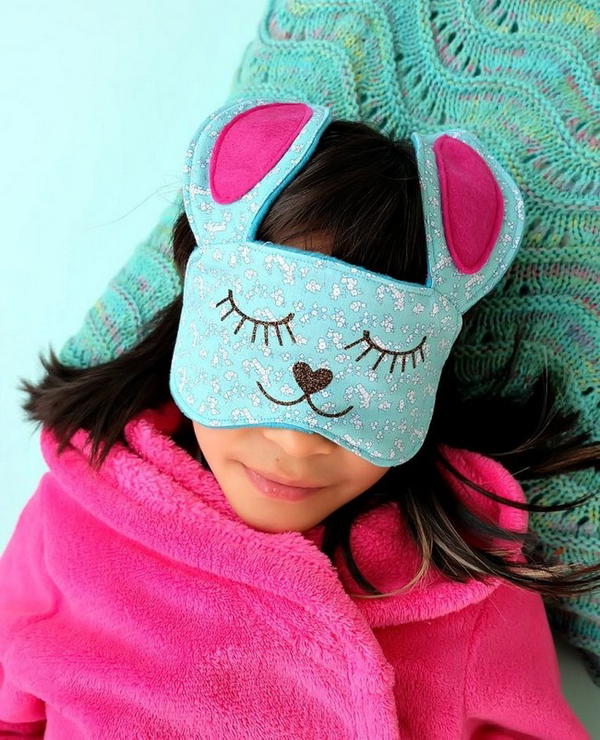 The sleep mask is made of polar fleece, making it incredibly soft; the fabrics are appliqued together rather than sewed, making for an extra adorable result. The idea of making a bunny sleep mask for quite a while, will be a decent gift-giving option for beloved ladies and children. The project will take 30 minutes of your day, and the result- funny bunny sleep masks that everyone will love. With the help of these great gift ideas, you will impress everyone!
Knit Planter Cover Handmade: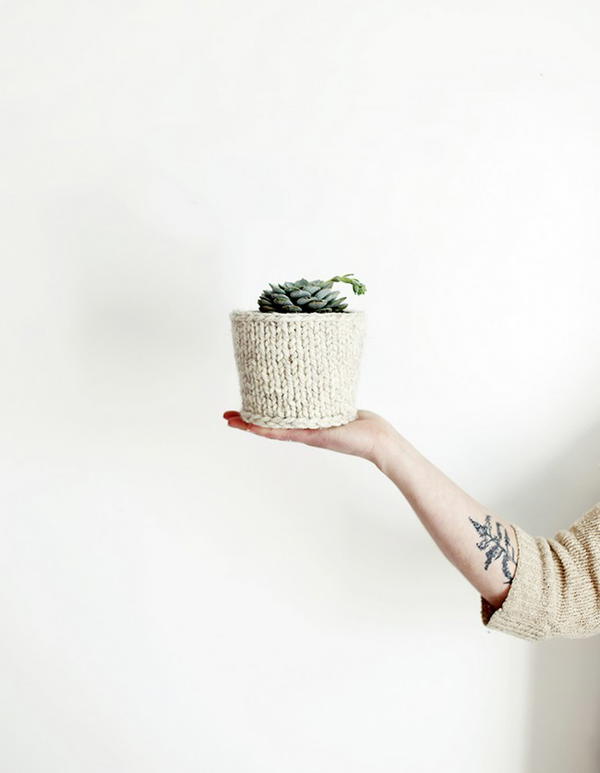 Get rid of the old, ugly-looking planter. Instead, choose this DIY Planter Cover to turn it into a fantastic addition to your home decor. With the easier making, everyone can make their planter cover with this simple knitting skill. The innovative design will make the cover fit any planter you should have, and no one will believe you made it yourself! Adorn your house with this gorgeous Knit Planter Cover. Handmade crochet has always been tied with the style, glamour, and beauty of the home decor. So why not start adorning your house by crocheting this stunning Knit Planter Cover for yourself or your friends?
 Handmade Sunglass Case For Mom: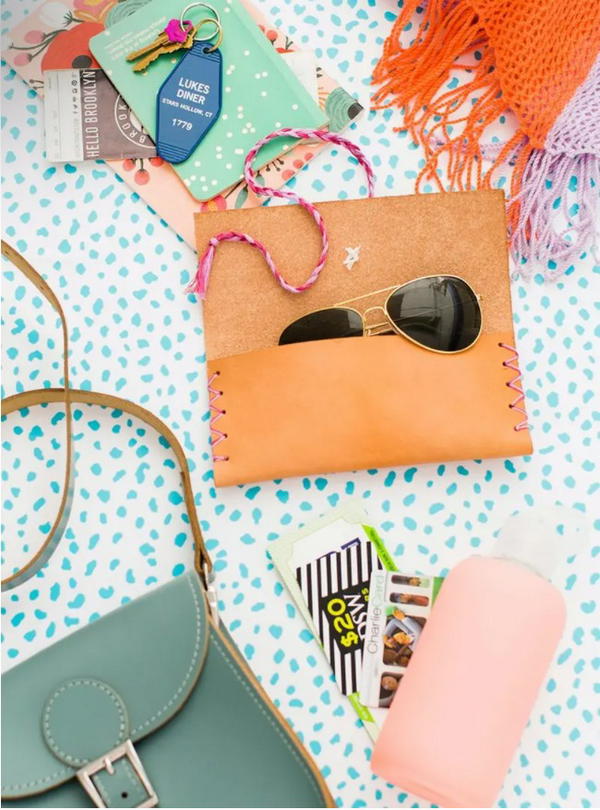 Let your mom know how much you love and appreciate her with this DIY leather sunglass case. Whether you add in a personal message, such as "MOM," or you add in a fun saying, like "A glasses case is better than flowers," this handmade bead weaving case makes the perfect gift. If she always takes her accessories with her no matter where she goes, be sure to impress her with this leather sunglass (or glasses) case. It is a cost-effective and straightforward project that can be customized easily to match her personality. Occasions such as Mother's Day, Father's Day, Christmas, Birthday Parties, Bridal Showers, and Weddings are fast approaching, and it is time to step up your DIY game! We hope you enjoy this fun and simple sewing project.
Handmade Gift Ring Using Floral Cabochons: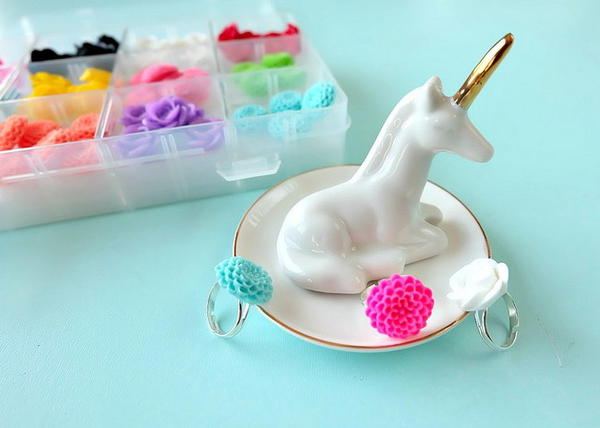 These floral cabochons are made of resin, which is a very durable material that is also lightweight. They come in various shapes, sizes, and colors and have intricate details that will give your jewelry designs some elegance. I found that using these floral cabochons was very easy because of the variety. There are so many sizes to choose from, so they can easily fit in any design. You can also see exactly what you are getting since each piece has the original flower etched into its back.
Check it: 23 DIY Ring Box Ideas
 Handmade 4d Greeting Card Idea: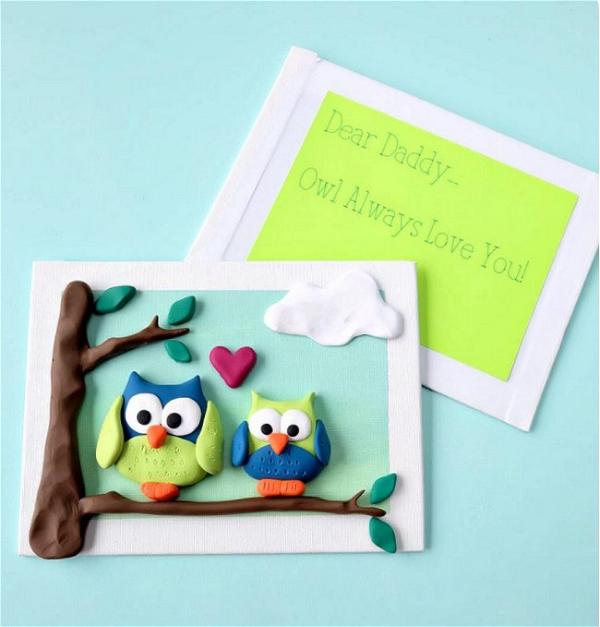 Open the front of the greeting card and pop out a frame. Decorate it with your child to tell a story, a poem, or a fun message. Put it back in the frame, and you have a special gift for someone special. With this DIY 4D Greeting Card, you can take a plain envelope and turn it into an adorable card. It will be a stunning Diy piece, and you'll surely admire making it for your loved one's special days.
You Can See: 23 DIY Business Card Holder Ideas
DIY Handmade Faux Leather Floral Cuffs: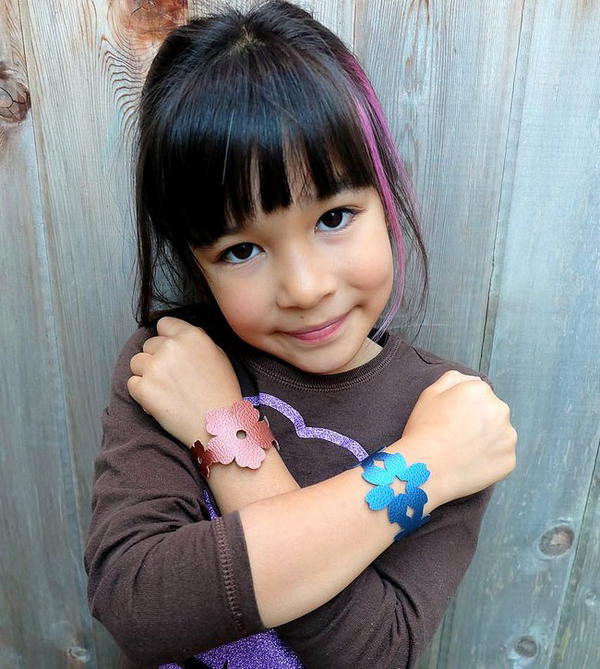 Don't spend $108 on some leather cuffs; make your very own with this DIY Faux Leather Floral Cuffs tutorial. This is another step-by-step DIY project, which includes some basic sewing skills. We've made it easy for you to bring this same look home. Follow my simple steps, and you'll be wearing these faux leather floral cuffs in no time! The best part is that you can choose all of the details based on your preferences. From flower colors to cuff widths, the possibilities are endless!"
DIY Concrete & Wire Ring Holders: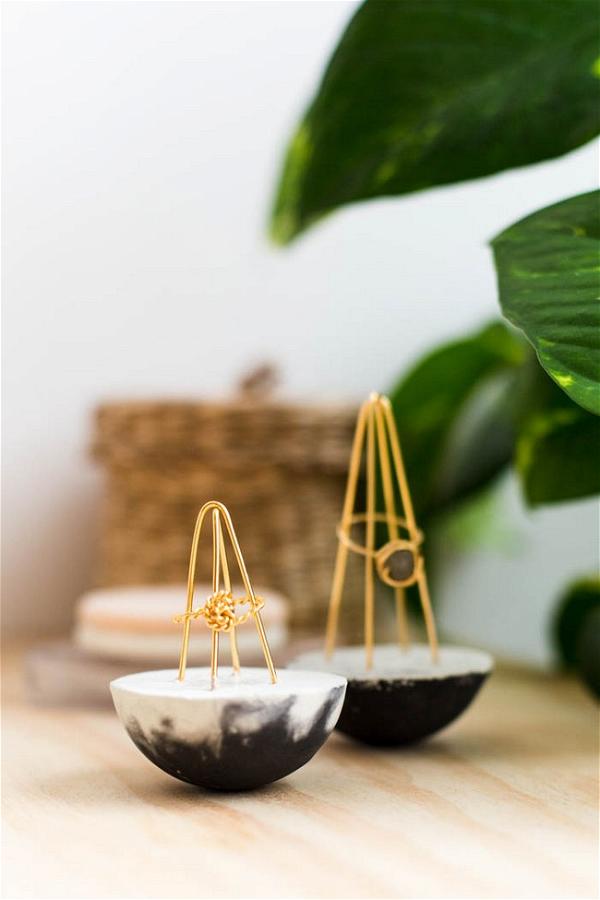 These rustic wire & concrete ring holders will make an excellent addition to your collection of trinkets, jewelry, and stand-alone decorative items. With this easy-to-follow tutorial, you can create your bespoke ring holder in no time at all. They come in a set of 4 sizes to accommodate a vast array of sizes and types of rings or other small jewelry items. Make your jewelry, save money and time by customizing your rings! It will be a stunning DIY project, and you'll surely admire making it.
How To Make A Beaded Bracelet: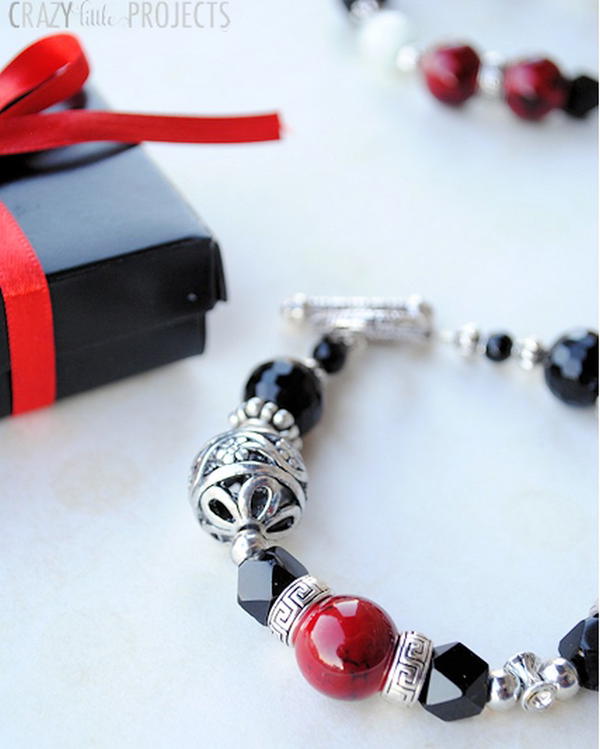 I'm going to show you how to make an essential beaded bracelet. It's super easy and only takes a few minutes if you know the proper technique. The most important part of making a beaded bracelet is getting all of the beads on it. If they don't fit properly, they will look messy and sloppy. So with that in mind, let me share with you my technique for getting it right every time, starting with one bead at a time.