Business cards are a must when it comes to promoting your business. It is the basic tool that can get your foot in the door of high-profile clients. As you are in touch with a lot of clients, you must always keep your cards with you at all times, but then it becomes challenging to carry them around without losing their face value. Business cards are a great way to help people remember you and your company. They're also terrific for jotting down notes and other information about sales leads or prospects. Here are 23 DIY Business Card Holder ideas that are not only pretty and practical but they are really easy to make by yourself.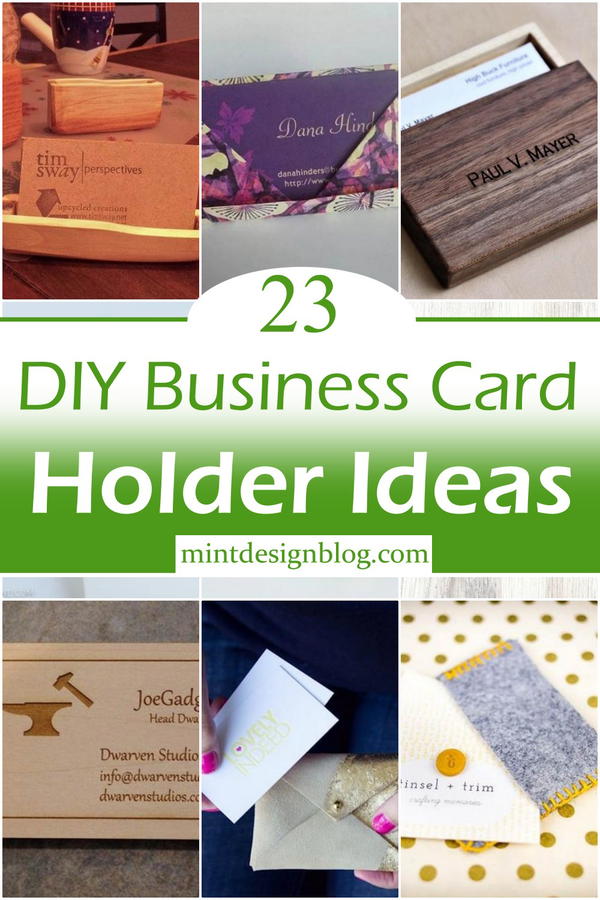 Having a dedicated business card holder is the perfect solution for those who carry business cards around with them. It keeps everything together in one place while adding a bit of personal style to any business professional's look. And best of all, you can easily find or make your own business card holder in no time at all. Whether you'd prefer something handmade or want to use something from your local stationery store. The business card holder is also a great gift idea for that person who is not too keen on stuffing their wallet with cards and reaching into their pocket or purse every time they need one. Or perhaps you are just looking for a unique cardholder with a practical purpose? We've got you covered with these 23 DIY business card holder ideas!
Check out these fantastic 23 DIY Business Card Holder Ideas that you can use to share your business card easily with your clients or friends.
You Can See: 15 DIY Valentine Day Gift ideas For Your Loved Ones
Why Do You Need To DIY Business Card Holder?
If you have a lot of business cards that you need to keep track of and you are sick of having them lying around on your desk, then you may want to consider making a DIY business card holder for yourself. This will not only allow you to keep your cards all in one place, but it will also help you stay organized.
Whether or not you are going to be able to make your own business card holder from scratch is up to you, however, there are many guides online that will show you how to do so. If this is something that you have never tried before and do not feel comfortable with trying, then it is probably best that you find a guide that shows step-by-step instructions on how to build your own holder.
There are also many different types of holders that can be found at stores such as Office Depot and Staples, which means that there are plenty of options out there if this is something that interests you. Just remember that the more expensive ones tend to hold less than those made out of plastic or cardboard, so it really depends on what kind of business cards you have as well as how much they cost.
Advantages Of DIY Business Card Holder Ideas
There are many advantages to coming up with your business card holder, such as:
Save money
Be unique
Promote your brand
Have fun!
Share your creativity
Show off your skills
How To Build A Wooden Business Card Holder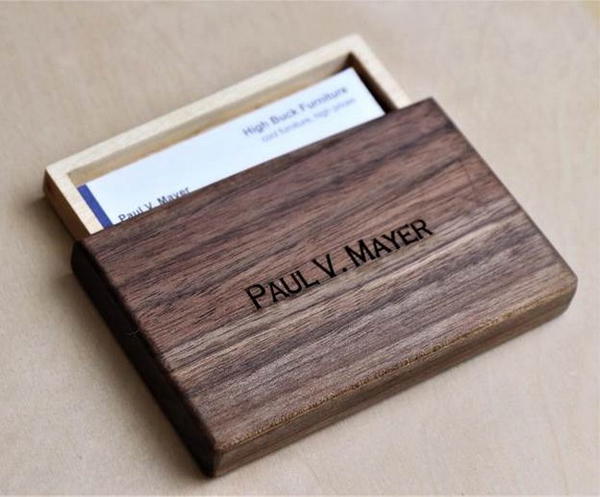 Here is a step-by-step DIY tutorial, detailing how to make a wooden business card holder. This is a perfect desk accessory for staff at home or office, those who need to showcase their business cards, and even those who gift this business cardholder. You don't have to worry about falling cards. Just keep it upright on your desk so the lid can remain closed except when you want to take out any card. It is easy enough that anyone with basic woodworking skills and tools can build it. The instructions are so accurate, that even a novice can craft this project in one or two hours for a special gift for the boss or a business associate.
DIY Gilded Leather Business Card Holder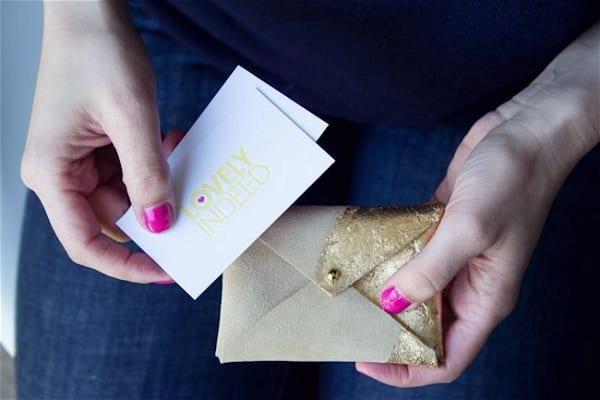 This DIY gilded leather business card holder is the perfect way to carry your business cards anywhere you go. It doesn't require a lot of time or money to create, but the finished product looks super classy and stylish. Gilded leather business card holders are a great way to show your organization and style. These leather business card holders don't just allow you to place your cards in them but also protect them from damage due to the weather or the sun's rays. The holder is made up of soft leather and can be customized according to your wishes. All you need is the willingness to break a few rules in terms of business cardholders.
How To Fold An Origami Business Card Holder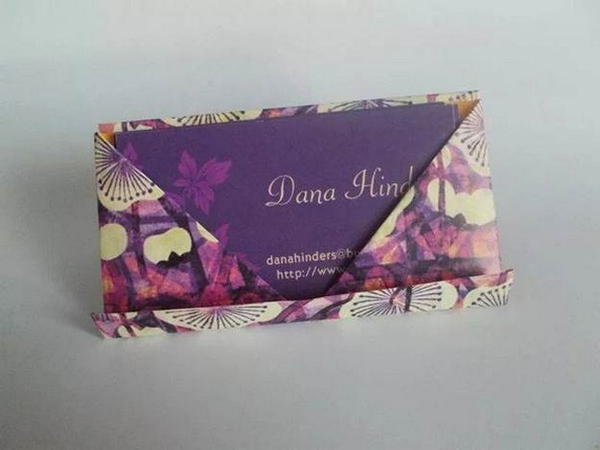 Folding an origami business card holder may look complicated at first, but it's quite easy! There are just a few simple folds. This is a really clever and trendy idea for using the small spaces in your home to display your cards. An origami business card holder is a symbolic gift. It looks cool when placed on someone's table. And if the person works in an office, it will surely be admired by his colleagues. The only thing you need to prepare are materials like paper, cardboard, and glue.
DIY Business Card Case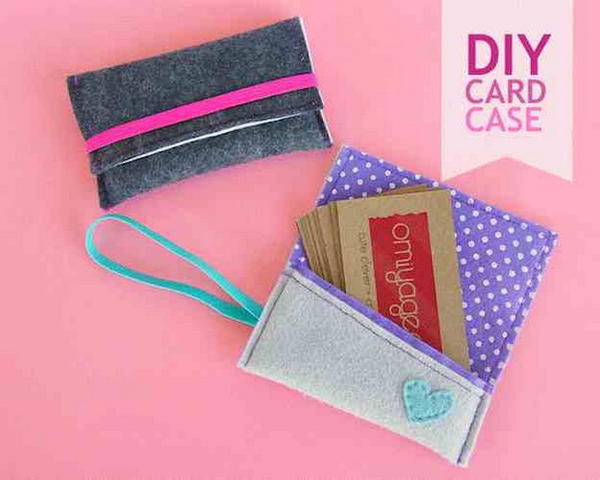 Create a special business card holder that resembles an embossed leather business cardholder. This can be done relatively simply using needle and thread, felt, and fabric glue. This is really a nice gift that you can offer to your business associates or your immediate circle of friends. You will impress them with your creativity and skill in coming up with something really nice. Create a unique idea business card case that will leave anyone impressed with your creative way of doing business
DIY Leather Business Card Holder
If you are looking for a DIY personalized business card holder, then this will be something that might interest you. Since it's made from leather and coupled with amazing sophistication, it will provide your business with a unique look which is why you should make this one as soon as possible. This DIY is fairly easy to do and won't take long to finish once you start working on it. This leather business card holder is very stylish and elegant. Its design complements your taste in fashion. Its leather material makes it hard to wear off easily. Make this wonderful gadget yours today and you will be glad that you did."
How To Make A Business Card Holder
Since nice business card holders can cost a lot of money, you can now add pizzazz to the appearance of your business cards by making your own stylish business card holder out of cardboard. Craft your own on the fold, have a look at the instructions, and get ready for a fun craft time with kids. Make a business card holder with cardboard and cut it into the shape of a card. Glue some colorful material on the business card holder for decoration. Drill holes through the outside of the card. Do not forget to put paint or some other waterproof material on it so that your business cards may not get spoiled.
Easy Desktop Business Card Holder
Making your own business card holder is more than just DIY. It also makes you learn new ideas and concepts. In fact, making your own business card holder can be fun and enjoyable. It's easy to make and looks sleek on your desk or table at home or in the office. You can also create a multi-function cardholder by placing papers, photos, or other items inside. You can personalize it in any form you want. Aside from that, making a business card holder always serves as a great gift idea for someone who loves crafts and DIY projects.
How To Make A Pocket Business Card Holder
Plywood and a set of metal fasteners are all you need to make these attractive card holders for business and credit cards.  A pocket business card holder may sound like a strange DIY project, but it is actually quite simple to make. Anyone can easily follow the steps described in the article. All you need are a few tools and materials, including some plywood and a pocket knife. This project can be completed in just a few hours of time. This project is ideal for any kind of party where you can publicly show off your creative and artistic abilities.
DIY Wooden Business Card Holder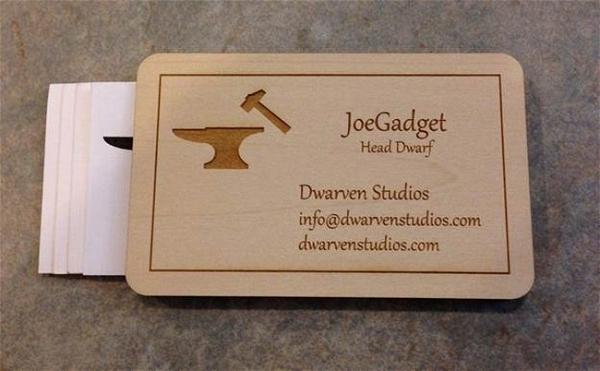 Some of the most stunning items to be made from wood are furniture items. So why not keep your business cards simple and more beautiful with a handmade wooden business cardholder. Made of quality wood which can be carved on, it is heavy enough to hold a jumbo number of cards smoothly. The holder can match your style but at the same time look outstanding on your desktop without attracting unnecessary attention. This is a great gift for you, your friends & colleagues. All custom-made wooden business card holders we make are high quality and very durable.
Pallet Wood Business Card Holder DIY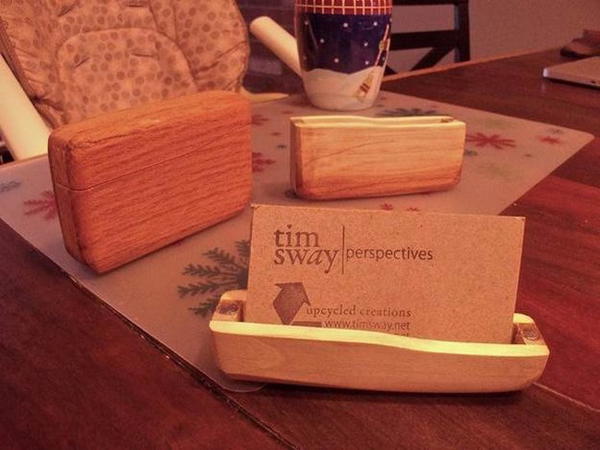 Pallet wood is a great way to add some originality and creativity to your home. Painting it, adding finishing woodwork, and having unique jewelry made from them are just some of the ways you can use pallets. You should consider making a Business Card Holder with Pallets. It is simple enough, and it will make your business card stand out from the rest. This exquisite and simple business card holder is made of solid wood and kept closed with a thin, wooden tie. It offers the perfect blend of style and functionality that you can craft on your own in just a couple of hours using basic tools.
DIY Desk Planter Card Holder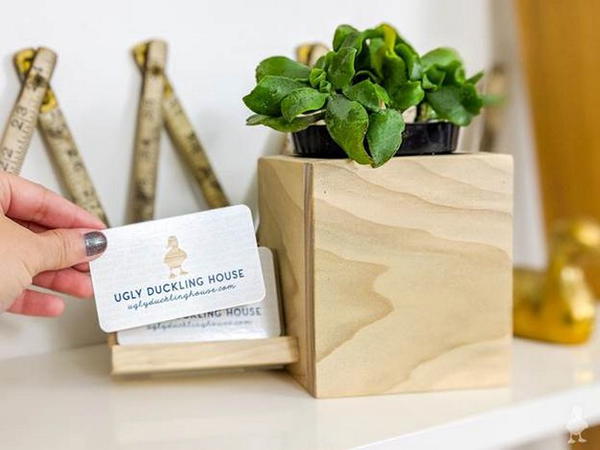 Are you looking for a creative tool for your business? Then, use this DIY desk plant holder, or table planter card holder! All you need is a piece of wood and some accessories. You can use this cardholder to display your name card as well as your photo. It also serves as a nice table decoration, which not just looks attractive but also enhances the beauty of the place where it has been placed. Make this a kind gift and impress your friends. This planter cardholder comes flat-packed to be easily assembled at home and takes very little time.
DIY Felt Business Card Holder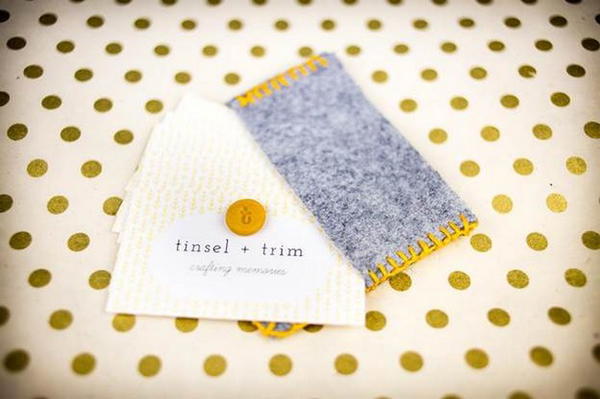 This business card case is hand-stitched and made of felt. It's easy to make and is super-duper cute. It won't cost you a lot of money and you can use any color combo you like. You can even customize it in any way! Just throw all your cards in there and go! You can make it at home. It costs practically nothing, and it is also very easy to do. This DIY Felt Business Card Holder idea is just too good not to be shared with you. The project is perfect for those who have a few basics stashed away in their craft stash.
DIY Cassette Tape Business Card Holder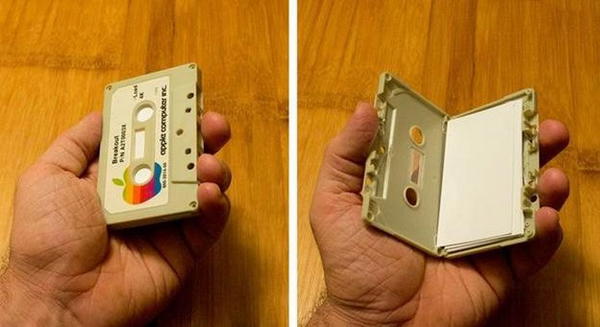 While some cassette tape-shaped business cards holders are just made by cutting out the cassettes, you will be able to find here a collection of DIY-friendly alternatives which are unique and stylish at the same time. Whether you're planning to recycle your old cassette tapes or simply buy a new business card holder for your excessively grown collection, you'll be amazed at how much more useful and sensitively you can improve it by turning it into something else.
DIY Business Card Wallet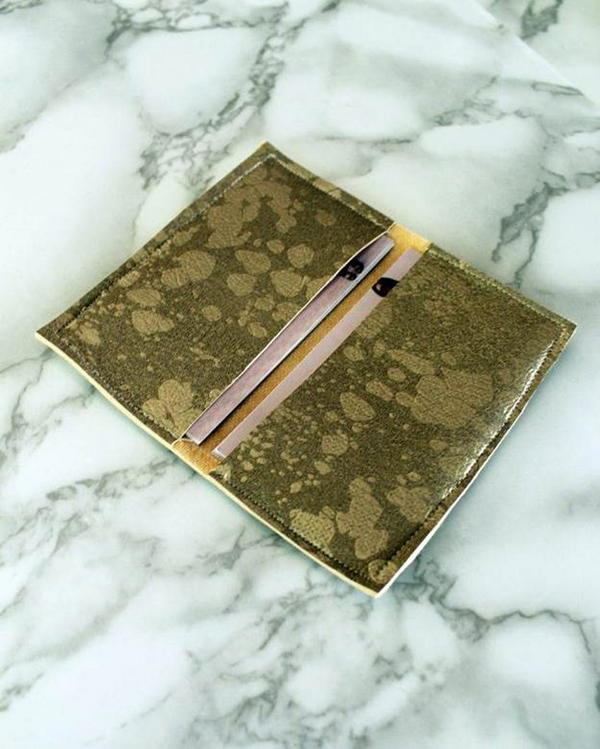 A DIY business card wallet can be a good idea if you cherish having your own business cardholder. It is indeed something that you can craft to match your personality and flair. A homemade business card wallet will open up many opportunities for business, especially when you have cards that were handmade by you. This DIY business card wallet is for all of you who are fond of leather crafting. It's a great way to use up your old and unwanted leather materials, and create something useful out of it. The best part is that you can easily carry it around in your purse or bag because of its small size.
DIY Business Card Holder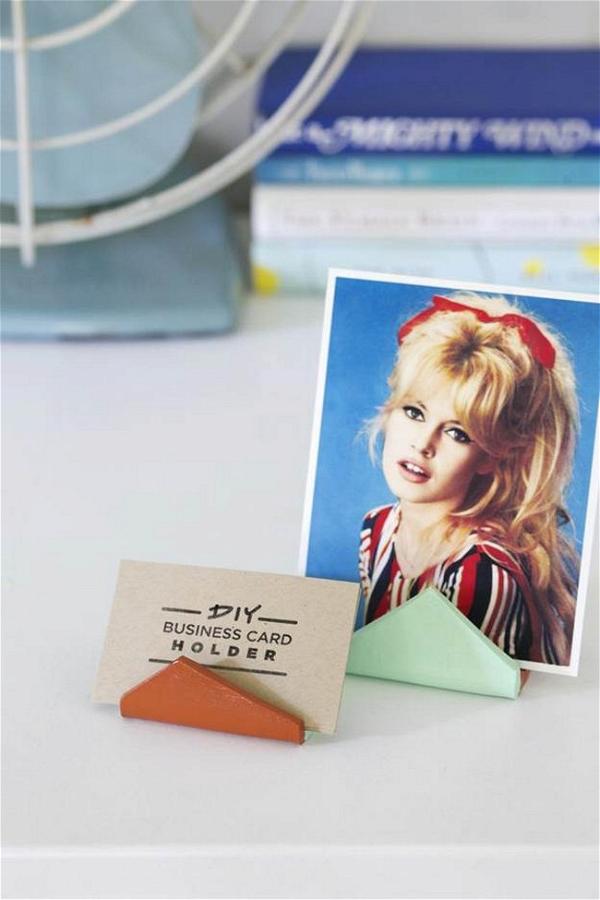 This is another DIY project to craft a business cardholder. Cute and adorable, simple yet outstanding. This DIY business card holder will blow your mind away. Out of the simplest and cheapest materials we have a solid, unique, and luxurious business card holder on hand. This is a fun project that allows you to express your creativity. All you need to get started is some polymer clay and a paintbrush. It's not a difficult process to follow but you have to be patient and pay attention to every single aspect so it all comes out as good as you want it to be.
DIY Fabric Origami Business Card Holder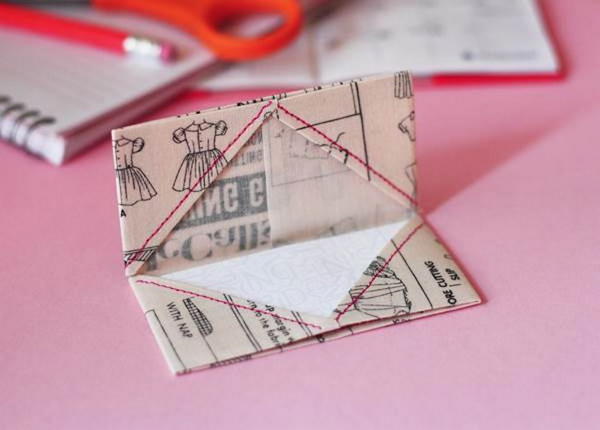 DIY Fabric Origami Business Card Holder can make your business cards stand out! The holder consists of four pieces of paper that are folded and trimmed. The folding and trimming are simple, but the results will be impressive. It is a great idea for students as well as for business owners. It is suitable for DIY lovers and can be a bit of fun. You can always use this to promote your business or to present a card to clients. It is ideal for displaying a business card during a meeting, conference, or job interview.
DIY Lego Business Card Holder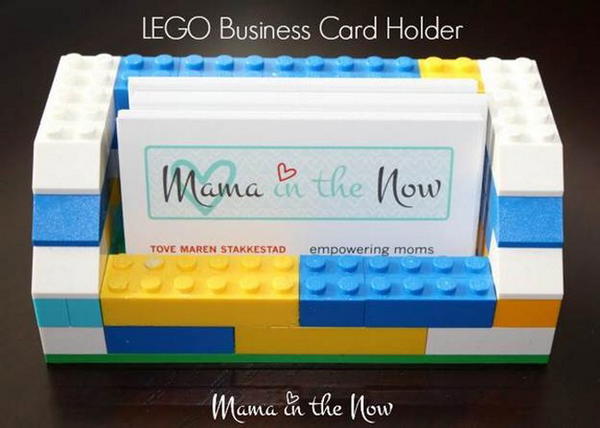 With the help of a Lego, you can make so many wonderful things at home. And there is no dearth of ideas to make it colorful, attractive, and above all, useful. For example, you can use it to serve as a business card holder at the office. Just fashion out a Lego with flaps, top it with an old truck tire and fill it up with cards. You will not only find this business card holder easy to make but also save a considerable amount of money by not buying readymade holders.
DIY Wooden Business Card Holder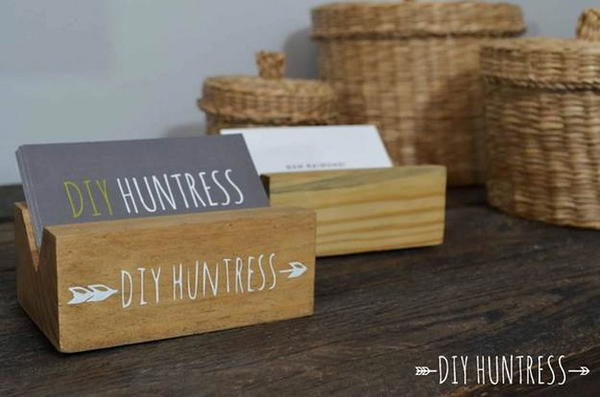 The DIY wooden business card holder is something that you can easily do yourself. This is easy and very pocket friendly as well. All you have to do is to get the wood and the tools that work for you. If you own a shop for woodworking then getting those woods will not be a problem. There are no big investments involved and you don't have to rely on anyone for the results either. It's just your skills and hard work that will convert you into this beautiful business cardholder.
Wooden Business Card Holder DIY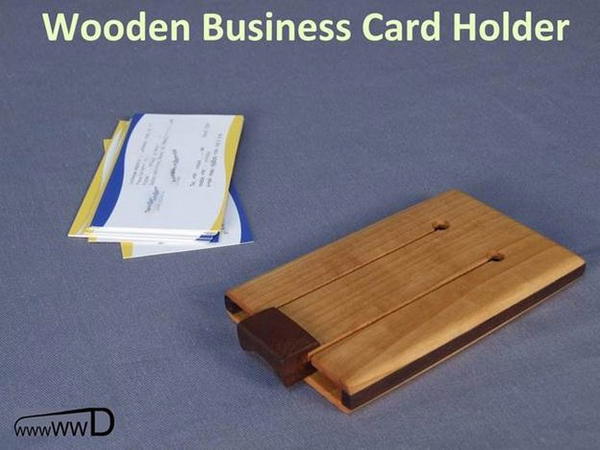 This business card holder is very simple yet appealing. The beauty of this card lies in the texture and the design. The texture is classy and intricate while the design is simple yet attractive. You can easily see how beautiful this may turn out to be once it is placed on your workspace or on a coffee table. It is something that you should try its portability and easy maintainability makes it an appealing option for contemporary businessmen. This wooden holder is simple and exquisite, it makes an elegant impression on everyone.
Piston Business Card Holder DIY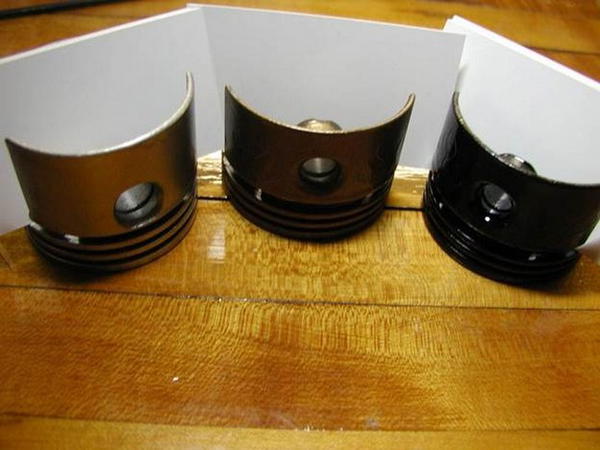 The Piston Business Card Holder DIY is an excellent idea for a cool DIY business cardholder. The Piston Business Card Holder DIY is sure to make a great gift as well. These business card holders are the perfect way to showcase your work and look professional without spending money. Each piece is hand-sprayed and finished for personalization and to prevent scratching with satin polyurethane. These pistons create an artistic touch and make a nice display. These holders are perfect for your desk or home office. Not only do they make your workspace look great, but they also eliminate clutter and help you keep your business cards organized in one place.
DIY Fabric Business Card Holder
If you like a business card holder made of cardboard but too flimsy for your needs, then a fabric one is the best option. There's really no need to spend money on a business card holder when you can make one out of fabric. You can even use it as a wallet for your cards, and as a stylish way to carry credit cards. This DIY makes it easy to produce a chic holder that carries your business cards or credit cards. It may take you some time to take measurements, but once that's over, the rest will be quick and easy.
DIY Desktop Business Card Holder
Score counter-sitting or desk-sitting business card holders to showcase your business, just like others in the market. This DIY desktop business card holder is an incredibly easy-to-make project that only needs basic tools and planks. A homemade one is also cheap, so you can also use craft supplies in it. You simply need to trace the two designs on the planks, drill a few holes, cut the planks and make them stand up smoothly with some sanding glue and paint. A custom tabletop business card holder is a true showpiece for your business.
DIY Card Wallet
DIY Card Wallet is a tri-fold card holder wallet made from washable cotton fabric and can carry up to 10 cards inside the wallet. It is lightweight, thin, durable, and water-resistant thus it is best for carrying around. If you like to make DIY crafts, then this fabric business card holder is what you need. Its wallet is the perfect DIY gift. This exclusive design will have everyone asking you where you got yours! Perfect for any occasion, this wallet is a fun way to customize your life a little more every day.