If you love the idea of bringing more plants indoors but don't have much of a green thumb, you're in luck. You can create your own beautiful DIY planter boxes from various materials, including wood, concrete, and upcycled pallet wood. These simple-to-build 35 DIY Planter Box Ideas are perfect for families with young children or pets because they're easy to access and won't take up much floor space. If you live in a little flat or have limited outdoor space, hanging window boxes are perfect for growing herbs and flowers.

Planter boxes come in all shapes, sizes, and colours. They have a variety of different functions as well. Some are designed for indoor use, while others are made for outdoor gardening. In addition, each planter box has its own unique style and design that you'll want to consider when deciding on which one is best for you. These boxes can also add a touch of natural green to your home decor, making it easier to match with any theme. When you want to add decorative plants to your household, look at your space and what kind of plants you want; you can choose from 35 DIY Planter Box Ideas below. These ideas are cheap and easy to build but creative simultaneously. And if you like them, just start crafting!
Here are 35 DIY Planter Box Ideas to give you an idea of what you can do with a little bit of creativity and imagination.
Advantages Of DIY Planter Box Ideas
Who says you have to stick to the basics of planter boxes? If you want your garden to stand out, there are plenty of DIY planter box ideas to make your green thumb shine.
But why DIY? There are a lot of reasons! Here are a few:
You get to customize the size and shape of the planter box according to what you need.
You can use old things so they won't end up in landfills, thus helping the environment.
The chance to create something you can be proud of and admire every day
You can customize your planter box according to your needs and preferences by choosing different colors, sizes, styles, etc… The possibilities are endless!
A fun project that can be done on your own or with family and friends
A cost-effective way to get the things you need without spending too much
You will enjoy making it!
Basic Tips To DIY Planter Box Ideas
The basic tips for DIY planter box ideas are:
Decide what you want to use it for.
Pick out a good design that will match your needs.
Measure the area and make sure you have room for the box.
Have your materials ready, including wood, nails, screws, glue, and waterproof coating.
Cut your wood pieces according to your needs and assemble them together with glue and nails or screws.
Put on any finishing touches like paint or waterproof coating as needed, then enjoy!
How To Make A Simple Garden Planter Box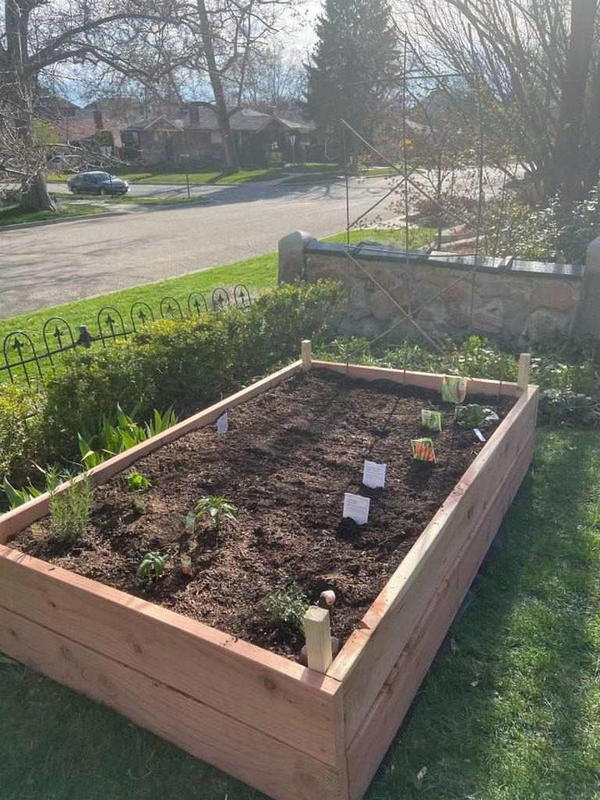 Planter boxes are an easy addition to any yard and have been used for years by gardeners who want to add an attractive look to their spaces. You can fill it with your favorite flowers, herbs, or vines with a basic planter box. Since this is a relatively simple project, spending a lot of money on materials is not necessary. The hardest part about making a planter box is digging the hole for your box, which can be eliminated by using pre-made raised bed garden panes. Making a simple garden planter box is a great way to use useless space in your yard and showcase your beauty.
How To Make A Rolling Planter Box
This planter box has six caster wheels on it to be moved around. The wheels have been mounted on the inside to ensure it doesn't roll away from you. It's pretty simple to build with just a few cedar boards, some screws, hinges and bolts, and some essential tools. All in all, this rolling planter box should cost under $30 to make. The boxes can be increased in size and stacked for larger plants or for adding multiple planters (one on top of another) for a rather large organic vegetable garden using this method.
DIY Planter Boxes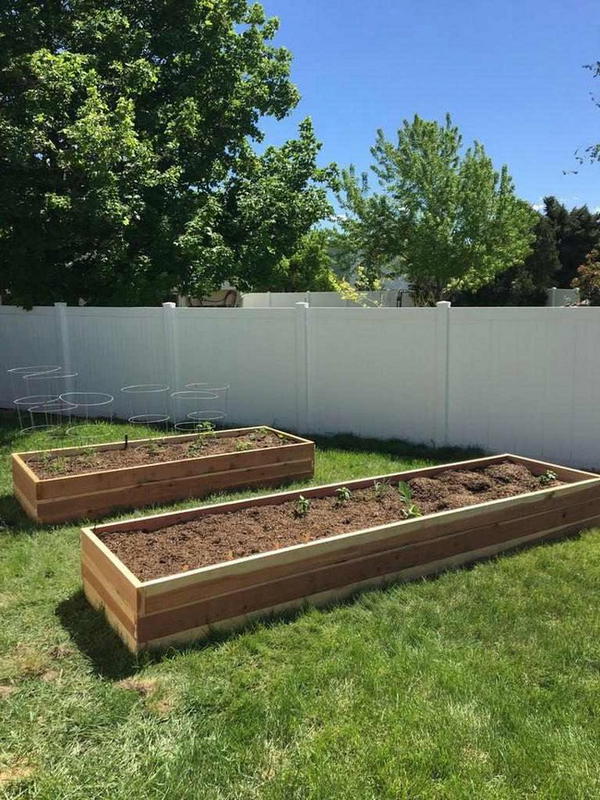 This planter box has six caster wheels on it to be moved around. The wheels have been mounted on the inside to ensure it doesn't roll away from you. It's pretty simple to build with just a few cedar boards, some screws, hinges and bolts, and some essential tools. All in all, this rolling planter box should cost under $30 to make. The boxes can be increased in size and stacked for larger plants or for adding multiple planters (one on top of another) for a rather large organic vegetable garden using this method.
 $23 DIY Planter Box
This sturdy planter box is simple but offers a lot of space to grow plants, herbs, and flowers. It doesn't take long to build it, and the materials aren't too expensive. The best part is that you can move it around whenever you need to. In under an hour, you can build this easy-to-assemble planter box, which is as sturdy as appealing. The post and crosspieces are made from pressure-treated lumber, which will last a long time outdoors. The box is lined with plastic sheeting to keep the dirt draining well. Add a few plants or fill the box with soil and start your own vegetable garden or herb garden.
How To Build A DIY Planter Box
Are you looking for an appealing, cost-effective, and easy way to spruce up your home? This tutorial shows you how to build a DIY planter box for an incredible price. You'll find it all here from the woodworking plans and all the materials you'll need, including cedarwood and sandpaper! This tutorial will take you through all the steps to build a modern, attractive, and versatile planter box that can be used in various situations both indoors and outdoors in your home or as an outside decoration.
DIY Modern Raised Planter Box
Are you looking for an appealing, cost-effective, and easy way to spruce up your home? This tutorial shows you how to build a DIY planter box for an incredible price. You'll find it all here from the woodworking plans and all the materials you'll need, including cedarwood and sandpaper! This planter box video will take you through the steps to build a modern, attractive, and versatile planter box that can be used in various situations both indoors and outdoors in your home or as an outside decoration.
DIY Raised Planter Box
DIY planter box is an inexpensive, fun, and easy project that you don't need to hire a gardener to do. Have you ever wanted to plant vegetables in your garden, but the thought of forgetting to water them and having to bend over in the hot sun every day was too much for you? WITH LITTLE EFFORT AND A WEEKEND OF SUPPLIES, the DIY raised bed planter box will solve all your gardening problems. This saves you the cost to pay for a hired gardener, plus the trouble of dealing with a stranger. That's what this DIY planter box is for. It's cheap and simple yet creative.
DIY Planter Box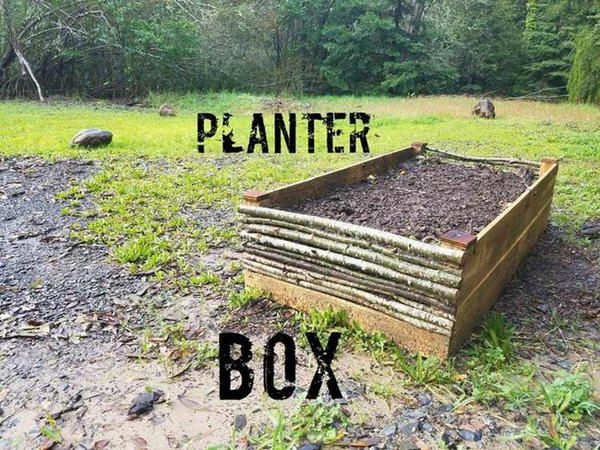 Pallets are a great way to create planter boxes. These materials are relatively inexpensive (free!) and usually readily available if the pallet is not used for another purpose. The material lends itself to be easily dismantled and reassembled, making it an excellent choice for a DIY project. This DIY Planter Box is easy to build using simple hand tools and supplies you likely have to lie around your house. It's a Growbox that's perfect for small sloped areas or areas where you might not be able to dig down any more profound than this box. You can grow vegetables, herbs, or flowers and just water them once they're grown.
DIY Planter Box With 2x4s
This planter box is made with 2x4 framing lumber, making it really easy to work with. It's a great way to add some vertical gardening space or just make something to put in the middle of your garden or yard. It can be used in an interior space like a terrarium or indoor herb garden or as a regular planter. A simple garden planter box can bring joy to anyone's day. One of the most pleasurable things you can create is a decorative planter box made from wood. You can put it anywhere in your surroundings and instantly improve that location. This planter box will last for years with a bit of care and attention, providing crops every season.
DIY Elevated Wooden Planter Box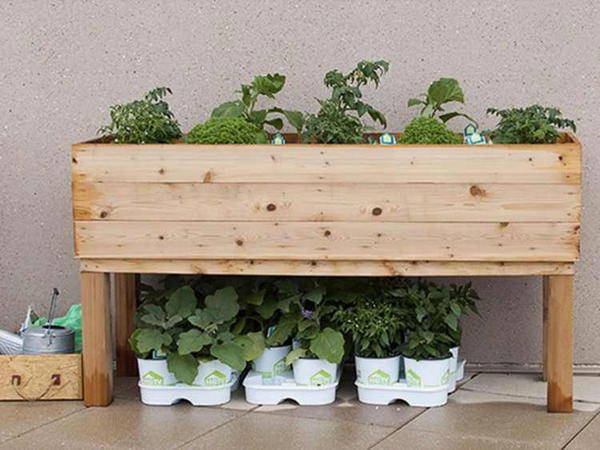 This elevated wooden planter box project has everything you need to start gardening in spring. It's simple, attractive, and offers maximum support for your plants and peace of mind knowing that it can withstand most weights or anything nature may have in store. It is reasonable and easy to make, yet it can carry significant weight. It's the perfect place to grow your plants from seeds or roots in your own cuttings. The box can be made from cedar, pine, or other wood types and can be stained, painted, or its natural wood color left as is.
How To Build A Planter Box On Wheels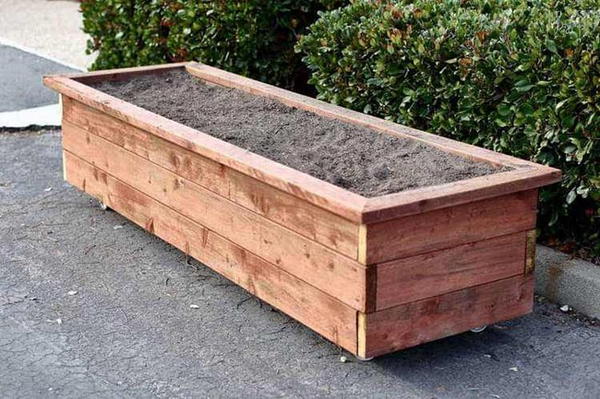 This is for you if you want to start a garden or provide your flower boxes with extra room and still move them to different spots when you want to. Building a planter box is a task many people find to be complicated. But with this DIY planter box on wheels, you can easily transport it from place to place even if you decide to change your décor. This DIY planter box on wheels has everything you need and then some. This planter box is built for easy mobility, and it will look great wherever you choose to put it.
Easy Planter Box DIY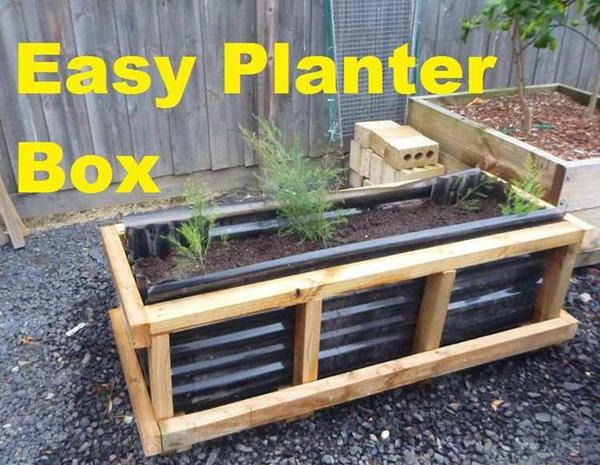 This Easy Planter Box DIY is cheap to make, and you don't necessarily need a planter box to have that particular kind of plant. But if you have a piece of wood lying around, this is the appropriate way for you to use your scrap. Make sure that you can use it for its intended purpose, though; this planter box is excellent for plants needing thorough draining or humidity features. It is perfect for those who travel often and don't want to plant their plants on the ground because they know that the plants might be destroyed afterward. With this, you can always take your Easy Planter Box where ever you go.
DIY Raised Planter Box With Hidden Drainage
If you love watering your plants or vegetables, then this DIY planter box might be what you're looking for. This planter box features hidden drainage and is an excellent project that you can make while still maintaining a tidy garage. This wood planter box will fit in most areas and is quick to paint if necessary. Tune in to learn how to construct this raised planter box with a drainage system today! It's perfect for single or multiple plants or as a seed starter box and comes with a hidden drainage system to make watering easy. You are going to love this planter box!
18. How To Build A Massive Planter Box
You don't need a large backyard to grow vegetables and some plants. This raised garden box will give you the space to grow plants while keeping the soil undisturbed. It's nice having a raised garden box. It's easy to prepare the soil with its height; the soil mixes with its height, making your vegetable garden area very easy to irrigate. A raised garden box is also helpful for keeping family pets out of your vegetables. The woodworking skills required are nominal, and most anyone who enjoys working with their hands can quickly build this when following plans and instructions.
DIY Wooden Planter Boxes
This planter box is a handy place to grow herbs, vegetables, or flowers with your friends and family. Use this DIY wooden planter box without spending money at stores. It's crafted from quality pine wood and easy to build by yourself. It is also easy to maintain because of the durable material used. The most exciting thing about this planter box is that you can completely customize it. They can add instant curb appeal to your front door or patio and brighten up a dreary front yard area. You can build as many as you like and customize them to suit your taste, whether with paint or stain.
DIY Simple Elevated Planter Box
Creating the look you want in your garden can be hard when you don't have enough money to invest. Simply raised planter boxes are easy and cost-effective to add height, colour, and texture to your outdoor space. Elevated planters are also great for a little bit on the lazy side (or those who may not be as physically fit as they used to be) because you can reach in from the top without bending down. You will make this stylish elevated planter with patience and creativity and surprise your spouse or children with lushly green home decoration.
DIY Planter Box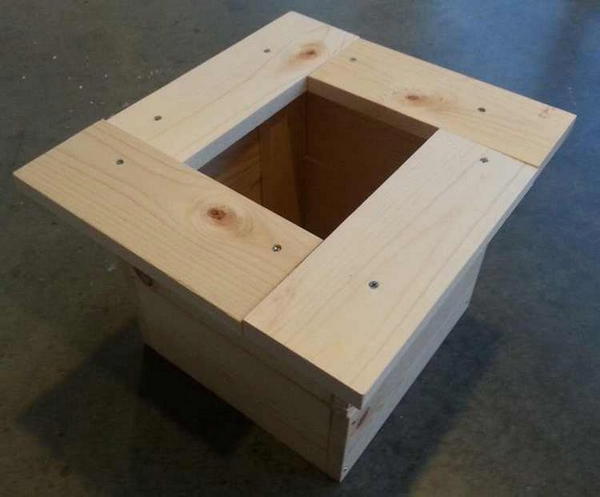 This bottomless DIY planter box will be a lovely addition to your backyard. It is made from recycled wood. First, you need to find many planks of pine or cedar. The next step is to start with marking the wood and then cutting them into your desired shape. This small but rather helpful article will help you make a well-organized planter box for keeping your small plants in it. This will help you develop your own crafting style, but it will also multiply the usefulness of each box you make because nobody will be exactly like yours.
DIY Louvered Planter Boxes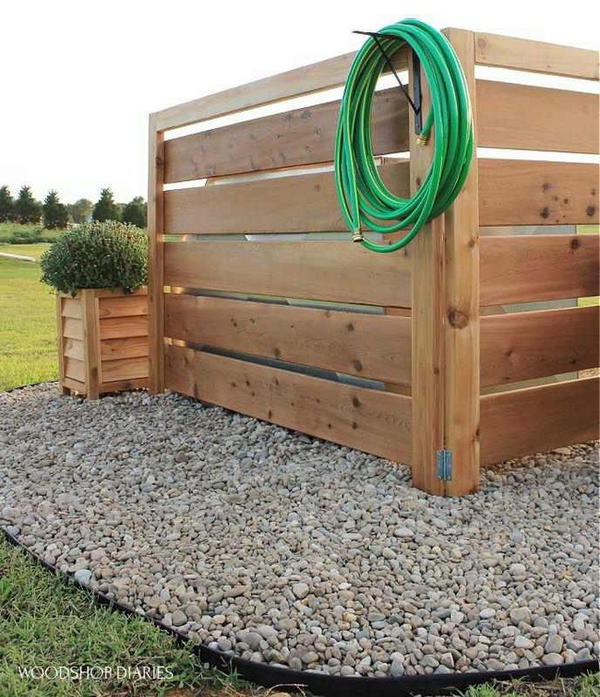 Try this easy cedar version if you're looking for simple DIY planter boxes to add a finishing touch to your front porch. These planters are attractive, but they're also built for durability with solid-wood construction and exterior-grade polyurethane coating, so they'll last season after season. You can have these up in a few hours with a small budget and some basic woodworking skills.
You will find the materials reasonably easy to find, and it's simple enough for novices. Just a few hours is all you'll need to get this going. If you're unfamiliar with woodworking, why not get a buddy who is and assist them with their home improvement project? Spread the love, and have fun!
How To Build A Wooden Planter Box
A wooden planter box is an excellent project for beginner woodworkers. In fact, this is a perfect project for adults and kids both. Building this wooden planter box will only take less than a day if you have the materials on hand and the necessary tools. It can be built with ordinary wood scraps and a few essential tools and holds many plants! And after it's done, we bet your loved one will love planting vegetables in this practical yet attractive planter. With this basic plan and instructions, you can build a wooden vegetable garden on any budget.
$5 DIY Cedar Planter Box
With a little span of time and money, you can build your own custom planter box. This design uses weather-resistant cedar fence slats. The planters are just the right size to fit over the edge of your balcony or deck railings, and they make it easy to water your plants from below. This is a very easy-to-make and cheap planter box. It may not be fancy, but it can be a great place to start for new gardeners or people who don't have a lot of money to spend on garden decor.
 How To Build Tall Wood Planters
This is an excellent solution if you've always wanted more vertical space in your garden but don't have room for more horizontal space! Learn to build tall wood planters from your local lumberyard or a recipe for painted
concrete planters
on this beautiful deck. Add these large, creative crop supports anywhere in your yard or garden. You might be astonished at how low the price is to make them yourself. If you love gardening and a modern look, this DIY wood planter is the perfect project. It has a simple construction, it is easy and quick to build, and the result looks great.
DIY Wooden Planter Box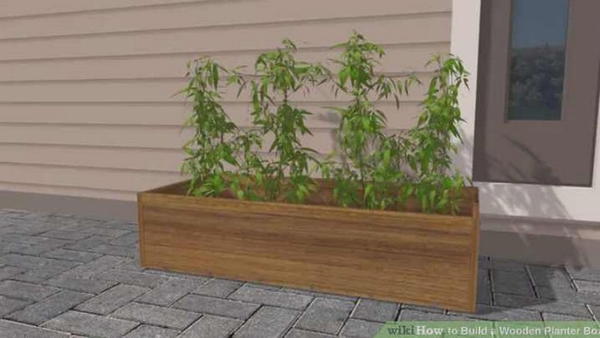 This DIY planter box can be made out of any available material and in any size or shape. It provides a healthier place for soil and plants by restricting airflow underneath. You can cut your boards to fit together with the right tools and materials. When you're finished cutting and assembling your planter box, you can paint, stain or cover it with a waterproofing spray if necessary. It will make your garden look unique. With its purpose to help you grow your favorite flowers and vegetables, now you can enjoy the beauty of nature in your home. It is an easy, effective, and cheap way to transform your garden into a joy for the senses.
DIY Self-Watering Raised Planter Bed
This is an excellent plan for the beginner gardener or person who enjoys growing plants indoors. It is modern and durable. If your job requires you to move around a lot or even if you simply don't like to spend as much time on housework, this plan is perfect for you. This planter bed is ideal for those who live in small spaces or apartments and want to grow their own food. It's made from repurposed materials, including an IKEA wardrobe, and is easy to put together. You'll only need essential tools such as a hammer, drill, and screws.
How To Make A Simple Planter Box
If you love to have a few potted plants around your home but are limited by space or just for fun, here is a simple solution. The nice thing about this planter is you can use it in any area of your home. If you need to move the planter, you need to take it off the base and place it somewhere else. The best part is to pick up a few used pallets for free and build this planter box on a rainy day. This planter box can be assembled with minimal tools and materials, and once done, you can easily re-arrange it to whatever design you desire.
How To Make DIY Pallet Planters
DIY Pallet Planters are a great way to fill space without much expense. There are many ideas that you can create with this, and also, it is very easy to do. You can always change the planter according to your needs. You can get these planters at a local craft store for a low price, or if you have extra pallets, you can use them and make them beautiful in no time. They are an innovative but efficient way of decorating your walls and balconies. The best part about planters is that you can now create these for your home without paying for tons of planters. They make for a beautiful conversation piece and will adorn your home with a fresh look.
DIY Modern Planter Box
If you love plants but find that your color palette is limited to the green ones, this is a project for you. It's a DIY modern planter box that is easy to make and allows for an unlimited variety of colors. Follow the instructions, and you'll save some money and end up with a nice touch of color on your patio or garden. It is modern in shape, color, and design. It's just a basic rectangular planter with a small bench to rest your feet while planting, reading, or enjoying the view.
Oregon Planter Box
A planter is a great way to enhance the look of your garden and give it an added purpose. Once enabled as a soil bed, a planter box provides an ideal display space for plants and foods. The Oregon Planter Box is an ideal addition to your home. You can enjoy the relaxation of flowers flourishing all year beautifully long or be enticed by a bountiful vegetable harvest nestled in lush soil. Including recycled materials and sourced parts to stretch your budget, the DIY Oregon Planter Box can bring color, joy, and conversation to any environment.
DIY Cedar Planter Box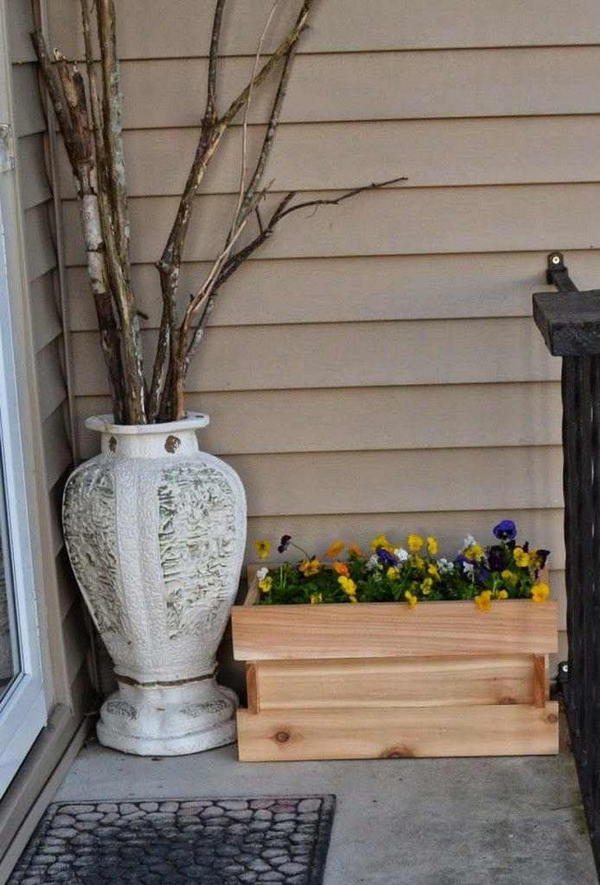 This planter box is made out of cedar, and with the right tools on your part, it will be built in just a couple of hours. It is designed to be put on a porch or a patio and will definitely add a touch of beauty to your home decor. It has recessed corners to plant flowers or any other plants of your choice easily. Overall, if you have the tools and materials, this planter box can quickly become part of your garden and patio.
DIY Planter Box With Plans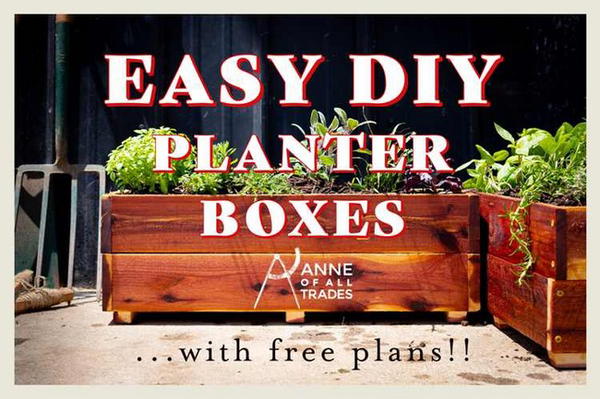 This planter is as functional as beautiful, simple, reliable, and solid. It is a perfect low-cost, and simple-to-use solution for those who want to grow vegetables yet do not have enough space for a more extensive garden or want to avoid buying vegetables from the store. The simple construction allows the user to be creative with many different materials and finishes. Make your own planter box to grow flowers and herbs at home! This tutorial will provide you with the plans & measurements to make your own DIY garden box. These planter boxes are very easy to build, and no tools are necessary.
DIY Wood Planter Box Plans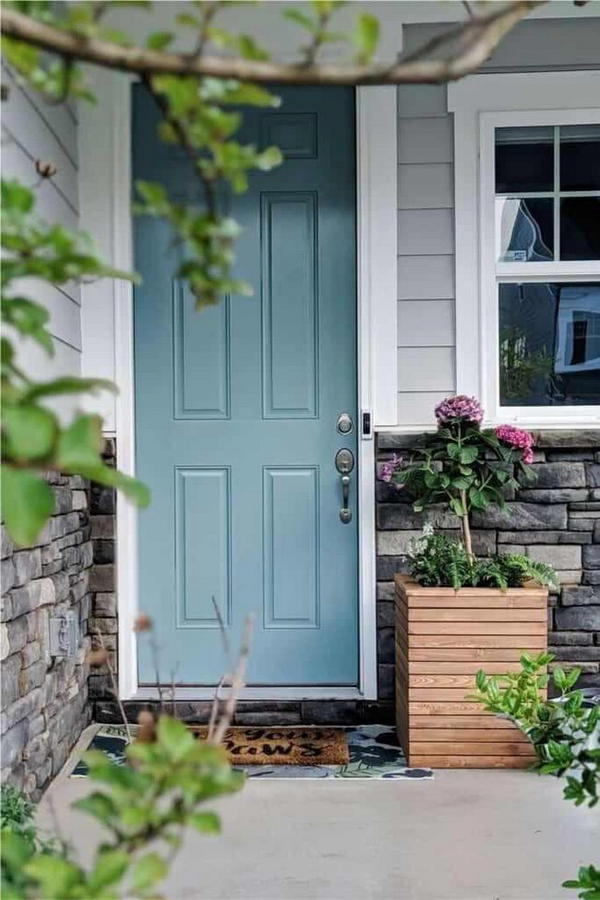 Everyone can have one of these nice wood plant boxes. It is easy to make by yourself, with standard materials and tools. This DIY planter box is the perfect opportunity to add that special touch of your own style while creating a functional piece of art. The work is engaging and interesting; what's more, it will be helpful for your plants all winter long and will gift the front porch or even the front door a new look! It will also be great for individuals and families that live in urban settings and want to add some greenery around their homes.
How To Make Modern Garden Planters
These planters are cheap to make, and you can use them just about anywhere due to their lightweight and small size. The material used is simply a wooden salad bowl that costs less than $5 and some soil. You will also need a drill, a screwdriver, and some nails. The colors used in the tutorial are primarily grey, blue, and white, but you can easily paint the planter to match your home decor. These modern gardeners are additionally clear-cut to make them appear great in any room of your house, no matter what the room is used for and how big the space is.
How To Make A Brick Raised Garden Planter
Have you ever felt the desire to put your gardening skills into practice but didn't have enough space to grow plants? Growing food in small spaces is a growing trend among the new age gardeners, who love to cook and eat healthily but don't have much space at home. This brick-raised planter will help you if you are starting out in gardening using small spaces. Growing your own kitchen garden is good if you like using herbs in your food preparation. Having a herb accessible in the house gives added flavor to the food you cook.
DIY Planter Box
Creating a backyard haven has never been so easy. This decorative and functional raised bed planter box serves as a great platform to garden and help your plants thrive. Only invest in high-quality materials because you need this to last for generations. Make your space extra special. This DIY planter box will leave your space looking completely unique, and you don't need any tools or woodworking skills. All you need are some supplies, a cactus, and some plants!
DIY Mario Planter Box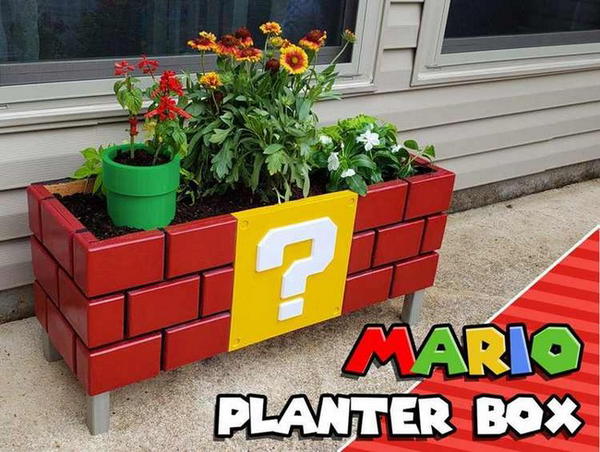 You have your DIY Mario planter box. Now what? The only thing left is to fill it with soil and plant a flower or two. Then place the planter in a sunny spot. This super-easy project can be a beautiful and charming addition to your entryway, patio, front porch, or any other place around your home. It can make you receive many compliments when people visit your house. They are very versatile, and you can use them interchangeably. They are great to decorate your home's exterior and your patio, decorate, and double as pretty planters for your favorite fragrant flowers.
DIY Vertical Planter Box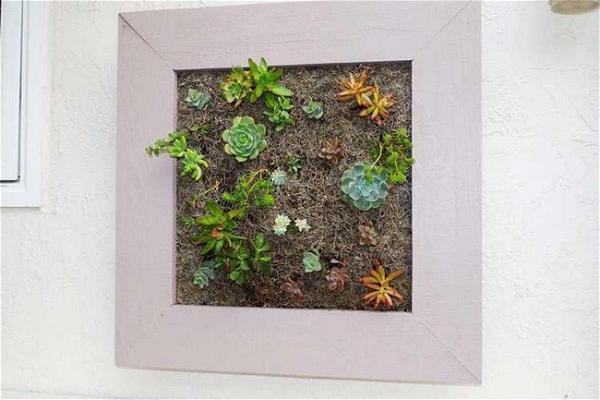 Don't have a green thumb or looking for some decor ideas? The DIY vertical planter box is for you! It is a picture frame type planter box that uses vertical space to create little colorful succulent gardens. Anyone can make this planter - even non-DIY people- because no painting is required. Additionally, this planter doesn't require you to use potting soil every time you water it. You can also use a bottle spray and clean the dirt off after each watering cycle.