If you have a large window and want it to stand out, then use these DIY window box planters to transform that space with some greenery. It's completely customizable in length and width, making it perfect for any home or building. You might also like this window box, too. You can find the free 17 DIY window box plans here. It will add a great rustic look that will add lots of charm to your home. Window boxes make flowers accessible to people who don't have the time or energy to maintain a garden. It is a small box that is attached to the window or wall, and it is used to plant flowers and any other plants. You can find window boxes everywhere in many places like offices and homes.

There are many advantages of window boxes. They help you save space, they look great, and they can create a beautiful view. Window box planters are easy to install, and you can use them to decorate your home. If you want something that will beautify your home without too much stress, why not try making a window box? You do not need to be an expert at woodworking for you to make a window box for your home. These 17 DIY window box plans should get you started on how to go about making yours.
Materials
1-quart primer
Cedar boards
Wood glue
Caulk
Wood filler
Paint roller and pan
Tools
Hammer or nail gun
Tape measure
Drill bits
Sandpaper
Level
Miter saw
Jigsaw (for corbels)
Table saw (optional)
Electric drill
How To Build A Window Box Planter In 5 Steps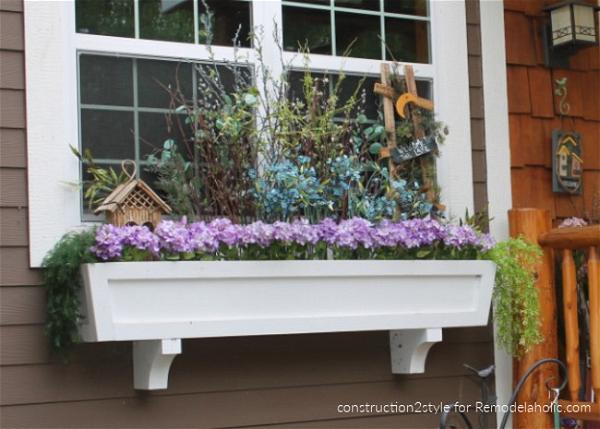 If you're looking for a way to add more curb appeal, window boxes are a great start. And if you have a home with windows that have been boarded up by the previous owner, bring them back to life again with new windows and some window boxes.
Window box planters provide a unique perspective to your home, adding colors and textures and something you can change with the seasons. Don't ever leave your window boxes empty. You can plant flowers or other types of plants depending on what works best with your home design style. Before you attach anything to the exterior of your house, make sure the window box planter will fit properly on the window, without obstructing the view or causing any damage. If your windows are flush with the siding of your house, measure accordingly so that the planter doesn't hang too far out and obstruct other parts of your home.
Skill level: Unique
How to Build a Window Planter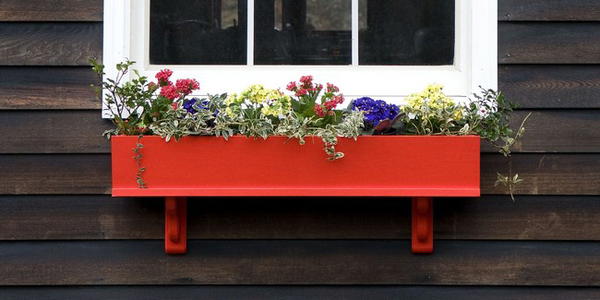 A window planter can be an attractive way to add color and privacy to your windows. It's also a great way to display plants, which are often expensive. And best of all, they're easy to make. While you can buy ready-made planters or buy them at home centres, it's easy to build your own.
The most important thing to know about window planters is that they need to be simple and easy to build. Instead, concentrate on creating a model that is as good or better than you can do yourself, which will give you the confidence to take on any real project later on.
Skill level: Attractive
The $20 Window Planter Box
While window boxes may be mostly decorative, they're a wonderful way to add a splash of greenery to indoor landscapes. They're also a simple way to create a little peaceful oasis in a busy space. Window boxes are perfect for growing herbs, houseplants, and other tender plants that can't tolerate direct sunlight. For example, if you have a balcony or patio and don't have the room for a large garden, window boxes are just right. When you buy a window box, consider the size of your windows. If they're too small to accommodate a box that's bigger than a standard size, you'll have to get creative with your design. Window boxes come in all shapes and sizes, but one of the most popular is the $20 planter box. It's incredibly easy to make and requires very little time and effort.
Skill level: Advanced
How To Make A Window Box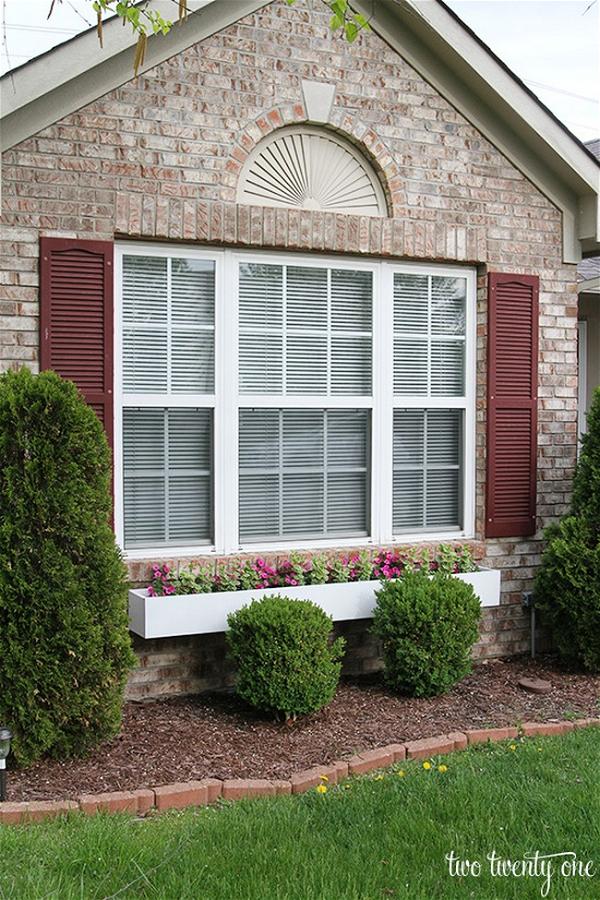 Window boxes make beautiful additions to any home. They can be used in a kitchen garden to grow fresh herbs and spices. As decoration, they can add vibrant colors to your home. We put them outside our bedroom window, so as soon as we wake up, we see seasonal blooms. To get started, you need to decide what material you are going to use for your window box. You can either buy a premade window box or make one yourself.
Wood is the most common material used for making window boxes because it is durable and rot-resistant. Cedar is the best choice for wood because it holds up to moisture very well.
Skill level: Ideal
How To Make A Window Box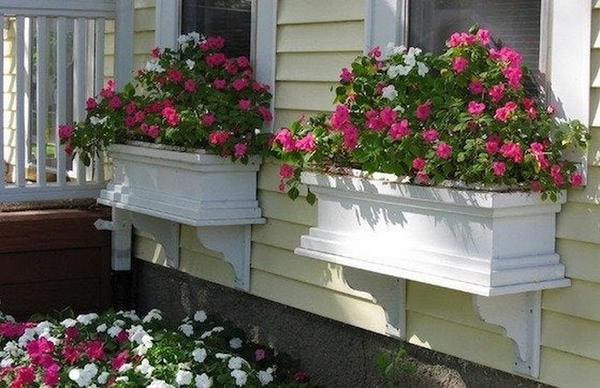 One of the biggest benefits of a window box is that it can be placed in an area that gets sunlight and has easy access to water. And, you don't even have to be a green thumb to grow beautiful flowers. Simply choose your favorite plants and go. A window box can add enormous curb appeal to a house and provide a garden opportunity for even city dwellers. And, they are easy to make. There are several options when choosing wood for your window box. Cedar is the most popular because it's naturally resistant to rot, decay, and bugs and is widely available. If you prefer the look of painted wood or don't have the budget for cedar, pine or poplar are good alternatives and can be stained to enhance the wood's grain.
Just follow this simple summer DIY tutorial to deck your sills with beautiful summer blooms this weekend.
Skill level: Moderate
DIY Window Box Planters On The Budget In 5 Easy Steps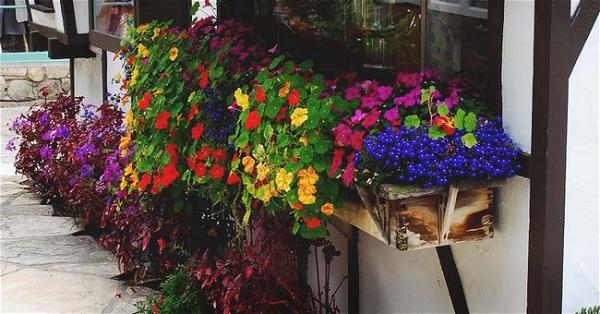 Window boxes are a great way to add décor and curb appeal to your home without a lot of expense. If you're handy, making your own will save even more money. However, purchasing window boxes can get expensive. You can put window boxes on the front of your home and also on the chicken coop if you don't have a budget you can build your own window boxes. This project requires just a few tools and materials, which you can find at any home improvement store.
In this article, you know how to make your own window boxes on a budget. It's so easy and is a great DIY project for anyone that wants to add some curb appeal to their home using flowers, herbs, or houseplants.
Skill level: Unique
Step By Step Guide To Planting A Window Box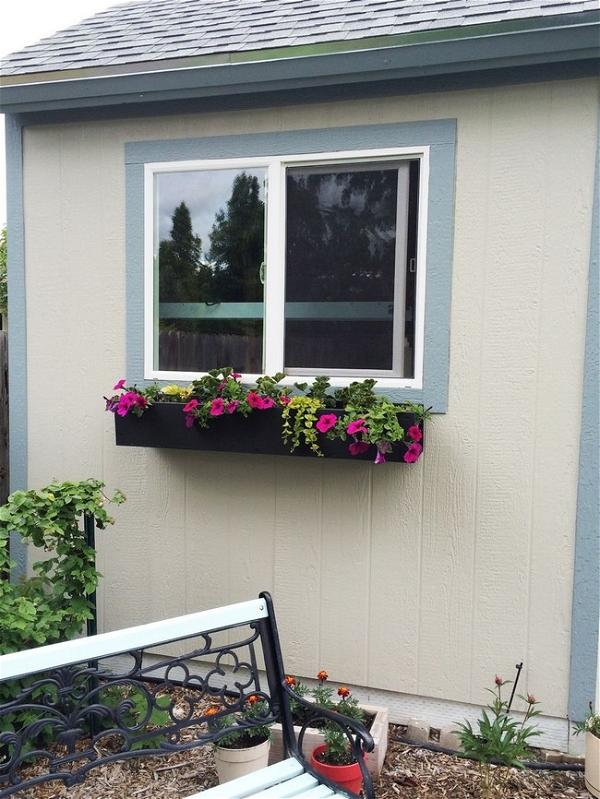 The flowers and other plants in containers are chosen for their blooms, but that doesn't mean you can't have a container of foliage plants. For example, you could use variegated ivy or hostas in your window box.
The key to success for most flowering container gardens is choosing plants that all have similar light and soil requirements so they'll all thrive in your beautiful window box planters together. Window boxes add so much charm and character to the exterior of your home. They are also a way to express your creativity and bring a little of the outdoors in. And if you love gardening, they are a great opportunity to get your hands dirty and learn more about what plants and flowers work best in container gardens. If you're wondering what type of soil blend to use in your window box planters, take a look at this tutorial:
Skill level: Simple
DIY Cedar Window Boxes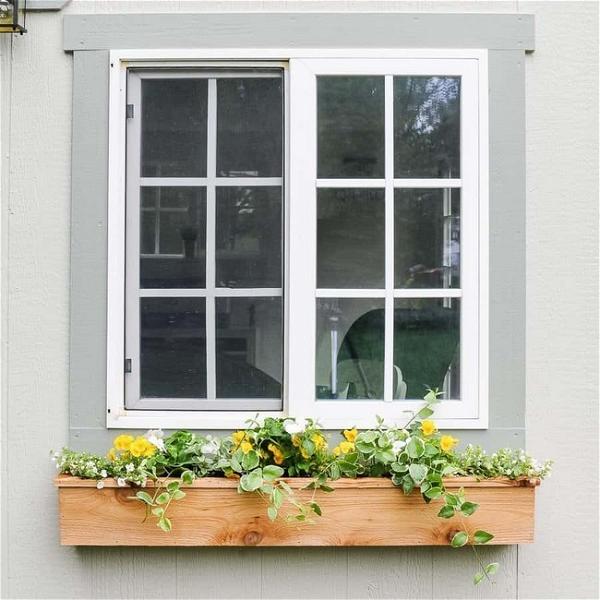 These DIY cedar window boxes are so simple to put together and they make such a huge difference in the curb appeal of your home! Plus they're really inexpensive to make. If you like them, you might also want to check out these modern cedar planters we made. The great thing about this easy woodworking project is that the dimensions can easily be scaled up or down depending on how many windows you want to put them on. You could also use them as planters! Or even use them inside your home as bookshelves if you want to keep the water out.
Skill level: Ideal
How to Build a Window Box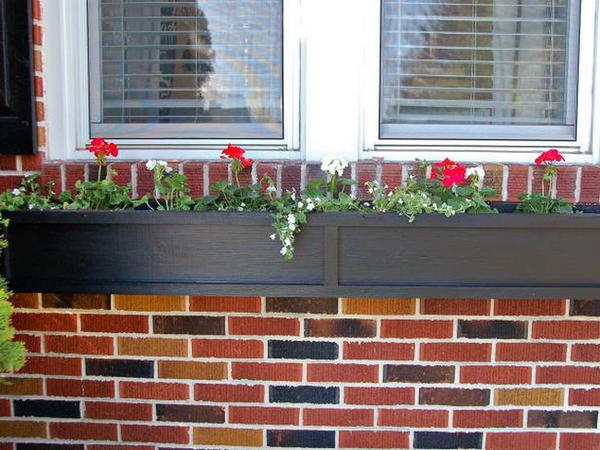 A window box bursting with blossoms will brighten any window, from inside or out. If you buy a container that fits the dimensions of your window, you can install it easily in less than a day. You can purchase ready-made window boxes, but they are expensive and the selection may be limited. Building your own is easy and inexpensive. The project requires only basic carpentry skills and readily available materials.
This project works best for windows that have a wooden sill on which to mount the box. If your windowsill is brick or stone, consider using custom brackets designed for brick applications.
Skill level: Moderate
How to Build a Window Box
There's nothing quite as charming as a row of window boxes spilling blooms on a storefront or lining a street-side railing. Whether your house is brand new old, adding window boxes to your exterior can bring instant curb appeal and add charm to any home. This project is easy on the wallet — it uses inexpensive cedar fence pickets and basic woodworking tools.
If you're thinking about installing window boxes in your house, there are a few things you need to know first. The most important thing is what size window box should you get? The answer will depend on the type of house you have and the size of your windows.
Skill level: Attractive
DIY  Easy Window Boxes

Window boxes are one of my favorite things about spring and summer. They are a great way to add color and beauty to your home. Window boxes are a great way to add colour to your curb appeal. But simple wooden boxes can get pricey in a hurry, and cheap ones can fall apart if you don't maintain them regularly. Start by choosing the wood that you want to use. The box is built from two pieces of wood, a front and back piece. The front piece should be slightly wider than the back piece so that it can hang over the back piece. Cut both pieces of wood to fit the size of your window box. This tutorial shows you how to make window boxes for your home. This is a great idea for planting flowers or vegetables around the house.
Skill level: Simple
How To Build A Flower Box Planter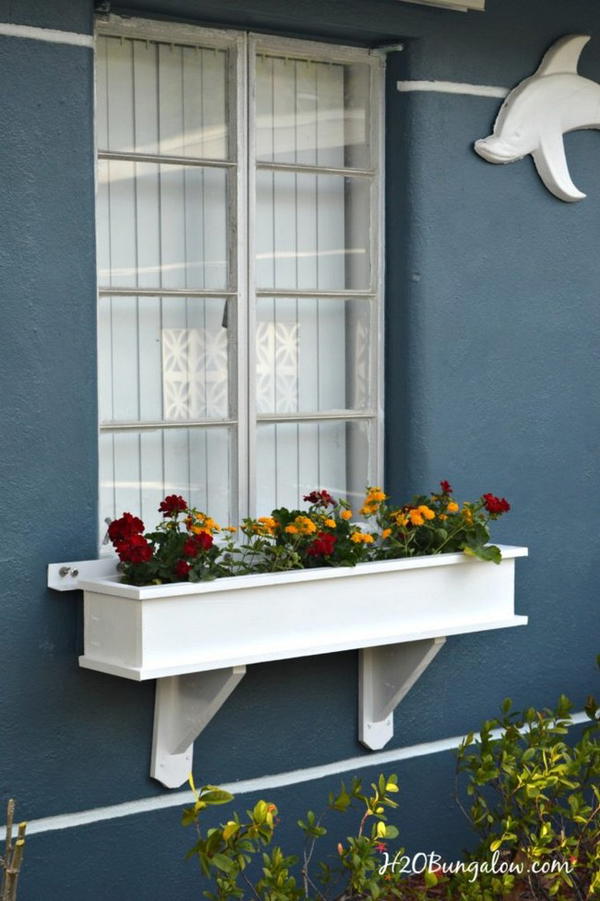 If you have a little bit of a green thumb and you want to show it off, why not try making a flower box planter? They're super easy to make and can be built in just a couple of hours. You don't need any fancy tools either, just some basic carpentry tools like a hammer, saw, screws, etc.
Once you've decided where you want to put your flower box planter, you'll need to cut the lumber down to size. You can make yours bigger or smaller by changing the measurements if you want. This flower box planter is so easy to make, and is the perfect beginner woodworking project! If you like to DIY, this woodworking project is for you!
Skill level: Beginner
DIY Window Flower Boxes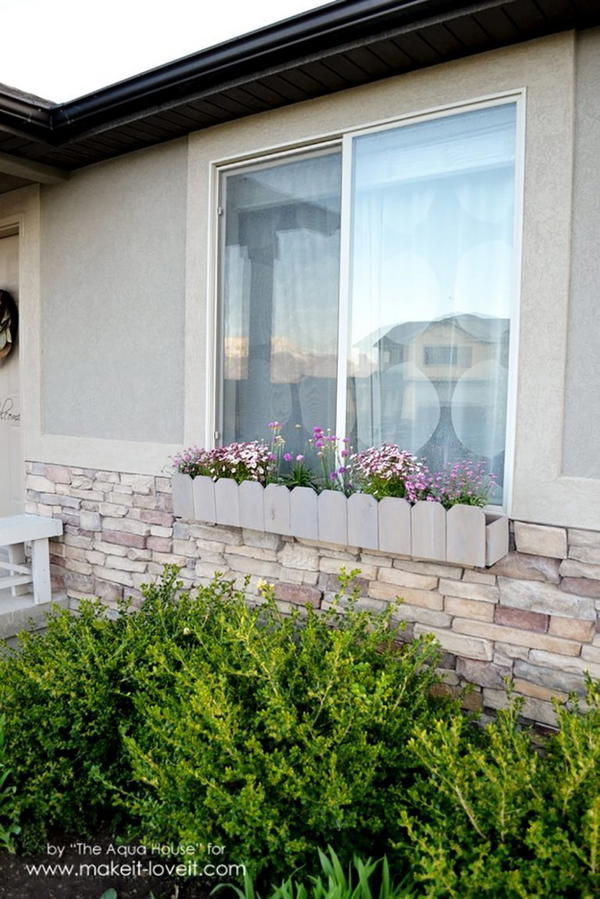 Window boxes can make your home look inviting and add a personal touch. For anyone who loves flowers, window boxes are a great way to add life to the outside of your home. They bring color and texture to the curb appeal of any house. The good news is, you can easily install them yourself and enjoy your own window boxes this summer. Run to the garden center for some easy-care annuals and DIY the rest with a few cedar boards. You'll have gorgeous window boxes that'll last for years with just a little bit of water and sunshine! When it comes to curb appeal, nothing beats a window box spilling blooms and foliage. But even if you don't have a green thumb, you can create a lush window box.
Skill level: Attractive
Dresser Drawer Window Boxes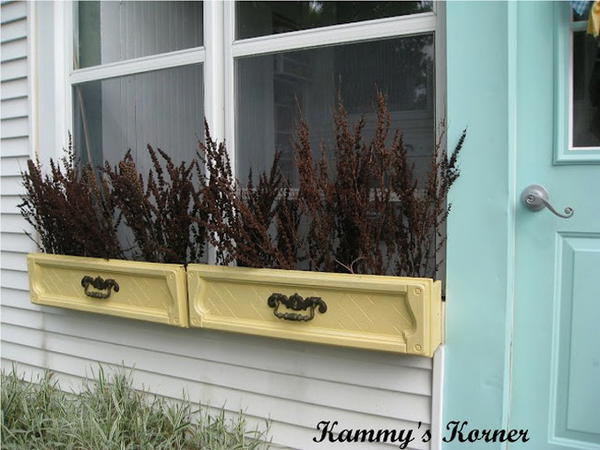 Wooden window boxes are an attractive way to grow plants and flowers. They can be designed to match or contrast with the decor of a home or building, making them a wonderful addition to any outdoor space. Wooden window boxes are an attractive way to grow plants and flowers. They can be designed to match or contrast with the decor of a home or building, making them a wonderful addition to any outdoor space.
These wooden window boxes can be made in a variety of lengths and heights to accommodate the size of your windows and the plants you want to use. They can be as simple or as decorative as you like, and best of all, they are easy to build.
Skill level: Attractive
How To Build Easy Wooden Window Boxes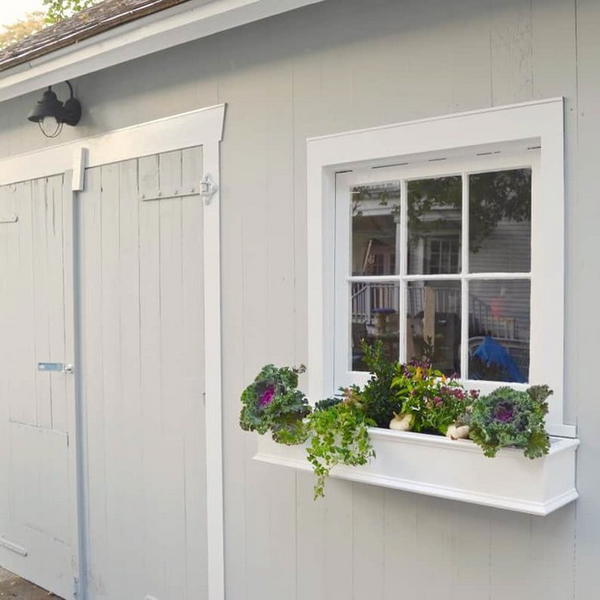 This is a great project for the beginning woodworker. It's inexpensive, simple to make and you can use scraps of wood that you might otherwise throw away or burn. You can make these window boxes in a few hours with basic tools and scrap pieces of lumber. They are the perfect size for herbs, flowers, or other small plants and they look great on the windowsill or hanging below a window. Building a wooden window box for flowers is a fun project for beginning woodworkers, but more advanced carpenters can make custom flower boxes that suit their home's style. Using basic carpentry techniques and your choice of woods, you can build a custom window box in an afternoon.
Skill level: Beginner
DIY Window Boxes And Planters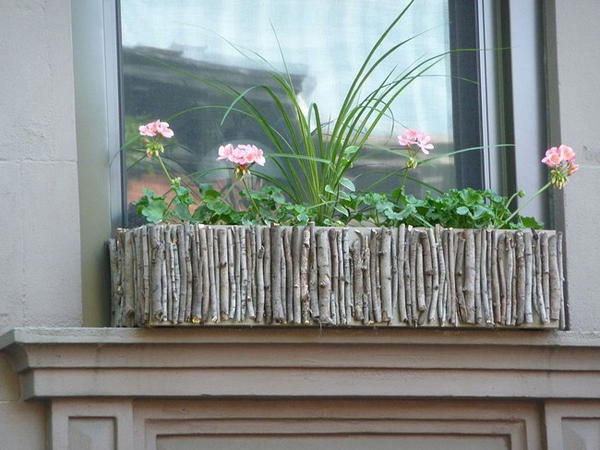 If you love the look of flowers blooming from your window boxes or the colour of a bountiful harvest spilling from your window sill planters, then you will love today's DIY projects. You can make your own window boxes or planters. You can find these materials at your local hardware store, some may even be laying around your house. Window box planters are one of the best ways to perk up a drab facade. You can find charming window boxes for sale ranging from wooden boxes to wrought iron cages, but you can also make your own DIY window boxes at home, saving a bundle and creating something that's all your own.
Skill level: Simple
DIY Cedar Window Planter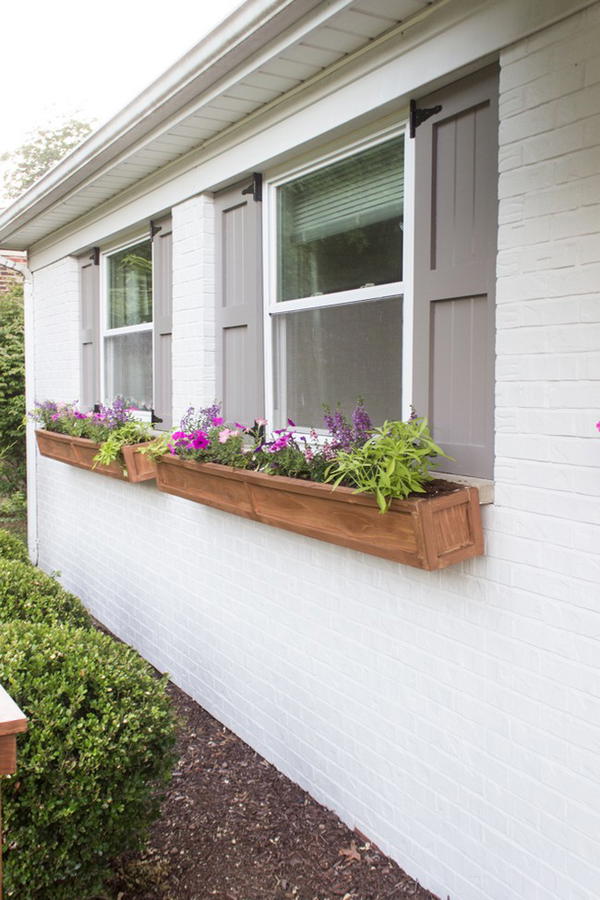 Window planters are a great way to bring colour and life to your porch, especially during the winter months when everything outside is dead and dreary. But rather than buying a window box at the store. This DIY wooden window box can be built in less than an hour with minimal effort and minimal tools. The best part is that the lack of skill required means that anyone from the most novice woodworker to the most experienced woodworker can build this project with ease! Keep in mind that this is just one possible design for a window planter. If you like the design, feel free to use it as-is, or make changes to fit your style.
Skill level: Moderate
Conclusion:
Window boxes are an inexpensive way to add life and personality to your windows. There are tons of options available, but they can be pretty expensive. If you want something unique, or just want to save a little money, making your own is a great idea! It is easy to build your own window box as you can use a lot of recycled things to do it. All you need is some wood, a drill, and some screws. This one has a lovely rustic finish to it that makes it look like an antique and you can build one just like this in just one day.