An easel is a simple stand designed to hold your canvas while you paint. While you can buy an easel at any art supply store, they can be quite costly and often difficult to transport. However, building your easel is ideal for saving money while getting exactly what you want if you have the resources. It allows you to work in a restful position that keeps your back straight and lets you see your work from a distance. Try one or more of these 15 DIY Easel Projects, from basic steps to selecting a painting surface to create a picture ledge to showcase your masterpieces.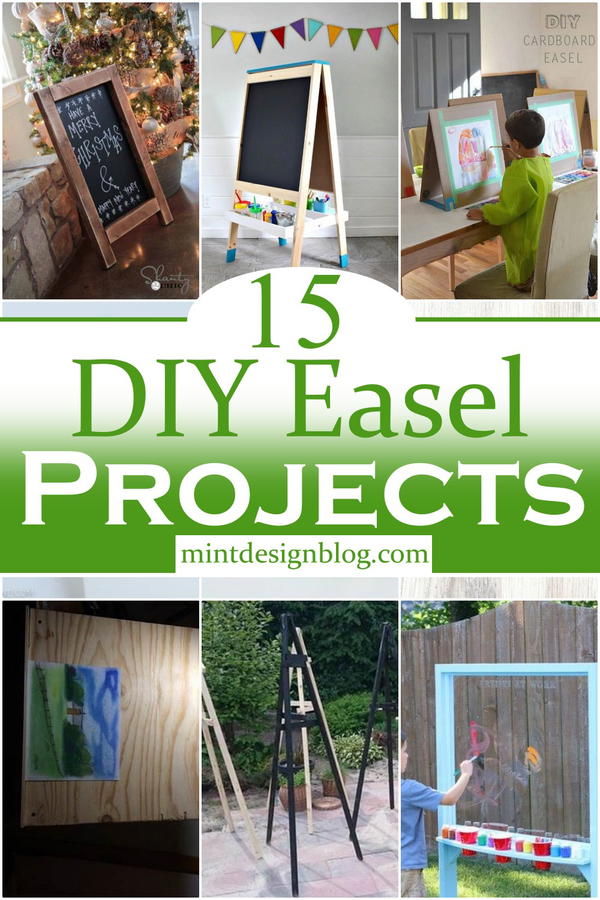 The vital thing to remember when designing your easel is that it needs to be sturdy enough to hold whatever canvas you plan on using. The weight of the canvas will determine how heavy duty the frame needs to be, which will, in turn, impact how much wood you'll need. It's also a good idea to design your easel with wheels so that it's easy to move around your workspace. You know how valuable an easel can be if you're an artist. The following are 15 DIY easel projects to help you see this handy tool in a new light. If you're doubtful of where to start, consider looking at designs for other easels or even photographing some from a store or gallery so that you can use them as guidelines for your project.
This collection of projects includes 15 DIY easels that are both free-standing and mounted on the wall, so there's bound to be something perfect for you!
DIY Easel Projects
Features:
There are several DIY easel projects that homeowners can create in their own homes.
DIY easel projects offer budget-friendly ideas and add a personal touch to any home.
Advantages:
It could be the perfect addition to your workspace or living space.
DIY Easel Projects is a fun weekend project that adds functionality and style to any room.
The cost of the wood needed to make these easels is less than $20. As long as you have access to a table saw, power drill, hammer and some basic hand tools, then you are ready to create your own version of these DIY Easel Projects.
Benefits:
You'll have a great time creating this fantastic piece of art with family and friends. You'll have a great time creating one of these lovely and straightforward DIY easel projects.
Create an indoor or outdoor displayable art piece featuring your child's artwork, family photos or a special message of your choice.
Tips To DIY Easel Projects
You've come to the right place if you plan to make a DIY easel project and don't know where to start. We collected some simple tips and hacked to help you get started.
Tip 1: Make sure you have enough time and your tools are ready.
Tip 2: Make sure that all of your materials are within reach when you are ready to start.
DIY easels can be made from scrap wood or cardboard. You can use any size or shape of wood or cardboard that suits your needs. Here's an example of how to make one out of scrap wood:
Cut two pieces of the same size with a table saw. The first piece should be slightly larger than the second piece so there's room for holes in between them later on.
Use a drill bit to drill holes for screws through both pieces at each end of the board (one hole per side).
Screw together using long screws from the bottom until they meet in the middle.
Portable Painting Easel DIY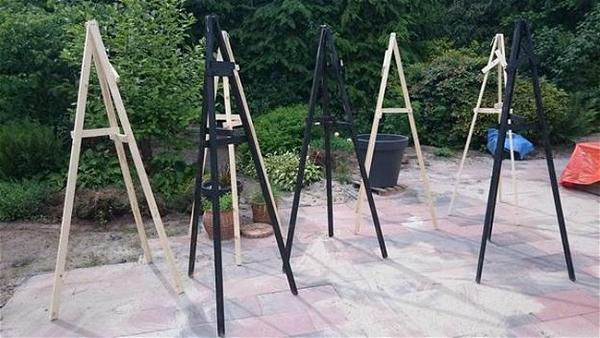 Learn how to make this wooden easel for your artworks or painting projects in just a few minutes with this simple step-by-step tutorial. Making an easel is an easy project that can help you learn some basic woodworking skills. Wood doesn't cost much and can be bought in any hardware or home improvement store. The best wooden material for this project is softwood with straight edges, such as pine.
Kids Outdoor Acrylic Easel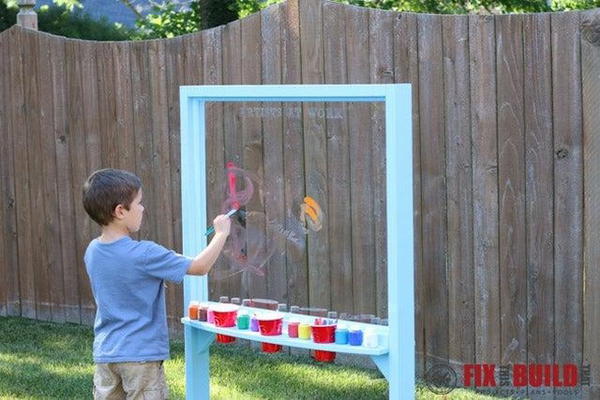 Make art outside! The Little Partners Outdoor Acrylic Easel lets toddlers and younger kids paint, chalk, or draw while exposed to the great outdoors' sights, sounds, and smells. This easel includes trays for paint or chalk and a large paper clip. Made from solid wood with weather-resistant acrylic. This "DIY" easel design is built to withstand messy toddler projects; weather-resistant acrylic prevents warping in wet and rainy conditions. All paints must be water-based for this easel.
DIY Kids Art Easel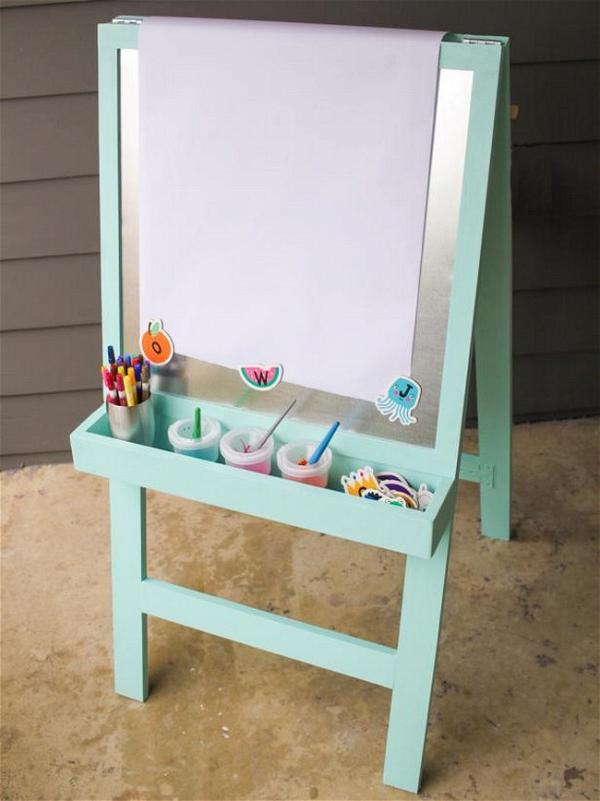 Being a parent is tough. You not only have to keep your kids safe, but you have to try and keep them happy. This DIY kid's art easel gets that done on both accounts. The idea is practical and easy to implement, even if you are far from an expert woodworker. The easel is sturdy, and the large workstation makes it perfect for painting or drawing something creative. This easy-to-make, cheaper-than-store-bought easel will give your child a place to draw, paint, and create masterpieces. Set up this DIY easel in your home—or even outside if you want—and watch as your little Picasso produces their next masterpiece.
DIY Easel Stand Cardboard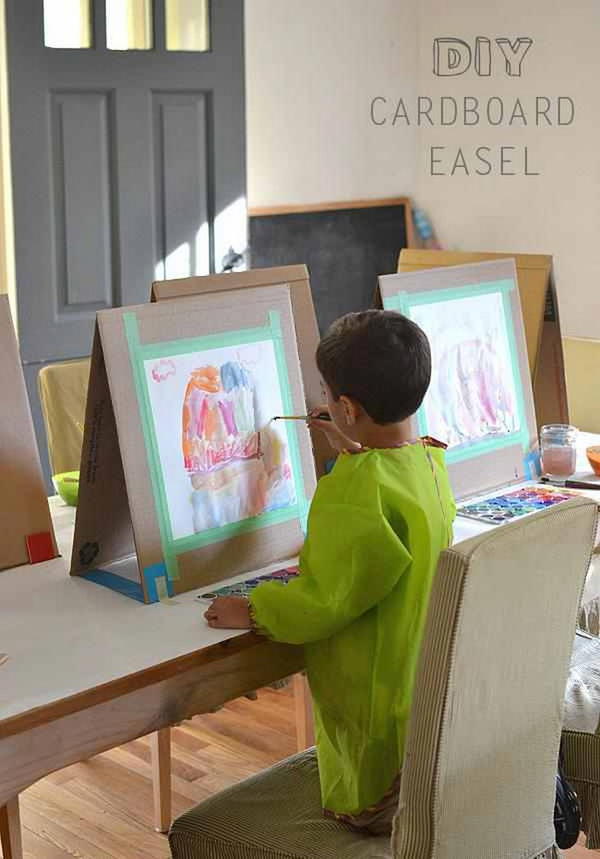 Cardboard is a fun material to work with for making an easel for kids! In this tutorial, you will learn how to make a stylish and straightforward DIY easel that can be customized to fit the kids' ages and interests. This project requires only cardboard, glue, and a few other inexpensive supplies available at your local arts and crafts store. Once assembled, the double-sided wooden dowel rod forms the perfect tabletop stand. Your kids will love this as they can watch their drawings or pictures with the help of it.
 DIY Easel Tabletop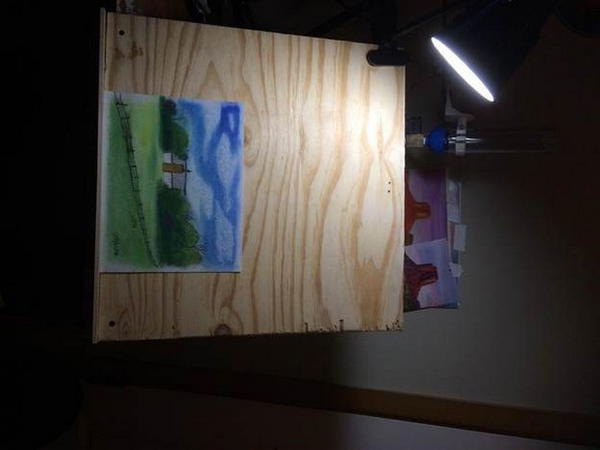 Looking for a fun and exciting project that won't cost you much? This DIY tabletop easel is cheap, simple to make and looks gorgeous! Perfect for your kid's bedroom or the playroom. This guide can be used to build a hardwood easel for children. It is designed for kids and can be placed on tables or desks. This particleboard tabletop is sturdy enough to support the weight of a kid drawing. Its hinged back and pencil ledge makes this portable art table more functional.
DIY Easel For Kids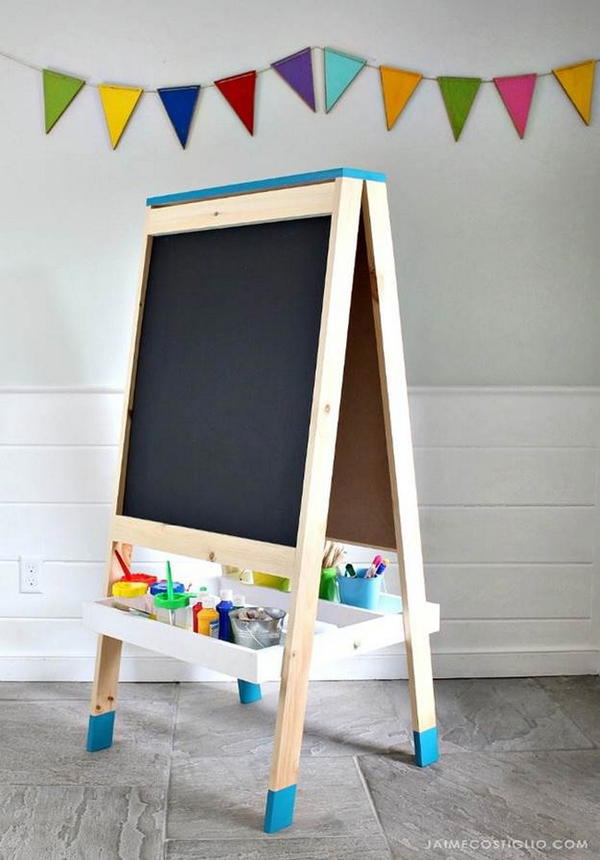 This DIY painting and drawing easel is an ideal solution for kids who are ready to unleash their inner Picasso – it's an excellent tool for honing motor skills, encouraging creativity and nurturing confidence. It is ideal for kids and adults alike. It comes with two surfaces, keeping the need to switch back and forth during painting out of the picture. With compartments for paintbrushes, pencils and more, this is sure to reduce the mess in your art room and increase efficiency in your child's painting process. It is big enough for both to draw or paint at once since it has two sides. There are places for keeping their materials, so you won't have to clean up a mess after they've finished painting.
How To Make An Easel From Recycled Cardboard
If you want an excellent art easel that stands out, doesn't cost too much and is environmentally friendly, look no further than this video. It will show you how to make one very quickly by repurposing cardboard or a box that has already been used. Made from recycled cardboard, this project is a great way to make a helping hand for your kids to improve their artistic abilities. An easy project idea for parents or grandparents who love arts and crafts. All that's required are the free template from the video description, a cardboard box, cutting tools and some glue — great fun for kids!
DIY Drawing Board
If you love Do It Yourself projects, this is the dream board you have been waiting for. With a bit of woodworking knowledge, it is possible to develop this unique drawing board. It is quite easy once you get it right since the process is less complicated and pretty straightforward. It's great for kids to draw a picture wherever they like. And when the kids are done with their work, they can compact it into a book and put it away in their backpacks.
Chalkboard DIY Easel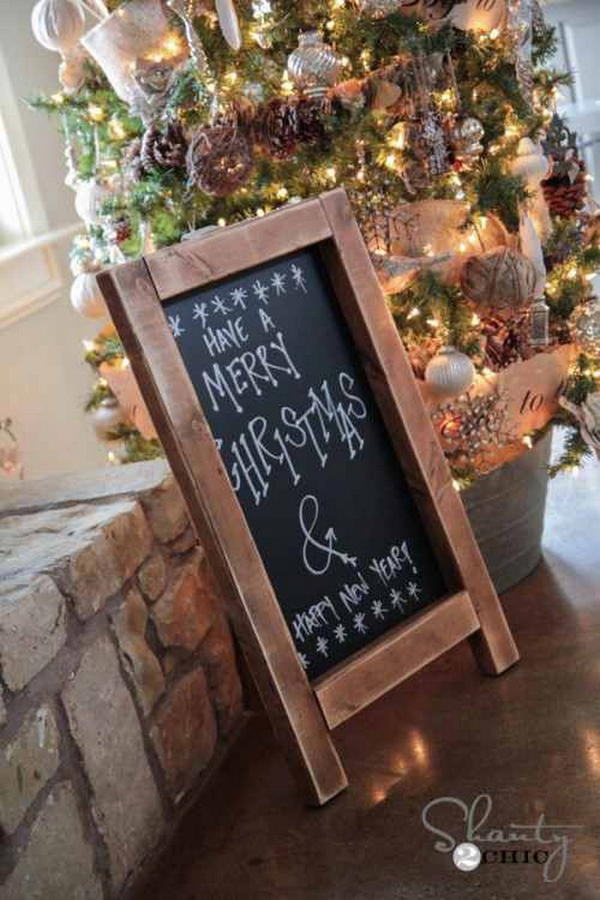 Creating a chalkboard DIY easel will allow you to turn an old piece of wood into a beautiful and fun masterpiece for your kitchen. Chalkboard paint is bright and appealing, thus making it perfect for a kitchen surface. The best part? You can customize this project! Use any paint you want, depending on the colour that inspires you. Use it to jot down reminders and notes, and decorate it with colourful markers. This DIY project is fun to make, functional and inexpensive - what else could you possibly need?
Wood Art Easel DIY
A wood art easel is a must-have for teachers, artists, and other creative people. It enables you to put your artwork on display without buying expensive pre-made ones. This is an easy project and looks fantastic. The best part is that it is made out of wood, so there is no need for any tools or paint. Just look at this beautiful art creation! This guide will tell you how to build an adjustable wooden art stand using inexpensive materials. The process is simple, and it is possible that even an amateur woodworker can build one without much hassle.
How To Make A DIY Easel
This is how to make your own simple yet functional and versatile homemade artist easel. The central easel part could be used alone as a simple table. You will love this because it doesn't take up much space. It's great for kids since you can move it if you want to paint the floor. It's adjustable, so it can be a table for sitting and painting. The entire thing is made from wood, so no worries about big expensive glues or paints going bad over time.
How To Make An Adjustable Art Easel
Do you have a youngster that loves art but isn't tall enough to draw on the table? Making an adjustable art easel is a great solution. With this simple design, children can draw on their own. This easel is perfect for classrooms, kids to use at home and hobbyists who prefer to stand while working on arts and crafts projects. Overall, it's a great DIY project that can be made with essential tools in a few hours, leaving you with a unique piece of furniture. The art easel has many uses indoors or outdoors. You can even fold this one up and store it out of sight when not in use.
DIY Easel
The Easel is easy to build, and there is no need for expensive tools. It is going to be very useful for your art hanging purposes. Its style is straightforward, and anyone can follow the explanation to make one for themselves. This DIY Easel is a creative solution for your home or studio. Suitable for painting, displaying photos, and holding magazines, it's a creative way to store your favourite items. In just two hours, you can build your own version in a simple woodworking project.
How To Build An Easel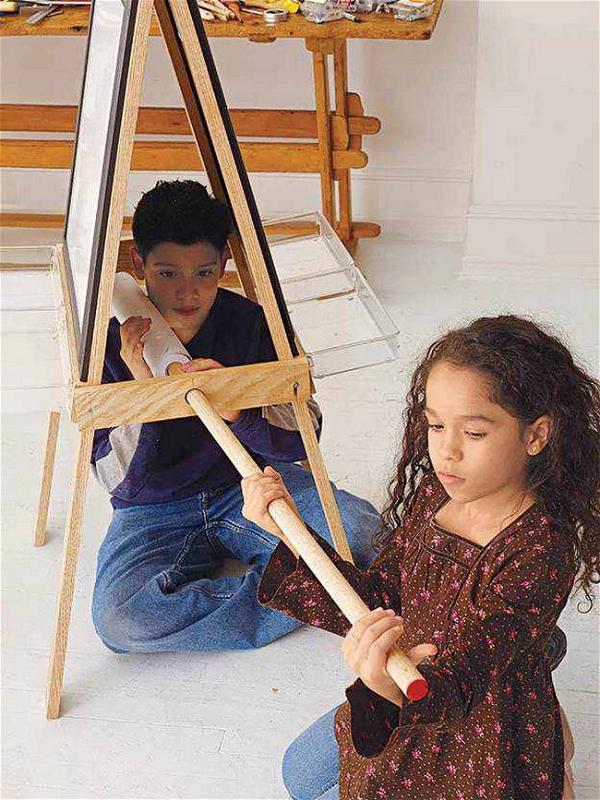 There are a lot of easels available in the market. Building easels has now become a hobby among many woodworkers and artists. The process of building an easel is almost similar to each other. It takes some time to complete this project but spending that time with your children will be priceless. The project is easy and can be completed either indoors or outdoors; it requires carpentry skills. Excellent addition to any art supply collection! The DIY easel requires building so you can enjoy creating it with your kids, and before you know it, you'll be spending quality time together as they pursue their artistic skills!
DIY Tabletop Art Easel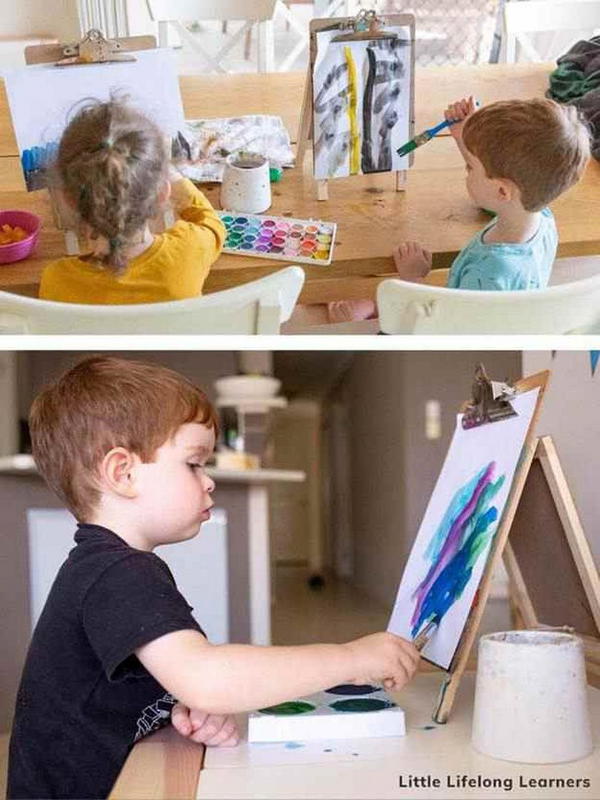 The DIY Tabletop Art Easel is a great tool to keep kids entertained and busy while they are inside. Your kids will love being able to paint, draw or be creative and have something to display their drawings or paintings in this fun-to-make art case. There are many other ways you can paint the case and once it dries, decorate this item any way your child would like! This project is an excellent idea for keeping your kids entertained for months. As you can see from the photos, even the youngest children can make beautiful art creations. An added benefit is it will force them to use their imagination and stay indoors.