A party without a display of delicious cupcakes is like a night sky without stars! Cupcakes may disappear, but a cupcake stand can stick around, adding to the charm of any celebration. So, We are here with a fantastic collection of DIY cupcake stand plans with the best guides of professionals. Whether a birthday or a simple family gathering, or a wedding, a homemade cupcake stand can add a special touch. With these simple DIY cupcake ideas, you can create one that perfectly complements your cupcakes and other decorations. Sure, you could buy a stand, but wouldn't it be more fun to build your own? That's what true baking joy is all about!
DIY Cupcake Stands

Magical DIY Cupcake Stand Plans:
Cupcake stands are a true baker's secret weapon for attracting customers and showing their star creations. With the help of affordable and adaptable DIY cupcake stands, your delightful treats can take center stage in your bakery. These stands can be customized according to your theme and made with various materials, acrylic or cardboard. All you need to do is assemble a column of dishes around a base, add some creative or playful decorations, and voila! Your cupcakes are ready and presented in a way that captures everyone's attention and wins their hearts! So, choose these DIY cake stand plans and make your cupcakes more adorable!
DIY Dollar Store Cupcake Stand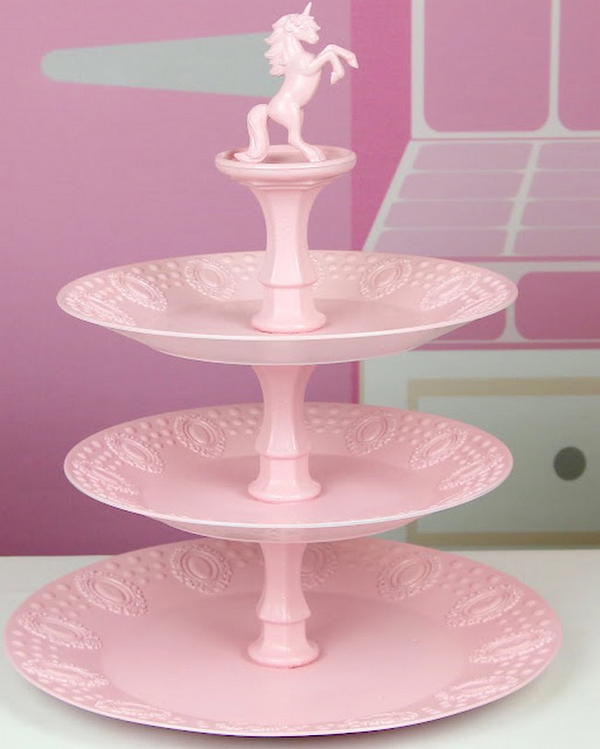 Looking for a fun and easy project that anyone can do? You always wanted to make your cupcake stand for your little princess's party, don't you? This DIY dollar store cupcake stand will do the job for you. With just a few simple steps and materials, you will have a serving stand to display your cupcakes! This DIY Dollar Store Cupcake Stand idea is super cute and only requires simple craft supplies you can find at your local dollar store.
This is a simple DIY project, making your own cupcake stand from items you probably already have around the house! This would be great at a party or at home or work. This cupcake stand is SO easy to make at home and only costs a few dollars! It's the perfect addition to any party or holiday, whether you want to show off your baking skills or need a pretty centerpiece. Make your cupcakes stand out at your next party using a DIY Dollar Store Cupcake Stand. This supplies list includes a glue gun, creative thinking, and cupcakes
Easy Cupcake Stand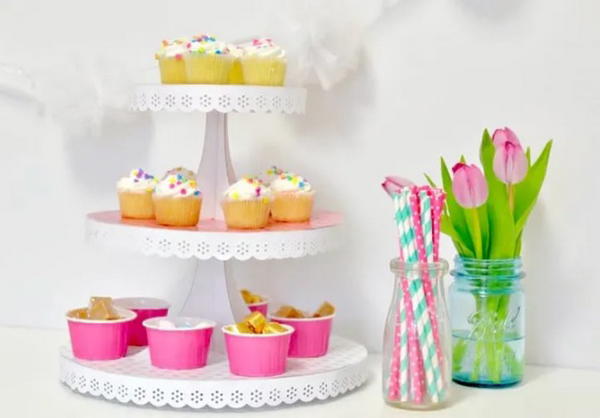 Easy Cupcake Stand makes baking your cupcakes or muffins a breeze! The stand elevates your cupcakes or muffins so they can cool properly and can also tilt slightly back and forth as needed. A generous lip catches drips from buttercream frosting, and its easy-to-clean acrylic construction means you can pop it in the dishwasher for thorough cleaning without fear of melting or warping. Cupcake Stand, a portable cupcake holder that shows off your cupcake.
The stand makes it easy to display your cupcake and for customers to eat the whole thing versus picking at it. Also great for sampling, holding petit fours, and skewers. Great for any bakery or cupcake shop looking to take their presentation game to the next level! It's elegant, easy to use, and, best of all, disposable! More than just a cupcake stand, it's perfect for spreads like Nutella and peanut butter. This classic cupcake stand will help you quickly assemble and serve delicious cupcakes for that special occasion.
DIY Cupcake Stand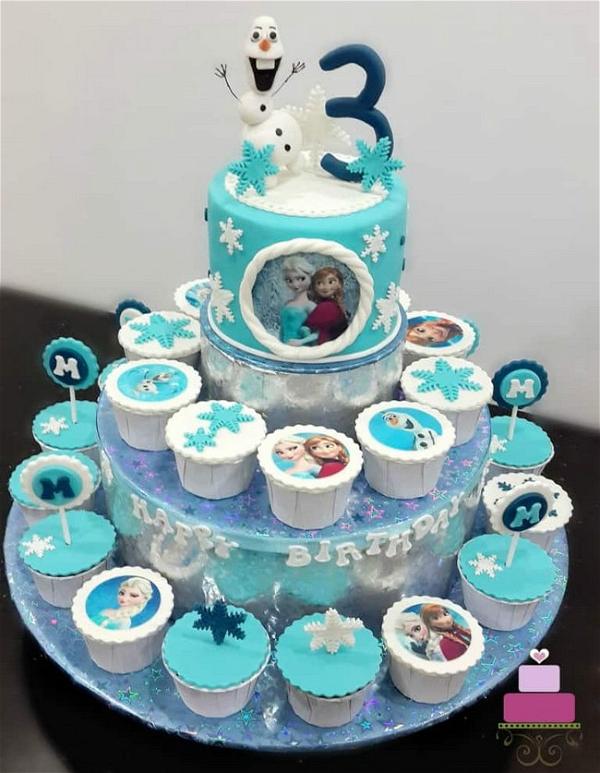 Create a customized cupcake stand on a budget! This tiered cupcake stand can be used for a combination of cake and cupcakes. It can be customized to any color or theme one likes. The perfect way to display your baked goods. The tiered cupcake stand is easily assembled and can be disassembled without tools. Great for cupcakes, cookies, muffins, pies, etc.
The cupcake stand is a tri-spanner that can be used for a combination of cupcakes and cakes. It can even be personalized to fit your wedding or party theme or simply any color you like. Make your own cupcake stand out of an old CD rack. This DIY Cupcake Stand is a great gift idea for a new bride, birthday party, baby shower, or other special occasion. Make a sweet showstopper for your party with the DIY Cupcake Stand. It collapses for easy transport and features three tiers of cupcake cuteness.
DIY Cupcake Holder Using Cardboard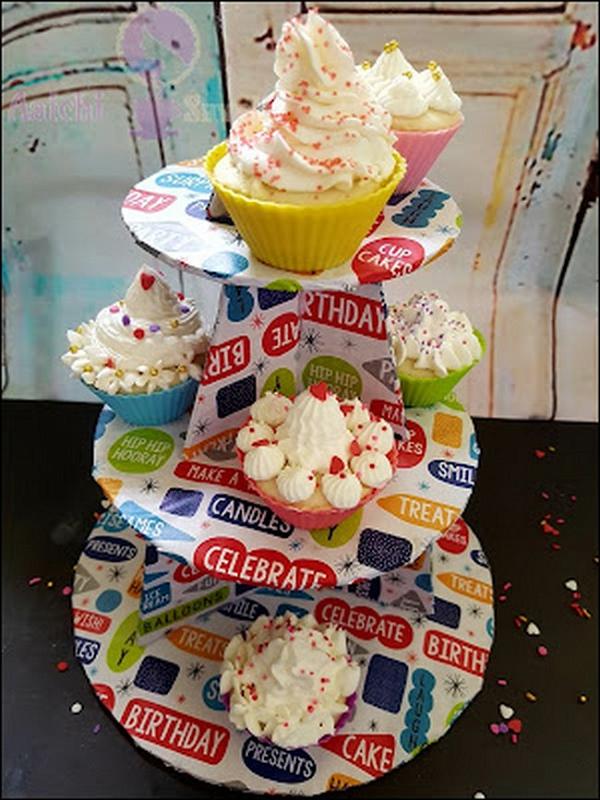 DIY Cupcake Holder Using Cardboard started out as a technique of recycling and transforming ordinary cardboard into a totally new item. It provides great usage for cardboard and practical usage for cupcakes. With such an idea, you can do something useful and environmentally friendly. Get ready to make a cute cupcake holder that is easy to make and can hold your cupcakes, muffins, and even cookies.
This DIY Cupcake Holder would be a great idea for kids' birthday parties and makes a unique gift! For birthdays, school festivals, or parties at home, cupcakes are always in demand. How about making your own cupcake holders with some cardboard? They're inexpensive and easy to make. This cupcake holder is very easy to assemble. You can make it in an hour. You will need only some simple supplies and tools for this project. This cupcake holder is made from a large paper plate, mod-podge, and scrapbook paper.
DIY Mermaid-Themed Cupcake Tower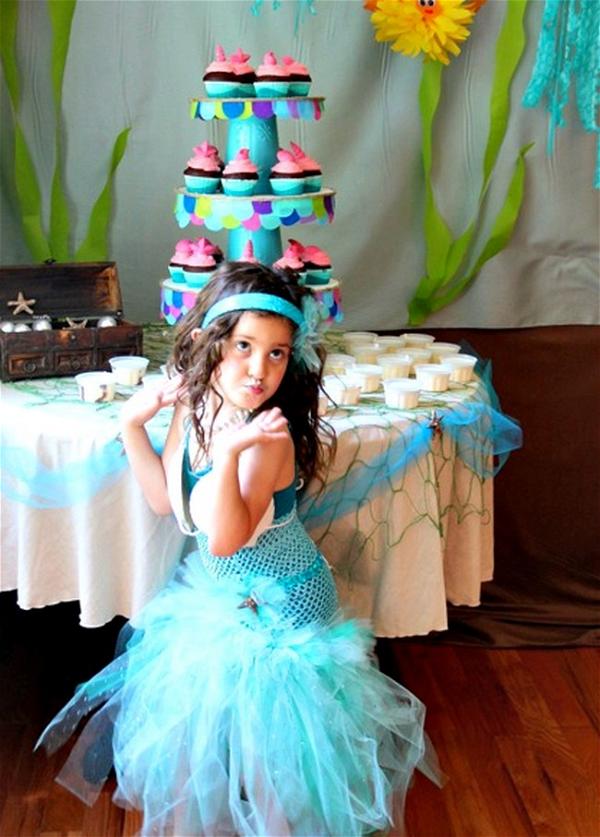 Make a splash with our DIY Mermaid-Themed Cupcake Tower at your next party! Make a splash with our DIY Mermaid Themed Cupcake Tower at your next party! Invite all your little mermaids and princesses to make and take home their cups of tea for the Tea Party of a lifetime! Fun and easy, this DIY Cupcake tower can be made from paper mache or foam board. Our sea-inspired cupcake tower makes a big splash at any party and brings out the mermaid in everyone. Including four tiers of frosted fun, this cupcake tower is the perfect place to serve treats and enjoy with friends.
This Mermaid Themed Cupcake Tower is so easy to make at home and on a budget. There's no reason to buy one from a store when you can create your own cupcake tower in just a few minutes! This easy-to-complete DIY Cupcake Tower will make your daughter's party seem fabulous without any effort at all! Mermaids are one of the most favorite characters for young girls. With the little mermaid hitting the theaters within the coming weeks, this DIY Cupcake Tower is sure to please princesses everywhere.
Mason Jar Crafts Rainbow Cupcake Stand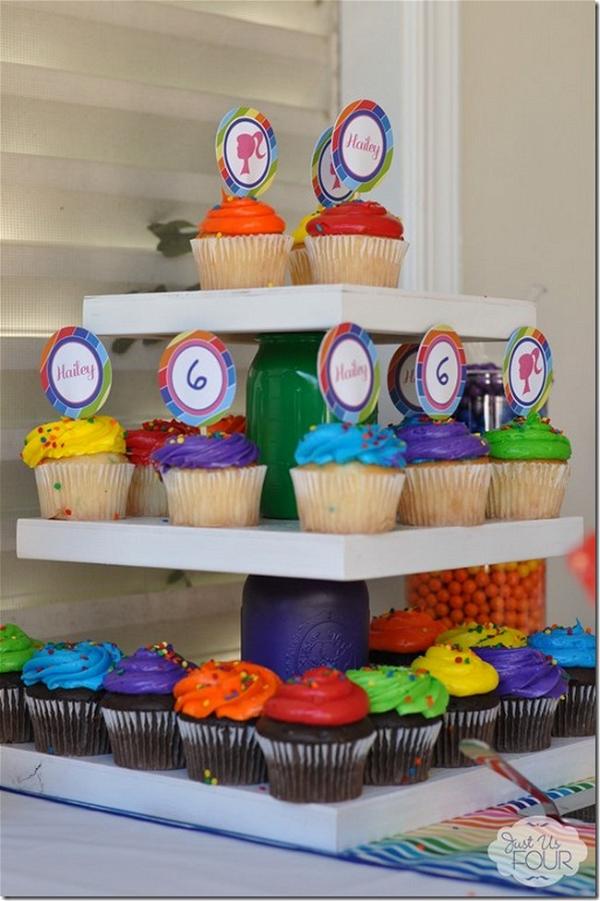 This cupcake stand is part of the Mason Jar Crafts home collection and a perfect addition to any baker's kitchen. This stand is made from durable cast iron and has two tiers for an easy miniature cupcake display. A great way to show off your delicious creations at any kitchen counter! The Mason Jar Crafts Rainbow Cupcake Stand is a lovely way to make colorful cupcakes that everyone can enjoy. This high-quality cupcake stand features several tiers of varying sizes, making it easy to stack, display, and serve many of your favorite sweet treats.
Its classic country kitchen design adds a touch of rustic charm to your home, while the sturdy base ensures that the stand won't tip over easily. The Mason Jar Crafts Rainbow Cupcake Stand is perfect for serving your guests their dessert. Have a cupcake at every rainbow color with these notes and tips on matching color combinations.
DIY Coffee Mug Cake Stand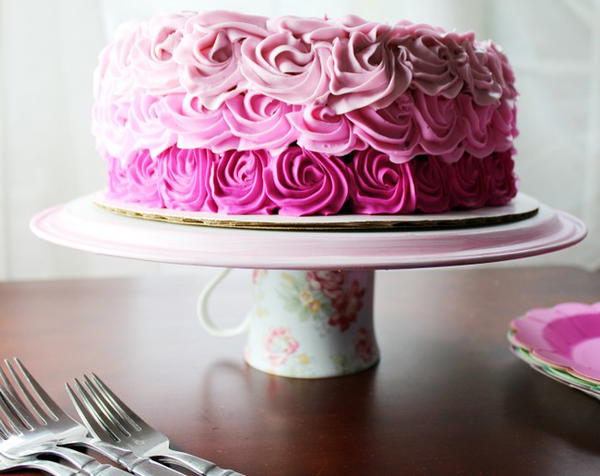 With our DIY Coffee Mug Cake Stand, you can deliciously decorate a small cake in the comfort of your own kitchen! Just place the stand in the bottom of a cup and add batter. This item offers a beautiful way to serve cakes on special occasions or as party favors. Cake stands to make for a delightful presentation. This clever stand allows you to create your own mug cake at home--just like the pros! This DIY Coffee Mug Cake Stand is a fun and unique idea for dessert. The perfect companion to your favorite coffee mug, you can enjoy an easy treat any time of day. You can top it with whipped cream, chocolate syrup, fresh fruit, or anything else you love!
Here's a quick and easy DIY project to whip up a cake stand that you can use for those desserts you eat out of cups like ice cream, soup, or this rich coffee mug cake. This DIY coffee mug stand is designed to fit into the container of a standard folding camping coffee mug. The stand itself holds a standard store-bought muffin that serves as a base. The perfect addition to your coffee mug cake next time you make it. This is also a great gift for the DIYer in your life!
Folding DIY Cupcake Stand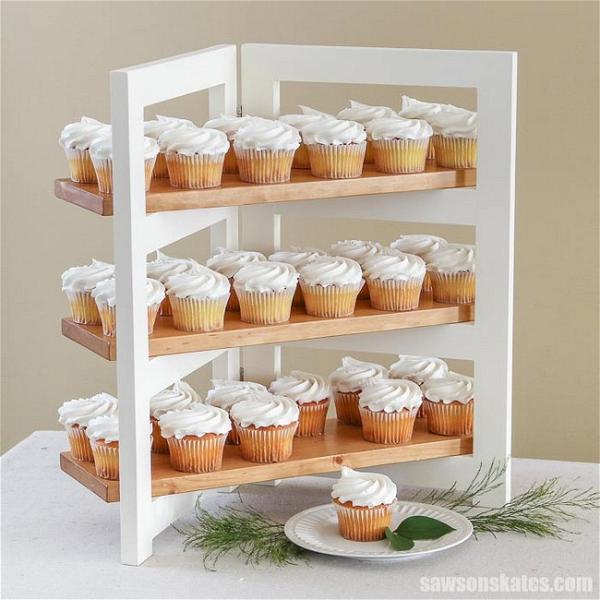 Brides, bridesmaids, and parties goers, here is a cute and handy cupcake stand that you can fold as flat as its name. Made from wood, this stand is both durable and intricately designed. It comes with a holder for tissues to keep the experience clean for you and your friends. Use this folding decorating stand as an economical alternative to a cupcake and cake display for parties, weddings, and other special events! This versatile collapsible cupcake stand comes flat for easy storage or can be assembled when needed. Easily stackable for space-saving storage, it collapses flat for convenient transport in the included carry bag.
This Cupcake Stand is a simple yet effective stand to display your cupcakes! It can also be used to display small food items such as candy or baked goods. The wobble of the stand prevents the food from touching the bottom, so it can be used with both soft and hard foods. It folds flat when not in use, and opens quickly and easily. The perfect birthday gift or housewarming gift. This cupcake stand is easy to assemble and can be used over and over again, comes in different colors, and have your special message on it.
DIY Dollar Tree Cupcake Stand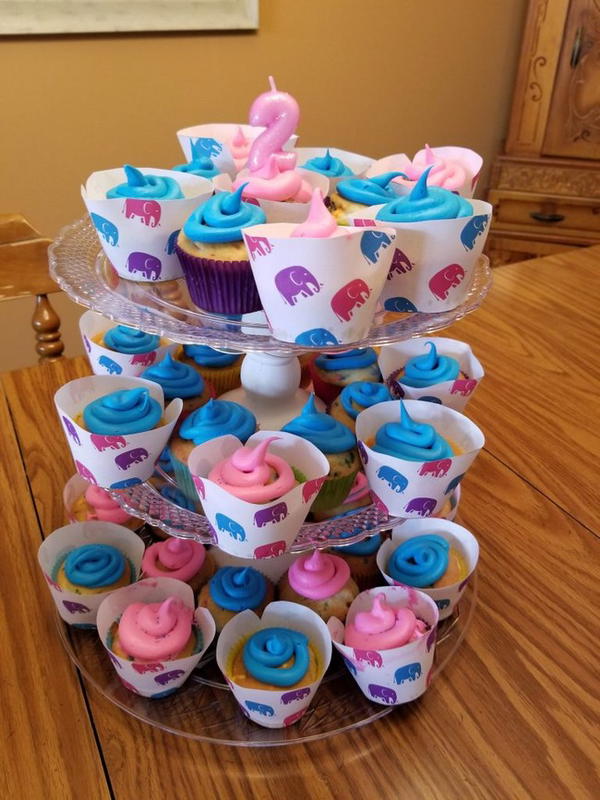 Looking for an inexpensive cupcake stand? Check out the DIY Dollar Tree Cupcake Stand. Do you have kids that love to play? This is the perfect cupcake stand for your kids. Whether they celebrate a birthday or play with their friends, they will clearly see how special they are to you. It will make your cute treats look so delicious. Want to have something easy to build and can be stored easily? This DIY project can be stored easily as it is made out of clay which dries up quickly.
This adorable DIY Cupcake Stand will be the best party favor. Perfect for any occasion. Made with things you can find at the dollar tree or craft store. This cupcake stand is easy to make and adds fun to your party. It's great for any occasion, especially birthdays or baby showers. This DIY stand is just what you have been looking for to showcase your cupcake creations at parties. This simple and inexpensive cupcake stand will make your cupcakes look amazing. It even comes in a great variety of color options, so you can coordinate it with your party theme.
Wedding Cupcakes And DIY Cupcake Tower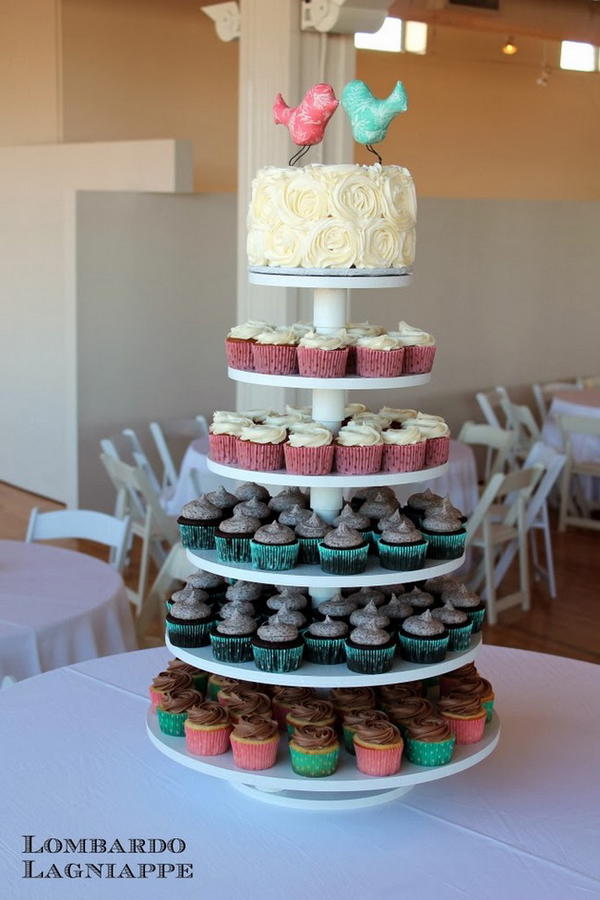 Love to make cupcakes? If so, you've come to the right place! It is an awesome collection of adorable and tasty-looking cupcake decorations perfect for your nuptials. From cupcake wrappers and stickers to cake stands, we have what you need to bring a smile to the guests at your wedding or party. Plus, with our DIY Cupcake Tower, you can turn your store-bought cupcakes into a super sweet eye-catcher for the ultimate centerpiece! The Wedding Cupcakes and DIY Cupcake Tower helps you with the perfect cake, cupcake, and flying cake for all your wedding celebrations.
The Wedding Cupcakes guide gives tips, ideas, and lists of what you will need for your special day; the DIY Cupcake Tower guide is a fun activity to make with your children and useful if you're baking at home. Wedding cupcakes are not cupcake toppers; they are the centerpiece of every wedding cake. The Wedding Cupcake Tower is a container made of metal, wood, or plastic that holds cupcakes and keeps them beautiful. They present beautifully on a reception table and can be reused for different purposes: baby showers, corporate parties, gender reveal celebrations, etc.
How to Make a Cupcake Stand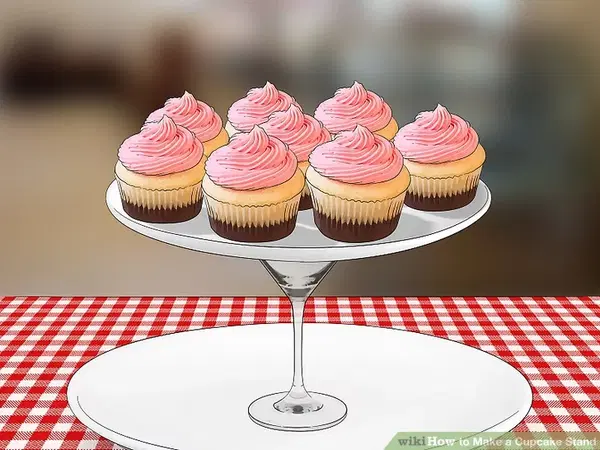 You can make your own cupcake stand using common household items. Perfect for parties, showers, or weddings; you can create your own cupcake stand from a few simple things to ensure that your cupcakes make an impression when you set down your treats! It may seem intimidating, but it's not as hard as you'd imagine. If you have a few empty soda bottles and plastic cups, you can make yourself a cupcake stand in no time. And the best thing is -- it's environmentally friendly, too. All you need to do is fill your empty bottles with water and half-fill the cups with sand.
Now set them down on some cardboard, put your cupcakes on top, and present your creation before the eyes of friends and family members. You will find making your own cupcake stand much easier than you might think. All you need to do is collect a few items from around the house and tweak them here and there. Set them on a pretty cloth, with glasses of lemonade, and they're good to go!
DIY Cupcake Stand With Free Template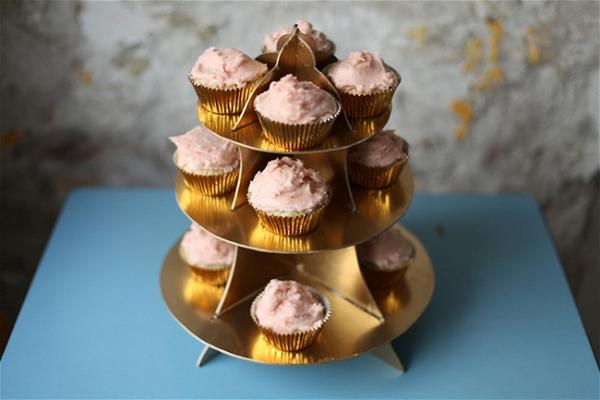 Who doesn't love cupcakes? And who doesn't love them even more on display? This cupcake stand is easy to make, fully customizable, and can be great to display as a variety of delectable treats. It's the perfect centerpiece for any homemade dessert, whether a birthday party, baby shower, or Christmas get-together. Keep your desserts looking delicious on our DIY Cupcake Stand With Free Template.
This easy-to-make cupcake stand is designed to accommodate many cupcakes and is fully customizable using the free printable template! You can show off your latest culinary creations at a party or special event, create one as a gift for someone special, or even just try it out for fun. The possibilities are endless! From weddings and birthdays to holiday celebrations and get-togethers, Christmas parties, and Halloween bashes, the possibilities are endless for using this cupcake stand centerpiece! Feel free to add your own embellishments with paint or jewels.
DIY Shanty Cupcake Tower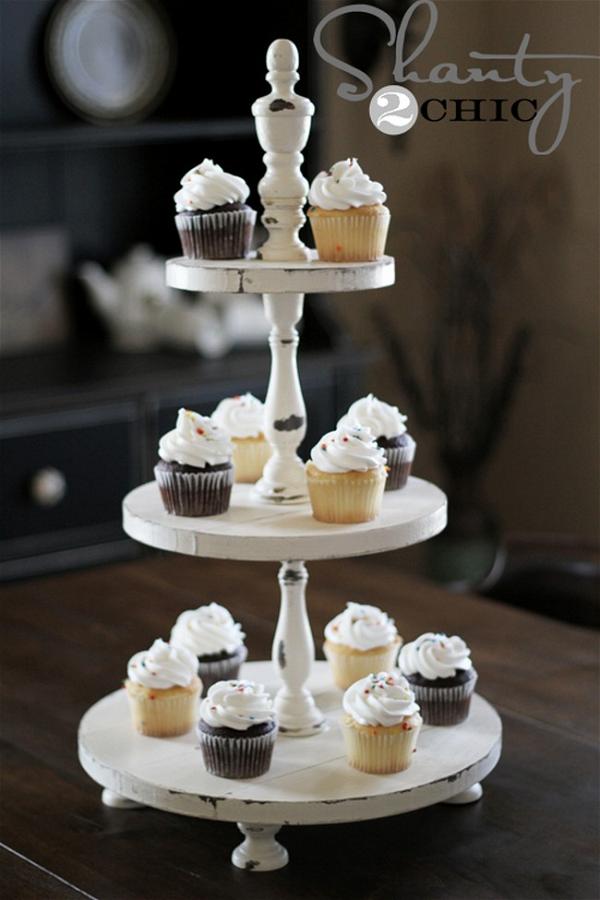 Looking to impress your guests at the next party? Then the DIY Shanty Cupcake Tower could be the just product for you. Our cupcake tower is a great stand to give height and character to your cupcakes; their stand is a sturdy white resin that makes serving a breeze! The parts are fun for kids of all ages and simple to assemble and deconstruct. Our cupcake tower's modern design and neutral color will complement any styled party, from rustic to polished, from birthdays to baby showers.
Simply stack ornaments, gift boxes, and plates to create an adorable cupcake tower that will inspire glee from the kids and jealousy from all the guests! This cupcake tower was easy to make and was the most adorable display ever! This would be a great idea for family Christmas parties or a fun little project to use up some extra ornaments in your closet. Let's get on this cupcake love train!
How To Make A Cupcake Stand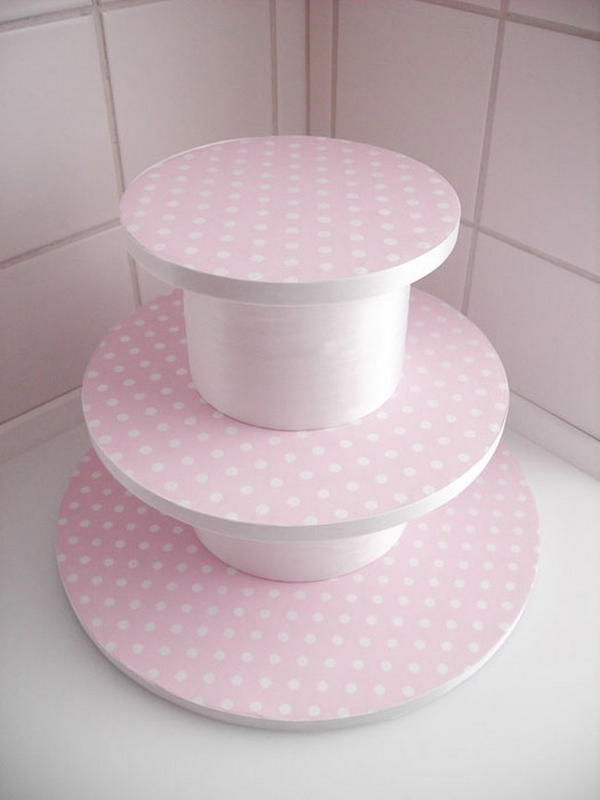 The Cupcake Stand is a simple yet functional way to serve cupcakes. This Cupcake Stand stands for many cupcakes and looks great at any celebration! This adorable stand is perfect for your little one who loves to be in the kitchen with Mommy and Daddy. Impress your family and friends at your next party with treats on this delightful stand. This Cupcake Stand is a simple yet functional way to serve cupcakes. Its nonslip surface keeps the stand in place, while its decorative design adds a festive tone.
This Cupcake Stand stands for many cupcakes and looks great at any celebration! With its three small cupcake slots, this charming stand is a must-have for anyone who loves sweet treats. The perfect height for tables, counters, and storage units is the perfect way to showcase your baked goods and keep them safe from ants, cats, or any other creepy crawlers.  This Cupcake Stand makes an adorable gift for any occasion!
DIY Floating Birch Cupcake Stand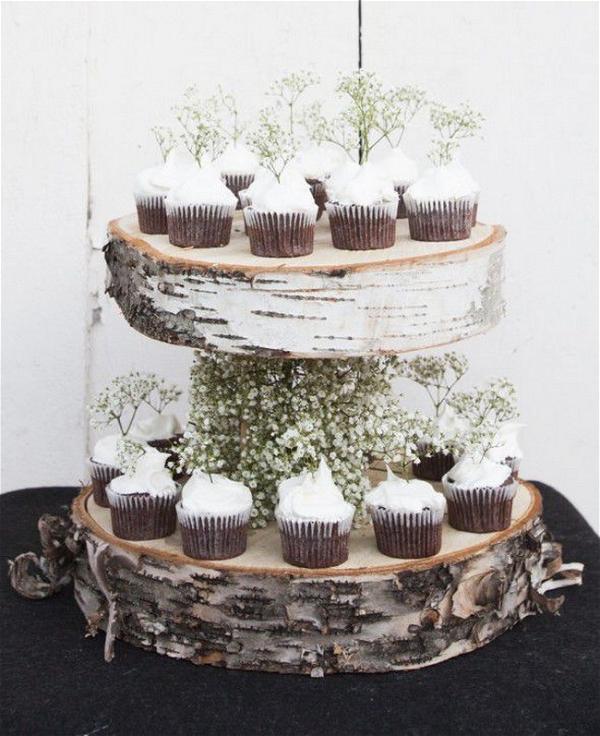 Why stop at cupcakes? This floating birch cupcake stand will live on as the baker's best friend, wherever his or her palette takes them. Most people use it to display an array of cupcakes and appetizers (placed on their sides) for a casual party. But it is also great for floating sandwiches, cheeses, grapes, etc. The top shelf provides ample room for larger treats like cookies, brownies, or cakes.
The bottom shelf sets the stage perfectly for your prettiest petite bites like chocolate-covered strawberries or mini fruit pies . . . or use the top shelf to display your favorite salty snacks like chips and salsa! Fill in empty spaces around each tier with greenery and creativity to transform your ordinary stand into a work of art. This floating cupcake display stand is so easy to make. The birch slice base floats in the water and is perfect for cupcakes or mini-cakes. It's fun, quick, and easy to make, creating a fabulous display! And no chocolate molds will need! Just use your favorite cupcake recipe!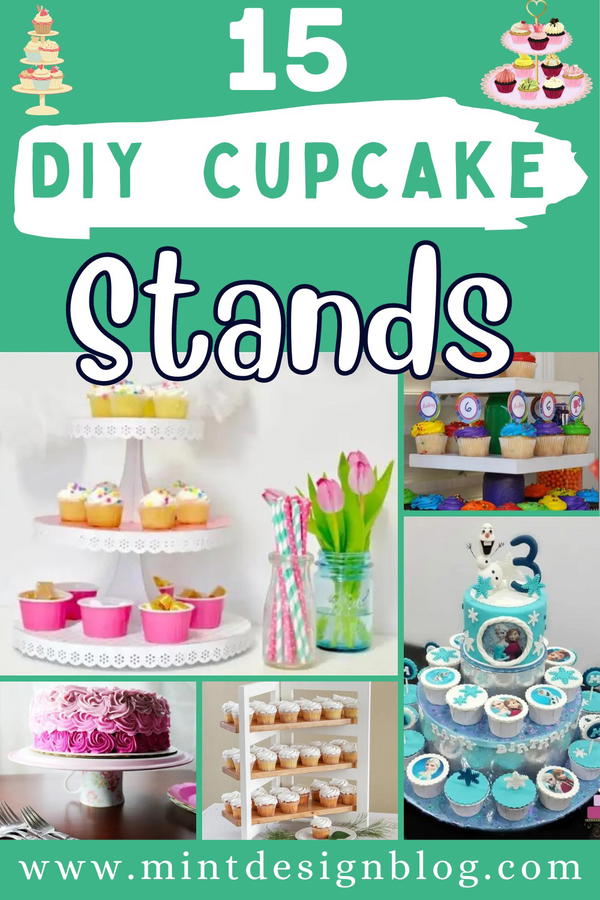 See Other Projects
12 DIY Cookbook Stands For Cooking: Cookbook stands to serve as handy helpers when you're busy cooking and as stylish displays for your favorite recipe collections when not in use. Moreover, they can double as mini shelves to showcase trinkets on desks or tabletops. These DIY stands plans could be crafted from almost any sturdy material that can bear the weight of a cookbook while being slightly flexible. No wonder cookbook stands have stood the test of time and continue to be cherished by people from generation to generation.

41 DIY Outdoor Plant Stand Ideas: Outdoor plant stands are perfect for refreshing your patio or deck. With many diverse designs, these outdoor plant stands bring unique charisma to your exterior settings. A compact tabletop stand can enhance appearances, introducing bursts of color and contrast.

24 DIY Phone Stand Plans You Can Make Easily: It's time to put your creative cap on and make your own phone stand! Our curated list of 24 DIY phone stand plans is ideal for people of all ages. So what's stopping you? Get started on these fun and practical crafting projects now!


17 DIY Goat Milking Stands You Can Make Today: The task of constructing a goat milking stand can appear challenging but not easy! With 17 DIY Goat Milking Stand plans, you can readily assemble a perfectly tailored one.