Look no more if you are searching for a fun way to use your leftover wood from past projects or simply scrap wood projects. Because here we are with some inspirational DIY scrap wood projects. They are a fantastic way to turn your "waste" into a great DIY project, and it's friendlier to the environment too! Instead of throwing your spare wood into the rubbish bin, why not convert it into something lovely and useful? From charming DIY wood decorations for any space to clever storage solutions and even practical pieces of furniture, there's so much you can create.
DIY Scrap Wood Projects
Don't worry if you have never tried any wood project and there is no scrap wood supply at home. Some lumberyards and woodcutters often have abundant leftover wood in your local area. It's the perfect place to source materials for DIY offcut wood projects. Luckily, there are limitless inspirations for DIY scrap wood ideas, from small projects like coasters to larger ones like constructing kid tables and chairs.
But We've gathered a collection of 45 Best of them just for you! Each project will help you create a unique wooden accessory, whether you plan to brighten your garden or design a functional centerpiece for your room.  We also provide tutorials To make it easier for beginners to create a DIY scrap wood item.
Rustic Wood Bathtub Tray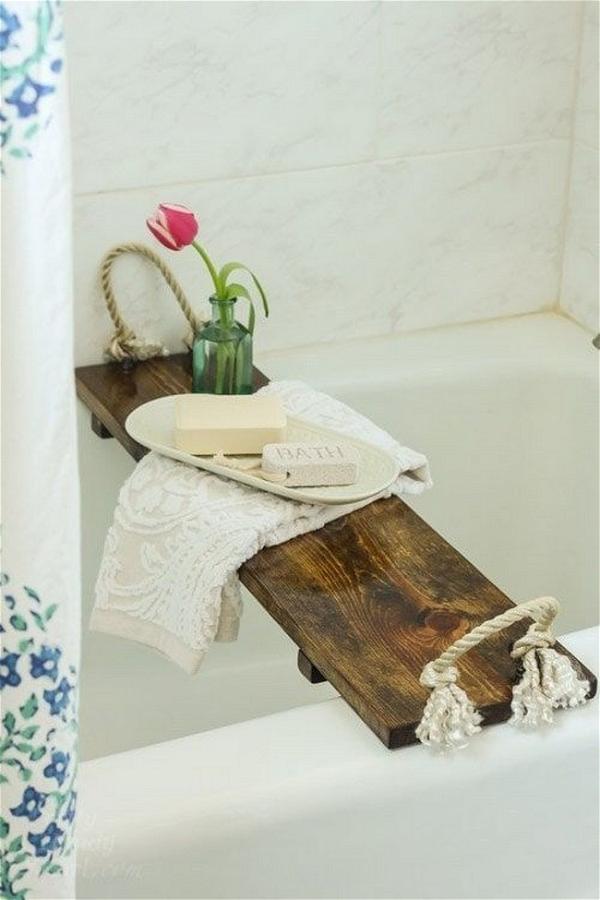 Did you know it's easy to make a wooden bathtub tray with leftover pieces of wood? There's nothing better than to get into a nice, cozy bathtub after a long day at work. With this wood bathtub tray, you can take your dinner, have a nice drink, and light up some candles to create a wholesome and relaxing atmosphere. Plus, it's easy to make and inexpensive! Not only can you use this tray to enjoy a cup of coffee or take a nap while you soak, but it also adds another dimension to your bath experience.
DIY Bath Trays are an excellent way to relax after a long day at work and maximize the soaking time in your bath. Plus, making this rustic wood bathtub tray inexpensive and an eco-friendly alternative to plastic is easy. This wooden bathtub tray is an easy way to enjoy a nice long soak in the tub without getting your legs wet. It's also an attractive way to serve your meal in the bathtub or that special occasion beer! It's durable, inexpensive, and easy to make.
Project details: prettyhandygirl.com
DIY Wooden Arrows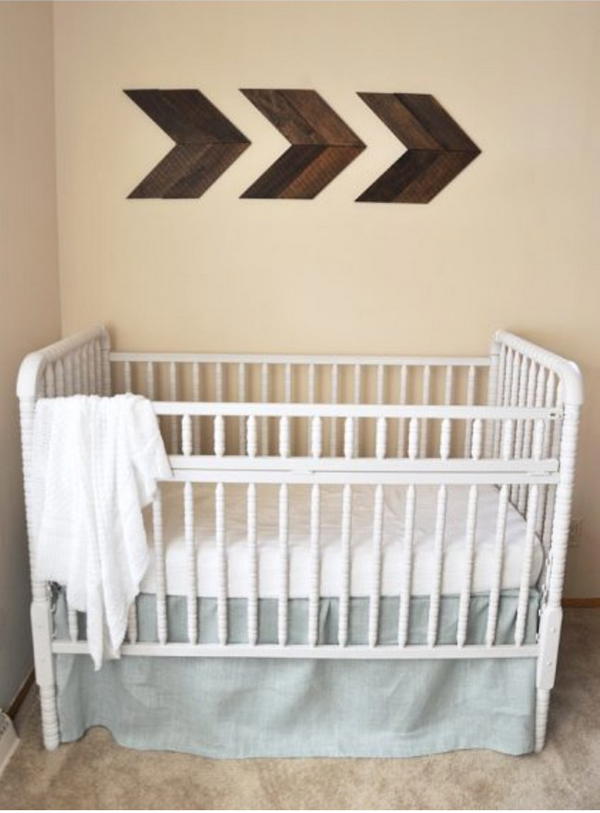 What is more decorative than something you made yourself? These can make a nice little decorative touch for your or your kids' bedrooms. These can easily be made from scrap materials. You can tailor sizes to the sizes of your room or depending on how much scrap wood you have. You only need a saw, hammer, nails, and other basic tools. Perhaps you have some scrap wood lying around − or you can use wood from old furniture.
The arrows can have different material and can be of different sizes, depending on the look that you would like to achieve. This set of wooden arrows is for your young archer's bedroom or playroom. Decorated with playful designs, these are perfect for getting kids fired up about being an archer. Made from easy-to-find materials and requiring no complicated tooling, these DIY arrows fix up quickly. Perfect as Father's Day, birthday, or Christmas presents!
Project details: cherishedbliss.com
DIY Wooden Step Stool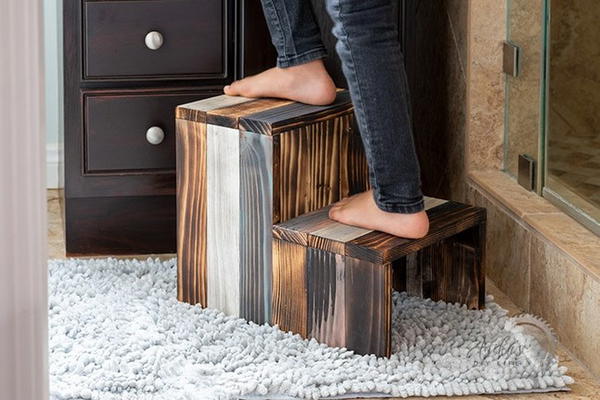 DIY step stools are any craftsman's best friend, and building one is a great way to keep your kids busy for several hours. Therefore, we recommend this project as a good example of how to build something useful out of almost nothing and as an educational project for your kids to learn more about their creativity and the world in general. Or if you need to reach something or just want a makeshift step stool for your garden, we have the solution for you.
This small DIY project will allow you to make a piece of wood from scratch and even paint it however you want to. It's very easy to make a wooden step stool; you only need a small piece of wood and a few basic tools. This project is quite easy and takes no time to complete, but it's also beneficial. A small step stool or a short ladder made of wood is a great solution to many household problems, such as placing things on high shelves, reaching and cleaning windows, or other hard places. Also, it can be used in the garden, in workshops, in the garage and many other places.
Project details: anikasdiylife.com
Address Number Wall Planter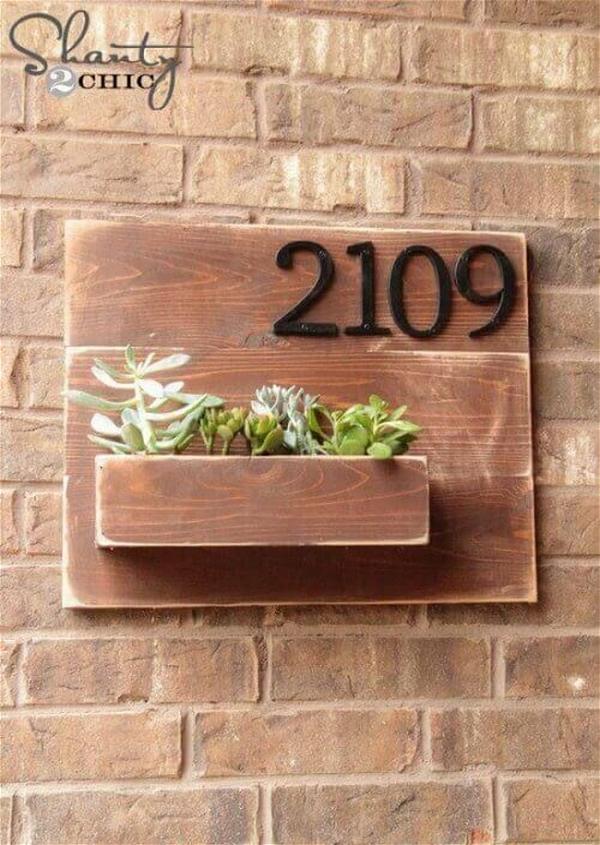 A nice decorative touch, this DIY wall planter also carries a useful implication. It lets you display your address number on the wooden plate while enhancing your home's look. Also very easy to make. If you've got some spare wood, a drill, and gardening tools, you can easily create something nice to decorate the exterior of your home. Not only is this a nice decorative touch, but it also carries a useful implication. You can place an address number on the wooden plate, meaning it will be easier for your friends and neighbors to find your house while driving around. With some spare wood and these instructions, you can build a decorative address number planter for your house.
The best part is that you create something uniquely yours, in your style. You will probably want to start by measuring the area you want to place your planter on. This is a great idea before you start building anything–ensure the area is big enough. From there, it's a matter of cutting and crafting. Even beginners shouldn't have too much trouble with these simple directions and will likely end up with something great!
Project details: shanty-2-chic.com
State Pride Magnetic Key Holder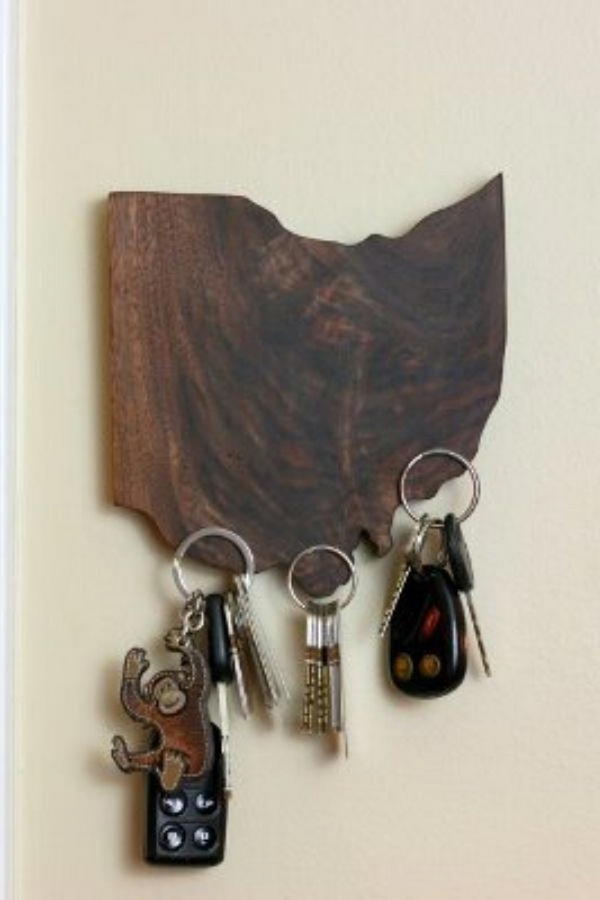 No more digging through the couch or your purse looking for your keys! This DIY key holder will help you keep track of your keys and look great! You can make one for yourself or enlist the help of friends and family to attach them to a shared location. Need a place to hold your keys in a visible spot? Then you need this magnetic key holder. It's easy to make and covers up that unsightly hole in your door.
You can make this magnetic key holder fit any decor, but it might be especially useful if you have children running in and out of the door, leaving the door unlocked, and getting in the way. This key holder can help prevent that by keeping the keys handy in a spot you can always see. It's easy to make and comes in three sizes to fit your needs. It won't take much time if you have a magnetic easel available. Even if you don't, there are many other ways to make this unique key holder stand by itself.
Project details: prettyhandygirl.com
Kid's Table And Chair Set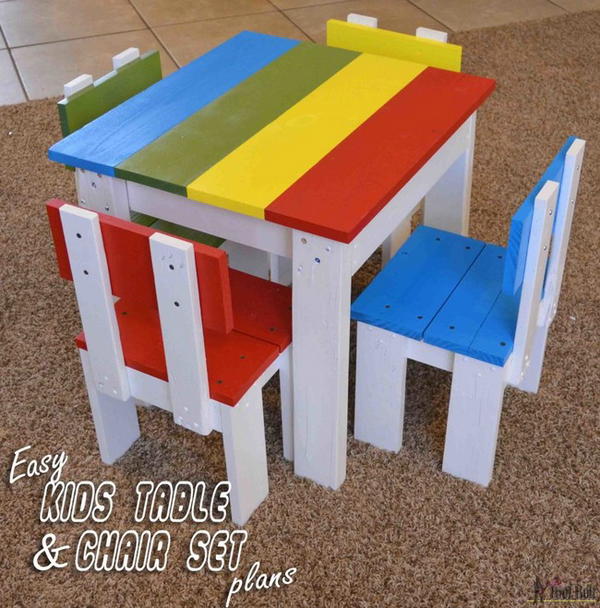 Find the best Kids chairs and tables for your little ones from the Kid Crafts shop. With a wide selection of colorful and playful products – including toy boxes, wall art, playhouses, and more – you'll be able to get creative when it comes to furnishing your kid's room. Plus, many of our products are designed by hand with all-natural, eco-safe materials, so you can rest assured that your family is in safe hands.
Constructed from wood, your children will be able to use the chairs and have a place to do their homework or enjoy a snack. The table has a storage area for extra paper, books, etc. Your kids will love this fun table and chair set they can use in the kitchen or family room. The chairs are sturdy and easy to clean, while the table is perfect for coloring, crafts, or homework!
Project details: hertoolbelt.com
Magnetic Bottle Opener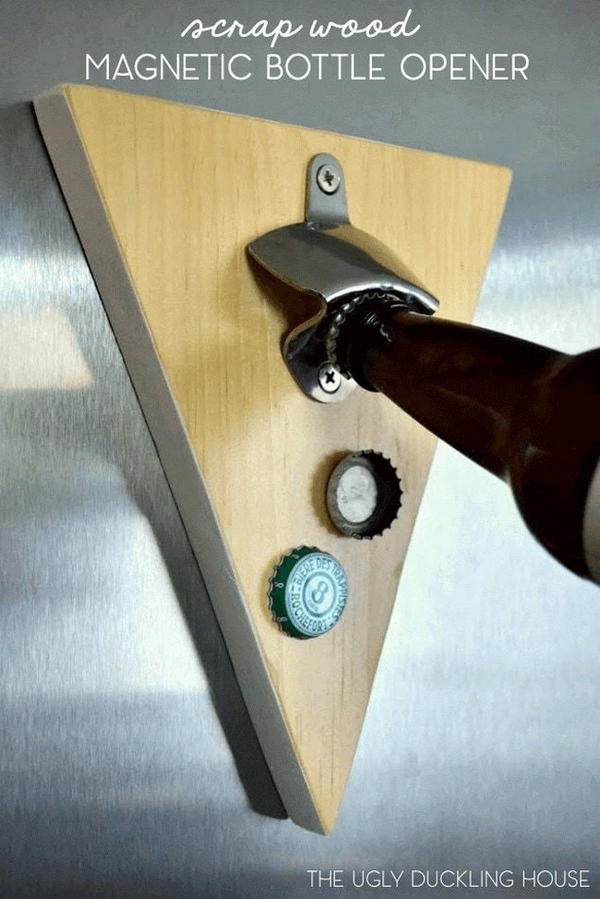 The Magnetic Bottle Opener is a fun way to open bottles without using the opener that comes with your bottle. Let's be honest, there's no better way to impress your friends than to pull out a bottle opener that opens their drinks with only the power of a magnet. While it looks pretty high-tech, this is an easy build that requires just a few scraps of wood and some small parts you can find at any hardware store. This bottle opener is simple and can be made out of scrap wood.
The entire project will take less than an hour. Perfect for your home bar, this magnetic bottle opener will not only be a fun accent to have on your wall, but it will also ensure that your guests never struggle to open their beer. If you can't spare any previously used nails, purchase a few new ones at the local hardware store. Though you will need a hammer and some nails, most of the materials you already have lying around.
Project details: uglyducklinghouse.com
Wooden Coasters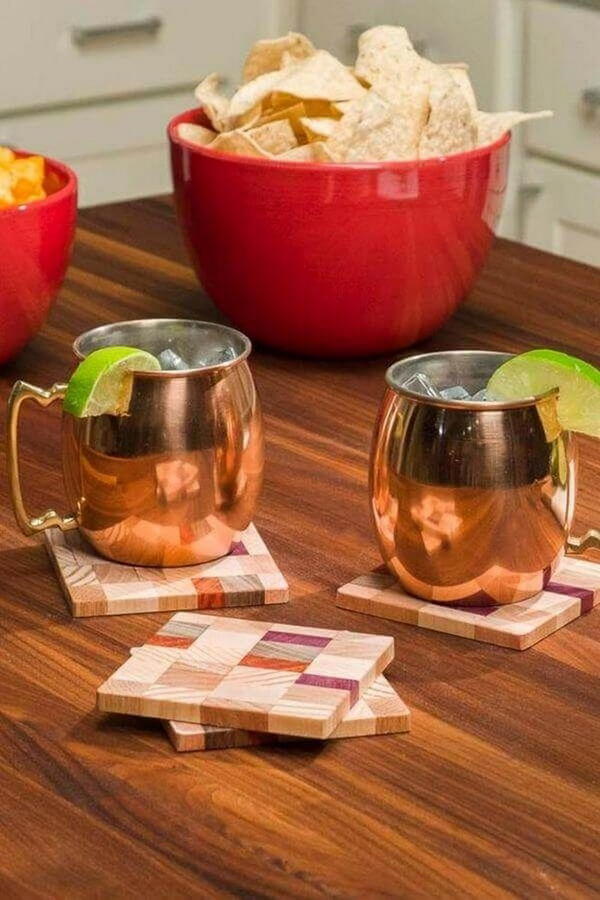 Do you have some spare scrap wood around the house? Design your own beautiful, one-of-a-kind wooden coasters with some basic household tools and a little time. You can easily create custom wooden coasters using spare scrap wood or wood reclaimed from a factory, like these cute little bear coasters shown. All you need to do is cut and glue your pieces together, sand the edges, and finish them with paint or stain. These wooden coasters are easy to make, and you can use spare scrap wood to reduce expenses.
Just use basic woodworking tools like a drill and a table saw, and some finishing techniques to give them a glossy sheen. Create a set of four different designs, or just pick one of these designs. Instead of making a purchase that's going to end up in the landfills, why not try your hand at creating these stylish and simple to make wooden coasters. These particular coasters were made using black locust wood which is prized for its durability, but any scrap wood could work for this project.
Project details: familyhandyman.com
Wooden Serving Tray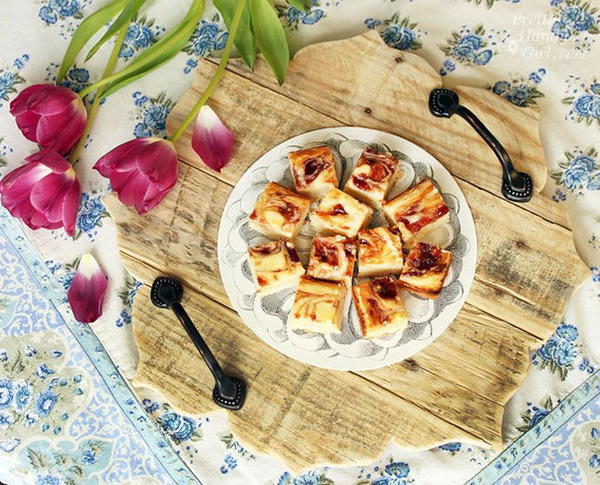 Wooden Serving Tray? Would you like to create one for your kitchen? This is a great way to add more trays to your kitchen inventory, and you'll save money by not having to purchase a new tray. Do not walk by a kitchen without noticing its serving trays. These serve as the central tool for serving drinks, food, and grains right at the spot where it's most needed. A wooden serving tray is quite a great addition to your kitchen trays, easier on your pocket than buying a newly manufactured one, and it definitely enhances your kitchen's overall look!
This serving tray is a great addition to your kitchen tools. It's particularly good for serving food when you have a lot of people over and you don't have enough tables. This one looks like it would be quite sturdy, and easy to clean as well. The secret to making it is in the construction. This wooden tray is easy to create, and it's very handy for serving favorite dishes to guests. It's a good way to save some money, and you can decorate the tray any way you like.
Project details: prettyhandygirl.com
West Elm-Inspired Abstract Snowflakes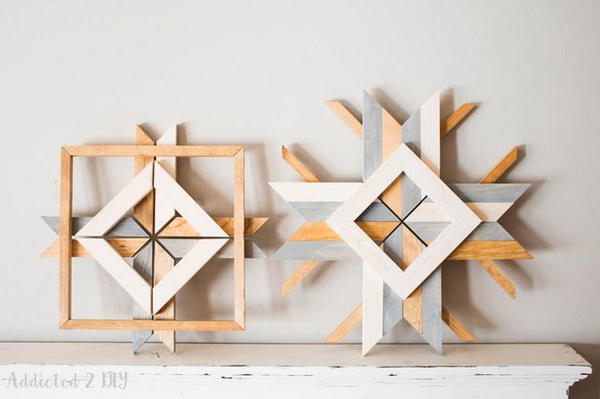 Want to make a new decoration piece for your living room? Then you need some spare wood and some work to get these snowflakes done. Spruce up your living room decor with a unique and decorative snowflake made from salvaged wood. These snowflakes are a really cute way to bring some sense of holiday cheer into your home. Make them in a few different sizes and use them as wall decor, or just on their own. They're great for beginners because they don't take long and they look fabulous! The snowflakes will certainly be a stunning focal piece on their own, but you can also mix and match different snowflake designs to create a collage.
You already have a nice Living Room, and now you're planning to spruce it up with something that will enhance its beauty. Something that will make a statement and will announce to the world that you are living in a classy place. What better than some handmade wooden snowflakes? It is easy enough even for a beginner. Just grab yourself the template and some spare wood, cut out all pieces according to the shape on the poster, assemble them together, and fix them onto your walls.
Project details: addicted2diy.com
Wooden Sofa Sleeve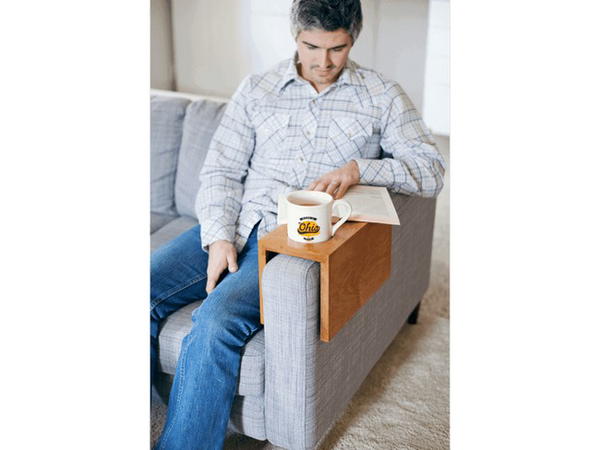 Is it really polite to place your freshly brewed coffee or tea on the table without a coaster? If you're a fan of tea or coffee, then you often worry about having no place to put your warm cup without ruining surfaces. Now, with a wooden sofa sleeve, you can easily avoid this problem. You'll be able to place your cup on this convenient sofa sleeve without damaging your sofa. Add a special touch to your home decor by using a wooden sofa sleeve for tea and coffee cups. Just put your warm drink on the sleeve, and you won't have to worry about ruining your sofa or table. When you love tea or coffee, you also worry about a place to put your hot drink without damaging the furniture surfaces.
With our wooden sofa sleeve, you can easily avoid this problem. You'll be able to place your cup on this convenient sofa sleeve without damaging the furniture surface. This wooden sofa sleeve is a unique product that will protect your sofa from getting ruined by hot cups. Whether you're a tea or coffee fan, this sofa sleeve can serve as an excellent solution for you. Admittedly, accidents will happen when you're not home and you'll have no one but yourself to blame. Now, with a wooden sofa sleeve, you can easily avoid this problem without having to spend an arm and a leg..
Project details: abeautifulmess.com
Cutting Board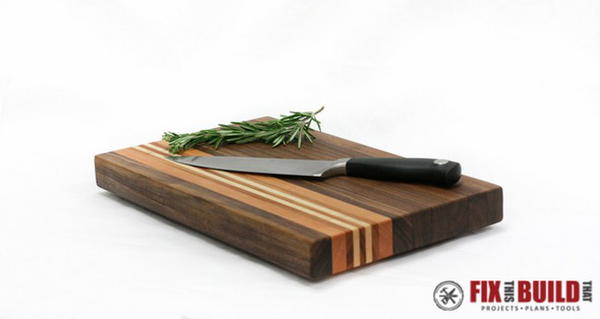 Make a new cutting board out of scrap wood with a simple sanding and finish! You will need a few items to complete this project. A piece of wood that is as wide as you would like the cutting board. Creating a cutting board is fairly simple, requiring just a few materials that you probably already have lying around the shop. Using scrap wood you've got some extra boards from your last project, you can create something that will add a nice finished look to any kitchen decor.
This DIY project is also a great way to recycle old wood scraps and make a fun weekend project. It may look like a simple accessory, but a quality cutting board is crucial to any kitchen. Big enough to be functional but small enough not to overwhelm your cupboards. This project will show you how to create one by reusing scraps and adding some sanding honed edges for extra durability.
Project details: fixthisbuildthat.com
Kitchen Shelves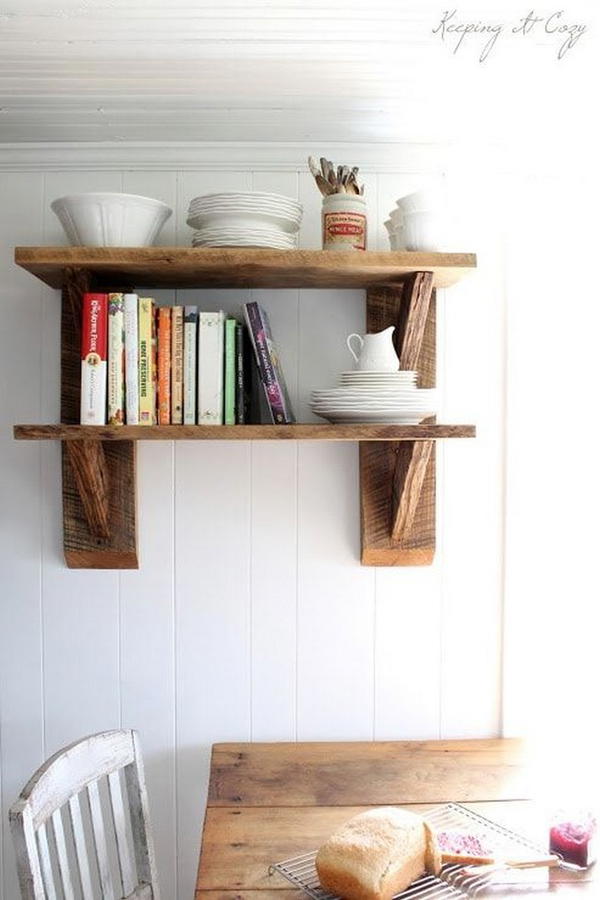 Get rid of the pain inside your kitchen by creating more surfaces in the form of kitchen shelves. This is the best solution to getting more room, both functionally and aesthetically. We spend so much of our time there cooking, yet it's really easy to find yourselves running out of space for all your equipment. You could just pile things up on the sides, but you'll soon find yourself unable to see what you've got and when you try to find the one thing, it falls off the side of your pile and lands on your feet! Of course, rather than just go out and buy a new kitchen, why not simply make some shelves?
Now it's easy to provide more space in your kitchen. All you need to do is personalize your kitchen with this convenient shelving kit that's perfect for any kitchen countertop. The entire project can be completed in under five minutes. Shelves are a great way to add new surfaces and storage space to your living or working space. They make it easy to display vases, books, or plants in a room. Plus, you can place them vertically or horizontally for maximum storage options.
Mason Jar Crate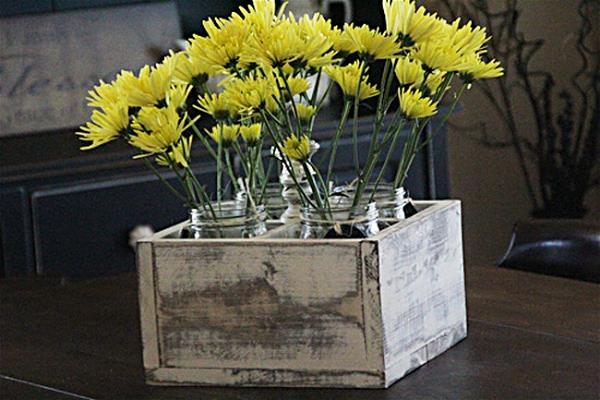 This mason jar crate is a great DIY project for those who are on the lookout for some rustic antiques-making ideas. A crate like this looks beautiful when kept on display or used to store small items in the home. The designers of this crate used wooden pieces and put them together to create the final look. This crate is not only beautiful but quite functional as well! You will need a hammer and nails to assemble the wooden crate and a few paint colors to decorate it. If you want to make your crate look vintage, try to find wooden planks that have the same color as soda crates used back in the day. Eco Jar uses reclaimed wood to make a vintage-looking Mason jar crate.
It provides a big storage capacity and is ideal for storing various items in the home, office, or classroom. Compared to plastic crates, this crate is eco-friendly and looks much better too! Use the Mason Jar Crate to keep your food safe and fresh. This crate is perfect for relishing fresh fruits, vegetables, and dairy products. Great for organizing spices or even craft supplies, this crate has a rustic look that works well in kitchens, offices, or retail stores.
 Easy Wooden Wall Mountain Art
The Easy wood wall mountain art is a great addition to any living room or bedroom and makes a very low-cost present for people who love the outdoors. If you chop up your old pallets, you'll get a chance to make something that will be both beautiful in its simplicity, and useful to store items on. This project has a ton of creative flair to it, and it's not too hard to build, either. Most of the time and energy goes into getting your measurements down exactly right, but if you pull that off, the rest is easy.
You can mount this thing to a wall, or even add legs for an instant table – this hack is also lightweight enough that it could serve as bookends as well! Easy wooden wall portrait is a beautiful and easy to install way to decorate your home. This requires only basic skills with a saw since the individual elements are all made from pre-cut plywood and require only precise cutting according to the diagram provided in the instructions. Although it is an easy project, its effect is impressive, providing you with a stunning 3D reconstruction of the mountain.
Project details: manmadediy.com
DIY Wooden Plant Stand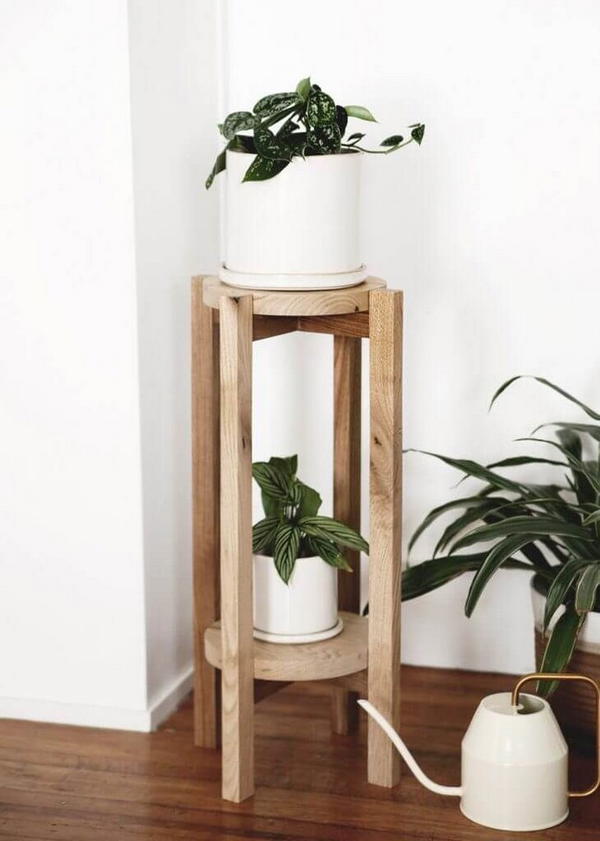 Have you ever wondered what to do with all the small pieces of wood that come off while you're working on large projects? If you have some spare wood, you can create a plant stand. Create a plant stand out of wooden boards or spare wood. This DIY wooden plant stand allows you to put two plants on top, making it incredibly useful in your household. This plant stand allows you to put two flower pots on top of it, making it incredibly useful to your household.
This plant stand is ideal for your household. Use the extra wood parts to create this stand and have a beautiful stand that serves a great purpose. These extra pieces are usually thrown away, but why not make a useful plant stand out of them instead? Plant stands are always useful at home! This plant stand can be customized to suit your needs as they are adjustable. You can also paint them according to your taste!
Project details: themerrythought.com
Wooden Doormat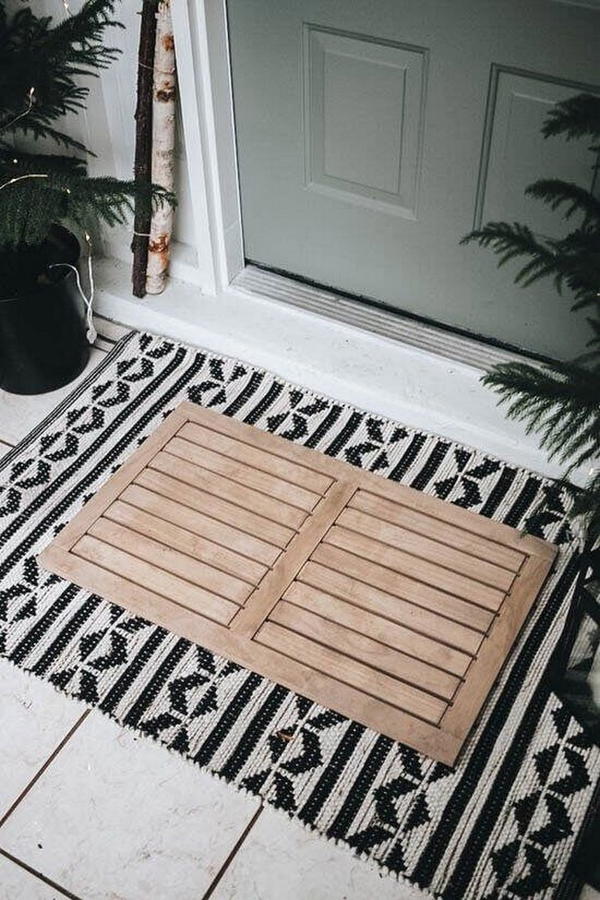 If it's the main door of your home or a common entry point in your office, this Wooden Doormat can be the best warning sign you need. Put away all worries, fears, and questions by simply placing this wooden doormat in front of your household or business's main entrance. This doormat is not only great for providing more comfort to those who are entering your premises but also serves as a reminder that you are welcoming them.
In the hallway or at the entrance to your home, it is a great idea to have a wood doormat on the floor. This way, it will add some extra class and elegance to your home. The best part is that you can make it yourself, with scrap pieces of wood and some basic woodworking tools. This wooden doormat is a nice and elegant way to welcome your guests. With its practical size, it's easy to wipe your wet shoes on it after you get home from a rainy day. This wooden doormat is so elegant! It adds such a nice feel to your home. Armed with simple tools, a small amount of fabric, and the versatility of a piece of scrap wood; you can elevate your home decor to a whole new level.
Project details: withinthegrove.com
Indoor Herb Garden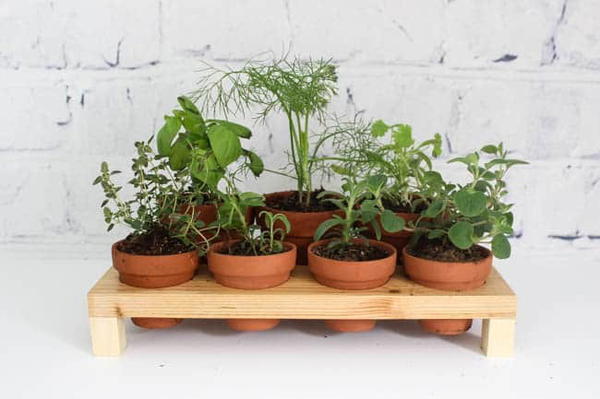 This little indoor herb garden is a great way to get the freshest herbs from your own home. So, you need to know is where to drill the holes, and the rest of the process is really straightforward. The Indoor Herb Garden is a countertop wooden garden that can be placed on your kitchen countertop. It comes with a mini-greenhouse lid and is fitted with drainage holes so you can grow different herbs, flowers, or plants inside. The wood planter comes nicely stained in espresso color and the legs have a shiny gunmetal finish.
You only need to use your creative ideas to decorate the planter box with any objects you like. Such as plastic flowers decoration, mosaic tile decals, or solar-powered fairy lights. The indoor wooden garden is easy to clean and maintain, water-resistant planter box is also lightweight and strong enough to hold its contents. Drill the holes into the planter box according to your preference on how you want your kitchen indoor garden layout goes, and then place it on the countertop-the end result will be more than stunning!
Project details: lovecreatecelebrate.com
Jewelry Organizer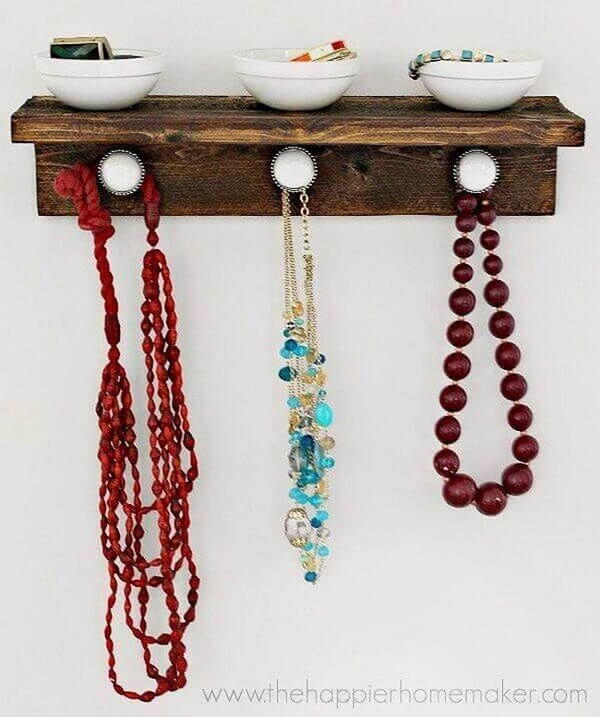 A good collection of jewelry and a clean, uncluttered way to store them is almost a match made in heaven. This jewelry organizer is the perfect mate for your home or office. It's just enough room to hang every piece of your collection while sitting on a closed cabinet door and charming pine. Spend more time enjoying your jewelry and less time trying to hunt it down. This jewelry organizer does the trick, keeping things tidy and accessible. Whether you're after a clean way to display your jewelry or need something to hold it all together, this project is super simple and easy enough to make several for your friends. Handmade and hand-painted wooden jewelry holder to arrange your necklaces, bracelets, and earrings.
Best way to store your jewelry at home, closet, or travel. Carry your jewelry in style with this beautiful and practical jewelry storage case. Made from a single piece of wood, it features small screws over which to loop your necklaces and bracelets. Hang like a mobile or roll it up for compact storage. This is also a great way to display your earrings as an alternative to hanging them. It is a very nice addition to any women's room!.
Project details: prettyhandygirl.com
DIY Outdoor Vertical Garden
This is really a project that nearly anyone can do, but if you are not up to it or don't have the time then go here to purchase one. If you have a few unique planks of wood at your disposal, then you can easily convert them into an outdoor garden dedicated to plants and flowers. This DIY vertical garden has been created using wooden planks. The plank has been painted with bright colour and then decorated with twigs and flowers in the middle. This helps the flowers stay fresh for longer and adds a unique touch to your garden.
There's a reason why we spend so much of our energies tending to plants and flowers in the garden. Well, it goes beyond feeding your sense of beauty – it also provides you with healthy food! And now you can bring some of that outdoors right into your living space by growing plants up brick walls. This is mostly a gardening project, but if you want to take gardening up to the next level. Use wooden planks to create a vertical garden in your backyard. Not only is this a great project, it's also lovely to look at!
Project details: jessicawellinginteriors.com
DIY Modern Pencil Holder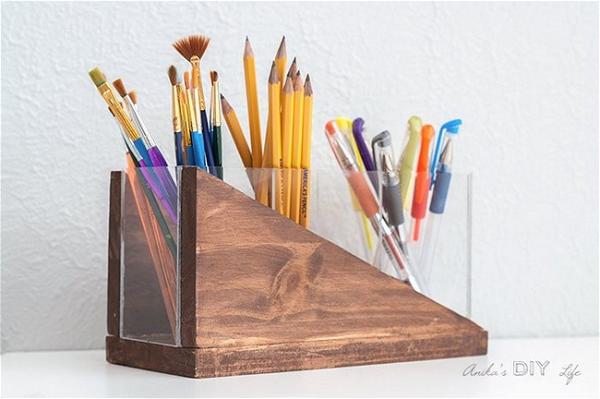 Studying shouldn't be a hassle, and it certainly shouldn't get in the way of fun. You might sit down at your desk and realize that you don't have anything to write with, or that you need to carry a pencil or two around with you in case you need them. This DIY modern pencil holder is designed to help store your pencils, as well as hold other items that are important to you. It's a completely practical item that will also look great in your home office. This pencil holder is very practical. It will help you store your pencils.
It's also quite modern-looking, so it won't look out of place if you have a modern office, too. This pencil holder will help you store your pencils, keep them in one place, and it's a stylish way to do it. It's easy to make, and this particular holder can be done with only two materials, so you don't need any extra tools or materials. You can customize the colors, so you can match whichever room you want to store your pencils in.
Project details: anikasdiylife.com
DIY Laptop Stand For Desk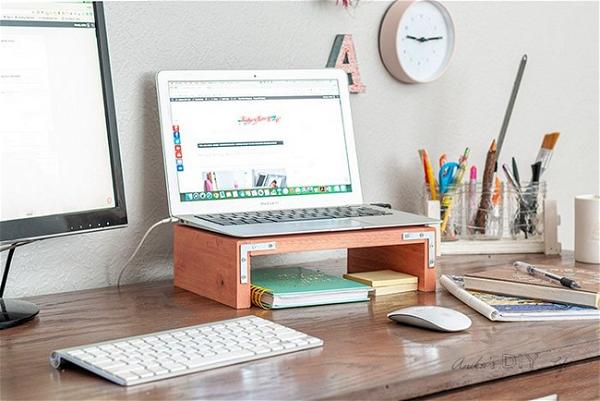 Do you often worry about your laptop overheating, or do you need your laptop in a higher place? Then you need a laptop stand. But did you know that a DIY project is all you need to make one for yourself? A DIY Laptop Stand For Desk is an easy-to-make a laptop stand that also functions as a charging station. This project can be completed within an hour, and it's an inexpensive project! You may not know this, but you can create your own laptop stand for your desk.
By piecing together a few scraps of wood and using a few simple tools you have lying around your home, anyone can build their own laptop stand to use whenever they want. You only need three things: An old cork board, wooden blocks, and screws. When you want to go mobile again, just unscrew the scraps and you are good to go. The best about this project is that you can freely use scrap wood if you have it at home. So if your old computer is about to be thrown away, don't throw it away! Use it for free and make a cool, useful, handmade project out of it.
Project details: anikasdiylife.com
DIY Cookbook Stand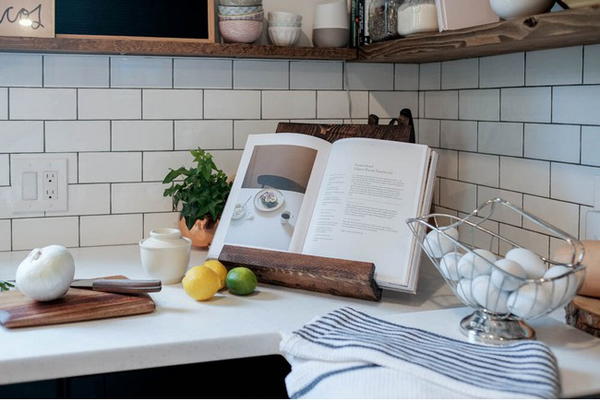 This DIY cookbook stand will elevate your cooking experience by allowing you to access your books at a much more convenient height. Perfect for people who like to read while standing, or just simply hate constantly leaning over a book. This DIY cookbook stand allows you to place a cookbook flat while standing. If you're tired of leaning over your cookbook to get all the details on a recipe, this is the perfect solution for you. This DIY cookbook stand uses easily available supplies to hold books and cookbooks for hands-free reading.
This allows you to be standing, making it easier to follow directions and see what you are doing. Whenever you're free to cook, read, and stand! All of the supplies used in this project can be found at your local home improvement store or online here. We'll literally hold the book for you. Keep your book propped up at an optimal angle, eliminating the "hunching" over that comes with cooking. Made of wood and built to last, this stand will make a terrific addition to any kitchen or bookshelf.
Project details: thelearnerobserver.com
Candleholders From Scrap Wood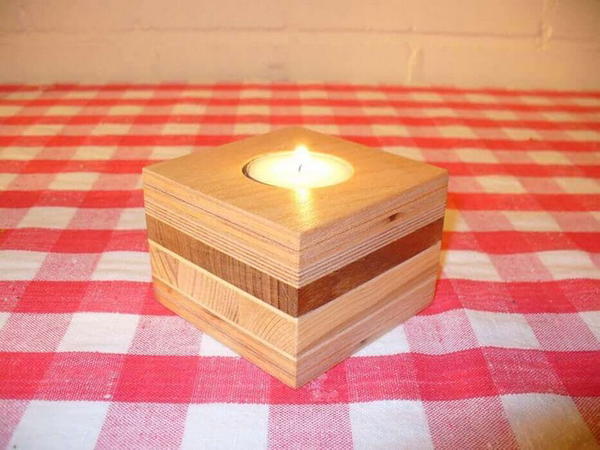 Candleholders From Scrap Wood These Candle Holders / Candle Stands are created, by using scrap wood and a few screws and nail. The Candleholder is a unique decorative accessory that can enhance your overall candlelight ambiance. You can make one or several yourself, of various designs that hold your candle firmly in the center. Candleholders for candles can add so much to a room, but you do not want to spend money on one that you might never use again. Save money and make one or several candle holders yourself with scrap wood and recycled pieces that you have around your house. Candleholders are practical for the decoration of your home and often serve as a tool of relaxation.
They add warmth and color to the ambiance of any place in which they are placed. Making candle holders with scrap wood will be profitable in the long run. This is because they are very useful, and if you make a candleholder you definitely won't be getting bored anytime soon. It won't cost a lot of money to make one, or two, or several of these. You can even give them away as presents to your family and friends on special occasions, like weddings and birthdays.
Project details: instructables.com
DIY Christmas Tree Stand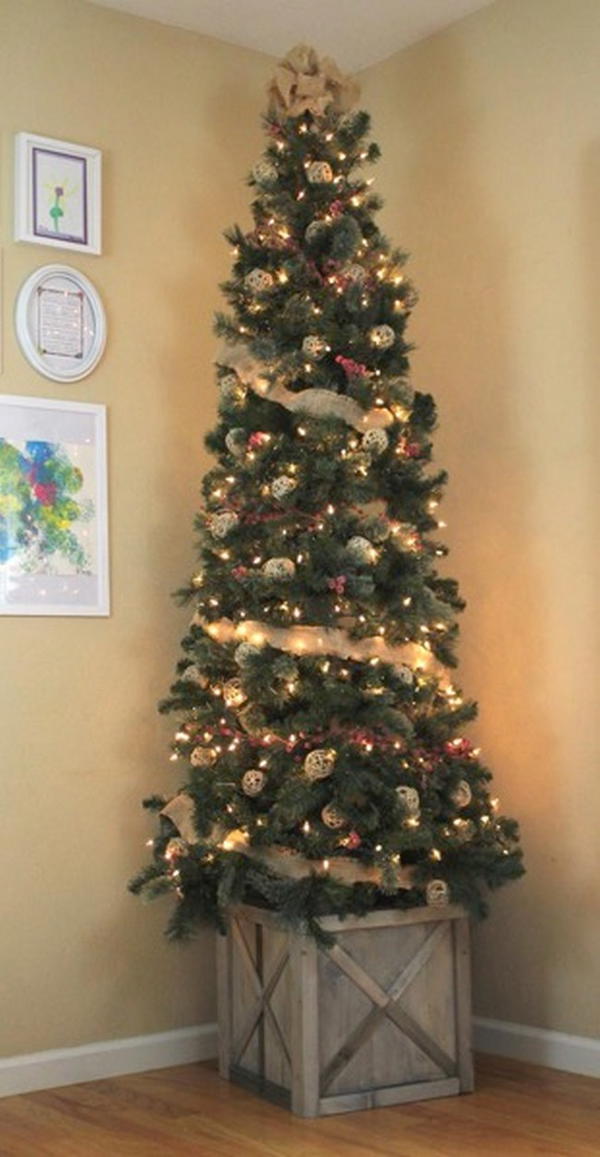 You should make yourself this DIY Christmas tree stand in time for Christmas. It's surprisingly simple to make, and will surely impress your family and friends. You love to decorate for the holiday season, and you know that nothing says Christmas like a beautiful pre-lit tree. You've set up this brand new evergreen in your living room, but the problem is you can't find a stand that feels like it was made just for it. That's why we created this simple DIY stand, and it will have guests wondering aloud where you bought it. Creating this DIY Christmas tree stand is a great weekend project. If you prefer a natural Christmas tree, then you definitely need a stand like this to hold your tree.
Unlike most wooden stands, this wooden Christmas tree stand is designed with grated legs and heavy-duty screws, designed to keep your tree safe from strong winds. It not only holds your tree but also makes the experience more enjoyable because it makes the whole process easier and less time-consuming. You can use any flat board for the base, so when you see one you like, just pick it up. Then build from there – you only need a few other supplies such as screws, a drill, some glue, and a saw if you don't have one. And then start making!
Project details: thekimsixfix.com
DIY Modern Planter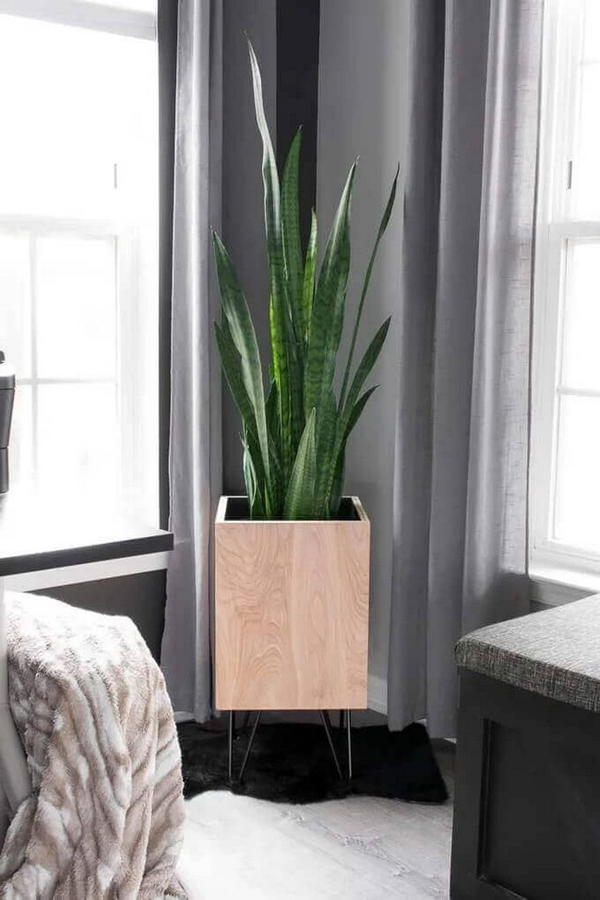 Do it yourself Decorate your home with this modern planter and create a green space. If you love plants but do not have the time and skills to take care of them properly, then you are in luck! With this cool DIY planter, you can create your own modern-looking planter. It is very easy to build. You will only need some wooden sticks and a few pieces of scrap wood. No nails or screws are required because everything holds together with glue. After building your planter, you only need to fill it with soil and rocks and start planting beautiful succulent plants. Build this planter using just some wood scrap and a few screws. It's very easy to create a modern and decorative piece to add interest to your home.
Create your own planter with the DIY Modern Planter! It's super easy to make and a cinch to customize. Just adjust the height by adding more or less hairpin legs and choose any scrap wood you like! It will be waiting for you to decorate it with plants, flowers, pictures, or anything else you come up with! There are several different plans for you to choose from. It is easy to create, does not take much time, and all you need is scrap wood that can be found in any hardware store. Make it together with your children or loved ones and feel twice as good when looking at the beautiful plant you have created yourself.
Project details: bybrittanygoldwyn.com
Folding Cupcake Stand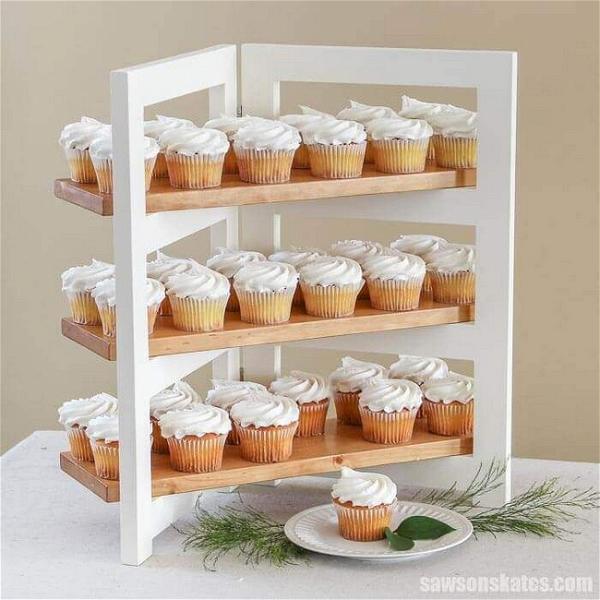 If you love cupcakes – or even if you just enjoy them occasionally – the Cupcake Stand will be right up your street! Made of flexible silicone, this unique storage and display stand can store up to six cupcakes at a time and comes in an array of bright colors. If this fad is anything to go by, cupcakes are going to be around for a long time yet. Be part of the action with our folding cupcake stand. It's very versatile and gives you a secure way to transport your cupcakes, store them or serve them at parties. Made of high-quality plastic it folds down easily when not in use, and opens out ready to display your cupcake creations!
Make sure you don't miss out on any more cupcakes, because once you store them in our simple, foldable cupcake stand they will always be there! Plus, with our sturdy material and folding design it is easy to transport and store. This Folding Cupcake Stand is perfect for storing and showing off your cupcakes. Made using the highest quality materials, this stand will not only look stunning but will also ensure that your cupcakes are kept safe and secure. Ideal for preparing a dessert buffet, it can hold a maximum of 48 cupcakes. The best part about this stand is that it is completely foldable making storage easy and efficient.
Project details: sawsonskates.com
DIY Plant Stand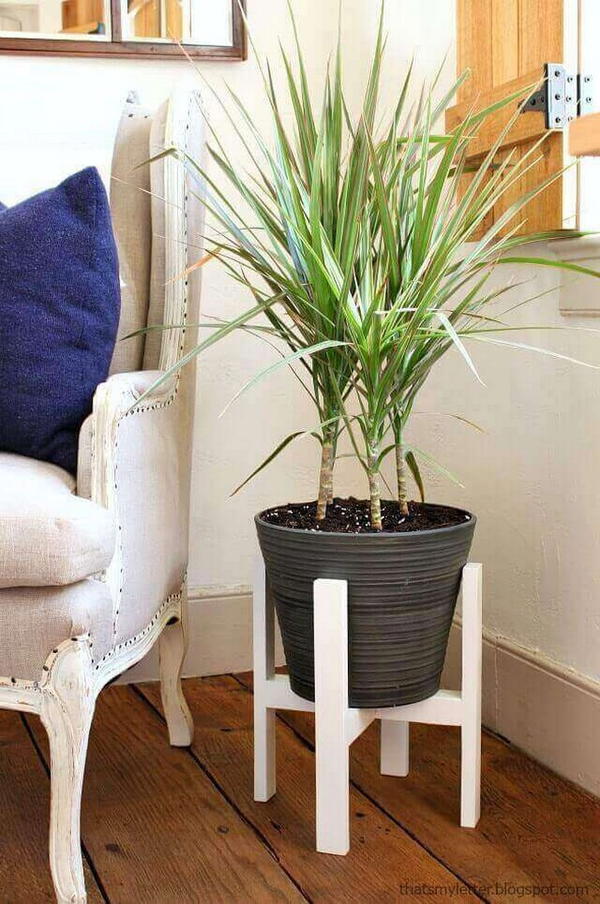 If you're prepared to build, yet intimidated by the idea of going it alone, check out the Plant Stand Project Guide. It shows exactly how to make a sturdy and stylish plant stand. Our DIY plans also offer tips for selecting lumber, as well as tips for building your stand with minimum effort. This project is quick and easy, and will look great in any home! Once you're done, your plant will be standing tall and proud. You can also personalize it by choosing paint or stain color to match your décor.
This is a quick and easy project that will be great for your home. It's a nice way to show off one of your favorite plants, or you could even use this stand as a unique vase. The plant stand can also be used outside on the patio or deck to hold potted plants or to hold flowers for display at outdoor events. Hammer, saw, screws – that's all you need to make your own DIY plant stand! It's quick, simple, and affordable. You can make this plant stand easily – there is no way it won't look good in any home.
Project details: jaimecostiglio.com
Simple Scrap Wood Wall Organizer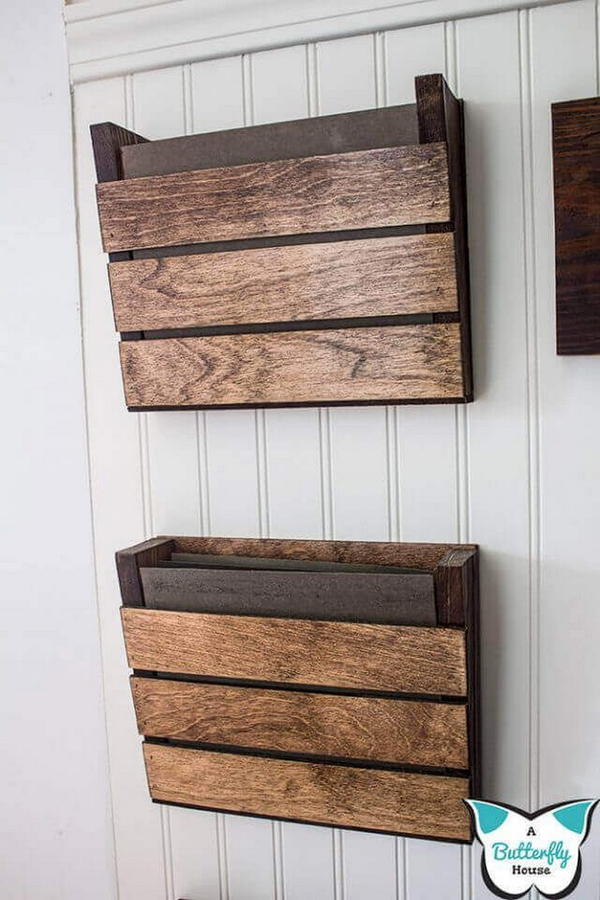 This is a project that can be done in less than an hour. Use scrap wood you have laying around the house. And when you're done, you will have built a wall organizer that frees up valuable space on your desk, counter, or table. Scrap walls are a great wall decor with a natural and rustic look. And this scrap wood wall organizer makes full use of that space. Built-in simple and easy steps, this wall organizer can be placed anywhere in your house.
This wood wall organizer has a distressed finish and would be great for the hall for storing your files and important items, as well as newspapers. But it's also a good way to store other things, such as keys or mail during the holidays. Now you can stop searching for that item you need every afternoon. You'll feel proud of your handy work too! You'll need some screws to fix this into place, but they are not included in the package. It's completely up to you how you want to use it, but the choice is yours!.
Project details: abutterflyhouse.com
DIY Scrap Wood Shelf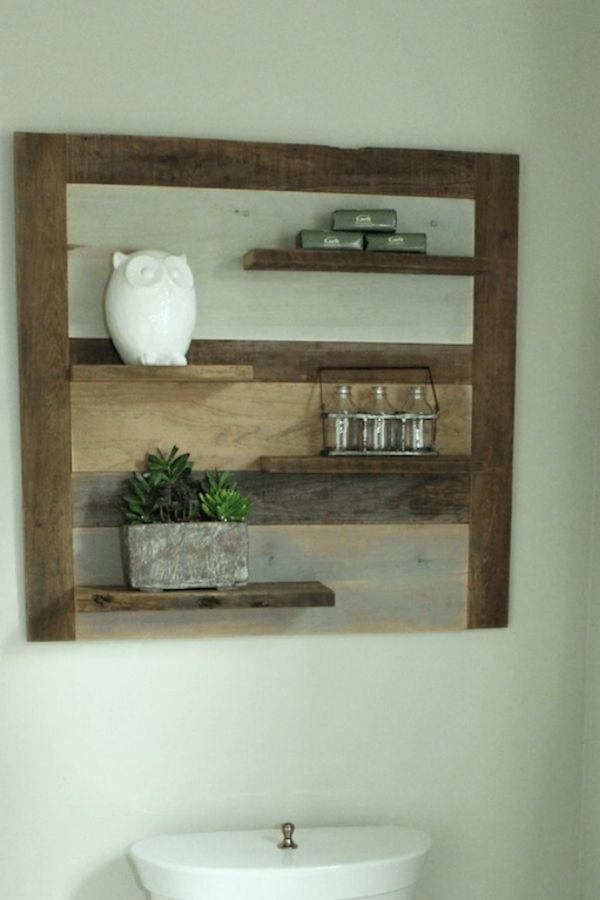 Create DIY wooden shelves with scrap wood to provide some additional storage space or a more attractive addition to your home decor. DIY Scrap Wood Shelves are the perfect way to add storage space to your home or apartment, no matter how old you are. Colette of Freshly Scrapped will show you how to make these shelves using scrap wood and hardware you can find at hardware stores. you can add rustic style to your living room, kitchen, office, or any other room in your house using simple techniques.
With a little creativity and just some scrap wood, shelves can be homemade in a few simple steps. These shelves will look attractive anywhere in the house. They won't cost much to make, either. Create them in just a couple of hours and enjoy the fruits of your labors - only if they are edible, though! Build your own incredible DIY scrap wood shelf in your home or studio. Watch as professional woodworker David Picciuto shows you how to make one of these modern pieces of art for a fraction of the price. All you need is some wood, a few screws, and brackets, plus a drill and power tools.
Project details: rogueengineer.com
Tiered Plant Stand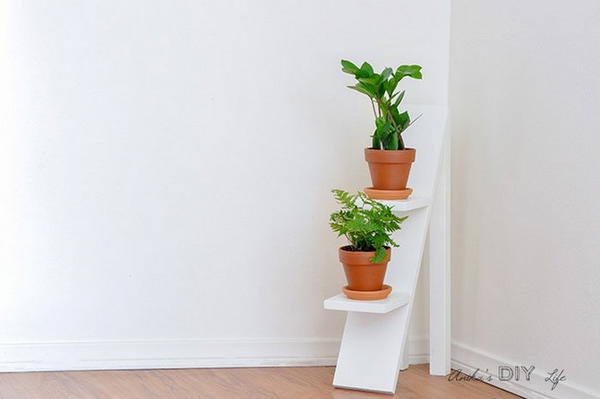 Do you have a long corridor, landing, or entrance that's crying out for something to make a feature of? If you have a few assorted terra cotta pots lying about then one of these tiered plant stands should do the trick. It's quick and easy to make – what more would you want? Here's how to make a tiered plant stand that displays several of your favorite garden pots. It's easy, and the finished product is attractive and sturdy. Tiered Plant Stand is a great way to display your plants and a practical way to store some of those pots. It is super easy to build, looks very simple but classy.
The good thing about this project is you can use any salvaged wood available at home or office which means you don't have to spend anything extra. Why not put all that vertical space in your home to good use? With this versatile plant stand, you can arrange pots of beautiful cut flowers or tropical houseplants - it's an attractive storage solution for your living room, dining room, and decks or patio, too. And it's so easy to make - no heavy lifting required!
Project details: anikasdiylife.com
Raised Dog Feeder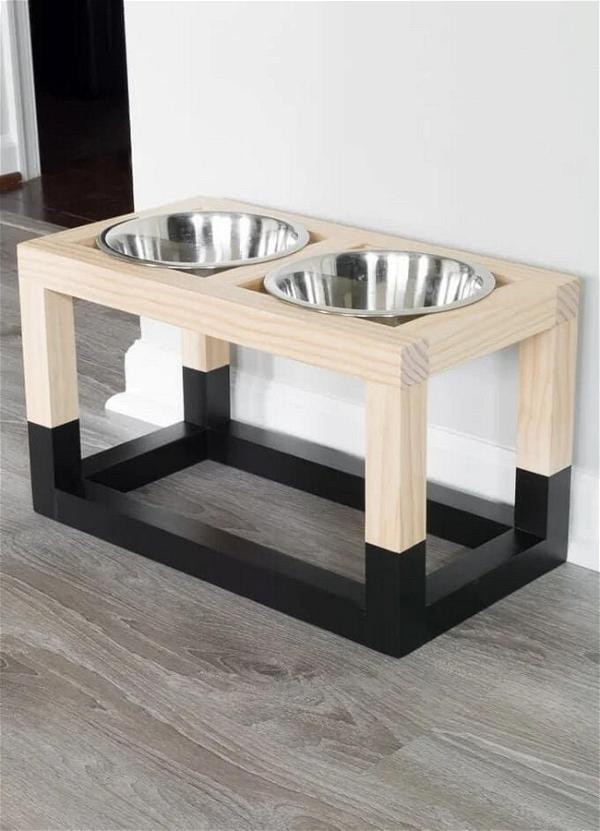 If you own a dog, you'll love this raised dog feeding bowl. This raised dog feeder makes feeding dogs at home easier. It allows the food to be served on an elevated platform, which lets you keep your floor clean and mess-free. Elevating the bowls is ideal for elderly dogs who may not be able to bend down so easily; however, it can also make things easier for any significant eater.The food bowls are placed on top of an elevated platform, which makes it easy for you to place the bowls without getting on your knees and dirtying the floor. It also keeps the floor clean, as spills will not reach it.
For those who have dogs, maintaining your floors clean is a challenge. This is precisely why we've created this raised dog feeder, to make things much easier for you. By using this dog feeder, you'll be able to place the food bowls on a convenient platform, which will keep your floor stain-free. The best part is that it lets you do away with the food on the floor; making it a lot easier to clean up after your pooch!
Project details: bybrittanygoldwyn.com
Vegetable Storage Bin With Dividers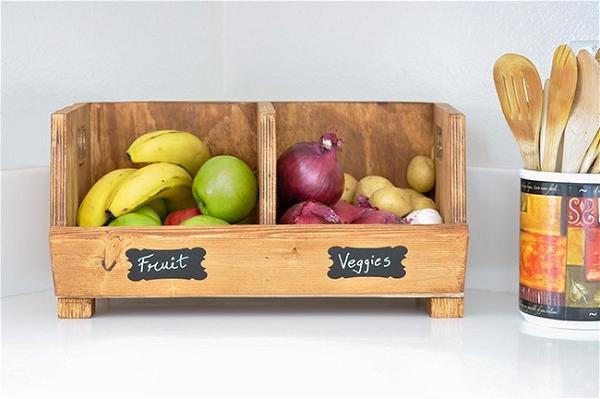 Our new Vegetable Storage Bin is a great solution to storing and keeping veggies fresh. It comes with five removable dividers so you can store different-sized items. The lid also opens on top, unlike other vegetable bins. It's made of high-quality polypropylene, which is great for moisture absorption, making it an ideal solution for storing your different kinds of veggies. What if your vegetable storage could be cleaned and sorted in a flash? This storage bin is the perfect thing to keep things tidy. It features four removable dividers, and a large bin that holds a dozen potatoes or tomatoes.
The vegetable storage bin with dividers is a kitchen organization project that's great for saving time during food preparations. It's also a good idea to store other foods like cookies, crackers, and chips. It has removable bins, so you can easily take them out of their compartments. Give yourself more space in your cabinets. This vegetable storage bin is the smart way to organize and add extra kitchen storage. The removable bins are great for sorting veggies and snap together to form a larger container when you need more room. Made of durable plastic, they're also freezer-, refrigerator-, and microwave-safe.
Project details: anikasdiylife.com
DIY Wooden Aztec Wall Art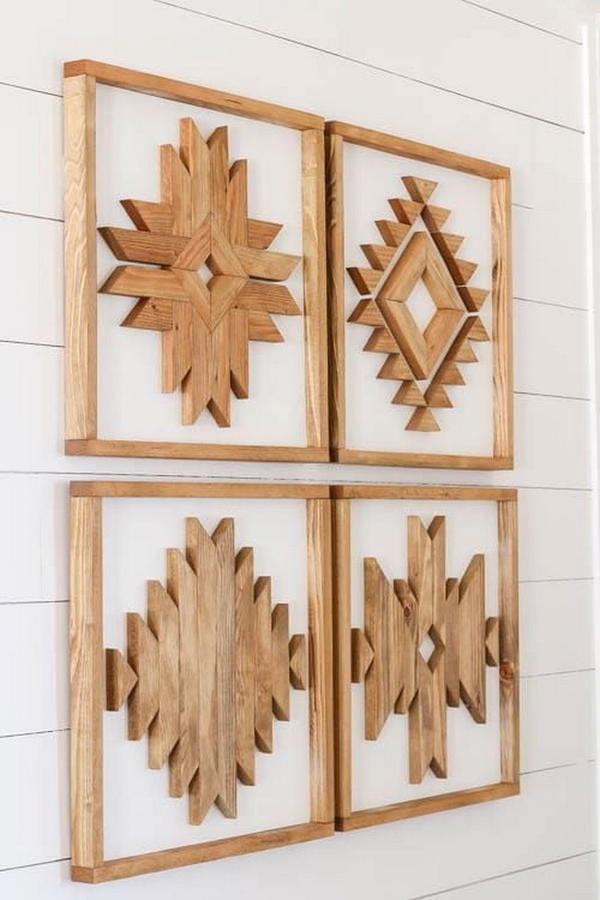 DIY projects have all of the rages nowadays, and this one is no exception. When people come to see your home, your first impression will depend largely on what they see when they step in. You can use this DIY wooden Aztec wall art to impress and leave them stunned. This DIY project calls for a great deal of detail and patience. But once the piece is complete, you enjoy the wonderful final product. This is not just any art. It's Aztec-inspired wooden wall art. It's a very easy decor idea with stunning results. You'll need a few supplies to do your own wooden Aztec art project. A ruler, pencil, paintbrushes, and sharpened sticks are the most basic items that you'll need.
Even though Aztecs are known for their jewelry, their art form was much more than that. Aztec artwork narrates different stories and myths with various symbols used in the process. Thus, you can easily get inspired by the Aztec wall decor ideas and create a decorative piece at home. Make it as easy as possible: use a grid on the wall to help with aligning pieces, and try painting the back of each wooden square to help the consistency of your work.
Project details: addicted2diy.com
Rustic Blanket Ladder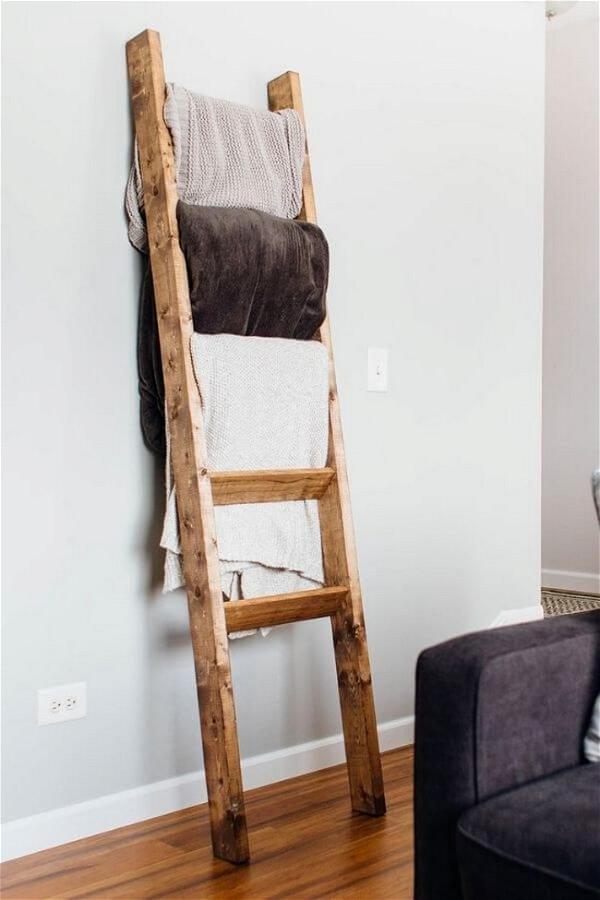 Rustic Blanket Ladder is a beautiful handmade ladder made from reclaimed wood, which can be used for hanging towels, scarves, and other accessories. This beautifully designed piece of furniture will keep your room looking classy. It's surprisingly easy to make too. All you need is to get yourself some lumber and start the crafting process. There is no need to buy an expensive and heavy towel rail anymore. This ladder can't be used for serious work but has lots of potential for decoration.
It makes hanging warm towels on the wall pleasant and practical. It's rather easy to make and works better than you think. This ladder is not suitable for anyone who wants to get serious work done. But it's great if you want to hang your towels decoratively. It looks really nice and can be made with a few wooden boards. You may be unable to work with this ladder, but it still looks good. Even though it's just a decoration, it can also be used for practical purposes — for instance, you can use it to hang your towels on.
Project details: sammyonstate.com
DIY Rolling Plant Caddy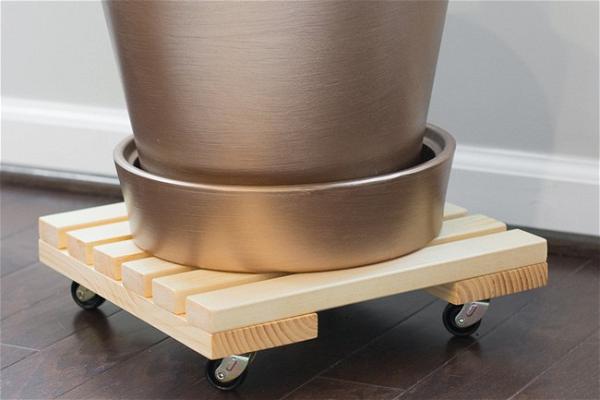 This DIY rolling plant caddy is perfect if you have a lot of flowerpots or planters and need to roll them around your home. It is durable and easy to assemble and can be used indoors and outdoors. This is a rolling plant stand. You can stand it up and roll it around the house wherever you want to plant things. The casters are strong enough to hold the whole thing without tipping, even if you're moving things around on top of it. The shelves are big enough to hold more than one flowerpot, and each can slide in and out of position easily. No matter how much you love your plants, you'll want to keep them off the floor.
It's just a safety issue. You'll be thrilled with how easy it is to assemble your new plant stand and never have to worry about picking up those pottery shards off the carpet again. It's a compact design, which makes it perfect for the patio or deck. Just take the right pot and put it in the hole. That's all there is to it! Once your green thumb sets in, you'll be amazed at what you can grow.
Project details: prettyhandygirl.com
Reclaimed Wood Crate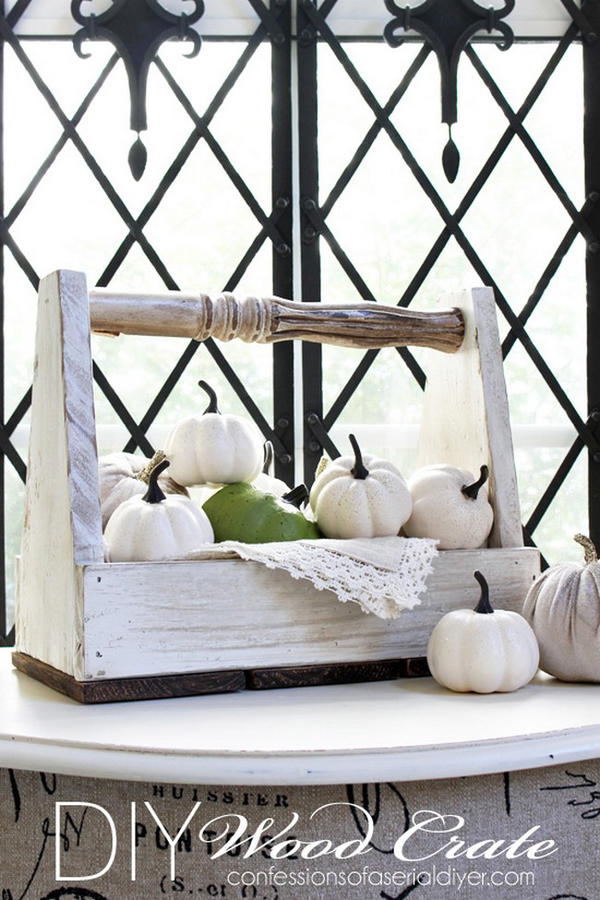 Reclaimed Wood Crate is a functional, decorative traditional crate made from turned hardwood. This rustic wall art is perfect for a farmhouse look. This Reclaimed Wood Crate is perfect for storing and decorating around your home! Whether you're looking for a mini catch-all for your things or an extra place to store fruits and veggies at the end of the week, our wooden crate is perfect for any small space. The wood has been reclaimed from old shipping crates, making each piece unique!
A beautifully handcrafted wooden crate made from reclaimed wood that has lost all its splendor. The cracks, imperfections, and scars are guaranteed for years of use. It all adds to the painting, almost like a piece of art inside your kitchen. This attractive crate is made of reclaimed wood, keeping it out of landfills. Its simple, rustic design adds a warmer touch to your home. The item is solid, smooth, and actual wood, so it feels nice in your hands. Handmade and natural, each crate has its own unique character.
Project details: confessionsofaserialdiyer.com
DIY Cooler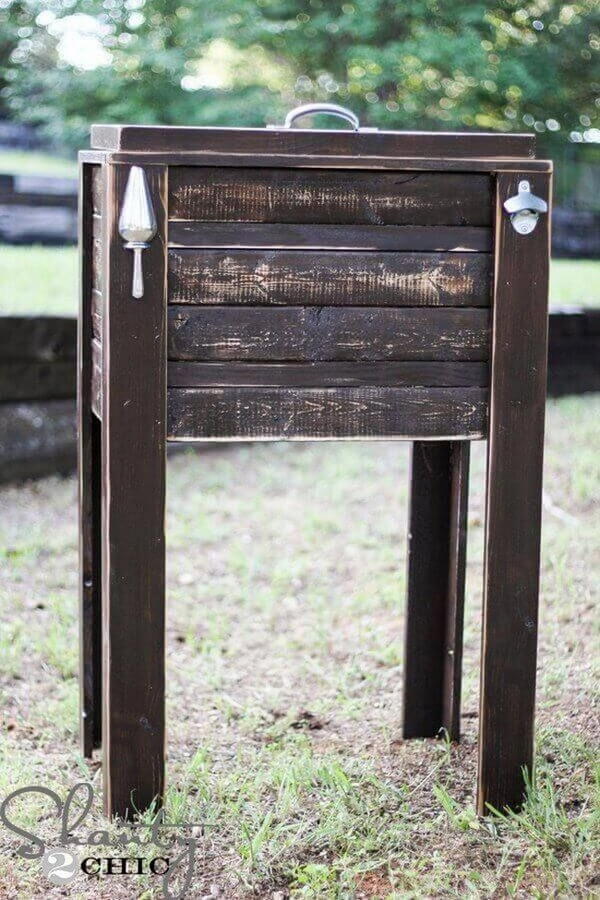 The amazing DIY Cooler is out because it's practical and fun. It features a textured surface and a visually attractive, ergonomic design, making it look great even when your food and drinks are inside. It's perfect for picnics, camping trips, and impromptu gatherings with friends. Cool your drinks with this DIY cooler, but only for a limited number of times. You can use this for a party and bring items to be cooled.
Due to the material from which it's made, you must be wise in using it, or it will melt. Be the envy of everyone around you this summer with our DIY Cooler. You can now cut out the ice! The DIY cooler is a portable cooler that will keep your drinks and food cool all summer. Featuring a rechargeable battery, it's easy to keep a few things cold while relaxing at the beach or outside looking for excitement.
Project details: shanty-2-chic.com
Plywood Arch Mirror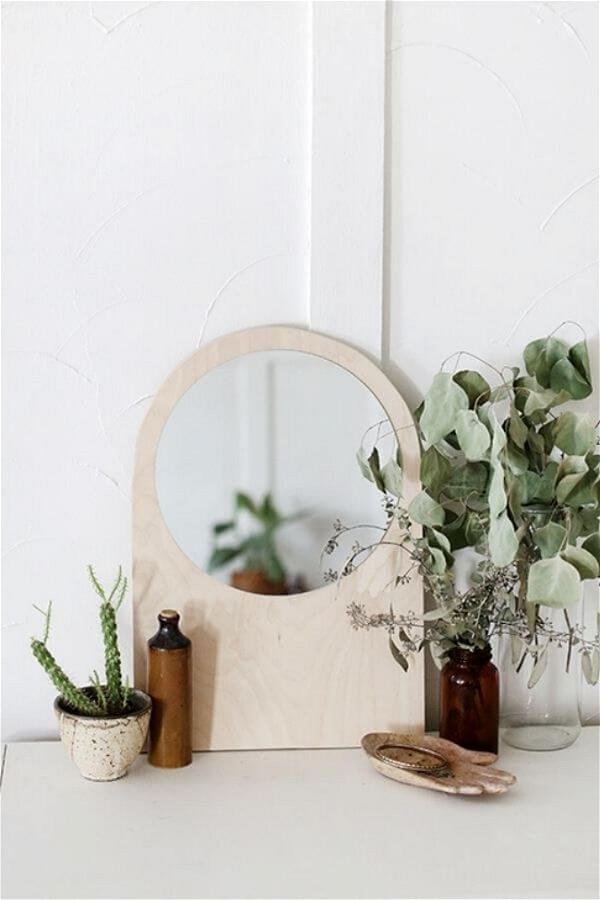 This arch mirror is made from plywood and can be painted to fit in with your interior décor. It's an ideal DIY project for beginners and those without much time. Tired of squeezing two people into your tiny bathroom for a morning routine? It is time you had your own undivided mirror space! With this Plywood Arch Mirror, you can make a useful and attractive arch mirror that you can use in your bathroom or anywhere else! The most challenging part of this project is the curves... and that's it! This project is not as complex as it may appear.
It's easy to do and a great way to add personality and light to your bathroom, especially if you have little space for creating a vanity. An arch mirror is a great way to add length and light to your bathroom. Arch Mirrors can be used anywhere; in your bedroom, living room, or bath. You can make an arch mirror by purchasing a wooden arch, gluing the edges to avoid gaps, and decorating it to match the rest of your furniture. It's a simple DIY project with some basic tools and will take a few hours.
Project details: themerrythought.com
Scrap Wood Caddy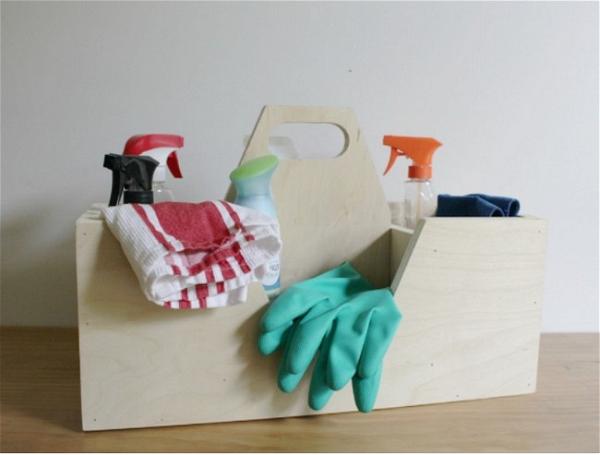 This product is made of reclaimed wood but can still be used for various purposes. This scrap wood caddy is the perfect fit when you have drilled and cut the scraps or simply need a place to store your tools when working. As it has bungee cords on the bottom, it will be easy to hang up and use, and when you're done, all you need to do is fold it over and hang up on whatever you may want – it doubles as a hook! This scrap wood caddy is a fun solution for organizing your tools and mess in the garage or workshop.
For many woodworking professionals, the challenge is keeping a small set of tools tidy, organized, and easily accessible. Our professional woodworker designed our scrap wood caddy to solve that problem. It has large compartments for the big stuff, like rulers, and small drawers for the smaller stuff, like chisels and pliers. The see-through top provides easy identification of contents at a glance. It's great in the shop!
Project details: prettyhandygirl.com
DIY Deck Planter And Card Holder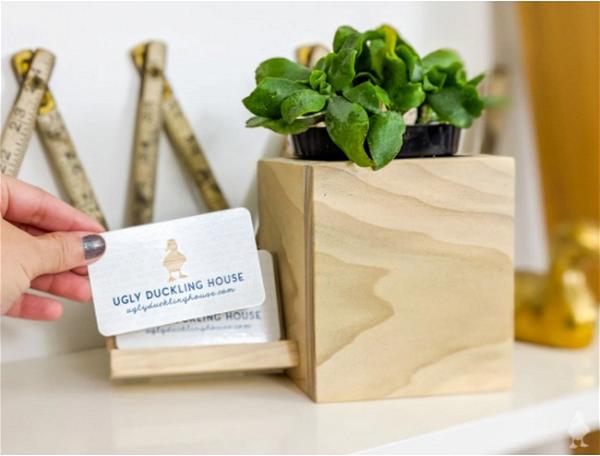 Create your DIY deck planter with free step-by-step instructions, and add a stylish cardholder on the side! This is an easy weekend project for woodworkers of any skill level. Next time you need to set up a new workstation at the office, consider getting a planter and a cardholder. At the same time, you'll save space and have everything you need for your desk! Cardholders are one of the best inventions. You can keep your debit or credit cards in one place and pull out one card simultaneously without any struggle. But usually, cardholders are bulky, and you won't be able to find them when you need them.
This DIY project is perfect for your desk or table. It's a 2-in-1 idea to let you grow plants and have extra space for your cards to fall into their slots. Keep clutter off your desk with this DIY desk planter and cardholder. Made from three materials, it is easy to assemble and a creative way to add greenery to your workspace.
Project details: uglyducklinghouse.com
DIY Spice Rack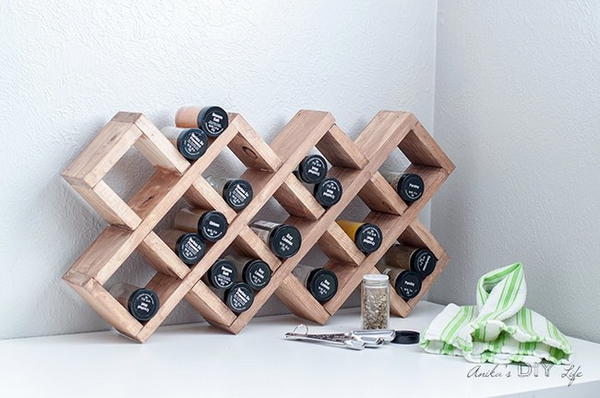 Do you know how much time you will waste if you do not organize your spices? You'll be the one person frustrated that she can't find her herbs, and you'll get lost in the kitchen wondering what you put in where. The first thing to solve these issues is a DIY Spice Rack. A perfect spice rack for people who love to cook and have lots of flavors. It's very easy to make and will save you extra space in your kitchen by storing your bottles vertically.
Make one yourself or build a special gift for someone you care about. This spice rack is made from high-density, medium-density fiberboard (MDF). It comes with partitions, which help you organize your spices and maximize your space. To mount the shelf up, you must put some nails through the pre-drilled holes in the piece. You can store it under or above your kitchen cabinets. The material used for this construction makes it durable, long-lasting, and water-resistant. It can be cleaned easily with water and mild soap.
Project details: anikasdiylife.com
Wall Mounted Coat Rack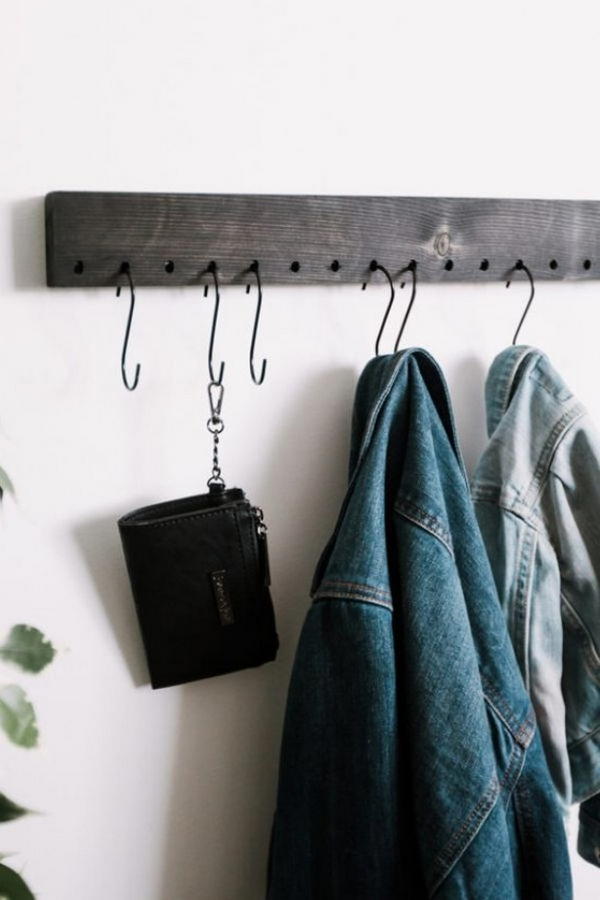 The coat rack will make your life much easier because you won't need to run around the house to find a safe place to hang your accessories. This handy and functional piece of furniture will keep them in one place so you can grab what you need at any time, whether winter or summer. Pair it with a bench, or let it stand independently. This coat rack is designed to hang clothes and coats and is small enough to fit in any room. This coat rack is a great addition to your home. It will give your living space extra storage for any winter apparel you may have acquired during the holiday season.
You wouldn't have to worry about buying a new coat hanger because this coat rack will be able to do the job and look good. This is the best choice for the homeowner who wants a cheap and simple coat rack. The two-tier design accommodates just about any coat and apparel combination, while the wall mount design allows you to hang it on any wall in your home you'd want to display. This is the best choice for the homeowner who wants a cheap and simple coat rack.
Project details: lovecreatecelebrate.com
Wine Bottle Holder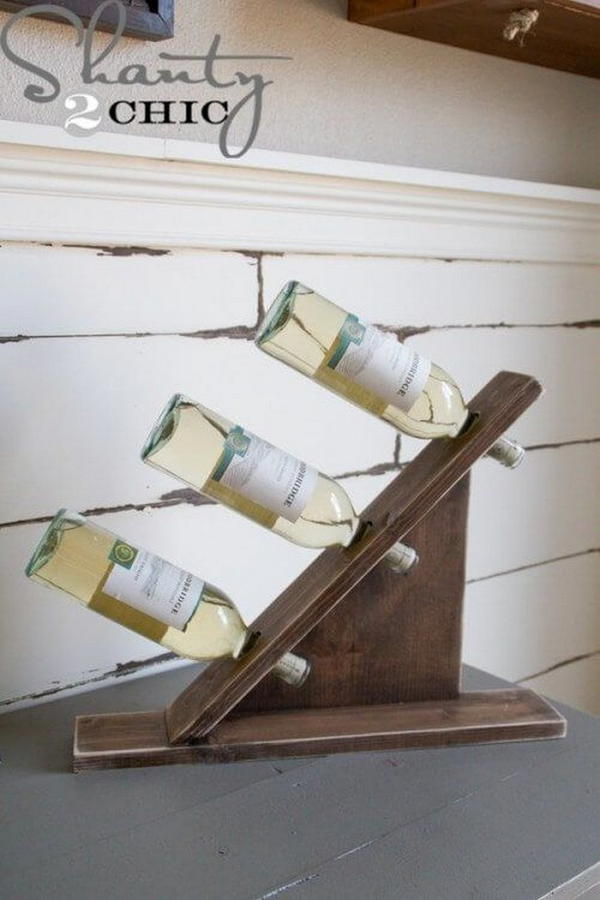 This lovely wine bottle holder will look stylish on any kitchen countertop, holding your favorite wine bottle! It is made of wood, has a unique design, and has a very convenient handle for portability. This wine bottle holder effortlessly suspends the bottle and keeps it steady for storing or opening. It's good for a kitchen, outdoor room, and wherever you want to add flair with wine bottles. The wine bottle holder is crafted with grade-A beechwood to last for years. Its beautiful green color enhances the quality of this rack, especially if you are a wine lover!
This unique new product is a bottle holder holding up to 6 bottles on its bottom tray and cool 2 bottles on top. This wine refrigerator is not a new idea but a different take on the existing idea. The wide base design will effectively prevent bottles from falling off, perfect for home kitchens and, restaurants, bars. Small holes on the bottom can be inserted into the ground firmly if needed.
Project details: shanty-2-chic.com
White-Washed Window Box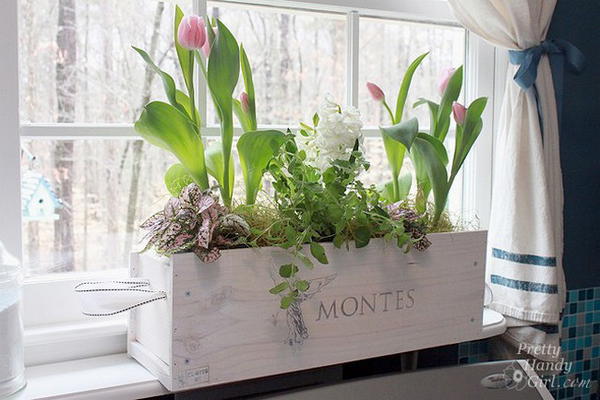 Don't hide your view of the outside world; show it with a White-Washed Window Box. This elegant window box is designed to fit most double-hung windows. It can create a nice look by calling attention to your environment while adding greenery to your home or apartment. Enhance the look of your home with our stunning white-washed window box, which can be hung on any window or door. You can place flowers inside and grow them right in your home.
Make your house more adorable with our window box! Our window boxes are very trendy and can enhance the look of your windows. Place flowers inside for a beautiful look you'll love. Transform the look of your windows with this unique Boxwood Planter. The Boxwood Plant is a small evergreen shrub that adds architectural interest to any setting. This white-washed window box features a generous amount of space, perfect for displaying flowers in a mixed bouquet.
Project details: prettyhandygirl.com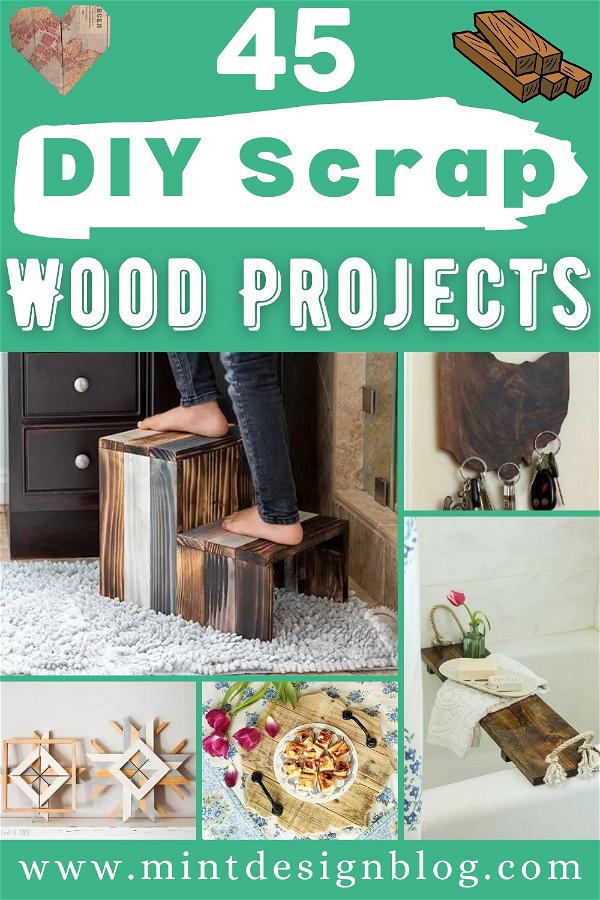 See Other Projects
18 DIY Wood Carving Projects For Beginners: Nothing compares to the satisfaction of creating something using your own hands. With DIY wood carving projects, this excitement reaches new heights as you transform simple pieces of wood into amazing, unique creations. Through your imagination, determination, and skills, you'll be able to display your artistic abilities and personal touch in every piece you make.

17 DIY Wooden Toy Plans For Kiddos: Wooden toys often bring back memories of our childhood when our parents surprised us with painted toys from our neighborhood store. These playthings, mostly made of softwood with glossy enamel paint, hold a special place in our hearts. Inspired by these memories, we've put together this exceptional collection of DIY wooden toy plans for you to recreate the magic.

12 DIY Triple Bunk Bed Plans For Kid's Room: If you're looking for a practical way to improve your home's space and privacy, our easy DIY triple bunk bed plans are just what you need. 

12 Useful DIY Garden Bridge Ideas For Backyard: We've compiled a list of 15 beautiful and budget-friendly Garden Bridge ideas to help you build a magical bridge in your garden. These lovely additions can span small ponds, lakes, rivers, and more, turning your garden into a paradise.