If your bathroom is dull and unattractive, it is time to take a drastic step! You probably heard that painting the mirror is the best way to freshen up the room. This will indeed revive your bathroom. While you can paint the entire frame, you have to just focus on the mirror. Using natural products has a great impact too! On this note, these 15 DIY Bathroom Mirror Ideas are for you! These bathroom mirror ideas can be used in any size or shape of a mirror with little or no cost at all. All you need to do is make some of the tools that will help improve the output. You can use one tool or several to achieve better results. These ideas are very simple and they produce wonderful effects on your bathroom.
DIY Bathroom Mirror Ideas

Whether you are looking for ideas to redecorate your bathroom or simply to renovate it, you can find endless possibilities in this article. You will find a wide range of bathroom mirror ideas, such as framed mirrors, chandelier mirrors, and other similar projects. Choosing the right one is a task that requires some effort and knowledge of DIY skills. Regardless of all this, there are a few basic things you should pay attention to when choosing a DIY bathroom mirror project. You need to know that these projects will not only help you make your bathroom more beautiful, but they will also help you save money!
How To Frame A Bathroom Mirror
Bathrooms can be small places, and a mirror can take up space. You may not have the room for it to hang directly on the wall at the height you like without being in the way, or it might just be plain difficult to get behind a large mirror if you want to fill a patch of tile with adhesive or caulk. To Frame a Bathroom Mirror Your bathroom is one of the most visited rooms in your home, but your decoration may lack a certain pizzazz. A few simple additions and you can quickly transform your dull bathroom into a classy showplace. The first thing to consider is the bathroom mirror. Giving the illusion of more space, framing a bathroom mirror by following a few simple steps can cause an otherwise small bathroom to feel warm and inviting.
DIY Bathroom Mirror Frame for Under $10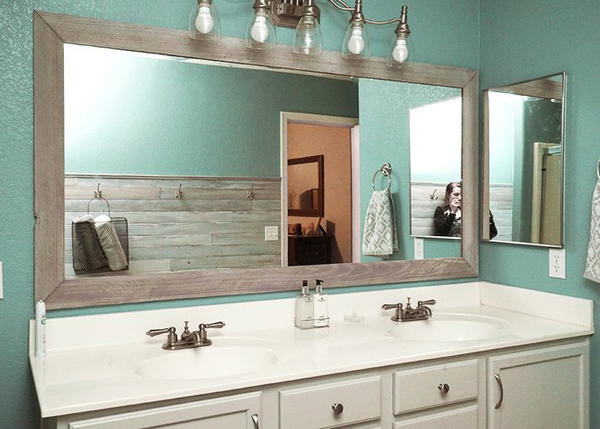 Are you ready to DIY your own bathroom mirror frame for under $10? For this tutorial, you will need a mirror, wooden frame (mirror should fit inside the frame), Wood Putty, and nail gun. If you're looking for a stylish and inexpensive way to dress up your bathroom mirror, this DIY frame is a great option. With an unfinished wood frame, wire (that you can paint to match your wall color), liquid nails glue, and some faux greenery, you have everything you need to create this awesome look. This is a great DIY project with the help of a simple mirror frame and whiteboards. The latter is easy to find, inexpensive, and are usually very resistant. To complete your bathroom, this piece is still missing an attractive frame for your mirror and a small picture to add in order to decorate it.
Easy DIY Mirror Frame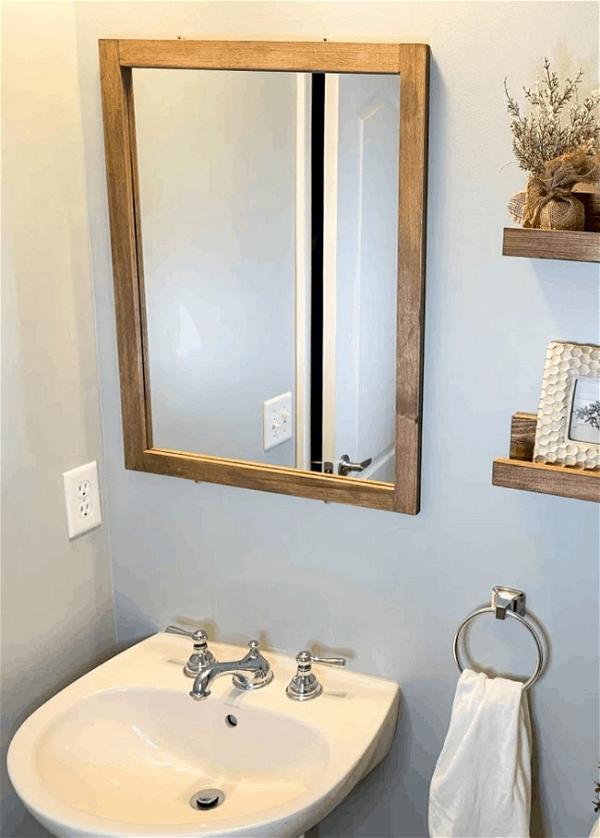 Ready to create a focal point for your living room, hallway, or even your bathroom? This easy-to-assemble mirror frame comes complete with french-cleat hanging hardware and is designed to be easily hung on your wall. It features a sink cutout that makes hanging the mirror easier. This product is a simple mirror frame with protects films. It is easy to prepare and install. You are not scared at all if you make mistakes. And it is easy to remove and save your time. This product can be used in any place freestanding such as living room, dining room. All that you have to do is just measure the position of your mirror, then choose the size and make your order. The price for this mirror frame is really cheap compared with professional custom-made ones but the quality is much better!
How To Frame A Builder Grade Bathroom Mirror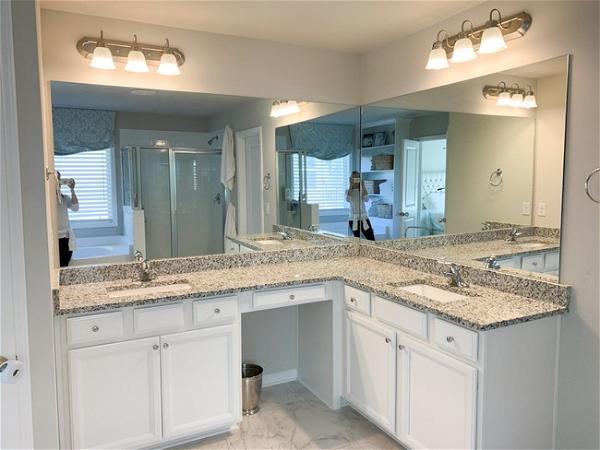 Framing a custom, framed bathroom mirror made from the inexpensive builder-grade mirror is a perfect project for anyone who enjoys woodworking. The process is simple, using basic tools and hardware items purchased at a hardware store. This bathroom decoration can then be stained or painted to match any decor. Framing a builder-grade mirror for your bathroom is something you surely could do with simple tools and a few household objects. It's easy, fast, and will look modern, sleek, and functional. With a few simple tools and steps, buyers can make the ordinary for a little price. Let's get started...
DIY Stick-On Mirror Frame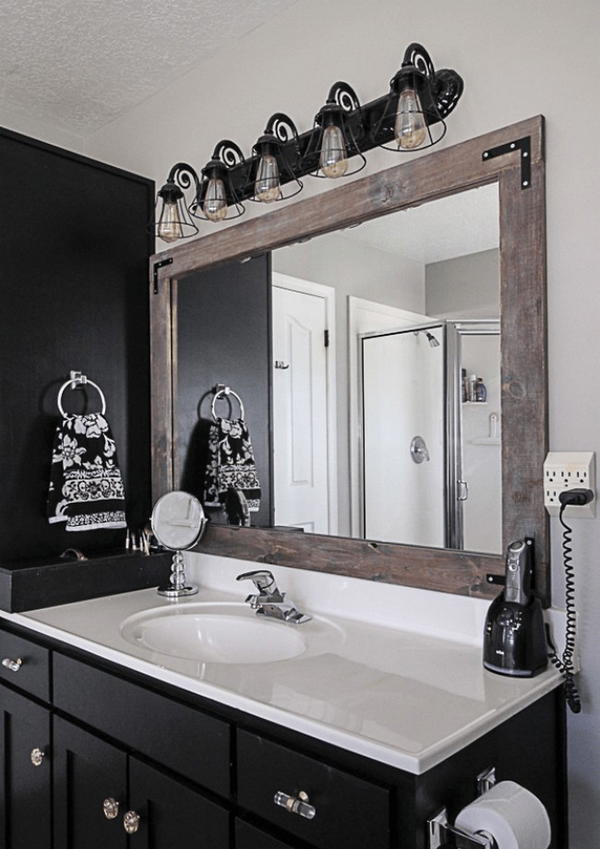 Love to decorate your home with wall art, but hate leaving it behind? Do-it-yourself! Striped mirror frame your own bathroom mirror. Easy to install, and it's not a permanent fixture; easily removable. Now you can bring your favorite pictures on the road with you as you travel with this DIY Stick-On Mirror Frame. These frames are extra strong, even for large picture sizes. The special adhesive makes it easy to mount anywhere, and repositionable so you can always get it just right! Add a mirror to any flat surface with this stick-on mirror frame. Horizontal or vertical mounting possibilities allow this strong, durable frame to be placed in your desired location.
DIY Wood Frame to a Bathroom Mirror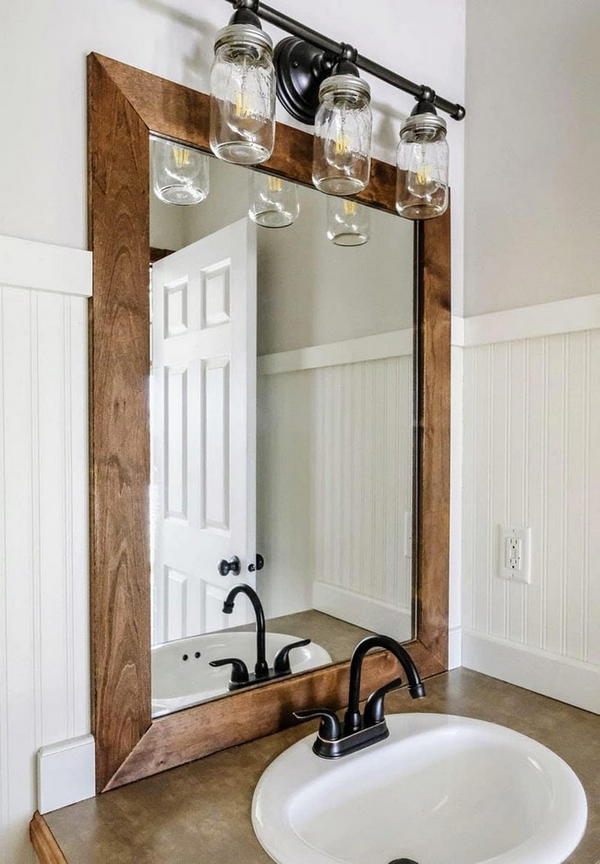 This DIY Wood Frame to a Bathroom Mirror is so simple and does not need to be a professional to get the job done. Building your own custom-size mirror to hang over your bathroom sink can really uplift the look of your room. This step-by-step woodworking project is about a wood frame to a bathroom mirror. If you are doing the tiling job of your bathroom and planning to install a mirror on the wall. The following DIY project will guide you on how to make a simple wooden frame to fix that mirror on the wall. Now you can keep your bathroom looking fresh and new by replacing the old, dirty mirror. This DIY wood frame for a bathroom mirror is easy to assemble and will allow you to enjoy your room in its full splendor once again.
How To Frame Out That Builder Basic Bathroom Mirror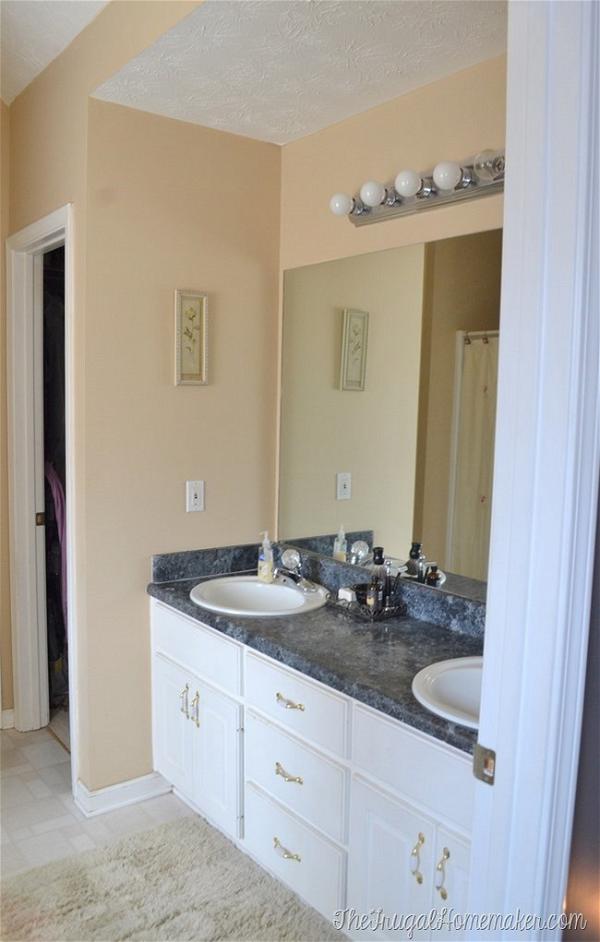 Ah, home sweet home. It's finally complete! The floors are refinished, the walls have been painted, and your completely custom bathroom is ready for some accessories. Problem is, what to do with the old builder basic? Do you rip that mirror out? That wouldn't make sense because it already hangs in the perfect spot. Instead of wasting it and spending a lot more money on a new mirror, frame it out by attaching molding in multiple steps (yes, it will only take a few) and you'll be enjoying your newfound designer bathroom for years to come. Freestanding tubs can also be installed on a new tile floor. You've installed that fancy new builder basic bathroom mirror. Now it's time to frame out the mirror so that it looks like a custom original.
DIY Framed Bathroom Mirror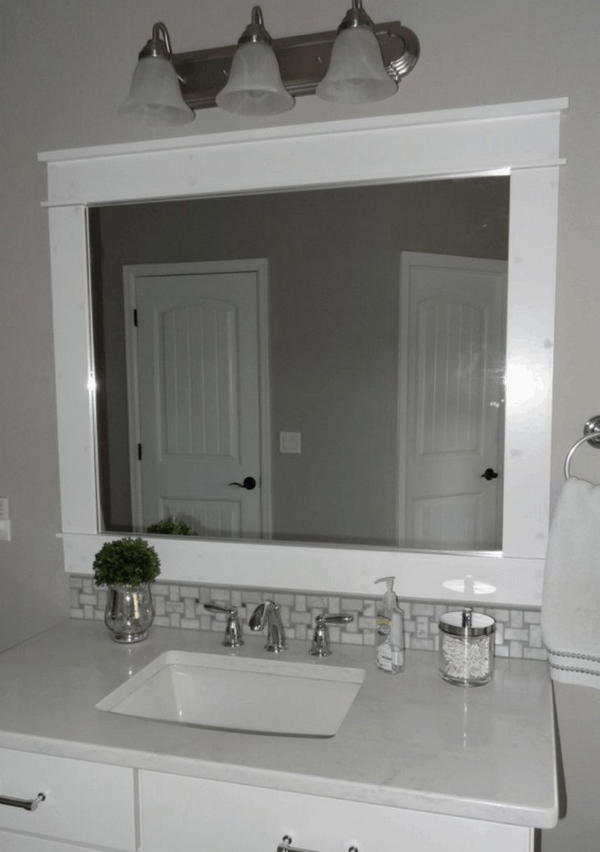 Let your style shine! This DIY Framed Bathroom Mirror comes with the tools you need to create a mirror that is uniquely you. This project is suitable for beginners and will give you a new appreciation for creativity. Constructed from high-quality materials, this frameless style comes ready to hang and keep you organized. Start making art! This DIY Framed Mirror is the perfect bathroom accessory for your home. The mirror can be mounted on a wall or stood on a table – the wall mounting system allows you to choose where you want your mirror to be placed. This DIY Frame is also great for other uses such as a headboard, desk mirror, or dressing room mirror. use white card and acrylic to provide a sturdy frame that allows you to insert and remove the mirror without damaging the card or your existing paintwork.
Easiest Way To Frame A Mirror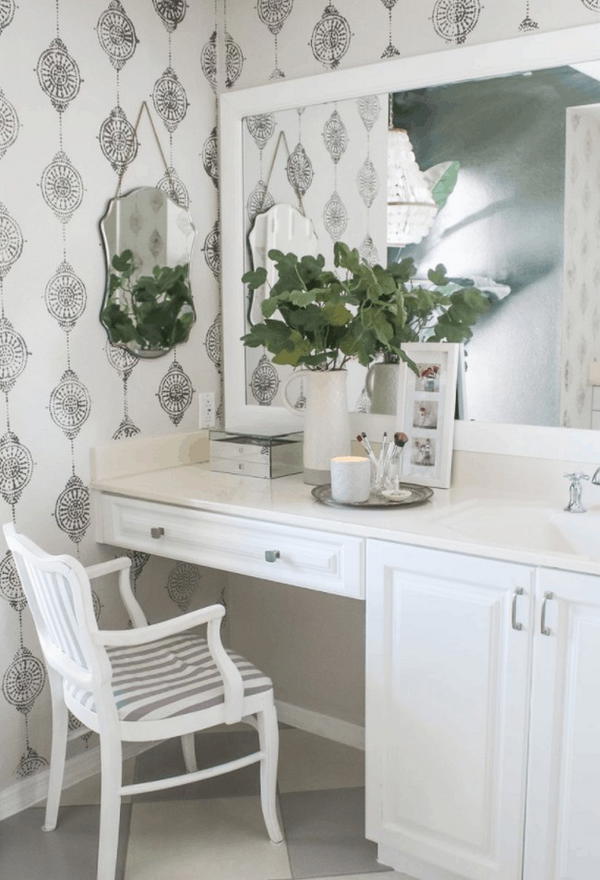 Sometimes you have a beautiful mirror, but don't have the means to frame it. Sometimes you run across a frame for a mirror at an incredible price and no way to get the mirror into that frame. The Easy Wood Mirror Frame is the easiest way to surround your favorite mirror with woodwork. The frame is constructed of quality Baltic Birch and finished with the same appearance as hardwood. It's easy to apply and looks stylish and professional. This patented slide and lock system provides the easiest way to perfectly frame mirrors of all shapes and sizes. Just get the included saw and you're ready to create a custom look for your bathroom or other spaces in your home.
DIY Framed Bathroom Mirrors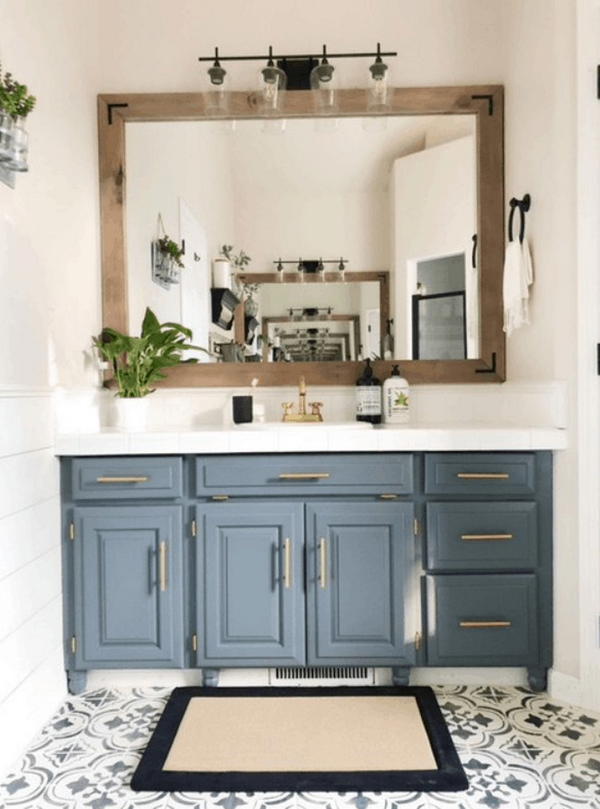 Looking to upgrade the décor in your bathroom? These DIY framed bathroom mirrors are perfect for doing just that. Using only a few simple materials, including a mirror, you're sure to turn an old bathroom into an updated one. Turn any wall into a bathroom mirror! These DIY Frame-It-Yourself mirrors come in two decorative styles and several sizes so you can find the right one for your home. They are easy to hang, and each kit includes all of the hardware you need. Make your bathroom stand out and give it a truly personal touch. Make a stand-out framed bathroom mirror with help from your local Home Depot. Use metal, wood, glass, and mirrors to create an elegant and one-of-a-kind piece that reflects your style.
Easy DIY Bathroom Mirror Frame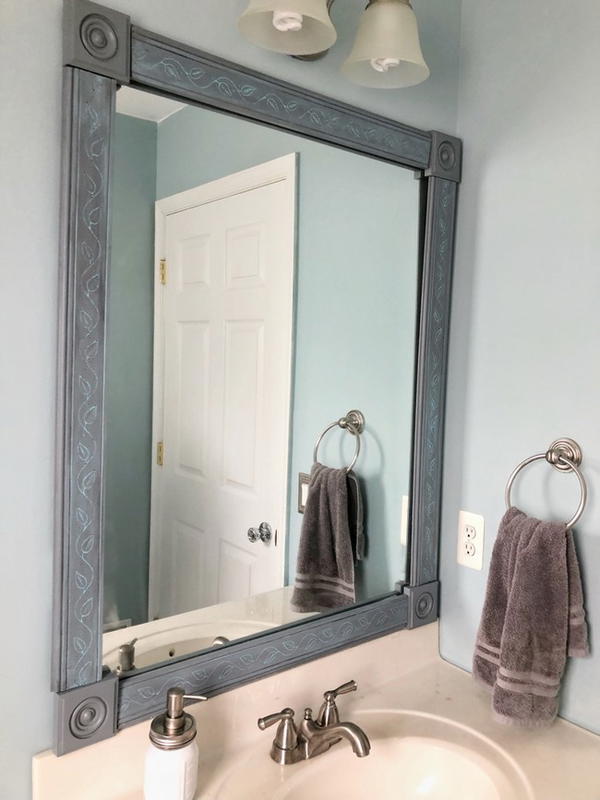 Let's be honest – you want a perfect bathroom mirror frame that looks exquisite on your bathroom mirror wall. You want for it to be sturdy and stand the test of time. Most importantly, though, you want it to be quick and easy! This DIY Bathroom Mirror Frame has it all. Made of sturdy materials, this bathroom mirror frame is just what you need to make a unique statement with your bathroom décor. This easy-to-make mirror frame lets you turn any size or shape of the frameless mirror into something special for your bathroom for a fraction of the cost of ready-made frames.
How to Frame a Mirror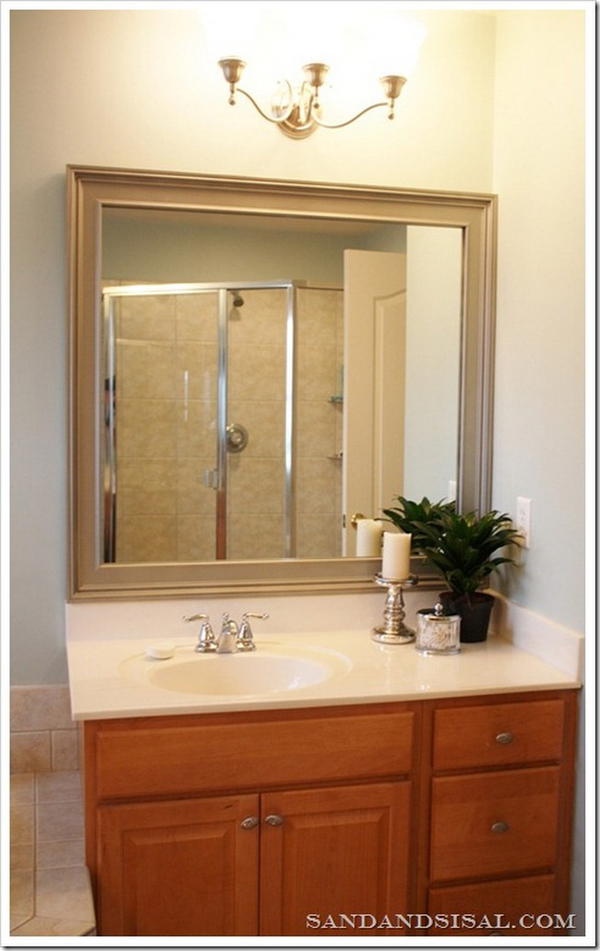 Sometimes making a big impact really is that simple. By simply framing a mirror, you're creating an instant focal point where you can display family photos or a treasured piece of artwork. It's a cheap and effortless way to transform your home and create the look you want. You do not need any expensive tools either, even though there are a lot of guys out there trying to sell you something. Shrinkwrap is a very easy material to work with, and you can get it at any Home Depot or Lowe's store. Sure, they will have some nice-looking tools, but they can overcharge on those as well. Before framing a mirror, make sure it is clean and the glass is intact. Avoid mirrors with cracked or damaged glass, as the cracks may indicate that the mirror has been dropped, potentially damaging the frame.
DIY Bathroom Window Mirror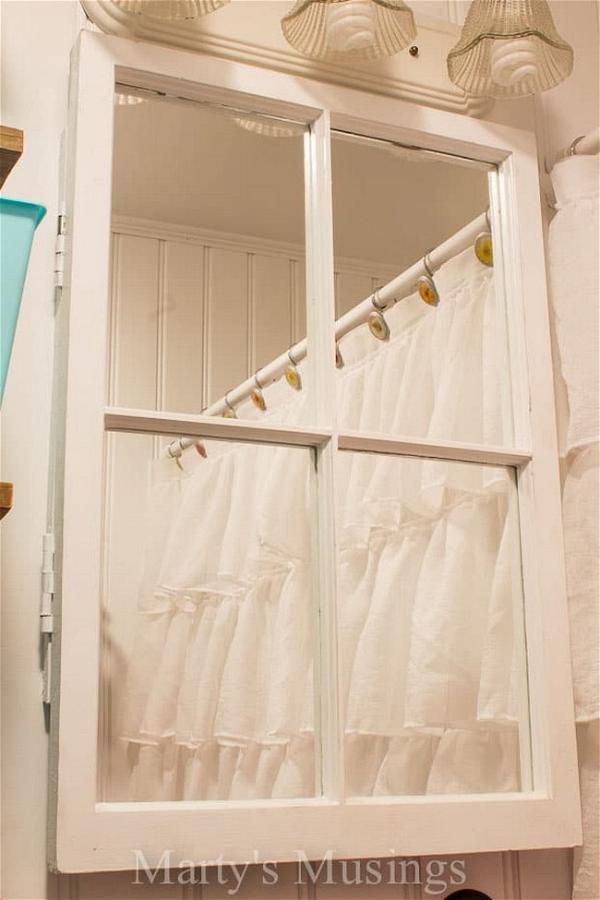 Create a luxurious window display with mirror tiles! Bathroom window mirrors can be quite expensive, but with This DIY Bathroom Window Mirror kit and a little elbow grease, you are on your way to having a designer window right in the comfort of your own home. This detailed mosaic mirror tile pattern shows off your true colors, and is easy to clean – no more smudges or fingerprints will be seen! Makeover your bathroom with this awesome DIY bathroom window mirror. It looks like a framed picture until you open it and sit it on your toilet tank. You can turn a window into an addition to your own personal spa in minutes. The perfect addition to your home and the perfect anniversary gift! DIY window mirror projects are a wonderful way to add light, art, and character to your home. Pretty much anything goes!
DIY Shell Mirror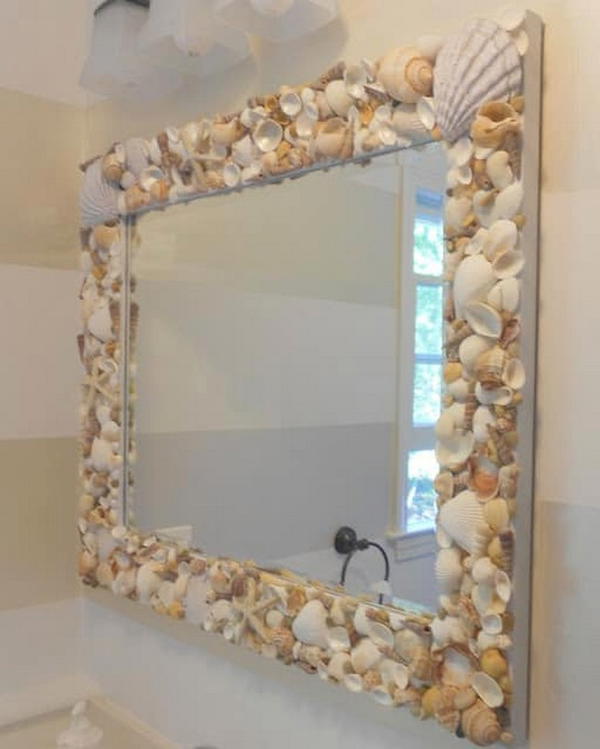 Looking for a beautiful and unique piece to adorn your home? Take a look at this DIY Shell Mirror. This project will allow you to combine shells from the sea with wooden strips affixed to a mirror, allowing you to create a decorative and elegant wall hanging around your house. This DIY shell mirror would make a great gift for someone or a beautiful decoration for your living room or bedroom. It comes with a decorative wooden frame, round mirror glass, and metal hinges.
Sometimes you just want to add a little texture and shine to your home decor. Get this DIY shell mirror to bring the elegance of seashells right into your home. Made with glossy white wood, the frame has a vintage farmhouse look—perfect for those who love the beach but live far away. It's the perfect way to symbolize your travels in a beautiful centerpiece or accent piece that any guest will love.
 DIY Hollywood-Style Mirror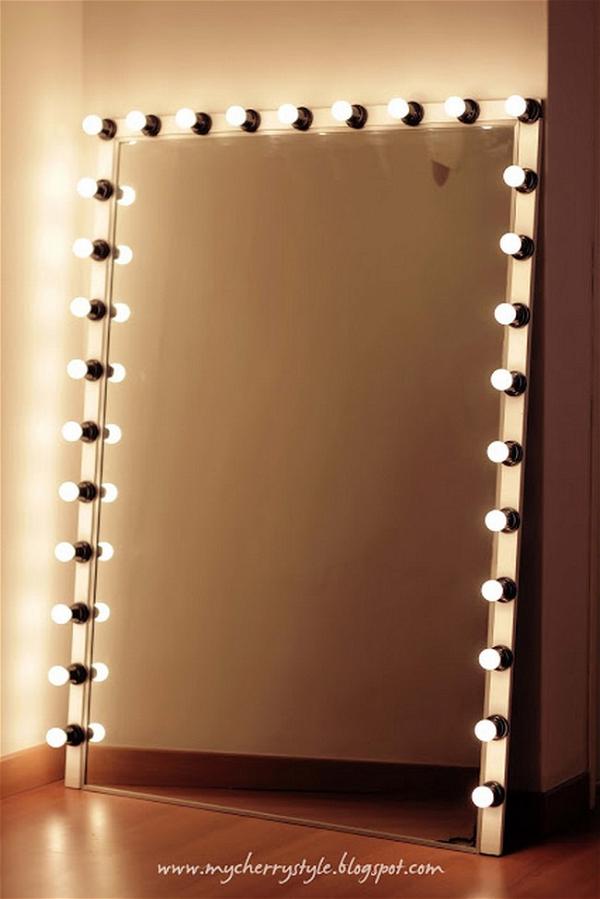 Do you have a spare mirror? Can you follow simple instructions? Do you want to make a Hollywood-style mirror in your home? The perfect DIY project! Make your own mirror using the Hollywood Mirror stencil and colors of your choice. Solve that tricky problem of how to fit a mirror into small spaces by building a custom-sized Hollywood mirror…just for you! This classic Hollywood mirror looks as glamorous as it sounds. And by "classic," it means a style that goes back decades. Back when it was first introduced, Hollywood was the center of the entertainment industry, hence its name. Plus, it's a fun way to get a silver hemmed piece of glass for your own boudoir! This project is a must! Your bathroom needs one! Perfect for gifting, for an upcoming wedding or bridal shower, as a housewarming gift, or for your own use!
See Other Projects