A DIY wardrobe will be a great idea to organize the clothes and accessories without giving great stress on the budget while a personalized option according to the needs and matching the home decor. So here we are with the best DIY wardrobe plans with the guidance of the best professionals, so they are extremely easy as handmade furniture.
And you can add them to any room, whether a small DIY wardrobe in the kid's room or a decorative and big wardrobe in the drawing or bedroom. Therefore, You can create and install one today to beautify your space, from Armoire Storage Wardrobe and Modern Wardrobe to Closets to Dressers.
DIY Wardrobe Plans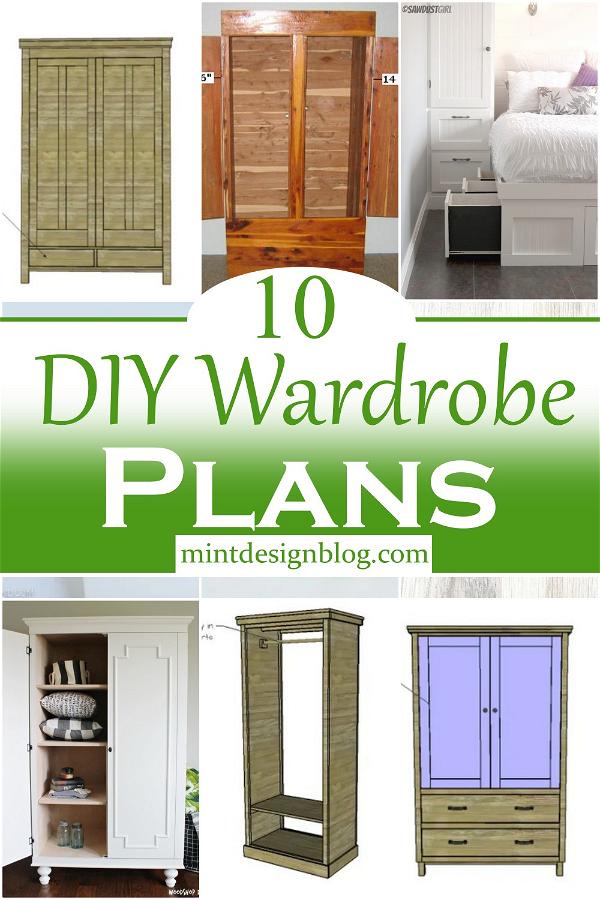 Don't think about spending lots of money on a costly wardrobe when a DIY wardrobe is simple, affordable, and perfect for those with limited carpentry skills. All you'll need are some plywood, hinges, and handles. So, the DIY wardrobe plans are here to keep all the family members on special or general occasions always ready for makeup.
Cedar Armoire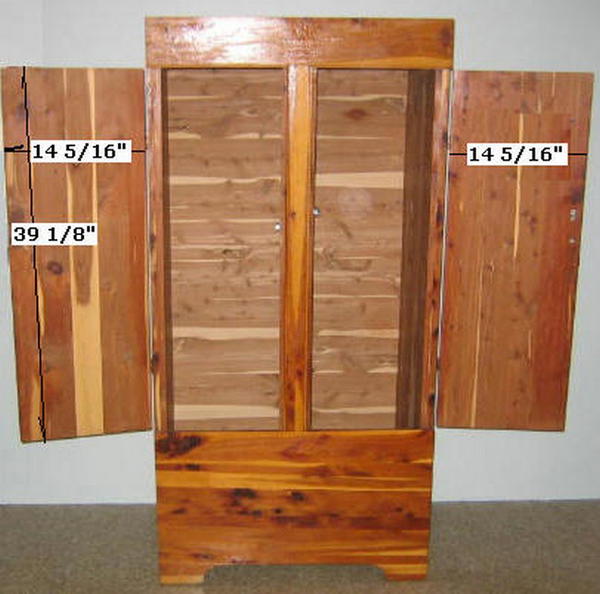 The Cedar Armoire is a great homemade vintage project that helps guests maximize their space and organize all of their garments. There are doors and top drawers for all kinds of things, and a lot of room for you to put away all of your clothes. The cedar acts as a natural guard against moths, so you don't have to worry about holes appearing in all of your garments. This Armoire is a great storage option for people who have a limited amount of space. This piece has endless customization options, so you can change the wood type, stain, or even add decorations. This project is great for someone with moderate woodworking skills who wants an inexpensive project they can complete while still providing valuable storage options.
Skill Level: Intermediate
Tools: Saw, Drill, Sander
Supplies: Wood, Hinges, Hangar Rod, Molding, Screws, Glue
Shaker Style Wardrobe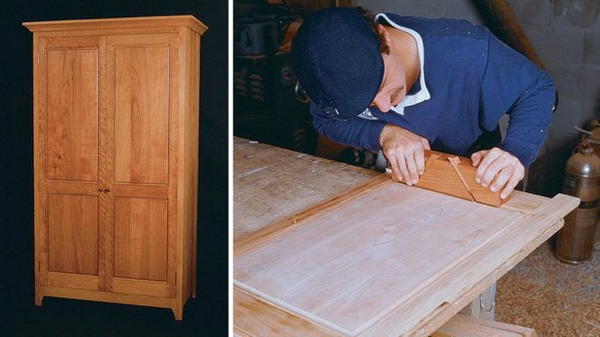 Wardrobe storage must be intelligent, functional, and attractive. This Shaker Style Wardrobe is built using fine furniture-making techniques and locking joints. This customized wardrobe plan will help you build your own wardrobe, letting you select the dimensions that are right for your space. Choose your wood type and finish to fit your decorating style. Start building with this easy-to-read plan! Its simple construction is easy enough for an amateur to make at home, but it has an attractive, professional look that will improve any bedroom in which it's placed. This Style Wardrobe is a classic design that will never lose its popularity. The three big draws on the bottom will usually cover your everyday needs, making it perfect for kids just starting their wardrobe or the family room.
Skill Level: Expert
Tools: Saw, Sander, Drill, Hammer
Supplies: Wood, Handles, Hinges, Screws, Glue
19th Century American Wardrobe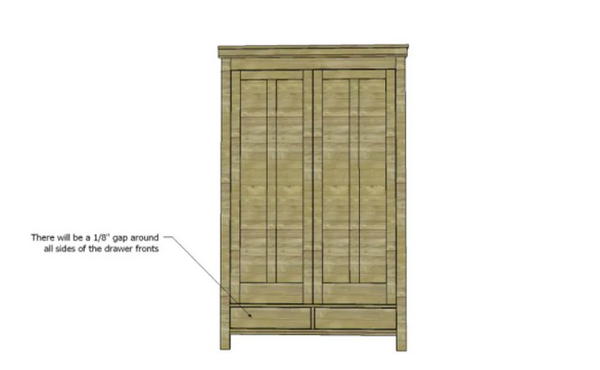 This 19th Century American Wardrobe will give you ample clothing space - enough space to hang clothes and even store shoes. It is designed to hang clothes on the top and store shoes on the bottom. With its sleek wooden lacquer design and soft linen interior, this wardrobe will surely add convenience and style to your bedroom. Featuring ample hanging space on the top and plenty of room at the bottom to store all of your shoes, you are sure to have plenty of places to store all of your belongings within this wardrobe. This wardrobe is easily transportable - just take it with you!
Skill Level: Intermediate
Tools: Saw, Drill, Hammer, Sander
Supplies: Wood, Door Pulls, Hinges
Open Clothes Wardrobe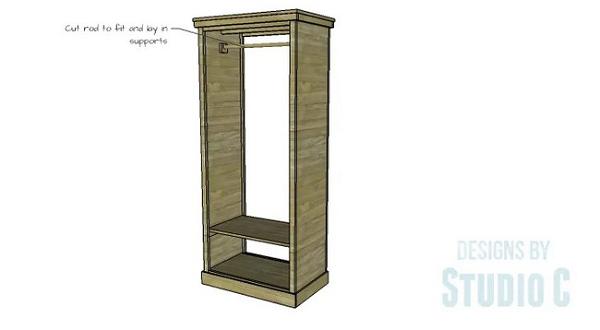 This Open clothes wardrobe is perfect for those who want to put their clothes on display or simply have no use for doors and drawers. A simple shelf and a hanging rod are all that is needed. It offers the option of hanging your clothes by category, which can help you save space and keep things much more organized. This piece could be a great option for those with limited space or no need for a closet. In addition to being functional as a hanging space for clothes, this wardrobe could also be used to store tools or other little items you want handy but not necessarily on display. A great choice for those who do not have much woodworking experience, this wardrobe can be built on a weekend and is then ready for many years of use.
Skill Level: Beginner
Tools: Saw, Drill, Hammer
Supplies: Wood, Handing Rod, Screws
Starling Armoire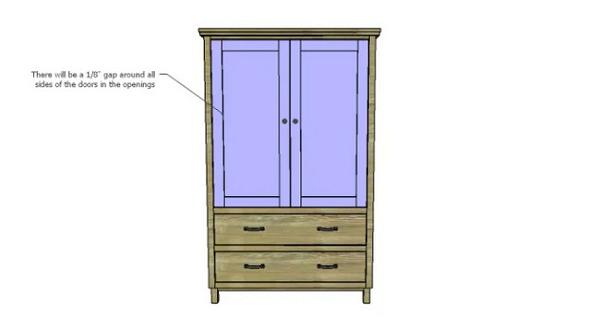 You are planning on storing away your sweaters and your shirts. However, you don't have a lot of room for a big wardrobe. We want to tell you about the Starling Armoire to consider adding this great piece to your home. Two color options are available, and both look beautiful in any home they go into. You can easily see and access your clothes inside of it because it has plenty of hanging rods and drawers. This design will last many years while giving you much space to put all your belongings!
Skill Level: Intermediate
Tools: Saw, Drill, Router
Supplies: Wood, Hinges, Door Pulls, Screws, Nails, Glue
Simple Wardrobe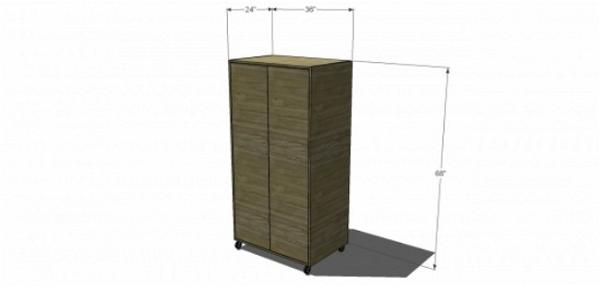 For those of you just starting out in the woodworking world, we've created a simple wardrobe that you can build. This free plan is great for kids' closets, guest rooms, or the hall closet. What we love about it, too, are the wheels! The wheels allow us to easily move the wardrobe when we want to clean underneath it or move it to another area of the house. It is simple to build. The materials can be purchased from your local Home Depot or Lowes store. Whether you are a budding beginner or an experienced carpenter, this project will make a great addition to your home!
Skill Level: Beginner
Tools: Saw, Nail Gun, Sander, Level
Supplies: plyWood, Hinges, Wheels, Glue, Clamps, Finishing Supplies
Built-In Wardrobe With Side Cubby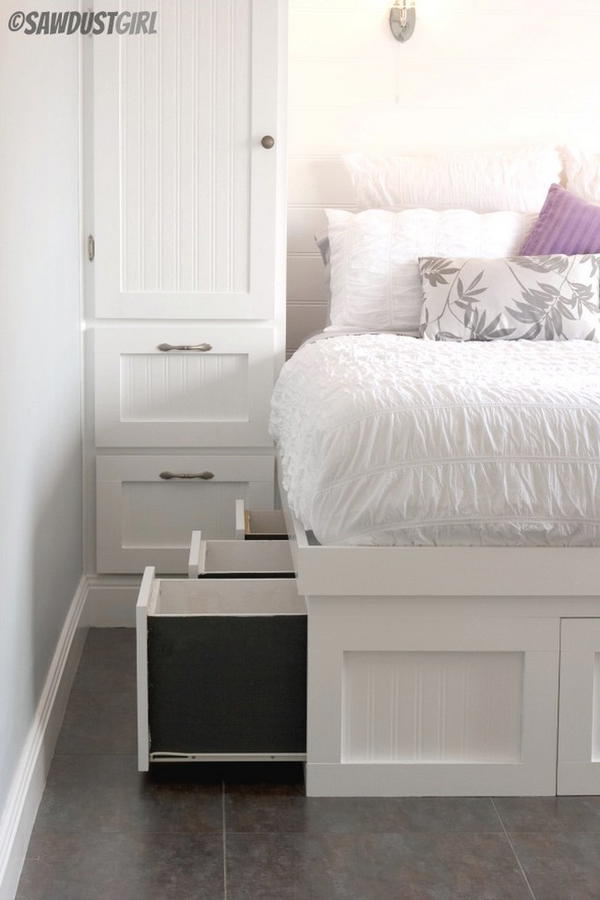 The built-in wardrobe is a great storage solution for any room. We love the idea of building it yourself or hiring a handy person to fit it into your space! The plans shown can be scaled up or down depending on your needs, and they are well laid out and easy to understand. This Built In Wardrobe includes drawers for storage and is a perfect place to store seasonal clothing. The side cubby below the wardrobe is the perfect place to store shoes or toys. This Built In Wardrobe is a wonderful way to get valuable storage space while adding to the beauty of your home!. This custom-built-in storage unit even has drawers, so your clothing can easily be organized and tucked into place!
Skill Level: Expert
Tools: Square, Saw, Drill, Hammer
Supplies: Screws, Glue, Wood
Two-Piece Armoire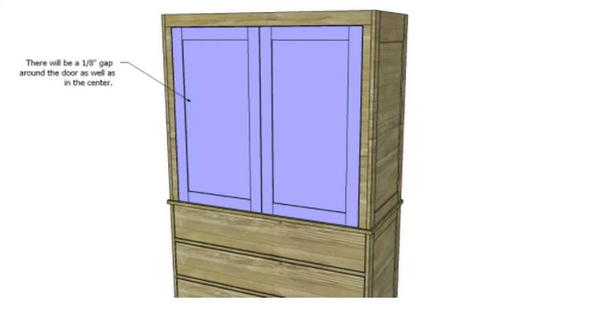 This versatile Two-Piece Armoire from Everest will add a touch of elegance to any bedroom. In your choice of Cherry or White finish, this armoire features three drawers for clothes and other items, is compatible with a rod for hanging clothing, and storage bins filled with items you want to keep visible. With various useful features, including an adjustable shelf and center drawer, you'll find the perfect place for all the items that matter most! This armoire has three great-looking drawers and combines useful functions and a beautiful design. This piece looks great in any room and is made by a skilled wood craftsman using solid wood. You can choose the hardware to add just the right touch to complete the look of your overall design.
Skill Level: Expert
Tools: Saw, Sand Paper, Drill, Hammer
Supplies: Nails, Screws, Drawer Slides, Hinges
A Wardrobe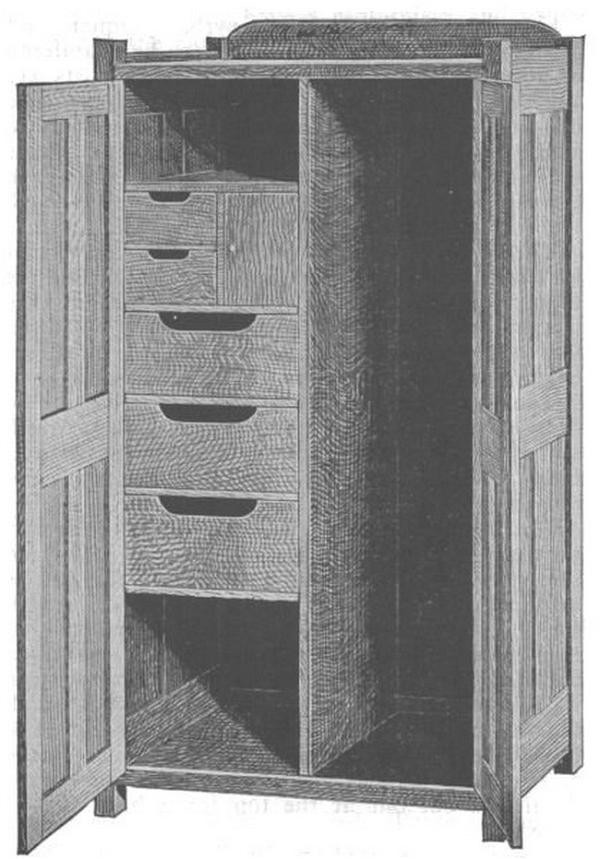 Your children will enjoy putting their clothes away in this beautiful wooden wardrobe. There is ample storage space for all their clothing and accessories and a shelf for keeping their toys. The desk is wide enough to hold books and the mirror above will be useful when they need to fix their hair. This Wardrobe project is one of our favorite furniture projects. You will love this wardrobe because it is easy to build, has a simple design, and has amazing details. Inside you can easily put your clothes and other stuff. All the compartments make it easy to put stuff in there. If you like interior design and love wardrobes, this project is perfect. This project is great for expert builders because of all the detail included.
Skill Level: Expert
Tools: Saw, Drill, Hammer, Level
Supplies: Hinges, Wood, Glue, Screws
DIY Wardrobe Armoire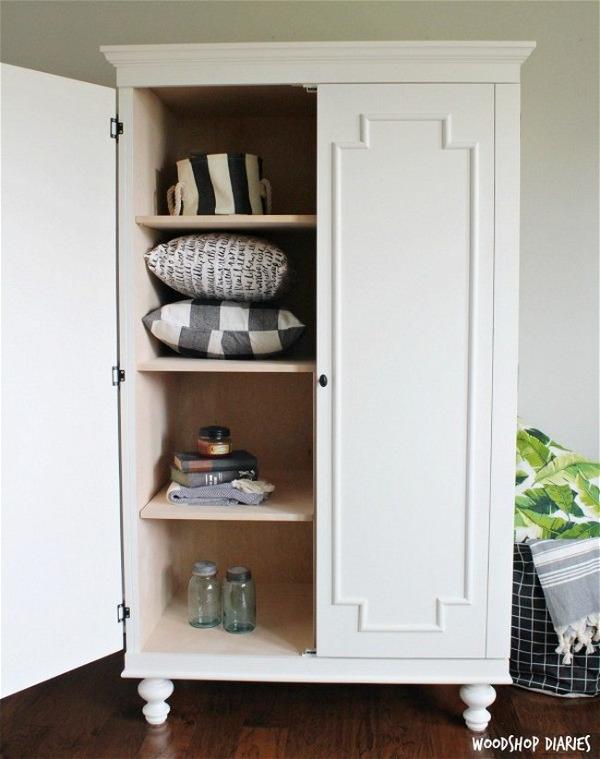 Looking for a chic, modern wardrobe armoire that you can build yourself? Well, look no further! This DIY Wardrobe Armoire is simple yet elegant, and since it's stain-grade wood and laminate, it's guaranteed to last. And with just four simple steps, this DIY Wardrobe Armoire Cabinet won't take up much of your time either. A classic design that's at home in any traditional décor and still has a lot of modern possibilities. This wardrobe armoire cabinet looks great and can store anything from clothing to toiletries. It's easy to assemble, so you can spend more time using it for storage rather than putting it together!
Skill Level: Intermediate
Tools: Saw, Sander, Level, Drill, Hammer
Supplies: Hinges, Wood, Decorative Feed, Moldings
Conclusion
Creating a wardrobe plan is not always an easy task. With the variety of plans below, you should be able to find something that works for your skill level and budget. The great part about building a wardrobe is that you can vary it with your colors and fabrics once you get the construction details down. Find dozens of plan ideas to build wardrobes in this list for every part of your home and beyond.
See Other Projects