Every home and office needs a stylish coat rack that neatly hangs those cozy winter accessories. But why spend money on buying one from the store when you can create your own? So here are some inspirational DIY coat rack plans to make your own DIY rack according to specific requirements and personal style. Moreover, they are incredibly affordable projects that won't burn a hole in your pocket.
DIY Coat Rack Plans

Coat Rack Plans 
For those with small spaces, a many DITY coat rack is the perfect solution acting as a vertical organizer. They also add a touch of beauty to any room with their various styles, from classic wooden designs to modern metal ones. So, try these DIY coat rack ideas that are an attractive addition to any space.
How To Build A Wall-Mounted Coat Rack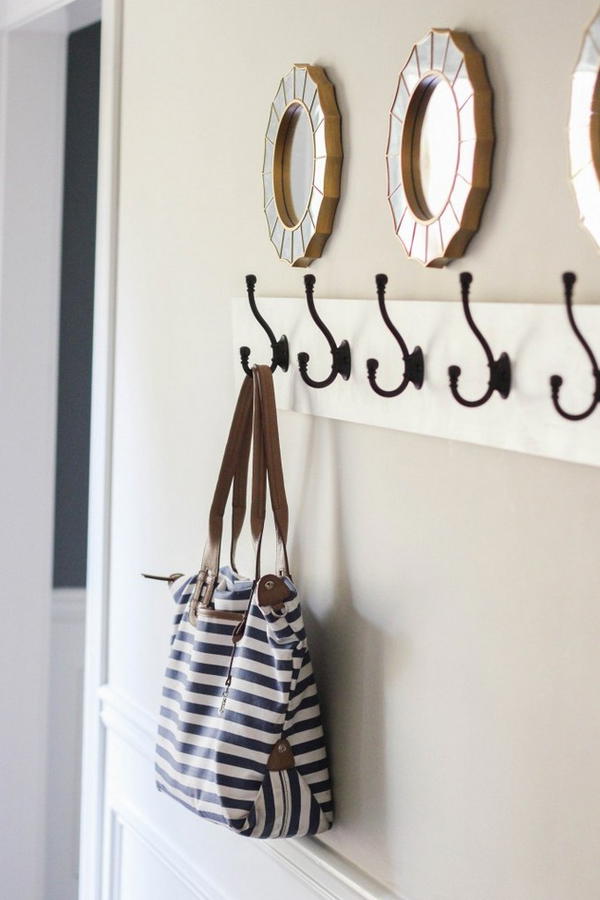 An easy do-it-yourself project to make a wall-mounted coat rack. Whether you stain and paint the Dollar Tree wooden dowels or leave them as-is, this will be a fun project for you to try and perfect for hanging jackets, hats, scarves, and other personal items.
Wall-Mounted Coat Rack A wall-mounted coat rack is fun for organizing coats while adding style to the room. It's a great DIY project that only takes a few hours to hang. This coat rack is sure to become the focal point of your entryway. This project is a great way to add style to any space.
This wall-mounted coat rack has five hooks for hanging coats, hats, scarves, and other accessories. It's easy to build with basic tools and can mount anywhere there's a stud on your wall.
DIY Simple Wood Coat Rack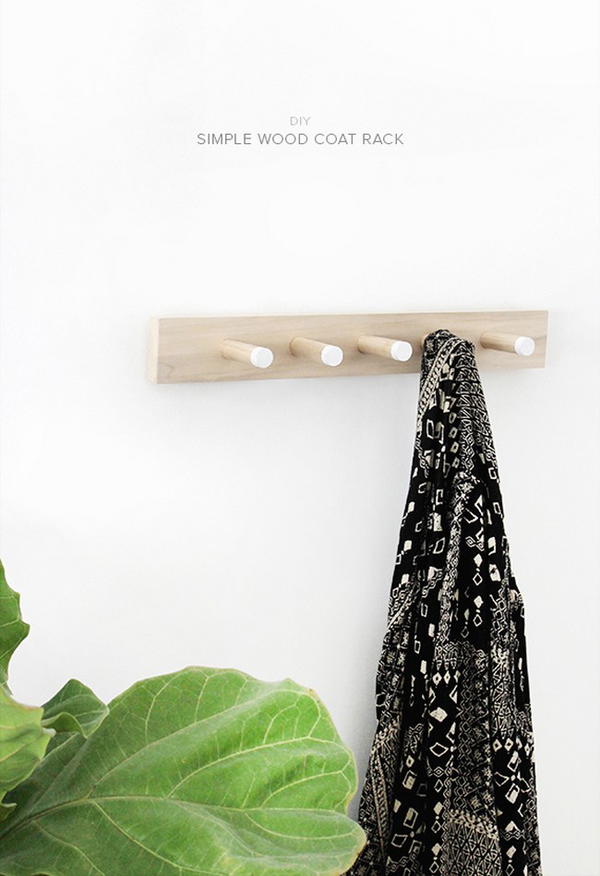 Looking for a way to store your coats? Here's a Diy Wood Craft that is simple and easy to make. You will need a few supplies: A wooden coat hanger, wood glue or wood screws, wood stain, and a drill.
This simple wooden coat rack is the perfect solution. This wood coat rack features no moving parts, is easy on the eyes, and is easy to put together! Simple wood coat racks are easy to make, and you can give them a custom look by painting or staining them in any color you like.
This project doesn't need many supplies, just basic woodworking tools and a few minutes of your time. With a few basic steps, you can build this awesome coat rack in your home using simple woodworking tools!
This unique design is perfect for any household where space is a concern. The coat rack creates a stunning focal point in any room with the rough pine planks and the dark stain.
DIY Coat Rack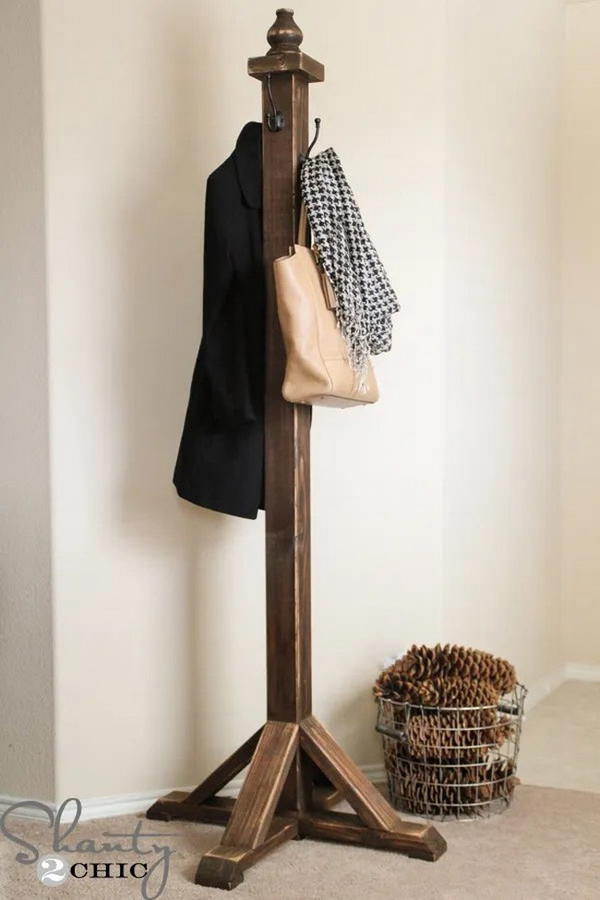 Our DIY coat rack is perfect for winter holding your coats and hats. Here is The Best DIY Coat Rack with Pyramid Connected Legs by which you can make lots of hooks, and now there is no need to drill the wall of your space that keeps your personal and valuable items.
This Coat Rack comes with a lightweight design and a simple small shape that can be easily placed in any corner of the room and efficiently handle your items. This coat rack can be assembled quickly and comes with a template that makes cutting matching pieces of wood a breeze.
It's finished with natural wood planks that are fun to build with and give a classic look for you to enjoy for years to come. This DIY Coat Rack kit is simple to build and requires minimal tools.
With this DIY project, you can transform an assortment of wooden stands into a customizable coat rack.
Coat Rack Out of Scrap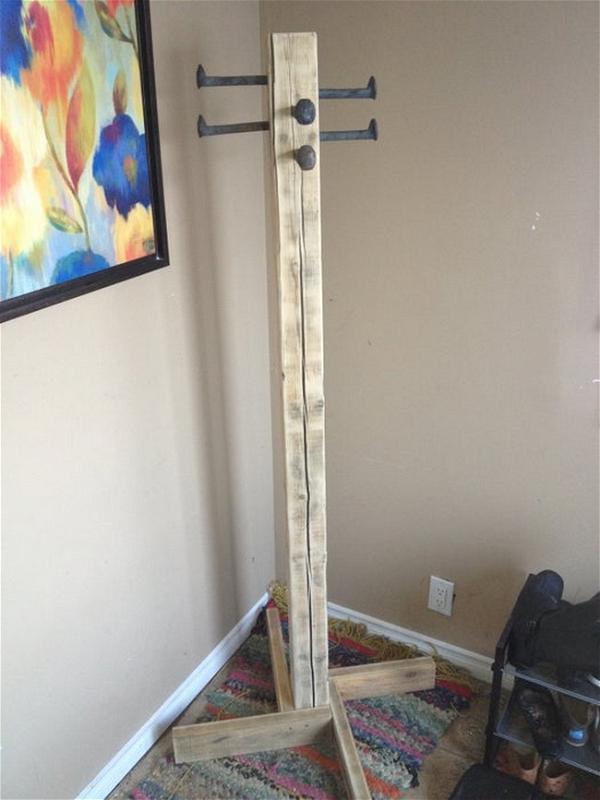 This coat rack out of recycled wood, paper, and metal was created with the creative minds of two people who found it interesting to join their interests in woodworking and biology. Both pieces can be used for both function and decoration. You can use railway spikes for this project or any decent-sized sharp tip.
Also, You can load this thing with coats, as the spikes are pretty much indestructible by anything short of a good saw blade (in which case, you should probably find another coat rack anyway).
You will be pretty happy with how it turned out, or you will be making a few more using different scrap wood. If you decide to do something like this, consider what your design will support and how much weight you plan to put on it.
Upcycle old pallets into a handsome coat rack! Your guests will be amazed by this beautifully simple gift. Great for use in homes, offices, and more.
Cute Animal Coat Rack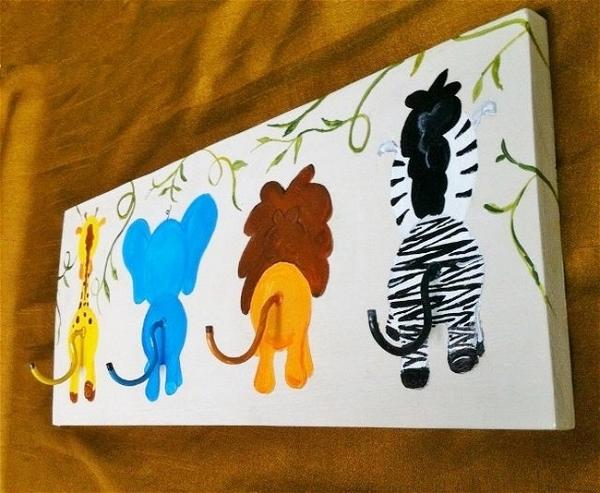 Cute Animal Coat Rack This rack is made of wood on which cute animals, i.e., cats, are painted. The hooks are fixed as these are the tails of these cats it is functional and has a beautiful look fit for girls' room, living room, kitchen, and drawer to hang your coats, scarves, bags, and other accessories.
Make your house fun while adding function to any room! This coat rack adds style and character to any room! Each hook is made of a high-quality metal (Not cheap plastic), so it is strong enough to hold your coats without bending or breaking. The top is made of wood, so it is durable and will last a long time.
This rack is convenient since each animal actually acts as a coat hanger! To put it together, or take apart, simply slide the arms off the head of the animals and then slide it apart into two pieces.
It's that easy! FEATURES: - Each hook is attached to the wood top with strong rope-like material - Great decor for bedrooms, living rooms, dorms, and more - Wood top provides a sturdy place for hanging items - Easy to assemble, only takes a few minutes!
Geometric Pattern Coat or Backpack Rack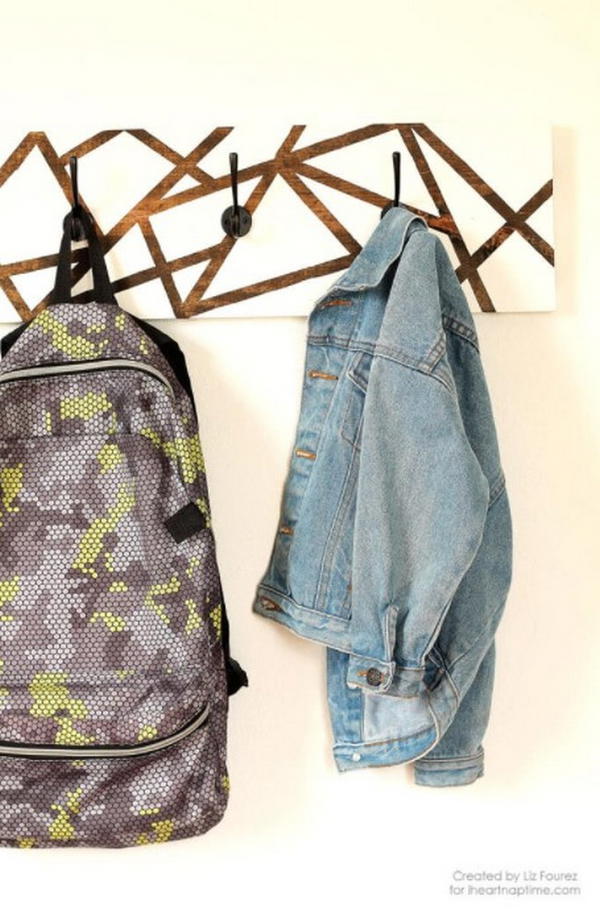 Add color and warmth to any room with this geometric pattern coat or backpack rack. Display your favorite scarves, coats, or backpacks on this clever, geometric pattern coat or backpack rack. It's sloped surface and horizontal board create a discreet place to hold keys while you start your day.
The coat rack features a geometric pattern that will add just the right color and style to any room. With its sloped shelf, this coat rack is the perfect place to store backpacks, coats, and scarves.
The muted earth-tone colors in the geometric design allow it to blend well with existing furniture or decor. Each side of the coat rack is sloped to create a great place to hang scarves, coats, or backpacks.
It is the perfect way to add fun and frivolity to any room without sacrificing function! Conveniently lightweight, you can easily carry it from room to room for easy storage when not in use.
DIY Lego Coat Rack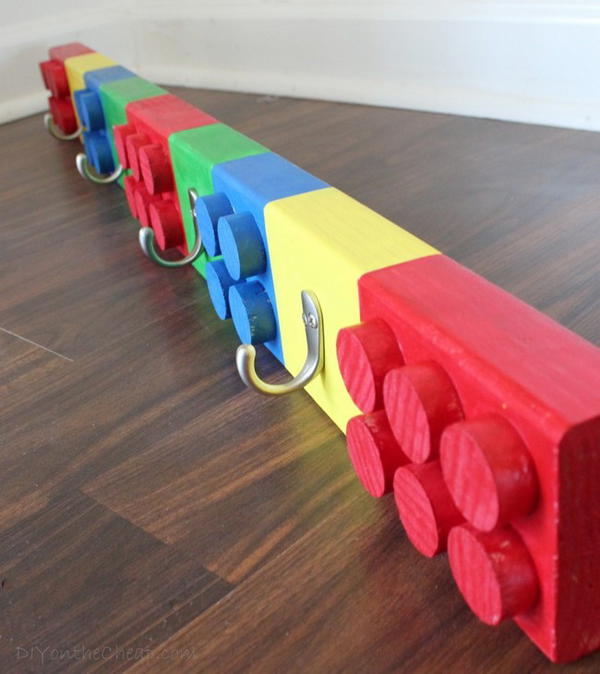 Does your child like to play with Lego? Do you have more and more of it at home and nowhere to store it? The easiest way to keep those Lego pieces organized. This LEGO coat rack is perfect for creating a place to store spare Lego pieces and accessories in your home.
You can tackle a very easy project in the afternoon with simple materials. This Lego coat rack is a quick and easy project, so it's a great way to solve both problems. With this Lego-inspired coat rack, you will save space and give new life to a pile of Legos.
It's easy to make and even easier to use. No more searching for missing parts: they'll be on the hooks, ready to be used again. The best part? It's not as time-consuming as making your own Lego coat rack!
This Lego coat rack is easy to make and can be used by any Lego fan. No more searching for the missing pieces: they are put on the hooks, waiting to be used again. Even if you aren't a fan of Legos, this is a fun and easy project that will result in nice wall decoration!
How to Build a Minimalist DIY Coat Rack for the Entryway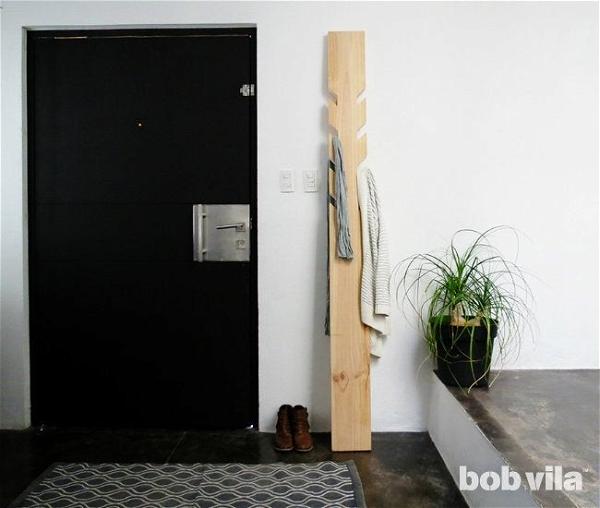 Have you got many clothes that need to be hung yet don't have ample coat hangers? Or Have you been looking for ways to store your wardrobe in your small space, home, or apartment? Look no further.
A DIY Coat Rack for the Entryway is a simple yet effective solution Closet and entryway spaces can be quite small, making it difficult to accommodate a lot of clothing. Consider using a minimalist coat rack in the entryway of your home. A DIY Coat Rack for the Entryway is a simple yet effective solution.
Making a DIY coat rack is so much easier than you think! Get inspired to create your own and add zen beauty to your entryway. All you need is a wooden board and at least four hooks.
It is made from a wooden board. Clean up clutter and keep jackets organized in the entryway with this minimalist coat rack. It's fast and easy to build, so anyone can make one!
DIY Zig Zag Coat Rack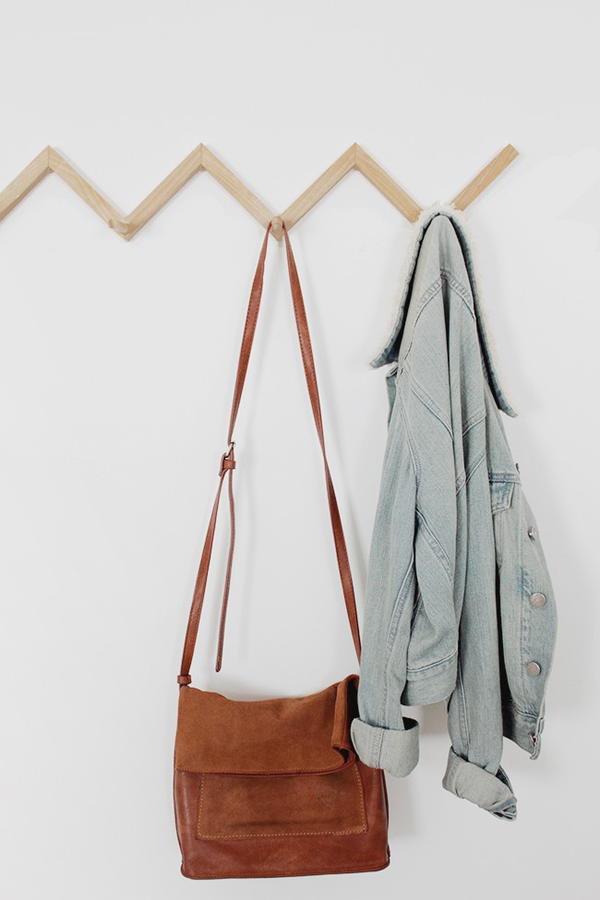 You'll want to make several of these DIY zig zag coat racks to display one in each room. You decide they can be hung on the wall or placed on a table. Made of wood, they are both functional and beautiful decor. This trendy DIY Wood Coat Rack is a fun, modern way to store coats and scarves.
It is functional as well as beautiful decor in any room. You can customize the color of your coat rack from our available colors on the listing. Add a splash of colors to your home or office with this stylish coat rack.
It's perfect for any bedroom, living room, dining room, or hallway! Made from wood and a few other basic supplies, you can paint them any color or style you want for a completely customizable look that works in any house room.
Wooden Dowel Coatrack In Redbook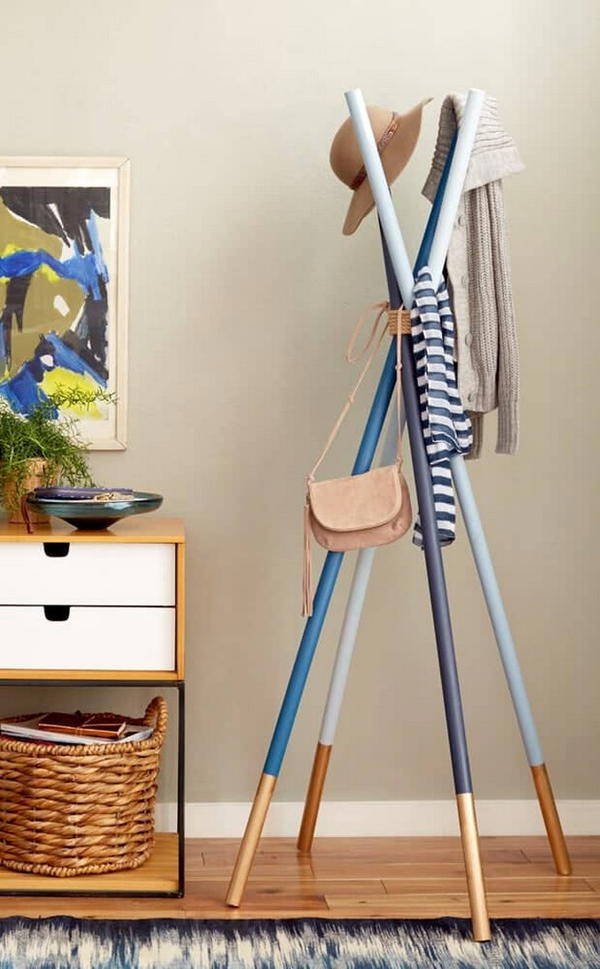 At this time of the year, when many of us have so much to be grateful for, it's tempting to allow the holidays to devour us whole. Cooking, cleaning, shopping, it's easy to ignore ourselves!
So before things get any crazier, take a moment to clear some space: you'll be amazed at what this DIY Wooden Dowel Coatrack will do for your entryway or bedroom. The secret behind this redone row of coat hooks is the recycled metal pipe. You can rig up a bunch for wall space around the house with a hammer and eyelet kit.
Mixing and matching different pipe shapes to suit your decor is also easy. Have some salvaged plumbing pipes and a few cedar planks lying around in your garage and wondering what to do with them?
If you don't get out of the habit of acquiring random pieces of lumber, or happen to own your grandfather's trusty pipe wrench, then this project is for you. We turned everyday plumbing pipes into wall-mounted coat racks that add rustic charm to any room.
A Charming Rustic Coat Rack Out of Driftwood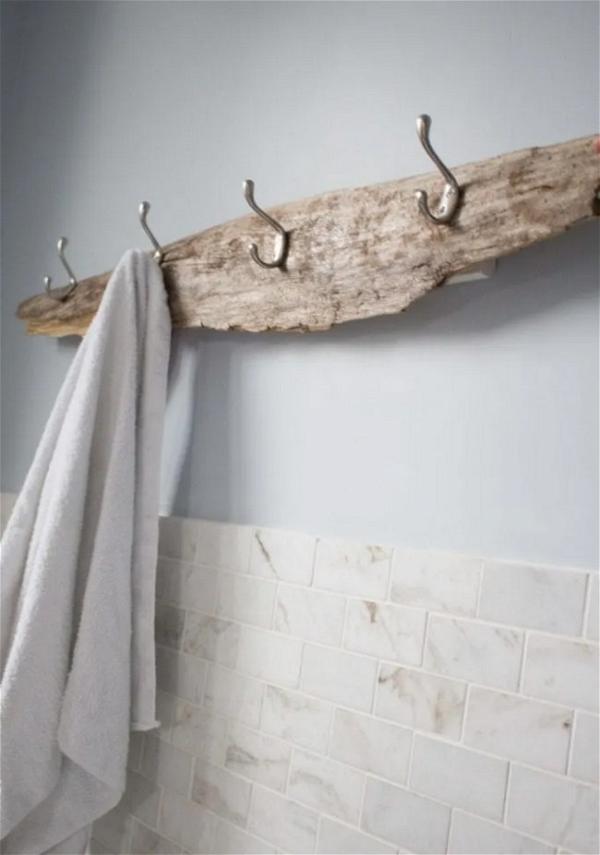 Bring the beauty of nature indoors with this charming rustic coat rack made out of a large piece of hand-picked driftwood.
Or use it in place of wall-mounted towel hooks to hold beach hats and towels or even as a cool coat hook to hang coats, scarves, and backpacks. Its neutral whitewashed finish also blends beautifully with any color scheme, making it perfect for use in your home or cottage.
We encountered a large driftwood after a fun afternoon at the beach with our kids. We knew it would make a beautiful DIY rustic coat rack or towel hooks for our parents' cottage bathroom.
The driftwood was unique in shape, so we needed to cut it down to size. Once mounted on the wall, we used large black screws and spray-painted them to match the feet. We can't wait to see their reaction to their new rustic towel rack or coat rack now that it's installed.
Simple Crown Moulding Coat Rack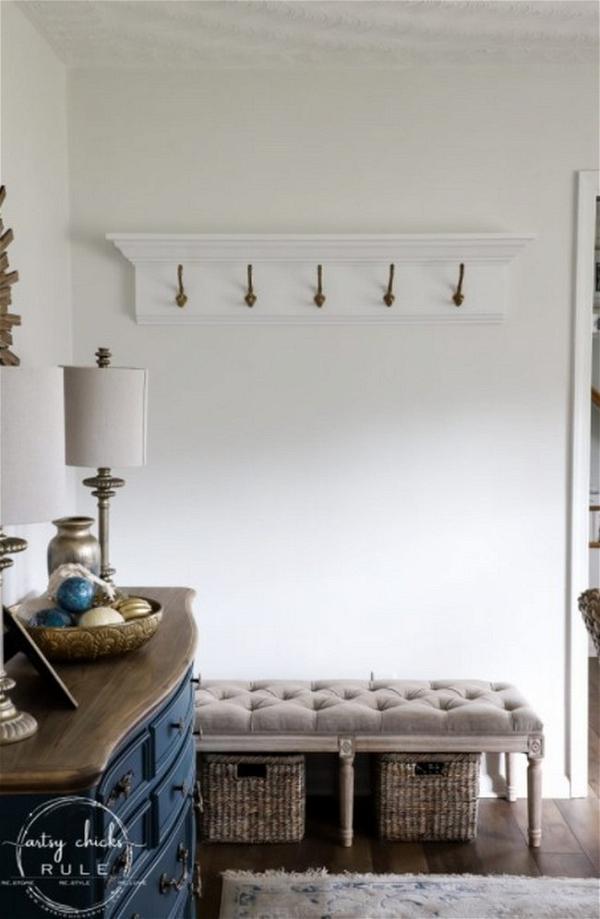 Simple Crown Moulding Coat Rack welcomes guests with a classic design that blends with any decor. If you love the look of our crown molding and want to add a touch of rustic charm to your entryway or family room, we've got the perfect wall-mount coat rack for you.
This rack is handmade from solid oak, like a simple crown molding. This beautiful coat rack not only looks lovely but is sturdy and functional, too. Solid hardwood construction can hold up to many garments, featuring two solid wood rods for coats and scarves plus two solid wood bars for hats, belts, and more.
Simple coat racks are such a great alternative to antique and traditional designs. With this particular design, you don't have to look down! This is great for neat freaks and those with young kids running around.
Double Wall Mounted DIY Coat Rack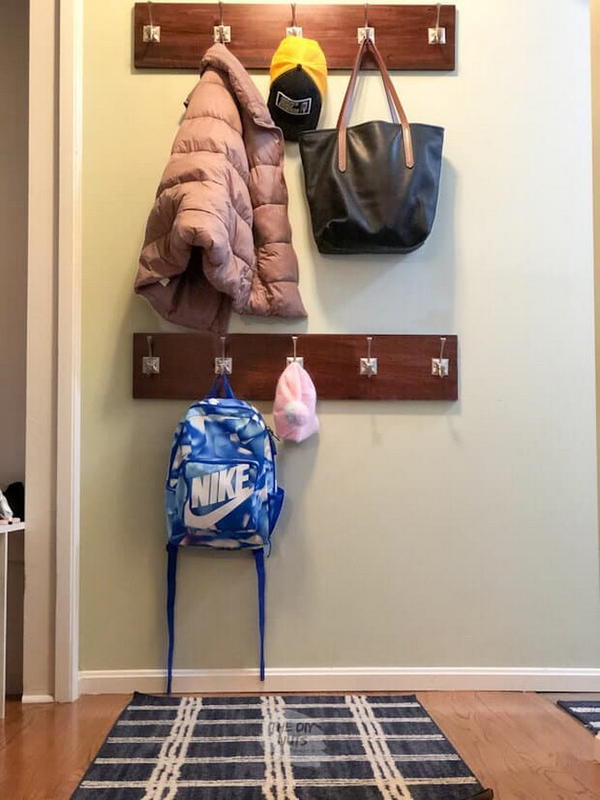 This is a double wall mount coat rack; you can use it to hang your coats or clothes by the door. Get rid of your traditional boring coat rack, and be the envy of your friends.
This DIY wall-mounted coat rack has a double door that acts as both handy storage space and a stylish accent piece. Constructed with solid wood pieces, two wooden dowels, and hooks that are perfect for hanging jackets, sweaters, umbrellas, hats, and more.
It can also be used around your house, such as on your living room wall or beside your bed, to hang scarves, ties, and belts. Made from strong steel tubes and spongy padding pipes.
Suitable for all ages. Easy to assemble. Enjoy this unique stackable coat rack that can be converted in many ways. The double racks are mounted on the wall for a sleek modern look and will also hold all your necessities.
How to Build a Wall-Mounted Coat Rack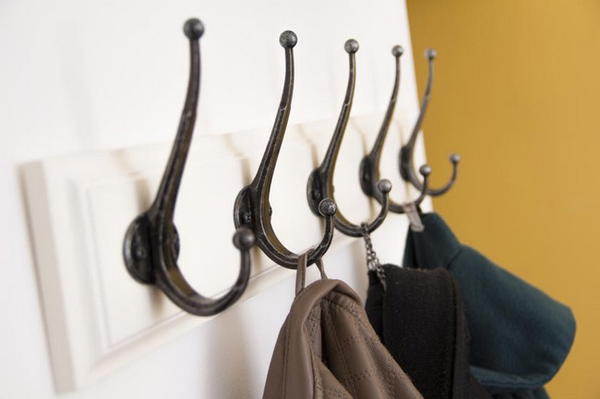 This creative, easy coat rack is perfect for organizing your front entryway or mudroom. So, You can build this decorative wall-mounted coat rack in the afternoon with a couple of basic tools and supplies. You are going to love this easy wall-mounted coat rack.
You can customize the size and create a large coat rack or smaller wall-mounted hooks for hats, scarves, dog leashes, umbrellas, etc. This wall-mounted coat rack is quick and easy to build, so you can have one ready for the next holiday party or family gathering. Use any tools on hand for the project and scrap materials for the remaining pieces.
It will last for years if you use outdoor-rated screws and lag bolts. This simple project can be done in less than an afternoon, making a great gift idea.
Pallet Coat Rack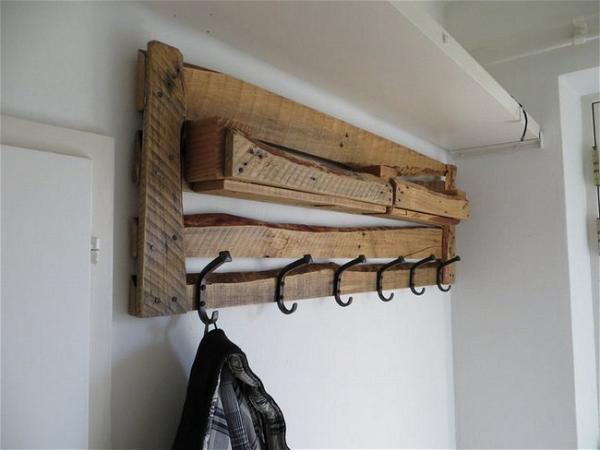 The Pallet Coat Rack was inspired by an old pallet that was given new life! Create a stylish individualized coat rack for your home with this versatile kit. This great DIY project is fun to do with the whole family! This coat rack is made from a set of reclaimed pallets and provides a space-saving, simple solution to your coat storage needs.
These simple coat hangers can be constructed to suit any wall size, but they're also adaptable enough to be repurposed into a headboard or nightstand, depending on your need. Depending on the size, they can hold anywhere from ten to thirty coats (the bigger, the better!).
The self-supporting design minimizes the floor space required, while the sturdy metal construction holds many coats on hooks. This coat rack is made from weathering steel that has been hot dipped in an epoxy finish, so it will stand the test of time and with minimal care. It can also be enjoyed outdoors.
Pallets Coat Rack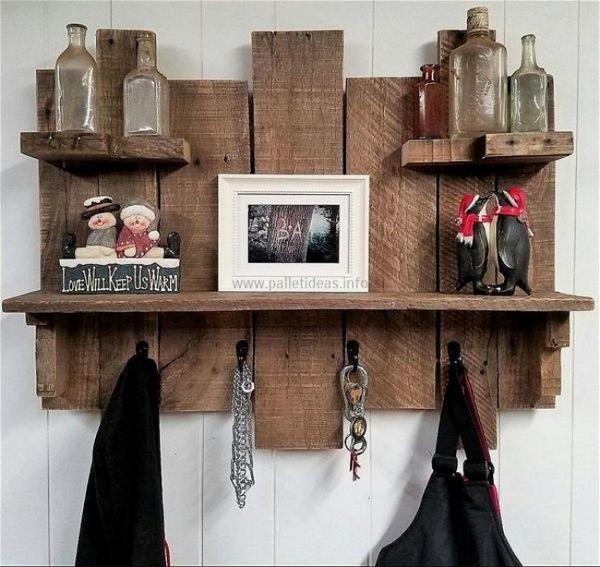 Don't underestimate the power of a simply designed, handmade coat rack. Despite its minimalistic appearance, you can use it to organize your stuff and hang up anything from jackets, hats, and scarves to decorative pieces and more.
If you love the trendy and vintage look, this Pallets Coat Rack is a perfect addition to your home. As an organizer for your clothes stuff but it can also hold any decor piece in any bedroom
. We´ve dedicatedly designed it with the hardwood pallet and premium metal material. Moreover, it is super easy to assemble without any extra tools.
This rustic-looking coat rack is made with overlapping pallets attached together through peg holes, creating an interesting display piece with a durable build. Durable hammers create this rack's peg holes, so you know it will withstand regular use.
DIY Rustic Entryway Coat Rack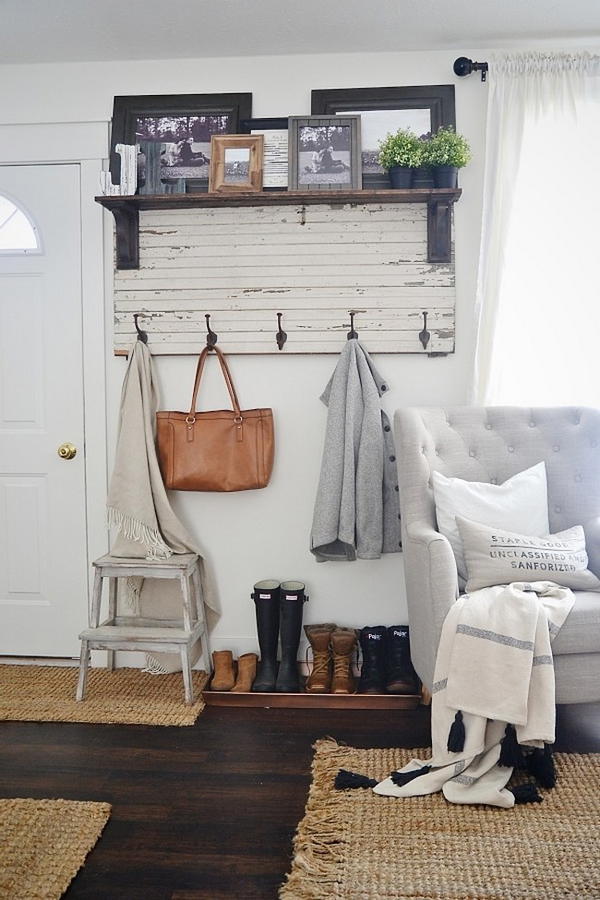 Looking for an easy way to keep track of your outerwear this winter? With this DIY entryway coat rack, you'll never have to worry about leaving a jacket or scarf behind! Simply set this rustic chest on its own or next to a closet door. If a simple entryway coat rack isn't made for your space, try this DIY Rustic Entryway Coat Rack.
This freebie from A Beautiful Mess shows you how to make a rustic home decor item that can keep your hats and bags organized and off the floor! Before heading inside for the holidays, stop at the door and hang your coat on this rustic DIY entryway coat rack.
An entryway coat rack is great for keeping track of your outerwear, so you don't accidentally leave a jacket or sewed scarf somewhere (like in the backseat of your car!). Simply set this farmhouse-inspired chest on its own or next to a closet door. We also love that you could paint this piece differently to match any decor!
DIY Hall Tree Coat Rack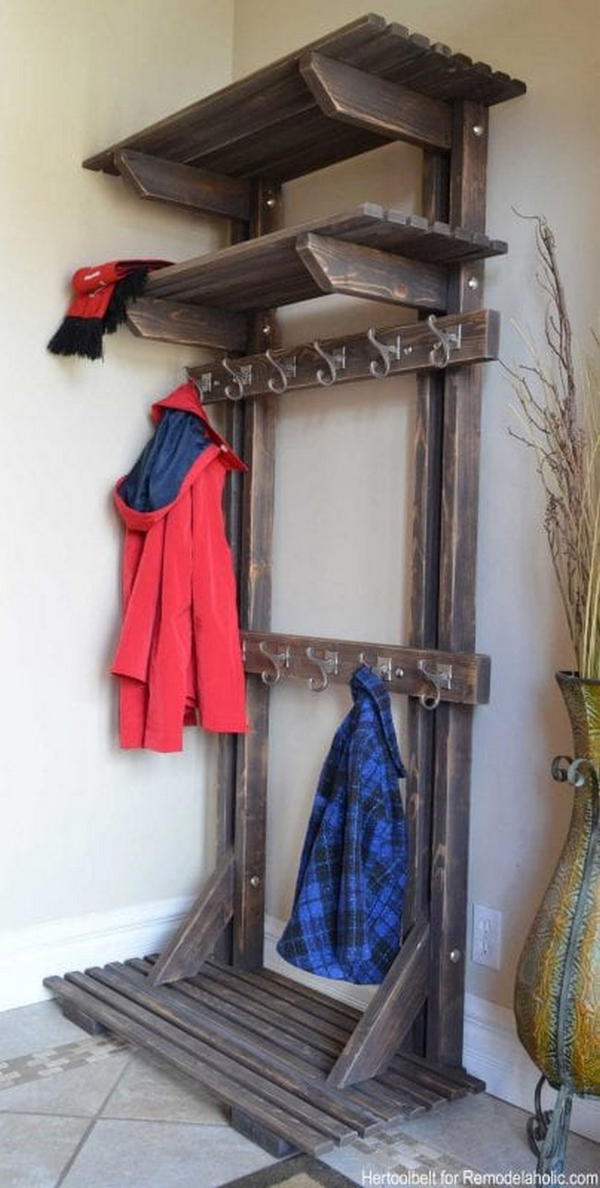 Open your door to a warm home with this easy-to-build DIY Hall Tree. This fun coat rack does a great project for beginner woodworkers and is perfect for stashing away winter gear and shoes in your entryway.
Plus, it offers multiple hanging options and includes a bottom shelf for storing boots and other items. Add a coat rack to make your hallway functional and a spot for coats, shoes, and boots. If you want to create a more functional space, this coat rack with its bottom shelf is the perfect solution.
It is perfect for any foyer or mudroom; our Hall Tree is an easy DIY project that marries modern and farmhouse aesthetics. With a small footprint, there's plenty of room for placing baskets to organize kids' shoes or store extra coats.
Railway Spike Coat Rack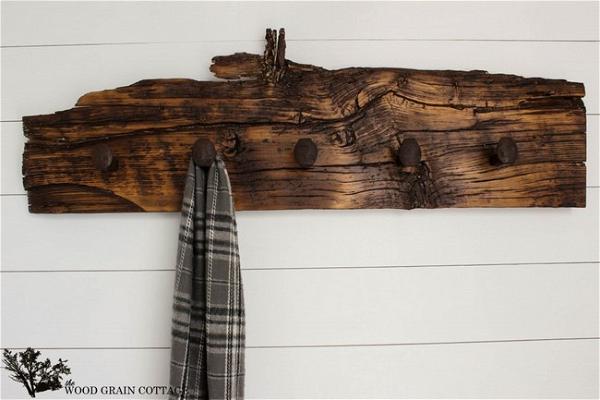 This Railway Spike Coat Rack is a functional accent for your entryway. Cast-iron rail spikes amp up the razor-sharp construction of rustic, dark wood at the bottom, which adds an extra touch. This railway spike coat rack is perfect for a mudroom, entryway, or even a front porch, bringing a sophisticated farmhouse feel to your house.
The racks and hooks are perfect for hanging jackets and hats but are also great for hanging camping gear! A hook integrated into its center lets you hang jackets, hats, and scarves on its three hooks, keeping your life organized as you come home.
To amp up the rack even more, use it to tie down your favorite tent or gear bag with its integrated hooks. This railway spike coat rack will lend a rustic touch to your entryway.  Featuring handsome dark wood, rustic rail spikes, and four hooks for hanging items, the rack adds a rustic feel to your home.
White Headboard Shelf Coat Rack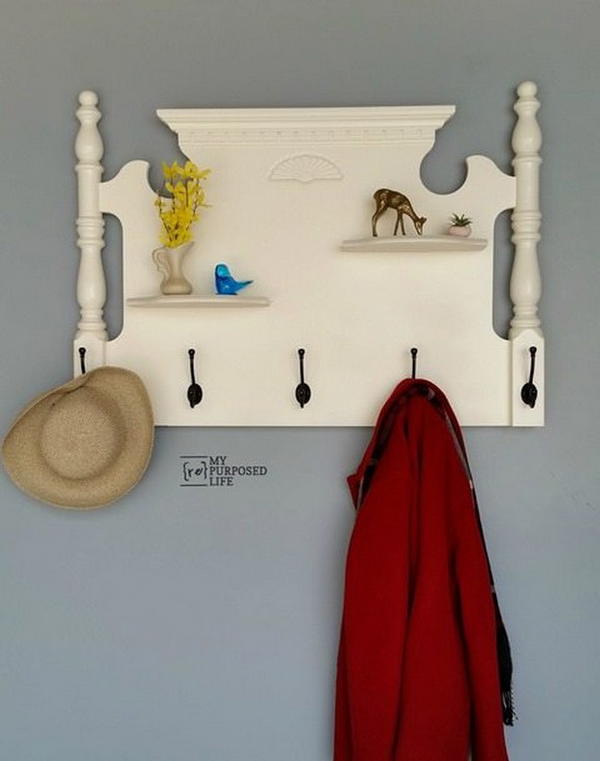 This White Headboard Shelf Coat Rack is made of wood and metal. It's very easy to install. The new organization finds with this White Headboard Shelf Coat Rack. The shelf unit is sturdy and covered in our premium bamboo veneer, which protects it from warping, cracking, and splintering.
Completely assembled upon arrival, this unique Coat Rack can be used on a dresser, armoire, or in your home's entryway to organize clutter and coats.    We offer the best prices on quality products. This headboard shelf unit is made of premium, clean-looking, durable bamboo material.
The shelf can adjust easily to hold smaller or larger clothing. It's easy to install, making it a practical solution to tackle any organizing challenges!
Repurposed Books Coat Rack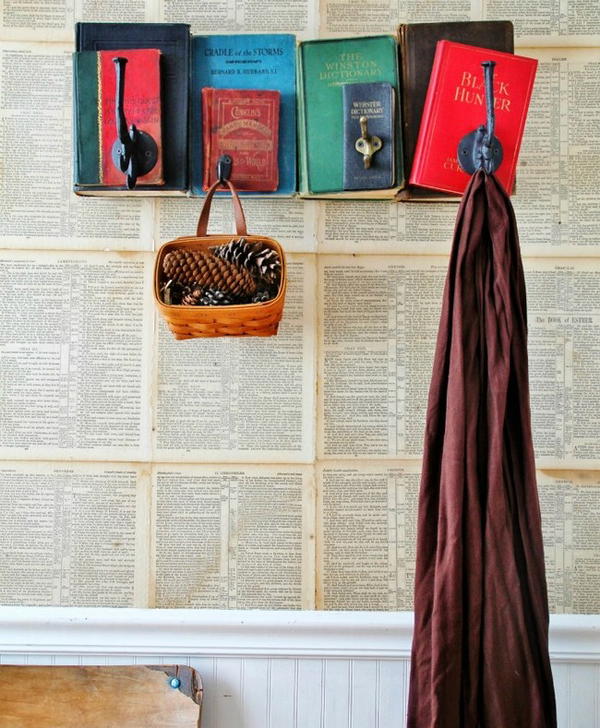 Made with repurposed hardback books to keep the collection you already have, this coat rack is a stylish and functional way to avoid letting your books sit on the floor or hide them in a closet.
The brushed nickel filter, chain, and hardware are available separately to immerse the wall hanging into any existing décor. Turn an eyesore into a piece of wall art that will be a monument for Ling. This clever coat rack works with hardback books that will be cut to fit on a vintage book page.
After that, you can use a brushed nickel filter and attach it to the top of each column using an additional leather cord. At the top, you must loop a chain through an old key ring to hang your coat from it. These are easy to make and can be as decorative as you like!
Make An Easy Kids' Coat Rack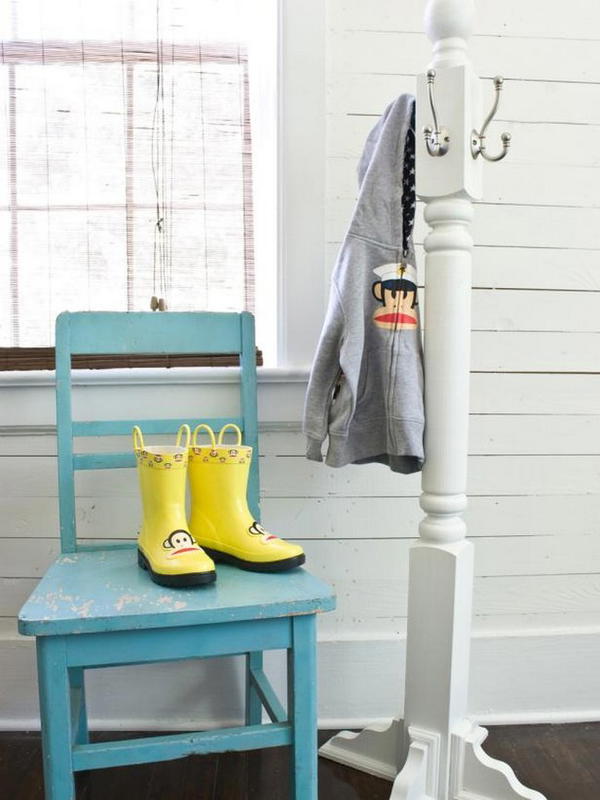 This easy kids' coat rack is a great way to help your little ones to organize their wearings. With sturdy wood, fun corbels, and cute caps, it's strong, too. It all comes together easily with the help of a few screws.
Whether you're dreaming up ways to get the kids out of your hair or looking for a fun project over the weekend, this easy kids' coat rack is for you. With sturdy wood and smooth finishes, it's plenty strong, too.
And with its simple design, it all comes together easily with the help of a few screws – no sawing or sanding needed. Make a coat rack on your porch or indoor entryway by cutting a porch post down to size and attaching some simple corbels.
Cut the porch post down to size, add some construction adhesive to the corbels, and then stand them up with the help of a helper. Drill a hole slightly larger than the screw on the backside of each side of the base. Squeeze some construction adhesive onto the top sides of each corbel and the screw on each one.
DIY Modern Wall Mount Coat Rack With Secret Mail Slot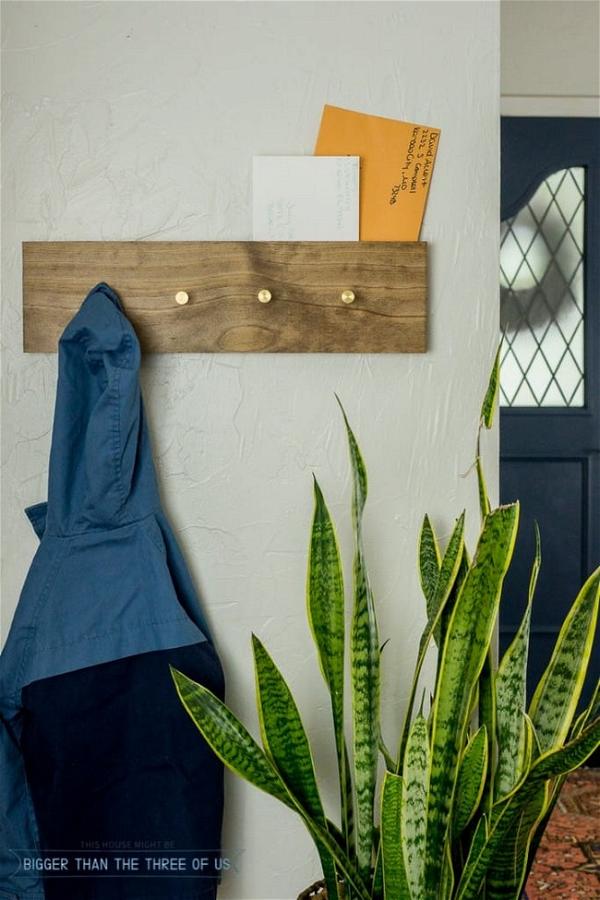 Have you ever been so frustrated trying to find your keys or mail at home because it's lost in the bottom of a coat closet crammed with too much stuff?  With this modern wall-mount coat rack, you can de-clutter your life.
You'll have somewhere to hang your keys and also be able to separate and store all those bills, magazines, and other pesky items!DIY Modern Wall Mount Coat Rack With Secret Mail Slot is a minimalist design with a coat rack and mail slot.
It can mount onto the wall, and it doesn't stand alone. The design saves space; you can use less after taking off your jackets. You can also clean up the clutters on the floor by using them, and you can put your keys or wallet in the mail slot for safety so you won't lose them.
This wall-mount coat rack has a secret mail slot where you can hide and organize your personal belongings. It's an easy way to add practical wall decor to your entryway.
DIY Coat Rack Farmhouse Style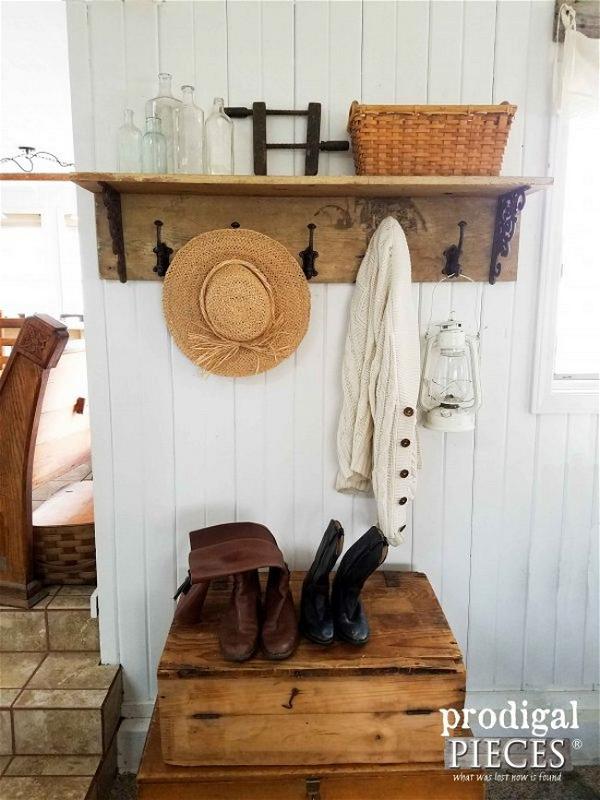 Let's make a DIY Coat Rack Farmhouse Style. This coat rack is easy and quick to make. It can complete in a few hours. Save money, time, and effort by making this DIY Coat Rack Farmhouse Style.
This Farmhouse coat rack is easy and cheap to make, farmhouse style. The coat rack DIY farmhouse style is simple and easy. Just a few hours of time. You can hang this up in your entryway or even in the kitchen. It matches almost any type of décor, accessories, picture frames, candles, etc.
This DIY project is a great way to display hats, jackets, and sweaters. This farmhouse-style coat rack is good for home décor and a great gift idea. It will look great in any room of your home. In this DIY project, we'll teach you how to craft a coat rack farmhouse style
DIY Industrial Coat Rack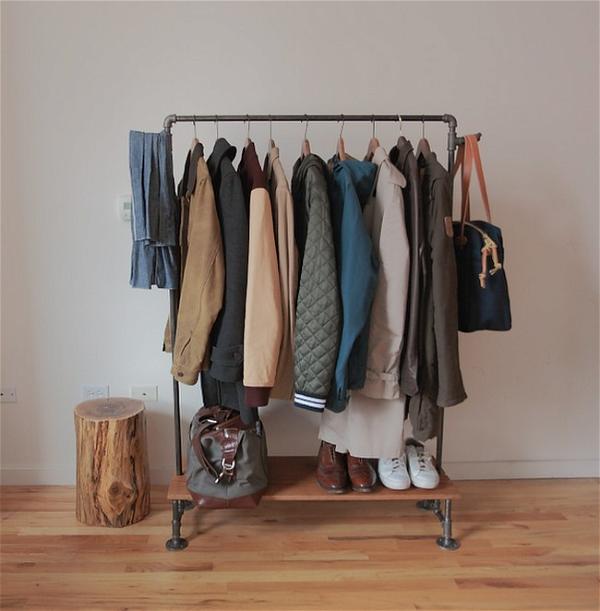 What do you do when you have too many clothes and don't have enough space to put them? Hand them off to Goodwill, throw them away? Or maybe even use a dresser as a closet?
No! Get crafty with your industrial coat rack! Making an old ladder into a fashionable new coat hanger is easy. You can even paint the best color with your room-a a cheaper coat rack alternative.
This industrial pipe coat rack is perfect for all those items you never seem to have a place for and always lie on the floor. With the shelf at the bottom, this is even great for storing your shoes or hanging your umbrella if you keep it in the hallway. The best part: you can do it yourself!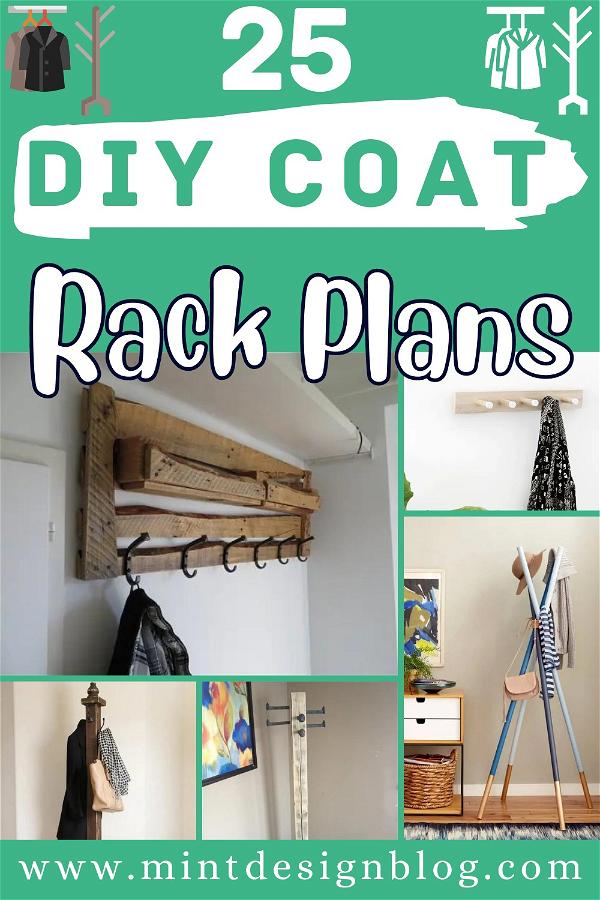 See Other Cozy Rack *Projects
25 DIY Towel Rack Ideas To Organize Your Bath Accessories: DIY Towel Rack Ideas become some of the most important in any bathroom kingdom! We have some DIY towel rack ideas that are as easy as pie to create.

25 DIY Shoe Rack Plans To Make On A Budget: These 25 DIY plans for shoe racks are easy to build even a beginner can do them. These racks will organize your shoes, free up space in your closet or storage area and make it easier to find what you need. 

24 DIY Hat Rack Projects To Keep Your Hats Organized: Hat racks can be found in many places, from department stores to clothing stores, but they can often be expensive and not quite as functional as you may like. So, here are some best DIY hat Rack Ideas. 

19 DIY Tie Rack Projects - How To Make Tie Rack: Ties are an excellent accessory for men. They are a simple way to add a little style to an outfit and make you look more professional. So, this collection of Tie Rack Ideas will be perfect.