Ties are an excellent accessory for men. They are a simple way to add a little bit of style to an outfit and make you look more professional. The only problem with ties is that they can be challenging to store. If you throw them in the closet, then they might get wrinkled. If you have a lot of ties, it can be hard to find all of the ones you want to wear at one time. A DIY tie rack is the best solution for storing your ties, especially if you have several different ones. You can purchase a tie rack from any home goods store, but they can be costly. Tie racks vary in price depending on how many ties they can hold and what material they are made from.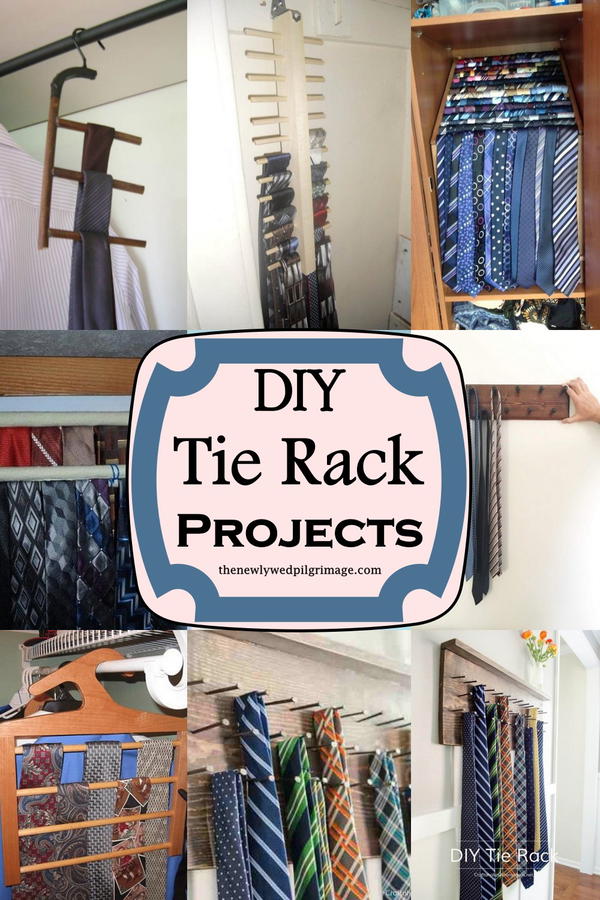 A good tie rack is an essential home accessory for any man who wears ties to work or on special occasions. It's also handy for anyone who cares about the longevity of their clothes because proper tie storage prevents wrinkles and other unsightly damage. If you can't find the tie rack you're looking for in stores, don't worry. You can make your own using some essential woodworking tools in just a few hours, or even with no tools! Here are 19 DIY tie rack projects to get you started. It is possible to save lots of money by making your tie rack rather than buying one at the store.
These 19 DIY Tie rack projects will give you plenty of options for storing your ties, belts, and scarves.
How To Make A DIY Tie Rack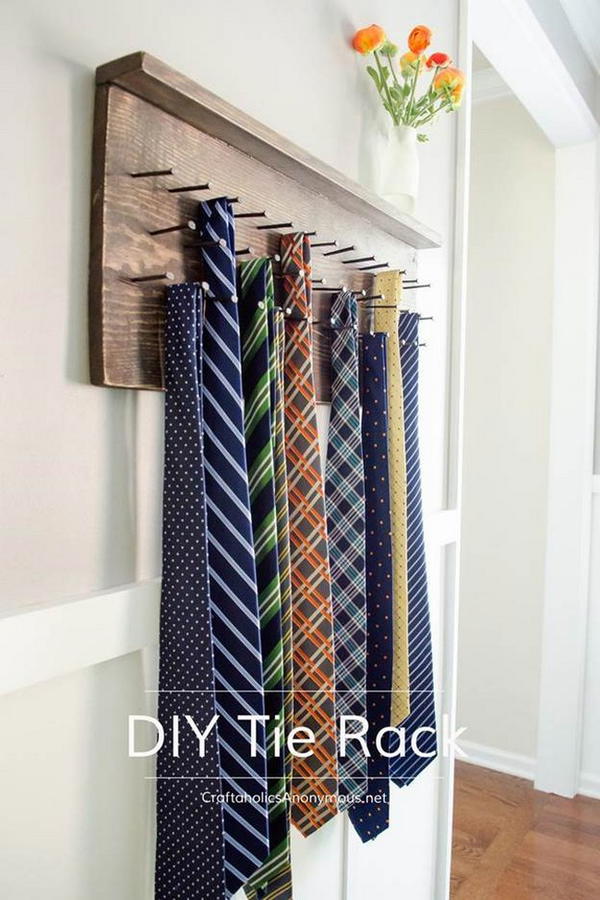 A tie rack is the best solution to store your ties and keep them from getting wrinkled and tangled. The cost for this project is affordable to you. after the finished product looks like it was bought from a designer. This one-of-a-kind DIY tie rack is the best gift at all. If you have problems storing your ties, this is a must-make project. Go through this guide to see the complete guidelines for making this.
DIY Tie Rack And Hanger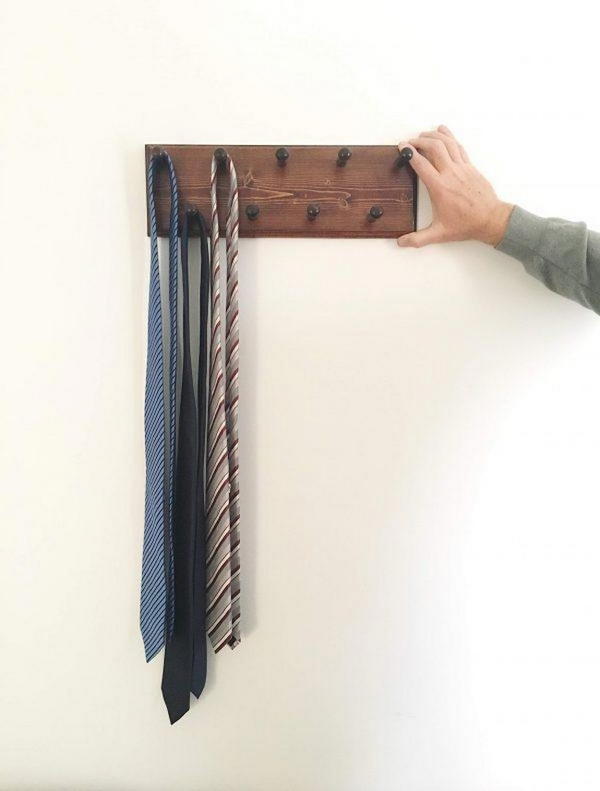 Create a useful tie rack or clothes hanger with your own hands; the completed object is an ideal decoration in a bedroom, office, or dressing room. Build your own tie rack just like the professionals and save money. The pegs can be adjusted in the chosen positions to accommodate a different number of ties. After finishing the object, you can use it to arrange belts, ties, scarves, and other accessories. Use this guide to learn more!
Low Budget Tie Rack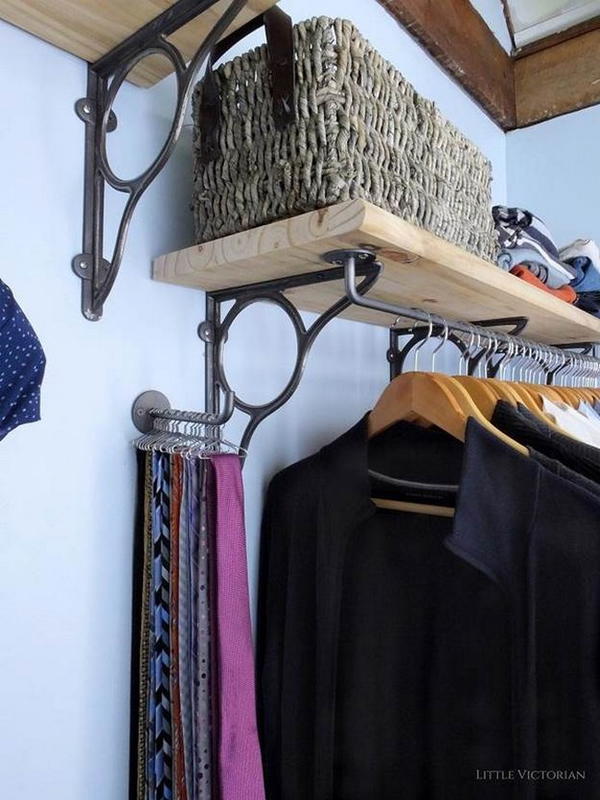 This tie rack is of a classic style to display your ties adorably and elegantly. These hangers are miniature hangers made by paWoods. As you can see, they are nice and sturdy, without sharp edges that will snag. This low-budget tie rack is recommended for people who do not want to spend a lot to have a beautiful tie rack. This rack is a solid hanger with a smooth feel to it. This guide will show you the complete procedure of making it.
DIY Bamboo Tie Rack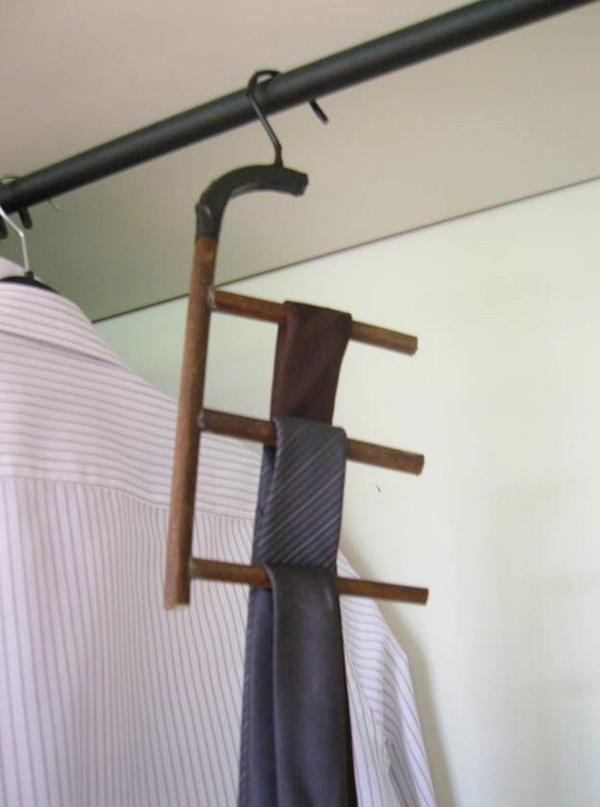 DIY Tie Rack is the handiwork of a craftsman. This tie rack can hang many ties on it, it's made of bamboo, durable, and long-lasting. It has a natural appearance that mixes well with your cloth collections. The tie rack can be mounted either in your closet or the dressing room. Make your own tie racks or hanger with a great design. You can use this anywhere to place your ties, scarves, or beautiful cloth collections. You can even paint it in your own color!
DIY Space Saving Tie Rack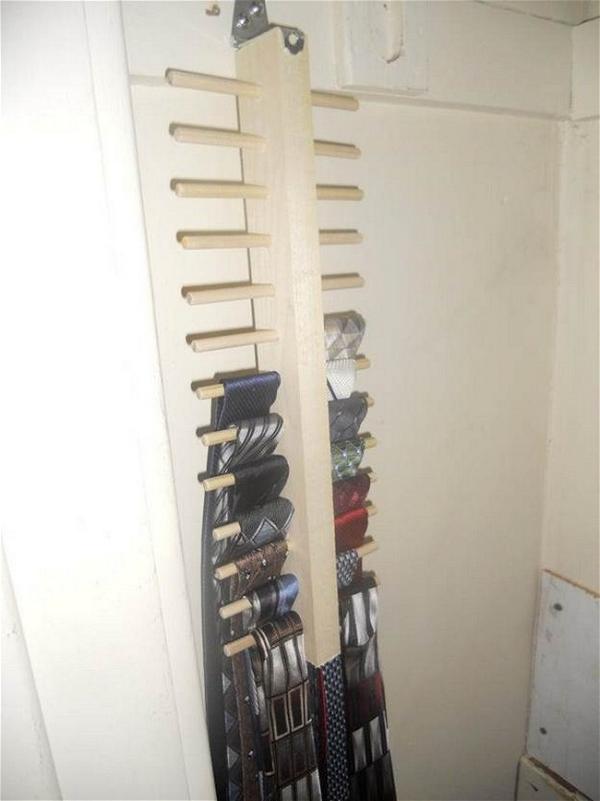 This great DIY Space Saver and Suit Hanger can be used for Ties, Scarves, Belts, etc., with less space on your Dressing Table. You can easily make this at home, using two Wooden Arms and a plain wooden Peg Board. Only a few other items are needed to make this tie rack, including screws, wood glue, acrylic paint, and some nails. This guide will walk you through the step-by-step instructions and follow-up steps.
DIY Spent Ammo Tie Rack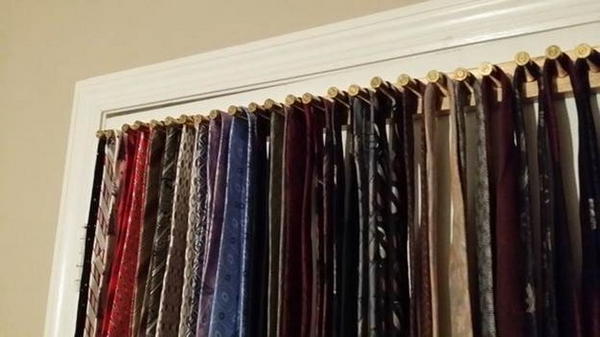 Tired of hunting for a place to hang your ties? The DIY Spent Ammo Tie Rack uses old ammunition shells as sturdy, stylish tie holders. This inch-wide rack is made from natural wood sanded smooth, with holes burrowed into it shaped like an L. It's the perfect spot to hang your favorite ties. This ammo tie rack is excellent for the guy who has too many ties. It's a fun weekend project, and you'll be proud to show off your DIY skills.
DIY Tie Rack Tutorial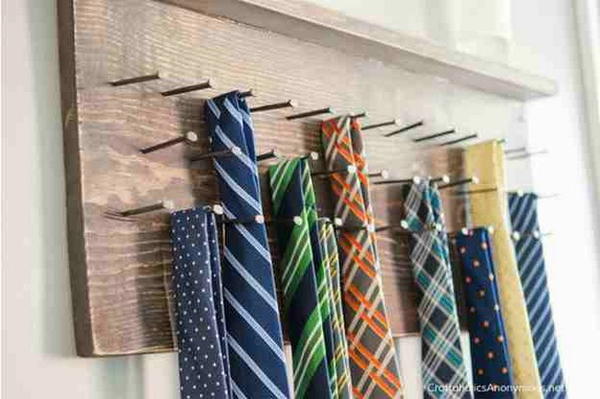 Here is something that you can use to organize your ties. By following this DIY tie rack tutorial, you will surely be able to make your very own tie rack just the way you want. The length of the DIY tie rack will depend on how short or long you make it. You need a board, a hammer, and some nails, ready to go. You can use anything with a smooth surface for the materials - it can be plywood or particleboard. The key is that the surface must not be porous since it will allow your ties to slide off.
DIY Tie Rack Hanger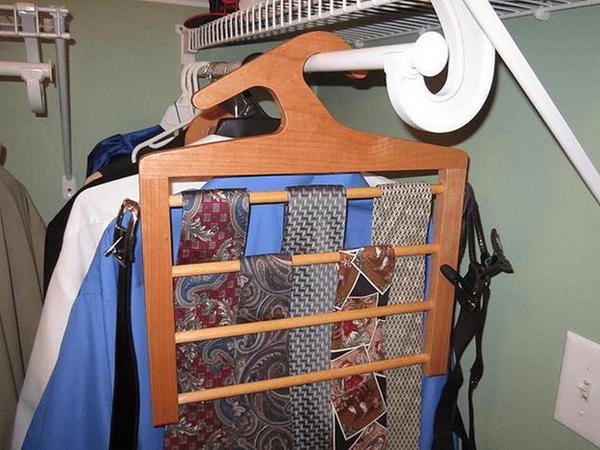 The DIY Tie Rack hanger is unique, classy, and functional. By overlapping the tie racks, the tie rack can hold a lot of ties. It is made out of wood, and the piece attached to the wall with screws is a dowel rod. You can add your personal touch to give it your elegant style. It is meant for a minimal number of ties or bow ties. This tie rack hanger is so easy to make that it takes only a few minutes. And the best part is that you wouldn't need to learn any skills from an expert nor buy any expensive tools or types of equipment. If you have some free time and want to make something for yourself, this project is well worth trying.
DIY Walnut And Brass Rack Tie
A Stunning tie rack made of brass with a walnut wood coating. The DIY tie rack is an absolute must-have for anyone with many ties or a messy closet. To make the pegs, you will need to drill a hole in the top part of it. Do this drill into the middle of the peg and twist until the peg is the desired diameter. After having all your pieces cut, use glue to attach them to the wood, you made earlier. This ensures that there won't be any issues with them falling off when you are using this piece for its intended use or just placing it as a decoration in your room.
How To Make A Tie Organizer
A tie and belt organizer with a glass cover is essential to any closet or dresser. This organizer is not as difficult as it may seem. All you need is a little creativity and time to make the perfect piece for your wardrobe. It can be hung over a door or placed inside your closet. Eliminate the frustration with tangled neckties and belts. Place your favorite neckties, belts, and accessories in this tie organizer. The frame provides a neat look for your dresser or closet. This Glass Frame makes the ties appear appealing and gives them some more flair in the room you wish to display them.
How To Make A Crafty Tie Rack
Make your tie rack by using an old picture frame. Paint the frame a color to match your decor, and then attach an old belt or leather strap diagonally across the top. For this eye-catching DIY, you will need some old metallic frames. Add a touch of color to your wardrobe by attaching the ties to the racks. Tie rack can make it in less than 15 minutes, and the best thing about it is that it is so simple that anyone can make it. Thread your ties through the belt and hang them on the wall!
DIY Tie Rack
For the ultimate in tie organization, you need this DIY tie rack. This project will take about an hour and is well worth the time spent. It's a great way to add storage space to your existing closet or create more space in a small closet. You'll need an old frame. Pick one that's at least 3 feet by 2 feet and well constructed. Drill holes at even intervals on the top bar of the frame, then cross an old belt across them, tying it with slipknots every few holes so it can grip the ties placed underneath.
Closet Door Clamping Tie Rack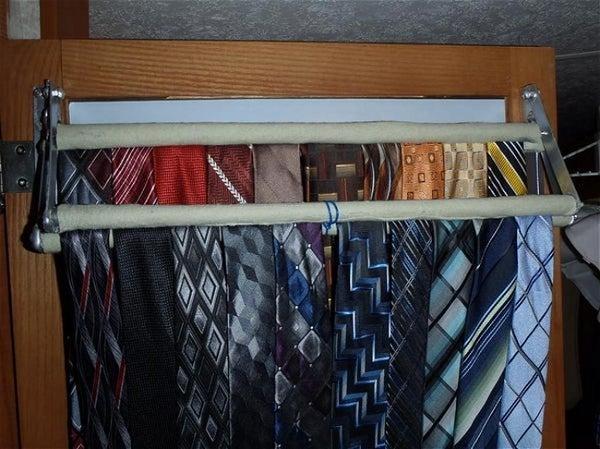 You are going to a business encounter or a party when you do not want to look messy and disordered. Your clothing should be organized and neat. How can we do that? Have you ever considered installing a closet door clamping tie rack? You will find it works! This item is completely safe and won't damage your closet door frame or furniture since you have nothing to worry about. For your latest project, make this DIY tie rack from a few pieces of wood and some screws. After planning, cutting, and drilling, you'll soon be sporting a new tie rack for your closet door.
DIY Tie Hanger
This simple tie hanger keeps your accessories organized, neat, and crease-free; it can hold a lot of neckties but can also be used for hanging belts, scarves, and more. A cost-effective and straightforward way to keep your closet looking tidy. Use this DIY tie hanger to help your dad or husband organize their favorite ties. A super easy and inexpensive way to keep the neckties from ending up in a tangled mess on the floor or over doorknobs. Let him know you love him enough to let him show off his neckwear collection.
DIY Simple Tie And Belt Rack
A custom tie and belt rack can add a luxurious feel to your closet. It's an excellent way to organize your clothes and keep everything neat. No one wants to spend time digging through an overflowing closet in the morning, looking for the perfect tie or belt. This DIY Tie and Belt Rack is fun and easy to make for your home! You can customize yours in any way you want and make it exactly the size you need. They are beyond cute but seriously functional, and the options are endless!
Space Saving Tie Rack Tutorial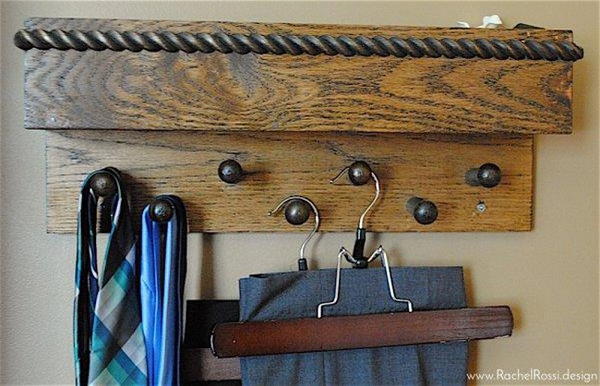 Have you ever bought so many ties that all you had for storage was the wardrobe? Have you ever wanted a tie rack that wouldn't just take up space in your closet? Well, here is a solution to both of those problems. This tie rack is one of the most accessible and most impressive woodworking projects one can make! It doesn't look easy, but it is straightforward. It does not need any drilling and therefore is something that anyone can efficiently complete. You need to cut the wood pieces and assemble them. The finished product is a tie rack that can store about many ties.
How To Make A Simple Tie Rack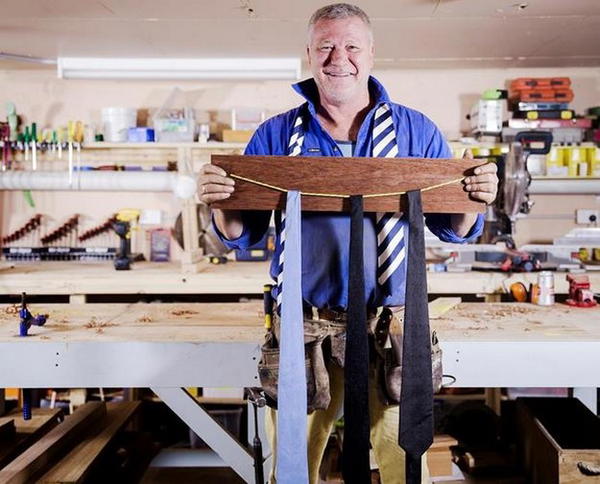 A tie rack is an excellent way of storing your ties if you do not want to use the traditional method of hanging them from a shelf or other structure. In addition, it's cheap to build and easy to put together. The best part about it is that you can keep it and use it for years – perfect for those who love quality products once you have built it. This tie rack takes about 5-10 minutes to build and doesn't require any power tools or nails. The one thing that you will need is wood glue to keep it sturdy. It is an effortless design, but you can also customize it with different types of rope or string.
Tie Rack DIY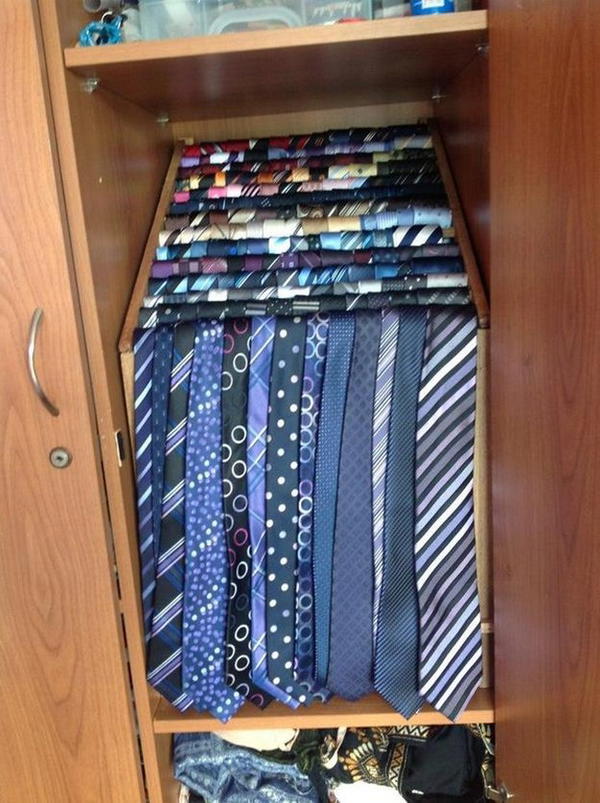 Does your collection of ties grow to the point of no return? Does it face a dilemma of too many ties yet not enough space? If so, then you need one of these. With it being able to store in layers, you can be sure that all your ties are in the right place and sorted out accordingly with each particular style or pattern highlighted. It is also fitted neatly into the wardrobe so that there is no messing around with it taking up space and adding to the clutter of your room. You can get your ties nicely organized and mostly displayed according to their patterns. Their display will make it easy for you to pick one with ease.
DIY Wooden Tie Rack
Go for a simple DIY wooden tie holder and keep your ties as a work of art. You'll need some essential woodworking skills to go on and carve it into the name or anything you desire. Make room for your other accessories by building this little piece of furniture yourself. These modern wall tie racks can be a great addition to your wall and not cover it up with some other furniture. You can leave them as they are or paint them in your favorite color. They are helpful and decorative at the same time.