These 25 DIY plans for shoe racks are so easy to build, even a beginner can do them. These racks will organize your shoes, free up some space in your closet or storage area and make it easier to find what you need. You can use any one of these DIY shoe rack plans for your home, garage, apartment, closet - any place where you have too many shoes and not enough room. We'll show you how to turn simple wood scraps into these stunning DIY shoe rack plans. Follow the step-by-step instructions, and you'll have a stylish rack in no time at all. Plus, you can build multiple racks for an even greater shoe storage capacity and perfect fit for your room with these directions. These high-capacity racks work great for shoes of all kinds and will spruce up your home decor while getting rid of clutter.
DIY Shoe Rack Plans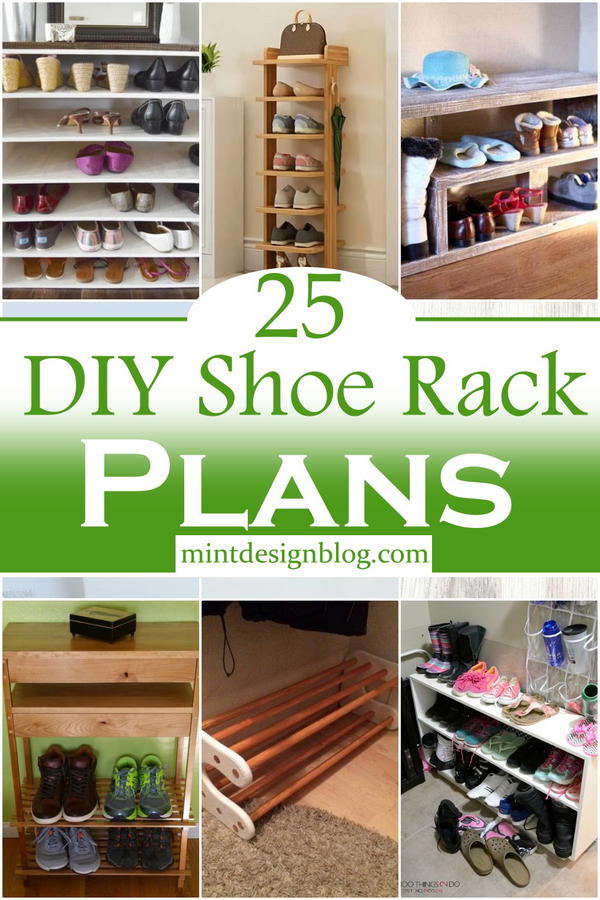 Many shoe racks aren't that exciting to look at, which is why we've focused on some ways to make your DIY shoe rack more than just a storage unit. These 25 DIY Shoe Rack Plans show you how to make a set of shoe racks that double as wall art. They're made to hang vertically so they don't take up any floor space and they can be put together in just a couple of hours. These projects are ideal for someone who has already done some basic woodworking projects and wants to start working with more advanced techniques. The finished product looks great and will be an elegant addition to any entryway or hallway. These stylish DIY shoe rack plans will give you an option for your home decor. They're all made of wood so they'll fit right in with your furniture.
Easy Shoe Rack
Is your closet bursting with shoes? And do you find yourself running barefoot because your rooms are messy and you can't find your favorite pair of sandals? Such a mess! But never fear, there is a solution with your easy shoe rack design. This simple, versatile design can fit in a closet or stand free in your entryway. It's so stylish you might not believe you can build it in an hour—but this is a project where even beginner woodworkers can shine. This shoe rack design beats the ordinary. You can build it in an hour, and its simple, versatile design fits right in with your decor. Keep your shoes off the floor and organized, and make use of empty space in your entryway with this shoe rack design.
Tools: Drill/driver, Pocket hole jig (can be replaced with the drill if you don't have one), Clamps, Tape measure, Pencil
Supplies: Laminated pine planks, PAR pine, Wood glue, Pocket hole screws
Closet Shoe Organizer and Rack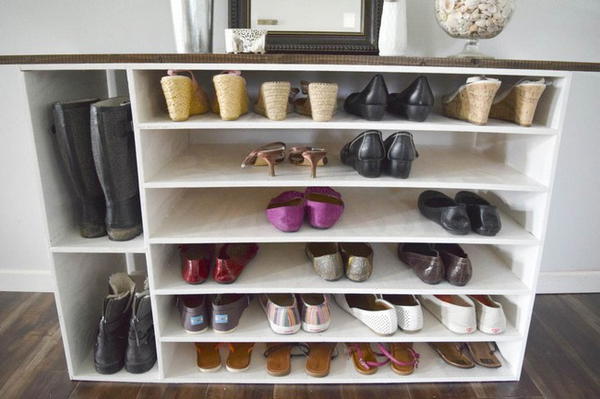 Frequent trips to the gym have left you with a big collection of shoes. What's more, you can never seem to keep them in order. If you build this rack, you'll learn how to get your closet organized—no professional organizer required! This rack is simpler and sturdier than you might imagine. It's also just the right size for boots and other large shoes that often hog space in closets. And if you've got a small space to work with, we show you how to adapt the design for a single row of shoes.
When it comes to dealing with small spaces, the best tactic is often a multi-pronged approach. That's why we suggest tackling a closet shoe organizer and rack as well as an over-the-door shoe organizer --each is capable of helping you clear out some of your unwanted clutter.
Tools: Circular saw, Tape measure, Pencil, Clamps, Router, Sander, Brush
Supplies: Plywood, Paint, Wood glue
Entryway Shoe Rack Bench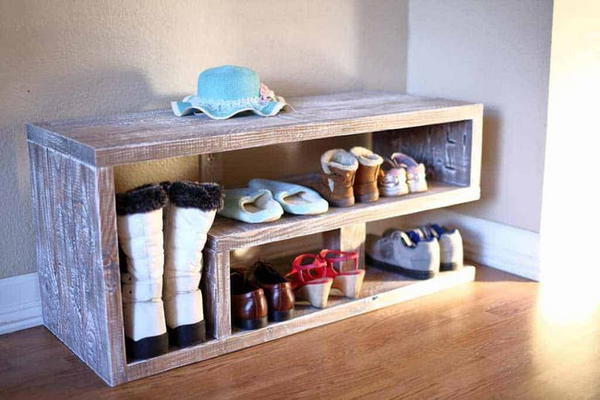 When you're looking for a way to organize your shoes and add character to your entryway, this shoe rack bench is the answer. With a cool asymmetrical design, it's sure to make quite an impression. It's quick and easy to build with dowel rods or flat-pack furniture parts. You'll only need a saw (a jigsaw is good for cutting curves), sandpaper, glue, and paint to finish it off yourself. This entryway shoe organizer is the perfect place to store your shoes while keeping everything in plain sight. It's both a bench and a shoe rack, so you can use it to sit or lean while you put on that pair of heels.
Tools: Plywood, Paint, Wood glue
Supplies: Lumber, Pocket hole screws, Wood screws, Wood glue
Minimalist Shoe Rack
The Minimalist Shoe Rack is a slim, sturdy, and simple shoe rack that's easy to bend and shape to fit your space and your shoes. All you need is this simple design that hangs from the back of a door, making it perfect for small apartments, kids' bedrooms, and narrow hallways. Put this rack together without any special tools in about 15 minutes, then watch as it stores over a dozen pairs of shoes—no shoe hangers needed! This minimalist shoe rack is super easy to make. It's built with a variety of reclaimed materials, but you can make it using only materials available at your hardware store. This Rack can come to the rescue and help you find your sacred worn-down footwear easily.
Tools: Pencil, Ruler, Router, Table saw, Crosscut sled, Clamps, Hammer, Brush
Supplies: Pine, Plywood, Wood glue, Nails, Wood staples, Whitewash, Shellac
Shoe Rack Plan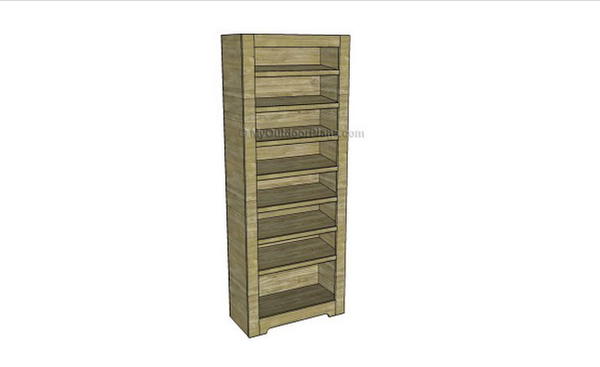 Classic low-profile shoe racks are all well and good, but sometimes you want one that holds a few more pairs of shoes. If you're tired of always missing your shoes on the lowest rack, this tall, classic shoe rack should do the trick well enough. This design for a tall, classic shoe rack is one of our favorites. It's a taller version of the traditional wall-mounted shoe rack, but with all the same functionality. This design is a classic piece of furniture that blends well with most living spaces. This story plan calls for precision lumber cuts, real joinery, and a lot of drilling, but all of that is worth it because the end result is a classic-looking shoe rack that will look perfect in just about any room.
Tools: Hammer, Tape measure, Framing square, Miter saw, Drill, Screwdriver, Sander
Supplies: Plywood, Lumber, Screws, Filler, Stain, Wood glue
Super-Sized Shoe Rack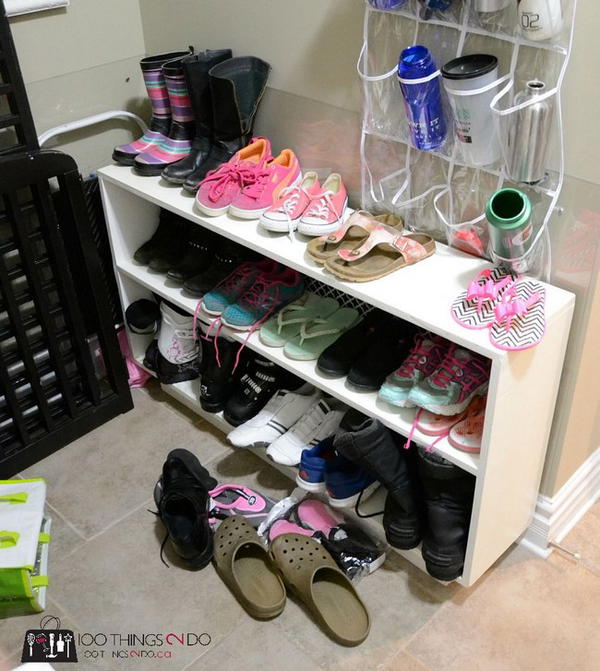 If you're like most of us, your clothing and shoe storage needs far exceed the available closet space. The solution to this problem lies in a multi-tiered shoe rack, but most models are engineered for limited use. That's why we designed this super-sized shoe rack for use in walk-in closets or on laundry room or mudroom floors, and it's how we were able to so effectively harvest excess space from otherwise underutilized corners in our own closets. The Super-Sized Shoe Rack will help you make much more efficient use of your closet space, showing your footwear some overdue love and attention.
Tools: Saw, Screwdriver, Sander, Brush
Supplies: Saw, Screwdriver, Sander, Brush
Scrap Wood Shoe Cabinet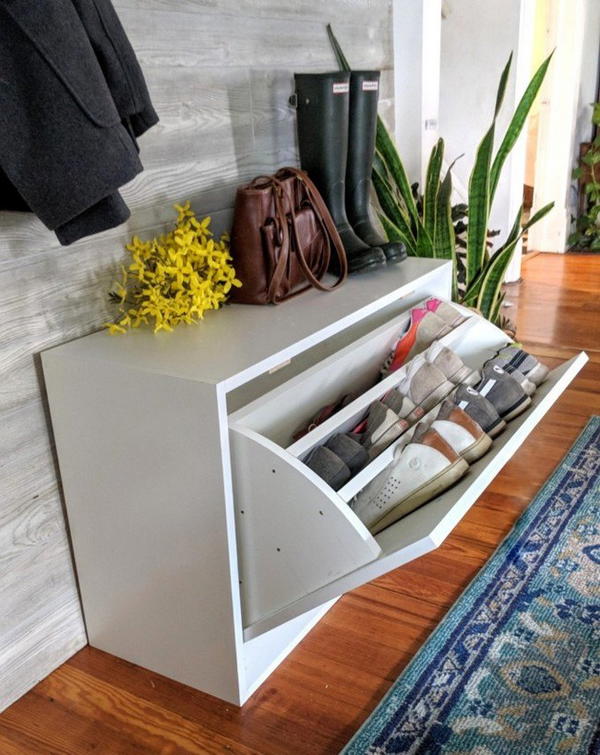 Behold the Scrap Wood Shoe Cabinet. This ingenious folding shoe cabinet is the result of being challenged to build something out of their leftover scrap wood. It has a hinged panel that swings open to reveal three layers of shoe storage that'll help make sure you never have to search for a matching pair again. This ingenious folding shoe cabinet is the result of being challenged to build something out of their leftover scrap wood. It has a hinged panel that swings open to reveal three layers of shoe storage. Keep your shoes out of sight and organized with this attractive, space-saving unit. It even gets better when you learn how to build it because those same sections act as the shoe cabinet's lid!
Tools: Table saw, Bandsaw, Pocket hole jig, Drum sander, Drill press, Drill, Iron, Angle gauge
Supplies: Scrap wood, Screws, Dowel, Edge banding, Wood glue
Gentleman's Stand by Woodworking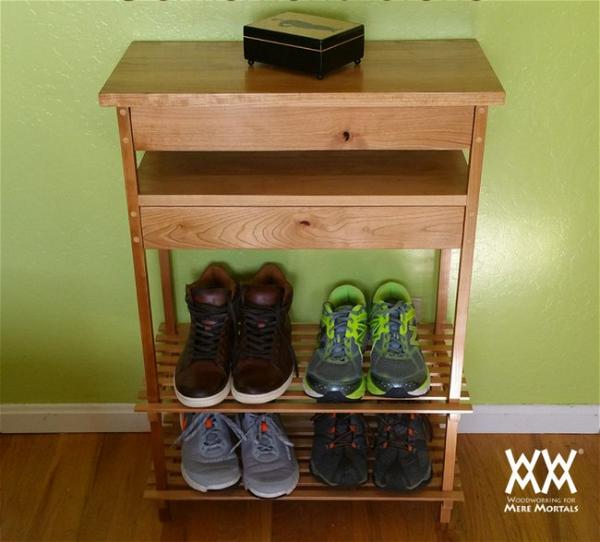 Your home is your castle. Keep it looking sharp with a Gentleman's Stand shoe rack and side table—at home in your entryway, bedroom, or living room. This handmade piece takes the stuff that goes with your suits and ties and neatly tucks it away. The drawers are also ideal for storing your other going-out accessories: keys, wallets, cell phones. And because it can be easily customized with paint or stain, it's a good fit for bedrooms and living rooms too.
This Gentleman's Stand combines shoe storage and side tables into one handsome piece of furniture that's a good fit for small rooms. It offers the kind of storage they need without any wasted space, plus a convenient place to set down and pick up things like keys, mobile phones, wallets, sunglasses, and water bottles. It looks best in an unvarnished finish, letting the natural wood show through. It's finished on top to preserve the look of your favorite suit or blazer (or both) when tucked away out of sight.
Tools: Table saw, Drill, Right-angle attachment
Supplies: Wooden boards, Wood glue, Dowels, Screws, Spray lacquer
Unique Shoe Rack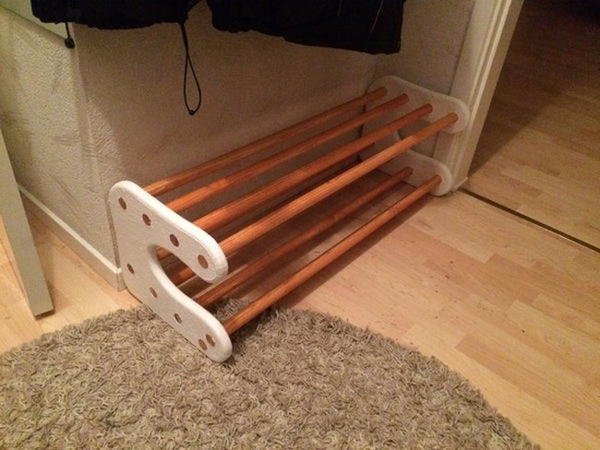 The dowel-based structure of this Shoe Rack makes it a very different kind of project than most. With the freedom to design your own side panels, building this rack is a treat for the artistically-minded woodworker. Any type of wood can be used, and with just a little skill and creativity, the dowel holes can be made in any shape or size. Because the main body of the rack is designed with simple tapered legs, the rack will remain stable once assembled with its centre poles, giving you an excellent place to store your shoes and clothing. The dowel-based structure of this Unique Shoe Rack makes it an unusual and fun challenge to build. You can make it uniquely your own with plenty of room on the sides for artful decoration.
Tools: Jigsaw, Sandpaper, Router, Mallet
Supplies: Boards, Wood glue, Long dowels
You can also see: DIY Clothing Rack Ideas
 

Entryway Shoe Rack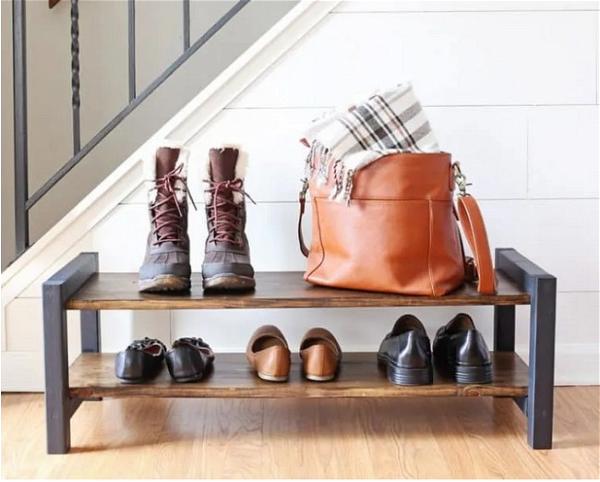 Is your entryway overflowing with shoes? Store them in style with this easy DIY project. In just a couple of hours, you can build a stylish Jenga-like stack that'll keep your shoes visible and accessible. This shoe rack design makes the most of vertical space, thanks to the natural shape of a hexagonal prism. It's an attractive way to keep things organized in almost any room and makes for a great addition to any shoe collection. Most of us have a pile of shoes that's always growing by the front door, and it's usually always a little bit messy. It doesn't have to be that way, though! With just a few tools and supplies you can build your own custom shoe rack in no time, and keep your shoes neat. It's easy, cheap, and you don't need any DIY experience.
Tools: Miter saw, Drill, Clamps, Brush
Supplies: Lumber, Wood screws, Paint, Stain, Polyurethane, Spackle
Easy Mudroom Bench with Shoe Storage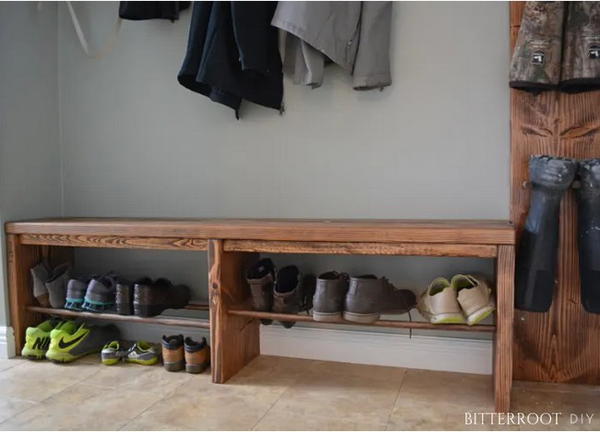 The bench will be where your kids drop their shoes off when they come in from the messy, muddy mess outside. What you don't want to see is a bunch of muddy shoes lying around the house. This mudroom bench with shoe storage is easy to build and doesn't take long at all. This Easy Mudroom Bench with Shoe Storage is designed to help keep mud and dirt off the floor and out of sight, while still providing a place for your shoes as you come in from outside. With it, you can create an entryway that's both practical and stylish.
It's called a mudroom for a reason. Wet, muddy shoes need a place to dry out before entering your home. This shoe rack bench might be the perfect solution to your issue, with spaces for backyard and outdoor gear such as shotguns as well as a beverage holder, and even a spot for your dog!
Tools: Drill, Saw, Pocket hole jig, Orbital sander, Tape measure, Pencil
Supplies: Lumber, Dowels, Screws, Pocket hole screws, Wood glue
Shoe Box Organizer Rack
Got lots of shoes? Got lots of feet? Things get pretty crowded and messy when you don't have a shoe organizer to help out! Make this shoebox organizer rack and keep your shoes neat and tidy. Make shoe storage easy with these plastic shoe box organizer racks. You can easily store 10 shoeboxes in the open air, on their edge. Two of the sides are adjustable and slide in and out. The other two sides stay put, providing a right-sized rack. It's lightweight, doesn't take up a lot of floor space, and it's easy to build with simple tools! The other two sides stay put, providing a right-sized rack. It's lightweight, doesn't take up a lot of floor space, and it's easy to build with simple tools!
Tools: Miter saw, Dado jig, Router, Bandsaw, Pencil, Belt sander, Drill, Jigsaw, Moxon vise
Supplies: Project panel, Scrap wood, Furring strip, Dados, Screws, Wax finish
Vertical Shoe Rack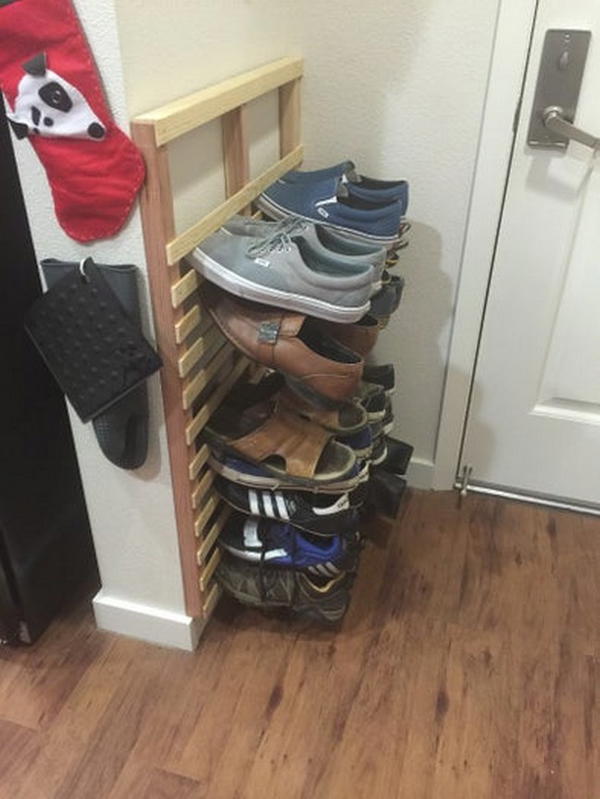 Finally, a vertical shoe holder that's easy to build, effective, and efficient! If you hate the mess of all your shoes lying around on the floor, this is the project for you. Made from pine this shoe holder is guaranteed to last a long time. This rack will not only keep your shoes tidy but also takes up very little space. The slats are close enough together that make it easy for your shoes to fall onto and stay in place when you pull one-off. No more getting down on your knees and digging through a pile of shoes every time you want to slip into something comfortable.
This Vertical Shoe Rack is a space-saving, simple, and elegant solution to tromping around in the winter for your appropriate pair of shoes. It makes good use of vertical space that's often unused or underutilized, and it looks neater and more organized than piles of shoes everywhere.
Tools: Measuring tape, Level, Pencil, Drill, Hammer
Supplies: Lumber, Molding, Wood screws, Brass brads
Shoe Cubby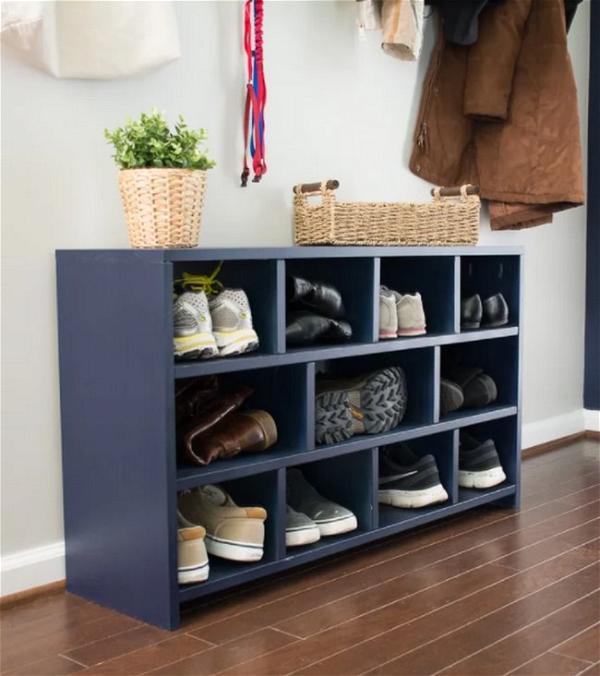 Shoe Cubby is a new design that seamlessly fits in with your existing decor. The cubby is easy to assemble, and most of the pieces can be cut at home using a miter saw and utility knife. The cubby's ten shelves are sized to perfectly fit sandals and shoes of all sizes, including cowboy boots. This cubby is great because it requires very few more tools than what you would need if you were just putting up flat pieces of wood. Enjoy surprising your friends by making one for them too! Building on the small footprint of the bookcase, this shoe cubby has ten shelves of varying sizes that can accommodate a variety of shoes and sandals. It features a flat top for extra storage and decoration, perfect for hats or linens!
Tools: Kreg jig, Radial arm saw, Measuring tape, Pencil, Sandpaper, Nail gun, Rubber
Supplies: Pine boards, Kreg screws, Putty, Finish, Primer, Paint
Industrial Shoe Rack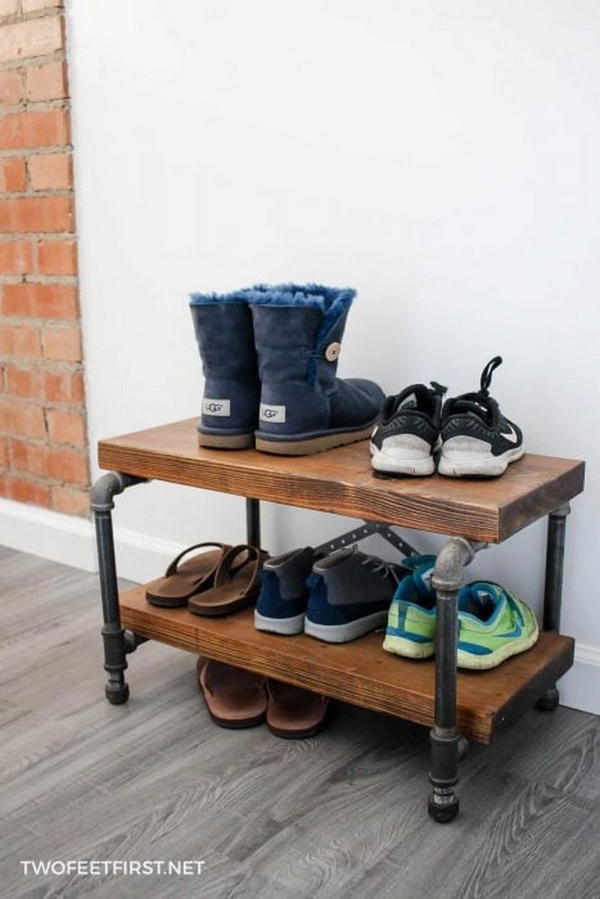 The small industrial shoe rack is an effective, useful piece that expresses your personality and gives you a spot for your coats or books. It's easy to make and sturdy as a desk!. You're going to love how this industrial shoe rack works in your foyer. With just some metal pipes and a little elbow grease, you can give your home a rugged and refined look. It's small, but it does its job well. This industrial shoe rack is a fun weekend project for woodworkers of all skill levels. It ties in with the exposed-brick look, and it's small enough to store behind a door. Shoe racks are often tired and tend to blend in with the walls, but this design tries to make room for them and still looks good aesthetically.
Tools: Drill, Pencil, Tape measure, Wrench, Sandpaper
Supplies: Pipe caps, Pipe Nipples, Pipe tees, Pipe elbows, Wooden boards, Conduit straps, Wood screws, Stain, Polycrylic
Shoe Organizer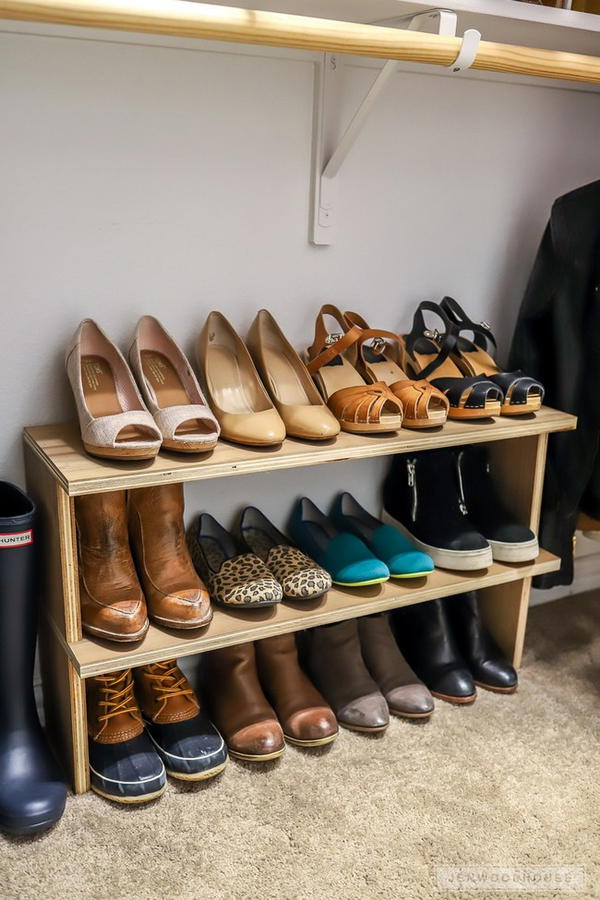 This Shoe Organizer's vertical strands of dowels give it a unique look and make the most of the shoe storage available in any closet. The closed sides keep dust out and shoes protected, while the open top makes it easy to retrieve pairs when you're ready to slip your feet into something more comfortable. Use it in your closet to give old shoes new life or build one out of emptying cereal boxes and scrap wood to make shoes in the garage more manageable. Simply screw some plywood together, glue on some cleats and you've got a case that can fit at least a pair of shoes. This shoe organizer is the perfect DIY project. It's functional and decorative and can be built to fit any space.
Tools: Miter saw, Jigsaw
Supplies: Scrap plywood, Brads, Wood glue
Floating Bench and Shoe Shelf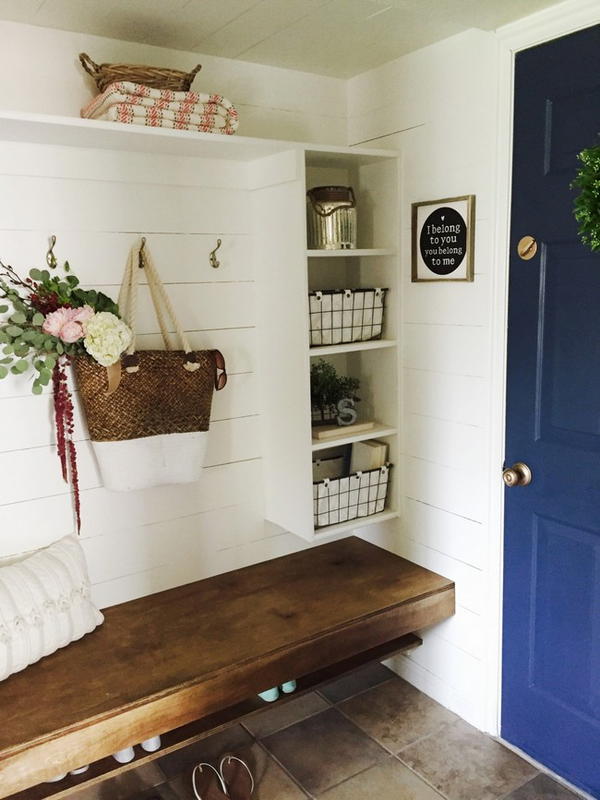 Make the most of your space with this fun hanging shoe rack and bench that works in hallways, mudrooms, and even under staircases. It's easy to install due to its hanging hardware and easy to use since both sides are open. Plus, it has a non-slip cork foot on the bottom.
This unique shoe rack and bench include an integrated shoe shelf that allows you to store your shoes out of sight. A versatile design is great in a hallway nook, mudroom, or under the stairs. Just have some drywall handy to adjust your measurements—this innovative design requires almost no other materials.
Tools: Stud finder, Utility knife, Miter saw, Clamps
Supplies: Boards, Plywood, Drywall, Wood glue, Wood stain, Polyurethane, Screws, Joist hangers, Wall hooks
Behind the Door Shoe Rack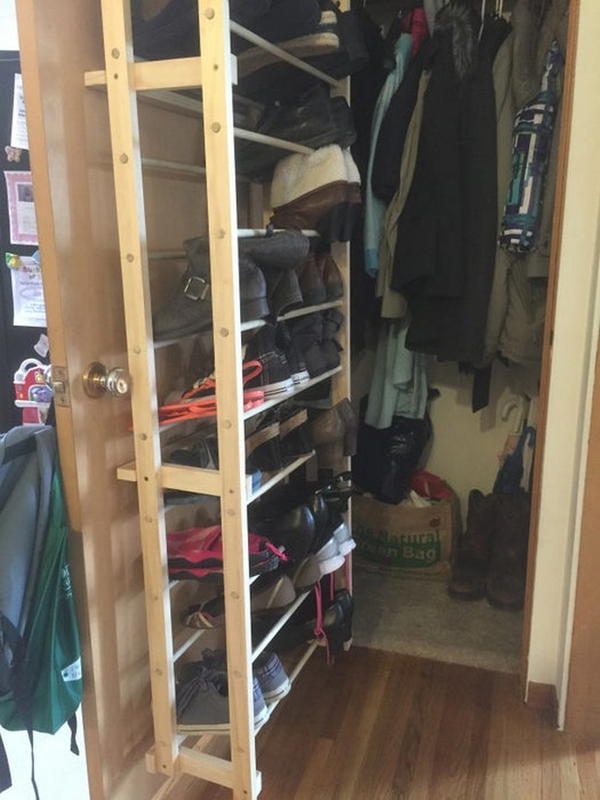 Does your shoe collection outgrow the space in your closet? This Behind the Door Shoe Rack acts as a freestanding closet and is perfect for storing your shoes, bags, belts, and even coats. This hanging ladder-style rack can be attached to the back of a door or placed anywhere else in your house, so you can better utilize space and find your shoes when you need them.
Keep your shoes neat and organized with this ladder-style shoe rack. This version is made to hang from the back of a door, but you could easily make it multi-purpose—it would even look great sitting on top of a desk or other piece of furniture. It may take a little more time than other woodworking projects, but it's simple enough that you should be able to build it in just one weekend.
Tools: Saw, Drill
Supplies: Lumber, Dowels, Screws, Wood glue
Wooden Boot Rack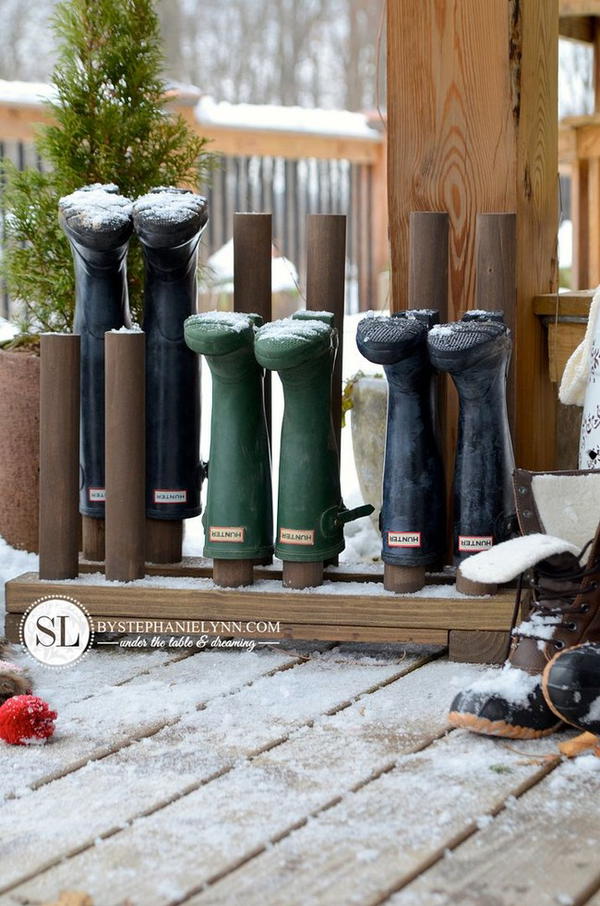 Live in a damp climate? Then this boot rack is for you! Boot racks are every bit as functional as they are decorative, and can be made from a variety of materials. These simple boot racks provide ventilation for boots, preventing them from collecting moisture in damp or wet weather. Made from sturdy wood and dowels, with holes cut to accommodate boot heel shape. The functional design keeps your boots off the floor and out of direct contact with dampness. The dowels are sized to hold your boots up from the base at the toe and heel. Assembly is quick and easy, with no tools needed. To keep the rack looking sharp, unscrew the screws from time to time, wipe them with sandpaper, and reassemble.
Tools: Sandpaper, Chop or hand saw, Hand drill, 2-inch hole saw
Supplies: Lumber, Paint, or stain
Shoe Cabinet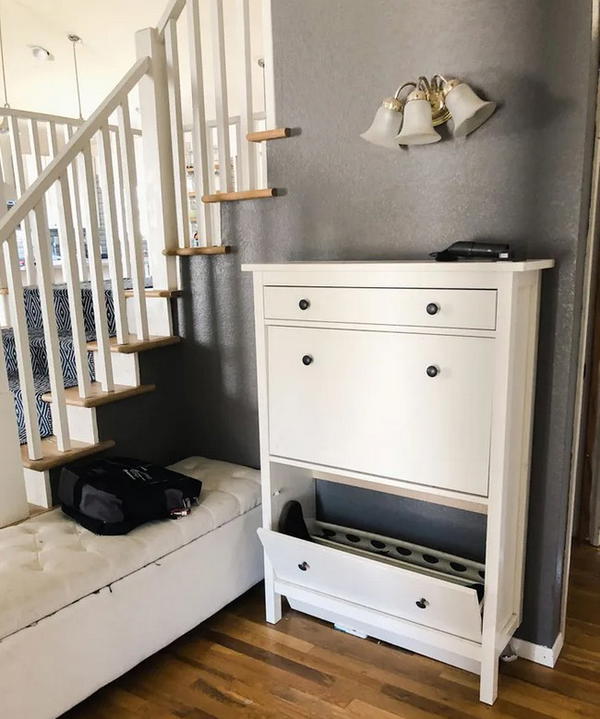 The ultimate shoe organizer! This shoe cabinet plan is big enough to hold an entire family's shoes, accessories, hats, gloves, and scarves. Never wonder where your shoes are again! Building storage units using this shoe cabinet plan is the perfect solution for the person who has too many shoes to fit into a regular size closet. Imagine how much money and time you could save by creating this massive organizer that's large enough to hold an entire family's shoes, hats, scarves, and gloves. This shoe cabinet is exactly what you need to get organized so you'll never have to dig through a pile of shoes again. Being a DIY project, this one involves a few hours of work, but the end result will hold your whole family's shoes and accessories in one organized location.
Tools: 
Measuring tape,
Carpenter's square,
Clamps,
Utility knife, S
staple gun,
Table saw,
Miter saw, Jigsaw,
Drill and impact driver,
Kreg jig and 90-degree pocket hole clamp,
Router, Orbital sander, Brush
Supplies: 
Lumber,
Plywood,
Shelf liners,
Pocket hole screws,
18-gauge staples,
Wood glue,
Paint or stain,
Drawer slides,
Drawer knobs
Wooden Shoe Rack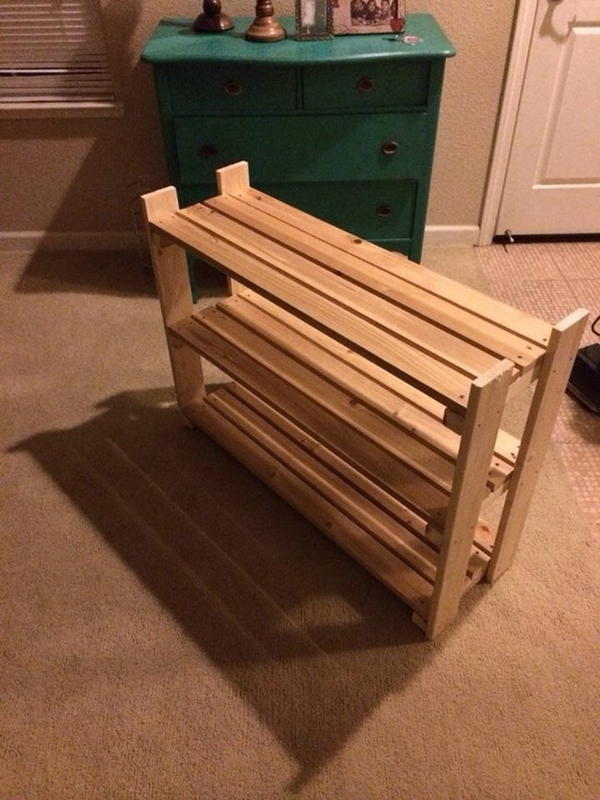 This Shoe Rack is a cute and functional way of storing your shoes in your bedroom, entrance, or closet. It is made of wood with a natural finish and it has an elegant design with different slits to organize all kinds of shoes. Saving on closet space isn't always the answer to clutter. Sometimes you need a different solution, like the Wooden Shoe Rack. Featuring easy-to-assemble and well-crafted pieces, it lets you store shoes or other necessities without taking up a ton of space. If you're ready for a cleaner home, you'll love this simple Wooden Shoe Rack! Its compact design fits easily in small spaces and can be placed on the floor standing vertically or mounted on the wall for better organization.
Tools: Plywood, Paint, Wood glue
Supplies: Lumber, Pocket hole screws, Wood screws, Wood glue
DIY Shoe Rack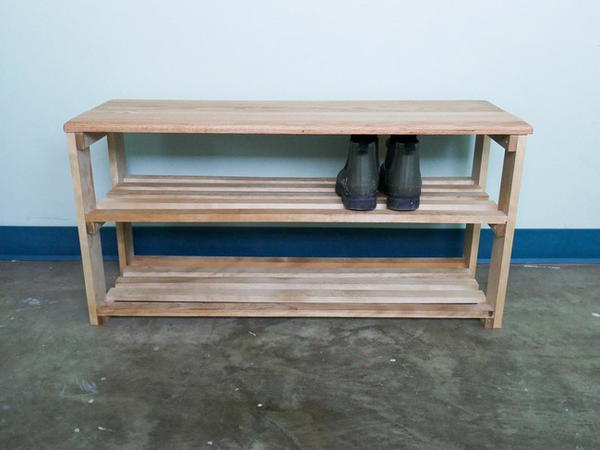 Get rid of your shoes running amok in your closet? Don't put up with it anymore! Build your shoe rack today so you can keep yourself organized and in style! Put your shoe collection in order with this easy-to-assemble Wooden Shoe Rack. It keeps your shoes neatly organized, off the floor, and visible for easy pairing. Featuring an open design that offers clear views of each pair, it's perfect for any home. The DIY Shoe Rack is a simple project that allows you to custom design your own unique shoe rack. This rack works using plywood, which is an inexpensive material, as well as off-cuts (leftovers).
Tools: Plywood, Paint, Wood glue
Supplies: Lumber, Pocket hole screws, Wood screws, Wood glue
DIY Shoe Rack With A Shou Sugi Ban Finish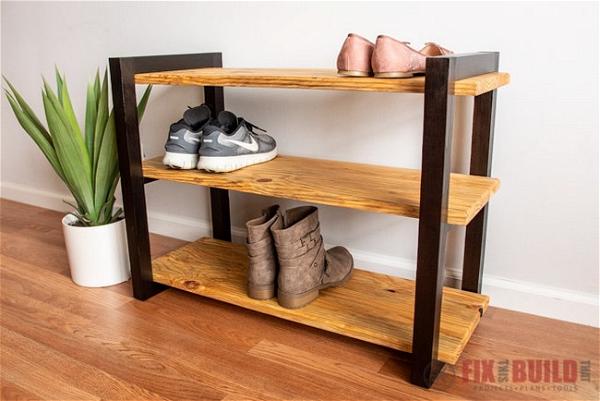 You're just a few steps away from making this DIY shoe rack with a Shou Sugi Ban finish. This rack can easily convert into one of the other designs, like a plant stand, magazine holder, or accent table. Whatever you choose to do with it, it's sure to be a fantastic addition to your home. Shoe racks are an easy way to organize your shoes. This DIY Shoe Rack is easy and only takes about an hour to complete. This rack could easily be converted into one of the other designs we showcased earlier in the week, like a plant stand, magazine holder, or an accent table. Whatever you choose to do with it, it's sure to be a fantastic addition to your home.
Tools:
13" Planer JET (or Hand Sander)
8" Jointer JET (Optional)
Parallel Clamps JET
Tablesaw Sled
Kreg K4
Miter Saw Stand
Itunes Bluetooth Earbuds
Supplies:
(3) 8 ft long 1x6s
(2) 8 ft long 2x2s
No-mar Countersink Bit
Jointer Pushblocks
Pocket Hole Screws
Pocket Hole Screws
 Trigger Torch
 Pocket Hole Screws
Iron Pipe Shoe Rack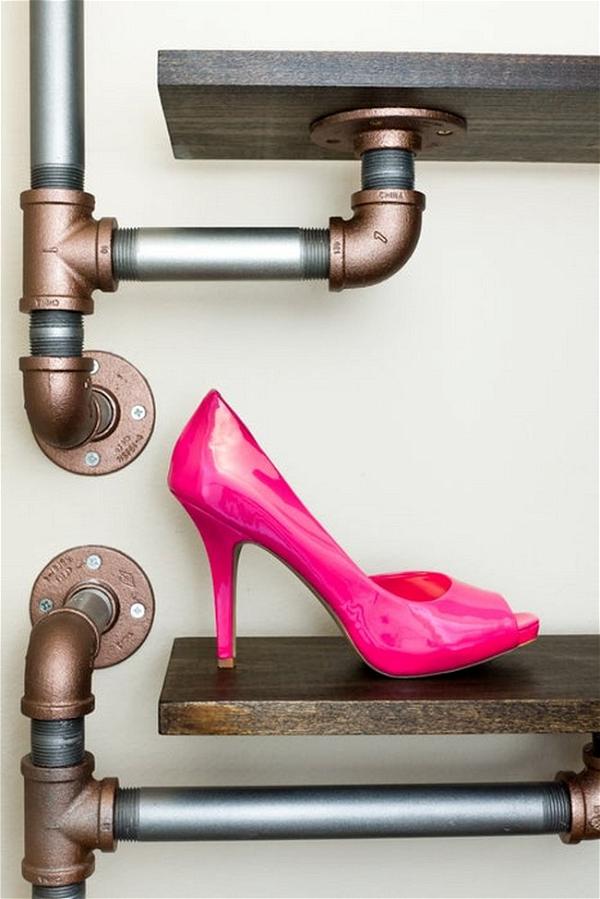 You'll discover the convenience of this unique shoe rack in no time! Its handsome wood construction and vintage-inspired design will complement any room of your home - especially an entryway, mudroom, or guest room. Made from iron pipes, it has hanging slots for up to various pairs of shoes and provides an easy way to organize your shoes neatly away from sight. This is a set of two shoe racks. This is a sand-blast cast iron pipe shoe rack. It features a combination of solid wood, oak, and pinewood to create a sturdy and long-lasting home for your shoes. All cast iron fittings are brass plated. And is chemically cleaned and sealed with thick coat non-toxic polyurethane paint to prevent corrosion, rust and ensure its longevity.
Tools: Plywood, Paint, Wood glue
Supplies: Lumber, Pocket hole screws, Wood screws, Wood glue
Hidden Shoe Cabinet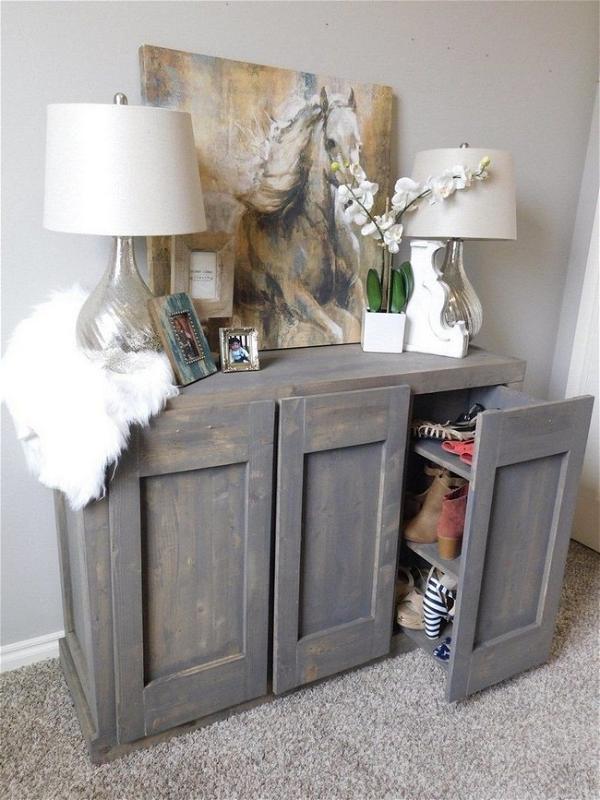 Do you have a small bedroom and nothing to store your shoes in? Perhaps a large shoe collection that seems to take over the bedroom? Well, this extremely useful and versatile shoe cabinet could help. No more clutter on shoe racks and scattered about the closet floor. This hidden shoe cabinet provides a safe place for footwear and can install virtually anywhere! This shoe cabinet work with high-quality veneer and plywood materials, sturdy enough to last forever. This shoe cabinet features several shelves to place shoes in various sizes while keeping them hidden from sight. It has a nice space under the cabinet to store things such as handbags and gloves.
Tools: Plywood, Paint, Wood glue
Supplies: Lumber, Pocket hole screws, Wood screws, Wood glue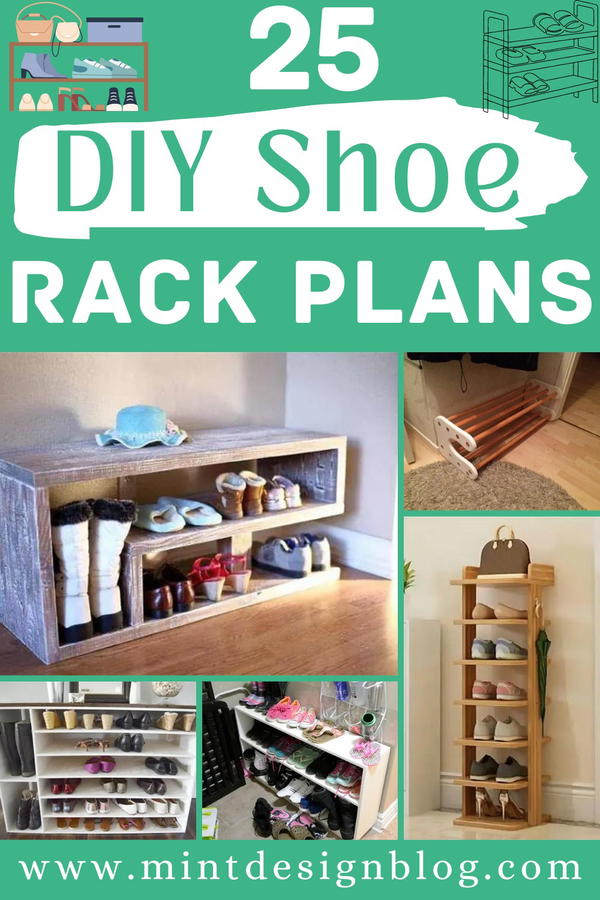 Conclusion
Have a clunky ugly shoe rack getting in your way? You now have an opportunity to make your own shoe rack at home with just a few tools and a little bit of effort. Shoe racks are great but they can be expensive. This DIY project idea is a simple, easy solution that you can make yourself! These are a few designs that you can easily customize to fit your needs and space. We've popularized some really cool DIY woodworking plans this past year, and heard back from hundreds of folks who have built them. We thought we would gather the best DIY plans on one page so you can easily get to them.