Tiki bars are a great way to augment your home's décor and add some fun to your parties. You don't have to be a professional carpenter or even have a lot of experience in the woodwork to create one. You can use the simple DIY tiki bar plans provided below and achieve great results that will thrill you and your friends. With these plans, you can make the perfect tiki bar for any occasion, whether it be a birthday party, holiday gathering, or just an evening with friends.
DIY Tiki Bar Plans:

The first step is to pick out the right location for your tiki bar. You want to place it somewhere that is already part of the party, like near a pool or out on the patio. You also want to find an area that has good natural lighting for when you want to use it during the day as well as at night. A good idea when selecting furniture is that you stick with all-natural materials to make it fit in with your tropical theme. Wood is always a popular choice but bamboo can also be used along with rattan which is similar yet looks more like traditional woven chair backings.
Tiki bars are all about ambiance, and these DIY plans will help you create an atmosphere of fun and exotic relaxation in your own home. From the classic to the quirky, these DIY tiki bar plans will show you how to create a tropical oasis in your own home, using inexpensive materials and construction techniques. These tiki bar designs will help you create a relaxing space where you can escape from the stresses of everyday life, and enjoy a cocktail in the comfort of your own home.
 How To Build A Tiki Bar
Building a tiki bar can be done from scratch, but it can also be achieved by adding some pieces of wood to your existing patio table or coffee table. The one that you want to build should fit the theme of your backyard or backyard party. This DIY project can be done with different kinds of woods like cedar, pine, redwood, and others. Tiki bars can be expensive and hard to find, and if you're looking for a good one, your only solution is to build your own. This article will show you how to make your tiki bar and give you ideas on how to decorate it.
The first thing that you need to do is to measure the area where you want to build your tiki bar. Measure the space from wall to wall, and also take into consideration the size of the furniture that you want to put inside it. The second thing that you have to do is decide on the kind of furniture that will go inside your tiki bar. You can either buy furniture from a store or build it yourself from scratch.
How To Build A Tiki Bar In 18 Steps: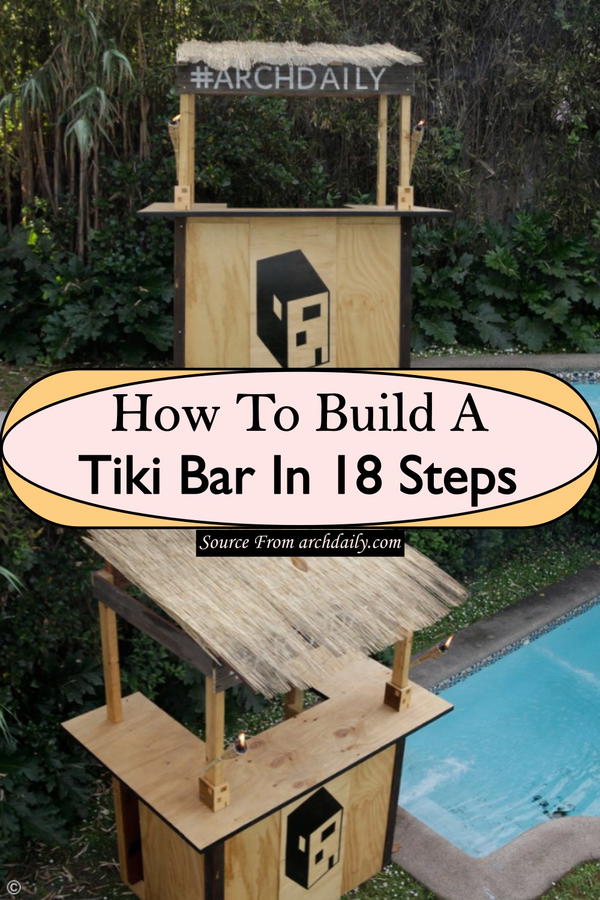 Tiki bars are a great way to make any party or gathering to a whole new level. They can be found in homes for everything from parties to everyday use, and they typically have a laid-back tropical theme. The design of the bar is usually very simple, but the final result is quite impressive.
To build a tiki bar, you'll need some basic tools and materials. These include a tape measure, hammer, power drill, clamps, straw fence, tiki torches, wood glue, and screws. Start by prepping the plywood for the tabletop and making it into an L shape. Then move onto the frame of the bar. Assemble the pieces and join them with screws. It's a very simple and cheap DIY project that will allow you to enjoy your tiki bar for years to come.
DIY Tabletop Tiki Bar
DIY Tabletop Tiki Bar is a cool project that will be perfect for a summer party. The materials needed for this include adhesive, brown paper bags, browsing materials, flamingos, spray paint, small planters, tiki torches, and glue sticks.
For framing the rooftop and the tabletop of the tiki bar you will need to cut the bottom and the top part of the paper bag. Shred-it into strips and leave some inches down the bottom to hold all strips together. Then use them as frames for the tabletop and the rooftop. Spray paint the tiki torches white and set them up on your table. Decorate your tabletop with small planters, place them there with plants or flowers inside.
DIY Tiki Bar: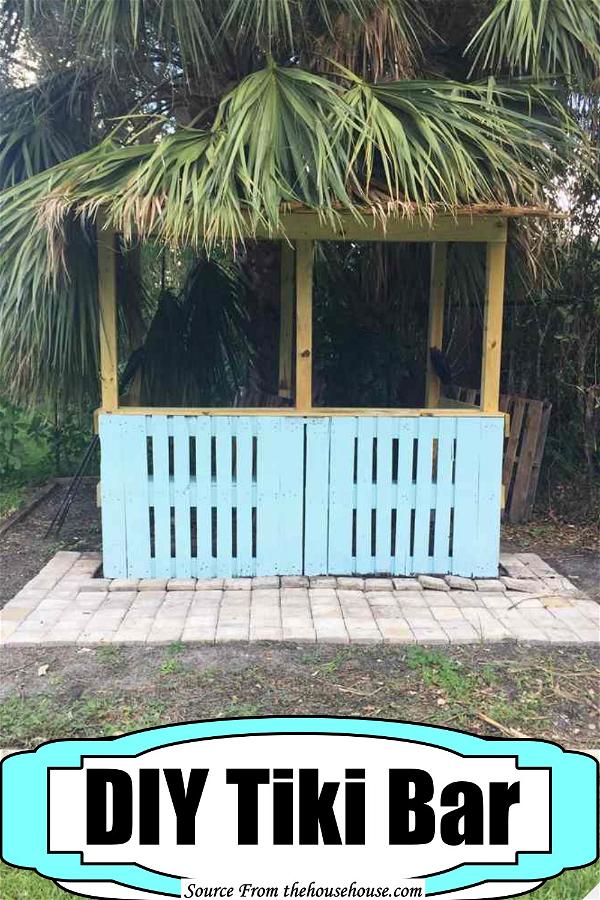 Tiki bars are not just a summer trend. If you do not have the budget for a full tiki bar, then this DIY tiki bar project can help you make your unique tiki bar from scratch.
The supplies needed for this project include a hand saw, screws, sander, stain, paint, and tape measure. You will also need two pallets to make the rooftop of the tiki bar. The next step is to attach the pallets to the beam from the bottom and paint the bar. You can also add other decorations such as palm trees and ornaments on the rooftop if you wish. Tiki bars are a staple at almost every event, so it's a great idea to have one for your home.
How To Make a Tiki Bar: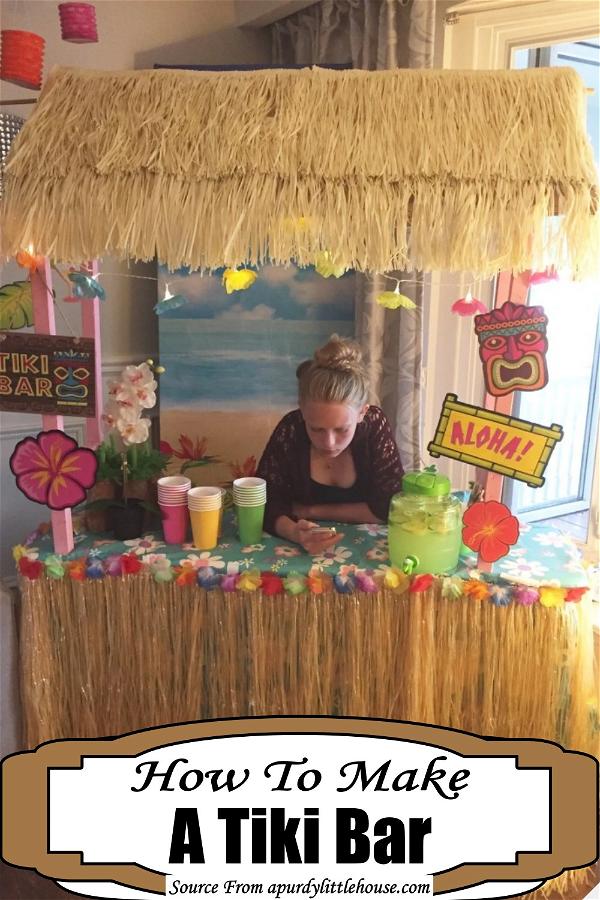 A tiki bar is a very versatile and modern piece of furniture that can be placed at the center of your living room or by the poolside. The amazing part about this bar is that it requires almost no effort to get it up and running. This is mostly because it does not include any internal electrical components like refrigerators, ice makers, or even lighting fixtures. The main purpose of this piece of furniture is to provide a space for you and your family members to relax around and enjoy each other's company by consuming some refreshments.
First, you will need to gather the materials needed for this project such as plywood, nuts, bolts, paint, and a saw. Next, pre-prepare the wood. Once that is done, build the frame for the bar. Paint the frame and allow It to dry. Now, your tiki bar is ready. When you build one yourself with unique pieces of wood, it will reflect your personality making it more than just.
DIY Tiki Bar
Tiki bars are perfect for summer parties. They make your party more lively and fun especially when you have a bunch of friends over. You can make your tiki bar with the help of this guide.
Tiki bars can be built in any location you want. It can be in the backyard, on the rooftop, or even in your living room as long as it is not blocking the walkway. After choosing the right location for this bar, it's time to determine the size of the structure that you want to build for this project. It's up to you how big or small you want to make it. Assembling the ingredients and tools needed to build a tiki bar is simple. No specific skills are required; all you need are the right tools, materials, and measurements.
Homemade Tiki Bar DIY
If you are looking for something to do, why not build a tiki bar? A Homemade Tiki Bar DIY is a great addition to any outside space, whether it's your patio, your backyard, or a campsite. And best of all, there's no need for a fancy contractor. You can build a DIY tiki bar yourself. The design is quite clever and it looks like a lot of fun. The top part is made from a roof hatch and the bottom from a fence. All the rest was built from scratch using wood, screws, and nails.
It's not an easy project, but it's still a good idea to try building one because you will end up with an awesome tiki bar at home that will impress all your friends and family members. You can easily turn this tiki bar into a practical lemonade stand also in no time.
Easy DIY Tiki Bar: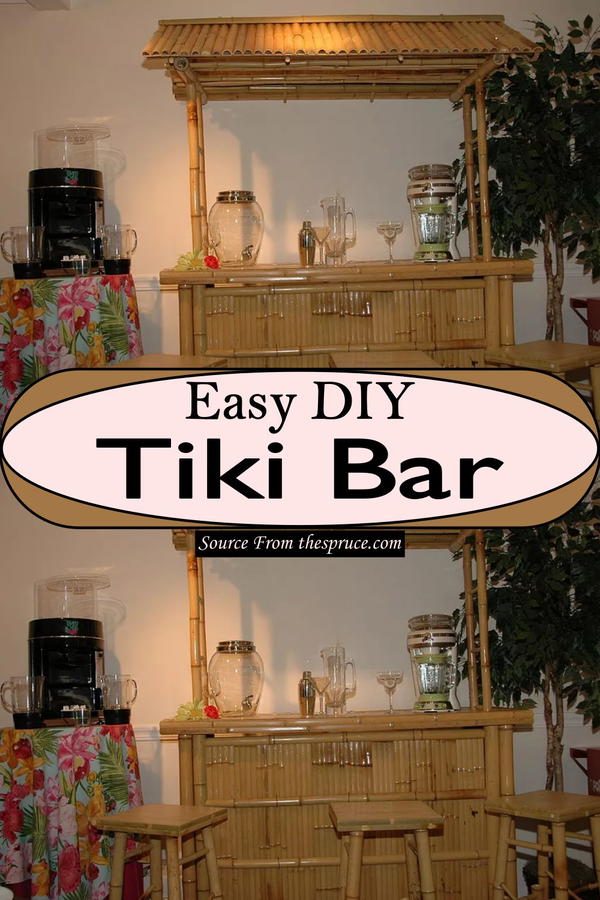 Just because you live in a small apartment doesn't mean you can't have a tiki bar. A tiki bar is the perfect addition to your home and makes your space feel like a tropical oasis. Think of it as an extension of your indoor living space. The first step to building any tiki bar is to find the right spot for it, preferably somewhere that gets a lot of sunlight so the space doesn't feel dark and dreary. Since this tiki bar is being built in an apartment, they were able to maximize space by going vertical. This allowed them to build their bar in the corner of their bedroom and it didn't take up too much extra room.
DIY Tiki Bar $75
Tiki bars are great for parties and get together. Some of the main components of a tiki bar include palm trees, volcano bowls, tiki statues, and bamboo torches. Having all these things at your home will give you a tropical feel and will make you feel as if you're in a paradise setting.
There is a great tutorial that shows you how to create your DIY tiki bar for the price of $75. The tutorial comes with step-by-step instructions on what materials to use, where to find them, and how to put them all together. Once you've finished creating your tiki bar there are many occasions where you can use such as an outdoor patio party.
DIY Tiki Bar From Pallet Wood
DIY Tiki Bar From Pallet Wood is a very simple and easy DIY project that can be done in a day. It is made from pallet wood. The two wooden planks are cut out on the opposite sides of the pallet and assembled into a rectangle shape with screws. Then, take another pallet, turn it upside down and remove the strike of wood from one side leaving it open from the other side. This open pallet will then be attached to the front panel of your bar. The whole bar will be supported by a steel frame which will also add strength to your tiki bar.
This project is well worth your time as DIY pallet projects are more rewarding and exciting than anything else. This outdoor bar can be installed in outdoor areas like patios, decks, yards, and gardens, etc. You could even make your small tavern by installing this Tiki Bar From Pallet Wood idea in any location of your choice.
DIY Tiki Bar: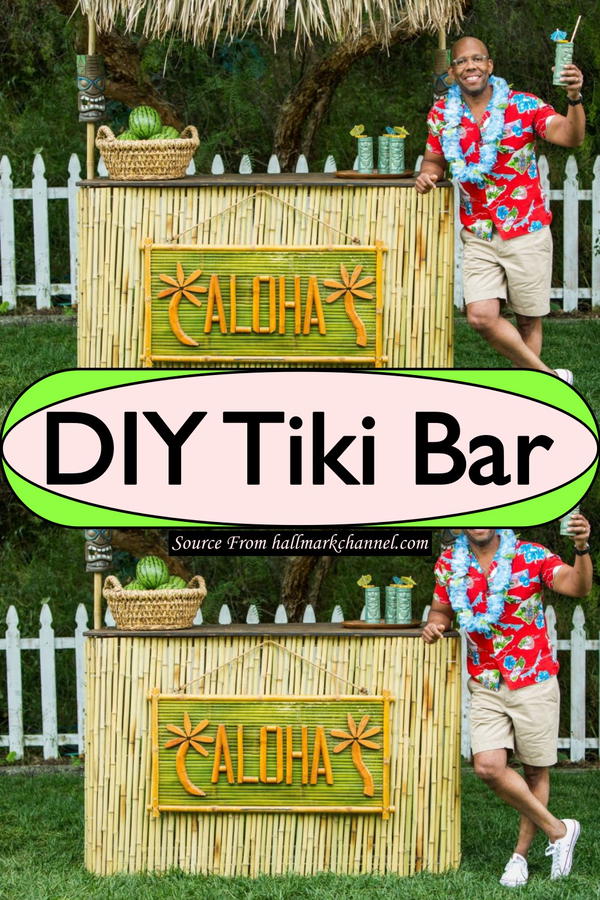 It is not that hard to make a tiki bar in your backyard. Making one is also very inexpensive. Materials needed are PVC pipes, T connectors, 90-degree elbows, PVC cutter, PVC cement, PVC plug, plywood, bamboo screen, and rafia.
The first step of making the tiki bar is assembling the structure of the bar. You will need a rectangular PVC pipe for this. The size of the rectangular bar depends on your preference but it should be high enough to reach your belly button when you stand up straight. After attaching all the pieces, fill them with sand or rocks to secure them in place and prevent them from swaying or moving. Then you need to attach a frame made from bamboo to support the plywood rooftop. Using screws at certain intervals will also ensure that your bamboo does not fall apart easily. You can paint your tiki bar any color you like but if you want an authentic look, you should use black exterior latex paint for this purpose. You can easily turn this tiki bar into a practical lemonade stand also in no time.
DIY Tiki Bar
Tiki bars are more popular in tropical areas. This is because they are perfect for refreshments during a hot day. When building a tiki bar, the first thing to do is cut all the wood needed for the bar. After that, you need to sand down each piece of wood. Once you've done this, you can begin to assemble the bar. The tools used include a miter saw, jigsaw, wood glue, screws, and tape measure.
You won't need much time to build this DIY tiki bar. You can still use it for any outdoor activities or even indoor ones too. The instructions are very easy to follow and you will learn some new construction tricks as you go. The instructions also include a video guide that shows step-by-step how to build one.
DIY PVC Tiki Bar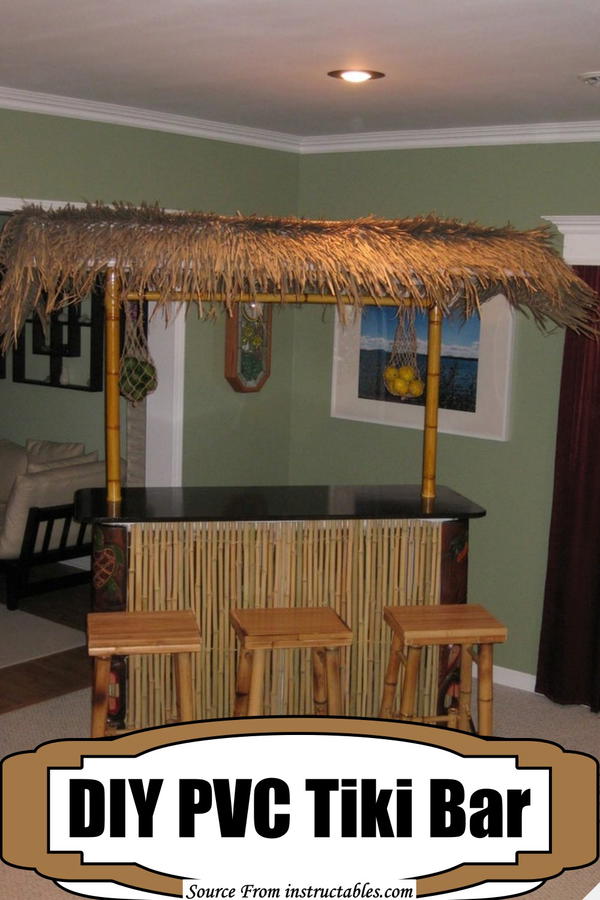 Tiki bars are a great addition to any home. They can be used as a serving station or simply as a place to hang out and relax. Building one is quite simple. The trick is to use the right materials, including PVC pipes of the same length and size. They should also be straight and free from dents and scratches.
This DIY PVC Tiki Bar is incredibly easy to make, and it's a great way to add some fun and funk to your backyard or patio. This project is also great if you have a small yard and want to create more space without having to spend a lot of money. The cool thing about this tiki bar is that it is portable. You can even customize the size you like. The design looks cool and stylish, very appropriate for a tiki party.
DIY Poolside Tiki Bar: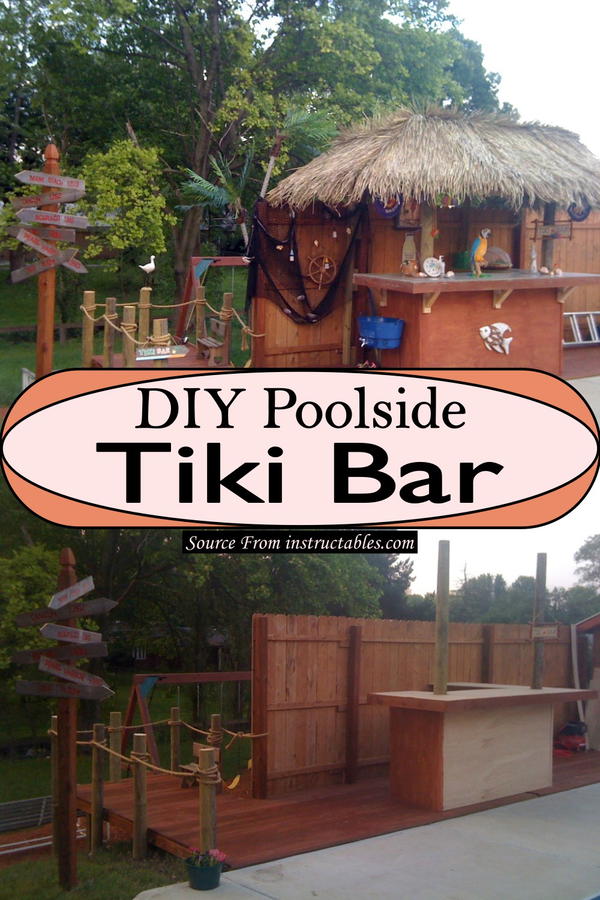 A DIY Poolside Tiki Bar is a fun DIY project for anyone. It adds character to your home and you can use it to entertain friends. This is the perfect project for a DIY novice to learn on. The last thing the homeowners wanted was a shiny, new pool bar that would look like it had come straight from Ikea. The idea was to build a tiki bar that would blend in seamlessly with the surroundings, and tie in with their other outdoor elements.
The base is made from 2×3" framing. The frame is covered by luan plywood and then the surface of it is painted with marine paint to withstand the elements. The top is made from MDF which is cut into an L shape. A white lacquer paint finish is applied for the protection of the wood. The bar top can be adjusted to different levels and moved around easily to accommodate your needs.
DIY Bamboo Tiki Bar
If you love tiki bars, then you will love this bamboo tiki bar. It is made from bamboo and is very strong. This is ideal for all your outdoor parties as it is weatherproof and strong. Here are the different steps to build this amazing tiki bar.
Assemble the bamboo in a rectangle shape. Get a drill press to drill holes on the bamboo where they will be connected. Use a screwdriver to screw them together. Make the rooftop by cutting the rounder into strips and jigsawing them together. Apply to spatter on the roof to give it that traditional look. Get your tiki torches and place them around your new bamboo tiki bar for a good evening with friends.
DIY Pallet Bar
A bar is a perfect piece of furniture to add to your garden, but it can be quite expensive to buy. If you want to save some money and have some fun at the same time, then building a bar from pallets is a great idea. DIY Pallet Bar is very simple and it will help you save a lot of money. You can use a variety of pallets for this project, so you don't need to worry if they are not all the same.
Building Pallet Bar is easy, it only takes one day to complete and you can use it anywhere in your garden or home. Before starting with the construction of the bar you will need to measure the length and width of the place where you want your bar to be placed. Once this is done, gather pallet boards and start building the bar.
DIY Easy Tiki Bar: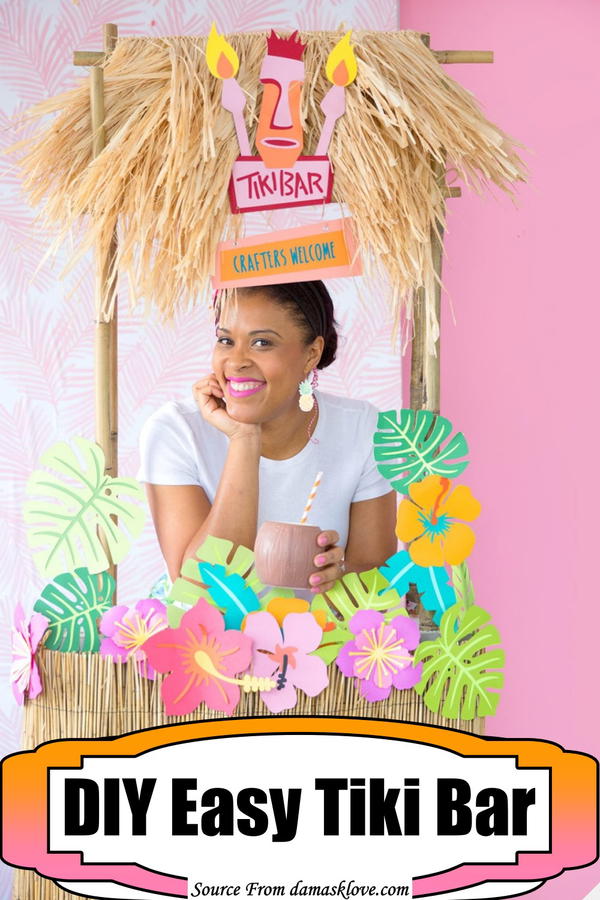 The easy tiki bar is both simple and inexpensive to build. It can be constructed in about a day with minimal tools. The materials used are a standard size of bookshelf, bamboo stakes, and a roll of raffia.
The bamboo stakes are used to frame the bookshelf. They should be set up so that they are touching and make a rectangle shape to the bookshelf. The raffia needs to be added on top of this structure as the roofing material. This design is great because it allows you to choose your color scheme for your tiki bar. You can paint or add colored glazes to the bookshelf and then just wrap it in raffia for the roofing material, effectively making your very own DIY easy tiki bar.
How To Build A Tiki Bar: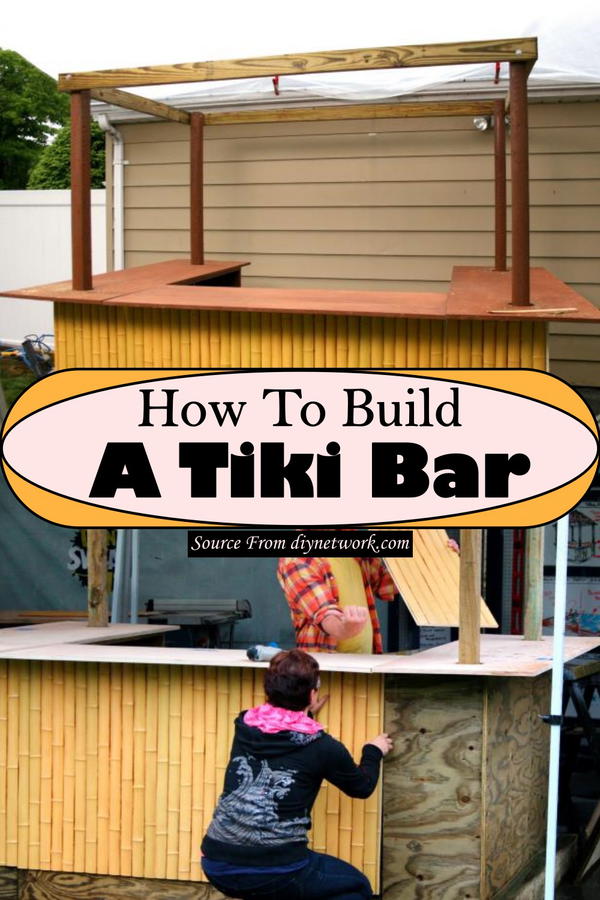 The tiki bar is a piece of furniture that would suit any home. The best thing about it is that it is simple to make and can be built easily. A tiki bar is a stand-alone structure with a countertop. It usually has a small sink or container where ice can be put in and the beer can be chilled.
There are many different designs of tiki bars, but they all have one thing in common – they are very simple to build and need little or no carpentry skills to finish. You just have to have the right tools, materials, and instructions, which I will be providing you with here today. Tiki bars come in all sizes, shapes, colors, and designs. If you want to build a portable bar that you can take along when you go camping, then this guide will certainly help you do that.
DIY Tiki Bar: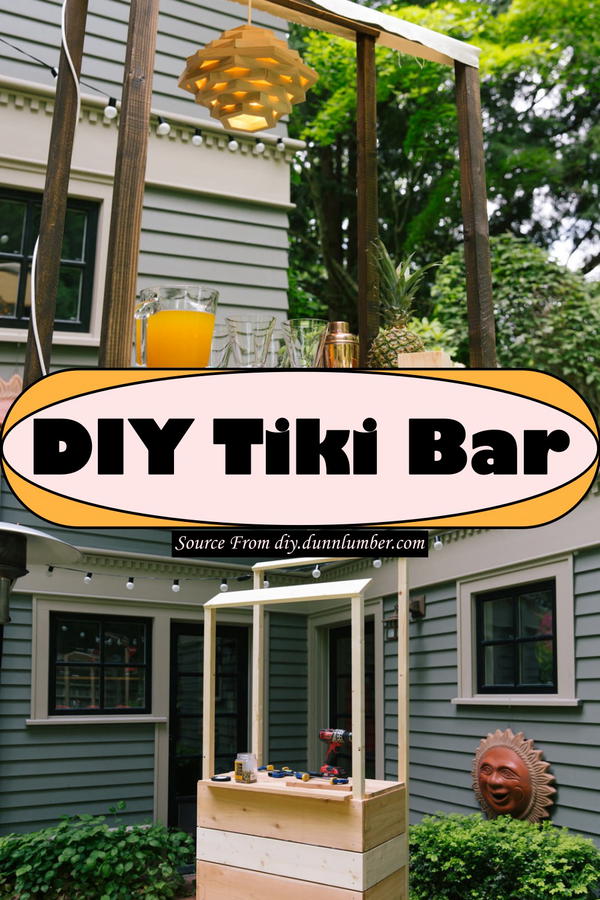 The DIY Tiki Bar is an amazing project that you can do yourself. This project is easy to follow, but the results are long-lasting and impressive. All you need to do is make sure that all the materials are accurate and in good shape. Then, pre it the pieces of wood needed for the bar. After this, assemble the front of the bar and the other sides of the bar.
This is a great way to add some fun to your outdoor space. You can do this with various types of plants and flowers, so it's a great idea if you want to show off your green thumb. The best part is that it's extremely easy to make and doesn't require a lot of work.
DIY Tiki Bar: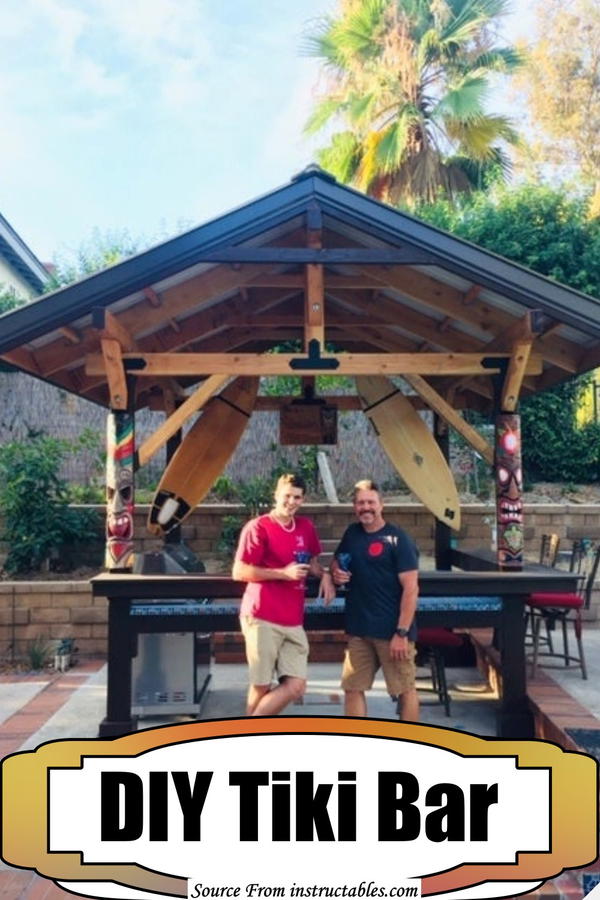 Tiki bars are a great addition to any patio. They are great for entertaining and make any occasion a little more fun. But, they aren't cheap to buy, which is why you might want to consider building your own. Your first step should be to determine the location of your tiki bar. Pick a place that is visible from most areas of your yard so that guests can see you if you are outside relaxing or entertaining. DIY Tiki Bar is easy to make and can be completed in a weekend or less. The Tiki Bar is designed for the average homeowner that has some basic construction skills and tools. You can make it as big or as small as you want, and use it for more than just tiki drinks.
DIY Tiki Bar Build
The tiki bar is one of the most important parts that make a tiki bar special for you and your guests. But most importantly, it is the focal point of all tiki bars. Without this part, you are missing out on the point of having a tiki bar in your own home, which is to have a place where everyone can gather and enjoy the company of others while drinking and having fun.
This Tiki Bar is created from pre-cut wood pieces. All you need to do is assemble them using screws, a tape measure, and a miter saw. Once that's finished, sand and stain the wood to give it a natural finish. Finally, screw the top bars into the base and cover the entire structure with palm leaves using hot glue and duct tape.
DIY Miniature Tiki Bar
Just because you have a small space doesn't mean you have to give up the idea of a tiki bar. Miniature tiki bars can be just as fun and functional as the larger versions, and they are also a great way to add some cool décor to your home. Here's how you can make your miniature tiki bar.
The materials needed for this DIY miniature tiki bar include popsicle sticks/ coffee stir sticks, wooden dowels, toothpicks, and pieces of paper. Gather several pieces of toothpicks then blue them together. Glue two more sets of toothpicks but shorter than the first one. Then, glue the three together to form the bar, with the two short toothpicks on the sides of the bar. If desired, put a piece of paper around it and cut out doors and windows to create a more realistic-looking tiki hut.
Homemade Tiki Bar DIY
Create a tiki bar in your own home by building an ironing board bar. To make this homemade tiki bar, you will need an old ironing board, scrap wood, a piece of plywood, a small table, and decorative items.
The first step is to build the top of the bar. You can do this by attaching two pieces of wood to each side of the ironing board. Then, add two more pieces of wood to the front and back. Once the frame is complete, secure a piece of plywood to the top for a solid surface for placing drinks on. Next, attach four legs to the bottom of the bar where you would normally stand it on its end. Set this up on a table or other surface and add decorations as desired. A tiki bar is complete when you have ice, cups, and other decorations on hand.