Are you the kind of person who wants to take on home improvement projects but doesn't have anywhere to work? Put together this DIY corner workbench and you'll have your own spot set aside where you can complete your projects. You'll be able to use this bench for a wide range of purposes, including writing letters, building model cars and boats, and more. Workbenches are excellent for any kind of DIY project or home improvement task. No matter what you're working on, you'll need a strong, sturdy workbench that provides a lot of support for whatever tools you use. In this article, we'll take a look at some of the best DIY Corner Workbench plans available online. These plans are easy to follow and will allow you to create your own DIY corner workbench in no time at all.
DIY Corner Workbench

A corner workbench is a great option for your garage, workshop, or basement. It provides you with more usable space and more storage. With the right plans, you can easily construct one that will last for years to come. Tables are an important part of any workshop, garage, or basement. But they can take up a lot of room and require a large footprint. Some people prefer to build their workbenches in the corner to save on space and have more room to move around. A corner workbench allows you to still have a large workspace, but it's much easier to maneuver and access everything on it than it is on the traditional type. With these DIY corner workbench plans, you'll have everything you need to build one for yourself in no time at all.
Cheap And Easy Garage Workbench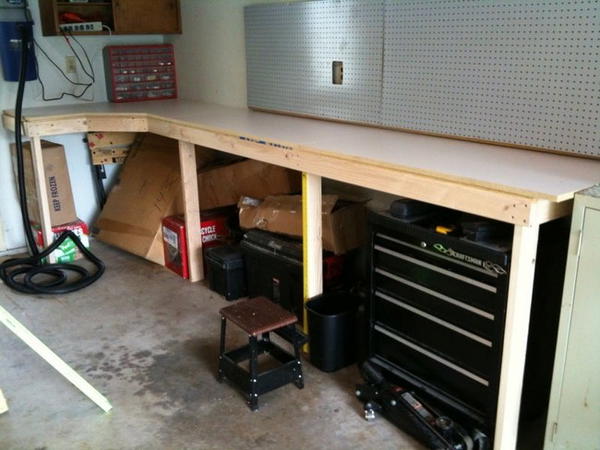 Here is a great way to build your own Garage Workbench. With the Cheap and Easy Garage Workbench, you can build a strong, sturdy workbench that will help make many tasks easier. Whether you are building do-it-yourself projects, gardening, or any other work that requires some sort of workbench Our Garage Workbench is cheap and easy to build. A perfect project for any weekend warrior. The workbench has a fuse, a bench vice, and a power strip built-in. With this woodworking bench, anyone can build their own garage workstation. This garage workbench is great for novice woodworkers or professionals alike. to help make it easier, this is the perfect DIY project. Without expensive tools, you can quickly and easily make this wood garage workbench.
Corner Workbench With Bench Tool Lazy Susan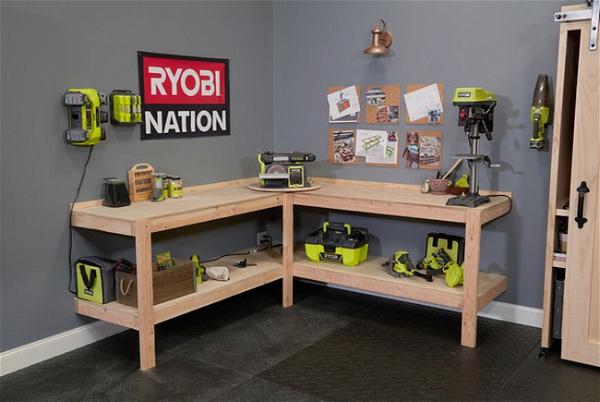 Make your work more fun and comfortable with a corner desk setup, you can unleash your handiness skills on house repairs, and even find a great spot to relax while working. This portable and functional has the workspace you need to do just about anything you want. The Corner Workbench includes: A solid steel frame - a thick, heavy frame that keeps everything in place while you're working, Bench Tool Lazy Susan - an infinitely adjustable lazy Susan is a great tool storage unit that makes finding tools easy, and an All-in-one workstation - the all-in-one bench combines a drill press vise and bench clamp with twin vises into one convenient toolmaking station. This handy add-on is a must for every workshop!
The corner workbench is the perfect design for the corner of an office or for the garage. It features a large work surface that can be used for numerous functions. This unit is great for the do-it-yourselfer. This unit provides a sturdy and maintenance-free workbench with a durable finish. Workbench slats made from strong high pressure treated wood laminated together with UV inhibitors prevent warping, cracking, and rotting and increase durability by four times compared to untreated wood slats. The glue used has been specially formulated to resist water absorption, making it impervious to moisture and damage caused by water penetration in outdoor environments.
Adventures In Building My Own Workbench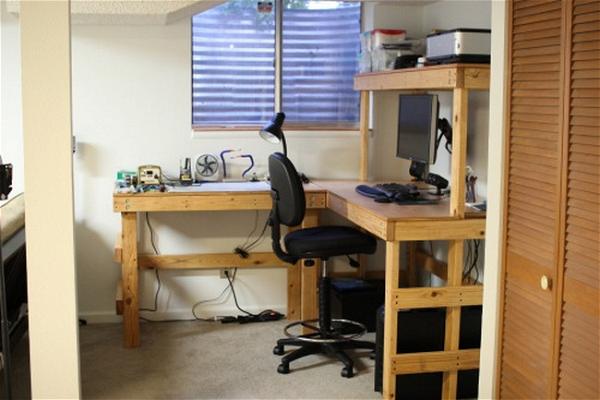 This is a book about building your own bench. A bench is a very useful tool, whether at home or in the shop. The workbench in this book was designed to be built by a total novice. It's really just a table with some bench space on it, but as you build it you will learn skills that apply to other types of benches and to many other woodworking projects as well. A bench is a very useful tool, whether at home or in the shop. It's a place to put on and take off shoes, store tools, and supplies, build and repair things. For most woodworkers, a good bench is more than a work surface: it's where we do some of our best thinking. It's also a place to share our love of woodworking with family and friends.
This project will be useful for anyone who wants the satisfaction of constructing their own piece of furniture from scratch. This is a book about building your own bench. A bench is a very useful tool, whether at home or in the shop. The bench featured in this book is an essential workhorse that's easy to build and ideal for the home workshop. It features an uncomplicated design and can be built using only a circular saw and drill/driver, yet it has all the same basic functions as a traditional workbench: two vises, dog holes for accurate fence building, and sturdy construction that will easily support a wide range of uses.
L Shaped Double X Desk For Corner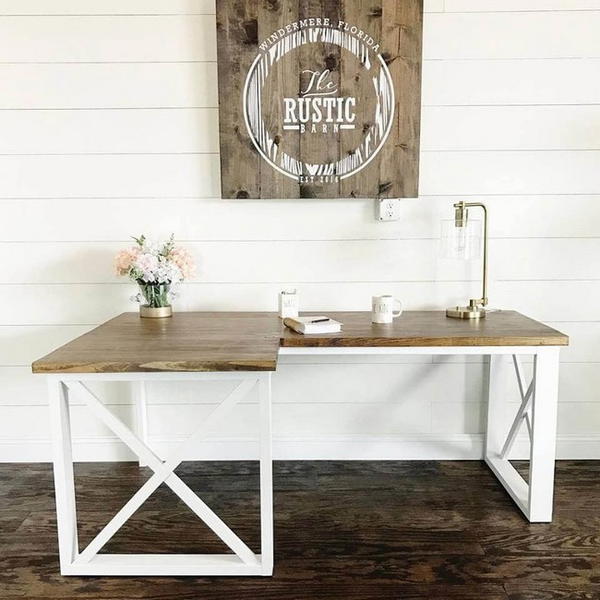 The L-shape Desk For Corner is a well-built corner office desk that comes with ample storage space. The computer desk offers a large vertical keyboard tray, a spacious double drawer, and a sliding shelf to keep your work-related stuff in order. Its quality construction incorporates solid wood surfaces, giving it a look that will last for many years. A matching hutch is available to provide additional space for hanging files and placing additional items. The compact size offers a maximum working area for your office or home use.
This L Shaped desk can be used in any corner of the home or office. Made from durable MDF board and veneered with a transparent desktop platform, it is constructed with wood leg frame which ensures its sturdiness. You can place your laptop Desktop Or Alcove There is a shelf below the desk that is perfect for placing your printer or books or box of essential items. The L-shaped Desk For Corner has no drawers it is a simple desk. It has a spacious work area which allows you to work with comfort. This innovative leg design helps you to maximize the space in your room. You can also use this Desk as a multipurpose table or breakfast table.
DIY Farmhouse Corner Desk
This DIY farmhouse corner desk is the perfect addition to any home office or bedroom, especially if you are looking for a desk that can be tucked away in the corner. The design of this desk makes it extremely easy to build and requires only a few tools. Add farmhouse charm to your home office with this DIY corner desk, an all-in-one DIY solution that spans small spaces. With a durable wood top and molded details, this desk is as sturdy as it is stylish, and wipes clean easily for long-term use. The open shelves provide space for books or knick-knacks. V-shaped support at the back provides a one-of-a-kind look--you could even showcase books on the top shelf, supported by the ledge of the v!
This piece arrives fully assembled and ready to use, making it easy to jump into your next creative project at home. You're sure to find a use for this DIY Farmhouse Corner Desk in your home office! Made with a durable wood top and molded details, this desk is as sturdy as it is stylish. In addition, it arrives fully assembled for easy transport and set-up. Transform a busy corner into an organized workspace with DIY Farmhouse Corner Desk. Built from sturdy wood panels and highlighted by weathered paint, this corner desk is the all-in-one solution for your home office or craft room. Built around a V-shaped support for extra strength, this desk first and foremost has a fun and fresh aesthetic that any decor can benefit from.
Building A Workbench And Work Area In My Garage
Building a Workbench and Work Area in Your Garage Building a workbench and work area in your garage sounds like a lot of effort when it's not. Sure, it can be an immense hassle but the gains that you get when you have a nice place to work are well worth the initial investment of time and money. Building the workbench is actually very easy and will not take long since this is one of the easier projects. Some heavier tools require more intricate tables so be aware that building a workbench takes time.  A Workbench and Work Area In your garage.
This is a dream of many men, who want to be able to finish projects at home. Whether you are a weekend homeowner who likes to do a little woodwork, or a tinkerer who wants to work on home improvement projects, or even just a guy who likes to have a great place to store tools and other recreational items, this book will give you what you need to build your own workbench and work area in the garage.
How To Build A Corner Workbench With A Tool Wall Garage
Whether you're a weekend handyperson or a professional contractor this project will save you time and money. Not only is it a high-quality workbench with lots of storage space, but it has built-in cabinets surrounding the perimeter so your tools are always close at hand. You don't have to store them in an outbuilding or a corner of your garage floor. And it has plenty of surface for your works in progress too. The key to why this unit is such a good value for the time spent building is that much of the hard work is done for you. This corner workbench is designed for the person who does not have a lot of space to give up but still needs a work area. It will make it possible for you to utilize every square inch of your garage and to create a workshop that is well organized.
This table will enable you to maximize your garage and make the most of the space available.  This is a great storage corner workbench with a tool wall garage in the base. You will have the ability to store all your tools and gear on the wall garage and the storage cabinets. The storage bench with a tool wall garage is simple to put together and sturdy. This will be a great addition to any garage.
The Garage Work Table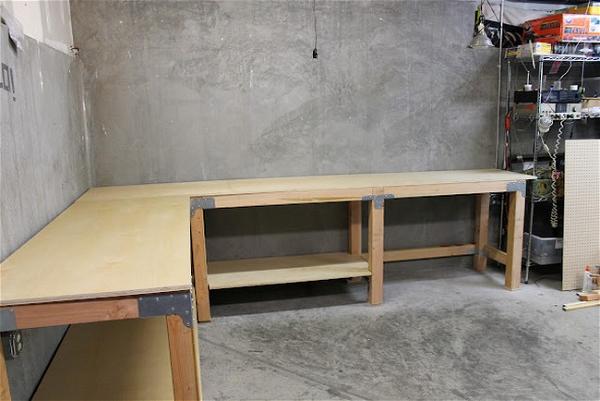 This sturdy work table is the centerpiece of any garage and can be used for multiple purposes. Use it to perform basic maintenance on your car, repair and reassemble furniture, or craft larger projects. The Garage Work Table can handle virtually anything you throw at it, including sharp objects and heat sources! The Garage Work Table is the go-to for the garage that holds all your tools and keeps your projects organized. It features a lower shelf to hold your luggage or other items you need close at hand. Made from incredibly durable steel, with a powder-coated finish to protect its surface from wear and tear. It is highly useful for the household.
You can keep many things on the lower shelf. And the upper one is not an ordinary surface, but a working surface on which you can do many different works on it, such as measuring and cutting. A table that fits perfectly in your garage. This handy garage work table is equipped with a front lower shelf so you can keep your luggage or other items stored out of the way while you work. A spacious drawer makes it easy to store tools and parts; it is also great for keeping other tools, such as your power tools, organized. The convenient side table provides room for extra storage, including a miter, saw stand if needed; it can be a spot to park your cold drink when you're on break.
DIY Corner Desk With Shelves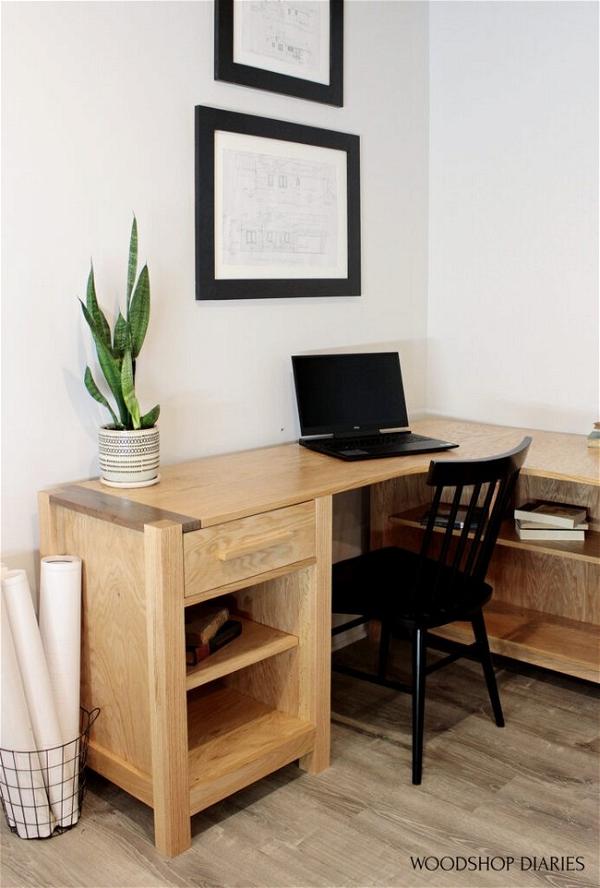 Create a study space in one corner for more areas to live in. This DIY Corner Desk With Shelves is made of poplar wood and plywood with a sleek; modern design that transitions space into a place to work. The DIY Corner Desk With Shelves will help you make your study table look better; at the same time make it more functional. It is important that you do not get carried away while installing them; read the instructions carefully before getting started.
With a sleek and modern design, the DIY Corner Desk With Shelves is a flexible addition to any space. Perfect for hosting study sessions, crafting, or working on a laptop. the desk includes four shelves for storing books and devices. Made from poplar wood and plywood, the desk also features an open shelf on the bottom. The DIY Corner Desk With Shelves is made from poplar wood and plywood and features an open corner shelf on the bottom for storing files, books, and devices. The desk was designed with a sleek, modern design that complements any space.
DIY L Shaped Desk For Office Corner Makeover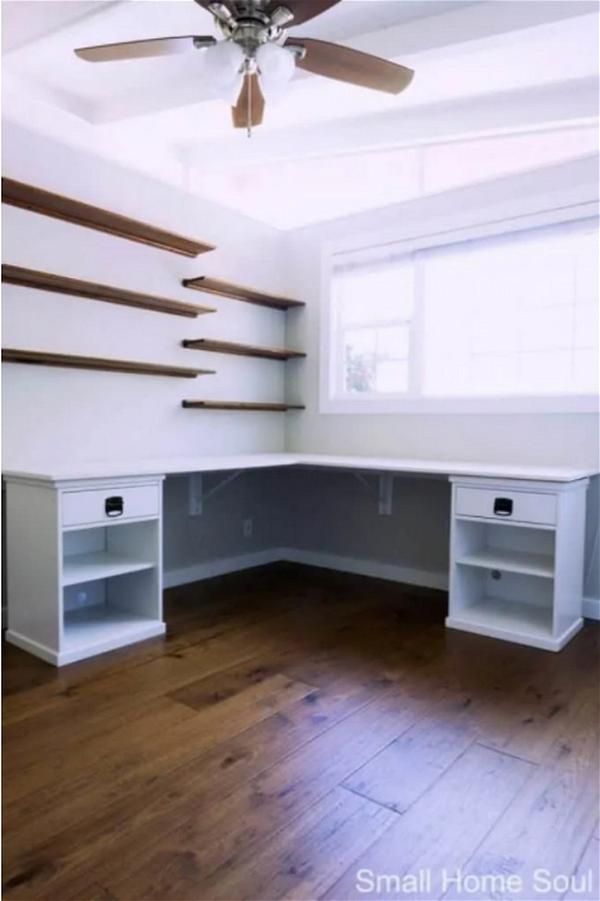 Are you looking for a DIY L-shaped desk for your office, bedroom, or craft room? This L-shaped computer desk is perfect for an office corner makeover. Don't spend a fortune on the perfect corner computer desk for your home office. This diy desk is easy to build and looks sharp. This easy-to-build desk can become a great addition to your home office! This L-shaped computer desk is perfect for an office corner makeover. It offers plenty of space to move around and also store books, artwork, or other items. The desk features two cabinets that offer you extra storage space for office supplies; two drawers that provide space to keep and organize small office items.
Living rooms, dining rooms, or bedrooms are great for creating your own home office space. Writing down a to-do list, emailing friends, or resolving work problems on the computer can be done from any corner of your house. This easy-to-build DIY L-shaped desk is a perfect addition to your home office corner makeover. This corner desk is a very economical project that works well for small offices or home offices.