With these easy DIY triple bunk bed plans, you can build a safe and sturdy bunk bed to enhance the spacing and privacy of your own home. Rather than having a small space for your kids to sleep in, these DIY triple bunk beds will add more than just a couple extra beds to your house.
These beautiful and unique multi-level beds are made of plywood and other materials that are easy to find at your local hardware store or lumberyard. You can make one of these superb triple beds and enjoy their benefits more than any ikea or store-bought bed options.
DIY Triple Bunk Bed plans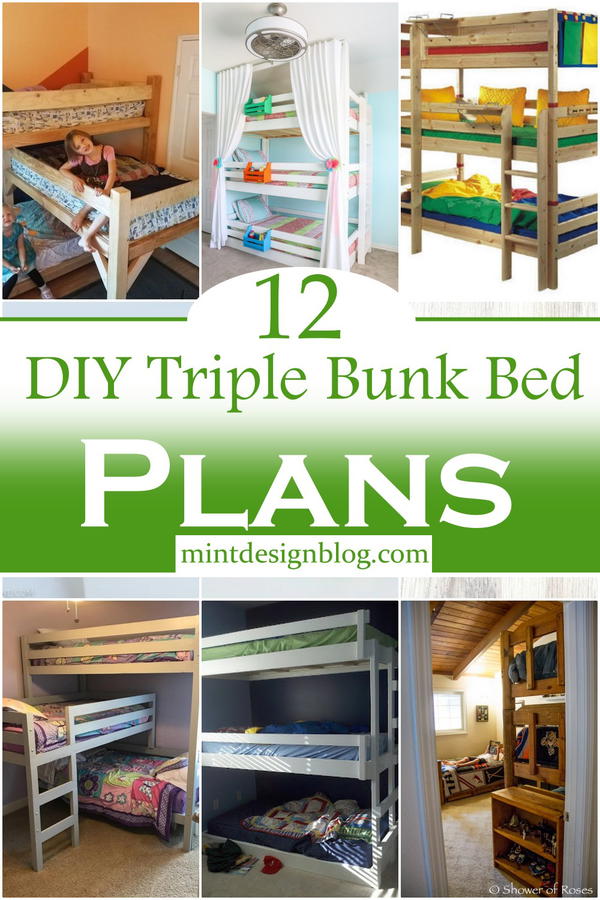 Before you drop hundreds or even thousands on a premade bunk bed, why not try to make one yourself? This collection of simple to advanced triple bunk bed plans shows that it doesn't take advanced carpentry skills or much money to make a comfortable, good-looking set of beds in your home. Building triple bunk beds is a tricky proposition.
When you invest in all three heights, there isn't enough space for beds, so carefully plan your design to get the most from the available space. Here are 12 DIY plans to help you build a triple bunk bed that integrates into almost any room. With either limited budget or spatial limitations, Building DIY triple bunk bed plans are one way a family can make the most of their living space.
How Much Space Do You Need Between Triple Bunk Beds?
What is the ideal space between triple bunk beds? That's a great question to consider for safety and comfort. You should aim for at least 30-36 inches between each bed. This space allows enough room for the person on the lower bunks to sit up without hitting their head on the bed above. It also helps in ensuring enough airflow around each bed. Remember, sufficient space is not just about comfort but also reduces the chance of accidents and improves overall sleep quality.
Triple Bunk Bed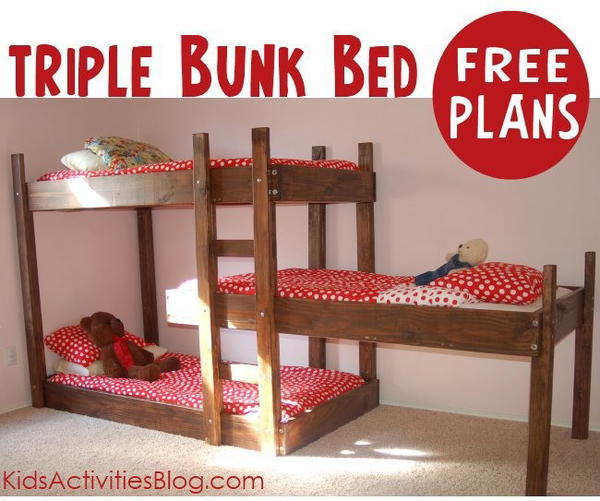 The Triple Bunk Bed plans have the middle bunk offset to the side. This ensures that all three kids have room to move around without banging their heads. The plans detail how to construct the bed boxes, the ladders, and the supports. The result is a freestanding triple bunk bed that will save huge amounts of floor space while providing somewhere safe and comfortable for the kids to sleep. These triple bunk bed plans allow you to fit three twin-size beds in a standard double or king-single bedroom. The middle bunk is offset to the side, so your kids will all have room to move around without banging their heads, and the structure is strong and sturdy. They're easily freestanding, and most woodworking is done with simple tools.
DIY Triple Bunk Bed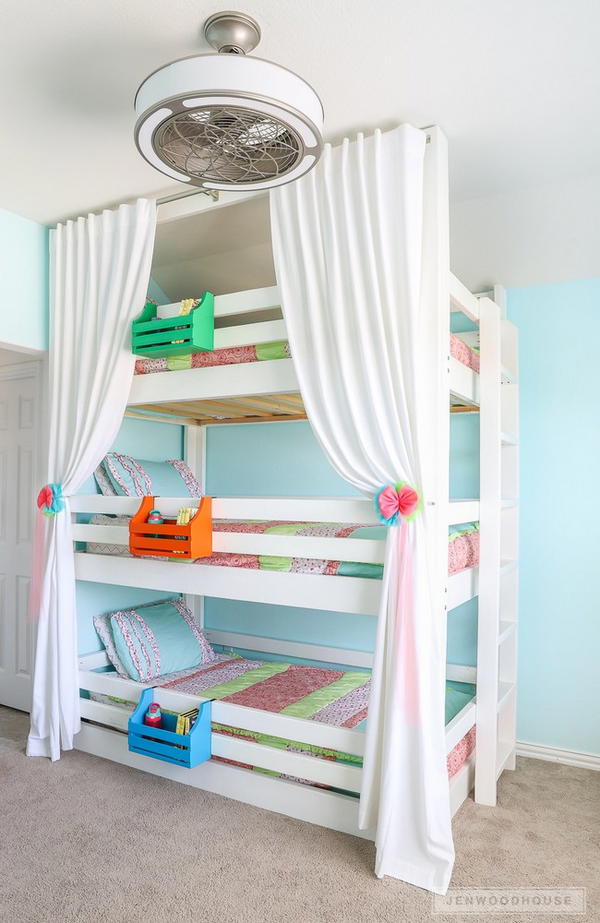 Are your kids outgrowing their twin-size beds? Are you desperate for more room in the spare room? The DIY triple bunk bed is the perfect solution. At less than $150 to build, this triple bunk bed plan is affordable and fun! Building a DIY triple bunk bed isn't too difficult once you have the plans. The frame is made from pine and plywood, with pre-cut lumber for ease of building. The top bunk has an interesting design that creates a headboard, and the bunks have built-in storage panels to keep books and toys within reach. This triple bunk bed plan comfortably fits up to three children, with enough room for each child to store their belongings in their own space.
Triple Bunk Bed Plan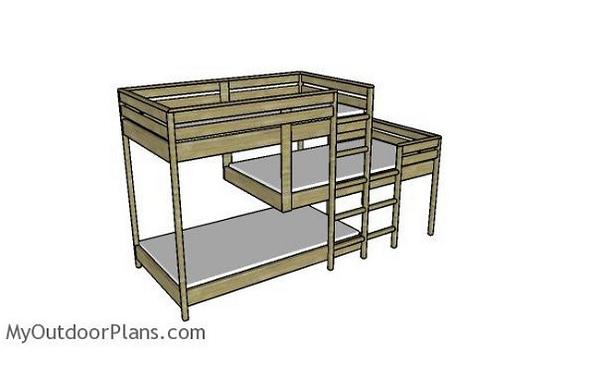 The Triple Bunk Bed Plan is an easy-to-follow plan that takes little time or special skills. The triple bunk is practical since it saves space in your child's bedroom and maximizes storage underneath using under-bed storage containers. These well-thought-out plans give you the details to build a Triple Bunk Bed. When finished, it will help you get more out of your space and offer room for one more as your children grow up. The middle bunk is offset to the side, but there is overlap. This offers the best of both worlds: The kids still enjoy headroom, but the finished bunk takes up less space than designs with one bed almost completely separate. So, design your own Triple Bunk Bed today and start enjoying the benefits of having your children close while they enjoy their new bedroom.
Triple Bunk Bed Plan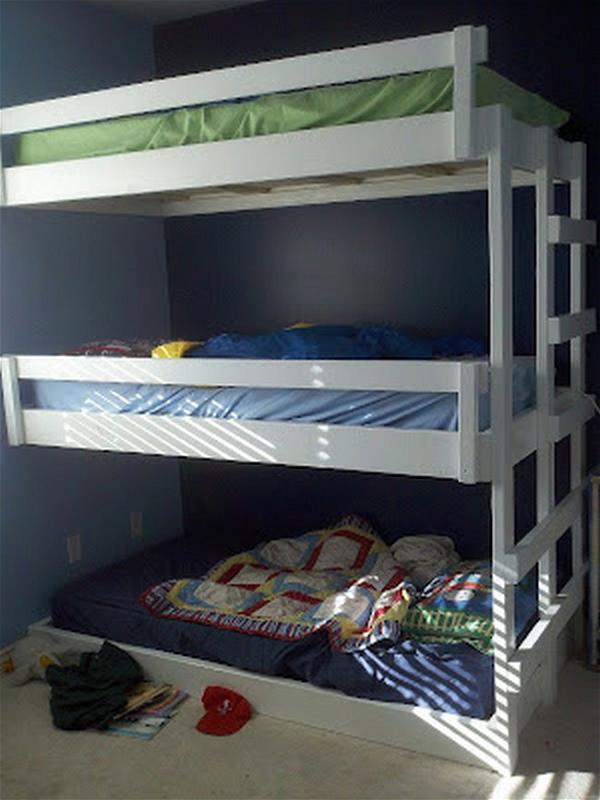 What are triple bunk bed plans, and why would you need them? Triple bunk bed plans are for a room with slightly higher ceilings than the average. The plans detail building a single-bed base, but you only need to replicate the process for three bunks. Building a triple bunk bed like this one offers many options for your kids. With ample space underneath, this design is excellent for games with friends and also ideal for growing kids who will enjoy the extra space. By building directly into the wall, this design also offers extra stability, which is important when dealing with a bunk bed like this.
How To Make Bunk Beds

Building a bunk bed is not very difficult. It does, however, take a lot of time. There are some simple designs that you could use for the project. There are plans for basic bunk beds on the internet or in popular DIY magazines. But builders have been able to create their own versions of bunk beds over the years, and those plans can be found online as well.
If you are looking for bunk bed plans that make the building as easy as possible, look no further. This set of step-by-step pocket hole bunk bed plans is perfect for the busy person who wants to build a bunk bed but has little time to construct it. With the quality design and careful use of pocket hole screws (which have a flat head), you can be assured that your bunk beds will last through the years.
L-Shaped Triple Bunk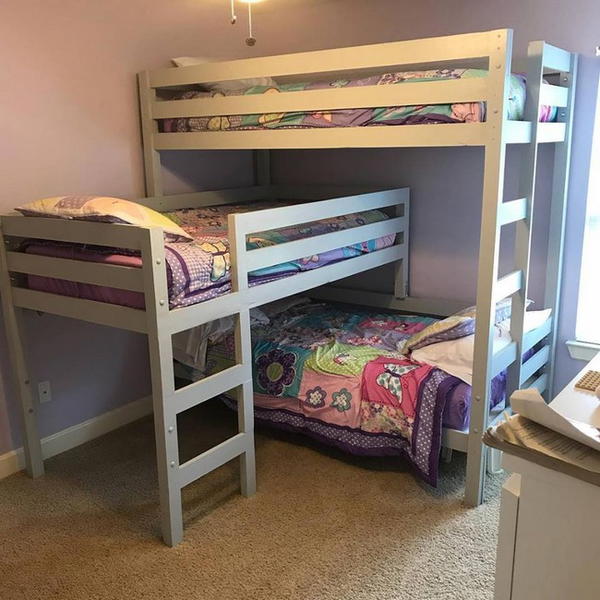 This L-shaped triple bunk bed will provide plenty of space for three children or can be separated into two doubles – perfect for twins. A fun way to make the most of your space and keep siblings close in a shared bedroom. Give the kids a place to sleep…and the adults a place to relax with the L-Shaped Triple Bunk Bed. Made from sturdy poplar wood, this bed frame features multiple support slats for a sturdy, safe sleeping surface. And with individual ladder systems on each side, it's easier to take care of those middle-of-the-night bathroom runs. L-Shaped Triple Bunk Bed with Slat Kit. A great bunk bed that is sturdy and will last for years. This bunk bed is constructed from wood and features an attractive finish. It is available in either a natural or cherry finish
How To Build Triple Bunk Bed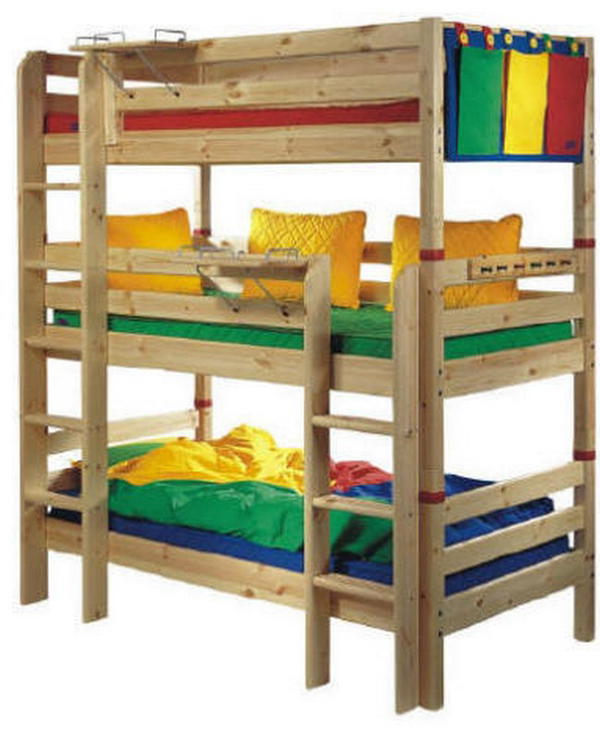 Are you thinking of building a bunk bed? We have put together some instructions on how to build a Triple Bunk Bed. Building a kid's bed is also an exciting project to be enjoyed! This bed is perhaps the most fun thing you can ever do with your child. There are many toys and equipment that you only buy them once, but a triple bunk gives you a lot of fun and adventure; when you're playing with your kids. Building this kind of bed is faster than you may think.
Also, it's easier than finding all the furniture and equipment related to this bed. This triple bunk bed is perfect for growing kids or spending time with friends. Getting your crew together for a slumber party just got easier, and there's so much more room to offer guests a convenient place to sleep.
Space Saving Kids Triple Decker Beds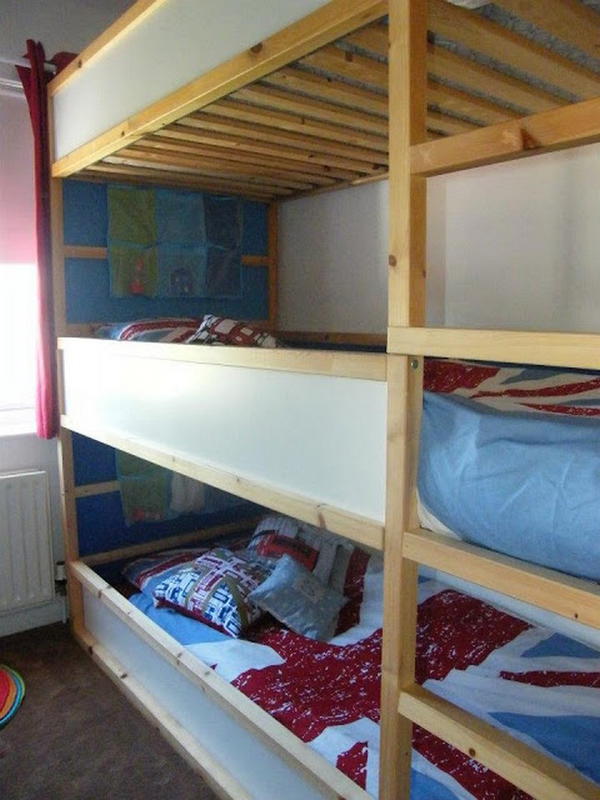 Do your kids have a hard time sharing a room? These space-saving kid's triple-decker beds are perfect for children who don't want to share a room but have limited space. Not only do three kids now have their own bed and won't fight over who gets the top bunk anymore, but with the trundle bed underneath, you get much-needed extra storage space for toys and clothes. Manufactured with solid pine wood and a sturdy design, our beds offer a safe, comfortable place to sleep and organize toys. Secure your bed to the wall with enclosed wall connectors or take advantage of included slats that assemble into a headboard. Add a ladder to make climbing easier, or choose the folding option to minimize storage space. Assembly required. Finally, your children can enjoy having their own rooms by not taking up so much of the floor space in it.
Triple Bunk Beds And Hardwood Floors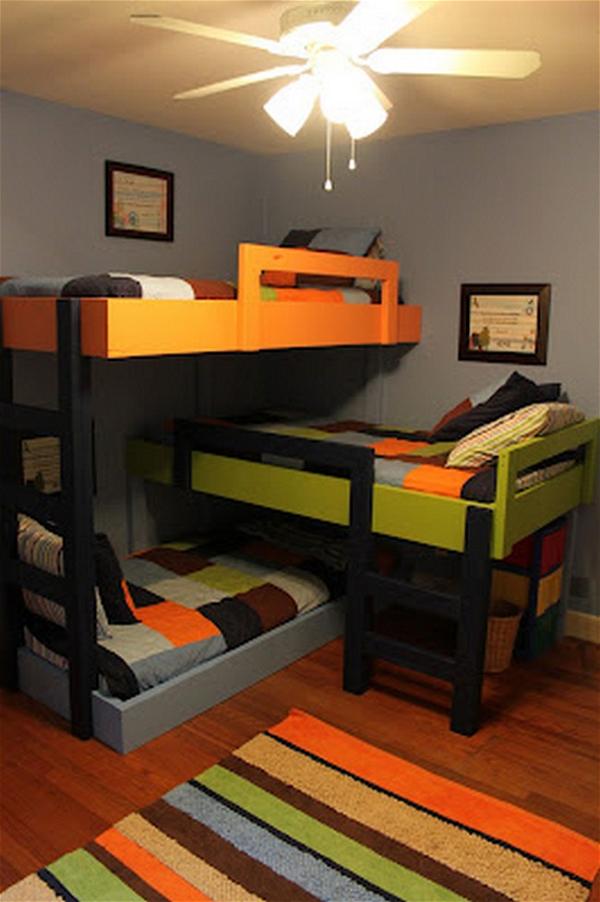 These triple bunk beds provide three beds in one small space. Constructed of solid maple wood, this set offers a durable and sturdy place to sleep while allowing you to save space in your home. These triple bunk beds were made to give you and your children a comfortable place to sleep. It will fit any type of bedroom and its hardwood construction has lasting durability. Come home after a long day and find comfort on the top bunk with ample storage underneath or the bottom, perfect for playing a card game or reading a book with your family.
New Triple Bunks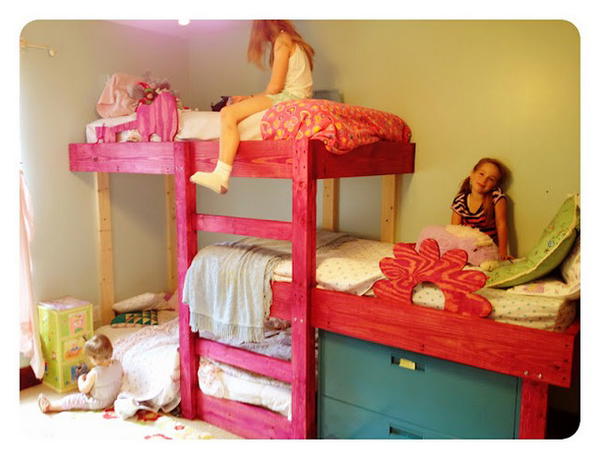 Give your kids a space to call their own with the Barker Kids 3-in-1 bed. This triple bunk bed provides the ultimate in kid's bedroom versatility. The bottom bed is a fun kid's play loft. The middle bunk works great as an extra sleeping space for guests who come over, and the top bunk is just right for your little dreamer. Free up floor space by effortlessly converting Barker into three beds, a sofa, and two chairs as needed.
This bed is made from solid wood and finished with non-toxic, kid-safe paint, bringing modern styling to any room. The quick and easy conversion from crib to toddler bed to day bed allows my children to grow with the bed through all their childhood stages. Made from 100% manufactured wood, its durable construction will last for years. A simple decorative ladder completes this great new design for my little ones.
The Boys' Bedroom And Triple Bunk Bed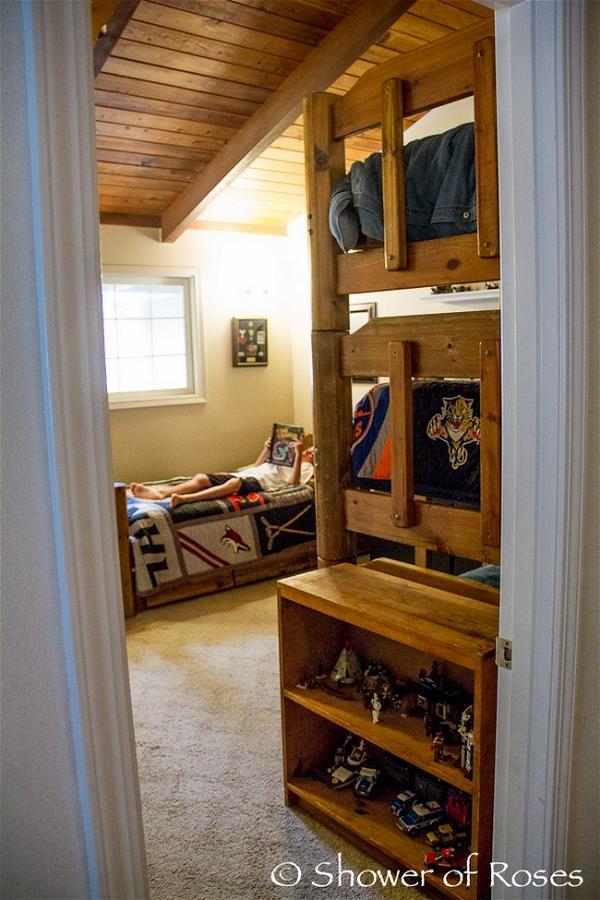 This ingenious triple bunk bed and bedroom set features two twin-over-twin bunks and a trundle bed. The set, which can expand with the purchase of other sets, creates more living space in bedrooms for growing families. The Boys' Bedroom and Triple Bunk Bed feature a four-in-one bed system to customize it for your child's stage. A low Twin Loft Bed, a Twin Loft Bed, a Full Bed, and even a play space.
Turn the loft area into a playspace with the push of a button. The Triple Bunk Bed has an attached toy box perfect for storing games or toys. With stairs built right in, climbing to bed will be a breeze! Wide openings make getting in and out of bed easy, and the high guardrails are safe for kids.
Children's Triple Bunk Bed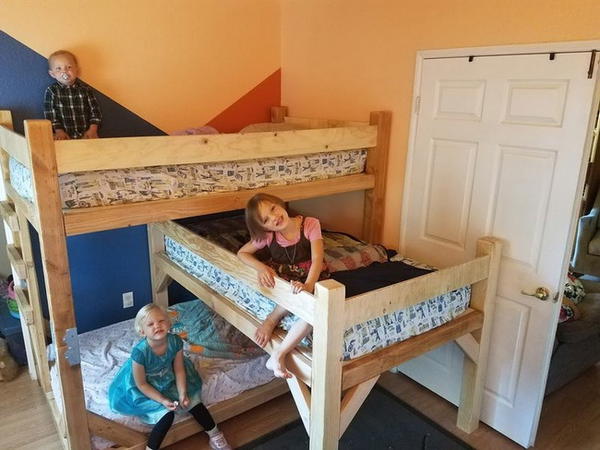 This Children's Triple Bunk Bed gives you plenty of room for boys and girls, kids and friends. Perfect for sleepovers, it fits three children up to eight. Designed with safety in mind, it features guardrails at either end and comes complete with a ladder so they can climb up safely. A high-slatted base is sturdy and helps to prevent wriggly wriggles from escaping through the gaps.
The Children's Triple Bunk Bed has all the features of our standard bed but adds lower side rails and a top bunk to prevent children from falling or rolling off the bed. This versatile triple bunk bed includes the required safety rails on all three beds, safety plugs for all three ladder openings, and on the ladder itself for extra security.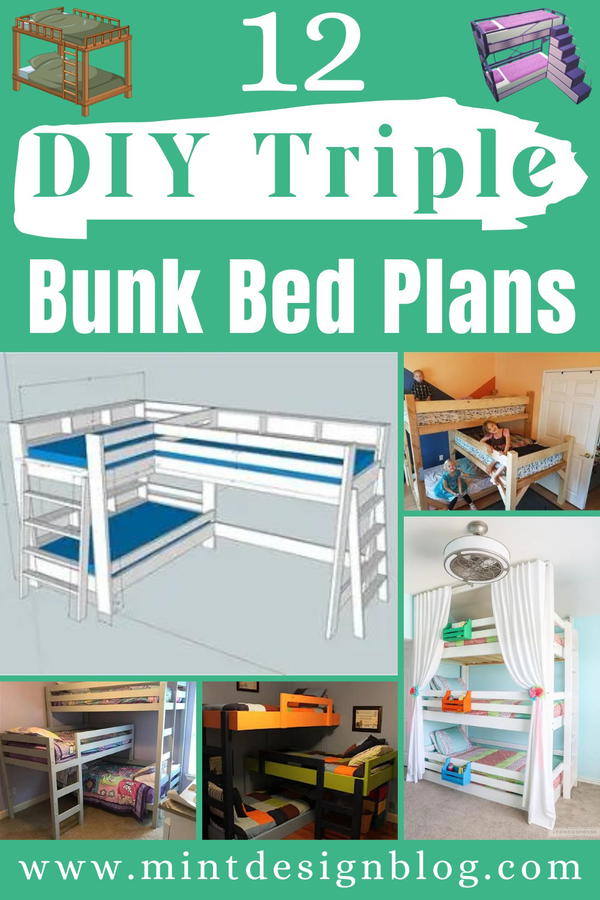 See Other Projects
DIY Bird Feeders Ideas: Are you trying to feed birds but don't have time or don't like going out every morning to put food out for them? You can make a bird feeder using simple materials such as plastic, glass, and wood. 

DIY Dining Chair Plans: Dining chairs are important to the decor of your dining room. It will look awkward and uncomfortable if you don't have a proper seating arrangement. In our article, we will give you 15 DIY dining chair plans that are easy to follow and inexpensive as well.
DIY Bike Rack Plans: The DIY bike rack is an excellent way to store your bike. You can keep it dry, safe, and protected from theft or damage. And if you want to run errands with your bike in tow, this is the perfect solution.
DIY Cigar Box Guitar Plans: If you want to create your own cigar box guitar, several free plans can help. These projects can be easy to understand and work through, so you don't have to worry about taking on an overwhelming project.