Children are constantly growing and changing, so it's essential to be able to make changes to your kids' bedroom as they grow older. There are many great DIY kid's bed plans out there, but if you're on a budget or want an easy way to build your child's bed without buying anything, these ideas will work great for you! Making a kid's bed doesn't have to be hard at all! These DIY Kids Bed Plans will help you save money and still get the look you want for your child's bedroom!
Don't want to spend a lot of money on a bed for your kid? No problem. There are mass-produced beds any parent can buy, but like most things in your home, it can be an item of self-expression. By making it yourself, you can craft one to be as comfortable as you need it to be. You can make a bed for children of any age, from toddlers to teenagers. The only difference is the size of the mattress and how high off the ground you want to build the bedframe. These DIY Kids Bed Plans will guide you through each step along the way so that even if this is your first time making something like this or if you're an expert carpenter, there's something here for everyone!
Here You can find 25 DIY kids' bed plans in this post, and you are sure to get what you are looking for and enjoy the process of making it.
Toddle Beds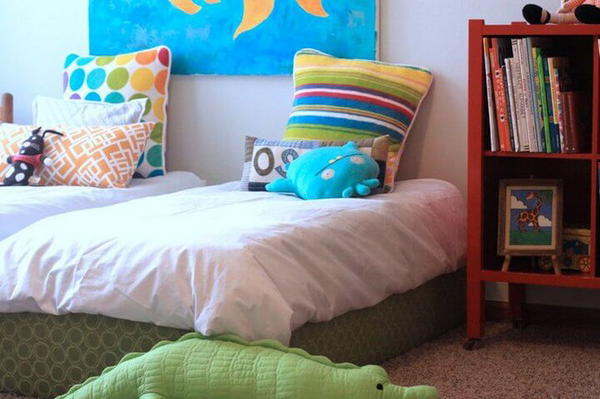 Why begin with a boring bed when you can make one that is colorful and simple? Toddle Beds provide simple plans for building a customized kid's bed. The first thing to consider is where the child will use the bed and how much foot room you want them to have; This will help determine the size of your toddler bed. These are very easy to make; The best part is that you can make them in any size and shape. This will help you make your own.
Pirate Bed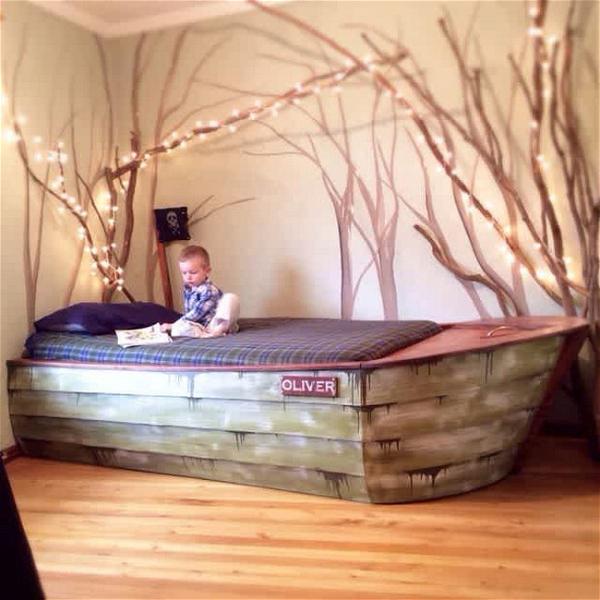 The Pirate bed is an excellent bed for boys and girls. This big bed comes with a pirate ship and a sail hanging in the front as the headboard. This will be served as an attractive addition to your child's bedroom and make it lively. Your child will enjoy hours of fun playing with his friends on this bed. The best part is that You can make it as sturdy or delicate as you wish - every detail has been thought to be safe and durable for all ages.
Bed with storage
A bed with storage space is An excellent solution for a messy kid's room; this bed has storage compartments to keep things organized. The key here is to have as many compartments as you need. This helps prevent mixing stuff; the books, shoes, and toys can all be kept in different compartments. With just one piece of furniture, you'll be able to create a functioning area in your child's room without taking up any extra floor space. You can make it for your little one by following this guide.
Loft Bed with ladder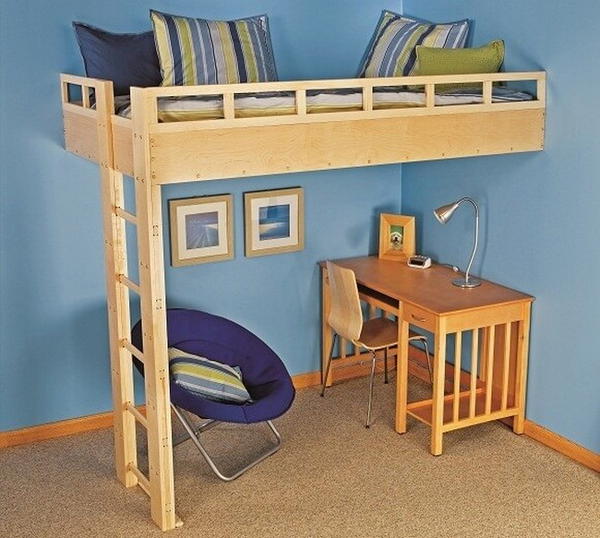 This Loft Bed with Ladder is an innovative and stylish solution for small bedrooms. The bed is full size with plenty of room under for a homework or craft table; when closed, the bed tucks away into a sleek and convenient storage space. The ladder is secured to the wall and has sides so your child can climb up safely. This bed will be a part of your child's life long after they outgrow it! This guide shows you the complete procedure.
Kids' bunk beds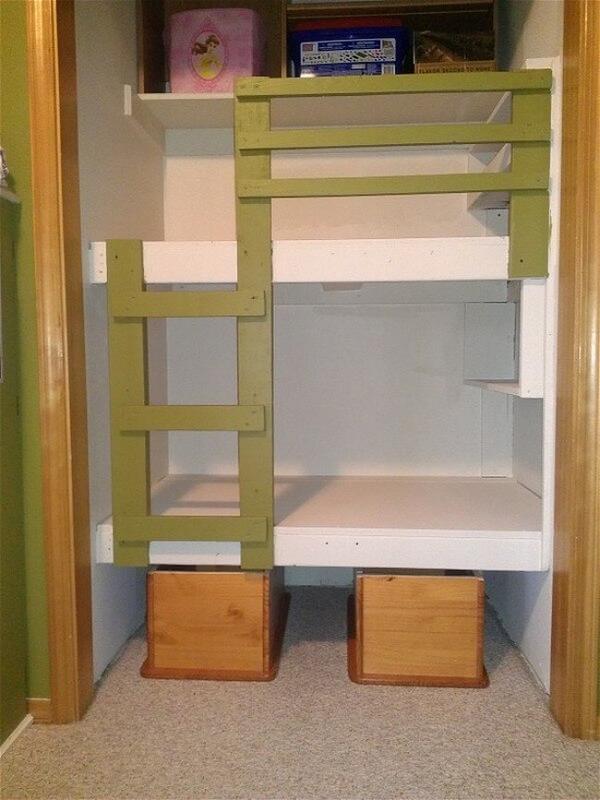 This kids' bunk bed is made of solid pine, has a natural finish, and is available in your choice of color. The ladder can be positioned on either side of the bed to fit your home decor. These beds are built low enough so that children can climb into their beds easily. This allows you to put two kids' beds into one space. They can also easily fit into tighter spaces, freeing up more room for other items in the room. Both beds have different fun characters that kids will love! This guide helps you make one.
Loft with stairs
This loft bed with stairs is perfect for the young person who wants a fantastic, fun place to sleep and likes to play with toys and store things. It's an excellent choice for small bedrooms where floor space is premium. It's also best suited for smaller rooms but could work in larger rooms if you use the under-bed storage or staircase space. Make your very own loft with stairs by using this guide.
Kids Cabin Bed
This is a sturdy and safe piece of furniture. The cabin bed features a solid platform built from sustainable oak wood. The natural color of the wood makes it blend in with any room setting but still provides some warmth and comfort for children. There are railings on both sides of the bed to ensure that your child stays where he belongs, inside the cabin, when sleeping or playing around. Watch this video tutorial and make this for your little one.
ClubHouse bed
The ClubHouse bed is a great way to save money on furniture, and you can make it yourself. In just a few hours, you'll have a comfortable new bed that fits the style of your room and gets better looking every day as more of the natural wood shows through. If you are looking for an inexpensive bed, this may be what you have been hoping for. This design is meant for children under eight years old, who should not be left alone unless an adult accompanies them. Watch this video to learn more!
Closet Bed
The Closet Bed is a sturdy and stylish addition to any bedroom. It's made of plywood and metal, so it fits in any closet (with shelving), just like drawers perfectly. This bed is easy to install with existing brackets and screws. This project can be done in less than one hour with essential construction tools or 20 minutes with a drill/driver and the proper attachment bits. Go through this guide to learn more!
The treehouse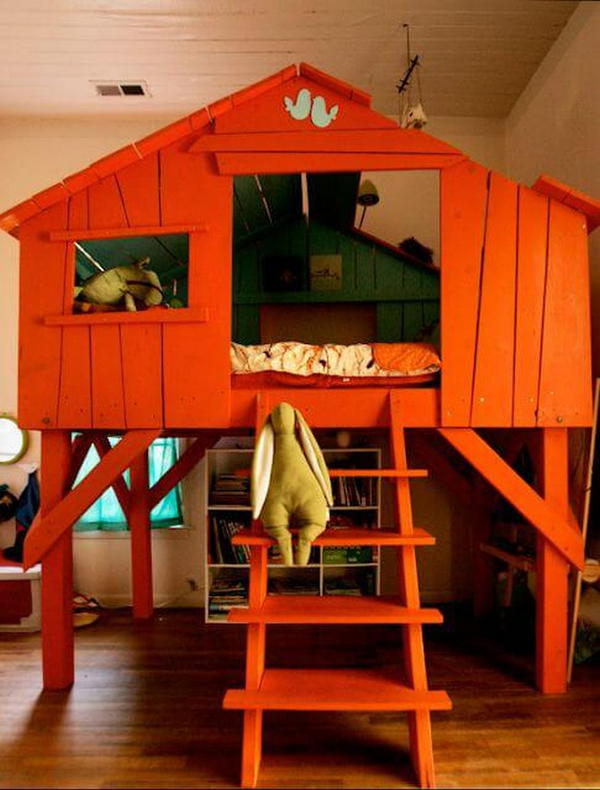 A treehouse is a great way to add extra square footage to your home without breaking the bank. With some simple tools, materials, and a little know-how, you can build your own for less than $100 – less than most people spend monthly on rent! This Treehouse will give you a regular bed for cheap, or if you can make your own. Extend the stands to be elevated to a height it would be accessed through a ladder. With wood, add the walls and a roof. The front wall should open from where the ladder starts as an entrance.
Sliding Barn Door Loft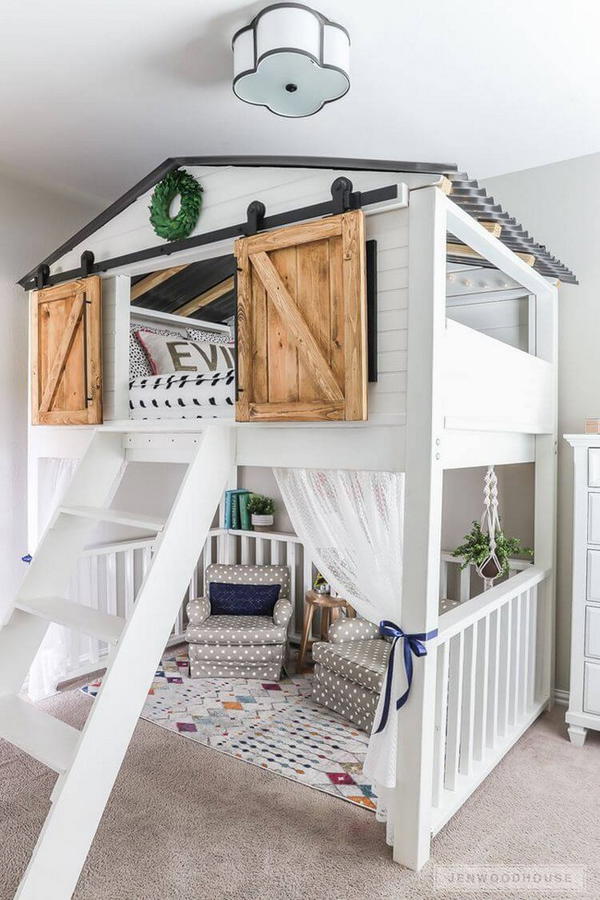 The Sliding Barn Door Loft is a simple DIY barn door that transforms any room into a modern retreat. Use this bed as the focal point of your bedroom or loft, or put it in the playroom to add a functional design element. The doors roll smoothly on their track and can easily be removed to provide floor space when desired. With wood and proper tools, you can make this bed yourself! You can go through this guide to learn the whole process.
MicroBus Playhouse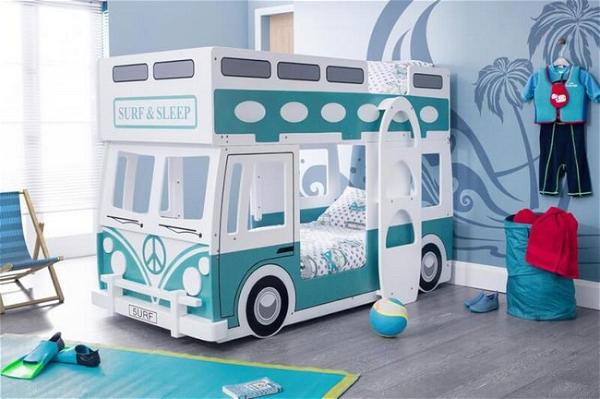 The MicroBus Playhouse is an excellent toy for any child to keep their young minds active. With this product, your options are endless; you can either have the bed inside the bus or on the roof. You also have the chance of making it a bunk bed with a bed in and on the top. This guide shows you the complete process of making this; Every kid would love to have this in their room!
Teepee bed for kids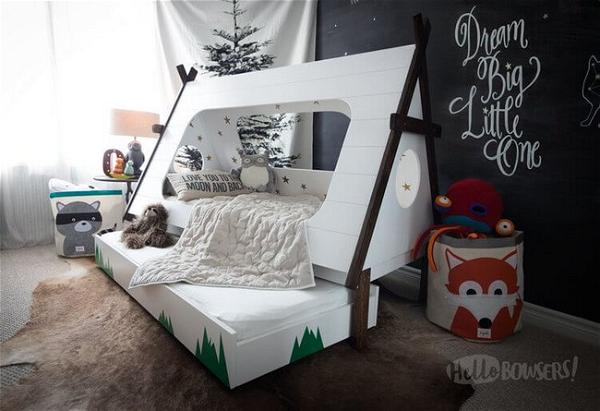 Create the ultimate fantasy world for kids with a teepee bed; This versatile design allows you to build it in two different styles: a loft bed or a playhouse. Kids will love spending their time in their very own teepee, which is designed to look just like the real thing. It can quickly be built inside or outside and comes in three different colors: if you want to make it for your little one. Then Use this guide.
Hanging kid's beds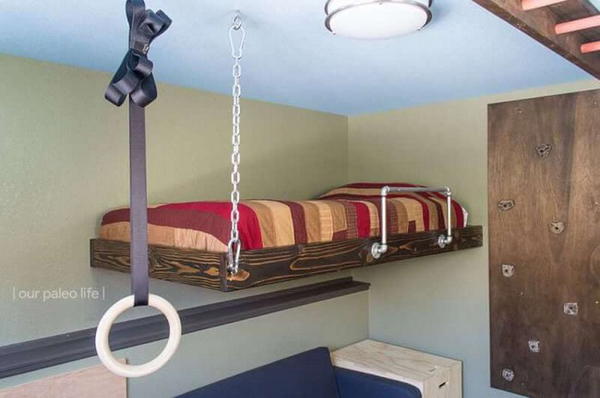 These hanging kid's beds are great for small rooms, making the most of limited space. Suspended in the air with heavy-duty chains, you must ensure the mattress is well fastened to the wall and ceiling with chains so they don't move around while your child sleeps. A hanging bed is an alternative to bunk beds that can give you more floor space in the bedroom. It's not as high as a regular bunk bed, but it's still a good-sized area for younger kids to enjoy. Make this for your child with the help of this guide.
Triple Bunks kids bed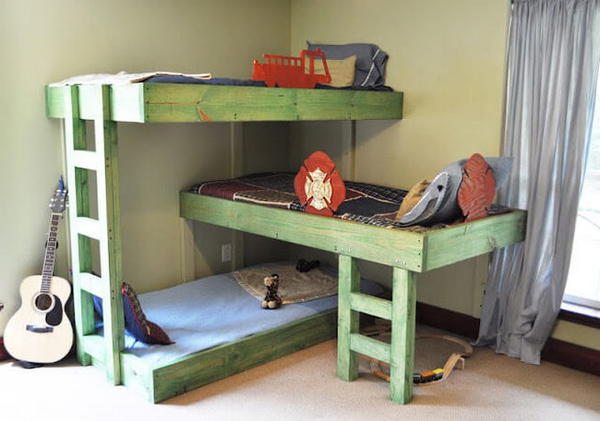 Generate three beds with the same space by using triple bunk beds. These beds can be made with the same materials used to make bunk beds; you save space and get more beds. The design is simple but durable, and the colors are neutral. This can be an excellent gift for kids because it's practical and fun. Your children will love and have fun with these beds. Go through this guide and make beautiful beds in no time.
Fire Truck Kid's Bed
The Fire Truck Kids Bed is a great way to see images of firefighters everywhere your child sets their head while they're sleeping. If your little one wants to be a firefighter when they grow up, this bed will make them feel like one even when they're asleep! This bed is made of solid lumber and painted cardboard that looks like the fire truck's windows. This bed will keep them comfortably tucked in while they dream about all of the firefighters' heroic acts. This video shows you the complete structure.
Super Hero themed bed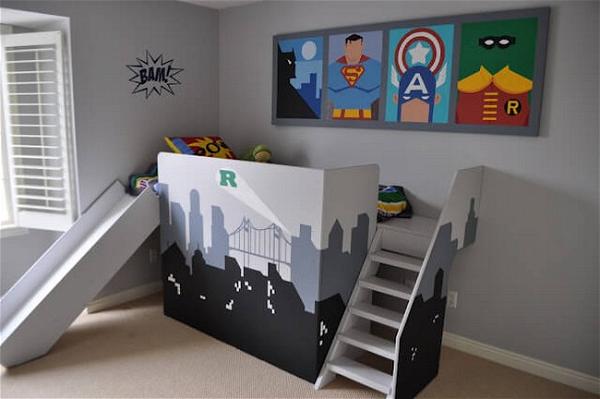 The Super Hero-themed bed can be a great addition to your kids' room, whether you want a superhero character theme or not. With this timeless design, you can pick up any superheroes and make a statement in your children's room. This bed is also great for kids who love superheroes. It has a lightweight, sturdy, and easy-to-carry structure. The bed can be used on the floor or any other surface available. It's a standard size that assembles easily, but you can choose to put the pieces together however you like. Use this guide to learn more!
Lumberjack themed bed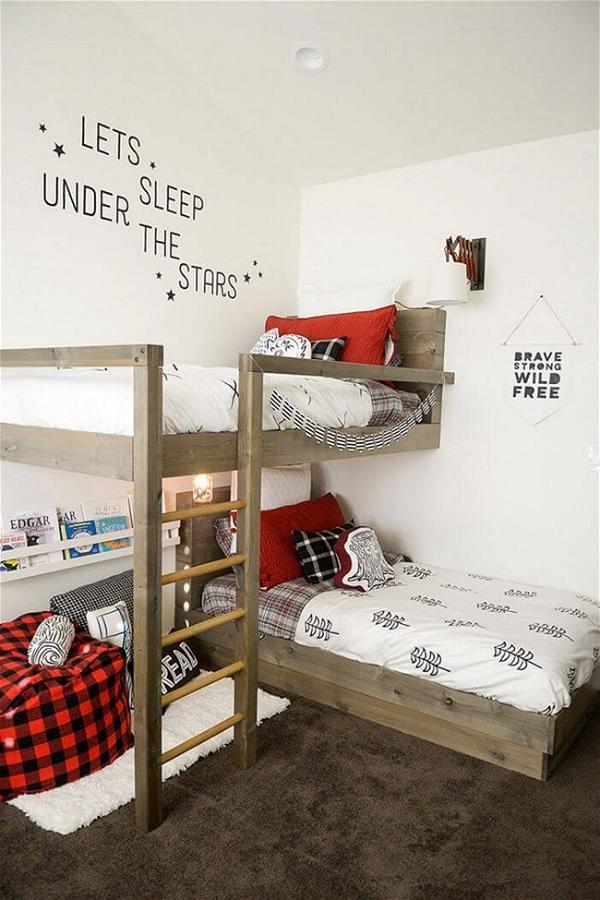 You can make a kids' bed that looks great in any room and is an alternative to other steel-framed beds. This piece of lumber is carefully selected and carved, stained, and finished by hand for a child's safety. This Lumberjack-themed kids' bed has also been made using reclaimed wood from a factory that closed down, leaving an ample supply of lumber at an affordable price. Here are complete instructions for making this bed.
A house bunk bed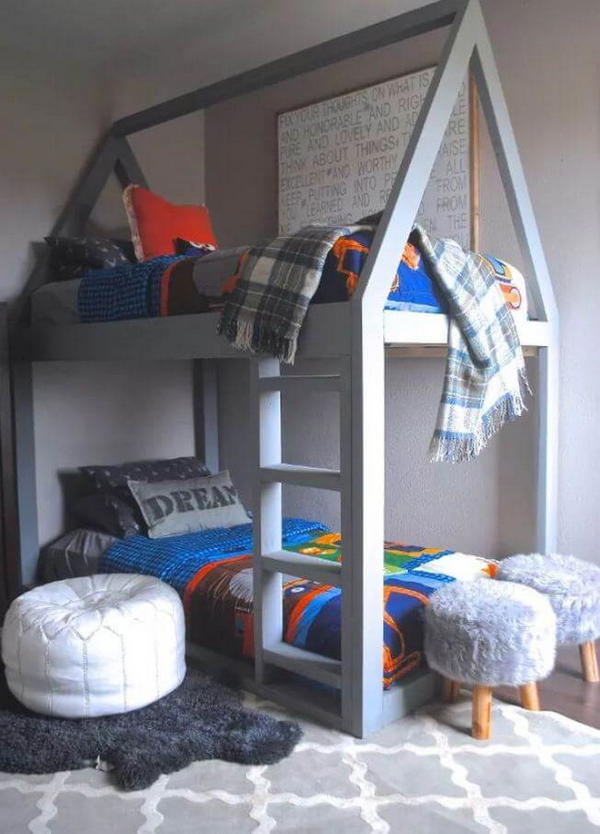 The idea of a house bunk bed is to provide some privacy for your children. The walls of this bed are created by a roof shape, which is made from panels on top and sides, like a home's roof would be. This roof shape can be decorated as you wish to match the decor in the rest of your child's room. With this kids house bunk bed, your little one will have a great night's sleep and the security of having their own personal space to keep their favorite toys and books etc. go through this guide to learn more!
Pottery Barn Inspired Bed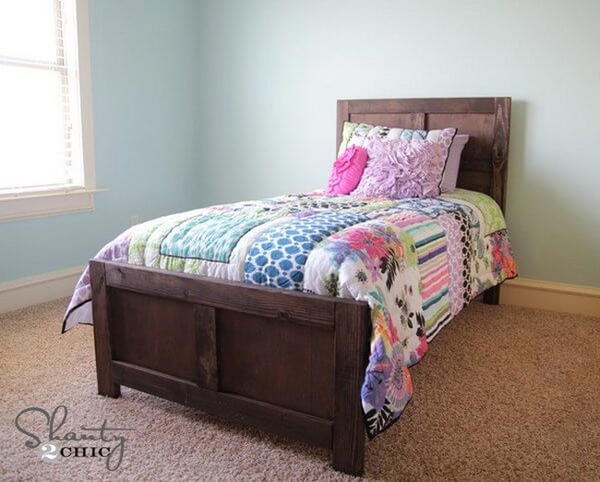 This bed is inspired by the Pottery Barn Kids line of furniture and will help you get the look of handcrafted pieces without the price tag. This project is perfect for anyone looking to achieve a natural look in their children's bedroom with reclaimed wood and a rustic aesthetic. Rustic beds are a great way to give your children's bedroom a warm, natural aesthetic. Building a bed like this one yourself is easier than you think. Reclaimed wood is inexpensive and provides a unique look that makes the piece stand out in any room.
Twin bed for kids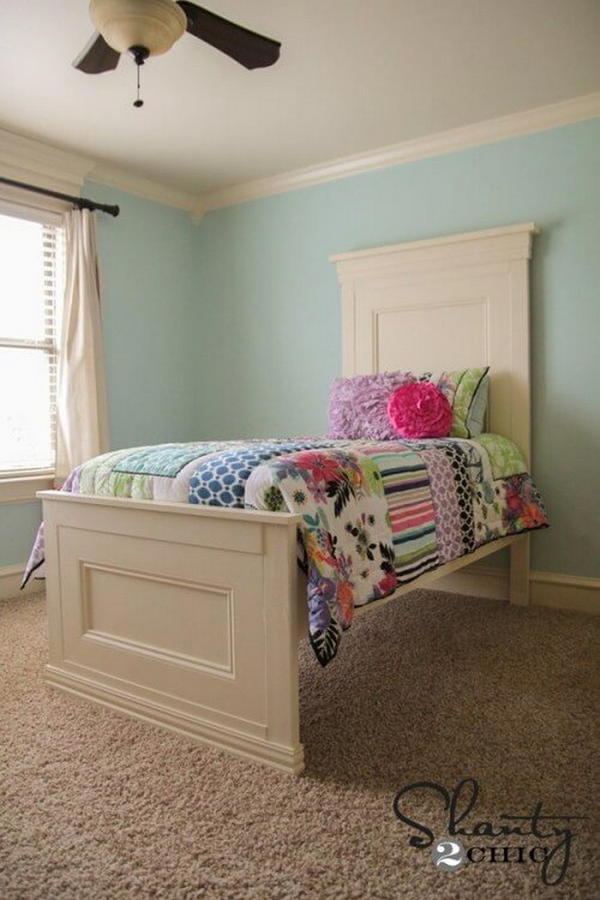 This kid's twin bed is designed to be a sturdy base for your child's bedding and provide them with the privacy they need. A personalized look will make it feel as though each child has their own space inside the bedroom. Give the kids their own sleep space with the twin beds. They are a good choice for boys and girls who want to have their own bedroom and enjoy privacy while sleeping. Use this guide to learn how to make one for your child.
Toddler bed
The lighting in this beautiful toddler bed is created by tiny LEDs built into the bed frame. This makes it an excellent choice for kids, as they will be able to sleep safely in complete darkness if they wish. This toddler bed will also light up your child's room. It would be best to make sure that the space underneath the bed is big enough to accommodate all of the materials and can still be closed quickly. Watch this video to learn the complete process.
A riser bed bunk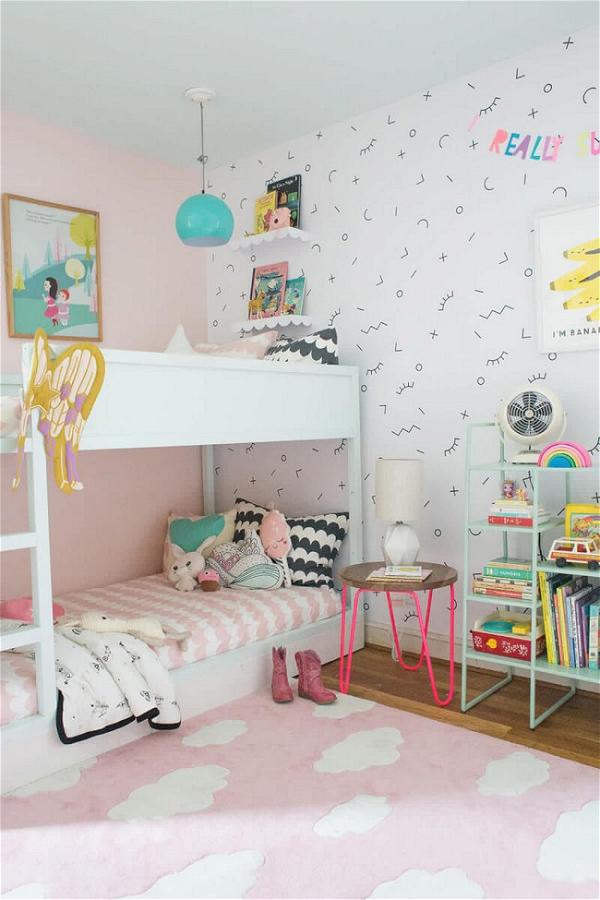 Take your little one's room to the next level with this bunk bed. The bottom bunk has a start on the ground, so you don't have to worry about your kids falling off the top! Both children and parents can easily navigate around this space-saving bunk bed. This riser bed bunk is also great for two kids or if you want a place to sleep with your friends. The bottom bed is low enough to sit on it as if it were a chair and store things underneath. This guide will teach you how to make one easily.
Bed with an Ikea Styled bed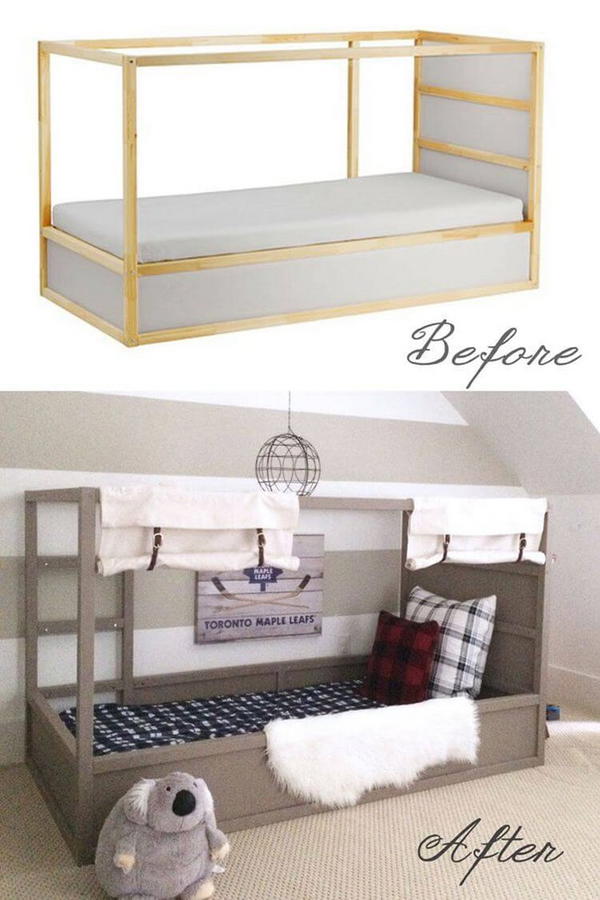 This is a beautiful Ikea-styled bed made from salvaged materials to lower the price further. You can seal together two half of a basket to create a ball that would hang on the sealing for added style. This is great for a modern feel with style and simplicity. You will need to complete the bed frame yourself, but it is a relatively easy project if you buy your own materials. This guide helps you make this beautiful bed.
Rock climbing bed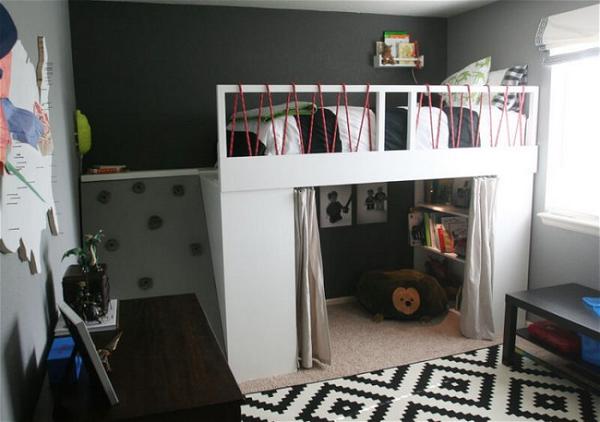 The climbing wall bed is perfect for nature lovers who want their sleep to get close to nature. Instead of having a ladder or stairs leading to the loft bed, you have a wall climbing fixture. Parents need to make sure that this is safely mounted on the walls and that it's not too high as otherwise, there are risks of hurting your child. If you want to make this for your child, This guide shows you complete step-by-step instructions and follow-up steps.
See Other Projects