Babies are adorable, but their tiny beds are not; You can change that by making your own bassinet. A bassinet is a small bed for a baby, usually used in the first few months of life as an alternative to a crib. It's also known as a cradle or cradling. Bassinets are typically about the size of a standard crib, but they have no sides or bars. You can go with a classic design or get creative with materials and colors. We've got you covered with these 23 ideas for perfect beds for your little one if you're looking for DIY bassinet projects. Some are easy to make, while others require more skill — but all are worth the effort because they can be personalized to fit any style or decor.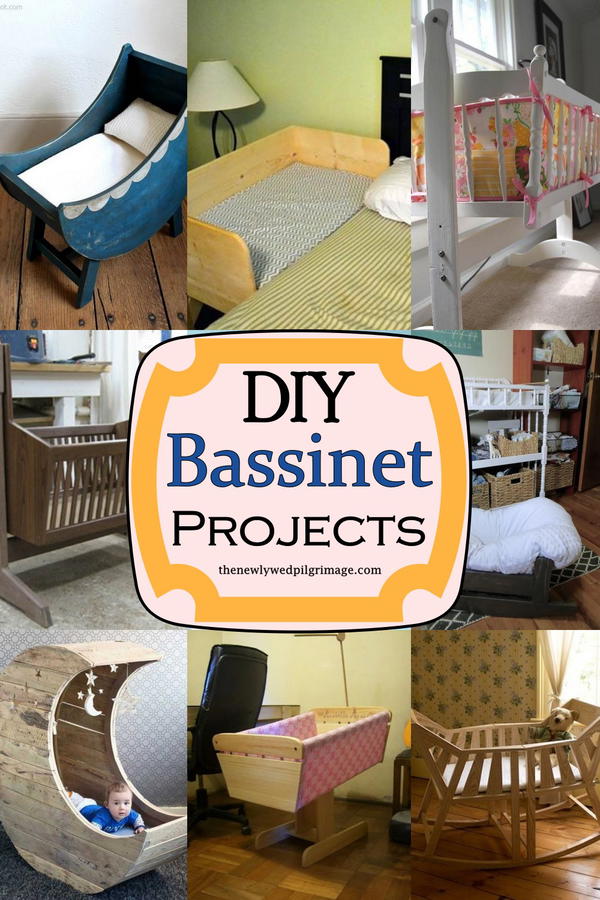 If you're looking for a nursery theme that's classic, simple, and sophisticated, then a bassinet is the perfect addition. It can be used as a crib, but it's also versatile enough to be used as a co-sleeper or play yard once your child grows older. The best part about making your own DIY bassinet is that it gives you the freedom to design and create something unique — whether it's a traditional wood finish or something more modern. Here are 23 DIY bassinet projects from around the web that will inspire you to get started!
Whether you're looking to spruce up a vintage bassinet or create your own from scratch, here are 23 DIY bassinet projects for your precious little one.
You Can See: 30 DIY Floating Nightstand Ideas
How To Build A Bady Wooden Bassinet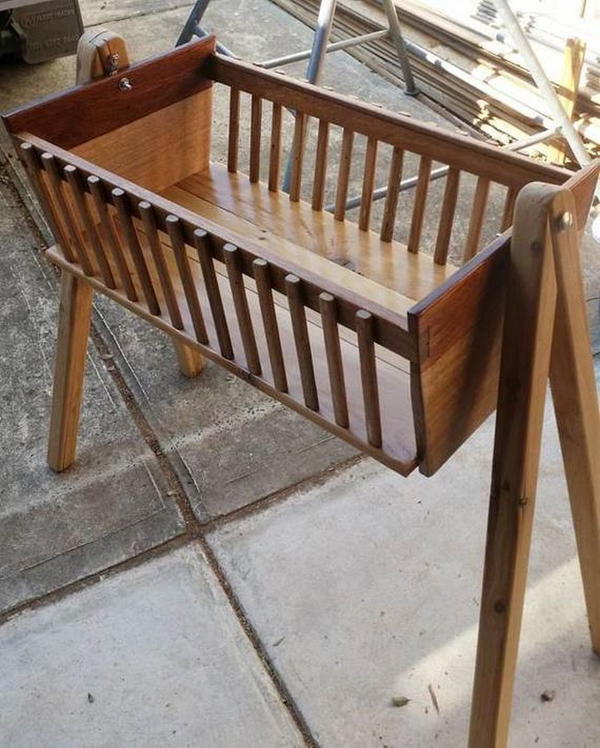 If you are a newbie to furniture making, it will be hard for you to build this beautiful DIY bassinet. To help you out, here is a detailed guide in which You will learn how to make it yourself step-by-step without any problem. This DIY bassinet is a beautiful piece of furniture; it uses many woodworking techniques to create a beautiful and functional piece. This bassinet features several woodworking joints, including mortise and tenon joints, dovetails, and box joints. An optional cradle roll also provides extra security for your baby while they sleep inside the bassinet.
Mobile Rocking Bassinet DIY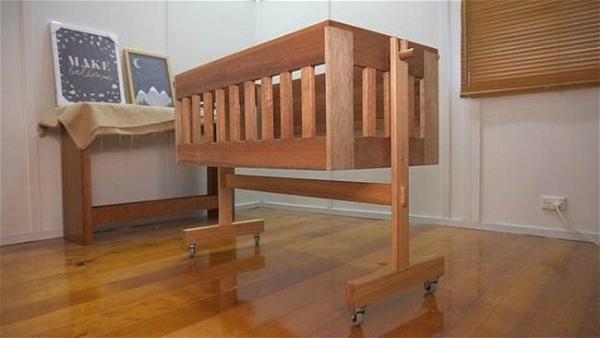 When you are preparing for the arrival of your newborn baby, one of the top things to consider is the bassinet that you will use. This rocking bassinet DIY is an excellent way for you to make sure that you recreate a tradition that many parents do and make their own bassinet for their newborns. This can be used as a second bed if needed, as well. This DIY guide shows you how to build a rocking bassinet for your newborn baby. These plans are very detailed and ensure that the bed can be assembled correctly and quickly. If you are looking for the best project to make for your loved one, try this one out!
DIY Rocking Bassinet
This DIY Rocking Bassinet will be a great choice if you have the time, energy, and dedication to complete it. If you wish to give your newborn baby maximum comfort, there is no better place than his own home. The rocking bassinet has a beautiful handmade woodwork design, and its painting is done with care not just to maintain its look but also to make it last longer. Combining all features makes this a unique item that you would love to have in your living room or bedroom. The rocking movement of the bassinet will make it easy for your baby to sleep while giving you time to relax and enjoy watching your baby's peaceful slumber.
Simple Baby Bassinet DIY
You might not want to spend a lot of money on a clever bassinet for your baby. In this video, you will learn how to make it yourself easily, cheaply, and with the help of simple materials that may already be found in your home. This simple DIY bassinet is easy to make and can be done with only a few supplies. This project is excellent for a baby shower gift or if you want something nice but don't have a lot to spend on it. The materials are very affordable, but the result looks fantastic!
DIY Baby Rocking Bassinet
Do you love rockers? It won't take long to fall in love with this DIY pallet wood rocking bassinet. It looks great, and it's versatile as well. The rocking feature lets your little one sleep comfortably every time. And its unique design will also make both parents and babies feel special whenever they see it. Completing this project will be fun and will require skill and patience. It is also time-consuming. But in the end, you will love the finished product. This rocking bassinet was made out of pallet wood, making it unique and different from other baby rockers on the market today.
Bassinet Makeover DIY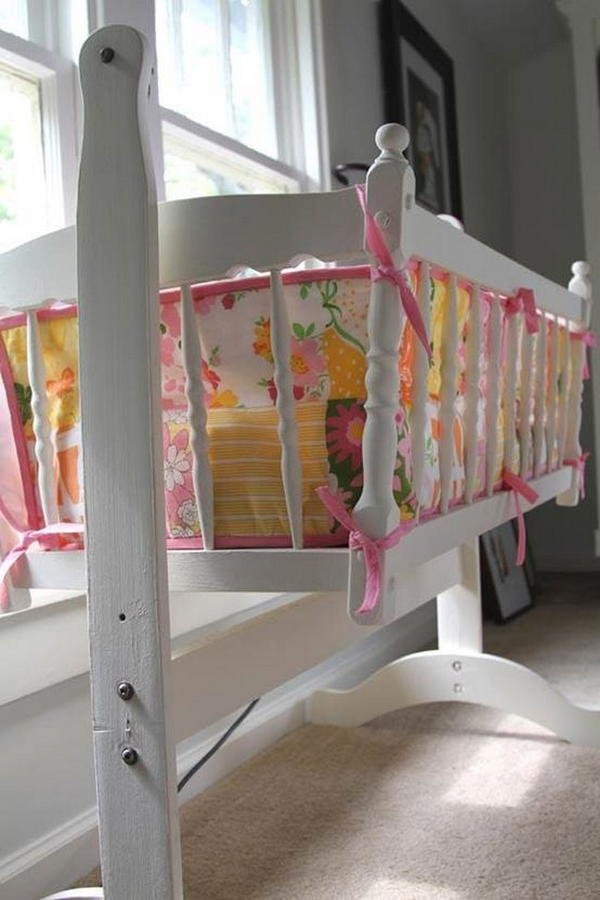 If you're a parent, you know how important it is to keep your baby safe and comfortable. Cribs are remarkable, but they can't match the portability of a bassinet. If your newborn fits a specific size range and is at least three months old, this DIY guide tutorial is for you. You'll love this guide because it shows you step-by-step how to transform an ordinary-looking bassinet into something special and unique using different materials and crafting skills.
Baby Moon Shaped Bassinet DIY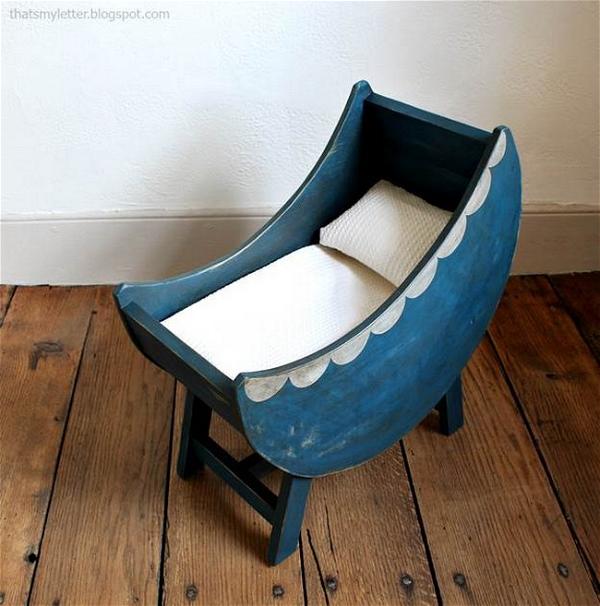 A bassinet is an essential part of your baby's home; It can be used to place your little one when they are born and give a sweet dream in the first days. With this moon-shaped DIY bassinet, you will be able to find a cozy nest for your baby that matches their room. This bassinet will make your baby feel like sleeping in the space shuttle! And, it's very comfortable inside with all its softness. The process requires various supplies and woodworking materials, but building it shouldn't be too hard for you if you are an expert in this field.
 Bassinet Cosleeper DIY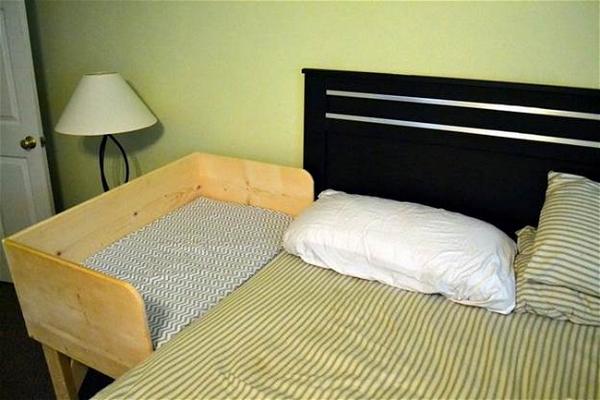 The Bassinet Cosleeper DIY is an excellent way to keep your newborn baby close to you. This cosleeper is perfect for safe and comfortable sleeping in the first few months of life. Make the ideal cosleeper for your newborn baby in just a few hours. With this DIY guide, you can build a cosleeper for your child that looks great and is super safe for your child. Use this if you are going to breastfeed or have a little one who will sleep in your room at night.
How To Make A Rocking Bassinet
This rocking bassinet project is for the woodworking enthusiast who can make one. If you have woodworking skills, putting this together shouldn't be a challenging task to complete. However, you will need some essential tools that might be hard to find in a standard home workshop, such as a jigsaw, drill, saw, and sandpaper. A circular saw would be of help. There is also no shortage of materials required for this project; all you need to do is follow the guidelines provided in this video and start working!
Moses Bassinet Stand DIY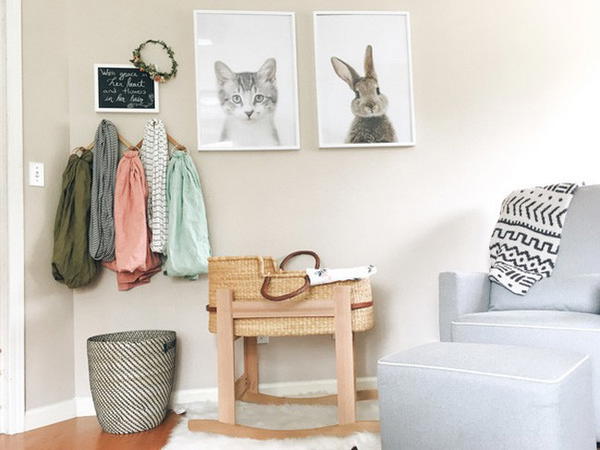 This DIY project will help you convert a basket into a bassinet stand. If you have a newborn or expect a baby soon, this is one of the best DIY projects to create something handy. Just like the Moses basket, this bassinet is perfect for small areas. The size is not too big so that it won't take much space in your living room or bedroom. The DIY project is quite simple to finish if you have some basic carpentry skills. Everyone can make this without having any problems.
How To Make A Bassinet With Pocket Holes
A bassinet is a bed for babies; It is usually placed near their parents' bed so that they can hear them at night. This bassinet will surely be helpful in your house as this is great for sleeping and giving your baby a sweet dream. If you want to know how to make a bassinet, then you are at the right place. It is not a complicated process; follow the step-by-step instructions in this video and learn how to make your own bassinet that will last for many years.
DIY Baby Crib
This DIY project is not for beginners, but with a few woodworking skills, you should be able to make this baby crib with ease. It is suitable for a baby to sleep in during the early years of its life. The crib is strong enough to withstand your child as it grows, but at the same time, it also goes through strict quality-control tests to ensure that there are no sharp or rough edges on the crib so that your child is safe and comfortable when sleeping in it.
Becky's Cradle Build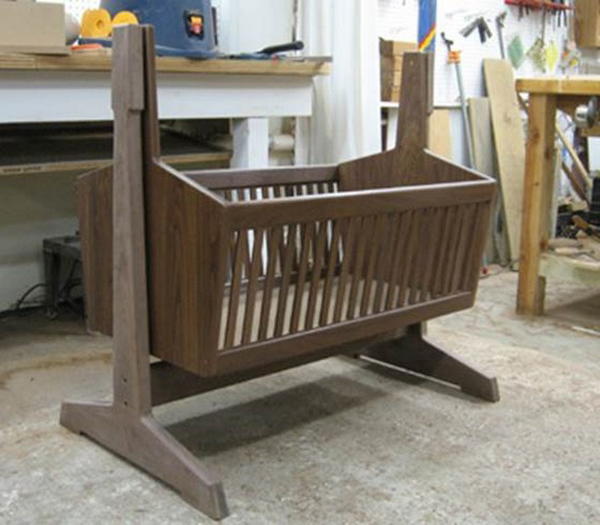 If you are looking for a unique cradle for your baby, here is a simple cradle you can DIY to give your baby the best place to sleep that you can ever imagine. The instructions in this guide for making this cradle are pretty easy to follow if you have woodworking experience. Before you make this, you need first to gather all the required materials. Besides, this project will help you understand the basics of woodworking which could be used in making more complicated projects later on.
DIY Rocking Cradle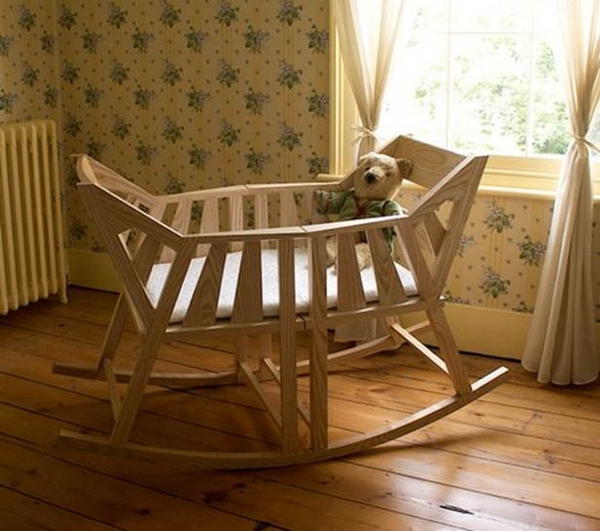 This rocking cradle is made from two chairs and is about the most adorable thing. It's a great way to reuse furniture that you may have lying around your house. Take two old chairs, cut them down to size, sand them smooth, and then arrange them just right so that they would fit together and rock. Finally, add foam padding along the back of the cradle and some cloth on top. This is one of those projects that could get you excited because it's unique.
See More: 14 DIY Child Rocking Chair Plans
DIY Pillow Bassinet Lounger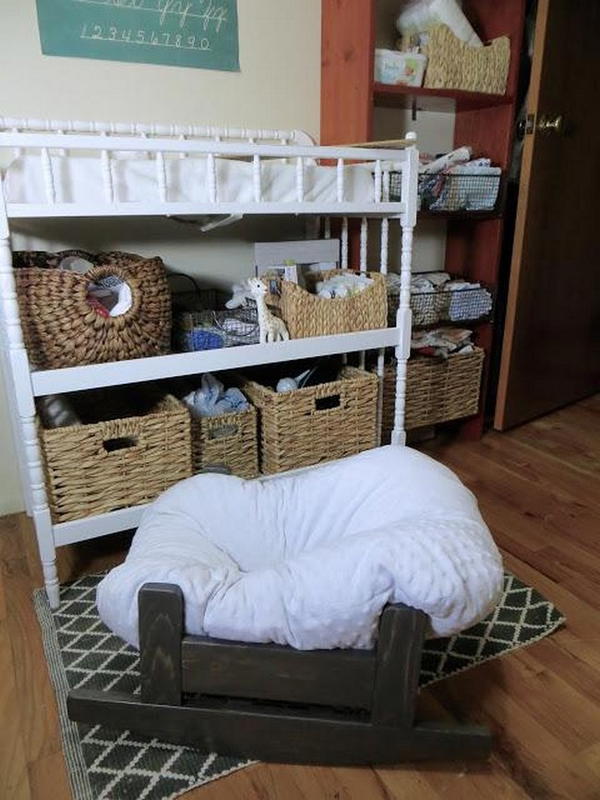 If you have the skill and interest in creating this bassinet for your baby, then go for it! But if you are looking for something easier to put together, you can always consider buying one from a store. This bassinet can be made from wood, a naturally warm and safe material for babies. Wood holds heat very well, so the bassinet will help keep your baby warm and comfortable. Because it's made with wood, you don't have to worry about paints or glues that might contain chemicals that could harm your child. The construction of this guide will take time, but the results will be worth it!
Building A Rocking Chair With Crib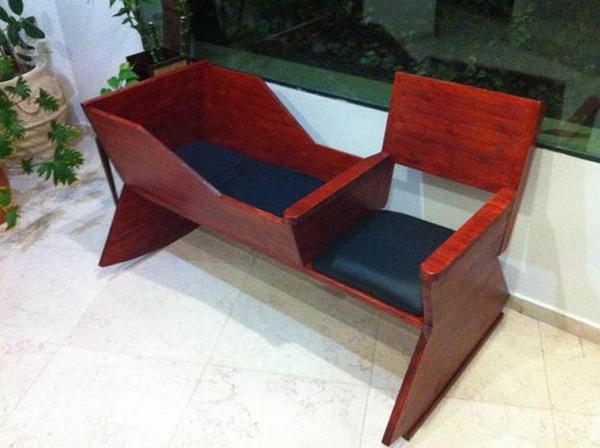 Babies are very comfortable in their cribs, And so is mother. You will want to build this crib and a rocking chair. The crib and the rocking chair will form a whole unit; it is impossible to separate them. It offers its occupants maximum coziness and relaxation. The rocking chair with a crib is also a unique gift for new parents. In addition, the idea behind this central structure is that it can be used by your child even after he outgrows the crib.
How To Build A Crib Out Of Wood
You need to know what kind of design you want your crib to be built a crib. Different models may help you decide which one to create, but you need to know what type of wood could fit your budget. This video will give you an idea of making a simple crib out of wood. The video is relatively easy to follow and easy to understand. However, it is not recommended for beginners because this is one of those builds where you would have difficulty understanding the build process without knowing things beforehand.
Rocking Walnut Bassinet
This bassinet will impress even the most experienced DIYs. The whole process of making this bassinet is easy to follow. You will learn how to properly sand the wood and exactly how to construct the rocking mechanism. You'll also need some essential tools that you can find at any hardware store. The material cost of this project is minimal. However, it requires a lot of time; You can purchase ready-made wooden pieces and assemble them in your own way if you prefer not to do everything from scratch.
See More: 24 DIY Rocking Chair Plans
DIY Baby Bassinet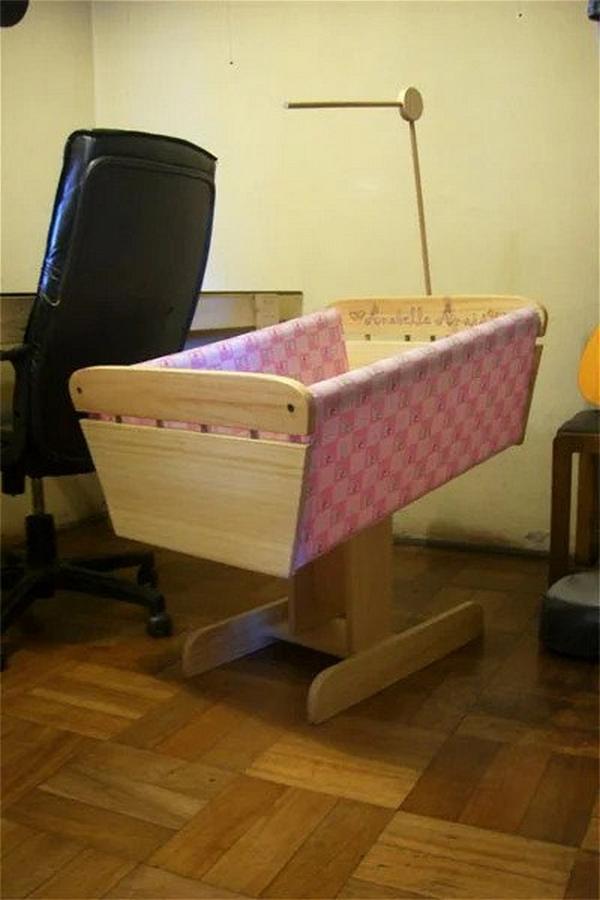 Let's get started! Did you know that you can build your own bassinet for your baby? Check out this DIY project and make your own baby bassinet. It is made from pine wood, and it is so elegant and beautiful. The best part of it is that it is super practical, not only because of its purpose but also because you can use it in so many ways later on. For example, when your baby reaches his first birthday, this item will be perfect to be transformed into a beautiful play table.
DIY Baby Moon Cradle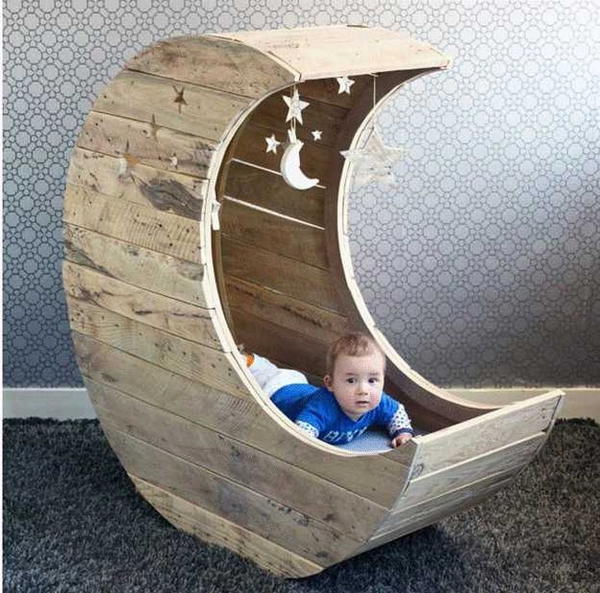 The DIY baby moon cradle will allow you to give your baby the most comfortable place in the entire room. It is made to look like a bed so that your little one will stay on it longer than he would in other bassinets and cradles. Aside from its appealing design, this baby cradle provides optimal comfort for your child with its soft cover and extra padding on the headboard. It is a good alternative if you have limited space at home or prefer not to have a bassinet. The design is simple yet very stylish.
DIY Bassinet Build
If you are looking to get a beautiful and functional bassinet, this DIY project might be just the thing to help you out. Building a bassinet can be a wonderful experience, and it's easy as well. If you want to save space and still get your baby a comfortable place to sleep, this DIY project might be perfect! This bassinet makes it possible for you to keep an eye on your baby while they sleep, and it also gives you the flexibility of letting your child have the freedom to move around their space if they feel like it.
Building An Oak Cradle
If you are looking for a unique bassinet, this oak cradle might be suitable. In this tutorial, you'll learn how to make it—building an oak cradle. There's no better way to say "Welcome" than with this handmade heirloom! This will be your newborn baby's first bed, so you must take the time to make it sturdy, safe, and beautiful. The Oak Cradle is lightweight and compact. The instructions are easy to follow and understand, but this project does require some woodworking skills.
How To Build A Modern Cradle
Finding a baby bed for your little one is not an easy task since there are so many options. If you don't have the funds to buy one, why not build your own? Take a look at this modern cradle. With your woodworking tools, you will be able to make this adorable piece of furniture. This modern cradle is easy to build and looks great. You need basic woodworking skills to start, but if not, you can still make it look great with some other ideas.