If you want to create a daybed for your home, we have collected some of the best DIY daybed plans. These are easy to follow and don't require special skills or tools. You'll find different daybeds in interior stores—some expensive, some cheap, and some adorable. But you'll get more satisfaction from making one yourself. You need basic woodworking skills and tools like saws and hammers to make a daybed from scratch. There are also some additional materials you need for this project, such as plywood and nails. Read on for our collection of free DIY daybed plans that will help you create an awesome bed at home!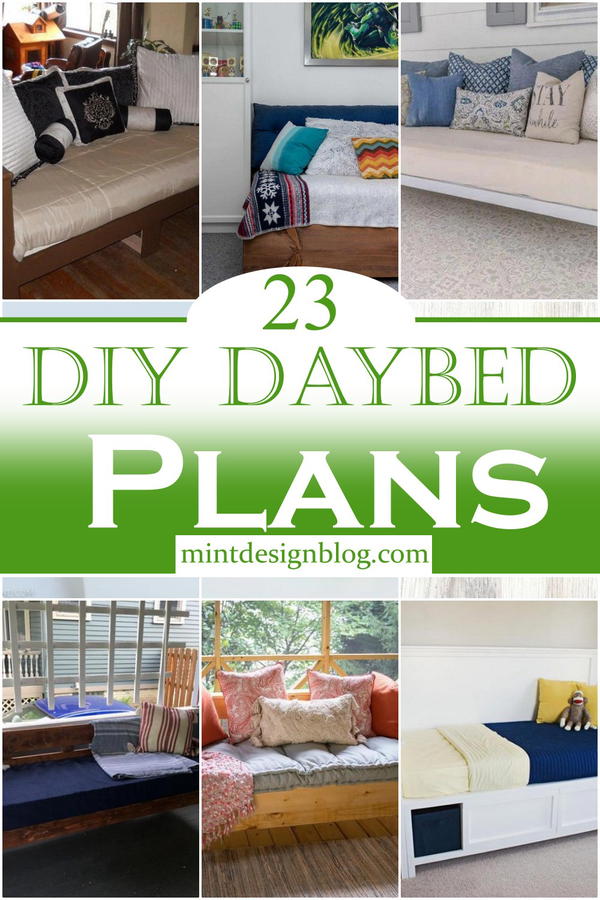 A daybed is a great way to save space in a small room and still have enough room for guests. It's also an excellent choice if you like to change the decor from time to time because it's easy to paint or reupholster in a different color or pattern. If you want to make your own, some great plans will help you build your own bed frame that will fit any size mattress. As luck would have it, we have compiled a list of some different DIY daybed plans that are adorable and simple. Click on any project and learn how to make a DIY daybed.
Are you looking for free daybed plans? Here are 23 DIY daybed plans that you can use to build your own bed.
DIY Outdoor Daybed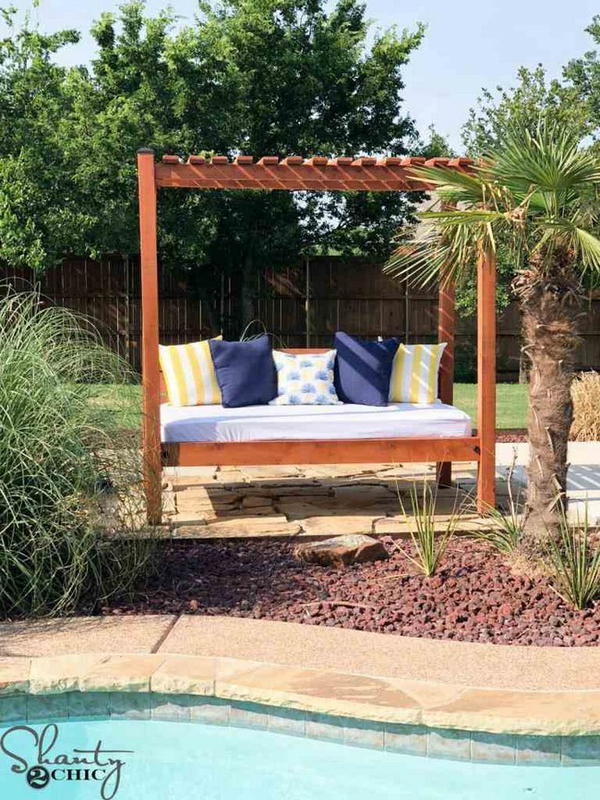 A DIY daybed is ideal for extra seating when entertaining inside or a bed that can be used outside when you need extra sleeping space. If you have a free space in your backyard or garden, then the easiest and cheapest way to transform it into a lounge area is by making a DIY outdoor daybed. The project is not that hard if you follow the instructions correctly. This guide will help you with all the information you need to complete the project successfully.
DIY Daybed
The DIY Daybed is an easy project that works for beginners and more advanced builders. This project is made from rough walnut, but it can work well with other types of wood. You can make a joint by hand if you have the time or use a machine that creates very accurate joints. This daybed will allow you to create a comfortable and relaxing area in your backyard that is perfect for reading or just kicking back. Watch this video to learn how to make it easy.
DIY Outdoor Lounge Sofa
The DIY Outdoor Lounge Sofa is perfect for making if you plan to have an outdoor gathering with your friends or family. You can also bring this sofa inside your house to make a comfortable lounge area beside your swimming pool. It also makes a great addition to your garden. You can create this outdoor lounge with three power tools - a drill, an orbital sander, and a circular saw. This is an inexpensive, easy, and time-friendly project.
How To Build A Daybed For Less Than $50
This is a very fantastic daybed plan for you. The lumber used for this daybed costs less than $50,, and it's straightforward, adorable, and easy to build. You can create your own daybed with these step-by-step instructions. by watching this tutorial, you'll end up with an elegant and comfortable piece of furniture for a bedroom or guest room.
How To Build A Daybed In A Day
Your bedroom needs a daybed, and it's a perfect opportunity to update your space, add new features, or make something unique. There are many ways to build daybeds; Some designs use traditional wood joinery techniques. The more modern daybeds are usually made with simple materials and require essential tools. If you want to build your own daybed in a day with low-cost materials, watch this video above and learn the process.
DIY Daybed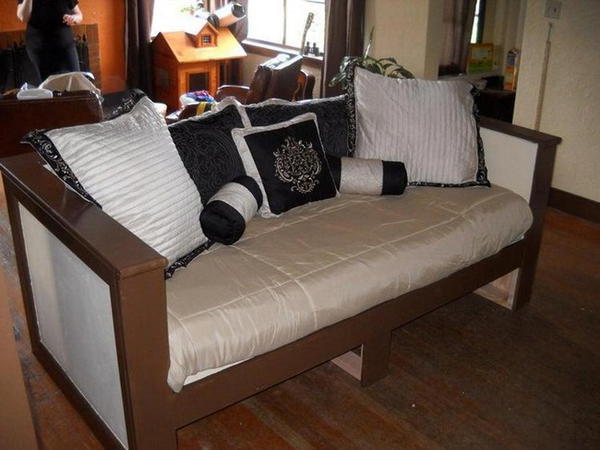 Building a daybed is not a daunting task at all. Once you start framing, the process will be smooth; you are already used to the routine. The materials and tools needed for this project are the same as other projects that we have made earlier in this series. Follow this instruction step by step in this guide and build your own daybed frame to have the best place to rest on weekends or holidays.
 DIY Mini Daybed
This DIY Mini Daybed is a simple project that will bring new life to your home! All supplies are simple and easy to find. This mini daybed is made from old materials that would otherwise have been thrown away, so it's green! This DIY Mini Daybed is a fun project with instructions provided in full detail. The materials can be purchased at your local hardware store. This DIY Mini Daybed is a restful place that can also be placed next to the window, the couch, or any corner of the house where you wish to have quiet time after a long day of work.
DIY Daybed Plans For $50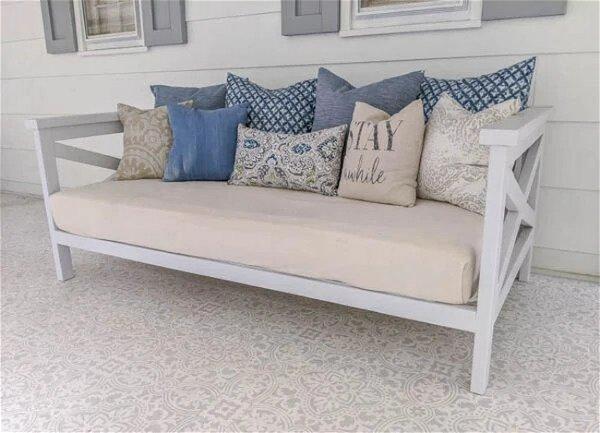 If your budget is tight but you want to create something beautiful and stylish, this DIY daybed plan is perfect for your home. The creator used framing lumber to build the project, which cut down on his costs but still created a piece of furniture that he could be proud of. With just a little bit of time and some basic skills, you can make this beautiful daybed for yourself! This guide shows you the complete process.
 DIY Storage Daybed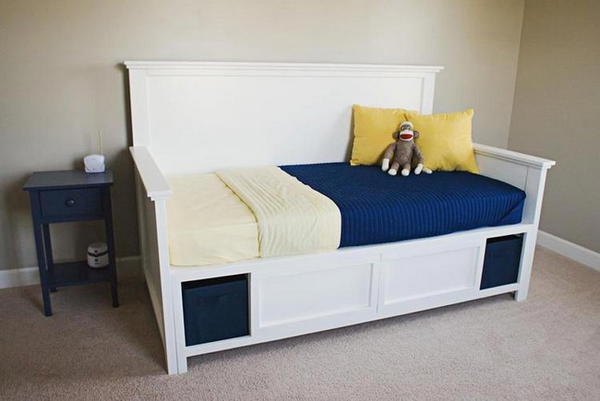 This DIY daybed with storage will be a great addition to your home. It's a nice place to sit down and relax. It's perfect for those with limited space, are on a budget, and need a stylish place to rest their heads at the end of the day. Here you will see how easy it is to build your own storage daybed using storage bed plans from very inexpensive materials. Use this guide to learn more!
DIY Pallet Daybed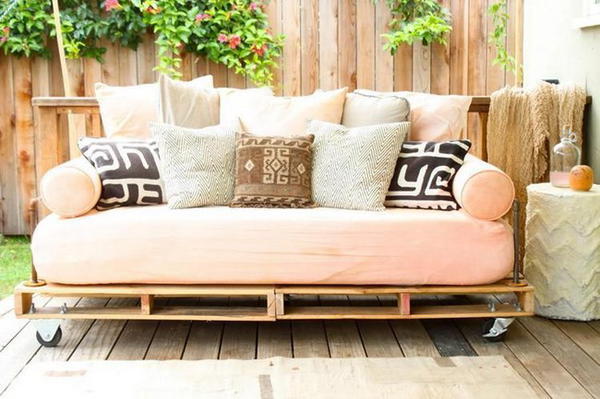 If you are looking for an affordable pallet-based daybed that is easy to build, this project will be a great choice. The design is simple, and the materials utilized are inexpensive yet durable. It can be assembled in just a few hours, so you won't have to wait too long before making yourself comfortable on it. Creating this DIY pallet daybed is simple with these clear step-by-step instructions. To complete the project, you'll need a few supplies like pallet wood, outdoor polyurethane, brush, and caster wheels.
DIY Storage Daybed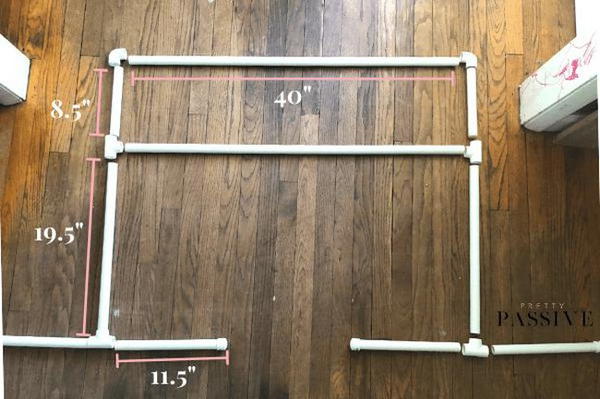 This built-in bed with storage space is perfect for kids' rooms. It allows you to add extra space to your children's room without sacrificing style and minimal hassle. Maintaining the safety of your kids while they sleep is very important. It has shelves, so you don't have to worry about your child climbing up there, and you can use it as a reading nook if you want. Perfect for smaller rooms! Using this guide, you will have a durable and valuable daybed with storage in no time!
DIY Swinging Daybed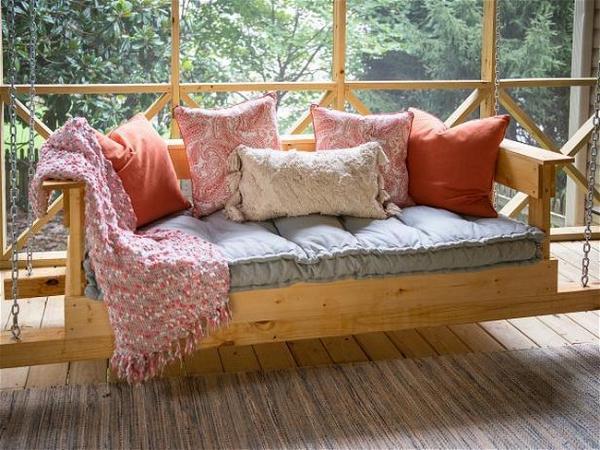 This DIY swinging daybed is perfect for those who like to enjoy the fresh air while they take a nap. This bed is designed to be folded and put away when not in use; then, you can unfold it and swing on it when you want to lay down for a short nap or relax. It comes with two safety belts for extra security. Creating a relaxing place in your home is as simple as pie using this DIY Swinging Daybed guide.
DIY Outdoor Daybed
If you are looking for a comfy new area to hang out with your family, this daybed is perfect. The daybed is made from pallets, power drills, pencils, tape measures, and speed squares. It doesn't take a lot of time to build, and you won't need any special tools or skills. This DIY outdoor daybed will help you enjoy the fresh air of nature during summer. Follow the instructions provided in this video and enjoy your new comfy daybed!
DIY Pallet Bed
Do you want to build a daybed for your porch? If yes, then this video tutorial will be of immense help to you. In this video tutorial, you will see how to modify the pallet wood into a beautiful daybed using essential tools and materials. You have to follow the instructor's instructions in this video tutorial. Making this bed doesn't require much effort or skills. All you need is essential measurement and woodworking knowledge; that's it!
DIY Hanging Daybed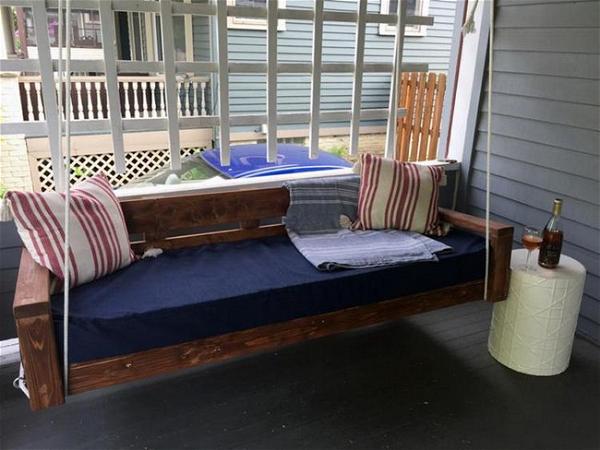 The hanging daybed is a unique and fun piece of furniture that will make an excellent addition to any home. Whether you are looking for a place to relax in the shade or read a good book in privacy, this DIY could be the solution. This guide takes you through each step of the process, even providing drawings for those who are visual learners or want a clearer picture of how things should look as you build your daybed.
DIY Outdoor Daybed
Making a DIY outdoor daybed is the perfect way to relax on hot summer days or even during cool spring evenings. It's also an excellent place for you and your kids to read books and have picnics. The total cost of all the materials is very affordable to your pocket. Though it's cheap, you'll find that it's easy to assemble and also looks great once completed. This project can be completed in a weekend or less if you have help. Watch this video to learn more!
DIY Daybed Frame Tutorial
This DIY video tutorial will teach you how to build a daybed frame out of wood that can function as a couch or bed. It's an inexpensive way to convert your living room into a guest room or free up some space after a big family gathering. The best part about this project is the fun you'll have doing it and the unique design of the finished piece. Watch this video and enjoy the whole process.
How To Make A Daybed
If you want to build a day bed to fit in an awkward corner of your living room or make a smaller version of a regular full-size bed, this is how you can do it with ease and style. You will need basic carpentry skills and the right tools, including pocket hole screws, glue, and sandpaper. Follow this easy tutorial if you're looking to make a daybed but don't know where to start. It's a great weekend project that yields decent results and good looks.
How To Make A DIY Daybed
Making your own bed is a fun weekend project. This DIY daybed will add charm to your bedroom. The materials needed to make this daybed include timber, wireless drill, orbital sander, cutting screws, square, tape measure, wood filler, pencil, paintbrush, etc. Make your own daybed using this tutorial. It is easy to build this diy daybed, and you can use any size timber you want as long as it is the correct measurements.
DIY Daybed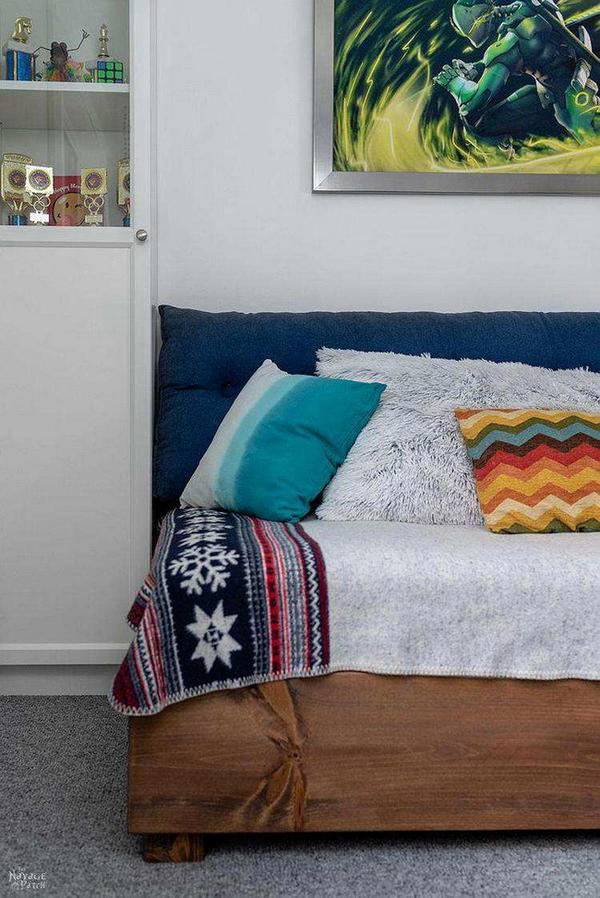 This DIY Daybed is a fun and valuable addition to any room. You can customize it with your favorite fabrics, paint and even stain. This piece is perfect for living rooms, playrooms, and bedrooms. If you only have a small space, this bed frame could be just the thing you need to transform that space into a cozy reading nook! You can Go through this guide to learn how to make it easy in no time.
Plywood Midcentury Daybed DIY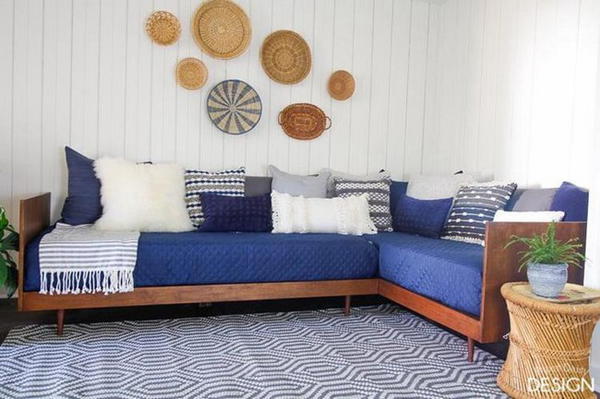 This plywood mid-century daybed is a simple DIY project that will save you a lot of money while giving you the exact look and feel you are looking for. It is an easy weekend project, and it takes only a few hours to build one. You need to find some birch plywood, brackets, and jig screws and put them together to create this beautiful piece of furniture. The best part about these beds is that they can be customized according to individual needs or requirements. Make your own mid-century daybed by using this guide.
How To Make A Daybed
A daybed is one of the most comfortable furniture every human being should have in their home. It is pretty easy to make a daybed because all you need to do is learn how to make a mortise and tenon joinery. The mortise and tenon joint has been used in carpentry for many years, and it is still widely used even today. Watch this video tutorial and create your own moveable daybed for your beautiful home.
Building A Daybed
A daybed can be a great addition to any bedroom, providing extra seating and resting areas. This tutorial was designed to give you the basics of building a DIY daybed. Before doing this project, ensure that you have all the necessary tools and materials. This bed is also perfect for indoor or outdoor use. The base is made up exclusively of 2×4s, and the armrest support uses a piece of exterior decking to create a unique look. The entire project can be completed within one day with essential power tools. Watch this video and make your own.
See Other Projects