Storage beds are common in today's houses. They are the ones that have special drawers, doors, compartments, and other types of compartments that help you stay organized and store your stuff efficiently. A lot of people spend a good amount of their money on buying such beds. If you are one of those who would like to make your own storage bed, check out these amazing 27 DIY storage bed ideas that can help you create your dream bed.
DIY Storage Bed Ideas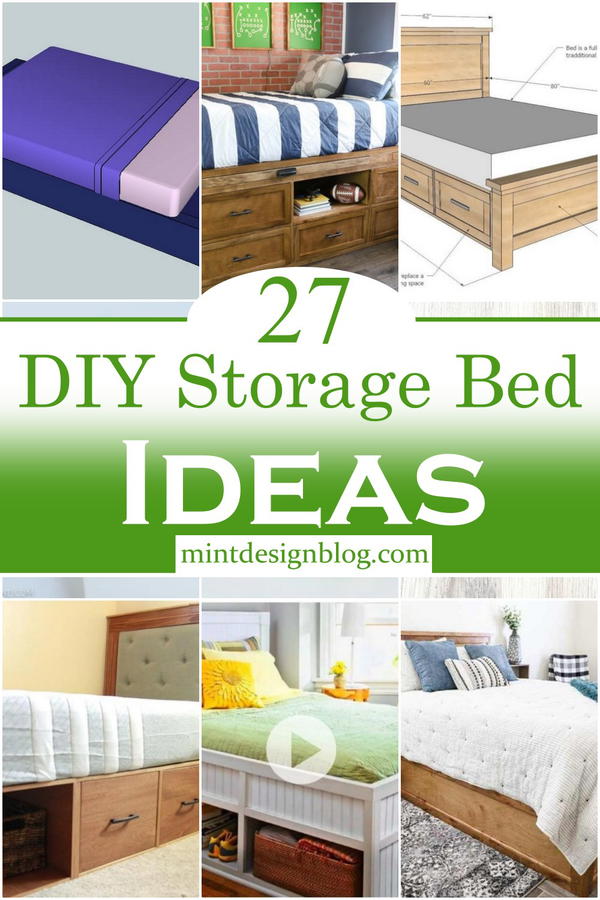 Some people think that a room should be decorated with several pieces of décor, some like keeping it simple, and others are into DIY projects. What matters the most is that your room meets your needs in terms of storage and organization. As you know, a bed takes up a lot of space in a room, and oftentimes the bottom of the base of the bed is always empty or stores materials that are not necessary. You can transform your bed into an amazing organizer. When it comes to bedroom furniture, buying cheap and making it yourself is probably one of the best options available. It helps you save some money, and even though this has a difficult price tag, you will make something unique.
Check out these 27 DIY Storage Bed Ideas to make use of the space beneath beds to store everything that's not being used frequently in a very organized way!
How To Make Storage Under The Bed
The bed that has storage space underneath can be made using three cube organizers. Make more and arrange them in a way that they will fit between the corner of the bed. Then, cut five pieces out of wood and lay them across the cube organizers. By doing this, you can have some storage space beneath your bed. Its structure of it can be extended and can fit to each bed space. Before making such storage under the bed, homeowners must measure their mattress size in order to build the right structure. They can modify or arrange the pieces depending on the size of their space. This is a simple but useful and inexpensive project. Using this, you can make your bed more functional. It's easier to reach things on the bed than it is to reach them in a closet.
How To Build A Storage Bed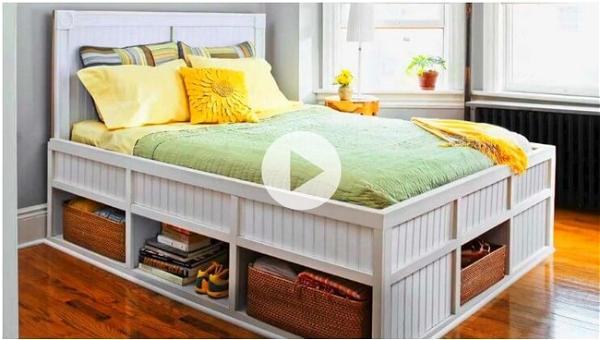 The storage bed is simple, easy to build, sources online, and uses common tools. Not only does it provide extra storage for toys, but also makes for a good project for beginner woodworking enthusiasts. Cut the plywood board into pieces and assemble them using a miter saw. Use a screw, drill, glue to build the bed frame. With the help of a miter saw, a drill, and screws, you can build the storage bed. The storage bed is well-designed at a low cost. It will enable to save a lot of spaces and could be also used as a guest bed when needed. . This bed has a sturdy, built-in storage compartment. Depending on the size of your mattress, you may be able to put another mattress in here as well. As long as they are not at the same height and will not cause any problems.
See More: 20 DIY Toddler Bed Ideas
DIY Farmhouse Storage Bed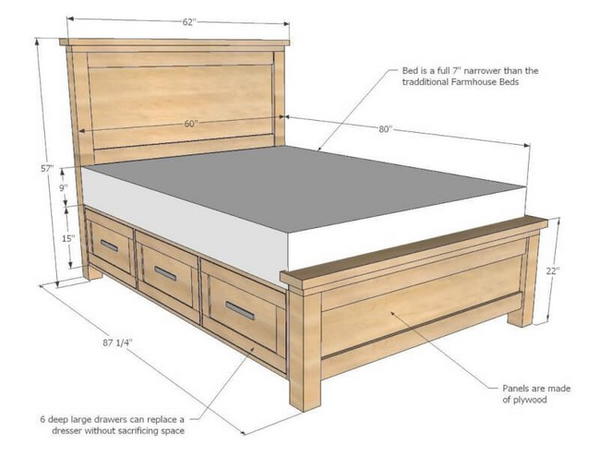 You can easily change this bed's size, materials, and shape to suit your tastes. Use a basic knot instead of a handle or add a pocket hole screw for one drawer. The design of this farmhouse storage bed is a storage bed with no handles or knobs. The dimensions are adjustable too as you can simply add more storage boxes by making another set of panels and then placing it underneath the existing storage box. While the headboard simply attaches to the footboard, you can also do joints using pocket screws or create an opening on the front to place decorative knots. There is an option of choosing the color you want to paint the DIY farmhouse storage bed, and you have a choice of several available designs. All you need is plywood and hardware, screws, pocket hole screws.
How To Build A Queen Size Storage Bed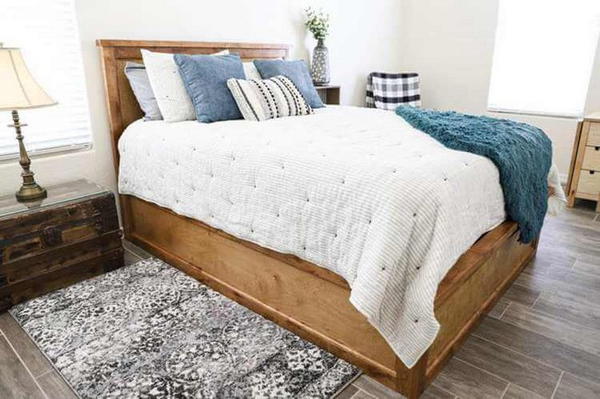 Would you like to store more items in your house and have a more convenient place for placing small and large items? If so, this queen-size storage bed is the right project for you. Knowing how to build a queen-size storage bed is a matter of skill, patience, and workspace. There are bed storage, a pullout drawer, and a bed feature for the queen-size storage bed. If you have spare time during your weekend or holidays, work on this project to enhance the look of your room and get more storage space. It is not necessary to have advanced skills or techniques because there are many designs you can use within your ability. You can store your blankets, clothes, books, shoes, toys, and other things you want. It is simple to build if you have the right tools and a reliable design plan.
DIY Platform Bed With Storage
Assembling this platform bed that has storage for your clothes and other stuff is a snap – all you need to do is put in the cube organizers and you're set! Made of durable hardwood and rubberwood, this comes pre-assembled – all you need to do is assemble the six cube organizers to size the measurement of the mattress. It is a nice DIY platform bed with storage will turn any room into an elegant bedroom for little kids. The most difficult part of the project is that you need to measure the length and width of your mattress so that you can assemble the cube organizes according to it. If you're ready, let's build your bed! The DIY platform bed is simple yet elegant and serves dual purpose for sleep and storage purposes.
DIY Bookcase Bed With Storage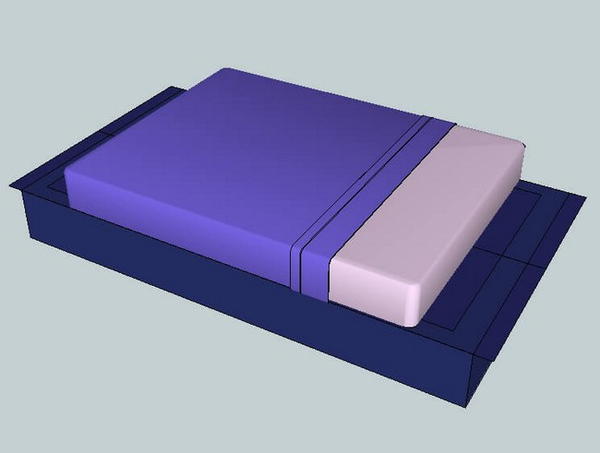 If you are having trouble sleeping because of the small size of your room, or there is not enough space to keep your things. You can now change that by converting the space under your bed into a storage area and using it to keep your things. The simple version of this project can help you get the basic idea of building a DIY bookcase bed if you are trying to create one for yourself.
You can use a few plans to build it as well. Which option will work better depends on your skills, money, and purpose for building such a bed. Purchasing a bookcase that's slightly bigger than your mattress can help you build a cozy and stylish bed. The DIY bed works best in classic and bare-bones decors with few accents and decorations. The end result is satisfactory though, and will make your room look more elegant, stylish, and personalized at the same time.
How To Make A Bed With Storage Drawers
If you're looking to make your bedroom a little more organized, here's an easy project. You can build storage drawers right into the side of your bed. It's also a great way to get comfortable with building things if you've never done it before. Assembly should take no more than 2 to 3 hours and requires just four tools; a saw, drill, screwdriver, and tape measure. The finished product will look like store-bought furniture and be custom-made to fit any space. A bed with drawers hidden under the mattress is a good alternative to a standard storage bed that blocks storage space. The most important job of your new storage bed will be to support the mattress; it doesn't have to look pretty. It's also best to build a platform below the frame of your new storage bed because the drawers are hollow and need somewhere to sit.
DIY Storage Bed
Many people have trouble sleeping, because of their worries, but you can solve all that by making a DIY bed and relaxing. You will approach this project in an easy way. This project can be done in a few days. It's possible to create a storage bed of a different size than the one in the plans or change its configuration.
The plans are detailed and easy to use, but they don't provide how long you need to work on them if you want to make one bigger or smaller. Get all the materials and tools ready to make your own bed. The bed frame is constructed from heavy-duty materials and it is not flimsy; that makes it sturdy, so you can enjoy a good night's sleep. Completed by a spacious, modern design that fits into any room setting, it's sure to bring in the most stylish and practical element of the bedroom.
DIY Queen Storage Bed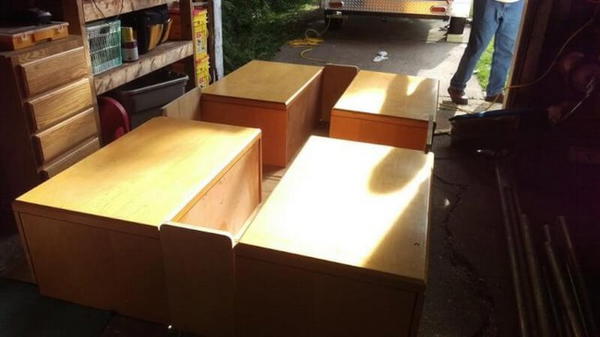 You have probably spent a lot of money on your mattress. Now, put it to use by building a bed out of it and other scrap items. The DIY queen storage bed is made out of a filing cabinet and scrap pieces of plywood. This can be used as an entryway bench or in the garage.
This Do It Yourself queen storage bed is a simple project that can be completed in an afternoon. The materials needed for this project are sheets of plywood, a filing cabinet, a mattress, and screws. Cut the pieces for the top drawer, cut the spacer and drill the spacer into the drawer. Assemble the pieces and place the mattress on them. Building a bed is easier than you may imagine. There is no need to bring the project to a woodworking shop and pay people to do it for you.
DIY Under Bed Storage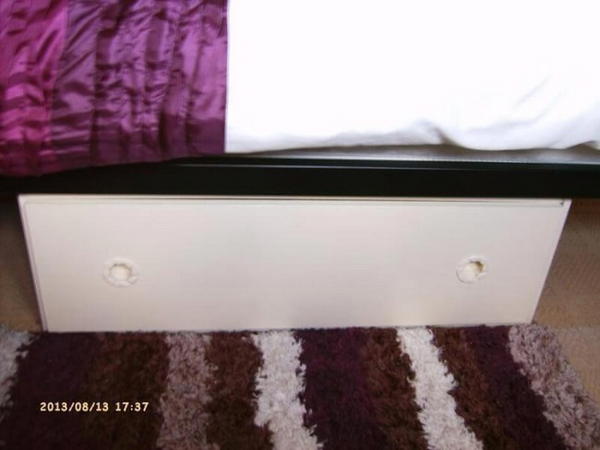 This DIY under-bed storage is a great way to save floor space. Create this bed by yourself. This bed design makes it convenient to store things under the bed while still having room to walk around the bed. The white color of the bed looks very attractive. It really doesn't require much to make an awesome storage bed. All you need are some basic carpentry skills to cut and assemble the parts, then a few thin coats of paint. Just make sure your measurements are precise and remember to find a level base so the bed won't be wobbly. The handy under-bed storage space is great for storing those items that clutter your bedroom. The entire piece is built with a miter saw and a tape measure. Build your own DIY Underbed Storage using these instructions. You will need a miter saw and screws, nails, glue, and plywood.
DIY Queen Size Storage Bed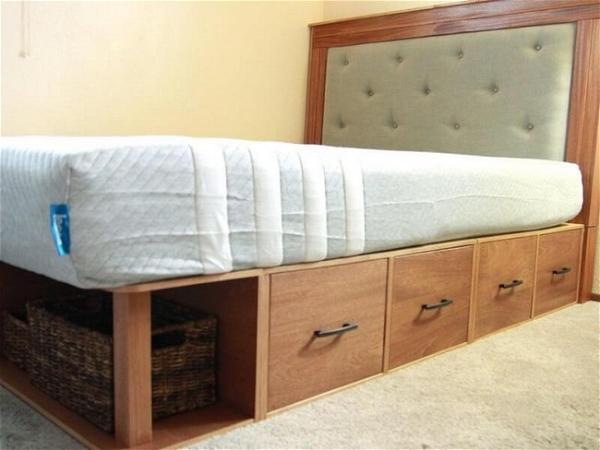 When it comes to DIY presented, this storage bed idea is quite good. It will utilize your empty spaces in the best possible way, and it also has some great storage options that are quite helpful. Building storage beds can be difficult. If you don't know what you're doing, you could accidentally drill the drawers and box spring incorrectly or run out of room in your home, not allowing for your bed to fit properly.
This project is designed to solve both of those problems. It's a fun way to build a bed that takes up far less space than most in-bed options. Making your own Queen-size storage bed is a great way to save money and create a one-of-a-kind piece that you can be proud of. Designing the bed yourself also helps you customize it to suit your style, resulting in a truly unique product.
How To Build A DIY Storage Bed
A DIY storage bed is a practical piece of furniture that hides your clutter while offering you easy access. This project has simple designs but gives you the experience of building your very own bed. Building your very own DIY storage bed will save you money, help increase storage space, and give you a great sense of accomplishment. The materials needed for this DIY storage bed can be purchased at your local hardware store and the workbench vise is used in this tutorial. You'll need basic tools like a pocket hole jig, a drill, miter saw, table saw, and screws to build this bed. The storage beds are made from pine wood that is finished using an espresso stain, a slightly darker color looks great as well and costs about $6 more.
DIY Modern Storage Bed
For a unique bedroom design, try this DIY bed. This bed has two low-profile cabinets with drawers on each side, side planks, and long strips of white oak. For the drawers, glue sheets of plywood and nails will work fine to hold them in place and make sure you measure for both sides before cut pieces. This storage bed gets you plenty of storage space with minimal material. There are two low-profile cabinets that have white oak strips attached to support the storage top, which is made from planks of plywood covered with fabric or leather. The drawers are easily accessible by opening the doors revealing two small cabinets that have room to store clothes and linens during your stay. After enjoying a peaceful sleep, the drawers are not quite useful as you can use them as a linen cabinet or shoe rack.
DIY Sofa Bed With Storage
Making your own sofa bed is fun if you love to do it yourself. Use plywood sheets, a track saw, a table saw, wood glue, and screws. Join them all together and add finishing touches to complete the sofa bed. This plan shows how a whole sofa bed was built using plywood. It provides you with some of the basic techniques for using a table saw and a miter saw. The different techniques you need to know include using a track saw, using clamps, and using chalk lines.
All the tools used can be found at a home improvement store. From cutting the sheets into smaller pieces, to frame building and storage box making this project is going to be an amazing experience. It provides you with some of the basic techniques for using a table saw and a miter saw. The different techniques you need to know include using a track saw, using clamps, and using chalk lines. All the tools used can be found at a home improvement store.
DIY Captain's Bed With Storage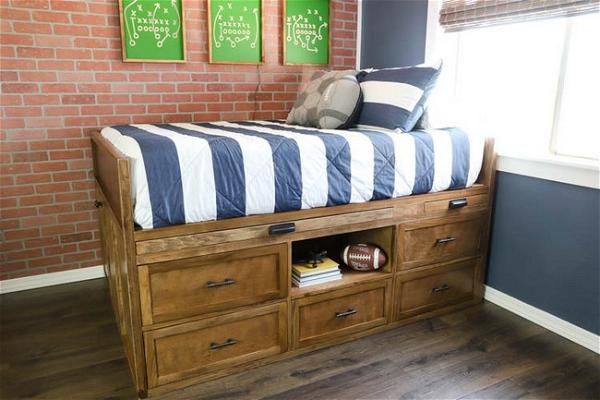 The DIY Captain's Bed With Storage will work great for your child. Make this bed to add interest to any of the rooms and make it extraordinary. The drawer is a two-step structure that is easy to put together. Even if you are a newbie at woodworking, this DIY will be a good challenge for you. The captain's bed has lots of storage space on each side, where the nightstands would normally be. There is also an additional drawer under the sleeping area. The materials needed for this DIY bed storage include a miter saw, drill, pine or poplar, clamps, and glue. Cut the lumber and build the desk, nightstand, and headboard. Then move onto the drawer. The drawer is a two-step structure. Build each step separately and assemble all parts."
DIY Storage Bed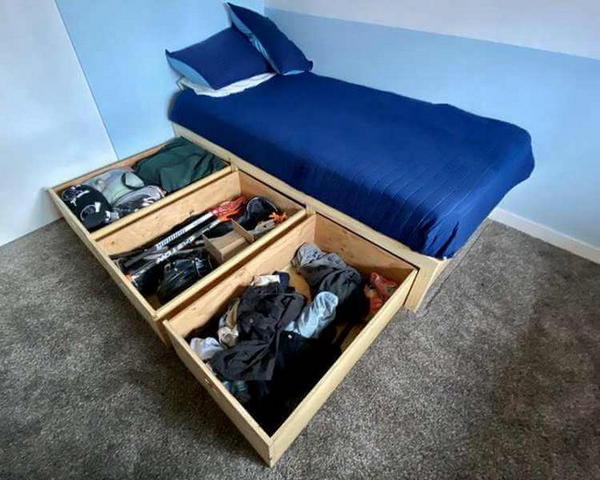 The first thing you will have to do is make a design of your bed storage. Depending on the design you choose, DIY it by making the parts for it. Invest in quality plywood to get a perfect finish and reduce the cost of your project. The cutting part is up to you as many tools are available which can help you make your project easier. This DIY storage bed is made from plywood, deck screw, wood glue, nailgun, hammer, cordless drill, and an orbital sander. In order to store things, you need to make the design of the bed storage you want. This DIY storage bed design is about building a storage bed for you. You can modify this plan as you see fit or make it as per your choice and taste. It will be fun to make and a great addition to your bedroom.
 DIY Bed With Storage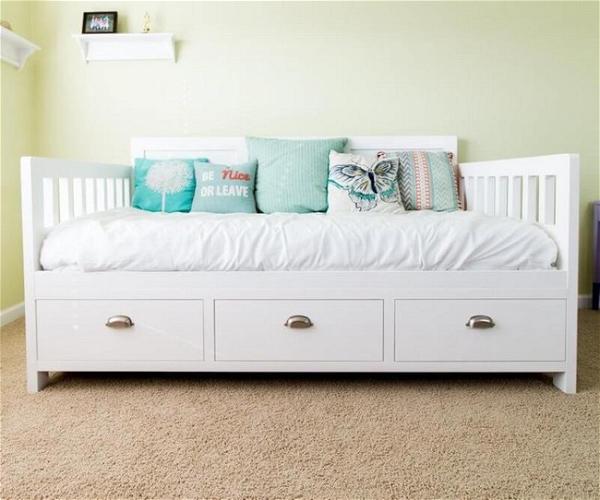 The DIY Bed with Storage is suitable for the kids in your family who are sleepovers at their friends' house or in a camper van. The drawers are built with plywood, MDF, and a trim router that can be used to store all their toiletries, clothes. Assemble the pieces following the instructions that come with the Kreg pocket holes jig and Circular saw. This DIY bed with storage will help you maximize your space in the bedroom, and store urgently needed things. This hack gives you ideas on easy and simple projects which will be easy to build at home. They are made from different materials, designs, and processes. The project will give not only an aesthetic look to your room but also good storage to store your blankets, apparel, and other stuff without making clutter in the house.
DIY Shelf Bed Storage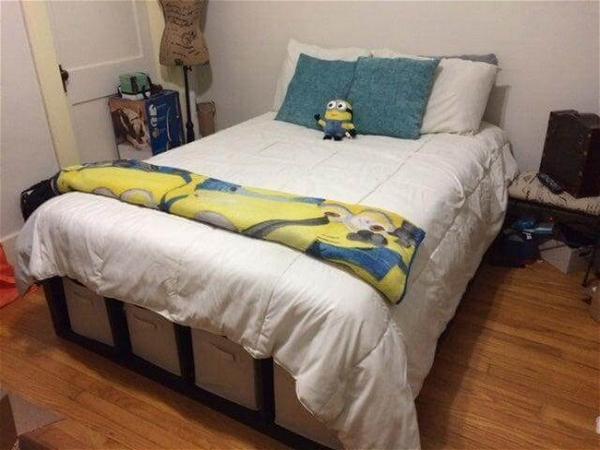 You are probably wondering what this DIY bed is about. If you are interested in buying a new bed, then you should think about getting a DIY bed that can offer you more than just comfort. This project's goal is to provide you with even greater freedom. One of the best things about this project is that it is pretty easy to do, and there are tools for it available for your most convenience. It is easy to make a DIY Shelf Bed Storage for your kid's room. It will be very fun for them and at the same time, you can use a bed that has its own storage. You can make a DIY shelf by using wooden cube supply holders or just buy it. Always remember to choose the safest material for the kid's activities.
DIY Bed With Storage
Build a bed with storage that is flat for sleeping and drawer space underneath to keep things out of the way. This design uses standard lumber sizes and can be made from readily available materials. It's designed to save space, keeping only what you need within reach. When the bed is in its highest position, you can get great access to the storage bins. The bed has a twin XL size mattress and there is enough space to store your belongings inside of the boxes. If you are going to make this, be sure to measure every part before you set out on this project so that you won't have any problems when you're executing it. This DIY project is ideal for a flat or apartment because the box can store all your stuff like sheets, clothing, some books, etc.
DIY Modern Platform With Storage
Start building your own DIY Modern Platform With Storage by drawing the dimension of each piece on a sheet of paper. Cut down the pieces and join them together using screws. If you want to complete it faster, add plywood sheets as the base of the bed platform with storage instead of using wooden boards. After completing it, start furnishing your room with some modern furniture to give it a beautiful look. With the dimension of each piece on the paper, you can easily make a modern bed with storage under the guest room in your house. But, please note that you have to be careful when you cut down the wood because if one side goes in the wrong direction, it will ruin everything. So, are you ready to have one?
DIY Storage Bed For Kids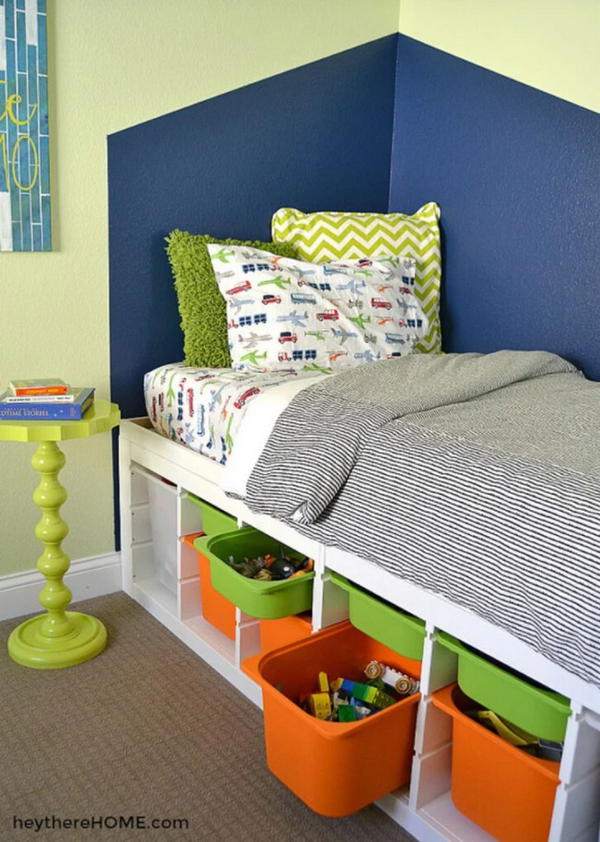 When you want to give your kids or a guest room a makeover choose the DIY storage bed. Constructed from spot-treated solid pine, this bed features a slat system and comes in your choice of finish. Start by building the bed platform, paint it, and then assemble it with the storage panel for desired comfort and convenience. A cool piece for everyday use to store away blankets, toys and clothes.
This DIY storage bed will complement any existing decor and is the perfect match for a kid's or teenager's room decor. The platform bed is made from wood, with a rainbow tone that is easily combined with any color palette. Build a twin bed for a young girl in your life that has all the elegance of a traditional furniture suite at an affordable price. This bed is designed to give your little one the biggest headboard in her bedroom and a look she will love.
DIY Bed With Storage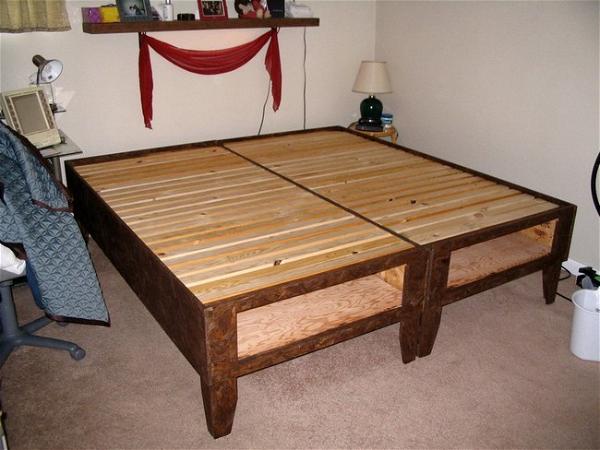 This DIY bed with storage is perfect for small apartments or rooms, especially if you want to keep your bedroom neat and clutter-free. It's also an easy way to add a bit of extra space to a room. All you need is some plywood and a screwdriver, which you can buy at any home improvement store. You can even paint the material in whatever color you like. Once you learn how to make a DIY bed with storage, you will never buy a new bedroom set again. This is an amazing bedroom set that works great for small spaces and can be customized easily. You need plywood, sandpaper, wood glue, wood screws, hinges, magnetic cabinet clasps, table saw, drill, and tape measure. Measure and cut the plywood into pieces, then secure them together with wood screws. Now stain everything and add some handles or knobs in the right places.
DIY Storage Bed
If you are looking for a space-saving solution for your room, this bed is a great idea. It is so easy to construct, anyone with basic woodworking skills will find the process a breeze. You can alter the measurements to fit your exact needs and requirements. There is no right or wrong way of constructing this bed but you should follow some basic safety rules to ensure that you don't get injured. The design on both sides of the bed is rather simple. With these pictures, two techniques will be presented to help you build it. The first method focuses the design only on the left and right ends. But the second method creates a symmetrical look on both ends.
Twin Bed Frame With Storage DIY
This twin bed frame with storage homemade is an easy DIY furniture project that makes a handy solution for your guests' belongings. Once it's complete, store your linens underneath, hang your guest's clothing in the storage boxes, and choose the drawer and hanging space for everyone to use. This twin-size loft bed frame is the perfect space-saving solution for loft bunk beds. Both beds can be stored under the upper bed with this design, and you will have tons of storage space to hide away clothes in the large drawer underneath the platform. Alternatively, you could store other household items on top of your loft beds by using storage bins. All of the materials used for this DIY loft bed project are readily available at Lowes and Home Depot. This should give you enough confidence to create your dream bed space for your kids or as a home office.
DIY Queen Bed With Storage
As an alternative, you could put a frame over the crates and cover it with plywood. Then place your mattress on top. It should be good just like that but if you want to fancy it up a little bit, you can paint the top white and use decorative fabric to cover the area underneath. As for storage, there are plenty of drawers or baskets placed around the bed. Prepare bountiful under-the-bed storage space with a full-size DIY Queen Bed with Storage. You need three crates, one upright and two cross crates. Then place plywood panels on them. Afterwards, put your new white Queen mattress on it and enjoy your newly decorated bedroom. Turn some wooden crates or create them by yourself into a luxurious-looking bed with an extra storage feature. Make your bedroom look like a dream with these amazing ideas. Happy decorating!
DIY Built-in Storage Bed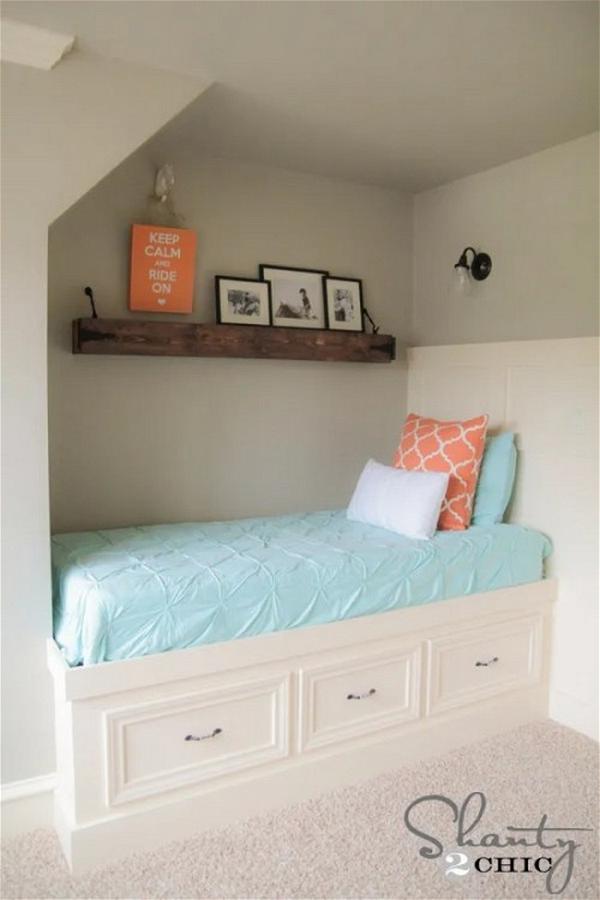 The DIY Built-In Storage Bed is designed to make storage easier in small bedrooms and apartments. The DIY storage system comes complete with everything you need to easily and quickly build a functional, lasting, and attractive storage bed for any young adult or teen. This DIY bunk bed will look great in your meager space and create valuable under-bed storage. When your home space is limited, the built-in bed will be one of the best investments you make. Not only can it save you money and time, but it can create more space in your home. This design will maximize storage potential while creating a contemporary setup that any guest would love to sleep in. This bed ships flat, so the only assembly required is screwing on the side panels and footboard. It includes all the necessary hardware, user manual, and support, as well as step-by-step instructions.
DIY Platform Bed With Storage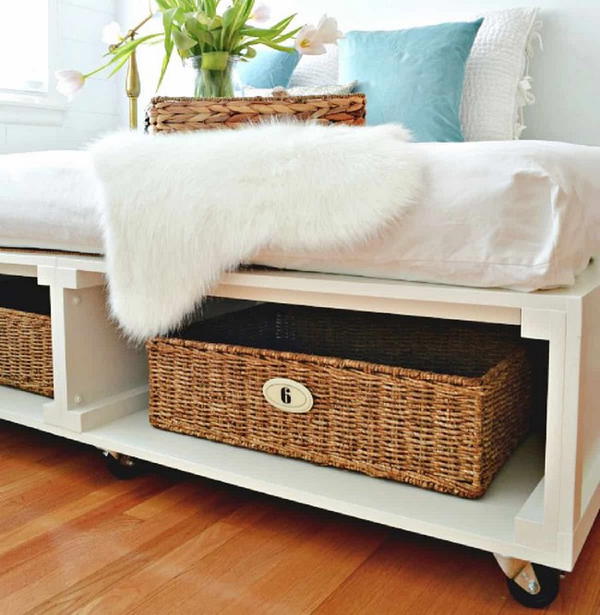 Introducing DIY platform bed with storage. Made from solid wood, it features an open scaffold design, giving you the extra storage space you need without sacrificing any floor space. Built-in storage is a great way to store away all your clutter, and the DIY platform bed is the perfect solution. Made from solid wood, this simple yet stylish piece of furniture will give your bedroom a more spacious feel. An open scaffold design, it gives you the required extra storage space. Made to last, enjoy your new bedframe today!. This bed features an open design and a sturdy frame, providing you with extra storage space and helping you keep your room organized. It's easy to put together, and very sturdy for added support. This is a simple but stylish piece of furniture that will transform your bedroom space.
See Other Projects