A monitor stand is a useful piece of furniture to have in your home or office. It can help raise the level of your monitor to eye level, which reduces eye strain. Monitor stands are also useful for clearing up desk space by allowing you to store other items underneath them. Monitor stands can be made out of many different materials and supplies, including wood, plastic, and cardboard. You can build a simple stand from one of the following 25 DIY Monitor Stand Projects with just a few pieces of wood, or you can create an elaborate one that has drawers and cupboards for storing computer accessories,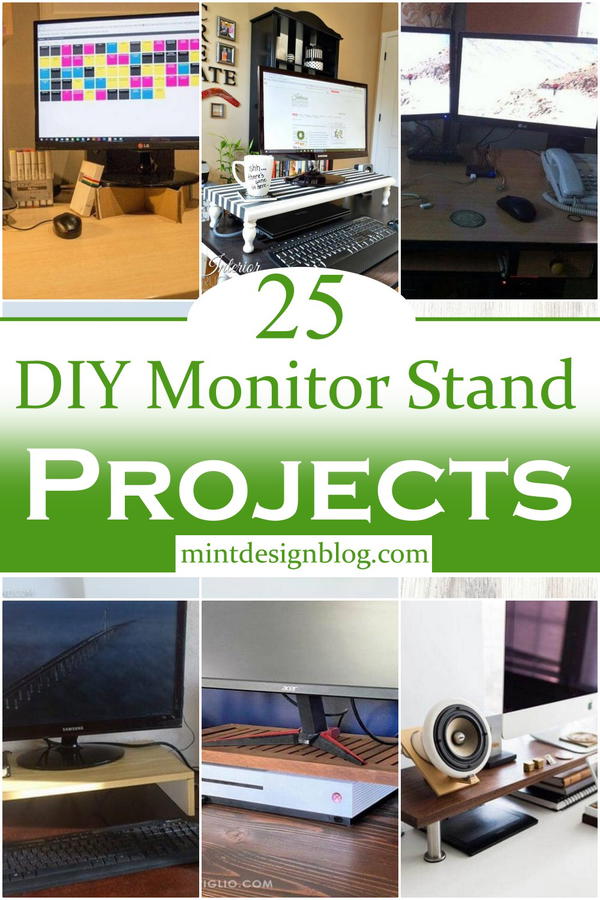 If you don't want to spend money on a new monitor stand, you can use items you already have around the house to elevate your computer screen. For example, you can stack books on top of one another or place your computer on top of storage boxes or crates. Below, you will find a compilation of monitor stands that you can make from home. There is a total number of 25 DIY monitor stand projects below. Go through the list, find your preferred stand, and start the building process.
The following 25 DIY monitor stand ideas will help you build your own monitor stand or use items that are already around your house.
What are the uses of DIY monitor stands?
They raise your monitor to eye level, so you don't strain your eyes, back, and neck
The stand gives you more desk space.
They can double as a charging station for your phone, tablet, or other portable devices
One of the most common uses for DIY monitor stands is as a way to keep your desktop computer off the floor and out of harm's way. This can be a much more cost-effective solution than buying an expensive desk that has a built-in monitor stand, especially if you're new to DIY projects or are just trying to save money.
Another common use is as a way to turn your laptop or tablet into a desktop computer by adding additional monitors. You can add multiple monitors to one stand so that you have multiple screens at different heights at the same time, which can be extremely useful when working with large amounts of data. These types of stands are also great for gamers who need extra screen space without having to buy a second computer!
The last common use is as a way to create an ergonomic workspace in which all of your work materials are close together and easily accessible. By mounting your monitors on top of each other instead of next to each other (as they are typically designed), you'll be able to use both hands comfortably while typing away on your keyboard without having them cramp up from constantly reaching over one another.
Tips To DIY Monitor Stands
If you're finding it difficult to find a monitor stand that fits your monitor, don't worry! You can DIY your own. Here are some tips to get you started:
 A monitor stand should be sturdy and stable, so it should be made from wood or other durable material
You should use a piece of wood that is cut to size to fit your monitor
The stand will have four legs, so you need to measure how long each leg needs to be for stability
Use a drill to make holes in the wood for the screws that will go into place on top of the stand with two more holes underneath where each screw goes through from above and below
Once all four legs are secured together at their bases, you can then use a glue gun or hot glue sticks to attach them together at an angle so that they're angled outwards rather than straight up like standard table legs would be.
Now you've got yourself an awesome new DIY monitor stand!
How To Build A DIY Monitor Desk Stand
This monitor stand is an incredibly easy project to build and will be perfect for those desk setups that need a finishing touch. Don't settle for flimsy plastic stands or mount your monitor to your desk, this oak monitor stand allows you to change out the shelf to meet your needs. If you have itchy feet and want to type away while watching your favorite show, you will want to build this DIY monitor desk stand. Extremely functional and ergonomic with an integrated shelf for convenience.
DIY Simple Monitor Stand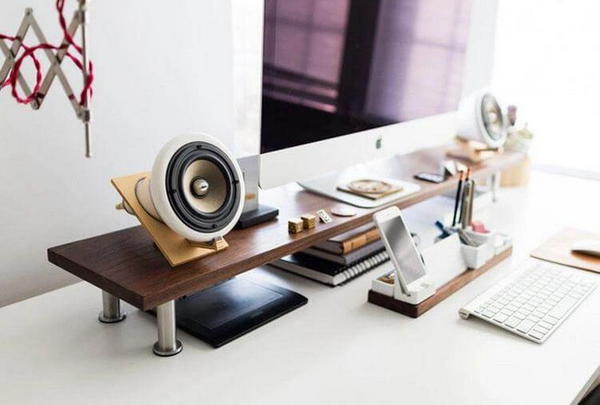 Turn an unused corner of your desk into a prime spot for your monitor. Customize your desk space with this DIY monitor stand. Use simple tools to connect the walnut wood monitor stand to capital leg brackets, and enjoy the cool look of a homemade computer accessory. With this build-it-yourself monitor stand, you can create your own unique workspace, even when you're on a budget or have limited space. This DIY monitor stand is the perfect addition to your workstation and doesn't require any complicated tools or skills to make.
DIY Monitor Stand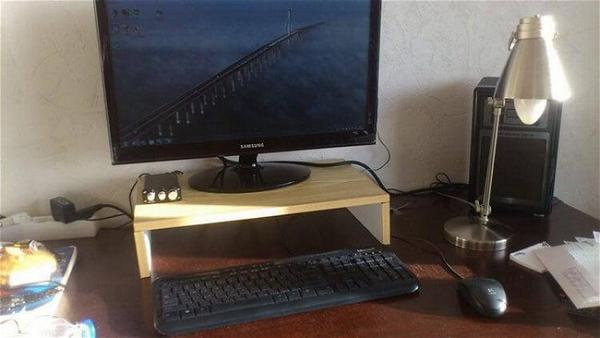 Impress your friends with a beautiful DIY monitor stand! The DIY is easy; all you need are proper tools to achieve a professional-looking piece of furniture. After cutting wood and fixing dowels into the holes, you will successfully have an awesome-looking stand. Building your own monitor stand for your computer is not a difficult task. It's quite interesting and even if your woodworking knowledge is very limited. Build a stylish and functional monitor stand to accommodate your computer monitor better.
DIY Cardboard Monitor Stand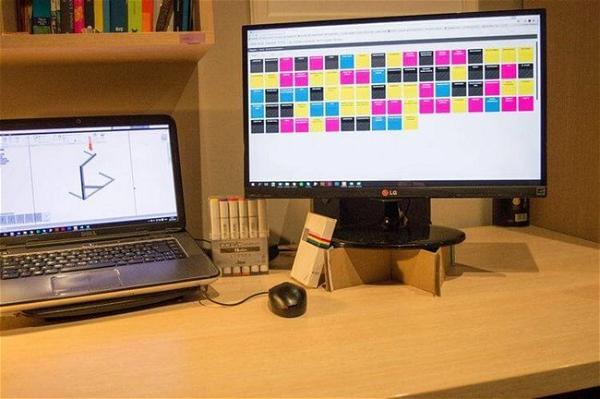 Get rid of neck pain by raising the level of your monitor with this DIY cardboard monitor stand. It's easy to make—just use the lid of a cardboard box and cut out long and short strips. Assemble the strips into a cross and add the balance to the base. The angle depends on your desired monitor placement. Sit back, relax, and say goodbye to tiredness! This is a perfectly simple way to make your own monitor stand. You won't even have to leave the house because you can use cardboard from previous deliveries.
DIY Smart Monitor Stand
This DIY Monitor Stand project gives you the tools and plans needed to create a beautiful wooden monitor stand that also conveniently adds extra outlets for your desk. The result is a well-crafted and sturdy piece of furniture that can give your desk a pop of color, or blend in seamlessly with your decor. All you need is a wooden board, a USB hub, and a jigsaw and you can build this monitor stand yourself. See how we put all the parts together into this elegant painted wooden stand with USB ports.
How To Build A Monitor Stand For Less Than $50
There are many monitors stands to choose from but if you want the cheapest one then you should check this desk shelf. With $50, you can build a new stand to place your monitor. It's easy and cheap so it's perfect if you have a tight budget. You don't need to drop a lot of cash to get a good-looking desk shelf. The walnut desk shelf will help you display your desk accessories in style and keep them neatly organized at the same time.
DIY Cheap Wood Monitor Stand
Have you ever had a hard time viewing your laptop or monitor because it's sitting too low on your desk? Try making your own wooden DIY monitor stand. Get the whole family involved, and you can all save $$ on store-bought stands. Plus, this DIY project is easy, requires minimal supplies, and takes under an hour to build. This stand is great for all ages, from children who are learning to use computers in school, to parents who need their workstations elevated so they can work from home. The possibilities are endless!
DIY Walnut Monitor Stand
With the DIY walnut monitor stand from Pimaxlife, you can proudly display your monitor like a piece of furniture rather than an accessory to a desk. This elegant stand has an overstated waterfall-shaped appearance with mitered corner and shelf held in place with mortise and tenon joinery. Monitors are just one of the many electronic devices that need a stable home. Bring a fresh, modern look to your office, or simply organize your workspace with this DIY walnut monitor stand.
DIY IKEA Desktop Monitor Stand
Beautiful, sustainable, and cost-effective IKEA monitor stand. A much better alternative to those heavy monitor stands that are too costly and occupy a lot of space in the office. All you need is an IKEA Fredrick, and IKEA capita legs. Then place the feet on corners of the shelf accurately, mark holes and pre-drill then secure with screws. Congratulations, you just create a new creative and free space working table, mount your monitor and get to work. Once you're done putting it together, you can mount your monitor and start enjoying even more space on your desk!
DIY Dual Screen Monitor Stand
Organize your desk with the DIY Dual Screen Monitor Stand. This monitor stand will help you maintain order on your desk by achieving a clutter-free work environment. Its design features a PVC pipe to hold two monitors or even your laptop and computer in one stand. Its customizable characteristics afford you the ability to adjust the height of your screens to reduce eye strain, neck pain, and back pain from overexertion from having a bad posture while using your computer.
DIY Monitor Stand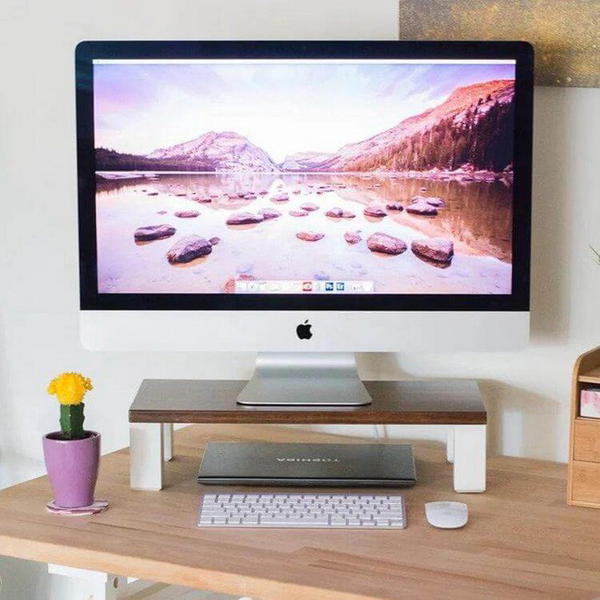 Want to improve your workspace? Add a little personality to it with a DIY monitor stand. It's a simple project, and your supplies are readily available at most hardware stores. A comfortable work desk is essential to a productive workspace. With this Monitor Stand, you can organize your workspace like a pro! No more fumbling through drawers. This simple design makes it easy to get everything right where you need it and includes a generous worktop for storage. It's a great DIY project if you've got some free time on your hands. Just add wood, stain, and get sanding!
DIY Vented Monitor Stand
Here are the supplies you will need to make a monitor stand: Here's a simple monitor stand that allows you to free up your desk or workstation to have a more organized or spacious feel, and is great for the home office or in the shop. It's easy to make your own. You can do this yourself! The supplies come from the DIY store and you assemble the monitor table in a few minutes. Your monitor will sit at eye level for improved focus, and it is ready for your use in about 20 minutes.
DIY Smart Monitor Stand
If you have a cluttered desk, it's time to get organized. This DIY project will show you how to make a smart stand for your monitor, which creates much more storage space than the simple monitor stand that comes with most office desks. With just a few tools and supplies, you can build this useful piece of desk furniture to help keep your home office organized. Never stumble over wires and power cords again with this monitor stand that includes enough room to tuck them all away. Raise your monitor to a healthy height, creating a more ergonomic workspace.
Smart Monitor Stand DIY
If you want to store all your necessary accessories in one place, use this smart monitor stand. It has a space created for a USB hub and it is also possible to install another space for memory in your computer and have enough space to keep other stuff. This way, you don't have to dig through your trash bin for something you need. This smart monitor stand was created to keep the wires sorted and prevent them from cluttering the desktop. The legs are assembled with adjustable screws, allowing you to increase or decrease their height according to your needs.
DIY Monitor Stand And Desk Shelf
Here is a monitor stand and shelf that you can use to set up your work desk organically. But, before you begin working on your project, make sure you know basic carpentry skills in order to complete the task. This is a DIY monitor stand and desk shelf or drawer you can make. You just need the necessary tools to get this done even if you don't have basic carpentry skills but ensure that you have some because you'll learn a lot and have fun working on this project.
DIY Computer Monitor Stand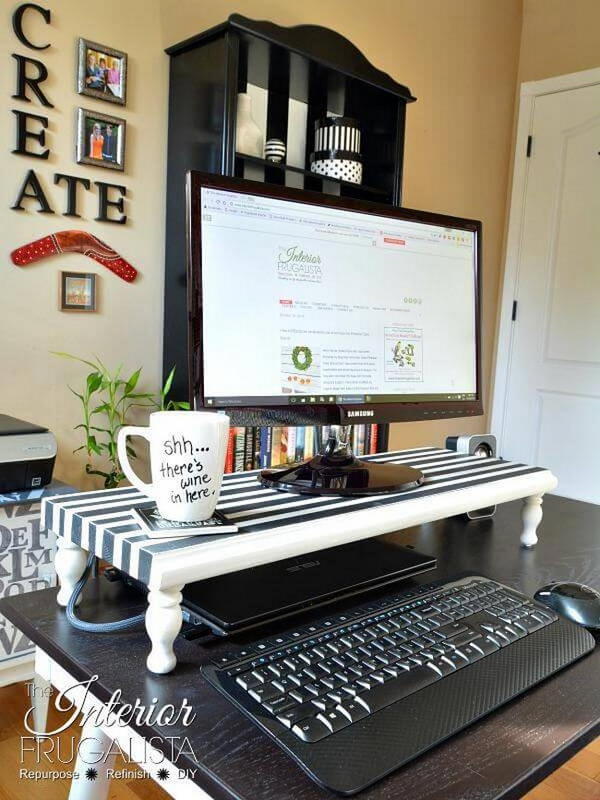 Do you have unused furniture lying around that's taking up space? This simple project is not just a monitor stand but also serves as a footrest with a purpose! Rather than seeing the scraps of your unused furniture lying around, you can transform them into beautiful pieces to add to your home decor. This project is created to add aesthetics to your home in addition to functionality. Your friends or guests will be impressed when they visit you and see this classy monitor stand.
$20 DIY Monitor Stand
Rising to a height of 22.25", this DIY Monitor Stand is built out of a single sheet of plywood and incorporates a convenient pull-out drawer feature. The stand will comfortably accommodate a 21" monitor or TV, while still being small enough to fit on most desks. Made of just wood and gutter mesh, the stand can be made for just $20 in a few hours with the help of a drill/driver, hammer, and tin snips. This is a DIY for a simple monitor stand built from wood and a few other pieces. The wood will be stained, scraped, and sanded to give it the rustic look.
How To Make A Monitor Stand
Building a monitor stand is an easy process that takes little time and money. Whether you're a DIYer or just like working with wood, it's a fun project to take on. You can make a nice-looking monitor stand in a little amount of time. All you need is a few wooden pieces and a stain. Balsa wood is one of the most desired woods for model making because of its lightweight and strength. Using relief cuts, you can set any piece of wood in 3D space without breaking it.
DIY Wooden Monitor Stand
This homemade wooden monitor stand can be very practical to place your PC or monitor. The design of this DIY wooden monitor stand is pretty simple and you can try it by yourself. The most important part is to save your budget by doing it yourself and don't forget to have fun. This DIY wooden monitor stand is practical and cost-effective. It features a slim body frame, cable outlet, and rear VESA mount holes. You can assemble the parts together easily, and you can now place your screen anywhere in your room. This wood computer stand and wall mount monitor bracket is an ideal solution for home entertainment or desktop use.
DIY Monitor Stand From Wood
Building your own desktop stand is an awesome way to store your gears and keep them handy while working. With this guide, you can build a simple, basic wooden stand in no time at all. This DIY monitor stand has a slim and sleek design, which helps save on desk space in your home or office. The best part of this project is, that you don't need much woodworking experience to build it. So anyone who decides to take on this project should have the know-how to operate a power drill and saw, along with access to a few different types of glue.
DIY Desk Monitor Stand With Shelf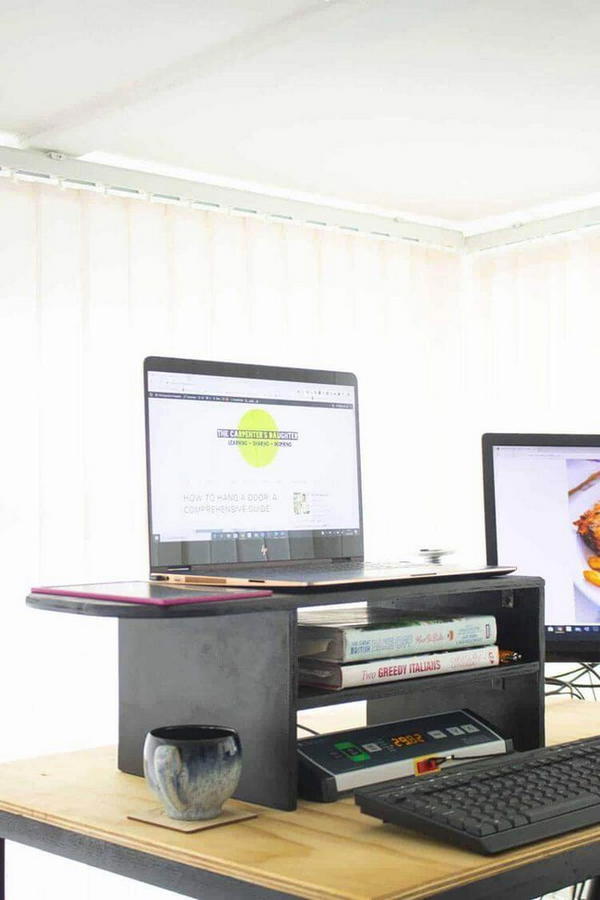 You want the best possible video quality coming from your flat-screen television, but having the TV sitting directly on your desk can be hard on your eyes. A monitor stand like this makes it easier to watch and position your display in order to avoid eye strain at a variety of different heights. This DIY desk monitor stand has a shelf at the bottom to put a coffee cup or your mobile device and it can accommodate 30-32" LCD monitors. Let's get right to it with some instructions
DIY Laptop Or Monitor Stand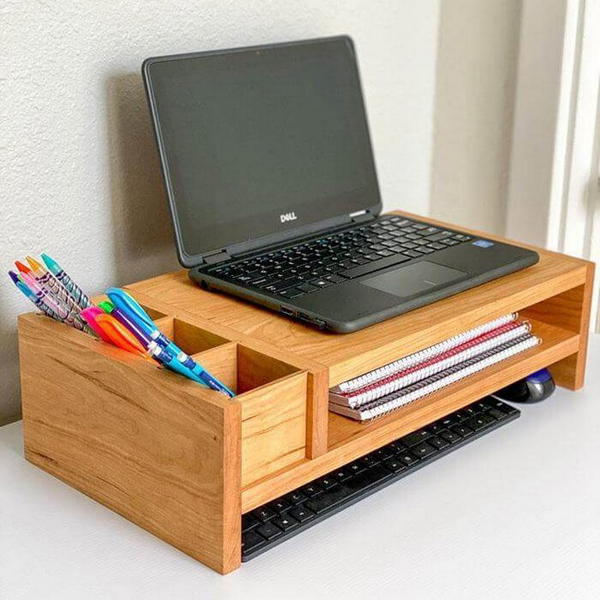 You can customize this monitor stand and make it according to your own personal preferences and needs. In a few steps, you can make your very own monitor stand, which you can use for your computer monitor or laptop. You have the freedom to choose the best paint or design that you want on your monitor stand. Just prepare your wood boards, paint or stain, glue, and screws and in no time you can create your affordable yet good-looking monitor stand.
DIY Simple Monitor Stand
Do you have small spaces on the desk and don't have any more room for it to hold your monitor? Then this DIY Laptop or Monitor Stand is good for you. It is also ideal for when you want to sit properly while using your laptop. This cheap monitor stand will help you keep a clutter-free work table. It is made of plywood. It is simple but useful. You can add up the parts to this if you have carpentry skills. It is great for desk surfaces and your laptop too.
DIY Space-Saving Monitor Stand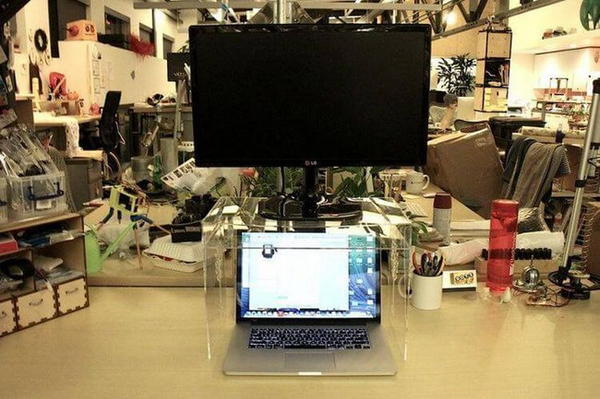 Design your own workstation with this simple but efficient space-saving monitor stand, created from a sheet of high-quality acrylic and a couple of Command wire hooks. Made to fit with the most common-sized monitors, this stand can save you valuable desktop space, allowing you to place much more on it without worrying about running out of room. Don't pay top dollar for pre-made models when this solution is much cheaper and just as easy to make.
DIY Mucem Monitor Stand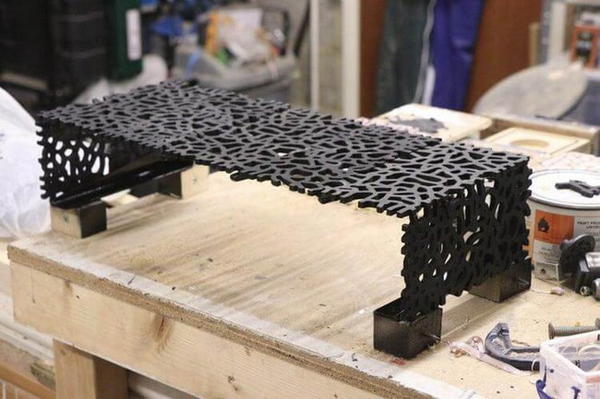 This old-fashioned monitor stand is perfect for your gaming desktop, home office, or general office use. This DIY project only takes a few hours with the right tools, material, and assembly instruction. Adjustable height with useful cutouts makes placing your keyboard on top of it very convenient. Even simple, but will not make any concessions to the product itself because of its beauty and practicality. The product is produced by hand manufacturing, after the assembly into a complete product from the original parts of each component.
See Other Projects