Laundry hampers are an essential item in any home, but they can get expensive. And if you have a large family, you may need more than one or two hampers to keep up with the laundry. Buying them all is probably not a good option, especially if you want different ones for each family member. The good news is there is plenty of DIY laundry hamper ideas out there. You can make your own laundry hamper using things like old baskets, boxes, and crates. They're easy to make, and the possibilities are endless. You can also make them in any size or shape that you want. This means that you have complete control over how many you need to fit in your space and how many people you need to accommodate.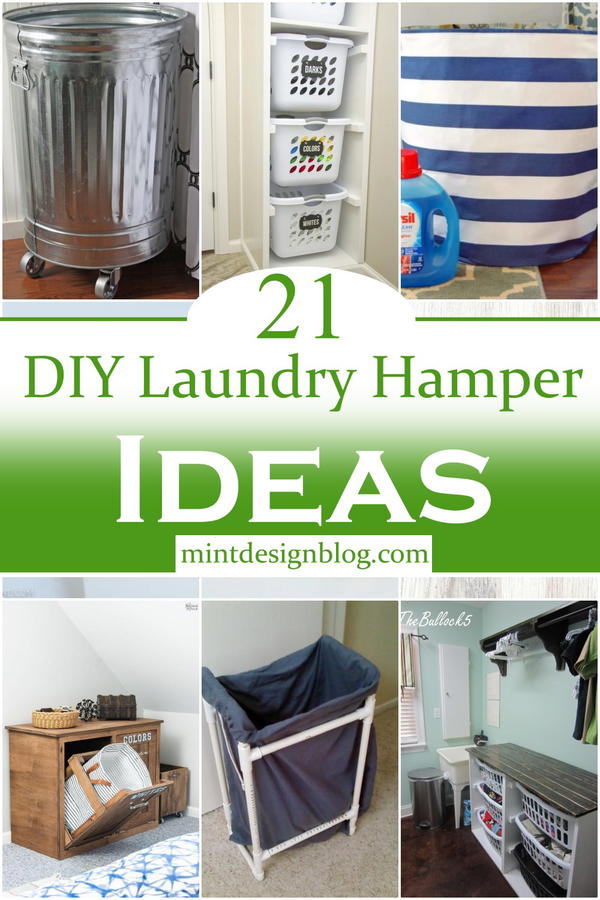 You can use a laundry basket or hamper for more than just throwing dirty clothes in. Instead, see these 21 DIY laundries hamper ideas that will help you to create a stylish solution for your laundry needs. These laundry hampers would help you to put your favorite clothes in order. The best thing about them is that you can easily make one for yourself or your family. They are the perfect way of teaching your kids how to keep their clothes in order. They are so simple, and they can be made in various styles and designs depending on what you need.
These 21 DIY laundry hampers will give you all the inspiration you need so you can get organized and upgrade your space at the same time.
DIY Industrial-Style Laundry Hamper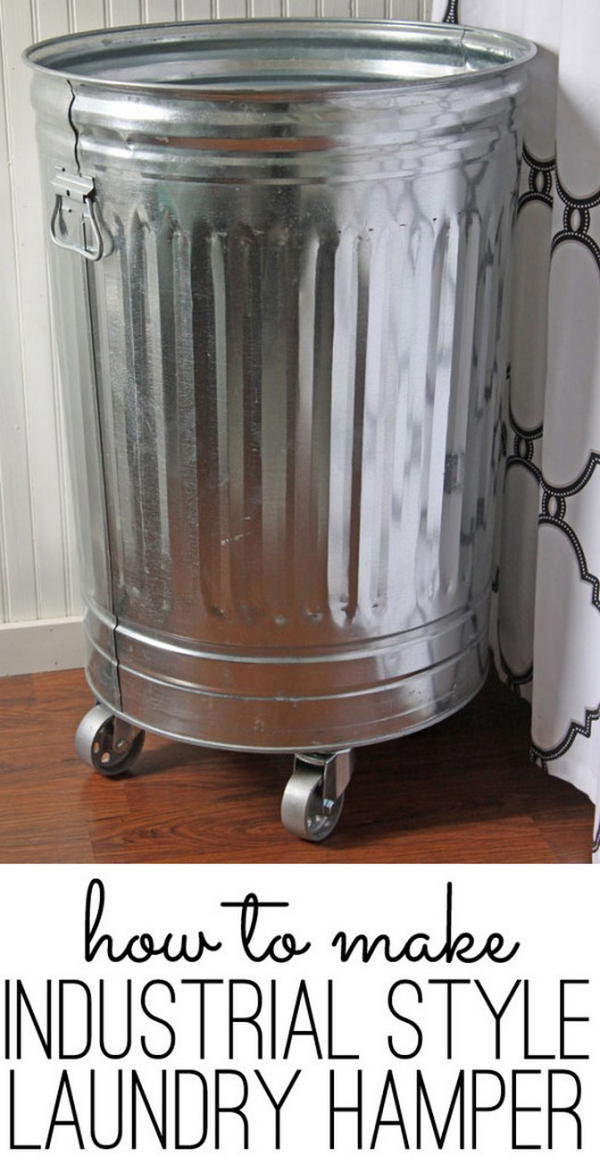 If you have a laundry room or any commercial space where much clothing is needed, you may want this barrel industrial-style laundry hamper. It can be made easily to save money and time shopping for one. Poles and stains are used in making this hamper more beautiful and elegant. Use your creativity to develop a DIY laundry hamper that's super stylish yet functional and affordable. You can even use the under-bed storage containers to hold all of your laundry detergent and fabric softener, so they're out of sight! This way, all you'll see is beautiful, clean clothes.
DIY Washable Laundry Hamper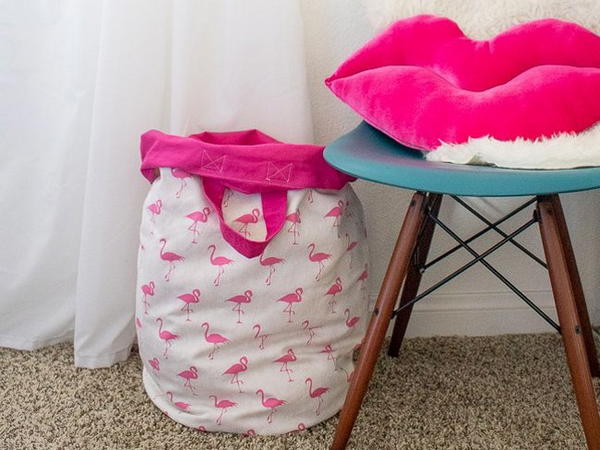 Surely, it is too hard to bring the laundry basket full of dirty clothes empty-handed. As well as too tiring to carry it full of dirty clothes back and forth in a few hours. It will do you good when coming up with DIY Washable Laundry Hamper as your solution. This Do-It-Yourself project requires sewing but is fun and crowd-pleasing. Plus, it will be more fun when choosing your favorite fabrics for a striking contrast. It does not need anything more but the cloth you like, scissors, threads, and basic sewing tools.
DIY Laundry Basket
 This easy crafts project is fun and great for kids - it's also a cheap alternative to an expensive laundry hamper. Why spend money when you can create something yourself? This super simple DIY Laundry Basket is literally a piece of cake to make! It's just a wire hanger, shirt sleeves, and a bucket! Hangers are definitely the ultimate recycling project. Instead of throwing them away, turn them into useful items like a laundry basket, coat racks, or even garden tools. They come in all shapes and sizes and you can use them for almost anything- what will you create?
Laundry Dresser Folding Area And Hanging Shelf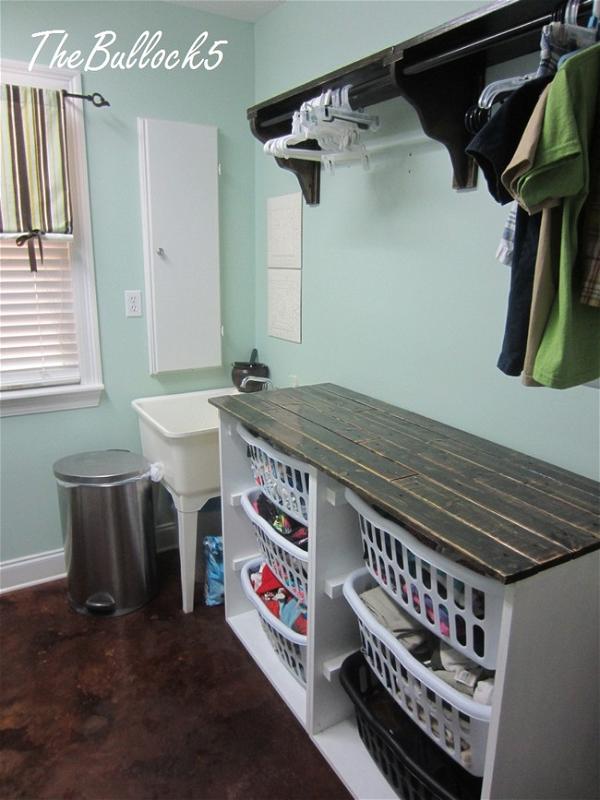 This dresser is made to be functional and puts your laundry essentials within easy reach. Its adjustable shelf drops down out of the way when not in use; a generous basket below holds washcloths and towels. The built-in hanger boasts handy shelves for storage. And this dresser includes a space-saving utility drawer (which holds vacuum and sewing supplies) and a special drawer for storing hanging shirts—perfect for closets that lack a lot of storage.
DIY Laundry Basket Organizer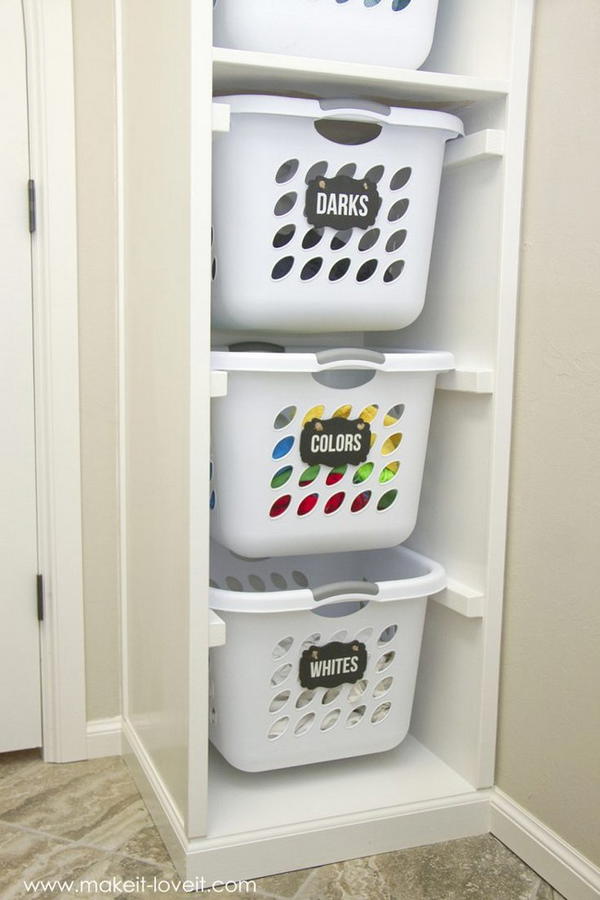 Have a place for everything and everything in its place. Easily keep up with toys, laundry, and anything else you have stored in large, plastic laundry baskets by building your own DIY Laundry Basket Organizer. Made from wood planks and boards, it features shelves on the sides that make getting items out of the basket a breeze. It's so easy to organize your laundry room while making it more functional! Get your baskets up off the floor and out of the way by building a Laundry Basket Organizer in one afternoon. The possibilities are absolutely ENDLESS with this project. You can customize it however you want or need and make it pretty, too!
DIY Tilt-Out Laundry Hamper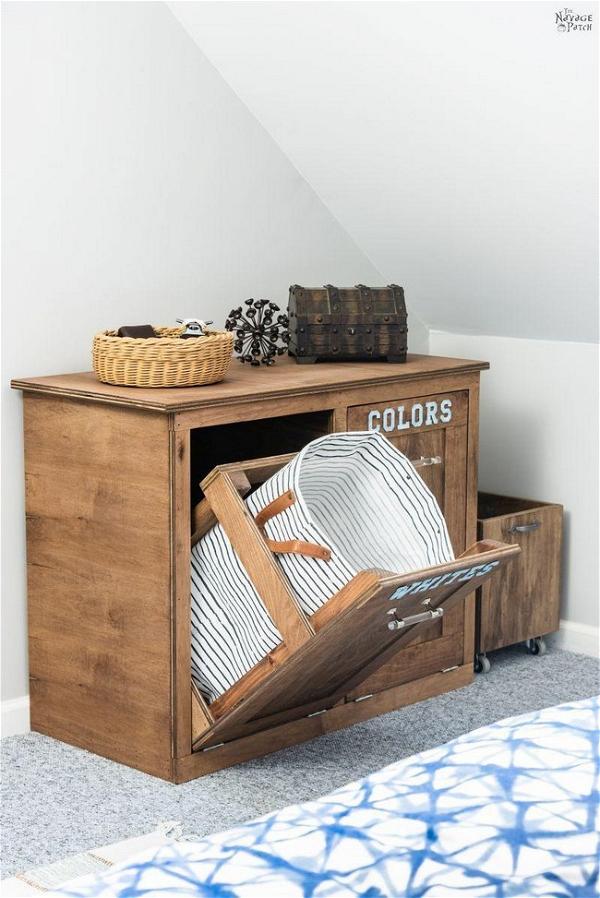 Are you looking for a way to hide your dirty laundry? No problem. This DIY tilt-out laundry hamper is simple to build and easy to use. This project will be close to free since most of the supplies come from an old cabinet. It is a perfect addition to any bedroom or bathroom for a quick and easy way to store dirty clothes. This budget-friendly project only takes about two hours from start to finish. DIY Tilt-Out Laundry Hamper is not very hard at all. You will need a circular saw and drill hole for this project.
DIY Laundry Hamper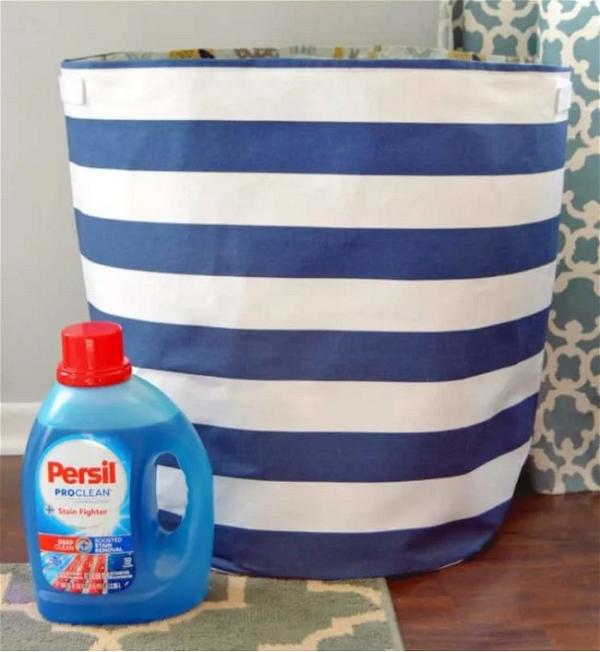 Let's make DIY Laundry Hamper for the dorm. It is easy to make with your own hands. In this tutorial, you can learn how to sew a big laundry hamper. You need not necessarily have sewing skills to make out this project since it is very easy and simple. You can choose any fabric to create the hamper. The most important point is the ironing work because the piled fabrics will make a mess if you don't iron them well. This hamper can store dirty clothes, towels, and another laundry. The cotton fabric is breathable and soft, which gives the hamper a nice comfortable touch especially when you are putting your clothes into it at night.
DIY Copper Pipe Laundry Hamper
Use your creativity, simplicity, and DIY skills to make this attractive and practical laundry hamper from copper pipes. Create a beautiful and long-lasting home decor piece that will be admired by every member of your family. It might take time and effort, but the results will amaze you! It can help you clean up the mess in your bathroom and create a relaxed and enjoyable atmosphere. They don't cost a fortune and are easy to build with basic skills.
DIY Custom Laundry Hamper
This DIY Custom Laundry Hamper will beautify your bedroom with the right look and functional use. It is made using pine board, so you don't have to spend much money on expensive wood. The instructions are easy to follow and you can assemble them within one day. This hamper can hold clothes, towels, and covers. It will make your room look great, especially during laundry day. This project is easy to make and it only takes 4-5 hours to complete. It works best with pine boards which are easy to find in any home improvement store. Enjoy!
5. PVC Pipe Frame Laundry Hamper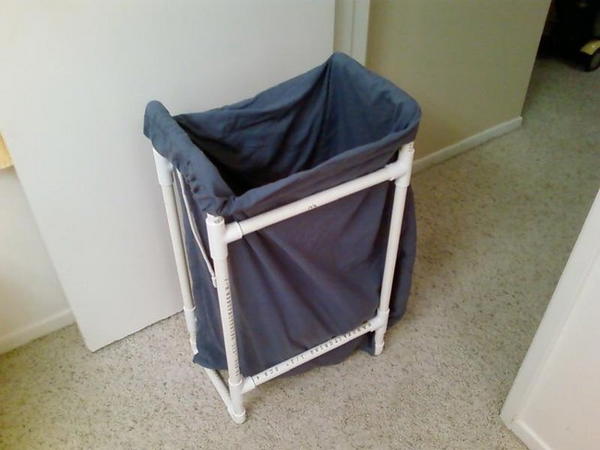 What's so special about PVC Pipe Frame Laundry Hamper? It is a multifunctional, versatile and aesthetic piece. It can make without spending too much money and is one of the easy DIY projects that you can complete within a shorter time. If the laundry hamper gets dirty, all you have to do is take it outside and hose it off. When you do not need it anymore, you can disassemble the whole thing and store it! It is a fun weekend project that will help you transform an ordinary task into an opportunity to turn ordinary materials into something useful and stylish.
6. How To Build A Wood Hamper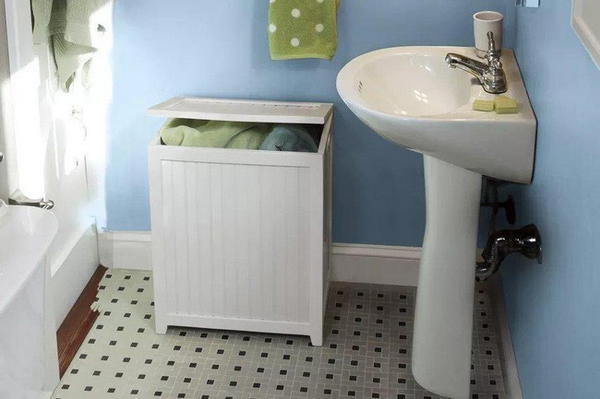 This particular wood hamper is a great weekend project. It requires some simple tools such as a drill, saw, and a handful of screws to complete. This makes it easy to use even in the middle of household chores. The materials used are readily available everywhere, so they can be purchased without any hassle. After building this project, you should feel proud because you've applied your skills by using a saw and a drill to create something great. This will then help you build other pieces that may be more complicated than this one.
7. DIY Laundry Basket From Old Cloth
Now, you can make your own Laundry Basket from Old Cloth! First, take an old cloth and trace a big circle on the foam materials. Cut out the circle. Then wrap up the circle with another piece of foam to mark out the size of the hamper. Take this to the sewing machine and sew both edges. Finish by wrapping another piece of cloth around and sewing both edges. The sturdiness of this laundry basket will depend on how many layers you use for it.
8. How To Make A Laundry Basket From Cardboard
You can make this simple woolen rope basket on your own at home. This is a
creative basket
made from cardboard and woolen rope. It looks nice and serves the purpose well. You can store your clothes in it, or use it to store other things. It will surely catch many eyes, so be ready to make some more once people come asking for one! You just need two or three pieces of cardboard and woolen rope to make your laundry basket.
PVC Pipe Laundry Hamper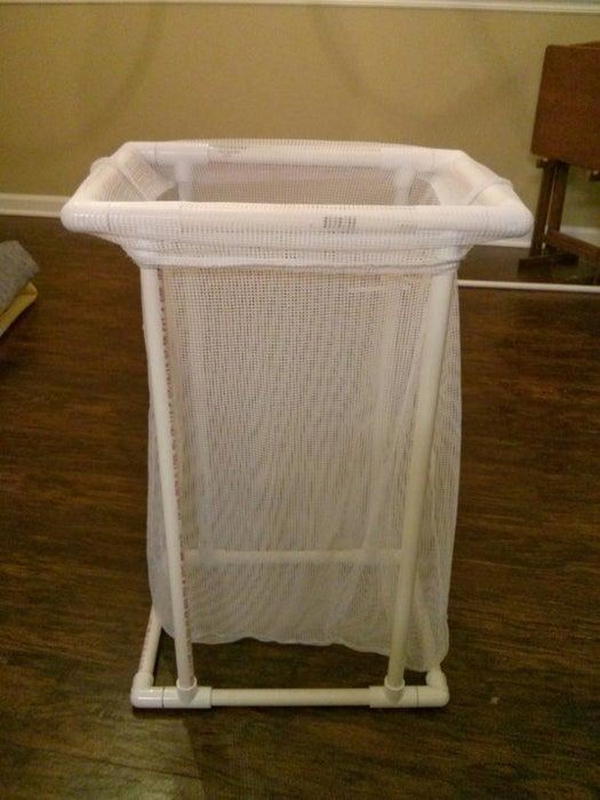 Just follow the tutorial to be able to make a PVC pipe laundry hamper without sewing and painting. It is a very space-efficient way to organize your laundry; also, it's very cost-effective. This is a perfect project to help keep you organized. After cutting the PVC pipe, no tools are required to assemble this PVC pipe laundry hamper. The legs are installed at the bottom of the frame and spread into place, while the dowels on the legs provide sure footing so that it stands without wobbling. Cut a piece of laundry bag and fit it inside. It is easy to mount and can be taken down as needed.
DIY Laundry Hamper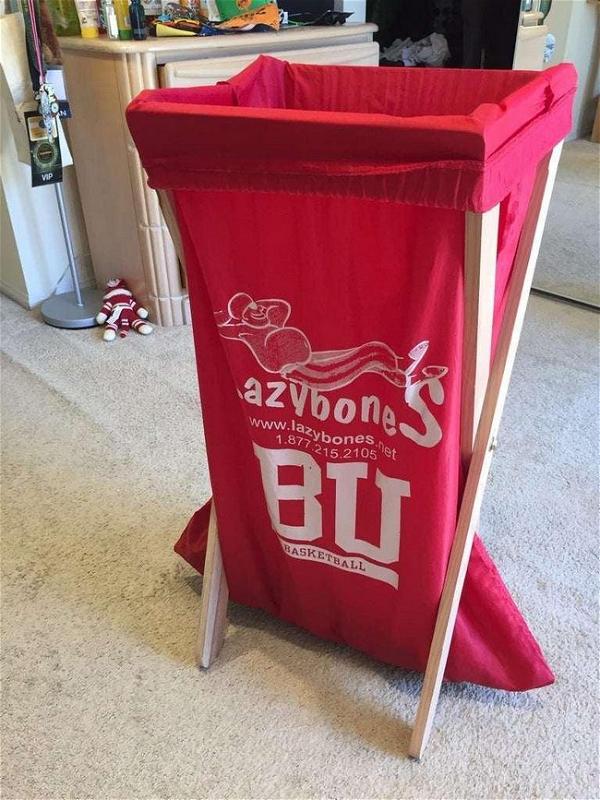 Nothing can be more fun and satisfying than building this DIY laundry hamper from the wood you cut. This woodcraft furniture project is not difficult to do if you have some basic skills and tools. Follow the instructions in the video to build this mesmerizing laundry hamper for your home that can hold and store your clothes, linens, supplies, and even other small items at ease. This project is super simple and gives you a quick solution to keep your dirty laundry in place. The legs are adjustable in height for those shorties or tall.
DIY Vintage Style Laundry Hamper
This DIY Vintage Style Laundry Hamper is more than just an ordinary hamper. It is a decorative object with a vintage look that your family and guests are sure to appreciate. Whether you choose to stain it to a certain color or let the galvanized wire take center stage, you can customize this handmade piece to fit into any interior design scheme. Its round shape makes it easy to move, while the caster wheels make it easy to access the items inside. Once you have assembled it, simply throw in dirty laundry and keep it fresh for your next laundry day.
12. DIY Hanging Laundry Hamper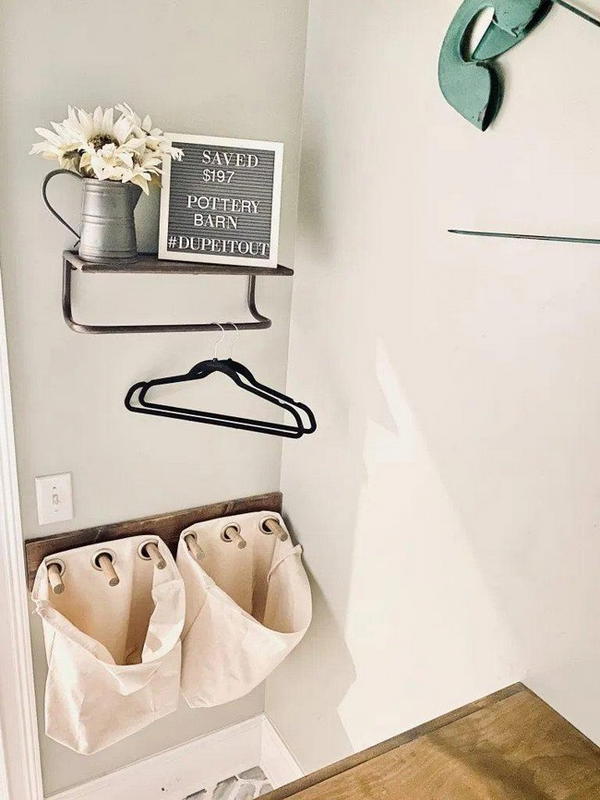 Wall-mounted laundry hamper is the best solution if you are renting your apartment, have limited closet space, or need a handy hamper for another room in your house. Hang the wall-mounted laundry hamper on a pegboard above the washing machine and you can always keep it clean. Fasten wood pegs to a large wooden dowel glued to the other end and make notches for attachment of the holder for a small sheet, towel, or bag. Add grommets with an eyelet kit and hang your laundry bag inside on the dowel.
DIY Laundry Basket With Wheels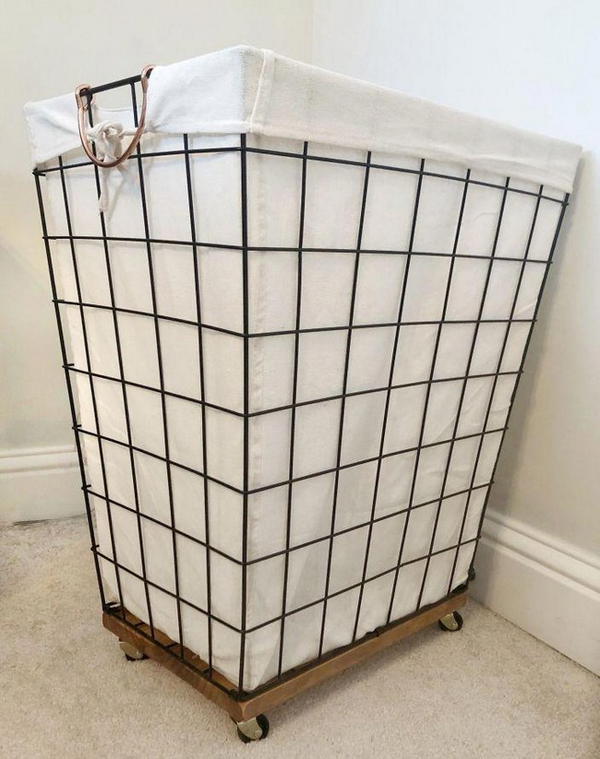 A laundry basket with wheels takes the hassle out of a heavy laundry load. The DIY project is easy to put together, and all you need is a wire basket, laundry bag, and four caster wheels. Take the stress out of laundry day with this very handy DIY Laundry Basket With Wheels. This project makes light work of your laundry and will no doubt save you money – the caster wheels provide an easy way to get bulky laundry baskets around, which means you don't need to carry them! Simply place your dirty washing into the basket, pull along behind you or use it as a dolly to move large loads.
DIY Newspaper Laundry Basket
Making a newspaper laundry basket is one of the most time-consuming routines at home. To make your life easier, why not try this simple technique? It's easy to do, and you can see meaningful results in a short time! The baskets are made from recycled newspapers and can be painted to match your decor, or left natural so you can find them in a hurry. You can mix up the plaids and stripes or try making a basket the same color as your laundry area. This project is great for kids, but adults should handle the adhesives and paint.
DIY Vintage-Style Laundry Hamper
This roomy hamper is perfect for whenever you need to haul dirty laundry to the laundry room and can be easily folded flat when not in use. Use it in your master bedroom, or as a super-stylish way to store clothes in the kids' rooms. This DIY project is surprisingly easy to make! You are going to need one board that is long enough to make the size of your hamper. If you do not have a longboard, you can remove the top portion of a stool or any other furniture in the house and remove the board in use there. You will also need two smaller-sized wooden boards, two galvanized wire mesh pieces, and ultimately a king-size pillowcase.
16. Laundry Basket DIY
Having a spacious laundry basket is beneficial for most people. The ideal laundry basket is easy to carry, lightweight, and foldable. With this DIY project, you will have a spacious basket that can be hung up or placed on the floor. Made of navy stripe linen, this basket's outside can be easily cleaned and its surface treated with water repellent. Plus, it is eco-friendly by using linen for sewing. Unique, decorative, and easy to make, it can serve as a great gift for new moms looking for something modern.