A new phone stand on your desk is not only cool but also very useful. A phone stand will keep your phone safe from accidental spills or coffee drops and it will also lift your phone higher for easier video calls. If you have ever been in the middle of watching a video and needed to use your hands for something else, you know that it can be difficult to find a way to prop your phone up. Sure, you could simply balance it against something on your kitchen counter or desk, but that is hardly the most sophisticated method. It is time to quit being lazy and make yourself a phone stand! These 24 DIY Phone Stand Plans are perfect for both adults and kids, so go ahead and get crafting!
DIY Phone Stand Ideas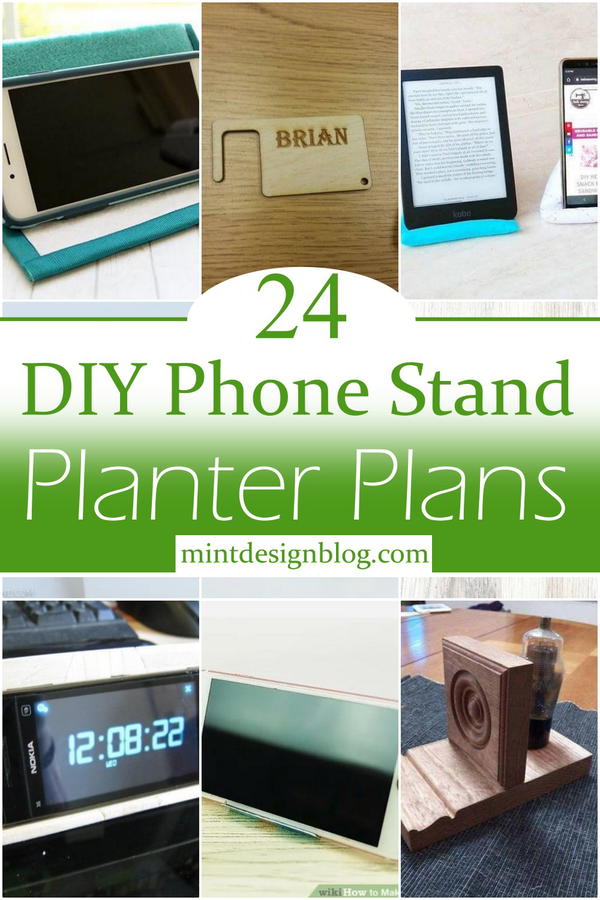 Phone stands are perfect for any home, office, or commercial space. You can easily create one from the following 24 DIY Phone stand ideas and a variety of materials such as wood, fabric, cardboard, and so on to fit in with your home décor. A wooden phone stand is a valuable accessory to have by your bedside or on your desk. It will help you keep your phone in a vertical position, and it will offer easier access to it, especially when you are watching videos or when you want to use it as a timer. A wooden phone stand can be made out of various wood types, but the best choice is definitely pine, as it is affordable and easy to work with.
These 24 DIY Phone Stand Plans will improve your productivity by keeping you off your phone and improving your posture.
Benefits of Having a Phone Stand:
There are several benefits of having a phone stand which we will be discussing in brief.
1. As a sturdy base, it will save your phone from falling off and getting damaged.
2. It is an ideal way to keep your hands free while watching movies or listening to music.
3. You can easily navigate the internet without holding your phone by using a phone stand.
4. You can use it as a charging station for your phone when you are not using it.
5. You can use it as a perfect place to keep your earphones when they are not in use.
Before making a phone stand, you need to consider a few factors.
You need to select a phone stand that would be compatible with your phone.
Make sure the DIY project you choose is within your budget.
You need to make sure you have all the necessary tools and materials for making the phone stand before starting.
The place where you intend to put the phone stand would also be a factor to consider before making a choice.
You May Also Like:
DIY Customized Phone Stand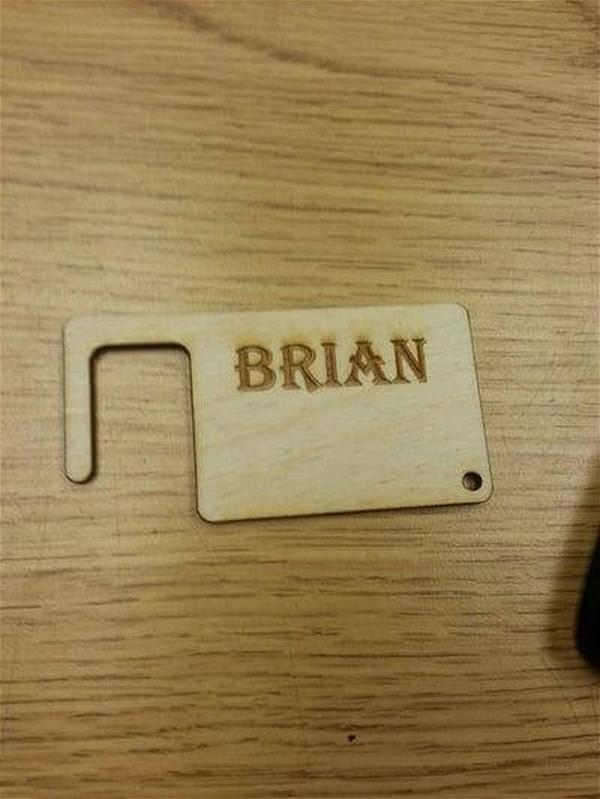 With the DIY Customized Phone Stand, you now can design your own phone stand without orders or shopping. It takes simple steps to complete the process and all that you will need is a computer and a laser printer which is convenient for anyone who loves to create. You can be as creative as you want to be, or you can use one of the many different design templates that came with the program. Then once your drawing is ready to print, cut it to size and cover it in a stiff material before popping it into the laser printer. You can spend some time in your spare time making new phone stands as gifts for your friends or family. It's convenient, easy to carry, and durable too.
DIY Phone Stand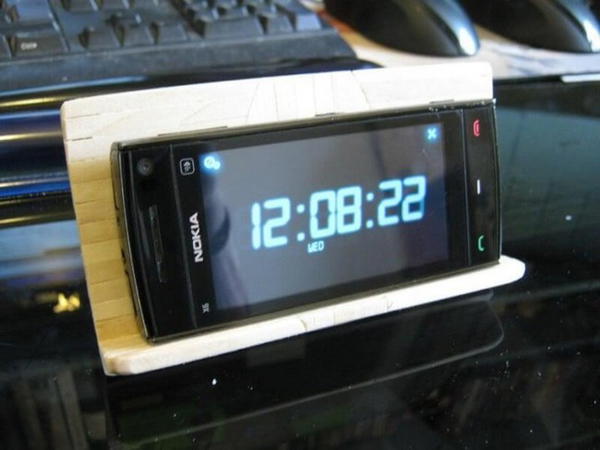 On vacation, or a picnic in the park? Always feel free to take pictures with your phone, because this DIY Phone Stand will help you do just that! Also works with iPads and other tablets! Making a phone stand from popsicle sticks may seem like a challenge, but it is actually very simple. This is an easy and fun craft to do. It is simple, quick, and a great crafting experience for the whole family. So go on and get those popsicle sticks and glue.
DIY Phone Stand For Recording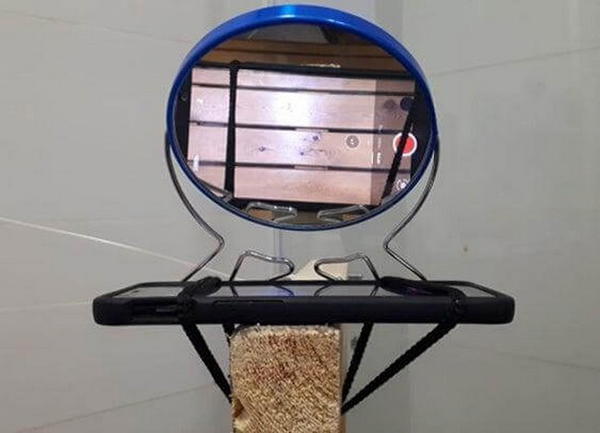 A DIY phone stand for recording videos is easier to make than you think. You just need several materials and some tools but the famous shower stall handle can serve a greater purpose for your phone other than keeping your phone steady. Your phone will be held up with a mirror so it is easier to film a video, not only that you will also have a viewfinder for your phone camera. This DIY phone stand is quick, easy, and cheap to make and can be used for all types of phones.
How To Make Origami Phone Stand
Making a DIY phone stand from a piece of paper is a fascinating origami project. It helps to save your desk space by organizing all the phones around you. Not just for phones, this DIY phone stand also works for other devices like remote controls, tablets, and other handheld items. It is made by simple folding that requires no tape or glue. It is useful in holding your phone while watching movies or answering calls. You can even use it as a business card holder to give your potential customers an impression of how creative and reliable you are.
How To Make Paper Phone Stand Without Glue
This Paper Stand for Your Phone is really easy to make and it would take you only a few minutes. It also does not require you any glue or tape. You don't even need adhesive. This video tutorial will teach you how to make a stand for your phone without using any kind of adhesive. This is a great starting point for anybody who is interested in paper folding. This is perfect as a gift since it is made with easy-to-find materials and doesn't require glue or tape-like most phone stands do. It only takes a few minutes and will work for most phones.
How To Make A Phone Stand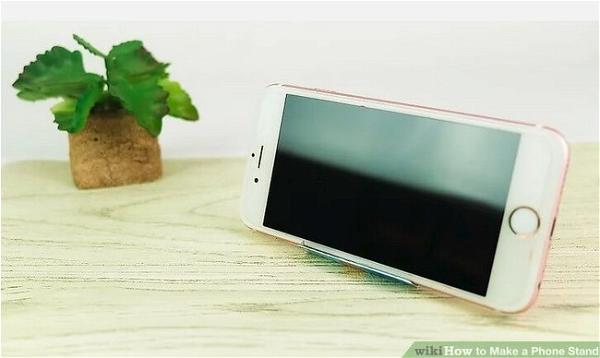 An easy way to make a phone stand. This can easily be made in a few minutes out of paper clips. The model has an adjustable angle. Paper clips are one of the most underrated office supplies! They can be used to organize your notes and important papers, create a paper clip bracelet, or even used as a phone stand. If you have small paper clips, you can always file them in your pen holder. Perfect for use with your Smartphones, Netbooks, or any other device that needs a little height. It could come in very handy in the office, at home, or while you're away on holiday.
DIY Cell Phone Stand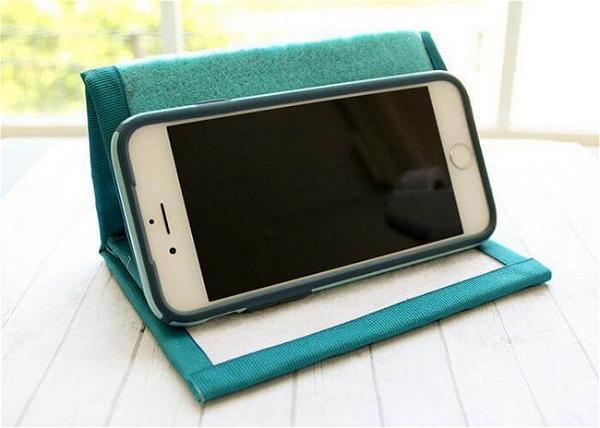 This smartphone holder is as cute as it is functional. Plus, it's easy to make. You can put your favorite design on the felt, and mix and match fabric colors to suit your decor. It is quite easy to make this stand and you can become an expert in a few minutes. With a few simple supplies, you can build your own cell phone stand. For this project, you will need cardboard, ribbon, felt, scissors, and a glue gun. Follow the directions above and you will be on your way to making your own cell phone stand.
DIY Phone Holder From Toilet Paper Rolls
Don't throw away those toilet paper rolls! Try this crafty idea and make your own do-it-yourself phone holder. This craft is super easy, and all you need are some toilet paper rolls, a pair of scissors, and glue. Cut through the length of two paper rolls. Cut one side open on one of the paper rolls to give two open pieces. Then take one of the pieces and glue it to the opening of the other roll. Use cardboard to cover any holes, then wrap the remaining cardboard around the whole phone stand.
DIY Origami Phone Stand
Here is a DIY that is so easy to make and very useful to use. You can use this DIY origami phone stand in your home or even at work. This origami phone stand is very easy to make and it will not cost you anything. It requires a sheet of plain paper and your skills in folding, cutting, and gluing. Once you are done folding and creasing, now it's time to place the phone and let it rest on this origami stand, and be ready for use. Enjoy making one yourself!
How To Make A Mobile Stand
Have you ever tried to use your phone on the move and wished you had a stand for it? This mobile stand will prove so handy as it is really easy to make. Making a square stand is easier than making a round one as it requires less precision. You can, however, change its shape slightly depending on your style or taste. As long as you have electrical tape, a hammer, some measurements, and your creativity this mobile stand project needs no tools! This simple mobile phone stand is easy to make and does not cost much. It can be made in less than an hour for just over $3.
DIY Phone Pillow Stand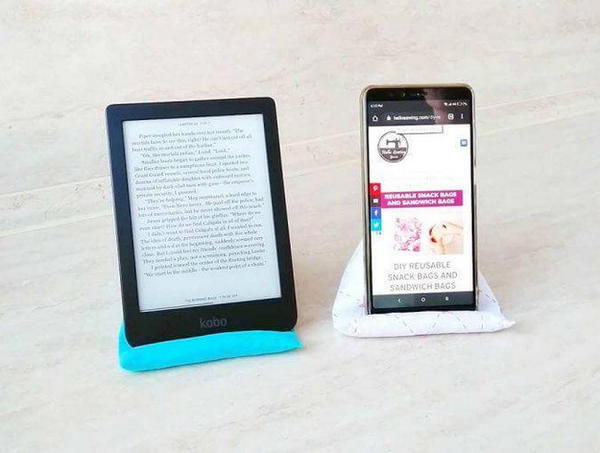 With easy-to-follow instructions, even the beginner can make a custom pillow stand to hold their phone upright! In just minutes and with minimal effort, you will have a great place to put your mobile device. You'll need fabric, stuffing, thread, and an iron - then you're ready to go! This small, handmade pillow stand is a great way to watch YouTube or Netflix while lying around in bed or even use it as an extra pocket for your small items. Put it under your computer to elevate the screen and make it more comfortable, perfect for when you're lying down working on your laptop.
DIY Popsicle Stick Mobile Stand
Need a new mobile stand? Why not try an educational and fun alternative to keep your mobile in place. It is a good idea to buy a few extra Popsicle Sticks while you are at the store so you can create popsicle stick mobiles when you have extra time! They are great for keeping you busy when you need a break from your normal activities. This would be a nice activity for families to enjoy on a summer afternoon or when at the beach.
DIY Tablet Stand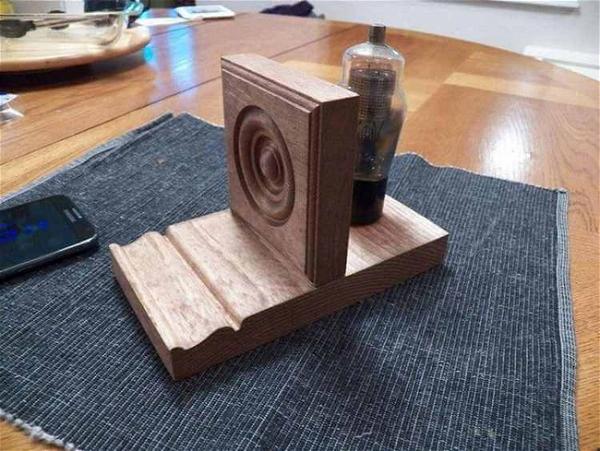 Do it yourself tablet stand is a solution for holding tablets on flat surfaces. A DIY tablet stand is a cool way to repurpose unused materials in your house, as well as add a personal touch to any room. It is a built-in materials ball that you need to add a tube to it where the phone will rest. This project is very simple and cheap to make. See how you can make one using only a piece of pine, glue, and stain! This is an easy, cheap-to-make DIY stand for the home. It's great for tablets, laptops, and mobile phones.
DIY Portable Phone Stand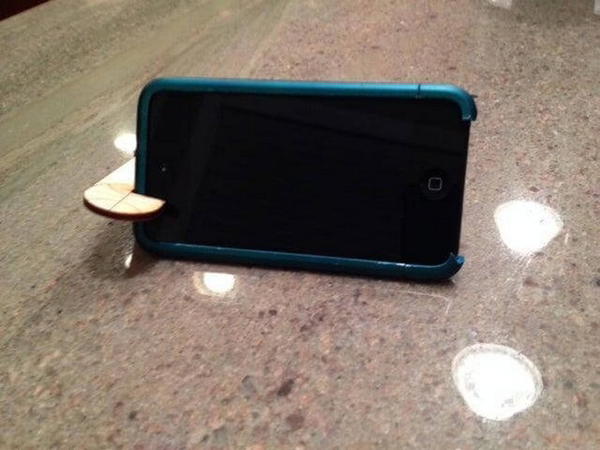 Another fun project that takes little time to make. This portable phone stand is so sharp and convenient. Grab this DIY Portable Phone Stand with simple materials by designing it on a computer and then laser cutting it in your local hackerspace. Impress your friends with your new DIY Portable phone stand. With a few kinds of wood and a keychain, you can craft a personalized phone stand in the convenience of your own home. Open your door to a new world of possibilities by learning how to make a personalized phone stand today! Enjoy!
DIY Cardboard Phone Holder
We will easily make a cardboard mobile phone stand with simple materials. Following the steps given below, you can make as many of these stands as you want and use them at home, in your office, or elsewhere to conveniently hold your mobile while you are watching a movie, or reading a book or news. This DIY cardboard phone holder is easy to make, and you only need 3 pieces of cardboard. It fits most phones and it's really helpful if you have one of those larger smartphones that won't fit on a normal phone stand.
How To Make A Paper Mobile Stand
Making a paper mobile stand can be fun to do and you can create the most amazing stand from something as simple as a piece of paper. Prop up your mobile device on this and you will be free to walk around, feeling great about your new creation. All you need is a sheet of paper and your hand. It doesn't require any skill or training, you just have to keep on folding and folding till your origami shape is out. This project is very durable, though it is made from a sheet of paper.
DIY Cellphone Stand With Accessory Holder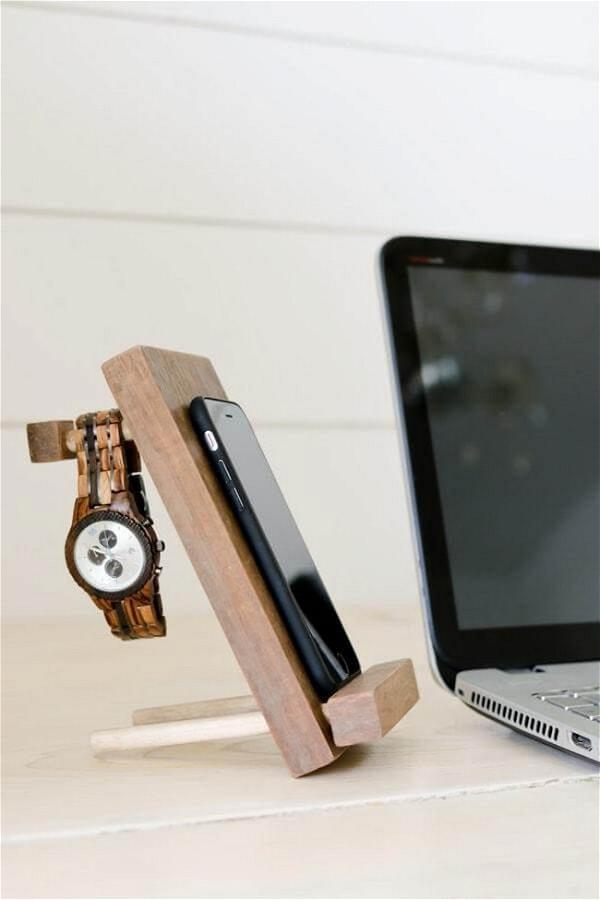 Making a DIY cellphone stand can be done both at home and in the office. Whichever place you choose, it is guaranteed to have practical use, especially if you have a cellphone. What you will need is a piece of wood, wooden sticks or dowels, glue, a drill, and clamps. You can prepare anything that holds your cellphones as an accessory and hang it on the wooden strips. With such a simple procedure, you are assured of getting a functional cellphone stand and accessory holder that can be utilized in any area you want.
DIY Concrete Phone Holder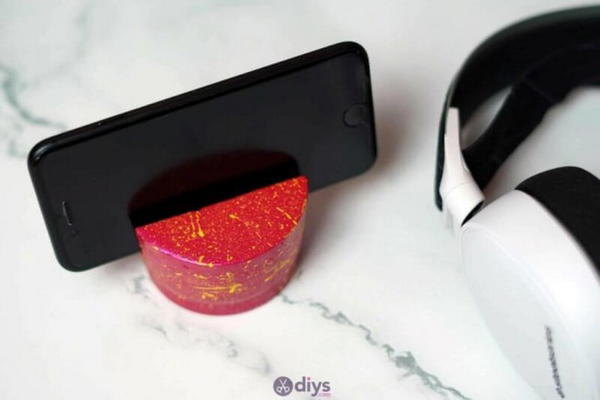 It is an excellent way to make a particular surface or object look intriguing. This DIY concrete phone holder concept is very unique as you can customize the colors to your liking. This DIY concrete phone stand is the best solution for making a unique and stylish holder for your phone. To make this, you need some simple materials that are commonly available at very cheap prices. This handy DIY concrete phone holder can be made with the things you have in your home and it holds your mobile securely while you navigate through the screens. Using a spoon, a plate, and cardboard you can create a super-cool stand that also has some personality to it.
How To Make A Phone Stand Using Cardboard
Cardboard can do much more than boxes. You can make a very stylish smartphone stand using cardboard and glue. It is very functional, inexpensive, and easy to make. This easy DIY phone stand requires no craftsmanship or carpenter skills. All you need is some cardboard, glue and a pair of scissors. You can make one in just 5 minutes. It is supposed to be used as a holder for your phone while you watch videos in bed or while you want to watch Can't-miss sports events.
How To Make A Foldable Mobile Stand
Simple. Practical. Sleek. This mobile stand can be folded into a smaller size which means it is easily carried around. It is made from the top-quality products that ensure durability and stability. This mobile stand can be used in three different positions, flat, tilted, and a combination of both. A smartphone rests on the board which can be tilted up to 45 degrees to suit your needs and make your experience more comfortable. This stand's base also helps in protecting your phone from sliding off its surface.
Homemade Tripod Stand DIY
Building a tripod stand takes some inventiveness, but the result is worth it. The arm of the tripod must be placed on a pipe that lies on cement. If you want to strengthen it, you can find cement adhesive to help the pipe hold. After you are finished building the tripod, you can paint and decorate it however you like. You could change its color or add shapes if you want, although the basic metal paint is all that is needed for strength and durability.
DIY Travel Phone Stand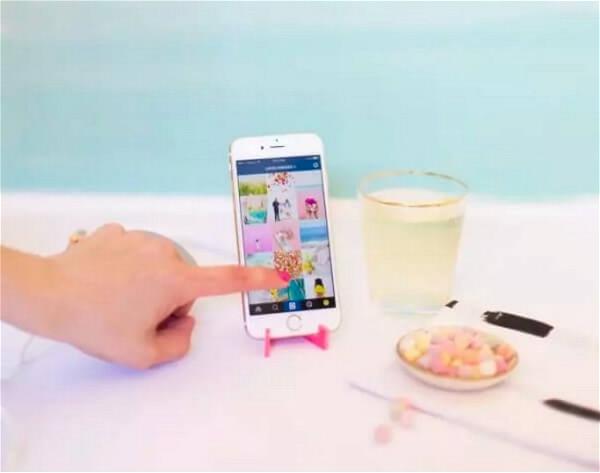 This travel phone stand will conveniently hold your phone upright so you can watch videos with ease. All you have to do is print out the template, trace it onto the acrylic sheets, cut it out and attach it together. This DIY Travel Phone Stand is an easy way to keep your phone upright when you're watching videos so you can comfortably lie back during your flight or while lounging at home. This stand is also perfect for road trips, so you have easy access to your smartphone's navigation system.
DIY Wooden Phone Stand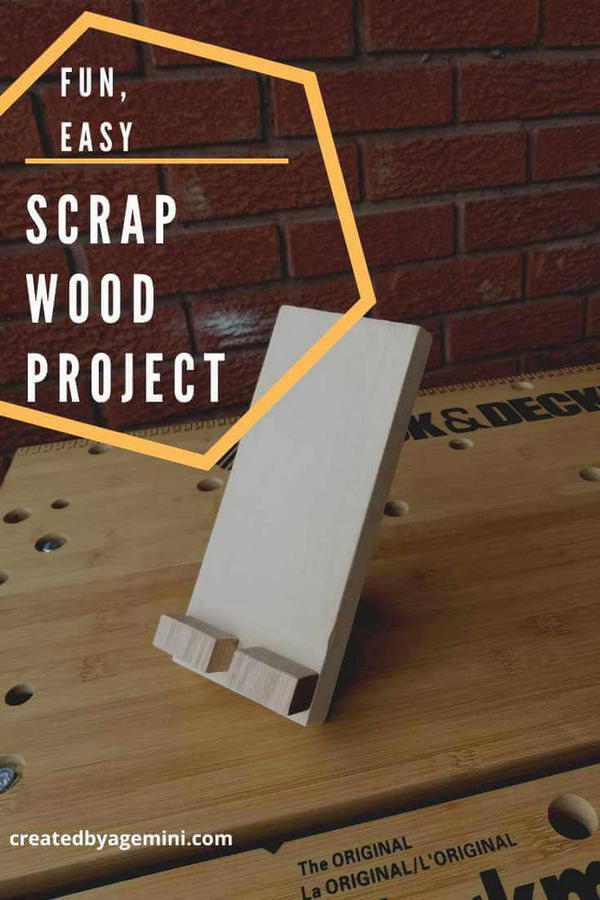 You can make a stand for your phone easily. Use any leftover scrap wood and metal pieces to create the necessary parts. It is straightforward to assemble everything, and you will have your new customized phone stand. Measure the dimension of your phone, cut out a board as described above, and use clamps, a bandsaw for cutting wood, wood glue, and sander for smoothing out edges and making the edges even. Finally, assemble all pieces together using screws and nuts to hold them tight.
DIY Wooden Phone Charging Stand
This DIY wooden phone charging stand is easy to make and your phone will look very stylish in it. The best part is that you can use different kinds of wood, which means that you have a lot more options in terms of design. This DIY wooden phone charging stand can be made in minutes, and you probably have all the materials ready, right? It is easy to assemble, and you will have it ready in a few minutes!