Are you looking for a simple, cheap, and chic way to display your quilts? You've found it! Why spend a lot on a premade quilt rack when you can DIY one that's just as pretty and costs much less. Not only DIY Quilt Rack Plans are perfect for your home decor, but they're also great for a quilt shop or any other retail business. It's quick and easy to make these racks with pipe, bendable wire, PVC pipe, and wood.
DIY Quilt Rack Plans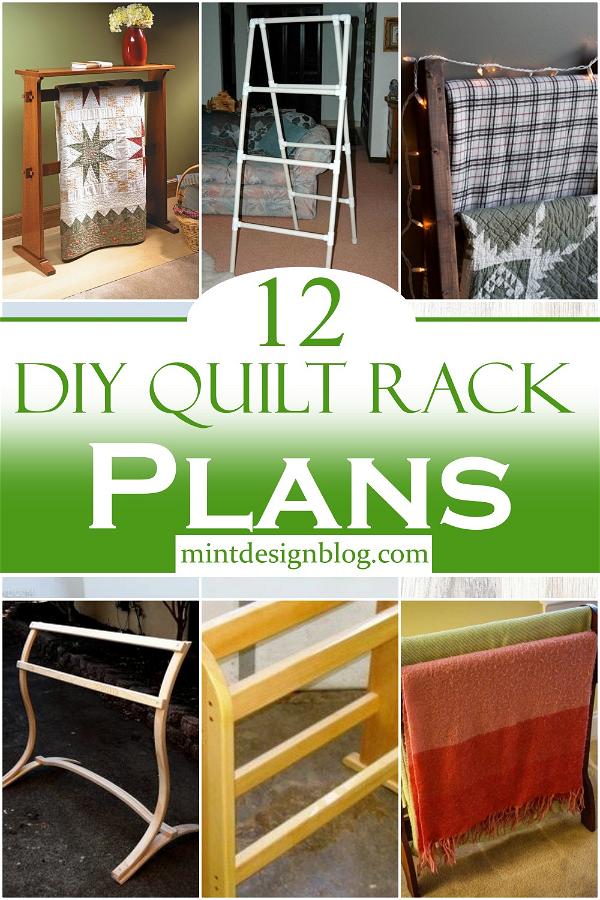 These DIY Quilts Racks are also easy to make out of old pallets and pipes. No matter how you decide to make yours, these plans will be sure to help you get started. Building a quilt rack from scratch is a great way to make extra storage space in your home. Plus, it adds style to the room. It can be as simple as installing shelves on a wall, or it can be more elaborate, with many shelves and compartments Quilt racks are an excellent choice for a small space, or as a fun way to get your quilts out of the closet. A quilt rack can be very simple and utilitarian or can be as decorative as you want it to be. Here are 12 DIY Quilt Rack Plans that you can use to construct your own quilt rack.
DIY Quilt Rack Is Simple To Construct
This charming DIY quilt rack is absolute proof that you don't have to shell out a bunch of cash to earn home-decor gold. This project is super easy to build, and as long as you can cut pipe and glue, you're good to go! If you love quilting and do quite a bit of it, having the ability to dry your creativity on the racks can be wonderful. Very often, you may find yourself with too much fabric and not enough room to spread it all out to dry. This DIY project will show you how to create a quilt rack that is free-standing so that you don't have to take up floor space with it and doesn't require any nails or other hardware to mount on the wall.
Make A Quilt Rack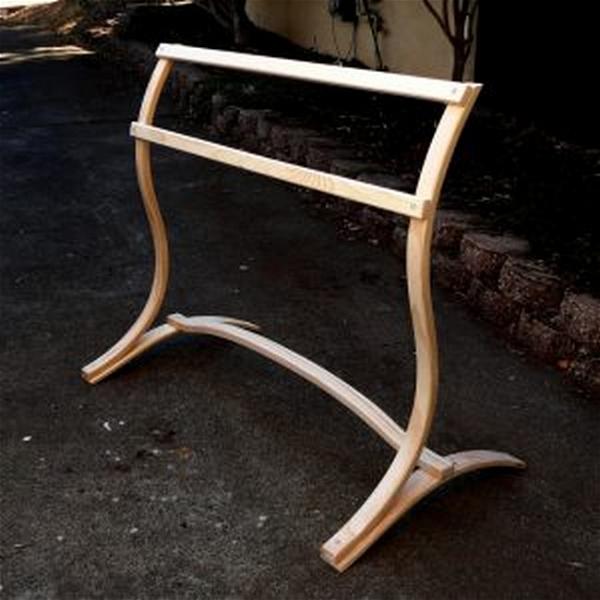 If you are an avid quilter, you probably have a stack of beautiful handmade quilts in your closet or under your bed. You probably have a special place in your home where you like to see them hanging out. Now, there is a new way to bring those old memories and treasured heirlooms into the limelight and enjoy them all over again with this easy assembly…Make your own quilt rack for your sewing room. It is perfect for holding unfinished quilts until you are ready to finish them. This quilt rack has two sides- one for your big quilts, and the other for your rolled armhole pieces. Easily adjust the height of this quilt rack so you can choose to sit or stand while "sewing". You can even use the top to hold onto patterns and keep them handy.
Quilt Rack Plan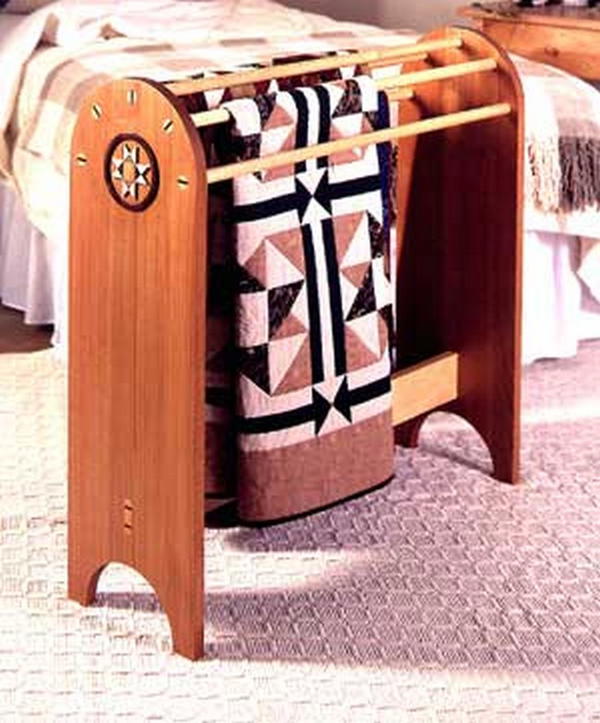 Quilt racks are a fantastic way of displaying your handiwork in an attractive manner. Unlike quilt hangers, you do not need to make any alterations to the room in order to display your quilts. Their convenient size and attractive appearance make them perfect, especially if you do not wish to drill holes in your walls or if you want to be able to move your quilts and display them in another room. By making your own Quilt rack you get to choose the exact wood used in its construction. It is really very easy to build your own quilt rack. You can construct one yourself using an idea taken from a plan, or create a unique design all of your own. The most popular designs are based around shelves which can be arranged to display the quilts in question in a variety of different ways.
Craftsman-style Quilt Rack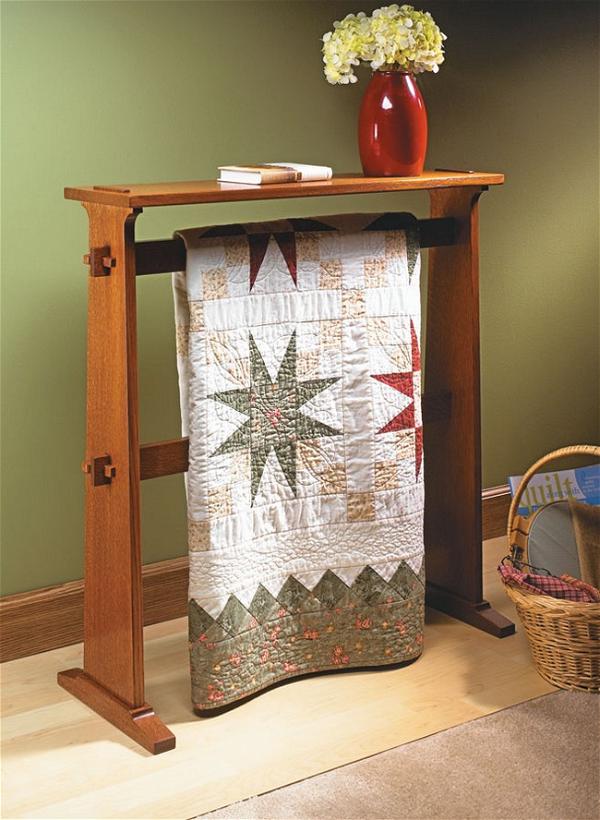 The quilt rack is designed in the Arts & Crafts style in keeping with the heirloom quality of your quilt. It features mortise and tenon joinery for extra strength and stability, and square-holed keys at the ends of the stretchers for an interesting finish. The design also features joinery for small drawers to hold sewing notions, as well as compartments under the top shelf to stow anything from quilting supplies to children's toys.
This Craftsman-style Quilt Rack is versatile it can not only hold your quilt but you can also place your vase of flowers and any decor piece on it! Handcrafted with pine wood and stain, the unique design will add the right amount of rustic charm to your home. You will find it perfect for indoor use especially in your bedroom, living room, or foyer area. Its size is also easy to store in a corner. Get yours today!
How To Make A Blanket Ladder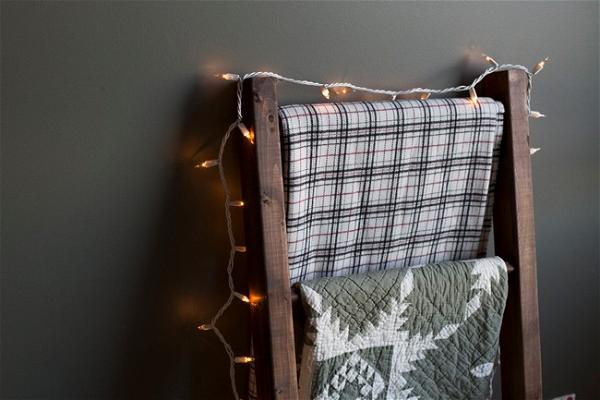 Let's face it – blankets are like a magnet for clutter! But not anymore, thanks to this blanket ladder. It's simple enough to make DIY and can be placed in any room to keep your blankets folded, transformed, and beautifully organized. Lazy afternoons spent watching your favorite flick are made even cozier by blankets. And, no matter how hard you try to keep them organized, blankets inevitably end up on the floor, crumpled and messy. However, it's time to make your blankets look as gorgeous as they feel with this warm and cozy blanket ladder! Whether you're sprucing up your living room or gifting someone special in your life with this beautiful DIY project, this blanket ladder is the perfect solution.
Simple Free Quilt Rack Plan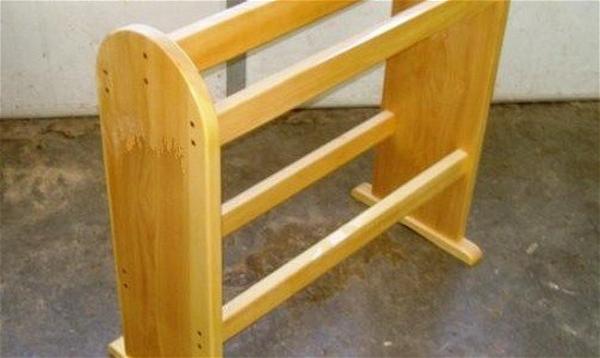 Need a way to show off that quilt hanging in your closet? This is a simple and inexpensive project for a quilt, or blanket, rack and it's great if you don't want to drill holes in your walls. This is a simple and inexpensive project for a quilt, blanket, or curtain rack. The rack can be installed on the inside of a closet door, or anywhere in the house. It is a sturdy and attractive way to display your blankets without having to drill holes in your walls.
This project is easy, inexpensive, and takes only a minimum of time. Choose a place to hang the quilt rack, measure the distance between the two points. Mark the locations for each bracket on the wall with a pencil. Use a tape measure for accuracy. Using a small drill bit or nail make a hole at each marked location. If you want to leave the wire when you take down the rack for cleaning it is best to use a screwdriver in place of nails. Use small screws and screw them into the drywall at an angle. Make sure they are tight enough so that they hold but loose enough to remove easily.
Quilt Rack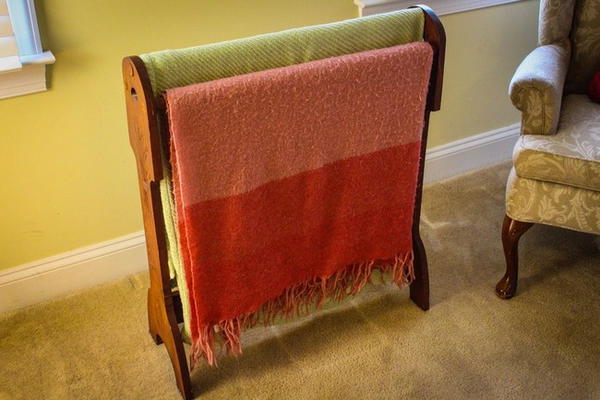 This is a very basic quilt rack that The hanger system is nice and strong, able to hold the weight of their quilts with ease. One of the nice things about this rack is that it can be disassembled and packed away in a small case for travel if needed. This quilt rack provides a space in which to comfortably hang, store and display your finest quilts. It is built in such a way as to utilize the strength and rigidity of box columns. This allows for the use of a very heavy-duty mounting system while still allowing it to be held directly by the wall studs. We have had ours up for over five years now without any signs of loosening or wear. It has been used exclusively to hang quilts year-round.
DIY Blanket Ladder
This DIY Blanket Ladder is an easy project that you can complete on a weekend. The ladder is perfect if you like to keep your home warm, but your bedroom or living room doesn't have enough storage space for large items. Now's the time to create our own DIY Blanket Ladder for that man cave, kid's room, or guest room. This blanket ladder is a great space-saving option to stash blankets, pillows, and quilts where you need them while keeping the room warm. Our blanket ladder has legs made from pipes and is fitted with woodblocks to keep it stable. Using screws, it's easy to connect everything together and begin storing your blankets right away.
Make a Wooden Quilt Rack
This rack is simple, easy to build, and can store all sizes of quilts. It is made with very basic wood joinery, so you should be comfortable in building it. There is no need for any advanced woodworking equipment or glue, just use wood screws What do you get when you combine a double bed with a queen bed? A DIY Quilt Rack! This project is simple to build and makes sewing and quilting easier than ever. The rack attaches to an existing wall-mounted shelf, creating a place to store, display and hang your quilts and projects anytime you like. It keeps your workpieces safely off the floor, organized and visible so you can spend more time sewing.
DIY QUILT RACK
This hand-made quilt rack is a functional work of art that adds beauty and unique style to your home. expert quilters have created a true work of art by hand sewing the colorful patchwork fabrics together in a stunning arrangement. A traditionally painted finish, customized to be exactly as you imagined, makes this piece a special accent to any room. Ideal for displaying family quilts or even decorative pillow covers, the rack is easily adjustable and folds flat when not in use. This functional and creative quilt rack is the perfect addition to any home. Quilts can be hung from the hooks on the side or from the top of the frame. Perfect for organizing your quilts and displaying them for friends and family. With a wooden frame, this quilt rack is simple in form but charming in nature.
Quilt Rack Project
Quilt Rack Project is a clever way to keep your supplies organized and within reach. The design strikes an artful balance of beauty and functionality, saving you the time you might have spent digging through a closet or drawer for miscellaneous fabric bits. Hang the rack on a bare spot on an inside wall, or find an out-of-the-way corner where it can do double duty as art. This project works especially well in very small spaces because it takes advantage of vertical space that's often wasted. This Quilt Rack Project has a space for everything. It is easy to build, and the finished project is made from inexpensive materials
Making the Prayer Quilt Hanger
Did you forget your hangers last time you visited the quilt shop? Or do you want to shop on the go and need a handy way to display your beautiful fabrics? Then Making the Prayer Quilt Hanger is for you! The Prayer Quilt Hanger will help you store your hand-sewn lap quilt; without any wear and tear to the quilt's fabrics and seams. Made of wood and covered in suede, it prevents holes from punctures made by pins or from fabric bunching as your quilt hangs.
It also allows for, display, and storage when not in use. The prayer quilt hanger is a thoughtful gift for someone who is grieving the loss of a loved one. The hanger is a practical and inspirational way to store and display her quilt. It will keep it off the floor and allow it to dangle from the ceiling; so it won't be left on the floor like some other quilt hangers.
See Other Projects