Staircases are an important architectural element of the house. In many cases, the stairs are built to suit the design and layout of the home. Therefore, as home makeovers and improvements become fashionable, more people are looking to incorporate this improvement into their homes. Upgrading your staircase or redesigning it might be something you feel you want to do. There's definitely something here for every home. For example, you can build different gorgeous DIY Stair Railing Projects with a wooden handrail and metal spindles going up beside each step. You can also add some wood panels to create the perfect farmhouse style. The staircase is an integral part of any home. It is part of the design and décor that people notice when they enter your house.
DIY Stair Railing Ideas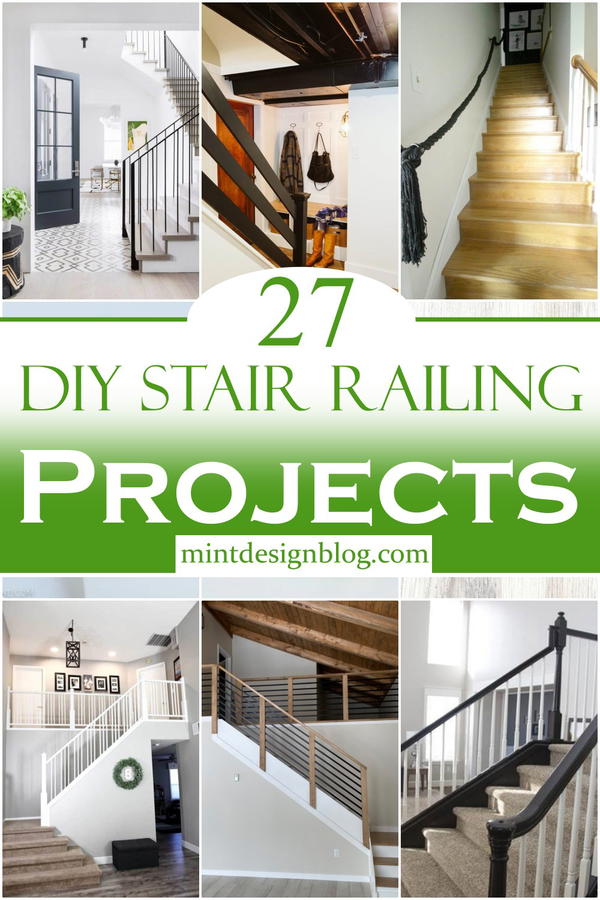 You're an owner-builder or just an enthusiastic DIYer, the chances are that you've been inspired to take on more ambitious projects and have thus found yourself facing the often daunting task of building a stair railing. Want to make your house more beautiful and add a sense of elegance to your stairway? Then do-it-yourself custom staircases can be what you need. Here are 27 DIY stair railing projects that will give your staircase some character and a more beautiful look.
Modern Farmhouse DIY Staircase Railing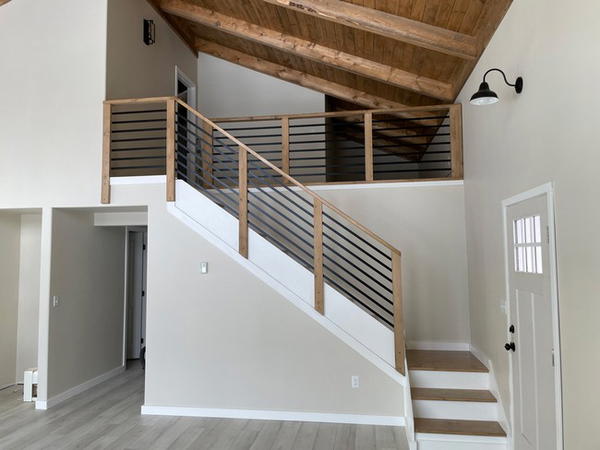 This modern farmhouse staircase railing is the perfect addition to any home! The clean, minimal lines of the railing combined with the beautiful, rustic wood give this staircase a unique charm. The best part about this project is that you can easily customize it to your own home by choosing any shape for your handrail that you like. It's a great way to give your home a modern farmhouse touch. The other great thing about this staircase railing is that it's so easy to build. The few materials and tools you need are inexpensive and easy to find. You can also customize your staircase railing by using different wood or paint colors.
Materials:
2-2X4X10' Pine
1-1X4X8' Pine
¾" Birch Plywood
Stain or Paint
Nails or screws
Tools:
Table Saw or Circular Saw
Kreg Jig
Drill Driver
DIY Stair Railing Makeover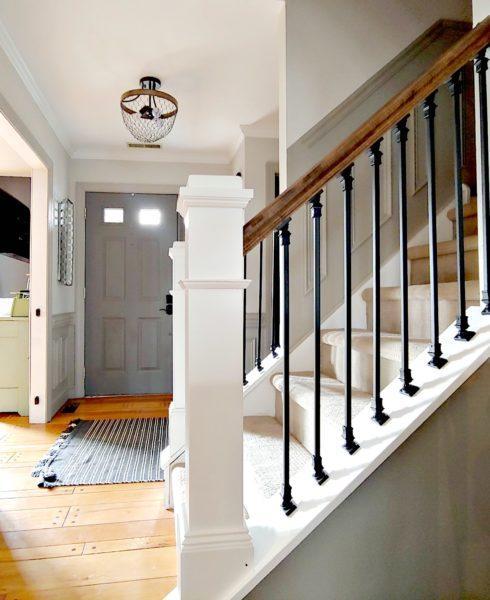 The first step in this DIY stair railing makeover project is to decide what type of new railing will be installed. Keep in mind that this should be a safe project, so consider the safety of the options and how well the different railing types will fit into your home décor. The iron railings can be very decorative, but they may not fit well in Victorian-style homes. If you're working with a very narrow stairway, you may want to avoid railings with very wide balusters. If you have children, keep in mind that there are some newel posts and other railing design elements that can become dangerous if children climb on them or otherwise try to climb on them.
Materials:
Paint stripper
Small paintbrush
Drill with ¼″ drill bit
Superglue (Loctite brand)
Paint in your chosen color
Tools:
Putty knife
Sandpaper (medium grit)
DIY Metal Stair Railing Idea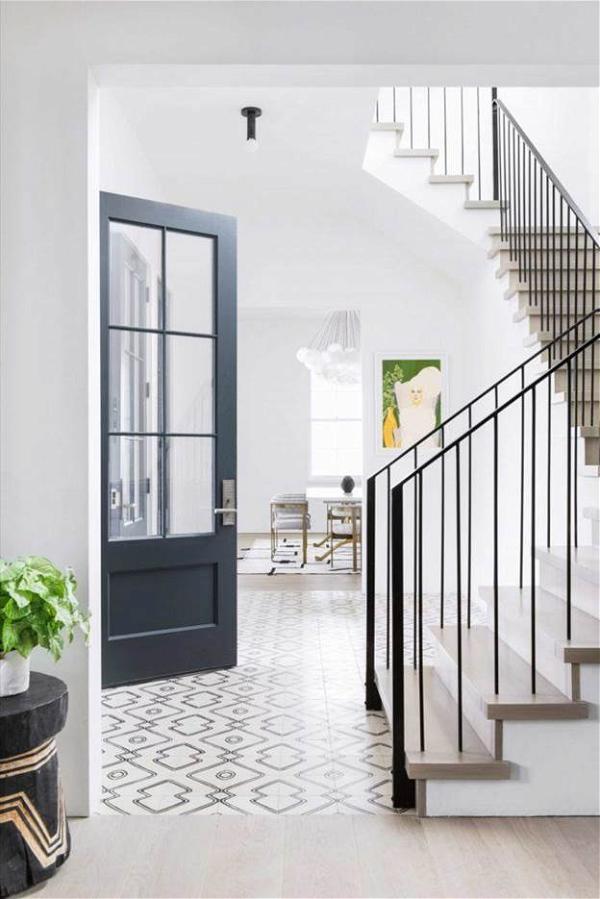 You can confidently say that you have a beautiful home. There is no one that can deny that fact. Your home has the class and elegance of a dream home. You have a beautiful garden, perfectly decorated interior, and modern furniture. As beautiful as it is, the staircase's railing is not only for decoration; it is for protecting people using the stairs. If you want something unique that will change the elegance and style of your house, then we have got an amazing idea for you. You can build a metal stair railing for your stairs yourself. You might be thinking what is so special about this railing? Well, it has got many advantages over wooden railings that are usually used in houses.
Materials:
 Measuring tape
Level
¾ inch conduit pipe
½ inch conduit connectors
half inch floor flanges
½ inch 90-degree elbows
Metal primer spray paint
Rustoleum Hammered Metal spray paint
Sandpaper
Tools:
welding machine
arc welder
utility knife
4-inch grinder
hacksaw
DIY Stair Railing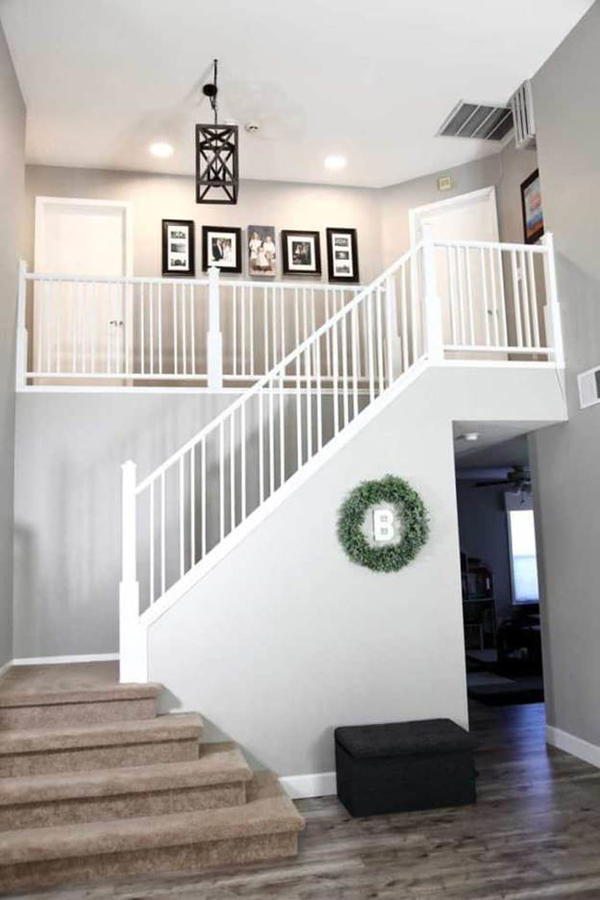 With the weather outside warming up, there are several projects you can do on your home to improve its curb appeal. You might have noticed that your old porch railing is starting to look a little worn and weathered. A new railing is one of the best ways to update an older home without breaking the bank.
But buying a new railing can be expensive. And if you don't know what you're doing, it can be even more time-consuming. Luckily, if you have some basic carpentry skills and a few tools, you can build your own modern stair railing.
Material:
2 ½″ Pocket Hole Screws
Wood Glue
2″ Brad Nails
1″ Brad Nails
4″ Wood Screws
Tools:
Tape Measure
Drill
Miter Saw
Table Saw
Nail Gun
Kreg Jig
Sander
Wood Router
How To Stain Wood Stair Railings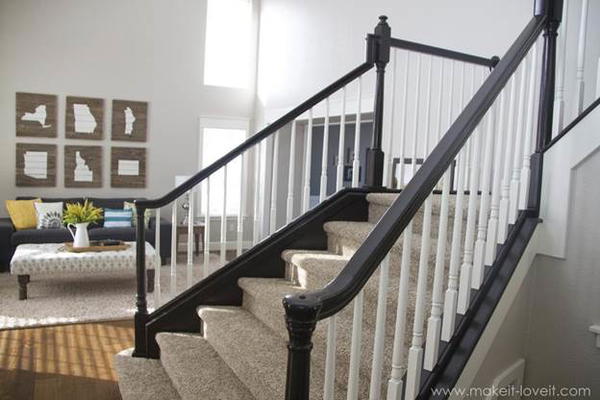 Stairs are often the first thing a visitor sees in your home. While they're functional, they also have an aesthetic purpose. This is why it's so important to give them a proper railing. If your staircase is looking old, it's time for a renovation. However, this doesn't mean you have to spend a fortune.
Staining your stair railing is a great way to improve its look, as well as protect it from any damage. Moreover, you also get an opportunity to match the color of your stair railing with other furnishings inside your home like flooring and furniture. If you have kids at home, then this could also help them learn about DIY projects and doing small household improvements.
Materials:
Gel Stain (General Finishes Brand, Color: Java)
Polyacrylic Top Coat (General Finishes Brand)
Primer Paint
Semi-Gloss Paint
Tools:
Sponge sander
Mouse Sander (optional for sanding)
Paintbrush
Face mask
Painters tape
Sponge brush
Soft cloths
Rubber gloves
https://youtu.be/d86EBKqO1SU
If you're tired of going up and down the stairs but don't want to spend a lot of money on a new staircase, this is the perfect DIY stair railing for you. This project requires a few basic tools, but overall it is inexpensive and will make your home look more modern. You can get creative with this DIY stair railing project as well by changing up the shapes of your handrails or even changing up your rope. You can find everything you need at your local hardware store but make sure to bring measurements so that you purchase enough supplies.
Materials and Tools:
2 x 4s (1 x 6s)
¾″ dowels
Wood glue
Kreg Jig
1 ¼″ pocket hole screws
Circular saw or miter saw
Drill (jigsaw, possibly)
How To Install Stair Rails
Installing stair rails is a great way to add some beauty and style to your home. A lot of homeowners have a hard time deciding on the best type of deck railing to use in their homes. This can be extremely frustrating because it means that you will have to come up with a way to make your home look amazing at the same time as saving money on your remodeling costs. There are lots of people who choose to install wooden stair rails, but they usually don't know how to do it correctly. They end up looking like an amateur at the end of their project, and that's not something that you want. In this tutorial here are a few tips on how you can install wooden stair rails correctly:
Materials:
 2x4s (for the railings)
1x3s (for the balusters)
2x2s (for the top, bottom, and middle rails)
nails and screws
 Tools:
safety glasses
drill
circular saw
socket wrench
square
level
measuring tape
How To Build Porch Railing
Handrails are a part of our life. If you have a porch with a railing, it is likely that you will need to repair or replace the railing at some point. If you start to notice that your railings are weak and wobbly, or if they are beginning to rot and decay, it is time to do something about it.
You might need something similar to meet a required building code or just for general safety purposes. Wood is a great baluster material. It is strong, easy to work with, and relatively inexpensive. You can paint it or stain it. If you are using a pressure-treated wood porch, it is a good idea to use pressure-treated wood posts as well.
Materials and Tools :
 Pressure-treated lumber
Miter saw
Circular saw
Drill, drill bits, and screws
Nail gun and nails
Tape measure and level
How To Build A Simple Handrail
There are all kinds of things that can make you fall down in this world. Don't let a slippery metal staircase be one of them. That's why, in this post from the folks at Simplified Building, you'll know how to build a simple railing for concrete steps.The process for building a railing for concrete steps is virtually the same as building a railing for any other set of stairs. The difference is that when there are no walls for your posts to attach to, it becomes necessary to place anchors in the concrete in order to gain support for the posts.
 Tools:
Drill
Concrete Drill Bit
Allen Wrench.
Level (not required)
Sharpie
Rubber Mallet (or hammer and cloth)
DIY Rope Stair Railing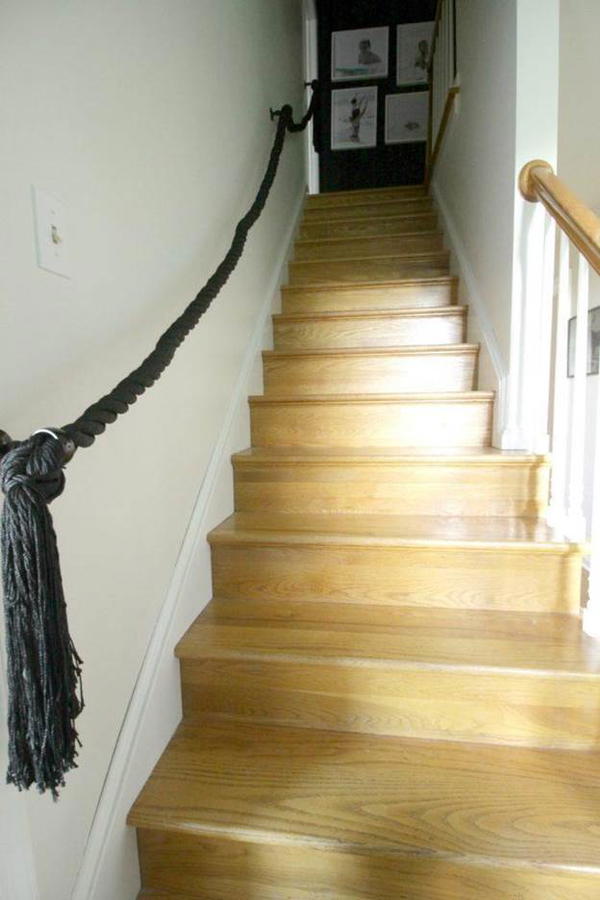 This is one of the simplest porch railing ideas you can try. As a matter of fact, you can even use it for other parts of your home as well. You simply need to find the right rope. You can't just buy the first one you see on the market but take time to find something that fits your home. This rope stair railing will look stunning in your outdoor space. It's quite simple to make and doesn't cost much at all. The most time-consuming part of this project is actually knotting the rope. The best part about this idea is that it's not expensive at all. You only need to prepare the rope and the tools needed to tie it up.
Materials:
3 Classic 1.5″ Rope Brackets
1.5″ Thick Rope
Tape Measure
Cutting Board
Tools:
Butcher's Knife
Scissors
Gloves
Stud finder if desired
How To Add Railing For Staircase
If you are looking for a little bit of extra safety around the house, adding railings to your staircases is a good way to ensure that no one takes a tumble. If you have a staircase in your home, you may have noticed that there isn't anything to hold onto when you climb up or down the stairs. This can be dangerous, especially if children or older adults use your staircase regularly. Luckily, you can add railing options to your home's staircases with a few simple tools and steps. The wooden railing is a structure that provides support to the handrail of the staircase. It is usually made up of wood that can be shaped and carved according to your choice. This sort of railing is mostly used in the home, but it can be used in office buildings and commercial areas as well.
Materials:
Sandpaper
Wood putty
Carpenter's glue
Screws
Stair rail kit
Measuring tape
Post level
Leveling tool
Pencil
Drill or screwdriver
DIY Outdoor Stair Railing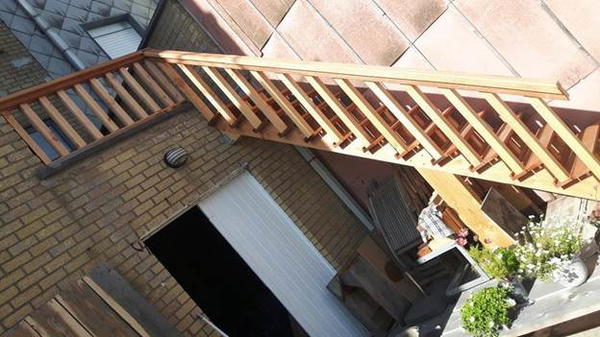 This railing is not only to keep you from falling but is also a decorative addition to your outdoor home that you should try to make as beautiful as possible. The outdoor stair railing will be made of durable materials so it will be able to withstand the weather outside and remain beautiful for many years. The stair railings can be made of materials like wood, aluminum, steel, stone, etc. The choice of the material depends upon the budget as well as the location where the railing is to be installed. The design of the stair railing also depends upon a lot of factors like whether it is indoor or outdoor and what type of design will complement the other furniture.
Materials:
 3 Oregon beams 220mm*70mm 5400mm long
20 Talise hardwood boards 140**22mm 2750mm long
20 Oregon beams 60mm*60mm 3000mm long
Tec 7 tube chemical anchor
Tec 7
iron brackets
inox screws
aqua stop 1L
Aqualand
Tools:
 angle grinder
a good power drill
impact driver
wood drill 4mm, 12mm
track saw
miter saw
jigsaw
DIY Modern Horizontal Railing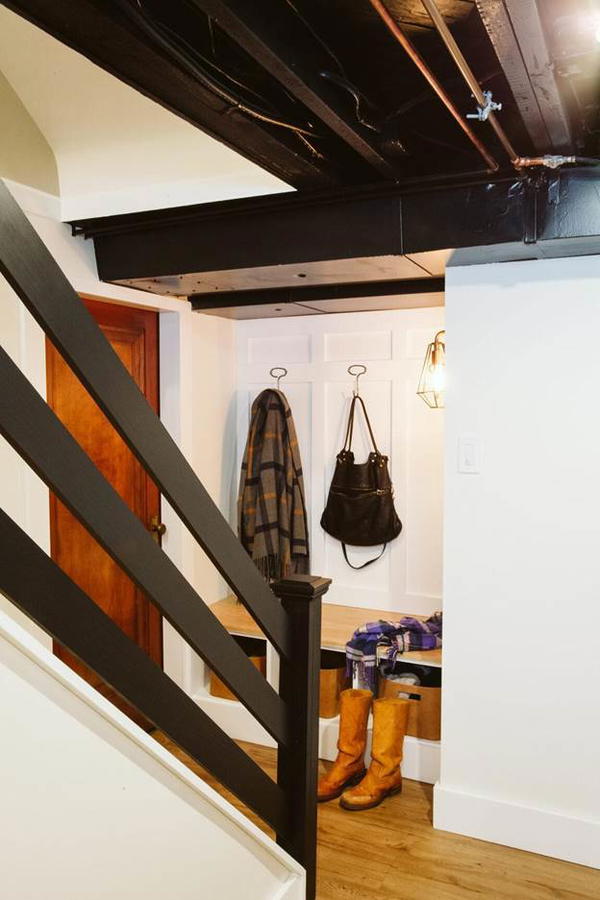 A vertical baluster railing is the easiest type of railing to install yourself uses less wood than a paneled railing, but it has an upper and lower rail to support the balusters. Some have balusters that are spaced closer together for safety and some have them farther apart for easier viewing of the surrounding area. Building a vertical baluster railing requires you to measure carefully and accurately. If you're not comfortable with measurements, it may be best to hire a professional to do the work for you. Once your measurements are correct, building your own horizontal railing is easy!
Materials:
Lumber (select pine is great for a painted railing, while red or white oak is great for a stained railing)
Wood glue
Construction screws
Wood filler (or plastic wood)
Tools:
Miter saw
Drill
Tape Measure
Level
Rotary sander or sand block
How To Install Stair Railing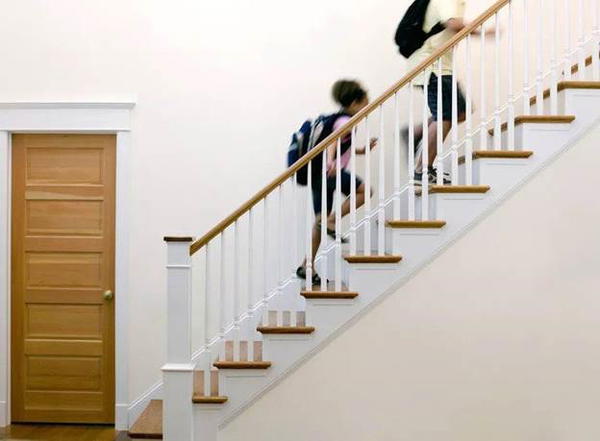 A handrail can solve this issue for you and your family, providing confidence and peace of mind to anyone using the staircase. In fact, many building codes have made handrails a requirement. Let's explore what you need to know about installing a handrail for your entryway so that you can make sure this project makes its way to the top of your to-do list. Simply put, if a staircase is more than two risers high, it requires steps for climbing and a handrail for gripping. You can have a professional install stair railing for you, or you can do it yourself. The process takes time and patience, but it will greatly increase the safety of your staircase. Overall, installation is simple, although the process varies depending on your level of comfort with various tools and woodworking techniques.
Materials:
Prefilled handrail
3 Handrail brackets
2 ½-inch stainless steel wood screws
 Tools:
Stud finder
Painter's tape (optional)
Pencil
Tape measure
Carpenter's level
Miter saw
Drill and bits
Screwgun
How to Build Industrial Stair Railings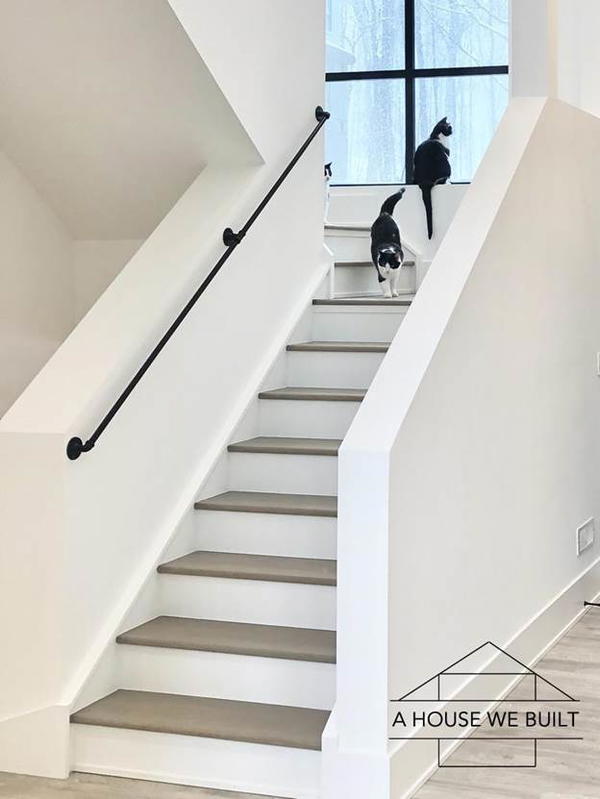 You will notice that the stairway is an important part of your home, and it serves as a focal point. Stairways are mostly made from wood, which can be boring. It is time to add some décor to your home with industrial stair railings. Certainly, this will not just add some style to your home but also give you that strong support you need for any family member who may be using the stairs.If you are working on a tight budget and don't have the money to renovate your staircase, then you need to know how to build industrial stair railings by yourself. With just a few tools and elbow grease, you can get this project done in no time.
Pipe
Flange
Elbow:
T-join
Connector
Hex-head lag bolts
Matte black spray paint for metal
Stud finder
Drill & impact driver
How
To Install DIY S
tair Railing
This stair railing is also installed on an interior staircase. It is a single-post railing. Many homeowners have similar railings already in their homes. If you do, you will be able to remove the railing and use it as a template for your new DIY stair railing. There are plenty of DIY projects that will be both decorative and functional around your house. One such project is a decorative stair handrail. Adding a stair handrail to your home will not only make it safer but will also help it look more stylish. There are several different styles of handrails that you can use to make your stairway more attractive and safe at the same time. You can use an existing railing in your house to make this stair railing.
Tools Required
4 ft. level
Drill bit set
Drill/driver - cordless
Hammer
Magnetic driver bit holder
Miter saw
Nail set
Stud finder
Tape measure
Materials Required
150-grit sandpaper
4d finish nails
90-second epoxy
Masking tape (1-½-in. wide)
Railing brackets
Railing material
Wood glue
You don't have to worry about safety when you are climbing the staircase thanks to a railing. While there are numerous stereotypes about handrails for stairs, you can build your own by following this simple guide. All you need is a good woodworker, who will make the railing from scratch with quality pine wood that is easy to paint. Alternatively, you can use the step-by-step guide which is easy enough for anyone to put up if they only have the right tools. Installing a handrail for a staircase is important. This DIY tutorialHow to build a Railing for a Staircaseis informative, easy to follow, and can be done by anyone with basic carpentry skills. There is also a list of tools and materials you will need before you start.
Tools Required
4 ft. level
Drill bit set
Drill/driver - cordless
Hammer
Magnetic driver bit holder
Miter saw
Nail set
Stud finder
Tape measure
Materials Required
150-grit sandpaper
4d finish nails
90-second epoxy
Masking tape (1-½-in. wide)
Railing brackets
Railing material
Wood glue
DIY Stair Rail Installation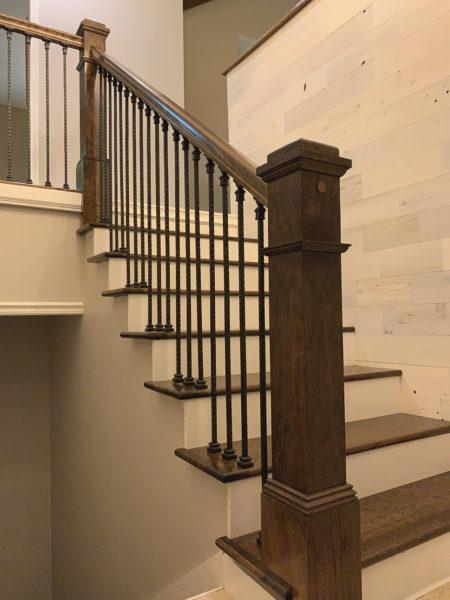 If you have stairs in your home that require a railing, one way to update them is to install a new stair railing. This can be a DIY project instead of hiring professional help. To create a perfect railing, make sure you plan out the project carefully. Also, take into account all contributing factors to ensure the best results. The stair kit includes mitered bends and straight rails that connect to newel posts with cast-metal brackets. Although installing a stair railing involves several measurements, it's a relatively easy task that can be completed by a DIYer.With this step-by-step tutorial, installing a stair railing is a DIY project that will look great in your home and help to prevent accidents from happening.
Materials and Tools:
A newel post kit
A newel post fastener kit
Balusters
Three-inch deck screws
Matching spindles and baluster connectors
How To Install A New Stair HandRail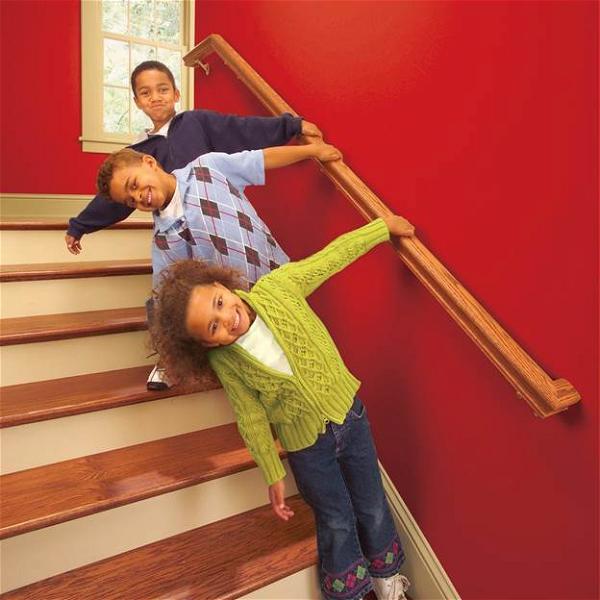 If you have a loose stair rail, a weak stair rail, or no rail at all, fix the problem by installing a solidly anchored railing. Would your stair rail hold up to three energetic youngsters hanging on it like this? If you're not sure, or if you have stairways with missing rails, now's the time to fix the problem. More accidents happen on stairways than anywhere else in the house, and a strong stair rail goes a long way toward making stairs safer and easier to use. In this article, you know how to cut and assemble your rail, how to mount it solidly to the wall framing, and determine the proper handrail height.
Tools Required
4 ft. level
Drill bit set
Drill/driver - cordless
Hammer
Magnetic driver bit holder
Miter saw
Nail set
Stud finder
Tape measure
Materials Required
150-grit sandpaper
4d finish nails
90-second epoxy
Masking tape (1-½-in. wide)
Railing brackets
Railing material
Wood glue
DIY Stair Handrail With Industrial Pipe And Wood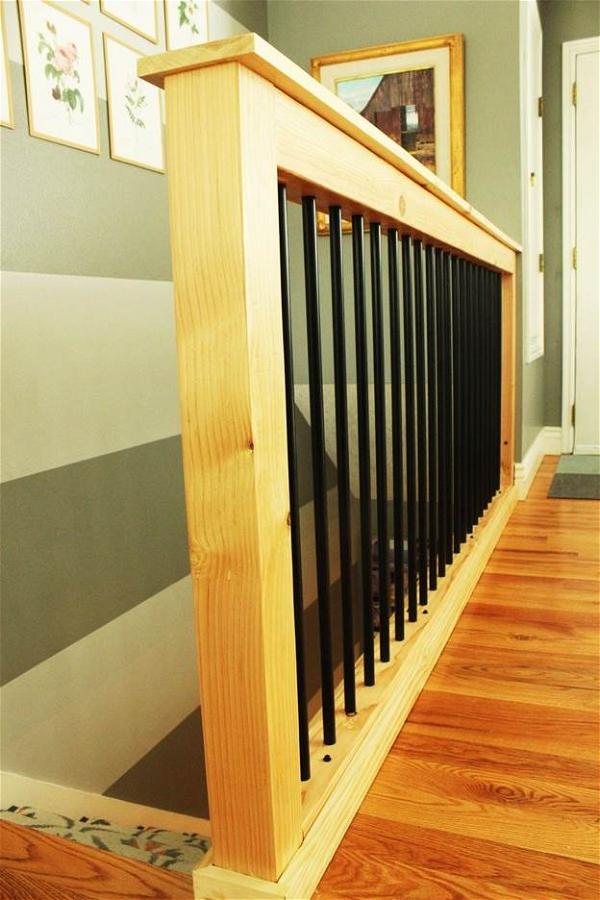 If your stair railing is old, dysfunctional, not to code, or simply not to your taste, you may have considered changing it for something new, safe, and stylish. This might seem a daunting task, but for a straightforward stair railing, you can DIY a new one yourself with a few basic tools. Stair railings serve more than a functional purpose — they give stairs a visual presence and make a staircase a work of art. When building or in the process of remodeling your home, you need to consider both safety and aesthetics. This tutorial will walk you through the step-by-step process of removing your old stair railing, building your new one, and installing and securing it. It isn't specifically aimed at beginners - working knowledge of woodworking tools would be helpful.
Materials:
 1 x 8 furring strip
2 x 4 pine
¾ inches screws
⅜ inch hex lag bolts and washers
⅜ inch flange
 inch pipe elbow
⅜ inch galvanized pipe for handrail and newel posts
Tools:
 circular saw
drill driver
miter saw
level
stud finder
square
DIY Stair Railing Makeover
If you are willing to go the distance in making your house a home, you can completely transform your old, wooden stairs railing into a unique and stylish railing that will blow everyone's mind. This stair railing idea is perfect for do-it-yourself lovers. You can easily transform your old, boring staircase into a classy modern look. And it's not difficult to learn and implement if you have the right tools and know-how, so you don't need any previous welding experience to complete the project. It's not that expensive to change the railing on the stairs. This tutorial will teach you how to do it in an easy, step-by-step way.
Materials:
iron square pipe
Paint stripper
Small paintbrush
Tools:
Nails
Power drill (to drill holes)
Saw (to cut the wood)
Hammer and nails (to attach the boards together)
Stain (optional)**
How to Build a Simple Wood Rail for Stairs
Stairs are a key architectural feature in any home. And while simple, they're also the most dangerous. So it's essential to have a safe railing in place. Forget complex, expensive hardware, and time-consuming layouts. Wood railings are budget-friendly, easy to install and deliver a timeless style. By making the railing in place, and saving on miter joints, you can build this simple railing without a lot of money and time. If you have had the same experience, then there are a few things you will need to know about making a simple, wooden stairs rail. This Simple Wood Rail for Stairs will show you how to quickly and easily build a simple wood rail for stairs on a budget. In just a couple of hours, you can complete this whole project and potentially save thousands of dollars.
Materials and Tools
½-inch by 4-by-4-inch post - cut to size
½-inch by 6-by-6-inch post - cut to size
Miter saw
Drill with a ⅛-inch bit
2 ½-inch galvanized screws
3/16-inch drill bit
Galvanized ⅜ x 5 lag bolts with washers
½ x 2 pine board stock - cut to size
DIY Rustic Staircase Pipe Install
Stairs can often be overlooked when planning a home renovation. The focus is usually on the rooms themselves, the kitchen, and the bathrooms. But you can completely change the look of your home with a DIY project that takes just a few hours, like this rustic staircase pipe. If you love the rustic look and want to get it for your home, then try this DIY Rustic Staircase Pipe Install project. This is all about installing a rustic staircase pipe to add some elegance to your stairs. You'll be amazed at how beautiful your staircase will look when you're done. While this is a simple project, you should have some skill in drilling, measuring, and cutting metal pipes.
MATERIALS:
1-¼" Black Iron Pipe (¾" Diameter)
Pipe Floor Flange (Qty 3)
Pipe Cap, Black (Qty 3)
2x4 cut to fit over your stairs (Qty 6)*
Spade Bit large enough for 1-¼" pipe**
TOOLS:
Jigsaw
Circular Saw or Miter Saw (for cutting 2x4s)
Drill
Hole saw
Liquid Nails
My Take On A Cable Rail Staircase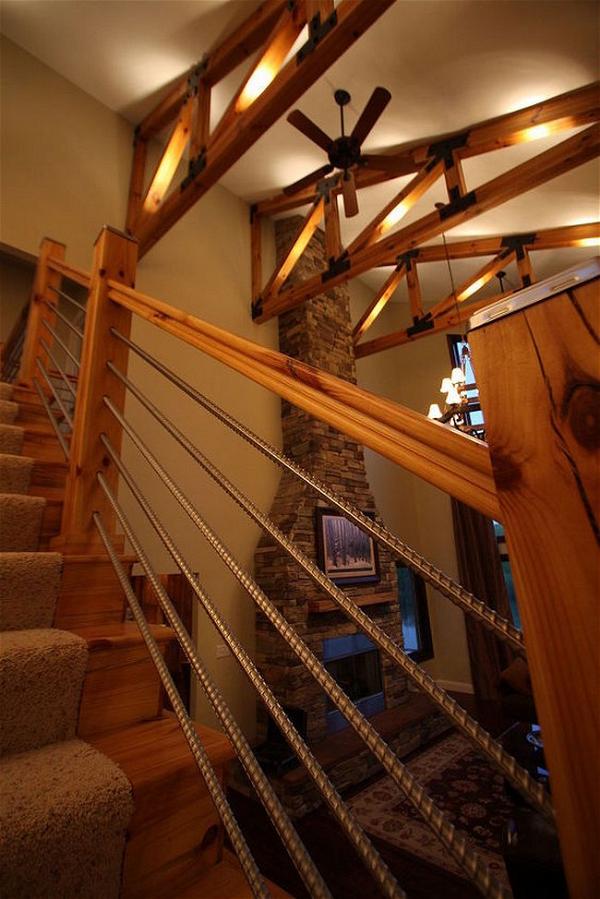 If you have ever searched for cable railing or cable stair railing, you have seen the many options available. There are countless styles, shapes, and materials used to create a cable rail system. If you can't mount to the treads, then you need to consider whether the wall is strong enough to support the posts. The cable railing tension will have a lot of force on it, so you don't want to mount it into drywall or something that isn't structural. There are several things a contractor needs to consider when installing a cable railing. The first is whether you can attach the posts to the stair stringer or wall. You don't want to cut into the support structure of your home unnecessarily. This can cause structural issues, especially on stairs. It is much better to mount the hardware to the wood treads, if possible.
Materials:
 Cable railing kit (I used Feeney kit from Lowes
Two 4×4 posts at least 4 feet long
One 2×6 at least 6 feet long
Two 2×4's at least 10 feet long
Box of deck screws
Tools:
 Drill and screw bit
Power saw - circular or table saw
Measuring tape and pencil
Banister And Riser Stair Makeover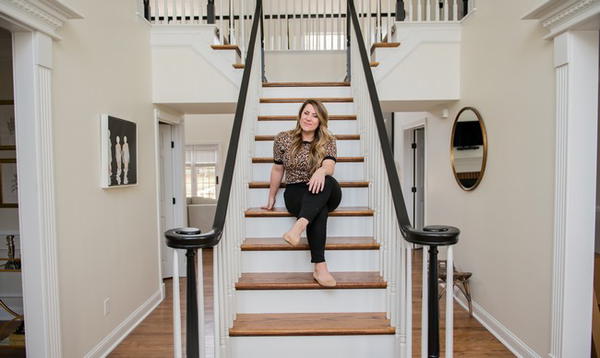 This house sat vacant for over a year before we bought it, so while yes, the wood was pretty, it wasn't in the best of shape. It was obvious that the stairs at one point had been carpeted and whoever ripped it out did quite a bit of damage on the stairs with the nails not being taken out properly, etc. This is pretty self-explanatory if you are wanting to replace it. For starters, you will want to remove all the nails from each riser of your steps. Be sure to use caution during this portion of the project because you don't want to hurt yourself or damage your stairs any further than they already are.
Materials:
Frog tape:
Primer:
Paint Color:
Paint Trays
Angled brush
Mini foam roller and brushes for said roller
Small artist brush
Sanding Block
DIY Banisters for $500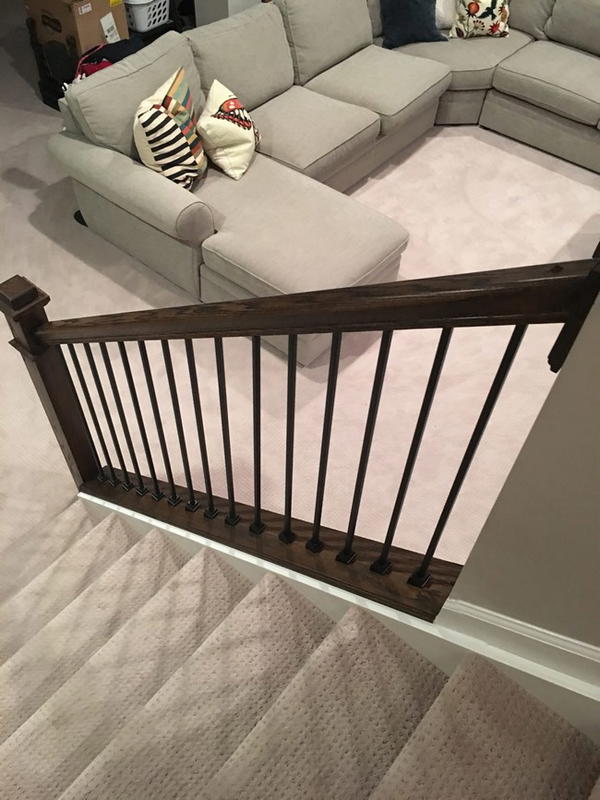 MATERIALS AND TOOLS
Beveled glass
Wood screws
Pneumatic nailer
Caulk
Nylon rope
Copper wire
Concrete anchors
Stair Railing Makeover One Year Later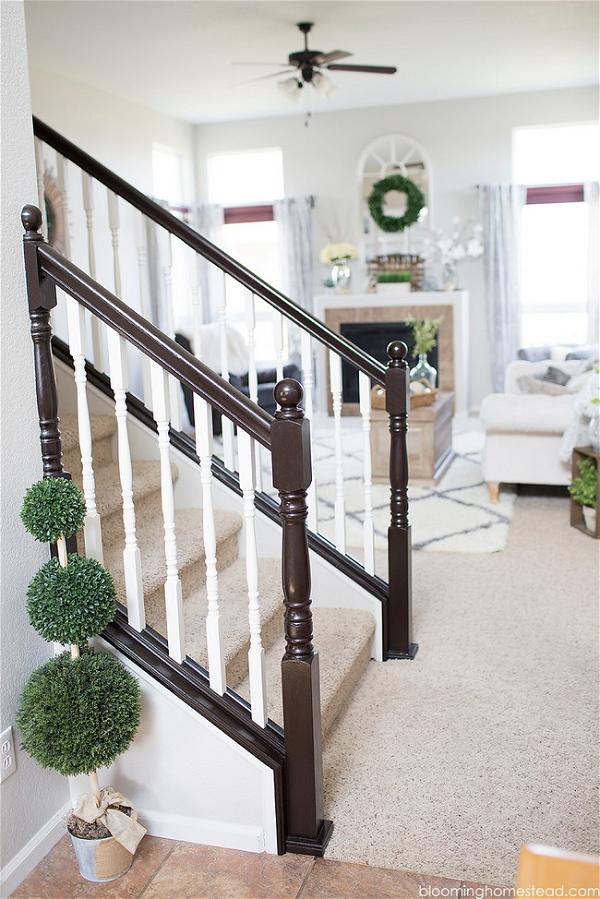 This project was pretty simple, but if you think about tackling something similar in your home, just remember that this railing does get a lot of wear so keeping it will require some maintenance. You transformed the entryway by updating the handrails, banisters, and spindle on our staircase. It was a relatively simple DIY project that really made a big improvement in your home. That said, it is not a forever project! If you want to keep your painting looking fresh one year later and beyond, read on for how you can able to maintain the paint job and keep it looking new!"
Materials:
 pine board for the top rail
pocket hole screws
Tools:
 Kreg Jig
Max Brushless
Drill/Driver Kit
Conclusion:
If you are looking for an inexpensive way to improve your home's look, then consider looking into DIY stair railing projects. It's also a great idea to add a little bit of style to the stairs in your home. You don't have to hire a professional contractor to built stair railings, but with just a little bit of research and planning, you can create the perfect stair railing for your home.
Choosing the right material for your stair railing is important. Wood is a popular choice because it's easy to work with and it's durable, but there are many other options available as well. If you want something that looks great, consider using metal balusters instead of wood ones. Metal balusters come in all different shapes, sizes, and colors, which makes it easy to create an attractive look for your staircase. They're also much more durable than wood balusters and won't chip or scratch easily over time.
See Other Projects