If you are looking for a way to add seating to your deck and improve the look of your outdoor space, consider building a DIY deck bench. This project can be done in a day or two, and many of the materials required can be repurposed from other projects. So you're in luck if you have scrap wood sitting around! You'll need to do your homework first to see what will fit and work best on your deck. But the extra seating is great for relaxing with family while watching the sunset or grilling out with friends. These 11 DIY deck bench plans will show you how to build an outdoor bench that is inexpensive and easy to install. These are the perfect plan for your needs.
DIY Deck Bench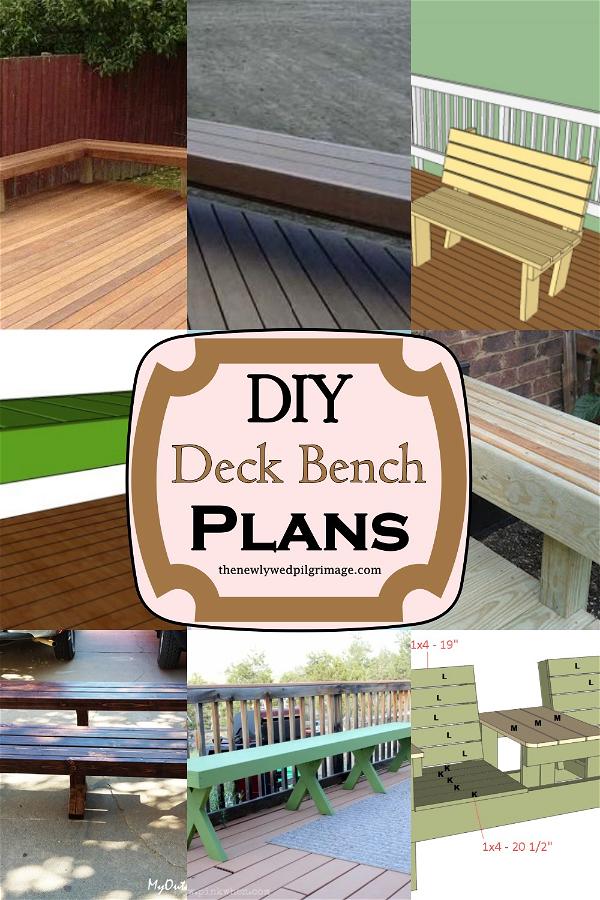 Decks are a great addition to any home. They provide you with a space to store your grill and outdoor furniture so you can enjoy your summer with friends. Keep your deck organized and optimize your outdoor space with a DIY deck bench with storage or a simple seating area. These creative benches help define the borders of outdoor rooms and create comfortable seating. You can search for DIY bench ideas that fit your taste, whether it's modern and built-in as part of your deck railing or more rustic in looks with individual rustic wood benches. Browse through some of our featured projects below and then head over to check out these DIY Garden Bench Ideas for more inspiring projects!
Precautions followed during constructing Deck Benches
-Deck Benches need to be well structured.
-It would not be safe to use pressure-treated wood alone.
-Take caution of metal and paint thickness.
-Consider placement before constructing the benches.
-Use SmartWood treated lumber for all exposed surfaces.
-Use metal flat plates where the planks touch the ground.
-Make sure you install your benches away from the stream, erosion areas, and tree roots.
-Add extra support with Bolts when installing.
How to secure the attachment of the bench to the deck
-Place the top of the bench flush with the bottom of the deck (the surface of your deck that is touching your house)
-Apply evenly spaced pressure on the bench when you attach it to the deck.
-Attach the bench to the deck.
-Use L brackets for the attached wood.
-Build a fence with the right hardware.
-Make sure to use lag bolts.
Uses of Deck Bench Plans
-Use it as a space to relax and enjoy nature
-Use a deck bench plan to add value and convert additional space.
Do-Want a kitchen counter space or a secondary docking area for your laptop.
-Use a planter box to grow plants with the sun and rain.
-Consider safety issues when building a deck bench.
-A deck is never complete without a bench on it.
How to Build a Built-in Deck Bench
Durable, comfortable, and stylish, you can enjoy superior seating for your deck. With built-in deck benches, you can have more storage in less space without the clutter of additional chair storage. Building your own deck bench will save you a lot of money and it's not as hard as you think. You can have built-in seating that is perfectly spaced, slanted the right amount, the right distance off the deck, built-in tables to hold drinks, and so on. Start designing your new deck bench today.
Deck Bench
Deck Benches give you extra seating in your yard. They also provide additional storage space and improve the overall look and feel of your home. The How to Specialist Deck Bench Guide shows you how to build a bench that is strong, attractive, and functional! There is no need for a large workbench because most of the work is done by the circular saw, jigsaw, and electric drill. Once built, you want to be able to enjoy your deck for years to come so it is important to use a quality weather-resistant paint or varnish. The deck bench plans in this article will help you create a safe and comfortable bench that looks great on any deck.
DIY

2X4 Deck Bench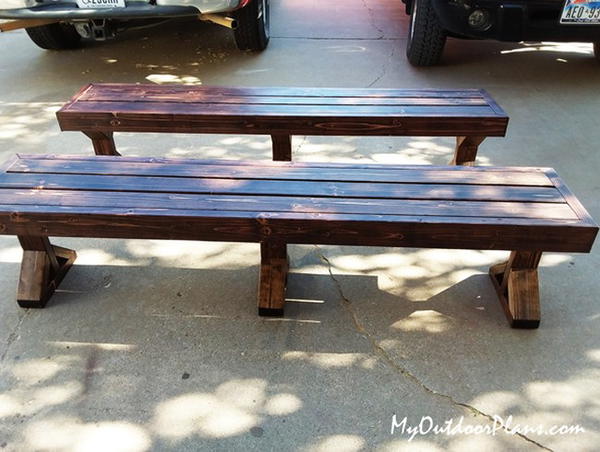 The benches are sturdy and durable, making them a great addition to your home. You can install them in your backyard, patio, deck, or garden. If you have a few 2x4s and some time on your hands, you can build this gorgeous outdoor bench in one weekend. It's made from a pair of 2x4 frames, filled with playground sand, sealed, and covered with a piece of plywood. It's sturdy, durable, and cozy: not only do you get to relax alone, but there's room for three or even four people! This is one of the easiest deck benches you can make and it looks simply stunning, too!
Wooden Deck Bench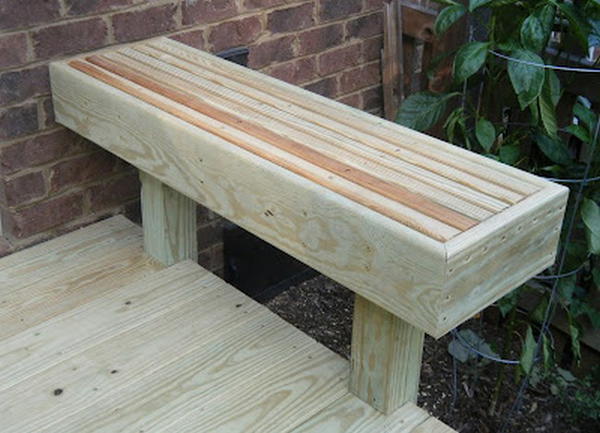 This Wooden Deck Bench is perfect for the whole family! It's great for one or two people, and it easily attaches to your deck's posts so you can relax and enjoy the scenery. This easy-to-build deck bench has it all: a built-in back, angled sides for more comfortable seating, and plenty of storage for your books, games, and toys. Perfect for looking at large landscapes like a mountain range or ocean. Complete it in a single day with very few tools or lumber. The bench offers a sturdy base and comfort along with the ability to attach it anywhere on the deck of your choice so you can get a clear view of any part of your property from the seat.
Composite Deck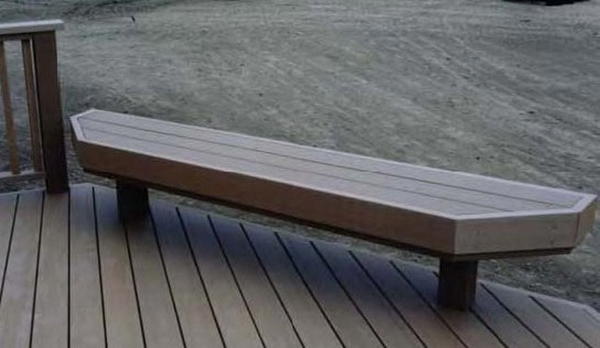 If you are looking for an outdoor bench that stands out and lasts for a long time, the DIY Deck Plans Composite Deck is a great choice. The Composite Deck Project offers the structure of a simpler bench but boasts a sleek, modern look. Its clean lines make it perfect for a contemporary landscape, and its maintenance-free materials make it the ideal choice for your favorite outdoor spot. The sturdy wood frame is topped with composite material, creating a durable seat that's great for enjoying your backyard view. It's large enough to fit several people, so make sure to bring friends to enjoy this unique bench.
Deck Bench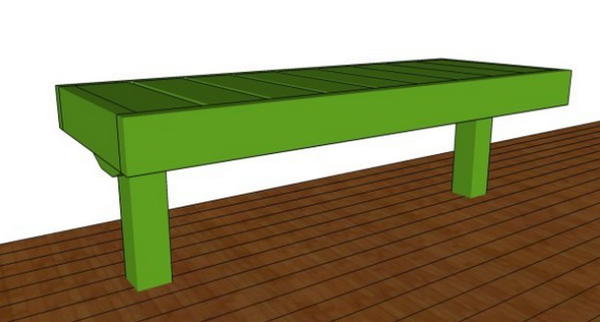 This free deck bench plan is easy to build, so it's ideal for a novice carpenter. It will provide you with extra seating in your yard, and make your deck more beautiful. This elegant, simple deck bench is easy to build and provides a comfortable spot to sit, complete with a decorative backrest. You can make it in any size or as deep as you want, and the classic silhouette pairs well with many styles of decking. The height of the bench makes it ideal to sit on with a drink or plate of food in your hand, and the durable top makes this bench durable enough to handle anything.
DIY $20 Outdoor Patio Bench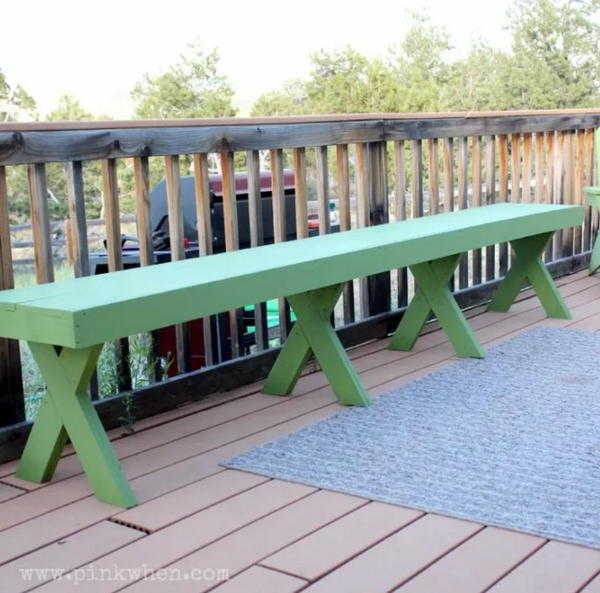 This DIY $20 Outdoor Patio Bench will give you a place to sit, relax and enjoy your outdoor space. It is easy to customize for any size or style. Why not add some outdoor cushions for extra comfort? This bench is ready to be painted or stained, to coordinate with your outdoor decor. A great project if you don't want to spend a lot of time building and using power tools. This easy-to-build bench can be completed on a weekend and uses commonly available lumber and screws. A couple of the steps require cutting angles or otherwise more advanced carpentry skills, but with patience and careful sanding, you can take care of any rough edges.
Adding A Bench Seat To An Existing Deck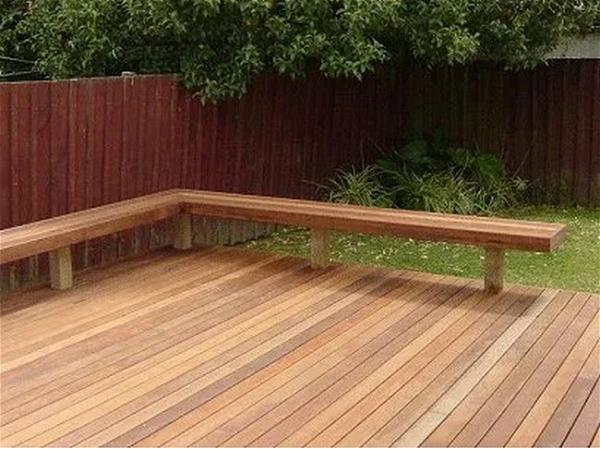 This bench was added to an existing deck. It shows how to build benches into the deck itself to offer plenty of seating for a large group. This is a challenging project, but if you have some experience with woodworking and power tools, it's worth the hard work. This bench seat will provide comfortable seating space for your deck and is the perfect place to relax with a cold drink and watch the sunset. It will take several days to build and install because of its size, but if you want to add a large amount of seating space to your deck, then this could be the perfect fit.
Double Chair Bench Plan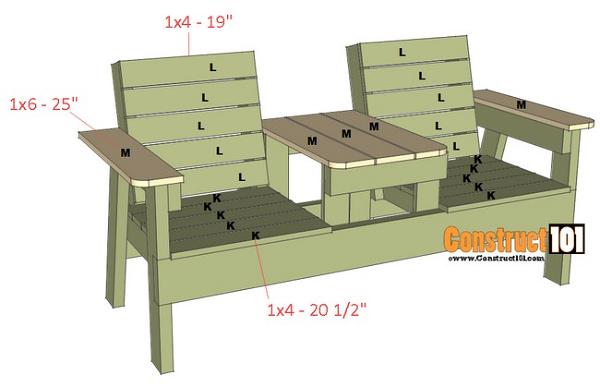 Building your own wooden furniture is an excellent project. Most people are surprised by how easy it is to build built-in furniture and benches once you have assembled the parts. This DIY Outdoor Bench plan is a perfect choice because it is extremely comfortable, durable, and easy to maintain. Two adults can spend hours comfortably on this bench, and the armrests give them a place to put drinks and other items. It's an advanced DIY project, but if you take your time, cut carefully, and use the right materials, it is possible for even relative newbies to accomplish. And it's nearly as expensive as store-bought models.
Outdoor Bench For My Deck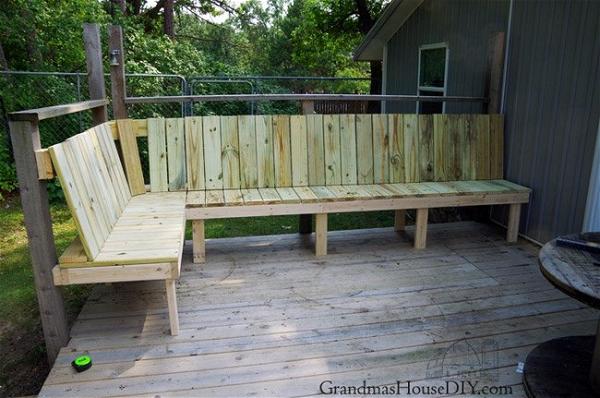 At long last, this durable bench is just what your garden patio or deck needs. With its unique design, it is perfect for two to curl up and get cozy with a good book on a summer's day, or just sit side by side enjoying the fresh air. Constructed of weather-resistant acacia wood and powder-coated steel frame. The bench is designed to withstand the elements and provide you with years of enjoyment. The seat features a slatted design for quick drainage after rain. The bench is made of fir wood, which is naturally resistant to insects and decay.
Bench Railing And Deck Bench Plan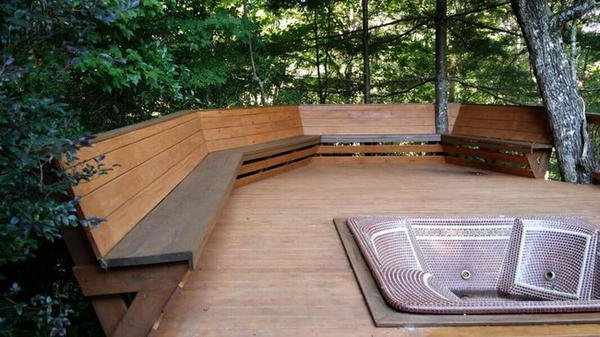 Need an attractive railing with a built-in Bench? It comes with a full safety handrail for supporting these plans. The top of the rail is solid with the bottom having a decorative lattice finish. This design provides maximum support and stability, while still providing decorator style and beauty to your railing.
Add your own railing to this deck bench plan and you've got yourself a nice little shaded area. The wood deck bench railing design allows you to save space while adding decor and comfort to your deck or patio. It is the perfect solution for creating an elevated seating area. You could even build a bar into it!