DIY bench plans are a great way to enhance any outdoor space. Not only do they provide you with extra seating options, but they also add more appeal to your landscape. And the best part is that these 15 DIY bench plans won't take up too much time or cost you a lot of money. If you're looking to build a bench, there are plenty of great designs you can use. You can also build your own bench using some basic tools, though that might take longer than simply buying one at the store. Before building any piece of furniture, it's important to measure the space where it will sit. If your bench is going to be out in an open area, measure the area and make sure it's not too large for where it will go.
DIY Bench Ideas
If you're putting it inside your home, measure any doors and hallways and make sure that the bench won't be too big to fit through them. The first project is a simple one and is suitable for beginner woodworkers. The design is basic and easily customizable, depending on the material you use. You could even make it out of recycled pallet wood to keep the costs down. This is an inexpensive bench that you can build using some of the reclaimed lumber you can find in your garage or shed. These 15 DIY Bench plans range from simple tables to complete workshop areas, so there's one for every woodworker and budget.
Use one of these free 15 DIY bench plans to build a bench for your home or your outdoor space that will look great and offer comfortable seating.
Tools and Materials:
mitre saw
table saw
Kreg Jig
circular saw
drill
jigsaw
clamps
deck screws
plywood
wood for dividers
Portable Shooting Bench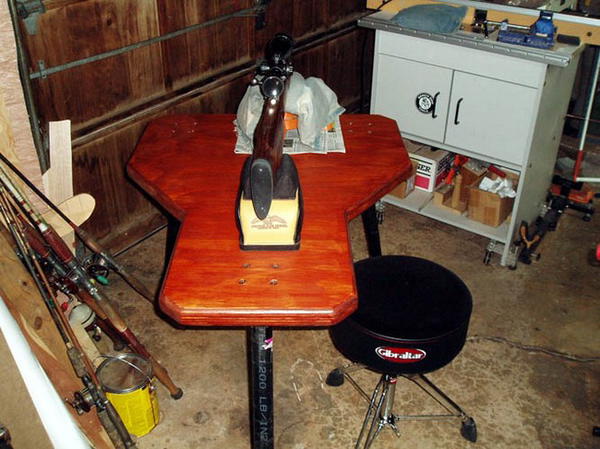 This small shooting bench is a good example of how simple a DIY gun rest can be. It's described as a" portable" shooting bench, but it's not exactly lightweight. While it might be easy to break down and fit into the trunk of your car, you probably won't want to carry it very far until you add some handles or straps.
This bench is perfect for short-range target shooting, but it probably won't hold up well for long-distance shots. For someone just getting started or that doesn't want to make frequent trips to the range, though, this project is an excellent choice.
How to Build a DIY Farmhouse Bench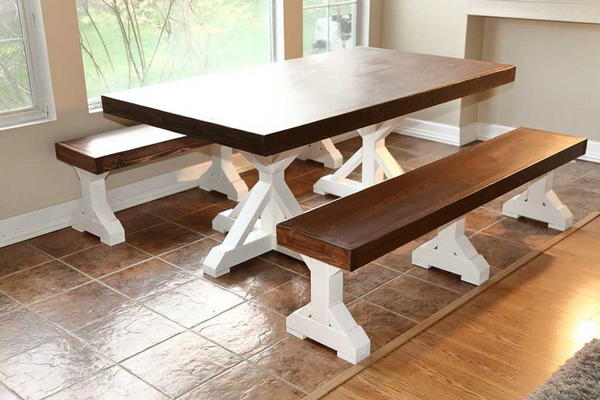 This DIY farmhouse bench is super sturdy and adds a great rustic vibe to your home. It's made from solid wood, making it strong enough to last for years. Farmhouse benches are very popular in the DIY community because they offer so much flexibility and can be used in so many ways — as dining room table seating, entryway seating, and garden benches. They're also very easy to scale up or down depending on your needs. This bench is pretty darn simple to build, with a couple of caveats. There are a lot of angles to cut and quite a few pocket holes to drill. The good news is that this farmhouse bench is very sturdy and easy to put together. This project is fairly simple and doesn't require any specialized tools.
Portable Shooting Bench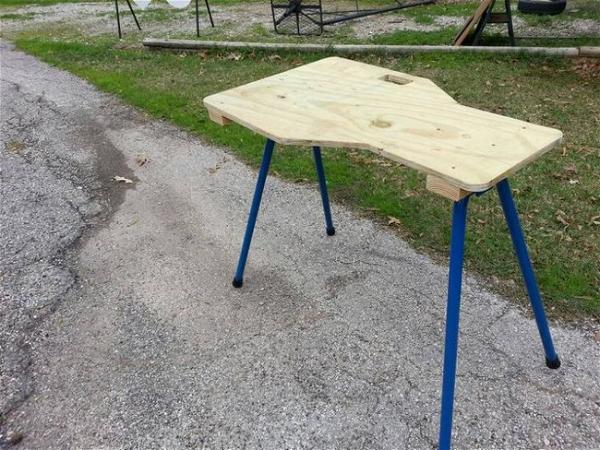 There are plenty of shooting bench plans available that fit this profile, but this portable shooting bench is a great option because it is light and easy to transport. It will get you close to the action, yet can be transported back out of the field when you are done practising.
This bench is also very affordable and an easy build for a beginner woodworker. To make it, you need just a few tools and materials, most of which you may already have around your garage or workshop. This bench is designed for those who like to hunt from a ground blind or a tree stand.
 

The DIY Couple DIY Bench Bed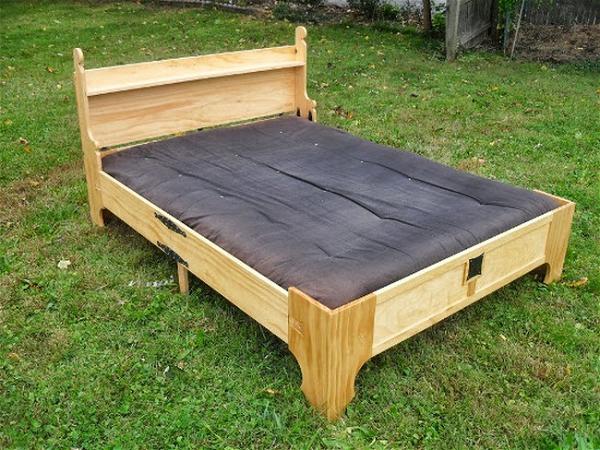 The DIY Couple DIY Bench Bed is a little more complicated than the other projects, but it looks great and can be very convenient. If you have a lot of experience with woodworking, this project is for you. Depending on your experience level and woodworking skills, you can get this project done in 4 to 8 hours. It's best to start with a detailed plan before beginning any woodworking project, so check out the complete instructions here. If you have a lot of space in your bedroom, you might want to consider making a bench that doubles as a bed.
Easy DIY Outdoor Bench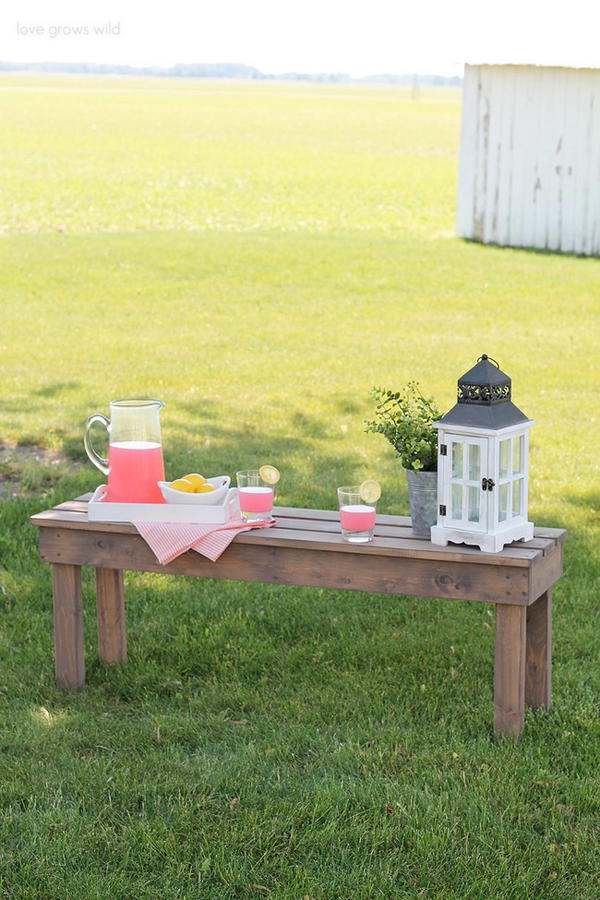 Woodworking is a craft that has been around for hundreds of years and has been used in countless ways. Although it may seem like a dying art, there are still many people who create benches with the love they have for their craft. For a beginning woodworker, this is a fantastic project, as it offers to help you develop all the skills needed for building more complex projects that require more components. The final product is also beautiful and durable enough to use as you work on your next project. It's not as easy as some of the benches, but with this option, you'll be able to build something. This DIY bench is the perfect addition to your front porch or patio. It's also great for your entryway or mudroom as a place to sit down and take off your shoes.
DIY Bench For My Porch Refresh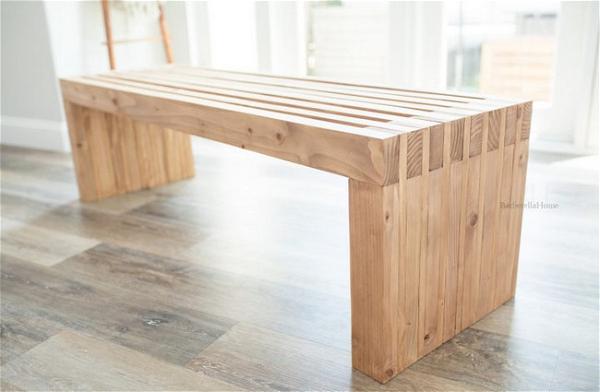 If you've ever struggled to find the perfect bench for your porch, patio, or deck. This DIY bench is super simple to build and can be completed in a single day. It's also extremely durable and will look beautiful for years to come.
This DIY bench is a great project to create a spot for shoes, towels or other items you need right outside your door. The storage area is large enough to hold a few pillows - perfect for a quick nap or reading a book.
You can build this bench with basic tools and materials and it will go together very quickly. Plus, there are no angle cuts to make. Just glue and screw the pieces together. Use these free DIY bench plans to build a bench for your home or office. There are step-by-step instructions that include materials lists.
DIY Garden Bench Plan
If you're looking to build a simple bench in your yard, this is the one for you. It's not too big, but it can fit two people comfortably and it's easy to build. This outdoor bench plan comes with a materials and tools list, step-by-step instructions and a design that's perfect for the beginner builder. This DIY Garden Bench from Ugly Duckling House is easily moved and has a back to make it more comfortable. It's a great project if you want to get some practice with power tools, and you can easily adjust the size for whatever space you might have available. It only requires a few boards that you might already have sitting around your home and a few nails.
Make A Concrete Garden Bench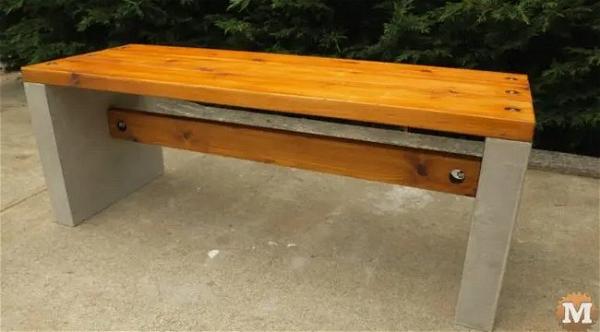 The design of this bench is very simple, so you don't need to be an experienced woodworker. If you are, then you can add some nice details to the design, or maybe even come up with your own design. The bench features a rectangular seat, supported by four angled legs on each side. This is a great beginner project and one that only requires a few concrete supplies and a handful of woodworking tools. The bench can be placed anywhere in your yard. You could also stain this bench if you want or paint it any color that matches your current garden decor.
Planter Bench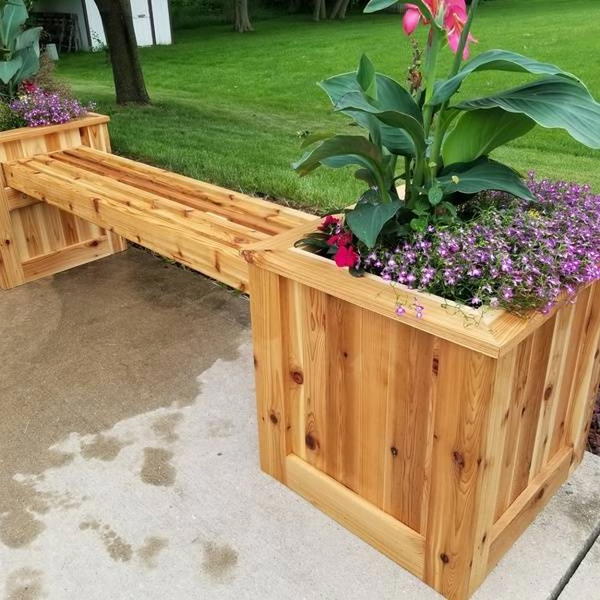 This is a bench that can be used in many ways. The main feature of it is the planters on each side, which are large enough to grow almost anything you want. It's made of cedar so it will last for years and has a natural beauty that will make your yard stand out from others.
It can seat more than one person comfortably, so it's great for when you have guests over or if you just want to sit outside with someone else and talk about something important. The plans for this project include step-by-step instructions so that even beginner DIYers will know what they're getting into before starting their build!
Related Read: 21 DIY Planter Bench Plans
Planter Bench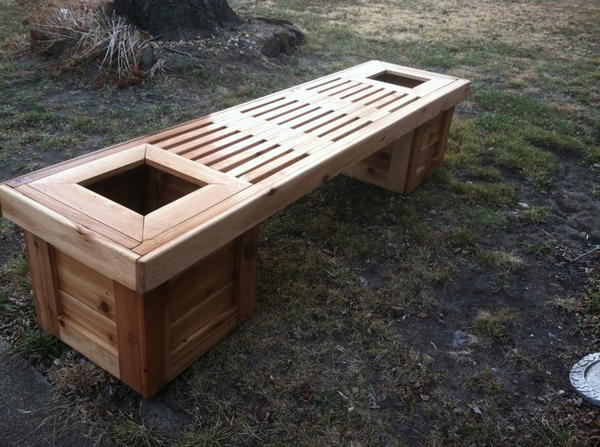 This is a straightforward design that takes very little skill to build. It's a great way to add extra seating to your patio or deck on the cheap.Once you've built this bench, you can use it with confidence knowing that it will hold up well over time with proper care and maintenance. This is a great project for beginners who want to work on something with large dimensions and not have to worry about making mistakes. The design also includes a matching table if you want to build both pieces as pictured above. That way you get a complete outdoor furniture set for very little money and effort. You could easily finish this bench using different woods and stains so it matches your other outdoor furniture pieces. If you do that, then it makes sense to build both the table and bench to get the most use from them.
DIY Modern Rustic Bench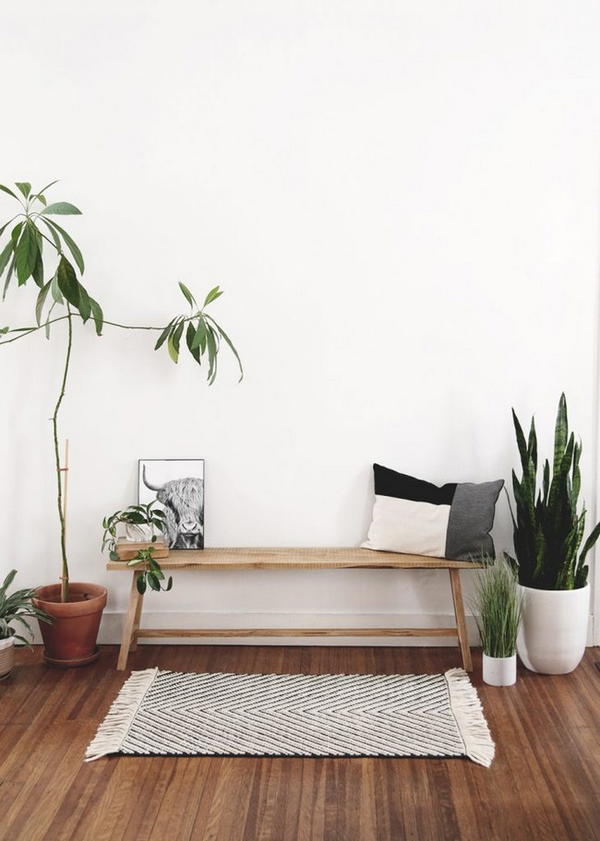 There are a few ways you can make a bench. You can buy one, of course. Or you could take the super-simple route and just stack up some pallets or cinder blocks and call it a day . But if you really want to get your hands dirty and build something impressive, then you'll love this DIY rustic modern bench! This project is so easy anyone can build it. It's the perfect outdoor furniture piece to place between two chairs on your porch or in the corner of your garden. And even though it looks like an expensive piece of furniture So if that sounds like a project you'd love to tackle, then let's get started!
West Elm Bench Knock Off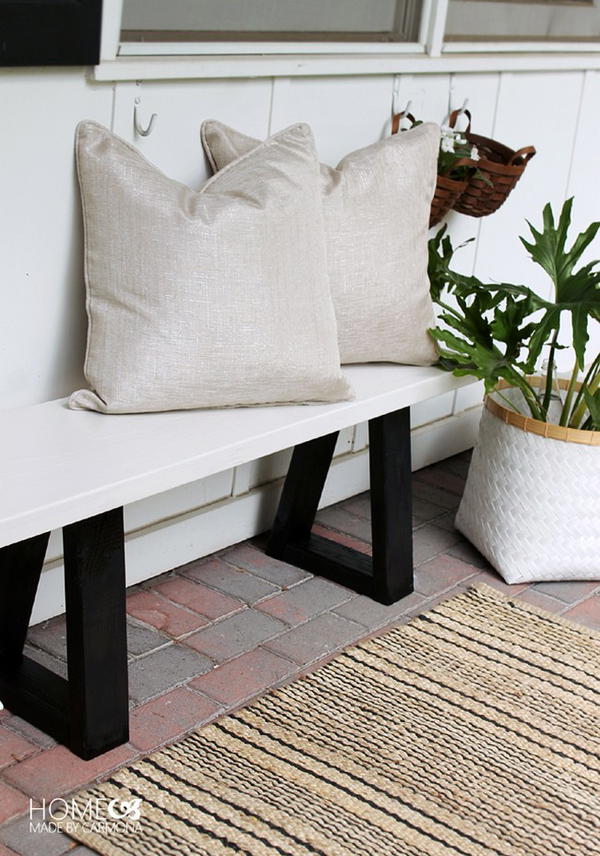 A stylish bench with a modern rustic feel. This sturdy bench is large enough to fit multiple people and/or use it as a coffee table. The nailhead trim is applied by hand and makes it extremely durable. Our Bench Knock Off shows off gorgeous wood grains and is a great value. Constructed with solid maple legs and a solid poplar seat, it's built to last and looks beautiful. This amazing indoor/outdoor bench is the perfect addition to any porch, entryway, or patio. Built using gorgeous hardwoods and boasting a decorative nailhead-detailed back, our bench will stand out in any space.
DIY Woven Bench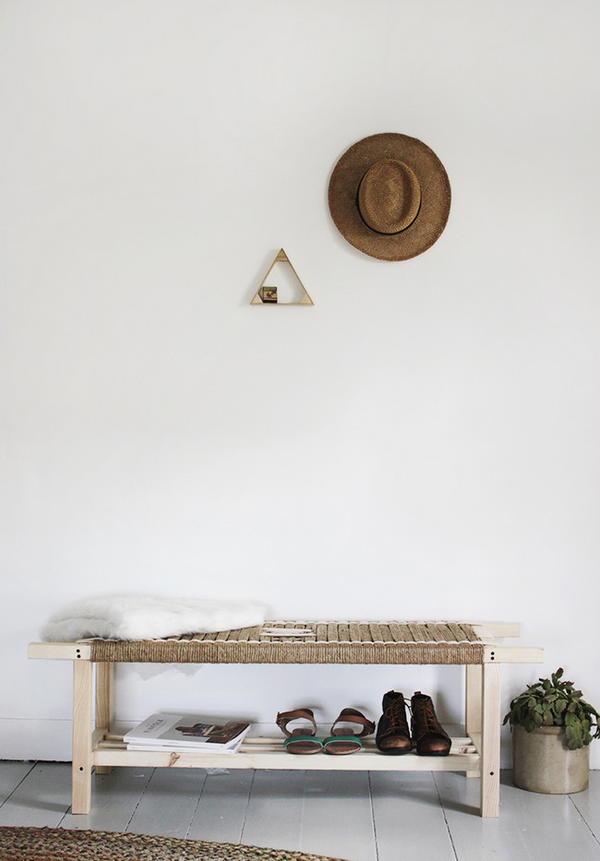 This DIY woven bench is such a fun piece of furniture to build. It's also so simple that it's almost unbelievable. The only hard part is getting the weaving part down, but once you get the hang of it, you'll be able to weave together this adorable little bench in no time!
The great thing about DIYing your own furniture is that you can customize it to your liking. You can make it in any size, change up the colour, etc. This one is a basic design but there are lots of ways you could mix it up and make it your own.
DIY Bedside Bench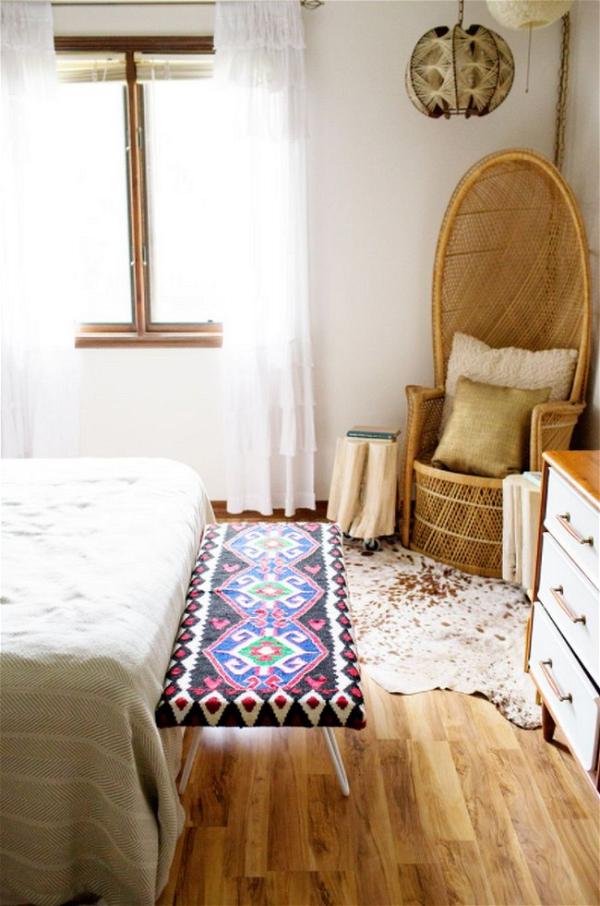 This DIY bedside bench is so easy to make, and it will add a lot of charm to any bedroom. The best part is that you can customize it to fit your space, your style, and your needs!The bench isn't a new trend by any means. It's not only a great place to sit while putting on shoes, but it also provides tons of extra storage and the perfect spot for decorative accents.
There are so many different styles of benches you can use in your bedroom—from vintage luggage racks to a DIY bench made out of an old dresser drawer.
This style is super easy to make and you can play around with different fabric options to fit your style.
DIY Woven Leather Bench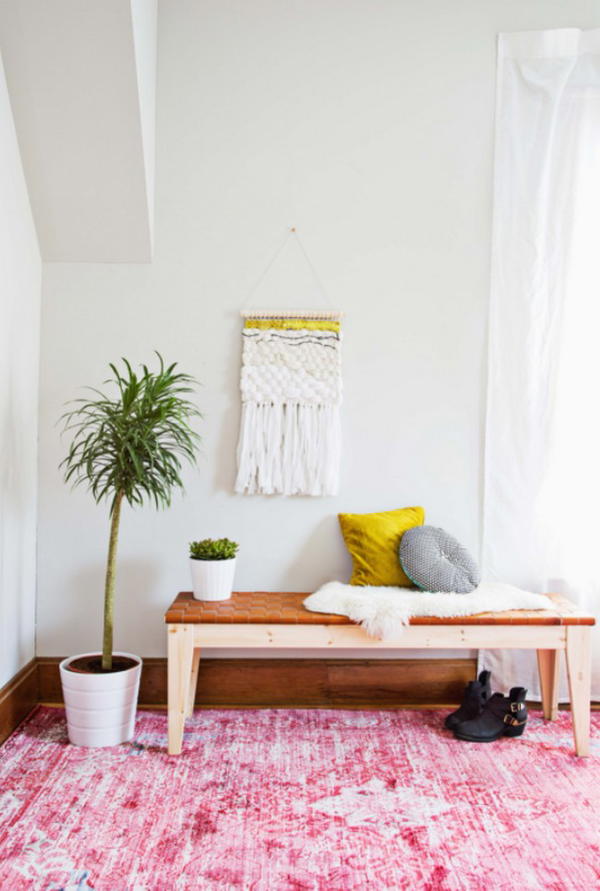 Difficulty: Moderate
This project is a bit more time-consuming than usual, but the final result is pretty awesome. It's not often that you see a piece of furniture with woven leather on it and when you do, it's usually quite expensive. Luckily, this DIY version is much more affordable; with a little patience and hard work can be completed in a weekend. This DIY leather bench is an easy and modern piece to add to any space. It's perfect for any room and makes a great place to store blankets or put on shoes. This bench is a great project for anyone with intermediate skills, and it's actually very budget-friendly.
Conclusion:
For the casual DIYer, building a bench is a great way to add value to your home and increase your sense of accomplishment. While there are many varieties of benches, most fall into two broad categories: benches with backs and benches without. The former supplies a backrest and often armrests. The latter includes backless and armless benches; which may have seats that flip up or down or seats that slide underneath the bench itself.
Whatever your needs may be, you've compiled a diverse list of fifteen DIY workbench plans for woodworking enthusiasts like yourself. Some of these workbench plans require a small fee to utilize, but the detailed instructions and materials list are well worth it.