Is there anything better than sitting and relaxing in your yard during the summer? If you are looking to add a touch of extra décor while also being useful and practical, you should consider building or purchasing a planter bench. We have collected 21 DIY planter bench plans that you can try to make with your own hands. These are so easy to build and can help to improve the look of your yard, garden, or porch. Try one of these free plans and see how easy it is to build something yourself.
The Top Planter Bench Plans
Picking the best planter bench requires a bit of shopping around. You'll want to find one that has plenty of room for sitting, as well as enough space for your plants. You should also take into account what kinds of plants you want to grow and where you would like them to go. If you love to garden but think you lack the space for it, try a planter box. You can make one yourself with some basic tools and materials. If you're feeling more ambitious, you can build a bench around the planter to give it even more character. We've compiled a list of 21 planter bench plans below.
Build your own bench for a sleek, modern addition to your garden. Our collection of 21 DIY planter bench plans is sure to help you get started!
The importance of DIY Planter Bench Plans
If you've ever wanted to make your own DIY planter bench, this blog post is going to be a great place to start. We're going to go over everything you need to know, from why you should consider making your own bench, what materials you will need and how much they will cost, how to assemble the planter and grow plants in it, how to maintain the bench and keep it looking beautiful, and so much more!
We've got some really great tips for first-time DIY-ers that we think are going to be really helpful, so read on and get ready to learn all about how you can make a beautiful planter that's perfect for your home!
Porch Planter Bench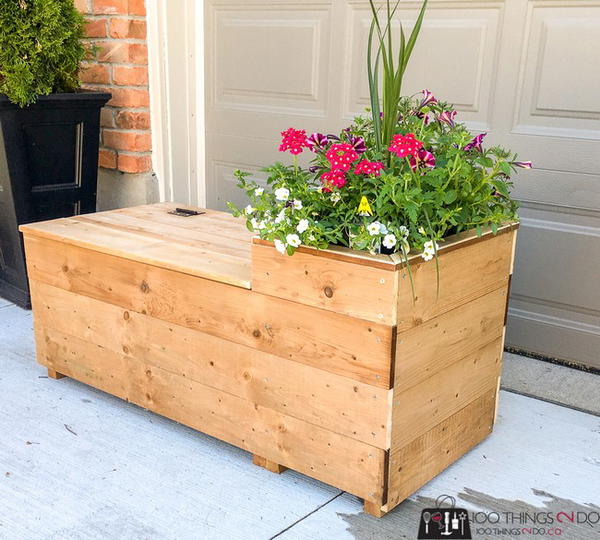 Looking to add some seating and greenery to your front porch? The Porch Planter Bench Plan is a unique way to enhance the look of your outdoor living space. This porch planter bench is a great way to beautify your front porch. There's a lot of storage found below the seat for toys, tools, supplies, and more. The bench looks good with or without flowers and plants. It's a fun build that offers something appealing for every member of the family, young and old!
Corner Planter Bench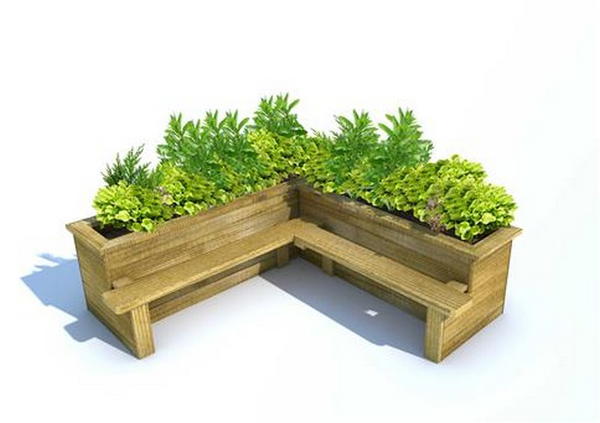 The Corner Planter Bench is an attractive bench with a built-in planter. Position it against the corner of your house or patio to add an extra planting area around the outside of your home. This Corner Planter Bench is not only practical but a pretty piece of furniture to have in your backyard. It combines a corner bench with a planter and trellis. This could be the perfect project to make for the weekend, so let's review what we need to create this furniture set.
Outdoor Planter Steps or Bench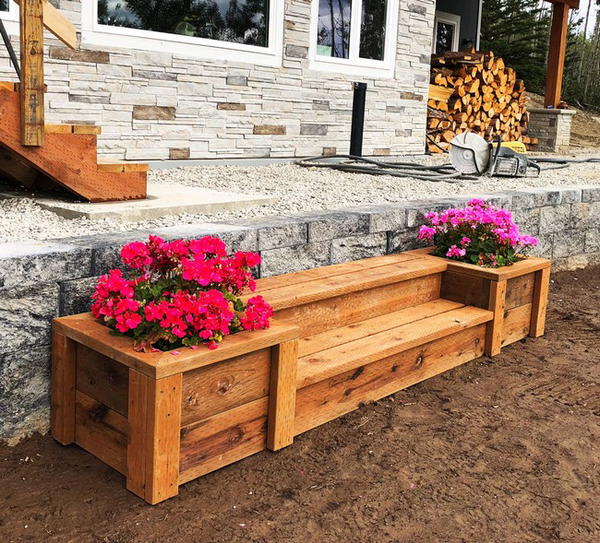 The Outdoor Planter Steps or Bench is multifunctional, allowing you to use it as a small set of stairs and a bench. It also provides you with two large planting areas for your favorite plants. As the name suggests, you have the option between a small set of stairs or a convenient bench. In either case, this planter doubles as an instant upgrade to your actual gardening space by providing two large planting areas for your favourite plants and flowers.
English Garden Bench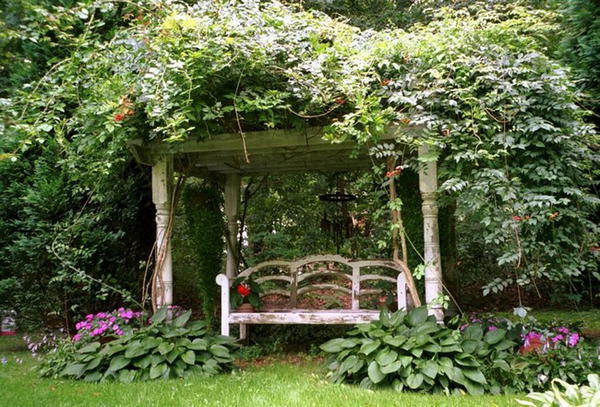 With the English Garden Bench Plan, you can create your own bench complete with flower pots on each end. A sitting area that looks like it has been around forever. The plans show a simple easy construction process and there is no complicated joinery to follow. This elegant yet comfortable bench can be built on the weekend. Additions such as the planters on either side, ventilation for additional comfort, and a high-quality look make this a classic piece for any outdoor space.
DIY Planter Benches
Complete your patio or garden with these DIY planter benches. Enjoy lush greenery and flowers in a personalized environment of herbs, vegetables, and other plants. They allow you to display your favourite flowers, plants, and accessories while being practical in the process. Build this piece easily with the DIY guide. Two benches and planter boxes together create this L-shaped DIY wood bench. It is perfect for adding a little extra seating and a lot of extra planting space. The built-in planters are great for plants or herbs that need plenty of drainages.
Build A Planter Bench For Your Garden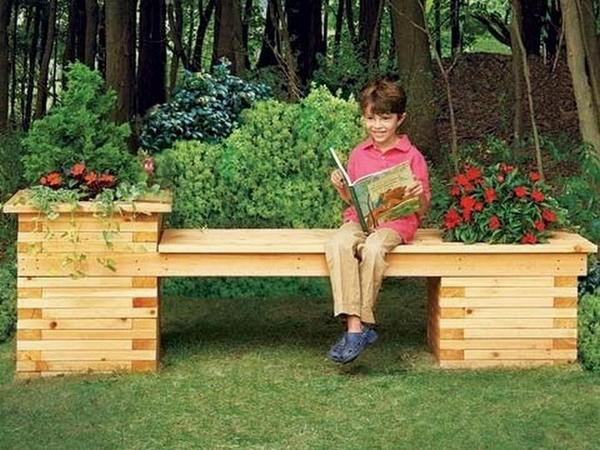 Build a gorgeous, multi-functional garden bench that allows you to relax and enjoy your hard work. This easy project is a fun way to express your DIY skills and includes step-by-step instructions and photos. This project serves double-duty in your garden. First, it's a sturdy bench for year-round outdoor use. And second, with boxes beneath the seat of this bench, it gives you the perfect place to store extra bags of potting soil or whatever you need quick access to in your garden.
project.theownerbuildernetwork
Simple Planter Bench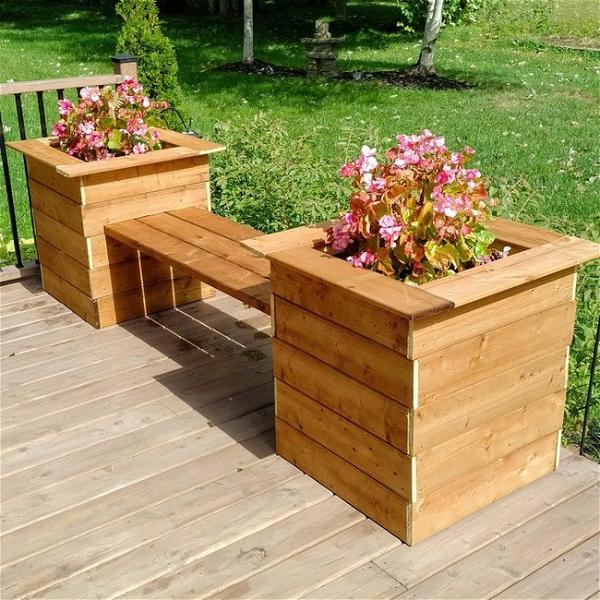 Add a touch of modern style to your outdoor living space with the Simple Planter Bench. This bench's simple, yet classic design makes it a great addition to any outdoor space. Its deep planter is the perfect home for your plants, or you can use it as an ice bucket during parties. Its sturdy design - along with its simple style - makes this bench a great match for any setting.
DIY Cedar Planter Bench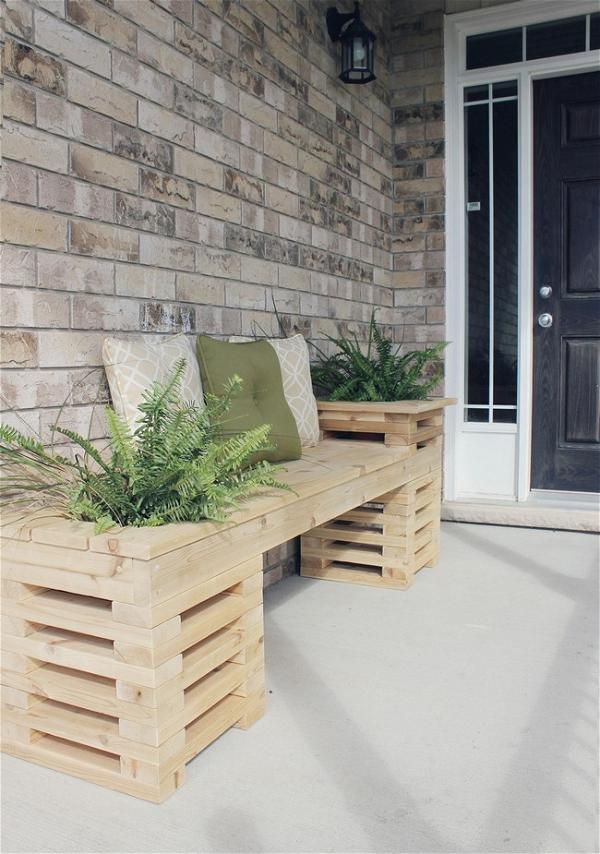 This DIY planter bench is a perfect stop for those coming from your house or heading to your fire pit. With full step-by-step instructions, this project is not only easy but will look fantastic in your backyard too. It's multi-functional, as it seats two people and has built-in planters on each end. A simple cedar bench with planters that will transform any outdoor space with a place for friends and family to gather, get comfortable, and enjoy their outdoor surroundings.
Build A Bench Seat And Planter Box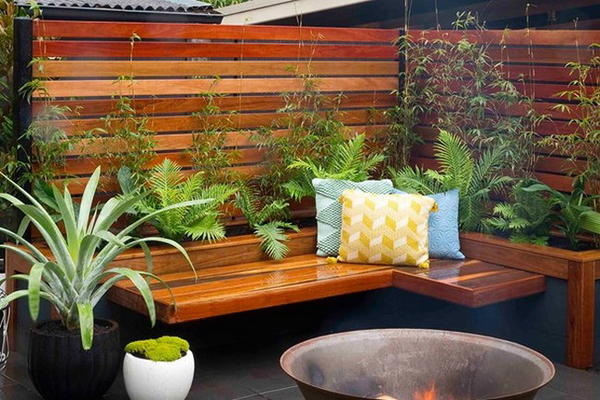 If you're looking for ways to add some pleasant greenery and create a relaxing spot where you can relax with family and friends, then look no further than this build your own bench seat and planter box. With this easy-to-make project, you'll be able to use a single pallet to construct what is essentially the world's simplest planter while creatively hiding an ugly view! It's perfect to hide an ugly view, define an entryway, add some interior greenery, or simply provide a place to rest and relax with family and friends.
Box Crib-Style Outdoor Bench and Planter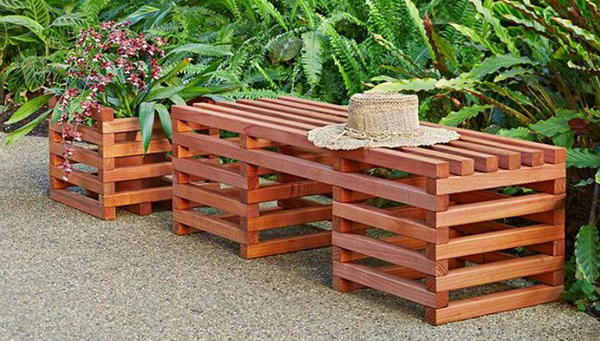 Looking for an inexpensive weekend project that the whole family will enjoy? Build this generously sized box crib-style outdoor bench and planter in just a few hours. This clever design combines a comfortable, built-in bench with a matching timber planter surround so you can create a private oasis on a blank wall or fence, or on the side of your house. Add a marine-inspired, simple bench that doubles as a planter to your deck or yard. This classic project is the perfect combination of seating and gardening.
Bench and Planter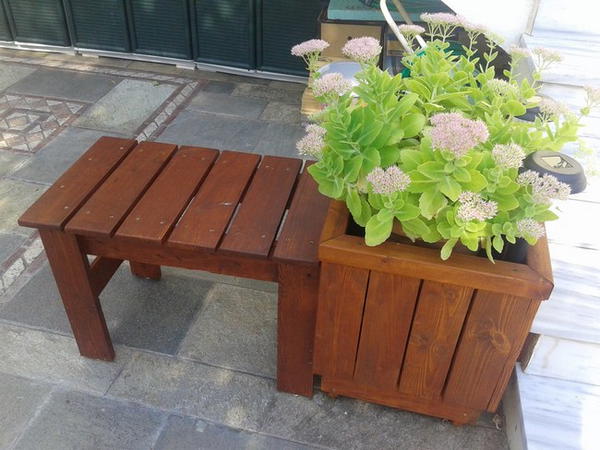 Create a new place to hang out in your garden, ready for your friends or a good book. This stylish bench will look great with plants growing around it and flowers spilling from the planter above. A patio or balcony is the perfect place for this outdoor bench, which incorporates two planters for flowers or herbs that keep the space feeling fresh. This kit includes all the parts you need to build your own bench with planters, along with step-by-step online instructions that take you through the building process.
DIY Cedar Planter with Built-In Bench
Create a simple but attractive space in your yard to store and display some of your favorite plants with this DIY cedar planter. This simple design can be customized for your needs and can include a built-in bench for ultimate comfort! This project requires intermediate carpentry skills but the results are well worth it. This DIY cedar planter is beautiful but still retains a very simple design. It's perfect when you want to add a little greenery along the edges of your yard or porch and can double as extra seating when you need it.
The Planter Bench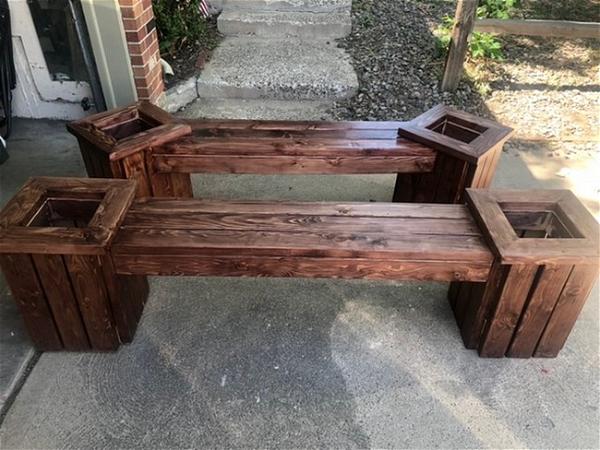 Need to relax, but short on space? This DIY Planter Bench is perfect for a small garden or backyard. Just follow the DIY instructions, and you'll have a portable bench for resting, reading, or just relaxing in no time! This large bench is the perfect addition to your garden or patio, with storage, serving space, and a removable planter included. The slat-top design makes it simple to create, while the cushion and throw pillows make it comfortable.
DIY Planter Bench Plan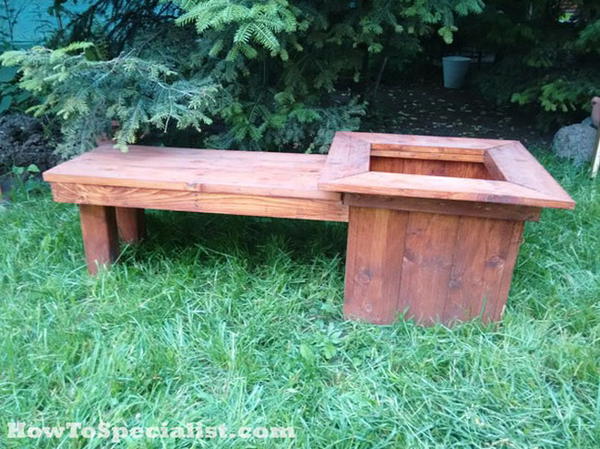 Do you have a garden, and do you love sitting outside in the sun to enjoy it? If so, the DIY Planter Bench Plan is the perfect project to complete your outdoor space. The planter bench plan is easy enough for intermediate woodworkers, but it's also complex enough that you can impress your friends with it! This outdoor planter bench is a great beginner project and can also be completed in one weekend with the right tools. It will provide you with a beautiful bench to enjoy your night sky as well as a space to sit down on while gardening. It is easy to customize, too!
DIY Planter Bench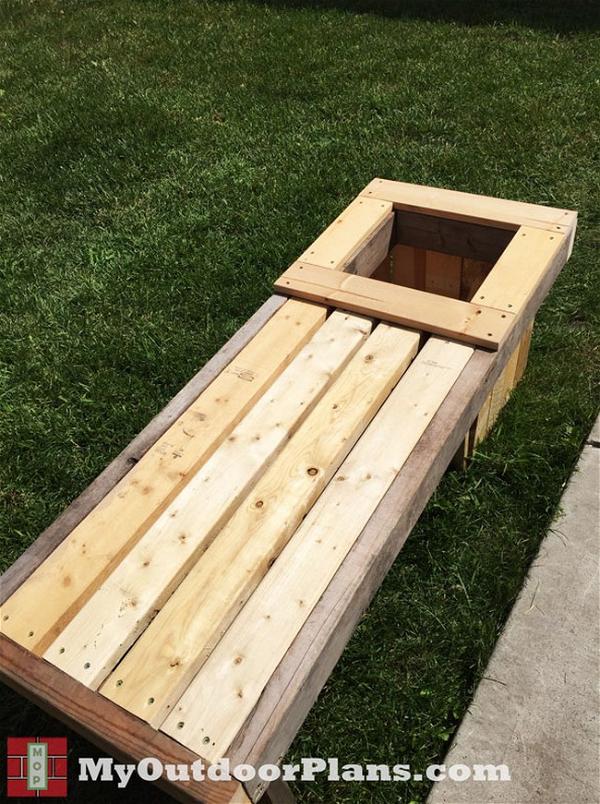 Woodworking doesn't have to be daunting! Most of these fun, novice-friendly projects use scrap lumber and require just basic tools and some simple instructions. Tackle one of these beginner woodworking projects, and we guarantee you'll be itching to take on another. Turn your patio or front porch from a blank canvas into an outdoor living space you'll love with the DIY Planter Bench. Perfect for most yards, this easy-to-build plan can be completed on a weekend, and requires only basic tools.
DIY Planter Bench Box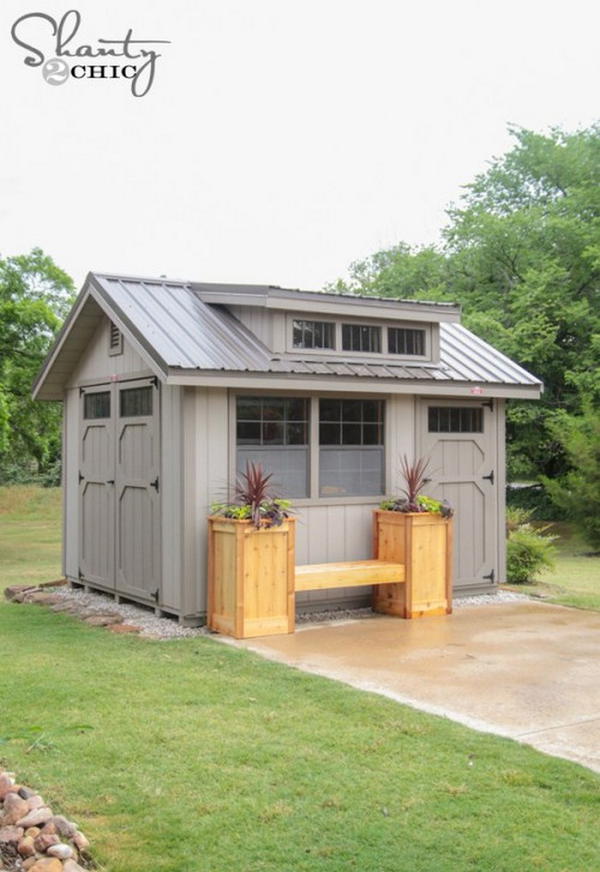 DIY Planter Bench is a great woodworking project for beginners. It's easy to follow and has clear instructions to help you every step of the way. If you've never used lumber before, this is a great place to start. With clear instructions and organized printables, it will take less than a weekend to complete. The simple design does not require much building experience and is great for people focused on building functional products. DIYers report completing this project in a couple of days, with many beginning and finishing in one weekend.
Chick Modern Planter Bench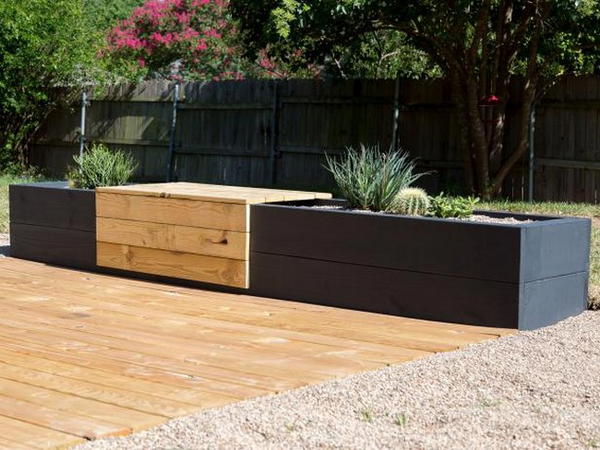 Is your garden in dire need of a renovation? Look no further. This gorgeous and modern planter bench is here to save the day. It looks heavy, complicated, and expensive but it's none of those things. Plus, this bench includes two planters, which makes it great for creating an enclosed perimeter around your favourite flowers and greenery! This modern planter bench is multi-purpose and easy to build. A great asset to any yard, adding a beautiful modern design element, as well as a convenient place for sitting.
Building A Planter Bench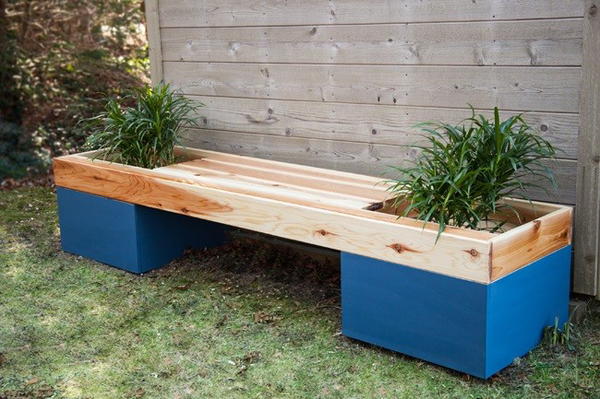 Build beautiful planter benches that make the most of your outdoor space. They can be used as a place to eat, a place to socialize, or as a handy storage unit. Most importantly, they are easy to build and will add value to your home. You'll love this simple, step-by-step tutorial on how to build a DIY planter bench that works great as a bench and planter. Great for outdoor seating, The design is sturdy and can be adjusted to suit your space.
Extra Long Planter Bench
Decorate your garden or porch with plant life while also adding seating options with this DIY Planter Bench. This bench features a convenient space underneath the seat to place pots of flowers or other plants in. Made of weather-resistant wood, this planter bench is designed to be durable as well as a great addition to any decor style. The design uses simple components which are specially shaped to create a planter and seating area without the need for specialist tools.
DIY Planter Bench With Trellis And Storage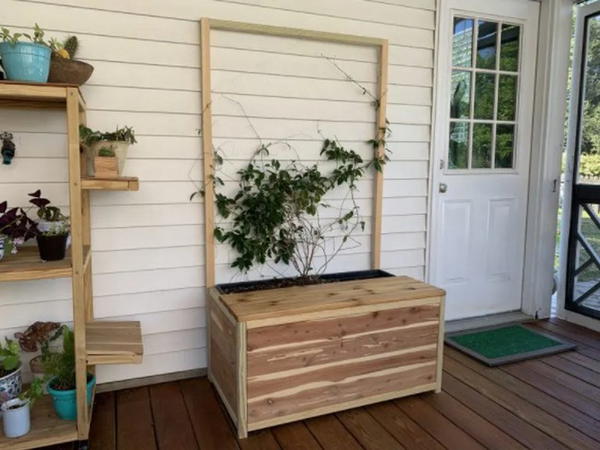 Build your very own DIY planter bench with trellis and storage with this step-by-step tutorial! This is a great beginner project and can be completed on a weekend. This is the perfect spot to grow flowers, herbs, or even vegetables. This planter bench has so many practical uses. Not only is it a great place to root your favorite flowers, but it also provides seating and storage. Plus, the trellis looks great against your home so you can show off your DIY skills!
Outdoor Bench With Raised Planters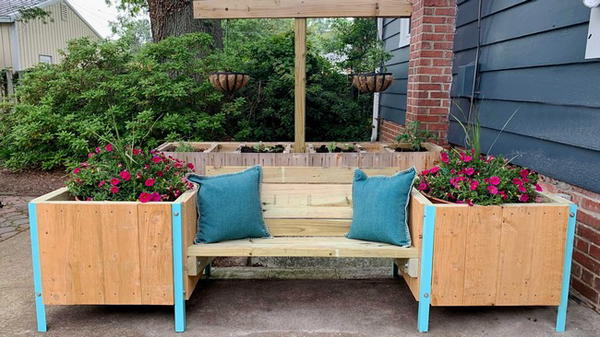 Stylish and functional, the Raised Bed Planter is a wonderful addition to your backyard. Enjoy the convenience of growing flowers, herbs, or vegetables in this innovative planter. With an integrated mitred bench design, the planter allows you to sit comfortably while gardening. The cedar wood construction and oil-based stain offer resistance against decay and insect infestation, so you can enjoy this set season after season Crafted from naturally weather-resistant Acacia hardwood, it's strong and sturdy, while the two planters easily lift off their bases to double as a handy storage chest. Perfect for growing herbs and summer flowers.