If you want to get a bit more organized around your home or workspace, there's nothing like a good storage shed. They come in all shapes and sizes, from small lean-tos to large barn-style sheds that are the stuff of dreams. While many of the DIY storage shed plans on this list are, they can also be used to increase the storage space in your home or garage. For example, you can use one of these plans to create a handy tool shed that's perfect for storing gardening supplies or landscaping equipment. Or you could use it as an extra storage space for your lawnmower or other projects.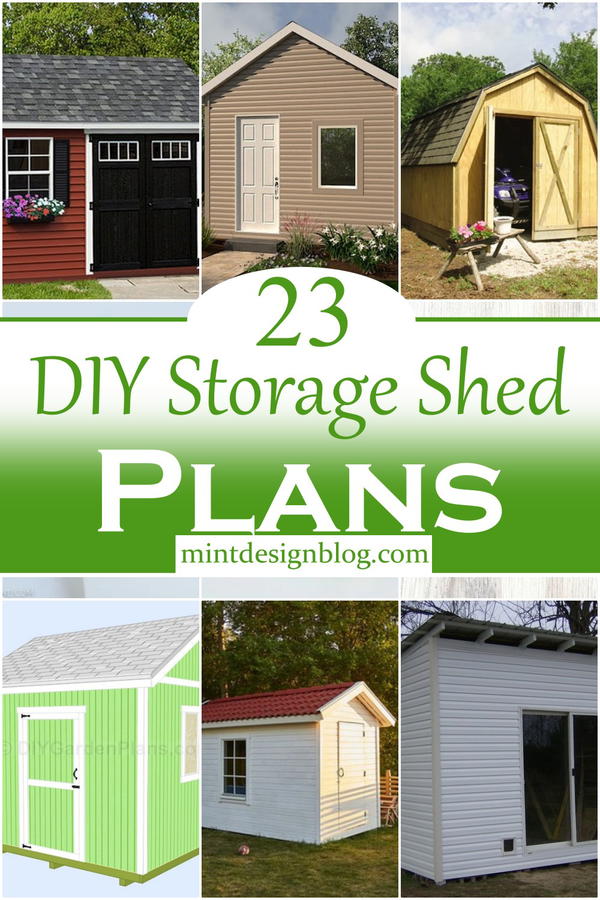 All of these shed plans include detailed diagrams and blueprints so you can get straight to work building it. Some also include walkthroughs so you can see what the inside looks like too. If you need more space to store your outdoor tools and supplies, check out this list of free 23 DIY storage shed plans. There are lots of different styles and sizes to choose from.
Materials and Tools:
Hammer
Measuring tape
Level
Carpenter's square
Circular saw or table saw
Screwdriver
Paintbrush
Work gloves
Safety glasses
Dream Shed Plan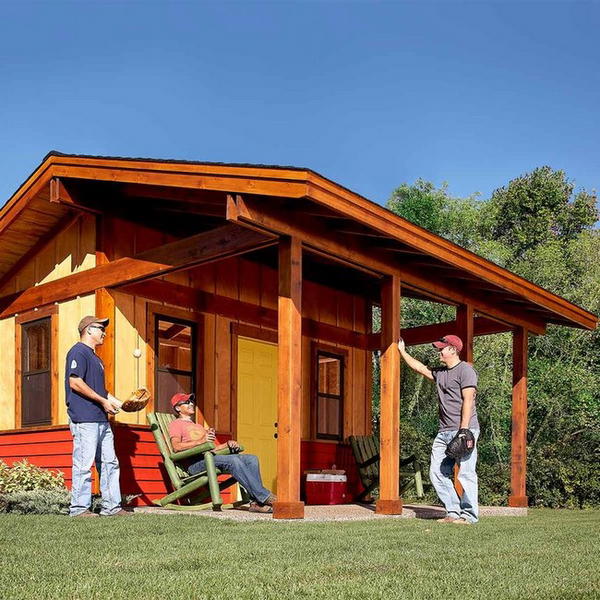 Planning to build a backyard shed is a great way to add storage space and increase the value of your home. Depending on how handy you are, building a shed can be done in as little as two to three days. Dream Shed Plan could be used as a playhouse or guesthouse, too, which means you can get even more use out of it. These shed plans have a porch that's just right for a rocking chair and a great place to take a break from your work. The shed itself is big enough to store garden tools, a push mower, and other stuff you might need to grab while tending the yard and garden.
Skill level: Bigenners
Garden Shed Plan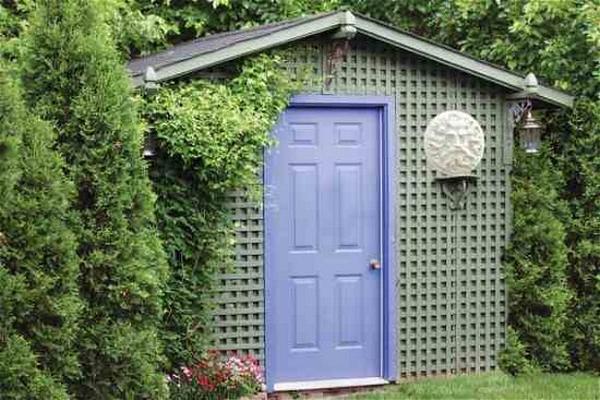 This Garden Shed Plan project is a great weekend project that will add value to your home. It is a very attractive garden shed made from pallets that can be built on a budget. It's easy to build and would make a great addition to any backyard, garden, or patio. It's the perfect size for two or three lawn chairs and a grill, or you can store all the lawn and garden tools you no longer have room for in your garage. Or if you're handy with arts and crafts, this attractive little building can serve double duty as a potting shed where you can keep all your supplies organized.
Skill level: Advanced
6×6 storage shed plan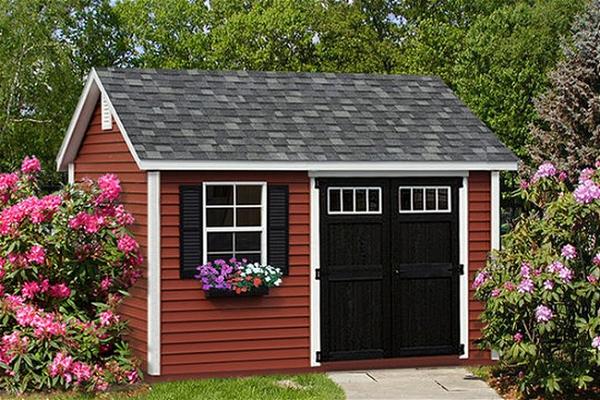 This 6×6 storage shed from Plans is a great manmade addition to your backyard's natural decor. This shed has a traditional, yet extremely practical look that will complement any yard with its neutral colours. This is the perfect place to store your lawn and garden equipment, seasonal decorations, or anything else you might need to store. It's simple but has the structure to be stable and keep your belongings sheltered from the elements. This beautiful little garden shed has large windows to let in plenty of light and make the interior feel more open and airy. The shed is also able to be built with either a single door or double doors.
Skill level: Moderate
Pallet Shed Plan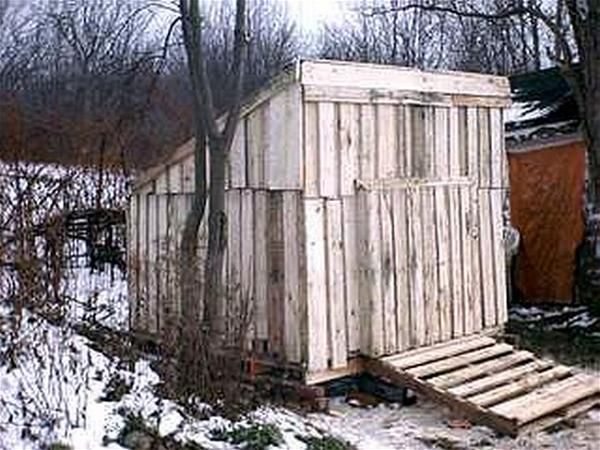 This DIY shed uses mostly recycled wood and pallets. The result is a great-looking storage shed that is actually built to last. Building a pallet shed is an easy DIY project if you know what you're doing. Pallets are pretty easy to come by, and they're free.
The process of turning pallets into lumber is systematic and not difficult at all. The materials are simple, and the tools you'll need are probably in your shed or basement. The only thing you might have to buy is some plywood for the floor. Even if you get new pallets, this is a very inexpensive project.
Skill level: Advanced
Drive-thru Backyard Shed Plan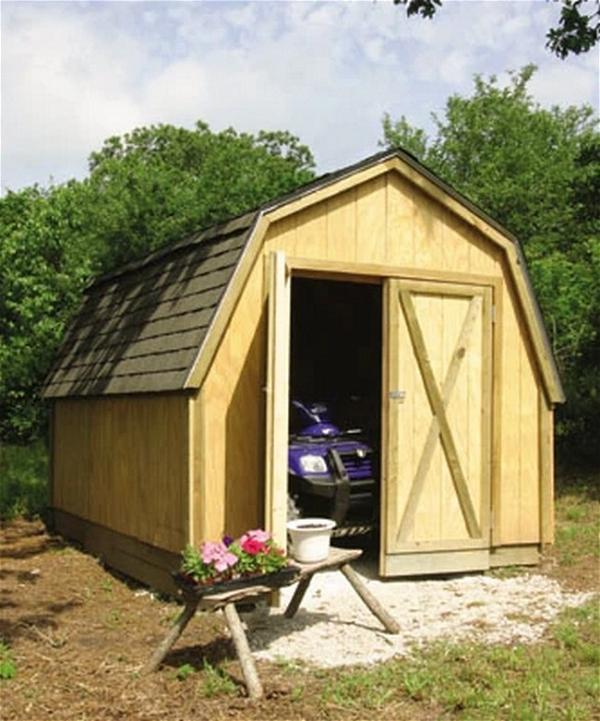 The Drive-thru Backyard Shed Plan is a sliding barn-style door, which will provide you with easy access to your lawnmower or other equipment without having to open the double doors. It also has an overhead door, which provides an abundance of headroom and gives you even more space. You can easily store your lawnmower or other outdoor gear when you need the space for other projects. The sliding door makes it easy to pull in and out of the shed, and the extra-wide driveway means you won't have to worry about getting stuck. This plan was designed with a budget in mind; however, you can change it up as needed!
Skill level: Advanced
Gabled Garden Shed Plan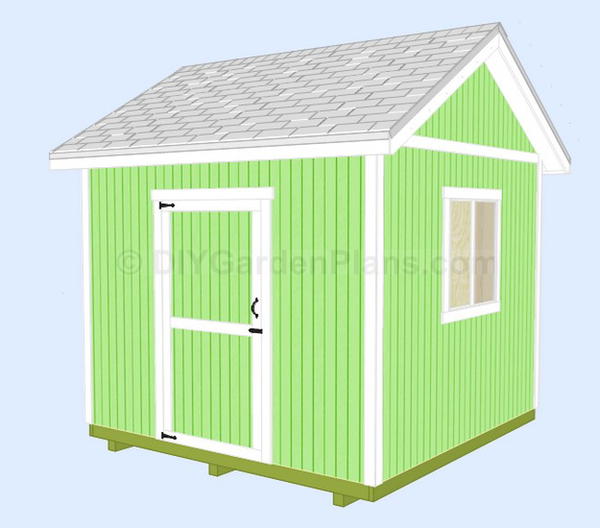 If you're looking for a DIY shed design that has very basic construction and will look great in your backyard, then this is the shed you need. The gable roof makes the structure look like a real shed, and it's also easier to build than a flat or slanted roof that has to be shingled.
This shed would look great in any backyard and it could also be used as an extra storage space for your home. It's big enough to store a lawnmower and some gardening tools, but not so big that you couldn't use it as a hobby room. The double doors located at the front of the shed make it easy to get in and out of it.
Skill level: Moderate
Outdoor Storage Locker Plan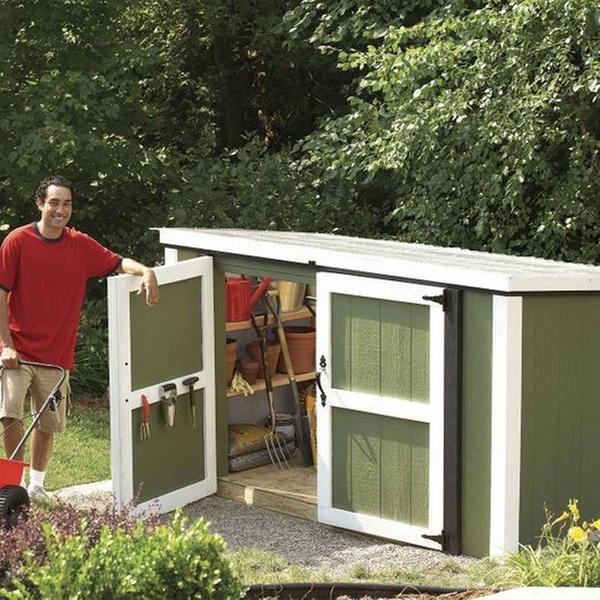 This storage locker is big enough to hold a year's worth of firewood, plus all your lawn and garden tools. This free woodworking plans list features a collection of construction projects for building various storage towers and cabinets, for your workshop or home space. These free woodworking plans are hosted by other designers.
And this is a nice-looking design that will add to the value of your home. This free shed design is great for storing all your equipment and gardening supplies in one place. Plus, it's a beautiful design that will look great in just about any backyard.
Skill level: Advanced
Garden Tools Shed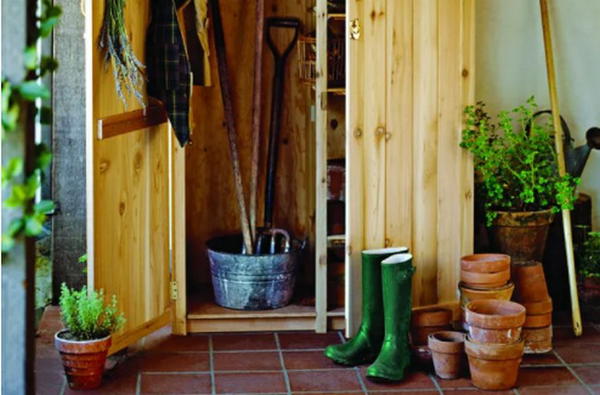 Every gardener who's ever spent time digging in the dirt has probably wished for a shed to keep all their gardening tools organized. This outdoor garden tool shed has a nice design to it. It's also quite easy to build and has storage potential for such a small space. It's not big enough to fit in a garage or patio, but it is small enough that you could use it on your porch or even outside in your yard if you wanted to. There are several molded plywood shelves inside that you can use for storing pots, planters, and bags of soil. There are also hooks on the walls for hanging shovels, rakes, and other larger.
Skill level: Advanced
Board And Batten Shed Plan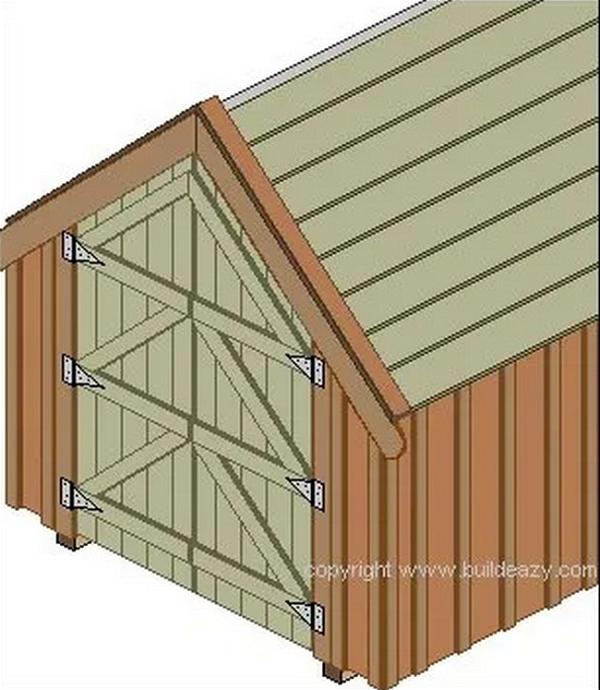 When it comes to your garden shed design, there are a few things to consider. Board And Batten Shed Plan are great for a small storage shed, gardening shed, or tool shed. In fact, you could build just the right size shed depending on what you need to store. It's also a good choice if you want to make a smaller wooden shed because the framing can be adjusted to make it any size that suits your needs within reason. You can also add a roof and a door if you want to. The best part of this plan is that you get an easy-to-follow layout for all the parts of your shed so you know what size everything needs to be before you buy anything. It's always nice when you're looking for materials to know exactly how much wood you need.
Skill level: Advanced
Simple Shed Plan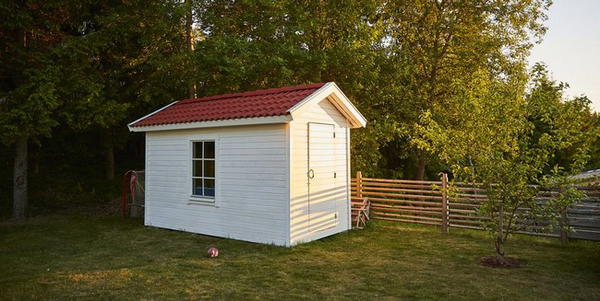 This DIY shed plan is a simple design that is ideal for beginners. The cost is kept down because it uses materials that can be found at most hardware stores. You'll need to do some measuring and cutting, but it's not too difficult even for a beginner.
This shed plan is just what you need to store your lawnmower and gardening tools. The shed has a window for natural light and an overhang to provide some protection from the elements. The best part about this shed is that it's designed with a sloped roof. The building materials are inexpensive. You can build it in a short time, and if you use wood from around your property, it will cost nothing at all.
Skill level: Advanced
Lean-to Shed Plan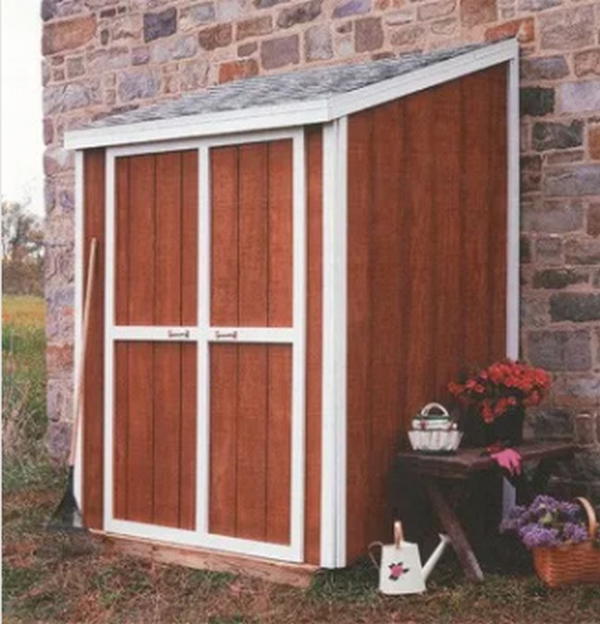 The lean-to shed is designed to sit up next to a structure, such as a garage or a house. It can be used for many types of storage, including garden implements, lawnmowers, bicycles, and gardening supplies. The door can be placed on any end of the shed, but for this design, it is shown on the long side. It can be built against the side of another structure, like your house or garage. It can also stand on its own. The important thing is to make sure that the foundation is level and that it provides adequate support for the roof and walls.
Skill level: Moderate
Pallet Shed Plan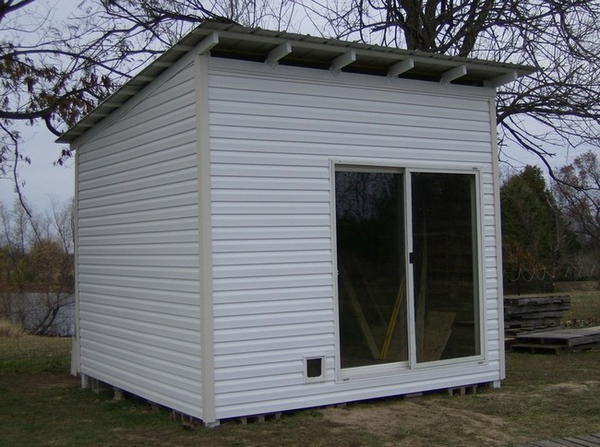 If you're looking for a quick and easy project, this one's definitely not it. But if you want a shed that looks terrific and has enough space for everything you need to store, this is the Pallet Shed Plan for you. You can build a shed from pallets for cheap. If you know what you're doing, you can make one of these sheds look like it will fit right in with your house. If you have the time, space, and skills, you can use this opportunity to make a more permanent structure out of the pallets. This is a work of genius. It's made almost entirely from recycled pallet wood and features a sliding glass door and even a skylight.
Skill level: Moderate
Basic Backyard Shed Plan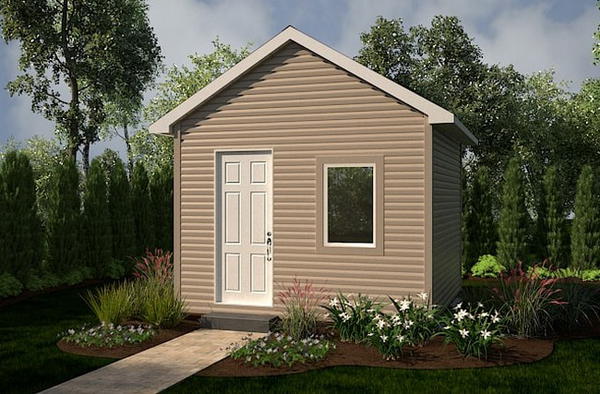 When it comes to landscaping your backyard, a shed is a great addition to the scenery. If you're looking for some DIY shed idea then this Basic Backyard Shed Plan design is simple enough that a beginner could tackle it with the right tools, materials and instructions. The materials list for this shed is a bit longer than some other plans, but it's so organized that you can easily understand where everything needs to go.
Even better, once you have all the tools and materials, you can get this shed built in just one weekend. This makes it a great choice if you want to make your backyard more functional while also adding a beautiful piece of architecture that will impress neighbours and friends.
Skill level: moderate
Garden Tool Shed Plan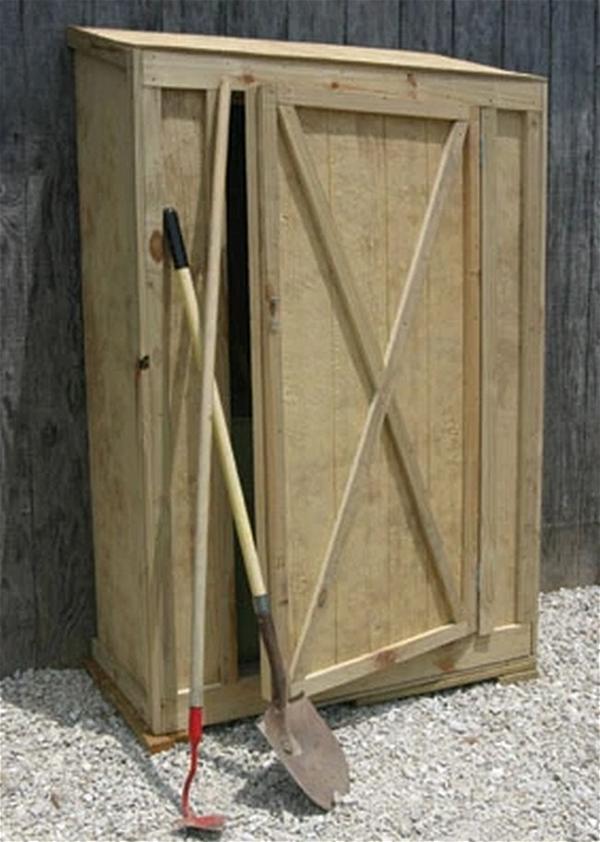 If you have ever spent any time in a garage you know that there never seems to be enough room for everything.
The shed is roomy enough for most hand tools, along with the small power tools that are typically used outdoors.Building it doesn't take much experience and the plans are easy to follow. The shed has a gable roof design, which means two angled sides meet at the top and form a point. A gable roof is one of the most popular designs because it's simple and attractive.You can customize this small shed to suit your needs by adding or deleting windows, or changing their dimensions or location on the shed walls.
Skill level: Moderate
Wood Drying House Plan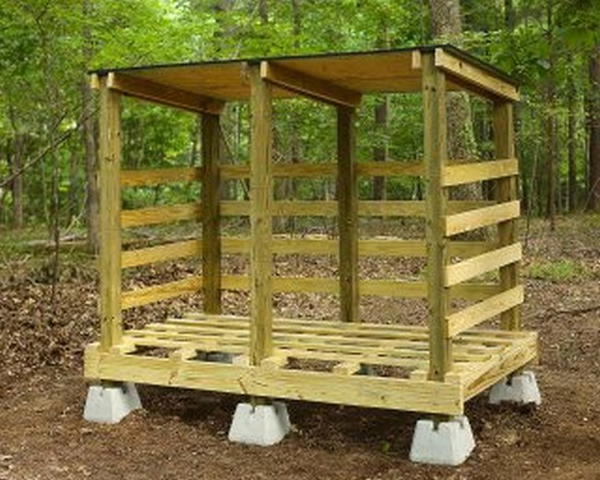 If you're looking for a quick, cheap and simple project, this one delivers. And who couldn't use some extra storage space? The shed uses simple construction methods and material. The shed is shown here is covered in cedar shingles, which are a great choice because they weather well and look great. The roof is designed with a high peak, so that it's easy to stack wood inside and still leave room for airflow. But many other siding options will work as well. In addition to being useful, this wood drying shed is also attractive, with its board-and-batten siding and black-painted trim.
Skill level: Advanced
Firewood Shed Plan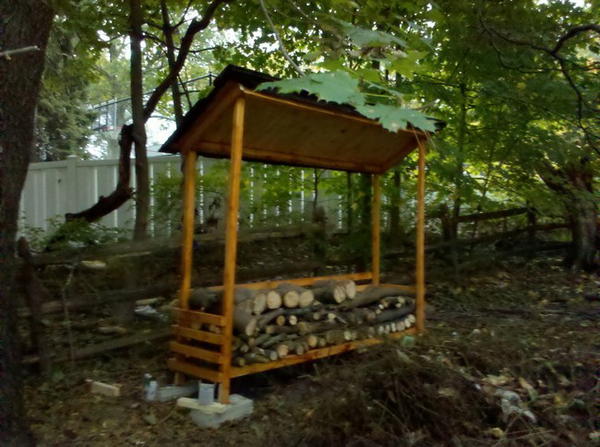 Just like any other wood-related project, the firewood shed plan you're going to use depends on your skill level and the materials you have available. It's designed to be built on a pallet foundation, so the base won't cost you much at all. With a simple overhang, it's perfect for stacking firewood up and out of the way until you need it.This firewood shed plan gives you everything you need to build this shed for your yard. It provides every detail about the build down to the exact dimensions and pieces needed for each step of the project.
Skill level: Advanced
Cute Garden Shed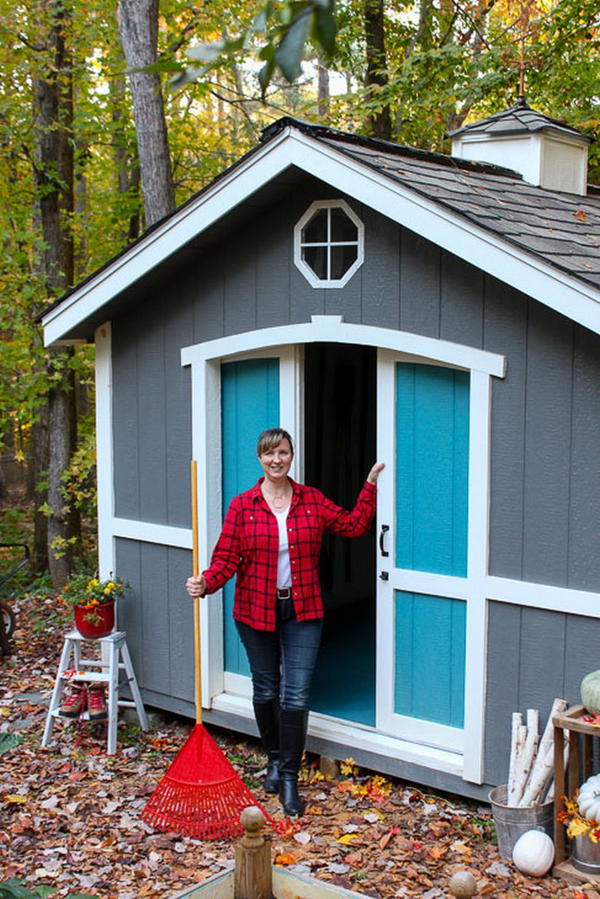 A garden shed is a great place to store your tools, pot plants and other gardening equipment. But it can also be a great space for creative projects, or just somewhere to sit with a cup of tea and enjoy the view of your garden. If you have room, you're much better off putting your shed out in the open where it doesn't look like an outbuilding, but something that belongs with your house. You can make it look more like an extension of your house by using the same siding and roofing materials as your house and painting it in different colours.
Skill level: Advanced
The Potting Shed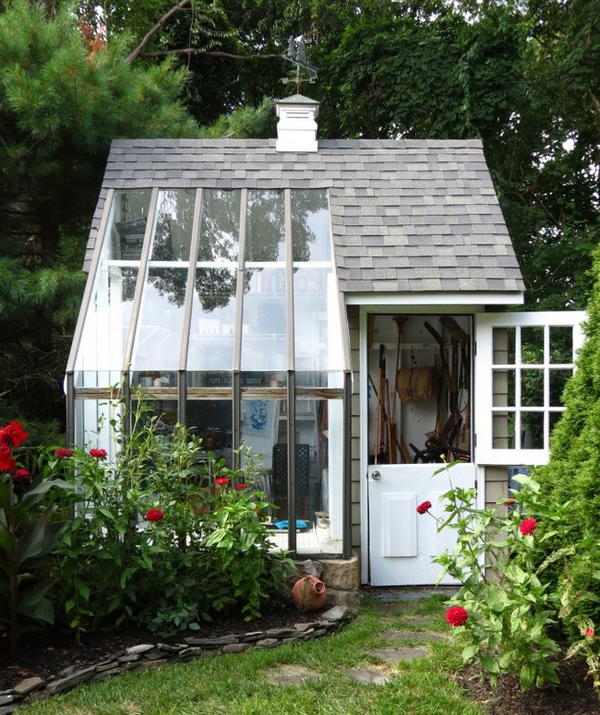 If you have a small garden with limited space, a small wooden potting shed will be perfect for your needs. Since it is the smallest of the three options, it is easy to build and can be placed in a corner without taking up too much space. It also won't set you back very much money if you opt to buy one.
To make sure your plants stay healthy and strong all year round, the Potting Shed comes with vents that can be opened during the summer months to increase air circulation. These vents can also be closed during the winter months to keep plants warm and protected from extreme weather conditions.
Skill level: Moderate
8×7 Tudor-style Garden Shed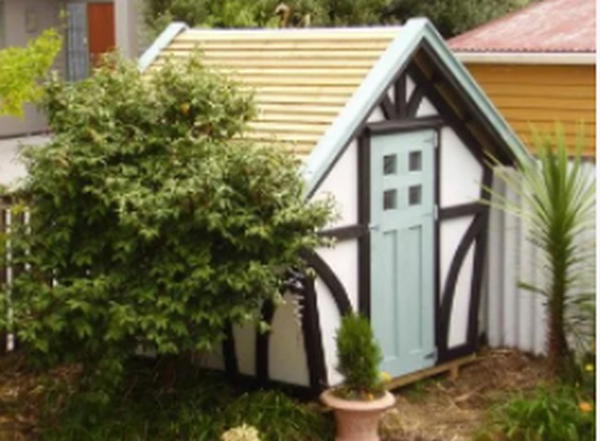 The 8x7 garden shed plan is one of our most popular sizes. This shed has plenty of space for storing your tools and outdoor accessories, and it includes an optional side door. The exterior is finished with horizontal board and batten siding, which gives the shed a stately appearance. The gable roof provides plenty of headroom for working or hanging out inside.
This garden shed is also a great addition to a backyard or garden. You can make this shed any size you want, just adjust the length of the floor frame to suit your needs.The finished product is beautiful and can fit into any backyard space, large or small. The plans are free and easy to follow, so even if you've never built anything before, this will be easy to accomplish.
Skill level: Moderate
The Red-hot Workshop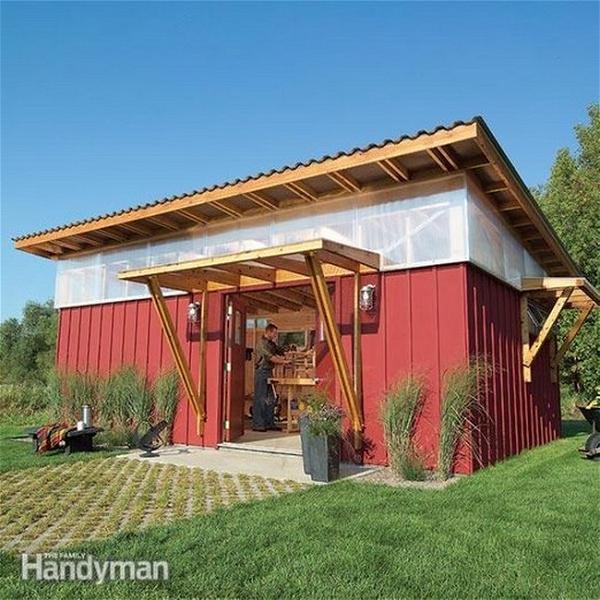 The Red-hot Workshop is a woodshed with an open design that gives you plenty of room for storing equipment and supplies. In addition, the large windows and doors provide great ventilation. Whether you're working on crafts, woodworking, or a car project, this storage building has plenty of room for all your tools and supplies.
Two double doors make getting equipment in and out of the shed easy. The durable, low-maintenance vinyl siding will never need painting or staining. The overhang on this workshop makes it ideal for those who want to add electrical to their building. You can easily install outlets on the side walls.
Skill level: advanced
The Ultimate Shed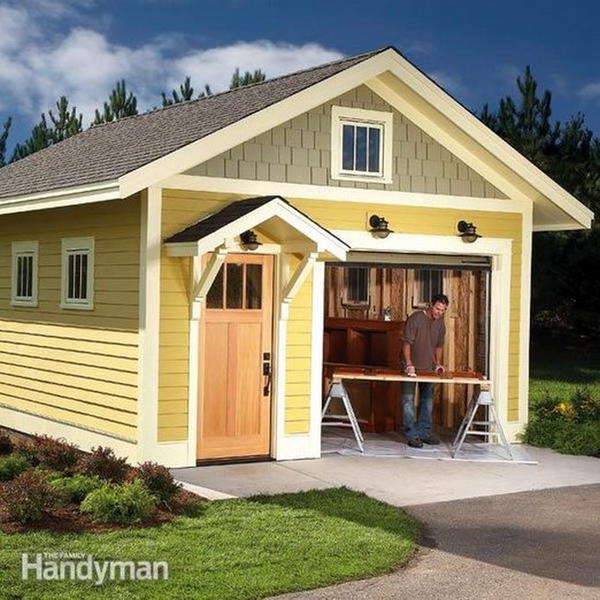 There are many ways in which you can make the most out of your backyard. From planting a garden to creating a relaxing space, there are plenty of ideas that you can choose from. However, one thing that you will have to deal with more often than not is storage. Most people don't think about it until they need it, and then suddenly struggle to find a place to store all of their belongings.
Here is a shed that will never go out of fashion. Its beauty is simple and refined. It has an old-fashioned style, but also a modern feel. The Ultimate Shed is not just a standard storage unit; it is an elegant addition to your home. The design is versatile and can be used for a summerhouse or other types of rooms. The spaciousness of this shed means you can combine it with a decked area to create your own relaxation retreat.
Skill level: moderate
The Ultimate Garden Shed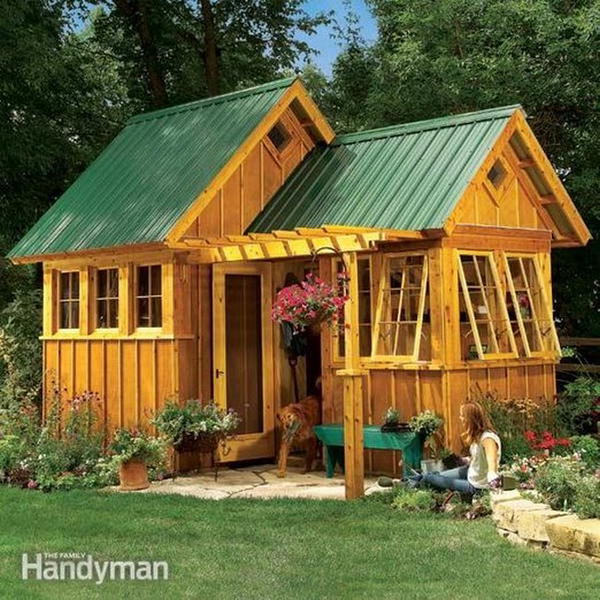 Garden sheds seem to be a largely underrated part of the backyard. They are usually viewed as something that simply stores your lawnmower, weed eater, and perhaps a few gardening tools. But there is so much more that can be done with your garden shed. Use it as a workspace for your garden projects. This would be a great place to do if you want to create things such as potting soil mixes, making seed packets, or plant cuttings in pots. It is also a wonderful place to store all of the supplies you need for these projects without having to take up space in your home.
Skill level: moderate
The Double-Duty Pub Shed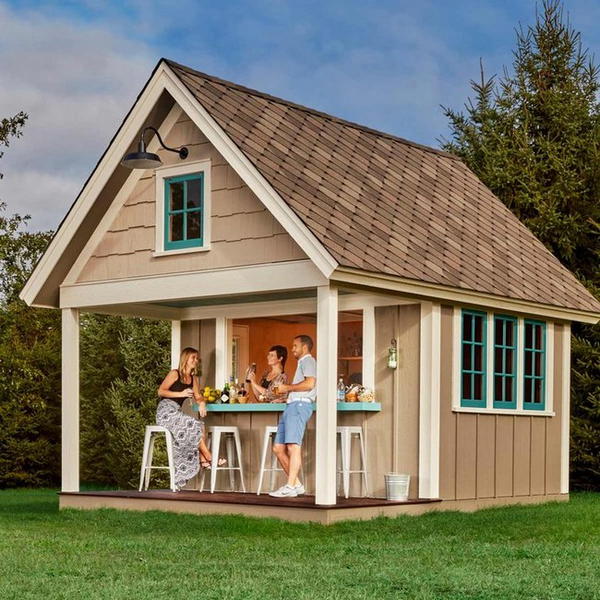 A pub shed can be a great getaway for entertaining friends and family or even just relaxing after a long day. It offers tons of extra storage, the perfect space for a summer party, and an outdoor bar where you can enjoy your favorite drink any day of the week. If you're looking for a way to add some extra storage and a great hangout space to your backyard, then check out this pub shed. Building a bar is a fairly straightforward project that doesn't require advanced woodworking skills, so this project should be easy to tackle even if you're just starting as a DIYer. The key to success is making sure you have all the materials and tools on hand before you start the build.
Skill level: advanced
Conclusion:
Building a shed by yourself from a set of shed plans is way cheaper than buying a pre-built shed. You save a lot of money and have total control over the size, shape, and design of your garden shed. Building a storage shed is the perfect way to add much-needed storage space to your outdoor area. It'll also add value to your property, which is always a good thing! Everyone needs more space and has some of the greatest storage shed plans that will make it easy for you to build your own shed.
Some people are a little intimidated by the idea of building their own shed, but it really isn't as hard as it sounds. You just need to find some good plans and do a little research. All the information you need is out there and available for anyone to use.
See Other Projects