Making your lap desk is the best way to find a unique and fashionable alternative to store-bought desks. Many of these DIY lap desks are perfect for use in bed to hold your laptop, textbook, or other devices that need a flat surface to work on. What's more is that these DIY lap desks range from easy, beginner-friendly styles all the way up to more advanced DIYers, so these 24 DIY Lap Desk Ideas are perfect for everyone. When you're ready to be more productive in your home office or just want an alternative to using your laptop on your bed, a DIY lap desk is a perfect solution! Using a tablet can also help save your wrists from getting sore and strained which happens with laptops over a period of time.
DIY Lap Desks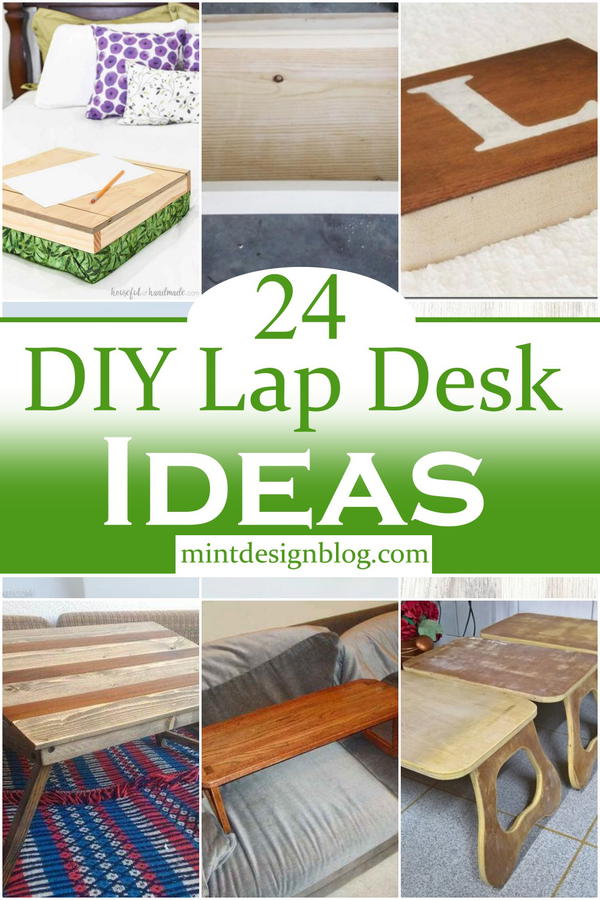 These DIY Lap Desk Ideas are the perfect solution to the age-old problem of working with your laptop in bed. A lap desk creates a stable, flat surface for you to type on and keep your laptop at a comfortable angle for viewing. However, finding an affordable lap desk that fits into your style is a nightmare. A DIY lap desk solves this problem by allowing you to create one that fits your style, needs, and budget.
How To Make A Lap Desk Out Of A Pillowcase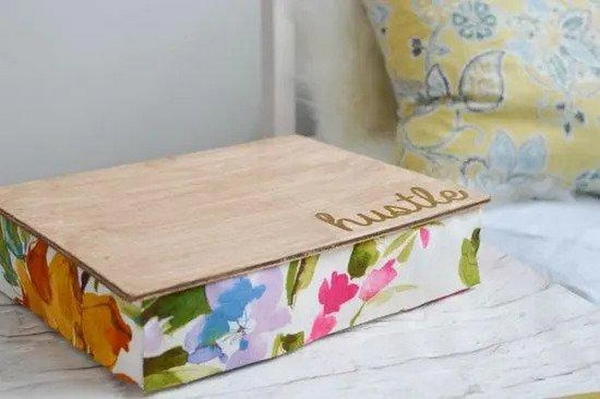 Always wanted a lap desk but couldn't find one for sale that would fit on your lap? Now you can make your own. Using a pillowcase, some wood, and foam fillings, you can turn any pillowcase into a lap desk It's super easy to make your own lap desks using an old pillowcase. If you're into carpentry and woodworking projects, then this is a good way to get started. Try this easy DIY tutorial to make a lap desk. All you need is a pillowcase, wood stain, foam filling, plywood, fabric glue, and of course a scrappy sidekick.
Lap Desk For Laptop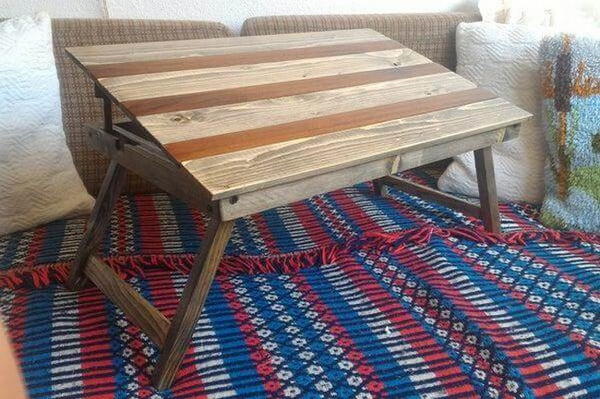 This DIY Printer Stand is a quick and simple way to create a custom laptop stand in your woodshop. The stand simply stands on the tabletop, allowing the user to use their table for working on the laptop while it stays unobstructed below. It also allows for an adjustable inclination angle which makes it versatile for use across different sitting or lying postures. This is a very simple and straightforward project, which anyone can accomplish using basic woodworking tools and techniques. The adjustable inclination of the surface makes it perfect for use across different positions, such as sitting upright on a chair or lying in bed with your laptop. The intent of this build was to make an affordable laptop table that appears more professional than Ikea but is just as functional. Feel free to substitute any hardwood of choice and build one today!
Wooden Lap Desk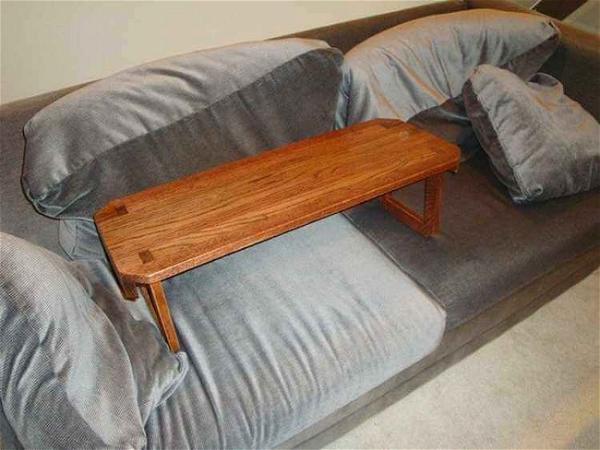 This DIY Wooden Lap Desk is a fun and easy weekend project that will not only help you organize your workspace but also give you a beautiful wooden addition to your home decor. This plan will show you how to make a wooden lap desk using nothing but simple hand tools, plywood, and wood glue, in less than a day. Making this desk was very fun and easy, it looks great and goes great as extra space for your computer/laptop/reading stuff in the living room or bedroom. This wooden lap desk is a stylish, versatile, and inexpensive way to work on your laptop wherever you want.
Homemade Lap Desk DIY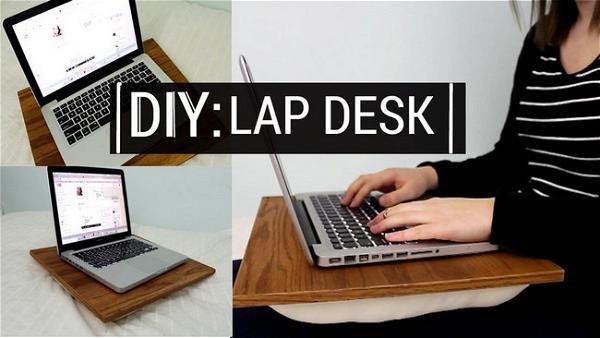 Sturdy, cute, and well designed; this DIY lap desk is a big-time winner in the homemade category. No matter what the occasion, whether it be a birthday or just simply a homemade appreciation day gift; this lap desk will be a hit. Your loved one will love you even more for your efforts to show you care and ingenuity. This DIY lap desk is the perfect place to set your book, tablet, or laptop computer. Add a vinyl window for ventilation, and pop up your iPad for easy viewing of recipes or a movie. You can even add a stylish lamp for the perfect reading light—all at an affordable price. It's a nice handmade gift, but it is also really helpful for people looking for a modern aesthetic with a bit of nostalgia thrown in.
DIY Laptop Table
What makes this DIY laptop table stand out is its beautifully carved legs. The detailing is quite intricate and is a nice touch that can easily be incorporated into any design of your own. With the right tools, the legs can be easily added to existing furniture such as bookshelves and sofas, or even DIY projects like cupboards and headboards. Remember that if you are planning to make this into a laptop table, place your laptop on top of cardboard as you measure. This DIY laptop table is handmade from solid northern Bornean Obar Suluk and Canadian pine. If you can't get your hands on those, any good lumber will work just fine. This project has the option to use a poker chip or metal ring as its central spinning disc, and can be done with wood glue and power tools!
DIY Lap Desk
This DIY lap desk is easy to build, requires next to no woodwork, and makes a great gift for anyone into building things. It uses the readily available cookie tins that you can get from your supermarket and an old piece of plywood. This project is easy to assemble (it really is, even for beginners!), and there's no woodworking to be done – just screwing a few pieces of wood together with some screws. This means you can learn to make a DIY lap desk without the added stress of trying to figure out how to work a power saw or drill. You'll easily fall in love with your very own DIY Lap Desk, which can be produced in less than an hour at the price of 20$!.
DIY Lap Desk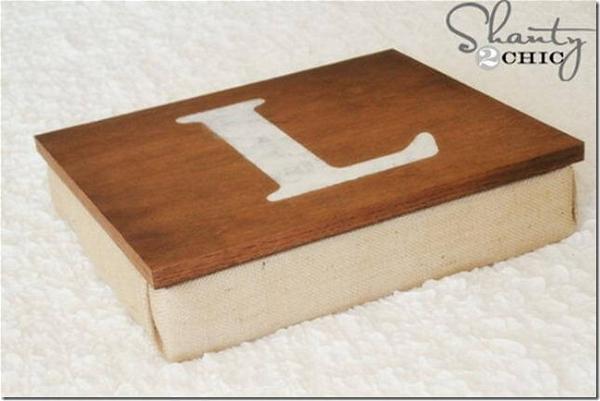 This DIY lap desk is a classy and functional addition to your workspace. It will provide you with a comfortable place for reading, writing, and more. After finding the perfect spot for this beauty just glue the lumber to the foam board and some edge banding for the perfect finish. Then locate the fabric that you chose to use, cut it out and glue it over the polyfoam on top of your new DIY lap desk. After gathering your supplies you'll need a little bit of glue here and there, though. The next step is just to assemble the wood pieces. Make sure that you edge band the edges for a nice clean look.
DIY Portable Lap Desk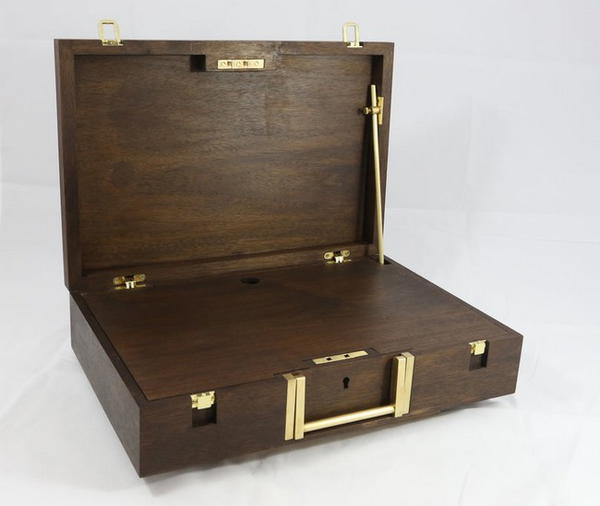 Need a place to sit with your laptop? Add a useful finish to the wood scraps you have lying around. This DIY portable lap desk can serve as an organizer for your woodworking tools, or it can double as a tool kit organizer like the picture shows. A DIY portable lap desk is a lesson in inefficiency. This desk doubles as a tool kit organizer, too. Build it over the course of an afternoon, and you'll always have a workspace handy. This homemade portable lab desk that doubles as a tool kit organizer require supplies such as a hand drill and assorted drill bits, biscuit joiner, planer, multiple flush-trim bits, and assorted screwdrivers. Also needed are plywood, glue, paste wax, a router, and camps. The DIY portable lap desk requires skill in woodwork but the end is worth the hassle.
How To Make A DIY Lap Desk
Do you want to make your own DIY lap desk? It is not as difficult as it may seem. All you need are some recycled materials like a plastic lid, foam mattress, and fabric. The rest involves some cutting and gluing. If you want to make this even better, use your favorite color. You can always use a large sheet of fabric or craft paper, depending on what kind of look you are trying to achieve. You can make this multifunctional lap desk from a foam mattress, an old plastic lid, and some scraps of fabric. Follow this tutorial to learn how to make a DIY lap desk from scratch using mostly recycled materials such as an old plastic lid, foam mattress or even an old cloth, and some glue.
DIY PVC Angled Laptop Table
If you love working with your laptop in bed, then you know how uncomfortable it is to have it at a perfectly straight angle. This DIY PVC angled laptop table allows you to set your laptop at a gently sloped angle, so you don't have to crane your neck while typing. It's not only perfect for working in bed; if you like watching videos on your laptop too, this table also comes in handy when propping the laptop up so that you can relax on your couch. The best part? You can build it yourself. And if you have a big TV in your bedroom, this DIY angled laptop table is also ideal to set your laptop on top of it so you can play PC games from a closer distance!
Retractable Wooden Desk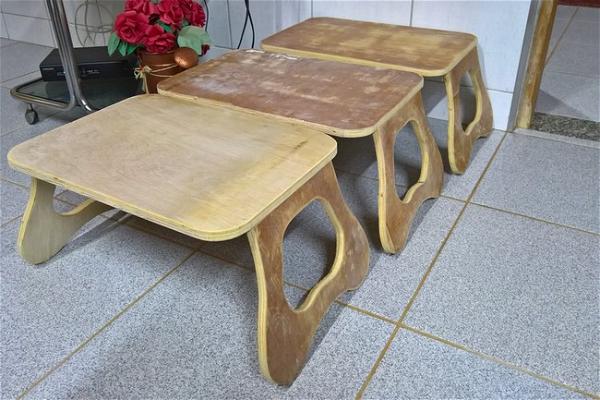 DIY woodworking kits have always been one of the most popular stocking stuffers and they allow you to do something good for the kids. If you are looking for fun projects, this DIY retractable wooden desk kit will be a perfect choice for your child. The best part about this is that it is weightless and requires basic woodwork tools. The components can be found at your local hardware store or wood supply store, it's simple enough for beginner woodworkers to tackle themselves, and the finished piece will look great in any workspace. This DIY retractable wooden desk is the perfect way to get work done without having to worry about your lap getting all hot from your computer. This is a perfect gift for computer enthusiasts and it also feeds the eco-friendly aspect of green living.
How To Build A Wood Laptop Table
WHY build a wood laptop table? Some of the advantages are that it is very versatile because you can use it as a laptop table or can also double as a surface to eat in bed. You will enjoy the clean, simple lines of this wood laptop table. Plus you can do some woodworking and make adjustments to suit your needs and taste. Building your own wood laptop table is a great project that can take a few hours or days depending on your skills, the only equipment needed other than a saw and hammer is a drill and driver. You can modify this wooden laptop table to display anything you wish, however you may need to purchase different hardware depending on the size of your wood laptop table and these are also available online.
DIY Lap Desks
What a great way to use your craft skills and make something out of scraps around the home. You can also do this with wood or paint as well! DIY lap desks can make great gifts or even pieces for yourself in your office or man cave! Look no further for the perfect DIY lap desk tutorial. This easy and inexpensive tutorial can be used by children or adults of any age to create a general-purpose desk/lap desk. The key to creating a DIY lap desk is to ensure that it is sturdy enough for the job you are using it for. Experiment with different ways of folding the wood for maximum strength and durability.
DIY Desk For Lap
Doing DIY is not rocket science. With the right instructions and materials, anyone can successfully complete a project with no prior skillset, like making this DIY desk for a lap. This DIY desk for a lap is handy because it can be used while you're either in the bed or while you're seated on a couch. You could also replace this with a similar tabletop that's shorter and wider. Make your own DIY Desk For Lap with a step-by-step guide from Lapan. This desk is designed for lap use, perfect for your office or home environment where you want flexibility. This workstation can be used as a laptop desk, a writing table for your journal or diary, and even as a TV tray!
Lap Desk No Sewing Required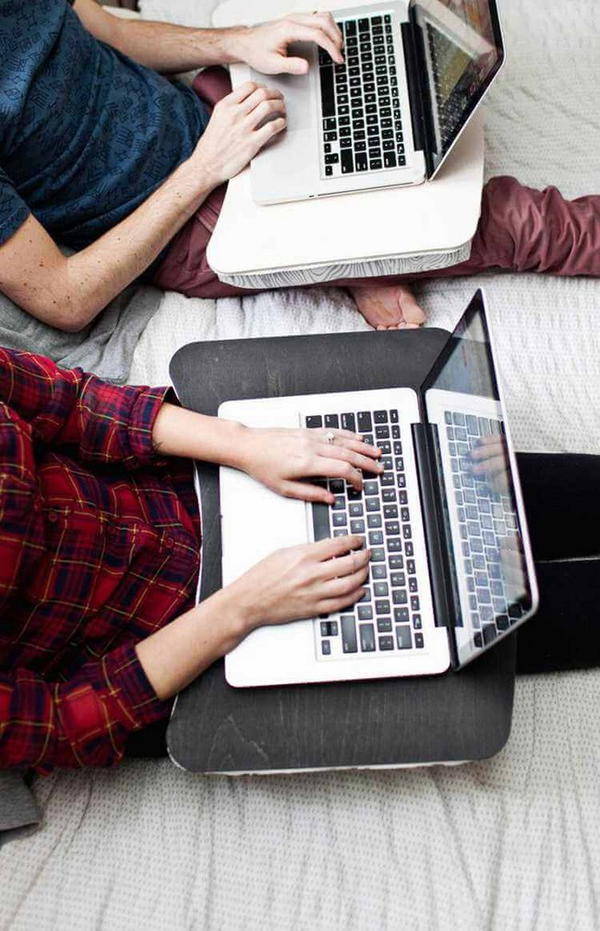 Building a DIY lap desk is easy, no sewing required! This Homemade lap desk is quick and easy to build and can be made for less than $20. The lap desk is smaller than the average DIY lap desk, making it easy to use both at home and when you travel. It's the perfect gift for anyone of all ages! Lap desks are a great addition for anyone wanting to work at their desk, or on the couch. However, investing in one can seem like a very pricey endeavor. So if you're looking for an easy way to build your own lap desk without sewing and end up with a quality product that won't put a dent in your wallet, then this project is just what you've been looking for!
DIY Lap Table
This DIY lap table is great for those who like to work on the go! It's both cheap and easy to build, so you don't have to worry about losing your table as soon as you leave home. Plus, its small size means that it takes up very little room when it's not in use. This lap table is perfect for a coffee table or even as a desk in a small room. It's easy to build, all you need is some lightweight wood, sandpaper, and glue. This DIY lap table is easy to build and super lightweight, which makes it portable and perfect for both kids and adults. The apparatus can be disassembled in less than 5 minutes and reassembled just as easily. Can also be used as a toy box or bedside table.
Lap Table From Cardboard
Are you looking for a creative gift idea? You've come to the right place. Here's a simple DIY lap table perfect for making on the go. With only two pieces of cardboard, some tape, and paint, you can make this ingenious, versatile, cardboard lap table! It is probably one of the cheapest things you can make, and yet it is such an easy and nice DIY project. Grab some lightweight cardboard and make your own lap table. Cardboard is an easily available material and you can get it just by visiting nearby roadside shops. You can prepare and cut the cardboard in the exact shape you want and after that spray the transparent paint over the surface of the cardboard and wait until it dries out.
How To Build A Live Edge Lap Desk
Building a live edge desk is a great way to learn how to use your tools, and it makes a great gift that one won't forget. This video shows you how to build your own live edge desk with only a few tools. The show covers the entire construction process as well as how to set up your new desk for use. This entire process can be accomplished in an afternoon and is extremely helpful on those days when you are stuck indoors and want to work on a project. The project requires a little bit of work, but the payoff is well worth it in the end. With this useful desk, you can create a beautiful place for yourself wherever life may take you!
Easy Lap Desk With Storage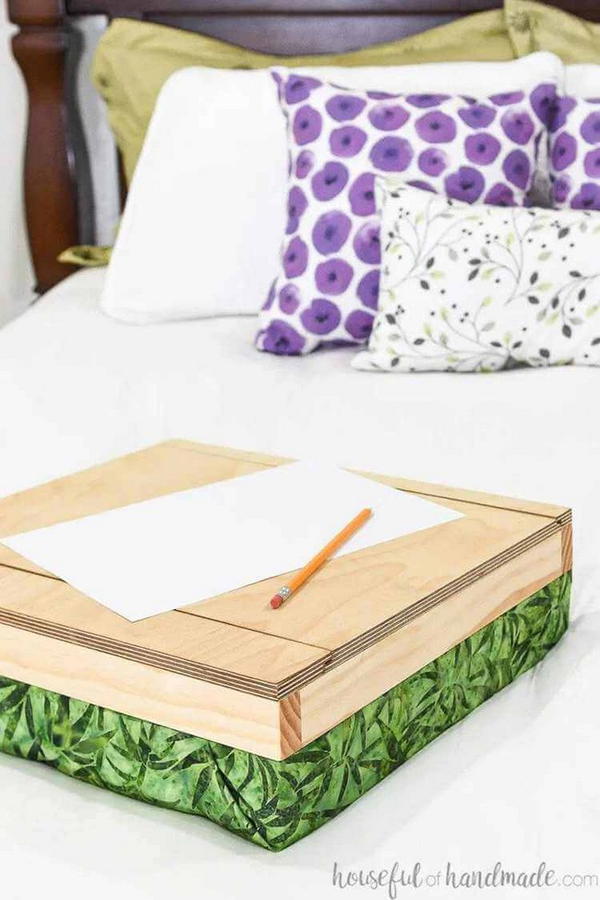 Are you tired of finding a place for all of your important items and supplies? Why not make yourself an easy lap desk with storage! This DIY lap desk is the perfect alternative to bulky desks or uncomfortable fold-up chairs. Featuring a slide-off top that reveals the storage compartment, this design ensures that you can hold everything you need in one compact desk. It's quick and easy for anyone to make. This lap desk is perfect for use as an extra surface when sewing or crafting, but it also has a slide-off lid for storage, making it great for holding writing utensils, pens and pencils, coloring supplies, crafty tools, and chocolate bars, and much more! A great option to store small items that you do not have any containers or boxes for!
Gaming Lap Desk
This DIY Gaming Lap Desk is an awesome gaming accessory for couch gamers. For just an hour of your time, you'll be able to have the most comfortable gaming setup possible… and in style. Your gaming will never be the same – take action and make this desk today!
The DIY gaming lap desk is a solution to comfortably gaming from the couch. As many avid gamers can testify, having reliable controls is essential to their determination to master the game. Unfortunately, comfort will often take a backseat to this challenge, especially for long periods of time. This DIY lap desk gives you the ability to play games from your couch without breaking the bank comfortably. For just an hour of your time, you'll be set up and ready to go.
DIY Lap Desk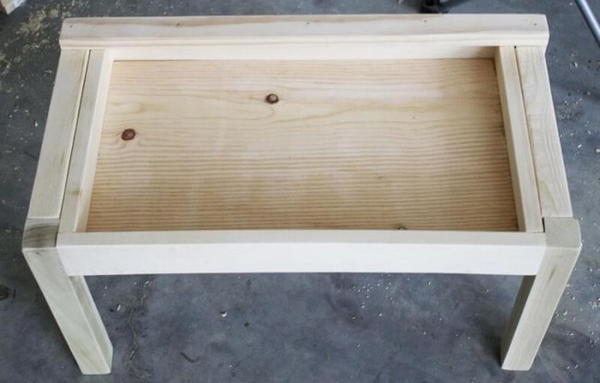 Make a DIY lap desk that's sturdy and easy on the wallet! Made from scrap wood and supplies, this will cost you around $2. A true must-have for any student or researcher, this is an easy-to-make and super functional desk that takes only a few hours. Even though we realize that many people spend their time mostly in front of a computer, it is still nice to get up and move around every once in a while. But there are times when you just cant leave your computer workstation and the solution for that is a DIY lap desk. It can easily be made from scraps and a handful of supplies (you might already have what you need).
Homemade Easy Lap Desk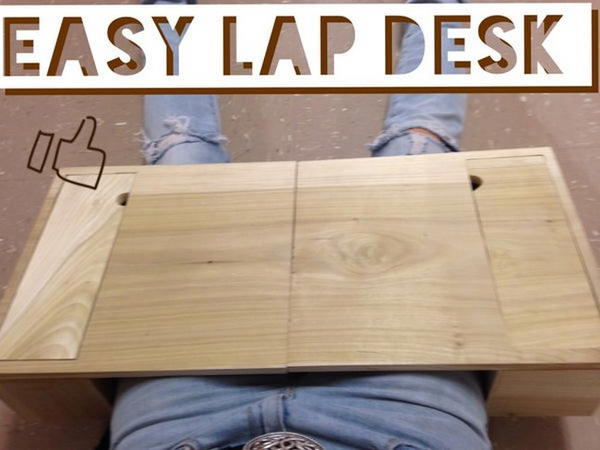 Make this easy lap desk! It is perfect for a DIY project if you're currently in college and needs some extra space. It also makes a great project for someone looking to build something functional as well as pretty. The good news is that this DIY is pretty simple too, which means it's something practically anyone can do, regardless of skill level. The bad news is that the dimensions may be a bit tricky to figure out and to make sure everything fits together correctly. So if you do decide to give this project a go, have patience and use plenty of sandpaper before moving on to the next step. Also, Dado cuts may be necessary to fit the parts correctly. It'll also be fun to watch your friends sit on it as those inside the compartment give their legs some support.
DIY Lap Desk
This DIY Lap Desk is a great build to start with if you're new to working with wood. With basic tools and a few supplies, you can have this project done in a matter of minutes. This simple and easy build is sure to be your next go-to lap desk! You don't need to be a master craftsman to create this DIY lap desk. Just grab a few household items and a trip to your local hardware store, and you'll be ready to start building. You'll use your Dremel rotary tool with a cutting wheel, sandpaper, glue gun, and other materials to build the walls for the lap desk. After that, all you need is a screwdriver and your favorite school supply (in this case it was a dry erase board) to complete the project.
DIY Lap Desk
For the DIY-ers out there, this lap desk might be a DIY you might have fun making! Turn your old pillows into a DIY lap desk with this simple and inexpensive project. All you need is a pillow, a circular wooden board, fabric, sandpaper, super glue, spray paint, and sewing supplies. This quick and easy lap desk can be used in many locations - perfect for homes with limited space! It's so simple to make – all you need is a pillow, an old wooden board, and sewing skills. The most important thing to remember is to measure the board according to the size of your pillow and cut it out with some sandpaper. Then, spray paint your board, send it through the washing machine to get any dust off of it, and then sew your fabric on top with big stitches. you have yourself a handmade lap desk!