These 15 DIY raised planter box plans are easy to build and can create a new garden space for your herb or veggie garden. They can be put together in just a few hours, with minimal tools and materials. A simple planter box will not only add some character to your front or back yard, but it will also allow you to grow flowers, herbs, and vegetables right outside your door. The following planter box plans are free and will give you a lot of bang for your buck.
Raised Planter Box Ideas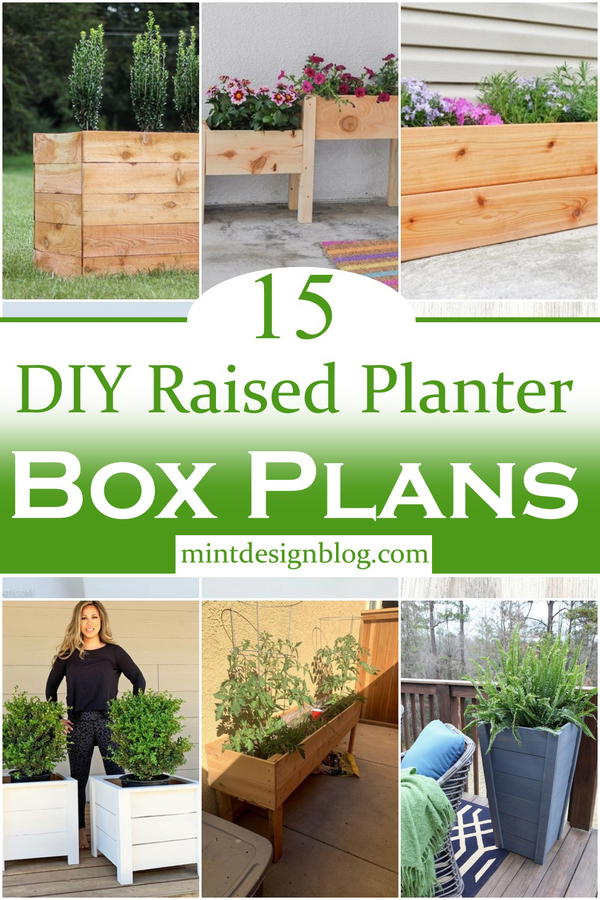 DIY Raised Planter Box Plans are a great way to grow vegetables or flowers, and they are especially helpful if you have mobility issues. Raised planter boxes allow you to enjoy the benefits of gardening without having to bend over. They also look good, are easy to maintain, and some can even be moved around so that you can find the perfect spot for your new plants. Here are 15  DIY Raised Planter Box Plans which help you to maintain the beauty of your home and you can easily grow small plants.
Build your own raised planter boxes to keep your yard fresh, here are 15 DIY raised planter boxes plans that give you the freedom to grow plants.
Simple Raised Planter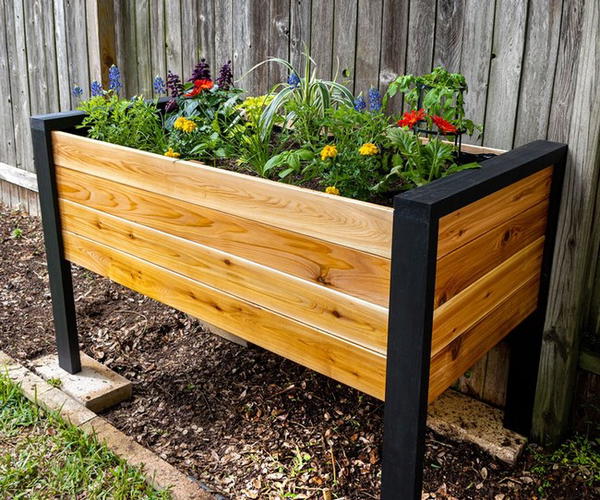 Materials:
Rough-sawn Cedar (2x4s)
Cedar Fence Pickets (1x6)
Exterior Black/Grey Paint
Spar Varnish -
Exterior Screws -
Wood Glue -
TOOLS :
Miter Saw -
Circular Saw -
Drill -
Impact Driver -
Kreg Jig -
Trim Router -
Tape Measure -
Table Saw (Optional)
Cheap Multi-Tiered Box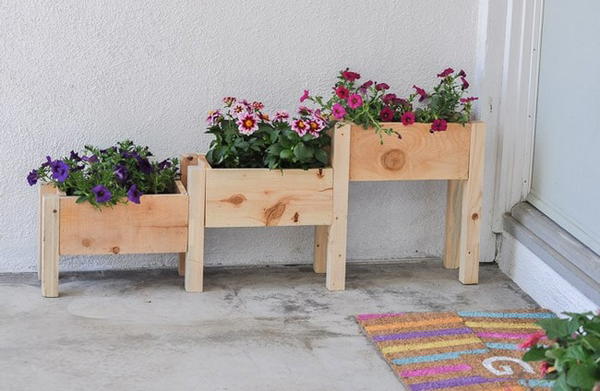 This Cheap Multi-Tiered Box is perfect for those who are looking for a simple, cheap way to shoot photos of their products. It's made out of wood, which means that you may already have everything you need to build it. If you have some woodworking experience, this is a fairly easy box to make. It's not the most attractive DIY product photography setup out there, but since it only uses wood, you might be more likely to have all the materials on hand. You can paint or stain the wood to fit your overall aesthetic and add a few lights for illumination. You can easily stack the boxes on top of one another and make different sets.
Materials:
 Dog-ear Cedar Fence Picket
 Furring strips
Wood glue
Ryobi brad nailer
finish nail
Tools:
Miter Saw
Drill
Spax screws
Wooden Raised Bed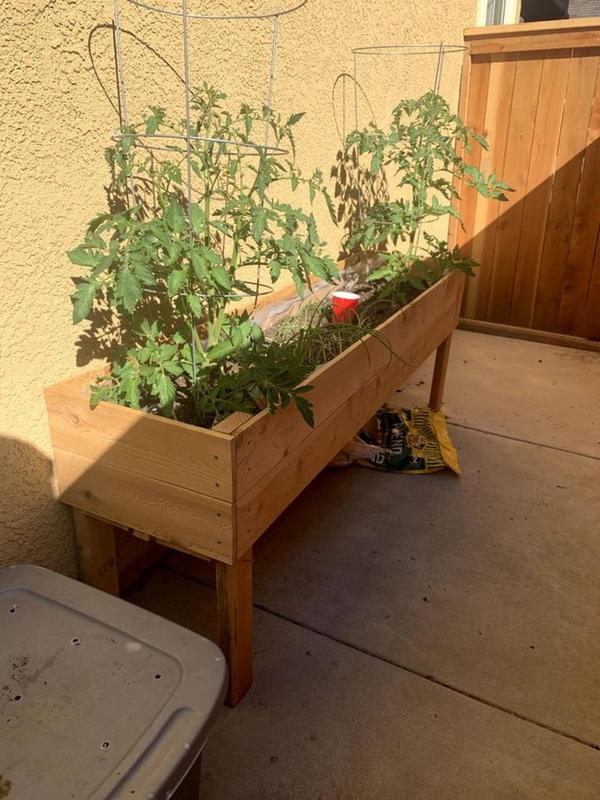 If you want to grow your own vegetables or flowers but are limited on space, consider making your garden in a Wooden Raised Bed. These beds can be made from a variety of wood types, but cedar is most recommended for its durability.
This box is probably best for plants that don't need a lot of drainages, like lettuce or other vegetables. You just have to be careful when it rains because they can get too much moisture. Some people recommend putting a layer of gravel at the bottom to help with this problem, so you may want to consider that option.
Materials:
Cedar Fence Boards 6ft – (7) boards per garden box
2×4 wood 6ft – (4)
Painters Plastic
Wood Glue
Tools:
Screws
Circular Saw
Nail Gun
Drill
Planter with Trellis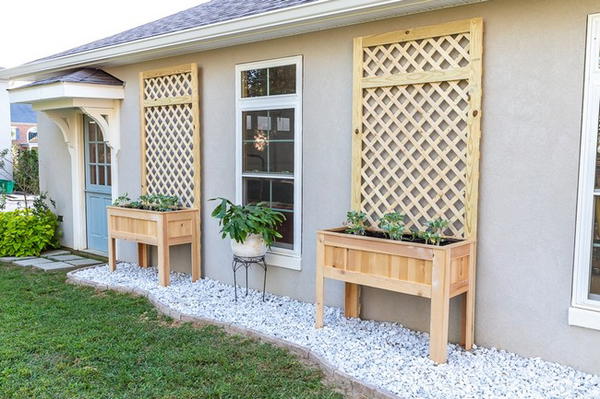 This DIY planter box is just what you need if you're looking to upgrade your curb appeal. There are so many ways to use this box too. You can plant flowers, herbs, or even strawberries in it. This planter box with trellis is a great addition to any outdoor space.
Whether you want to grow some tasty herbs or just want a nice place for some plants, this box will do the trick. There's also room underneath for storage, so you can keep your gardening tools close at hand. If you want something that's going to last a while and doesn't require much maintenance, then this is the planter for you. It has a natural look that will fit into almost any outdoor decor scheme and it won't break the bank either.
Materials:
(12) ⅝″ x 5.5″ x 6′ Cedar Fence Pickets
(1) 4′ x 8′ Lattice Panel
(1) 2′ x 2′ x 8′ Board
(4) 1′ x 4′ x 8′ Boards
2 ½-inch and 1 ¼-inch Wood Screws
1 ¼-inch Pocket Screws
Landscape Fabric
TOOLS:
Pencil
Speed Square
Cordless Drill/Driver
Compound Miter Saw
Circular Saw or Jig Saw (optional)
Table Saw
Pocket Hole Jig
Safety Glasses
Hearing Protection
Dust Mask
Pneumatic Brad Nailer + brad nails
Arrow Fastener T50ACD Compact Electric Staple Gun + staples
Tape Measure
Counter-Height Garden Box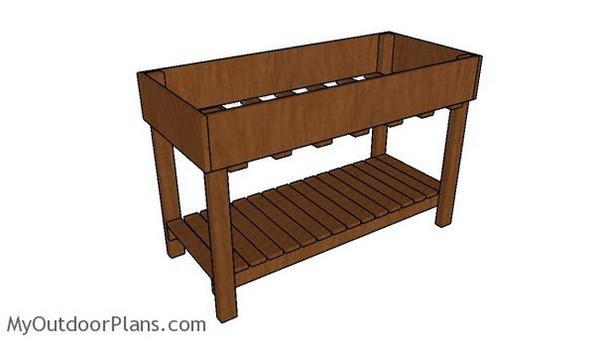 A counter-height garden box is a great way to increase your garden space when you're limited on room for planting. You've already planted your backyard garden and are ready to start growing your own vegetables. But before you start harvesting, you need a place to grow them. And, if you have limited space in your yard, you might want to build your own garden box to control its size and location. This plan is designed to be counter-height, which should be perfect for those who can't do any bending. It includes a shelf at the bottom where you can store some tools and supplies, making it even more convenient.
Materials:
Tools:
Hammer
Miter saw
Tap measures
screwdrivers
Drill
Level
Basic Elevated Planter Box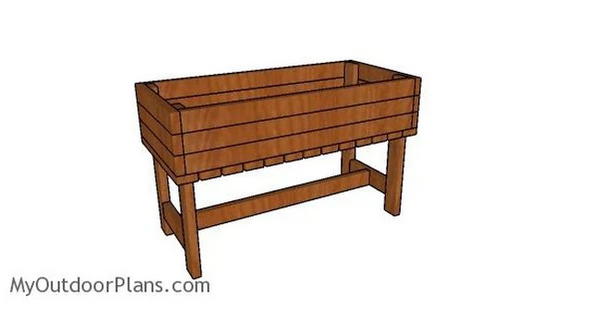 This Basic Elevated Planter Box is an easy project that will definitely add a unique touch to your yard and garden. You can even customize it with paint or stain for the perfect look. This plan is easy to follow and the result is quite sturdy. It also doesn't cost that much to make. This planter box has a lot of space for planting your favorite plants and flowers. You can also use it as a herb garden, and there are lots of different ways to use this planter box. If you want to get creative with it, you can change it up so that you can use it in multiple ways or just keep it as it is in the plans.
Materials:
Tools:
Hammer
Miter saw
Tap measures
screwdrivers
Drill
Level
Tall Outdoor Planter Box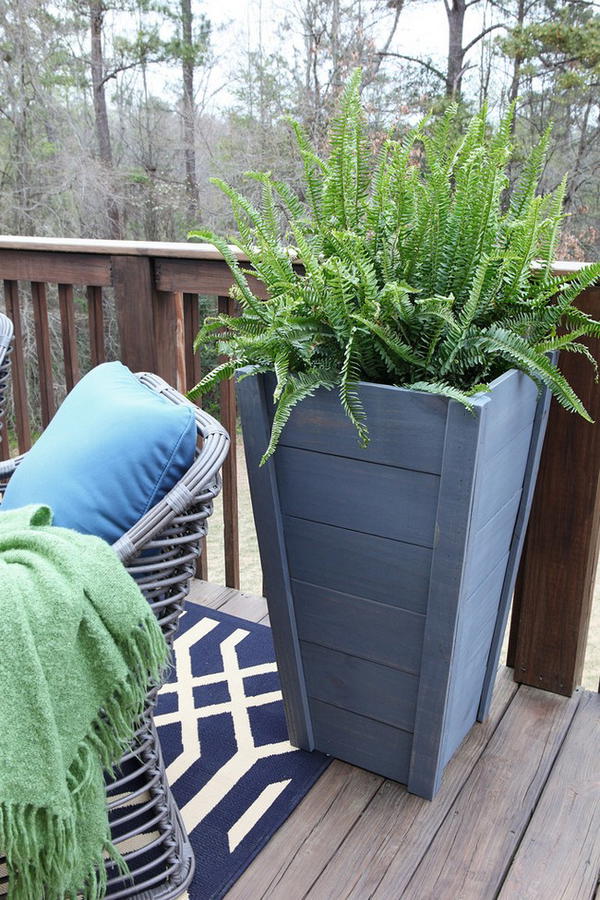 This planter box is lightweight, affordable, and easy to build with your own hands. It can withstand the elements, so it will last a long time on your deck or porch. It blends in beautifully with any aesthetic since it has a minimalist appearance. Although it doesn't require many tools to build, it's best if you have an assortment of tools and experience with DIY work. You can easily install herbs or flowers along with its long frame, but do note that it's a bit larger than other models, so you should keep your yard size in mind before building this specific planter box. .
Materials:
Tools:
Hammer
Miter saw
Tap measures
screwdrivers
Drill
Level
Cedar Planter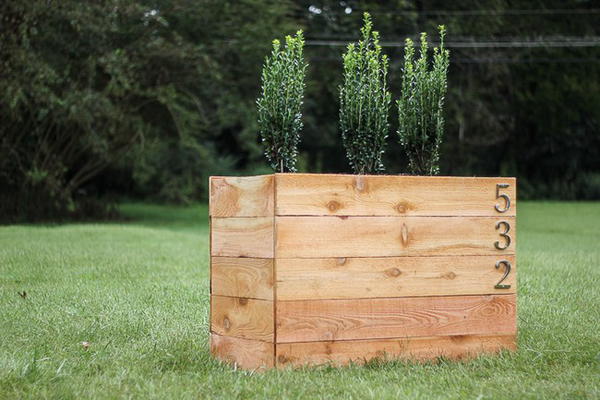 If you're a beginner DIYer or just want to start with a simple project, this snap-together Cedar Planter is the perfect way to get started. This simple planter kit is perfect for all manner of do-it-yourselfers. It is crafted out of cedar and specially fitted to allow the post system to attach to it. This means that you do not need any tools at all. All you do is connect the parts with snaps, and you have a beautiful planter. Clearly display plants or small vegetables without worrying about having enough room in your soil to plant something else.
Materials and Tools: 
House Numbers (if desired)
Cedar Planter Box Plans
20 ½″ SnapFence Posts
 14 /12″ SnapFence Rails
 15 ⅜″ SnapFence Rails
Tees
Four Way Tees
Three Way Elbows
Five Way Crosses
SnapFence Ground Pilings (optional)
Cement Board
Rubber Mallet
10 Cedar Fence Pickets
Clamps
Liquid Nails Fuze It
Short Raised Planter Box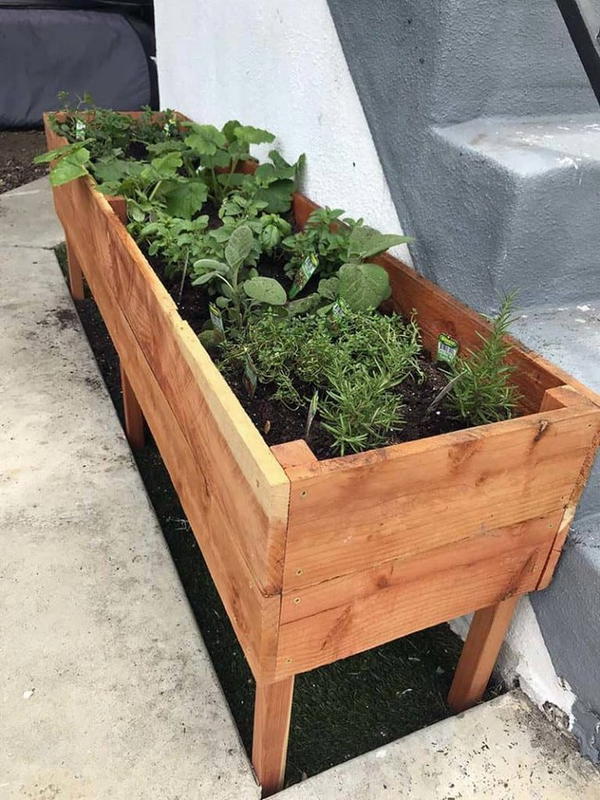 This short raised planter box is a good option for those who don't have a lot of gardening space, or who are brand new to the hobby. Do you think that you need a big garden or a lot of space to grow your own vegetables, herbs and flowers? With this handy planter box, you can grow all those things in your own backyard. It's just the right size, and it will last forever. It's small enough to fit on a deck or patio, but large enough to grow a decent number of vegetables, herbs, and flowers. With sturdy cedar construction, it will look nice and last for many years.
Materials:
Cinderblock. PROS | Cinderblock is cheap and available at any local hardware store. ...
Rock. PROS | The material can be free depending on where you obtain it. ...
Concrete. ...
Galvanized Metal or Stock Tanks. ...
Steel. ...
Wood.
wood glue
Tools:
cordless drill/driver
drill and driver bits
jigsaw or circular saw
tape measure
heavy-duty stapler
metal shears
pencil
Easy Build DIY Planter Box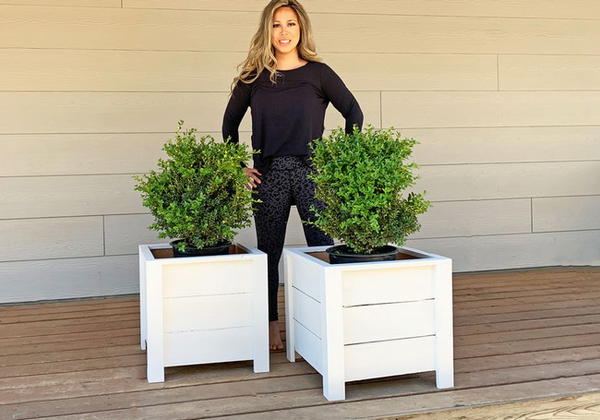 You've probably seen some pretty awesome planter boxes in your city. But you never thought to build your own. Now it's time to make a planter box like no other. It's simple, affordable, and looks great next to your redwood bench in the backyard. This fun planter box is a staple around your house. You can enjoy this project every season. It's inexpensive to build and can be built in hours instead of days. This is the easiest to build a DIY planter box. It is made primarily with cedar fence pickets, which are super affordable and seem to last a really long time. This planter box requires very little hammering and is perfect for beginners. It will look absolutely perfect in your entryway or anywhere you decide to place it.
Materials:
2 Cedar fence pickets - 6' each (for sides)
1 Cedar 2x4x8 (for bottom supports)
1 Cedar 4x4x8 (for the legs)
16 1-⅝" exterior deck screws (I used these)
Finishing nails
Tools :
Table saw
chop saw
Drill/driver
drill bits
DIY Modern Cedar Planter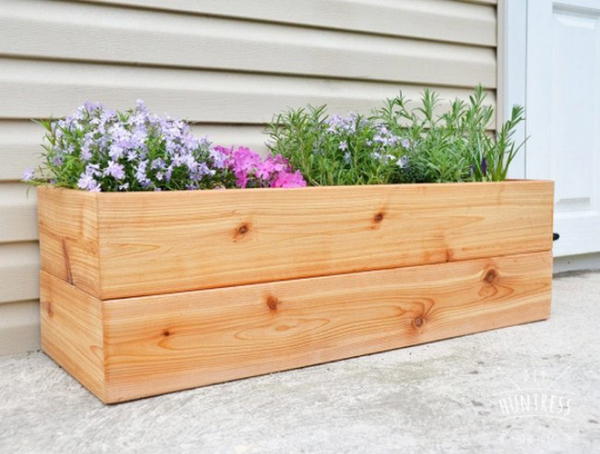 A wooden planter is more authentic and holds up well over time. This modern planter is a great way to add some color and life to your outdoor space. Creating your own fresh flower garden setup is easy. With a wooden planter and a bit of creativity, anyone can grow their own garden in style. They add warmth and character to the garden, as well as give you an opportunity to bring some of your plants up off the ground, giving them an extra element to their display. It's made from cedar. The real trick here is getting the planter box to be perfectly square, which comes down to getting the corners square as well. The box is put together with a combination of glue and screws, so it stays nice and rigid.
Materials:
1 - 1x6x8 cedar board
2 - 1x3x8 cedar boards
landscape fabric
potting soil
plants (we used succulents)
glue
Tools:
DIY Address Plaque Planter Box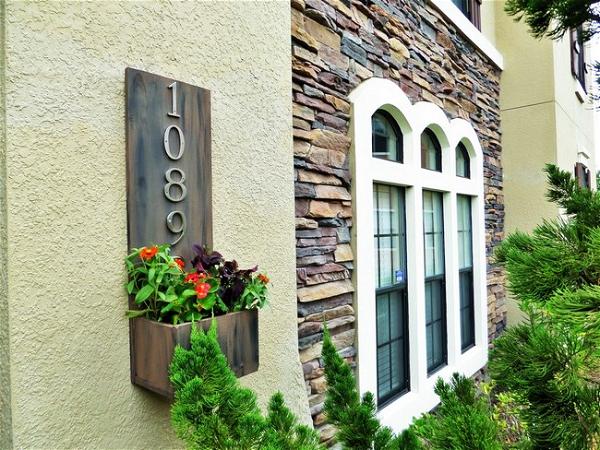 A charming DIY address plaque adds a welcoming touch to your entryway. Besides adding curb appeal, it's a good way to give guests and delivery people an easy way to find your house —There are plenty of options for buying address plaques, but if you have some basic woodworking skills, it's surprisingly easy to make one yourself. This DIY  plaque is a fun way to spruce up your home's front entryway. While you can find planter boxes at most retail stores, they are often more expensive than they need to be. Building your own planter box is easy, especially if you use good-quality cedar boards.
Materials:
1x4x16 cedar board (2)
1x6x16 cedar board (2)
Wood glue
Sandpaper
Tools:
3" finish nails
3" deck screws
Finish nailer or hammer
Circular saw or table saw
Router with ¼" round-over bit
Drill and driver bits
Tall Outdoor Wooden Planter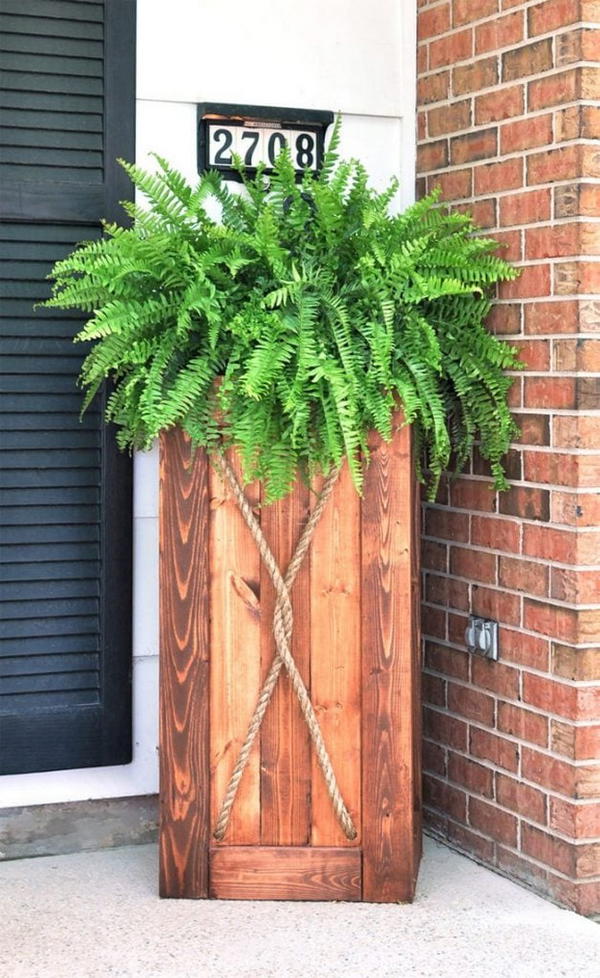 The beauty of wooden planters is that you can make them whatever shape, size, and style you desire. You can even give them a homemade natural stain. This tall outdoor wooden planter will be a nice addition to any garden or deck. It's simple to build, but the finished product is elegant enough for any occasion. To start building this planter, cut the boards to length and cut two end boards as well. You can also use screws if you want to make sure it doesn't come apart over time. You can use wood glue and it has worked so far.
Materials:
 Rope
Wood Stain
 Waterproof Sealant
Tools:
Miter Saw
 Impact
Driver or
Drill
 Nail Gun
 Clamps
 Wood Glue
DIY Window Box and Shutters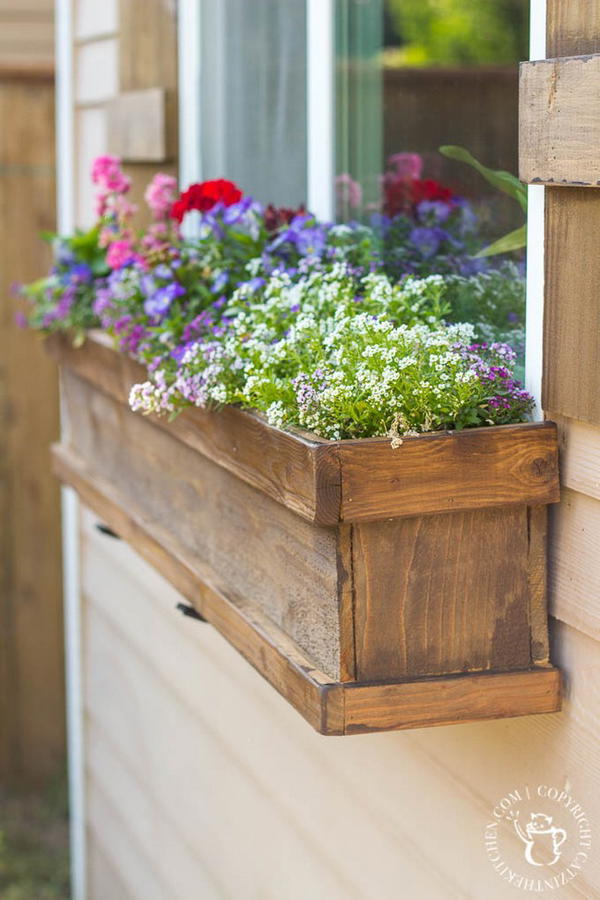 If you're new to DIY, these projects are a great place for you to start. The tutorial shows how to make super easy window boxes and shutters but if you're looking for something super easy look no further than these easy window boxes and shutters. This is a great project to do with your children. And the possibilities are endless when it comes to decorating them. You can make them as fancy or simple as you wish. You can paint them, you can do a combination of paint and stain. Apply vinyl to them, So if you're up for a little project that adds a lot of charm, this project is for you!
Materials:
 1×6 x 8 feet long
 1×3 x 8 feet long
 ¼″ plywood x 2 feet long
 ½″ trim (whatever width you desire)
 Wood glue
Sandpaper
 Paintbrushes
Tools
Jigsaw
 Power drill with screwdriver bit
 Table saw or circular saw
wood screws
DIY Raised Planter Box
Raised planters are a great way to grow plants off of the ground, whether you're looking for some urban gardening space. And if you like to work with pallets, you can easily create a planter box that's perfect for flowers, herbs, and more. This project is simple enough for beginners while still challenging those looking for a more involved DIY project. The first thing you need to know about building a planter box is that it can be time-consuming and expensive. This is why most people opt for a DIY raised planter box, which is much simpler and cheaper to build.
Materials
2-in x 4-in Lumber (Actual: 1-½-in x 3-½-in)
Deck/Exterior Screws.
Wide-Mesh Hardware Cloth.
Heavy-Duty Plastic Sheeting.
Raised Bed Soil.
Tools:
A miter saw
hand saw
hammer (for nails)
drill/driver (for screws)
 driver bit
Conclusion:
DIY raised planter box is a simple but effective medium to display your favourite plants. The beauty of the raised planter box is that it can adapt to any space and you can use it for a variety of purposes. Raised planter boxes in the garden do not only add fancy looks but also make the gardening experience more fun. A raised box is also ideal for small spaces or urban gardens, where the soil is not decomposed enough. A raised bed will allow you to create a specific growing environment for your plants and develop healthy root systems.