One of the unique planters you can build is a pyramid planter. These planters are easy to build and have a unique design perfect for any garden space. If you want something a little bit different, then you might want to consider building one of these free pyramid planter plans. These DIY Pyramid Planters are made from cedar. These 11 DIY Pyramid planter plans are actually very pretty and easy that could be completed within a day depending on your skill level. This would make a great addition to any garden or yard, even if it's just sitting on the front porch.
DIY Pyramid Planters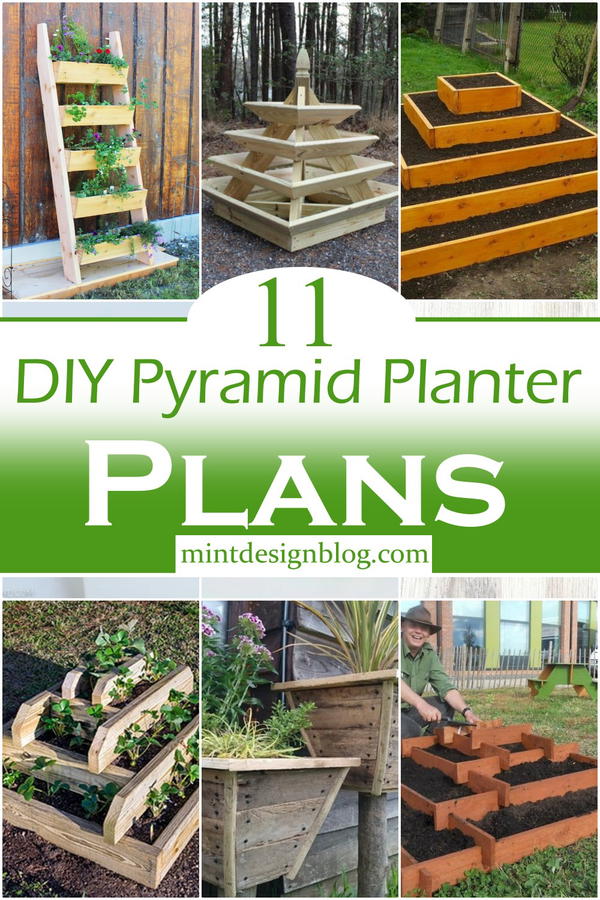 If you want to grow plants in a small space or would just like to create an interesting planter for your garden, then consider building a pyramid planter. These unique planters are easy to build and there are plenty of free plans available that will help you through the process. These pyramid planters are easy to make and can help you grow plants in small spaces. They're especially useful if you don't have a sunny windowsill available to you. Here are 11 free DIY pyramid planter plans for you to try.
These 11 DIY Pyramid Planter Plans with detailed instructions are great for decorating your lawn, garden or home and making a visual statement.
The Owner Builder Network's Slot Together Pyramid Planter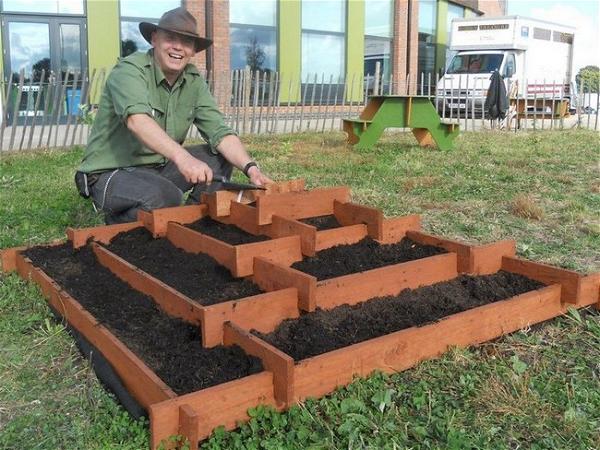 This planter is great for beginner DIY-ers. It is really easy to make and the instructions are very simple to follow. While this planter is a little bit smaller than the other planters on this list, it is still a beautiful addition to your garden. The pyramid shape of this planter makes it perfect for growing small plants in a really decorative way. You can plant flowers or herbs in these planters and place them around your yard to add some colour and texture. One thing that makes this design unique is that it can be easily customized by changing the shape of the slots. You can also customize it by adding or removing layers. This allows you to adjust the height of the final product to suit your needs and preferences.
 Materials:
¾ MDF Board/Wood Planks
Sand Paper
Tools:
Square
Pencil
Drill
Tenon Saw
Chisel
RemoveandReplace's Vertical Garden Pyramid Tower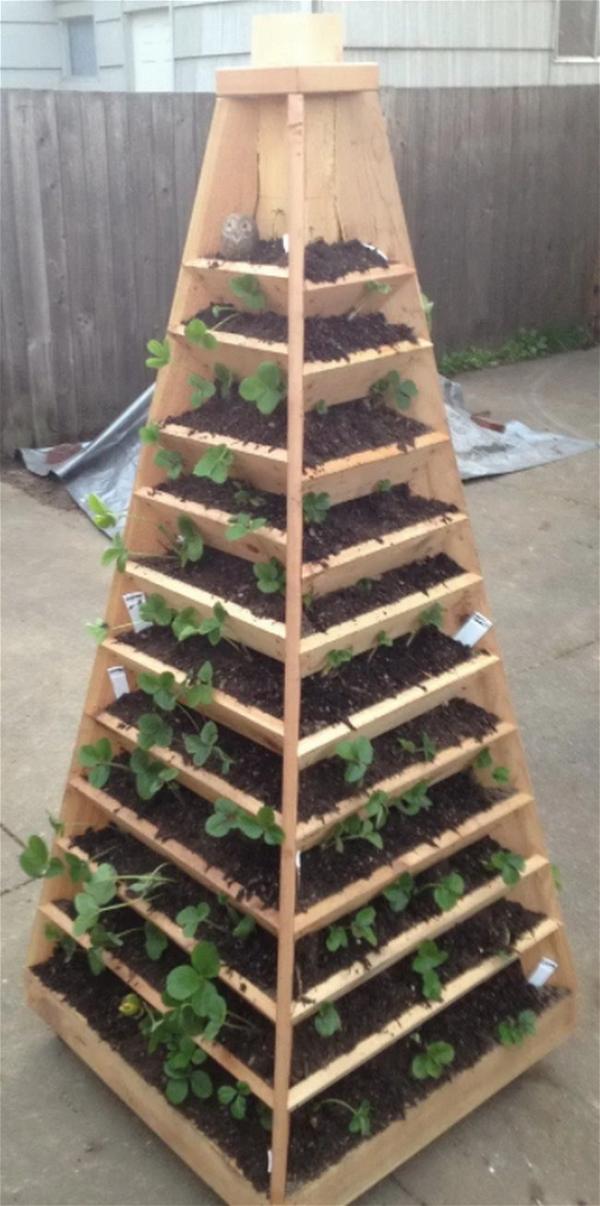 This is a great choice for anyone looking for an easy-to-build pyramid planter that holds a lot of plants without taking up too much space in the garden bed. This pyramid planter has several tiers to give it a grand look. The bottom tier is the largest and features four sides, while the two upper tiers include three sides each. In total, there are six sides where you can place plants and flowers, giving you plenty of room to experiment with different plant combinations. Because of its size, this planter looks best when placed in a garden bed or large container with more natural greenery around it that complements the colours of your plants and flowers.
Materials:
1 – 4″ X 4″ X 6′ Cedar Wood (for main center post) 0
11 – 1″ X 4″ X 8′ Cedar Wood (for structure)
1 – 3′ X 3′ Plywood (for base)
1 – 2″ X 2″ X 8′ Cedar Wood (for top)
4 –Casters 4 Pack (bottom wheels)
75 – 1 ½″ deck screws
1 – Container Wood Glue
 Tools:
My Outdoor Plans Strawberry Tiered Planter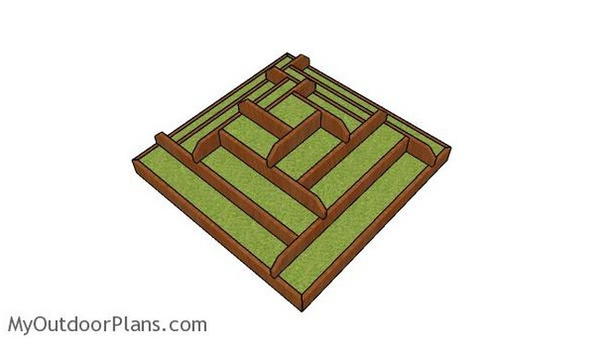 This is another great DIY project that doesn't require much skill. The instructions are simple and easy to follow. It also includes an image to help you see what the finished product should look like. The Tiered Strawberry Pallet Herb Garden is a very practical way of growing herbs and strawberries in small spaces since it vertically uses your space rather than needing horizontal space for planting beds. This makes it perfect for anyone with limited space in their gardens or patios or balconies. The Strawberry Tiered Planter is a great plan to follow if you are a beginner builder. The plans thoroughly list all the materials and tools needed.
Materials:
A – 4 pieces of 2×8 lumber – 82 ½″ long BASE.
B – 4 pieces of 2×8 lumber – 69 ¾″ long 2nd TIER.
C – 4 pieces of 2×8 lumber – 47 ¼″ long 3rd TIER.
D – 4 pieces of 2×8 lumber – 24 ¾″ long 4th TIER.
Tools:
Timberanew's Rustic Pyramid Planter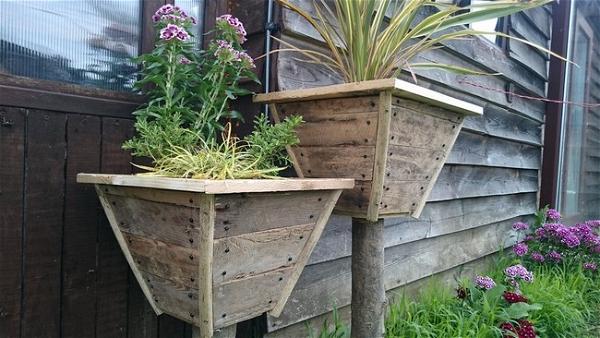 Timberanew's Rustic Pyramid Planter is one of the best pyramid planters on the market, and it is extremely easy to put together. It has a rustic appearance that looks great in any environment, and it is made out of beautiful cedar wood. When you get this planter, it will come with all the pieces needed to put it together, and they are pre-drilled so they will fit together perfectly. This planter is better for growing larger plants since it can hold more dirt than other pyramids, and it also has a drainage system that allows air to enter from the bottom. While this planter may be a bit pricey, when you see how great it looks in your yard, you won't mind spending the money on such a high-quality planter.
Materials:
- 8 lengths of wood 30cm X 4cm X 4cm (11 13/16" X 1 9/16" X 1 9/16")
- 2 Pieces of wood 15cm X 15cm X 1.5cm (5 15/16" X 5 15/16" X 9/16")
- 6 lengths of pallet wood 100cm X 6cm X 1.5cm (39 ⅜" X 2 ⅜" X 9/16")
- 1 log around 6cm in diameter and 80cm long (2 ⅜" in diameter and 31 ½" long)
- 1 log around 6cm in diameter and 110cm long (2 ⅜" in diameter and 43 5/16" long)
- 2 branches around 3cm in diameter and 160cm long (13/16" in diameter and 63" long)
- 100 X 4cm ring shank nails (1 9/16")
- 40 X 5cm screws (2")
- Some plastic/ landscape material for inside the planters
- Compost
- Plants
Tools:
- Pencil and rule
- Combination square
- Rip saw or table saw
- Crosscut saw or table saw
- Hammer
- Big Mallet/Sledgehammer/Post Rammer to hit the logs into the ground
- Brace/Drill and 3mm bit
- Screwdriver/Drill
RunnerDuck Resources' Strawberry Planter Tree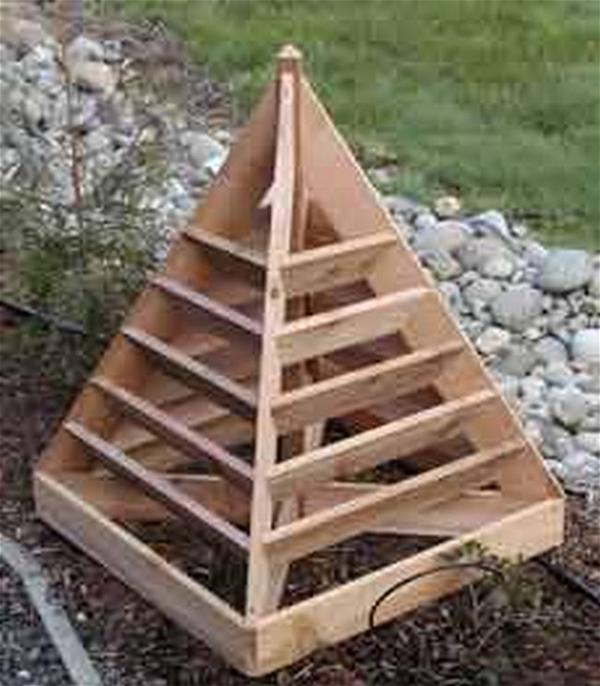 This tree-shaped planter is great for growing vining and climbing plants. It can be used to grow a variety of different kinds of berries, like strawberries or even grapes. The Strawberry Planter Tree itself is tall, so it's not as large as some of the other planters on this list, but you can still grow a large number of plants on it because it has a lot of space between each arm.
The design is interesting and unique looking and would look nice in a backyard or garden that does not already have many plants in it. It's also perfect for someone who only wants to grow one type of plant in their garden, as you can fill each arm with the same plant.
Materials:
(8) 1" X 4" X 8' Tight Knot Cedar
(1) 2" X 2" X 3' Cedar
(100) 1 ⅜" #8 deck screws
wood glue
Tools:
Tape Measure
Drill
Miter Saw
Table Saw
Pop Rivet Gun
Kreg Jig
Scratch Awj
Read Snip
Pliers
⅛ Sheet Metal Drill Bit
The DIY Plan Gutter Planter (Pyramid)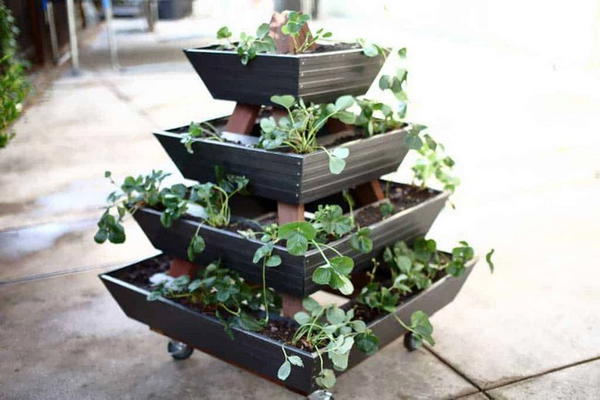 The pyramid planter is unique because it allows you to grow more plants in less space. The pyramid structure also makes it easier to take care of your plants because they are all at the same height and are accessible with ease.
The DIY Plan Gutter Planter is made from cedar, which is a very durable material that can stand up to the elements. The pyramid planter also has plenty of room for multiple plants, so if you like to grow a variety of herbs then this is the one for you too. You can make your pyramid-shaped planter with wheels, or without. With a pyramid-shaped planter, you do not have to worry about support boards inside the planter because it shapes like a pyramid.
Material:
1x2x8′ Pressure Treated (x4)
Gutter (45 feet)
Pop Rivets
2 ½" Pocket Hole Screw
2 ½" Wood Screws
4" Wheels
Tools:
⅛ Sheet Metal Drill
Kreg Jig
Scratch Awl
Red Snips
Pliers
Tape Measure
Drill
Miter Saw
Table Saw
Pop Rivet Gun
ChesapeakeCrafts' Strawberry Pyramid Planter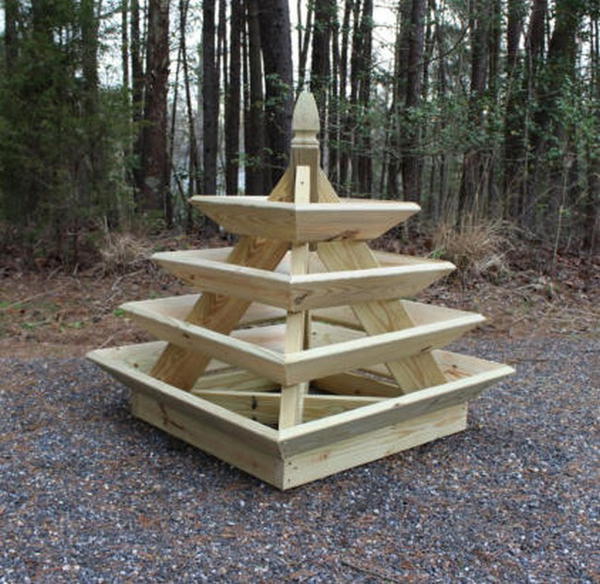 This DIY wooden pyramid planter is easy to make and easy to build with simple materials that anyone can find at a local hardware store. The pyramid planter is the perfect way to grow strawberries, vegetables, herbs, and flowers. The structure of this planter is sturdy and professional-looking. It will fit nicely in any garden and will help you keep your plants healthy and organized. The tutorial also gives you the option of finishing your pyramid planter with either paint or stain. The tutorial also provides a list of materials and tools needed to complete the project, as well as a list of the specific cuts that need to be made to each piece of wood used in the project.
Materials:
¾ inch thick cedar board
6-inch wide cedar boards
Cedar shingles
Wood glue
.Stain (optional)
.Exterior paint (optional)
Tools:
 miter
 hand saw
electric drill
drill bits
screws
Cedar Vertical Tiered Ladder Garden Planter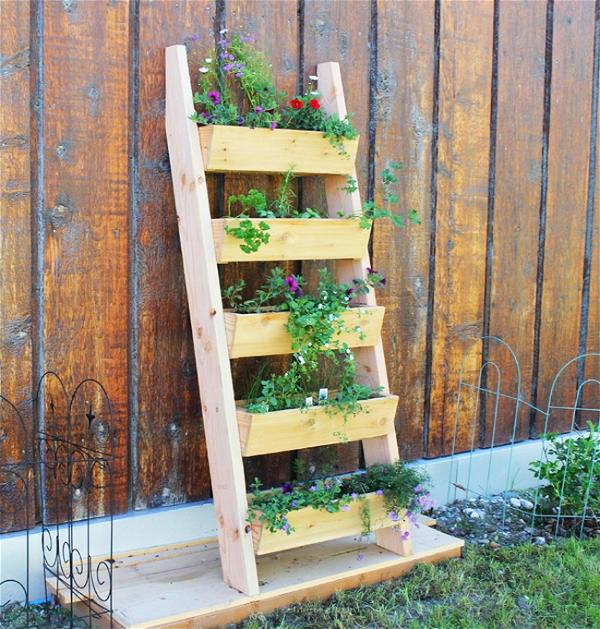 When your garden grows, you need to find a way to keep it all organized. This is where the Cedar Vertical Tiered Ladder Garden Planter comes into play. It is a great way to keep your herbs and vegetables organized in a small space.
It is also built very sturdily so that it won't tip over when you have it full of plants. This plan has a pyramid shape that allows you to grow quite a few different types of things on it. Cedarwood is naturally weather-resistant and insect repelling, which makes it ideal for outdoor use. It is also softwood so it will not splinter or damage your skin when you move it. You can paint it any color you want to match your existing decor.
Materials:
 wide cedar fence pickets
 long exterior decking screws
galvanized nails or staples
wood glue
Tool
Speed Square
Pencil
Safety Glasses
Ear protection
Drill
Jigsaw
Miter Saw
Staple Gun
How To Build A Killer Pyramid Raised Garden Bed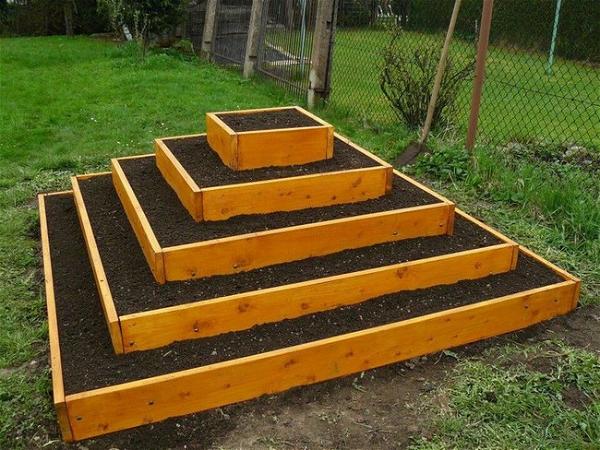 For thousands of years people have tried to make growing plants easier, and that's still the case today. One of the latest trends to hit the gardening scene is the vertical planter, specifically the pyramid raised garden bed. There are numerous advantages to having one of these beds in your garden. Raised garden beds are available from many retailers, but they can be expensive. Making your own DIY pyramid raised garden bed requires some carpentry skills, but it is not difficult for someone who has built a few things before. The result will be a beautiful pyramid shaped planter that provides many benefits including access from all sides and an ability to grow on multiple levels.
Materials:
 a measuring tape
a pencil
enough soil
wood
Tools:
 miter
 hand saw
electric drill
drill bits
screws
How To Build A Strawberry Planter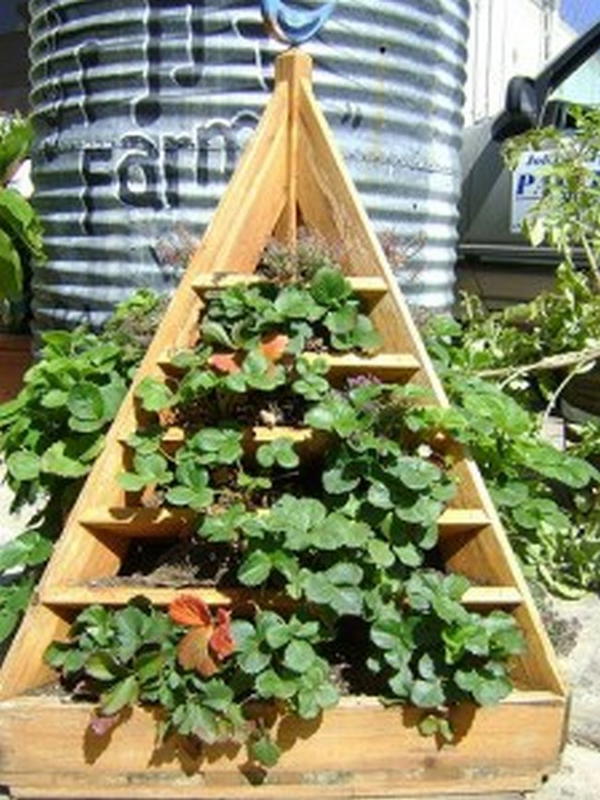 Strawberries are some of the best fruits to grow in containers. They're shallow-rooted, don't take up much space and can produce a surprising amount of fruit over several years. Strawberry planters are available at nurseries and by mail order, but by building your own, you'll save money and have a high-quality container that's custom-made for your garden space. Planting strawberries in planters tames their slightly invasive nature and simplifies maintenance tasks. Strawberries grown in containers do well in almost any sunny location. If you live in an apartment or other small space, consider placing them on a balcony or patio where they can receive at least six hours of sunlight every day.
Materials:
Pocket hole jig with 1 ¼-inch screws (optional)
1 ¼-inch pocket hole screws (optional)
2-inch deck screws or 16d common nails
Outside corner braces (6 per planter)
Carpenter's glue (optional)
Tools:
Table saw
Drill/driver
Miter saw
Jigsaw
How To Build A Strawberry Pyramid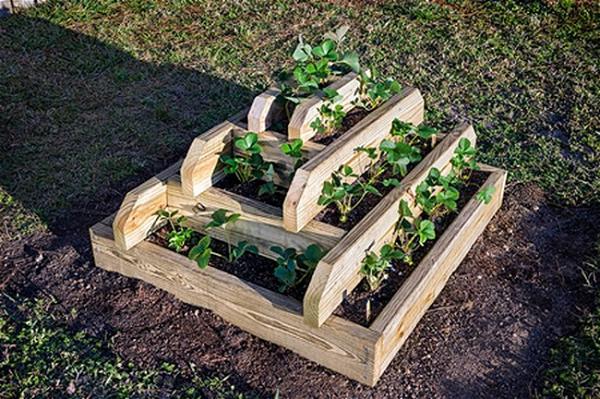 Fruit trees may be beautiful and productive, but the space they need can cramp your garden. Plus, those trees have to contend with a host of pests and diseases that can damage or destroy them. Sometimes, it's just easier not to put all your fruit in one place. Strawberries are an alternative that anyone can grow. They require no pesticides, little fertilization and low maintenance. And if you're short on space, you can grow strawberries in a pyramid planter.
A strawberry pyramid planter is simply a multi-tiered plant container shaped like a pyramid. So it works well for those who have poor soil or cannot bend over easily to tend their plants. It also allows gardeners to grow fruits and vegetables in the same space by using vertical gardening techniques.
Materials:
4 x 8 boards
6 x 8 boards
deck screws
galvanized corner braces
soil
square
measuring tape
shovel
Tools:
miter saw or circular saw
hand drill or screwdriver
scissors or utility knife
Conclusion:
If you love gardening, you probably know how important it is to use the right kind of planter to grow your plants and flowers. You can choose from a wide variety of planters like hanging planters, stackable planters, wall planters or the popular DIY pyramid planter. Pyramid planters look very attractive and can be used for growing flowers and other small plants. These are easy to make using a few tools and materials. Pyramid planters are not only attractive but also practical for growing plants when you have limited space in the garden. They allow you to grow more plants in a small space. Besides, they are easy to build with wood and can be placed on the patio or inside the house.
See Other Projects