The helmet is perhaps the most iconic part of a spacesuit. The space helmet is a staple of science fiction and futurism, but they don't just have to be fictional. If you want to build your own space helmet or add some science fiction flair to your own helmet design. While most of these space helmets are fairly simple, they all have that futuristic charm that really makes them stand out. They provide a comforting sense of security and are great for avoiding breathing in space. They also can be used for role-playing and other fun activities. So if you want to add a little bit of otherworldly style to your costume, these 23 DIY space helmet projects are the perfect place to start.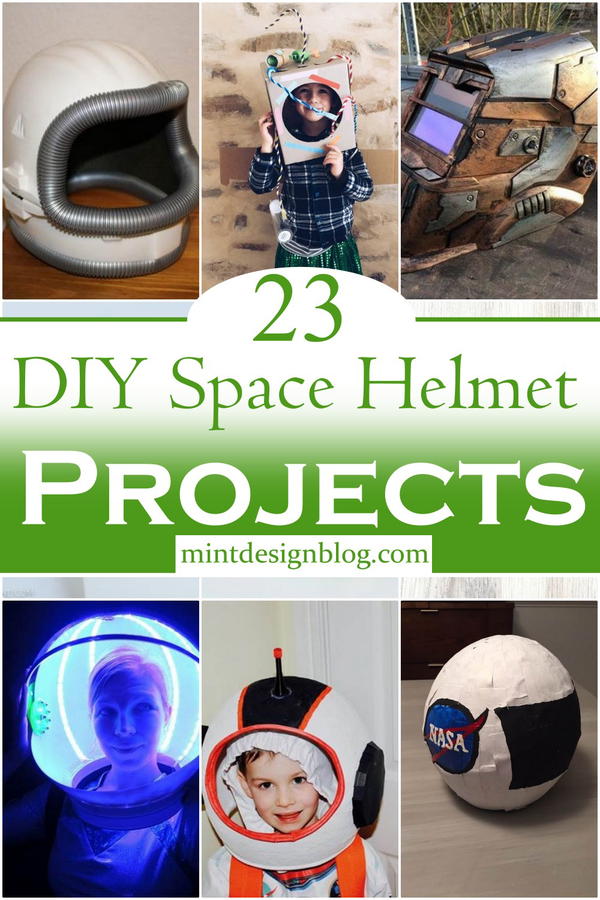 You really can't go wrong with a space theme when it comes to Halloween costumes. Whether you're making a DIY astronaut costume or something more elaborate, we've got all the space helmet inspiration you need. All that's left is for you to choose your preferred method and start crafting! Below are 23 DIY Space Helmet Projects That Will Make You Feel Like an Astronaut. You can use these for party favor decorations, or wear them as part of your cosplay costume. These are usually inexpensive to make and you'll have a lot of fun!
With these 23 DIY space helmet projects, you can create your own custom space helmet in the comfort of your own home.
Uses Of DIY Space Helmets
You can use DIY Space Helmet Projects too:
Build your own space helmet
Make a space helmet out of some other kind of helmet, like a motorcycle helmet
Temporarily turn any container into a space helmet with aluminum foil
Use a DIY space helmet to stage the most epic prank of all time
Use it to trick people into thinking you are an astronaut.
Tips To DIY Space Helmets
It's no secret that we all love an excellent DIY project. But when it comes to crafting a space helmet, you want to make sure you're doing it right. If you're thinking of designing your own or just want to improve the quality of your current project, here are some tips and tricks to keep in mind when DIYing a space helmet.
Don't just glue stuff onto a bucket, unless your helmet is supposed to look like it was made by a kindergartener with access to only a glue gun and a craft store.
Don't just put string lights on the inside of your helmet and call it done because it looks cool. You will end up looking like an idiot who thought string lights were a good idea when they can barely be seen in broad daylight and are totally worthless in the dark.
Make sure there's enough room for airflow and visibility so that you don't suffocate or get dizzy while wearing your helmet. You want to feel comfortable and confident while wearing it, not like you're going to pass out at any moment!
Make sure your helmet fits comfortably over whatever headgear you'll be wearing underneath (e.g., goggles, headsets, etc.).
How To Make A Helmet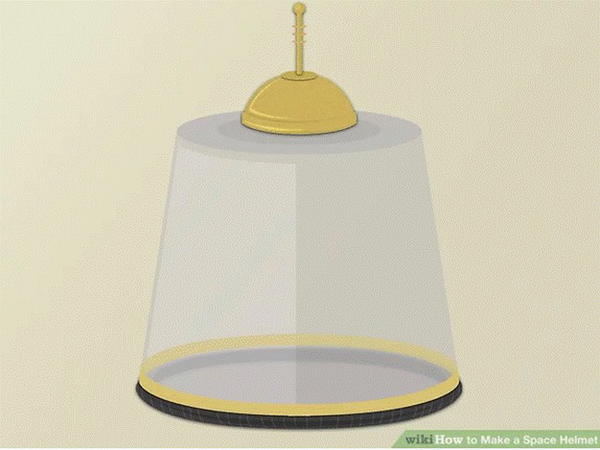 Your space helmet will protect you while you travel to outer space. So, to get yours first start by using this special step-by-step DIY guide to make your own easy space helmet. This guide will take you through the complete process of how to make a helmet at home. It is always important for kids to have fun, but it is even more important for them to learn about the world around them and what exists in space that may not exist here on Earth. This will definitely keep you away from the vacuum of space, with detailed descriptions of what it's like to be out there. Get your copy now and enjoy!
DIY Child's Space Helmet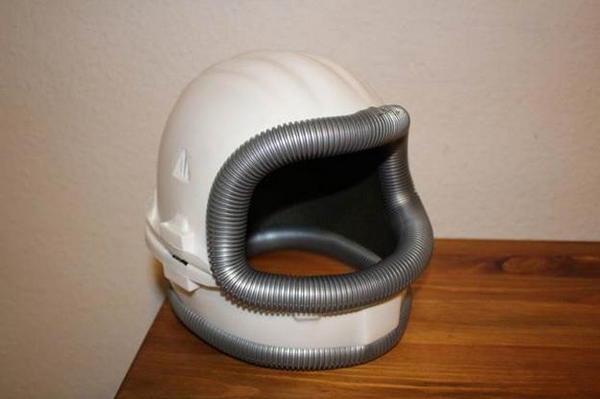 Some parents don't know how to make a DIY child's space helmet. It turns out that this helmet is not as easy as one thinks. However, it doesn't mean that you can't make one on your own. In fact, this Halloween costume will amaze every kid in your neighborhood! This DIY space helmet is fun and effective. It's easy to assemble, so anyone can make it. It's made of the latest technology materials, which makes it durable and safe during use. You should totally give this a try because your kids are going to love it!
DIY LED Space Helmet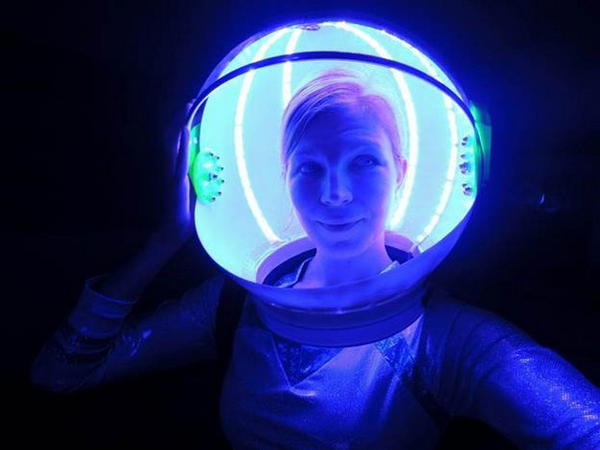 Wearing a helmet, not just for show! You can wear it during Halloween and cosplay parties, or any other events where you want to be in the limelight! You are going to love the results! This DIY LED space helmet is fun and surprisingly easy to create. Whether you choose to make it as a cool addition to your Halloween costume or an object of admiration for your desk, there's no doubt that this project will be a hit.
Adam's Savage DIY Helmet Build
If you already wear a custom bike helmet, this is an inspiring video to watch. If you don't, it's the perfect way to learn how to create a professional paint job in your own home. Just get your desired paints and start with this DIY project in your garage. The build starts with a 3D Max design drawing, then continues with the fiberglass base layer and carbon fiber layup with tools and techniques explained step by step throughout the process. We are sure you will walk away inspired about creating your own paint finish, whether it be for sport or art.
DIY Space Helmet
If you want to look like a real space adventurer, the helmet is your best friend! Not only it will protect you from sharp objects but will give you that extra advantage in alien fights. Make your own space helmet using easy-to-find materials. This is a great beginner's project and there are many different variations you can make once you have the basics down. The materials and tools used to make the costume in this video are easy to find and cheap. Let's get started!
DIY Dead Space Welding Helmet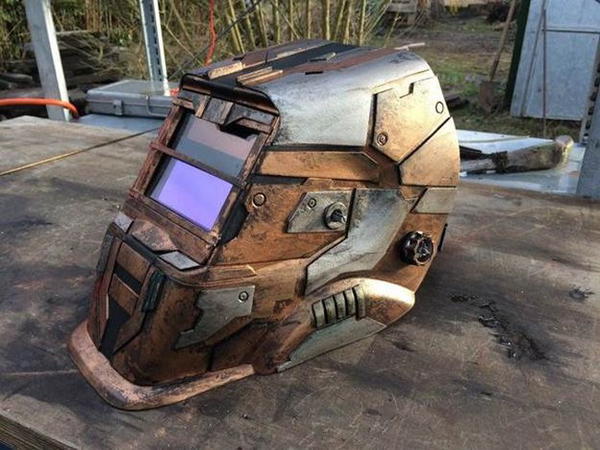 Welding helmets provide eye and face protection for welders, but for DIY enthusiasts and hobbyists, a cheaper solution is available in the form of the DIY Dead Space Welding Helmet. You may want to consider putting your creative skills to the test by making it. It looks really cool and it's definitely going to spark some interest and excitement in anyone who sees you wearing it. When you wear this welding helmet, it will feel like you have entered an entirely different world.
DIY Space Helmet For Your Kid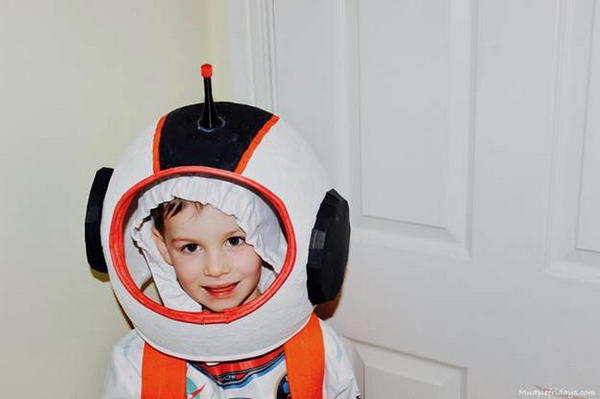 Do you have a little astronaut in your life? This DIY space helmet is simple to make, and you'll be able to surprise your kiddo with it on their next birthday! This DIY Space Helmet For Your Kid is sure to make them smile. It's an easy-to-make prop that will impress their friends and teachers, and it only needs a few supplies. This helmet is so cute, and your kid will love playing with this prop on the first day of school.
How To Make A Space Helmet
Looking for a fun, different, and super simple project to do this Halloween season? With the kids out of school, they are going to need something fun to keep them busy. This DIY Space Helmet project is the perfect solution! It will not only be a cool costume but it will also spark their imagination and creativity. It adds to your living room's decor, you can use it as party favors, and what is more important, your kids will be seriously impressed with their dad's talent.
Easy DIY Space Helmet
It would be quite thrilling to be able to create your own space helmet. As it would indeed be a cool project for you and your friends. This is a space helmet that you can create by yourself. The necessary materials to make a space helmet are simple and easy to get. Moreover, the procedure of making the helmet is also pretty easy. You need to make sure that the materials for creating the helmet are easy to get and that the procedure you will use for making the helmet is not a complicated one.
DIY Paper Mache Astronaut Helmet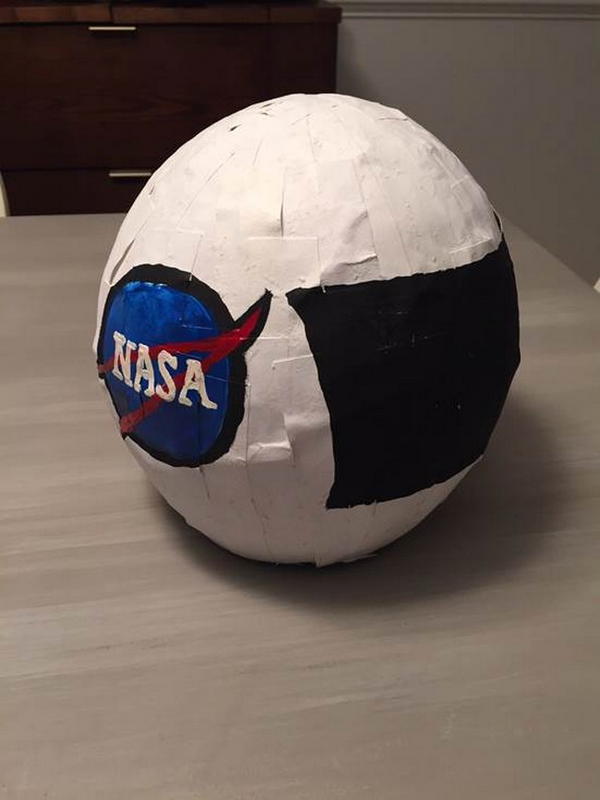 This DIY paper-mache helmet will delight your kids and keep them busy for hours while they make it. It uses an old balloon, newspaper, masking tape, and three kinds of glue to create something beautiful. Simply cut the masking tape into thin strips and mix together the paper-mache paste. You can now apply the strips of tape dipped in paper-mache paste over the balloon. Let the helmet dry overnight and start painting it the next day!
DIY Cardboard Space Helmet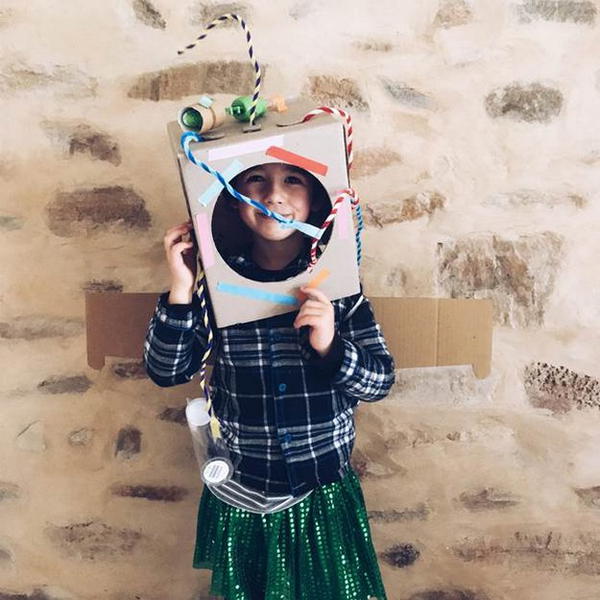 This DIY cardboard space helmet is a perfect choice for kids who are fans of Astronauts, especially when they are into Construction. It is not only great as a party hat but also plays other roles like keeping the head warm. Before you set out to make your DIY cardboard space helmet, you should know that it is a product that combines creativity and science. The end result will be a cool cardboard helmet that will keep your child's head protected from all those objects flying around the day of the game.
How To Make Space Helmets
Making a space helmet doesn't have to take weeks or even months of your precious time. It requires simple supplies that can be found in any arts and crafts store. By choosing to get this DIY space helmet tutorial, you will learn some of the many strategies and ways that you can use to make your space helmet in a blink of an eye. All you need is a few household items and paint to complete the project. The best part of this project, though, is that you can change up the colors and style in order to have fun with it.
DIY Astronaut Helmet
You can follow this tutorial on how to make the helmet, the backpack and how to put the circuit together with indicator leds. You don't need any sophisticated equipment and it's all designed for real beginners. This helmet can fit anyone and still feel comfortable. Plus, you can always add some foam padding, or thicker cardboard to make it more comfortable. The light-up backpack is optional if you are not interested, the space helmet is easy to follow.
DIY Lego Space Helmet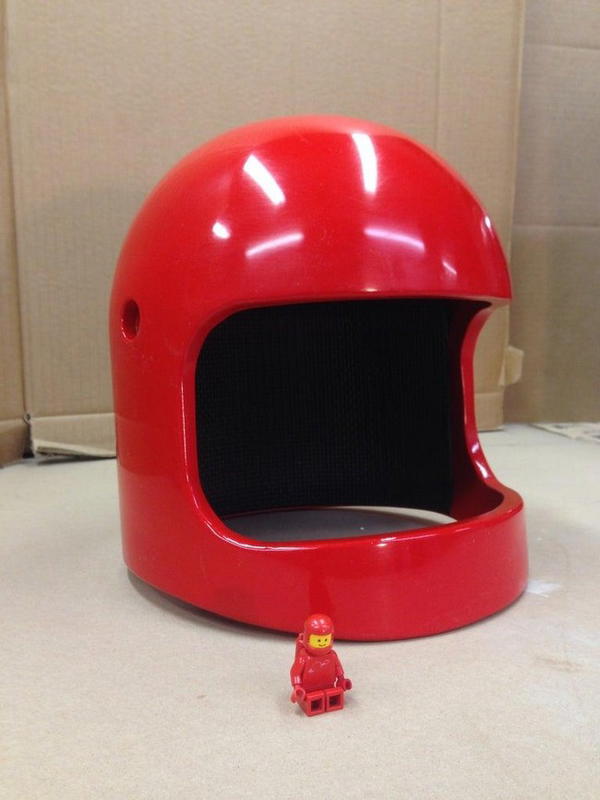 This Lego Space Helmet would be an awesome thing to wear at school, work, or around the house. Made from cardboard, foam, and paint, it doesn't matter what age you are; this project is fun for everyone! This helmet is big enough to fit your entire head. The details are just amazing, even though they don't look exactly like the real Space Helmet. Hopefully, your friends will want one too. With cleverly used Lego parts you can make your own version of the helmet and wear it as you please!
How To Make A Helmet From A Camping Mat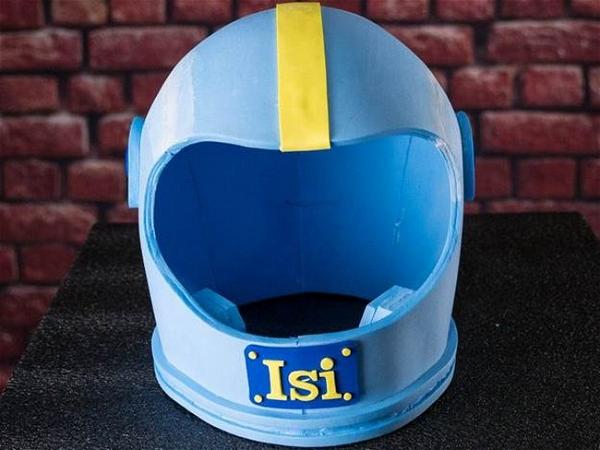 Making a helmet from a camping mat is not an impossible thing to do and you also don't need to buy any expensive tools for this, because everything you will need can be found around your house and in less than half an hour everything is ready. The purpose here is to make a helmet but it can be made as a Boonie hat or a bucket hat too. This camping mat helmet is very useful in keeping your head safe while going fishing, hiking, skiing crossing water bodies, or other
15. How To Make A Space Helmet From A Paper Lantern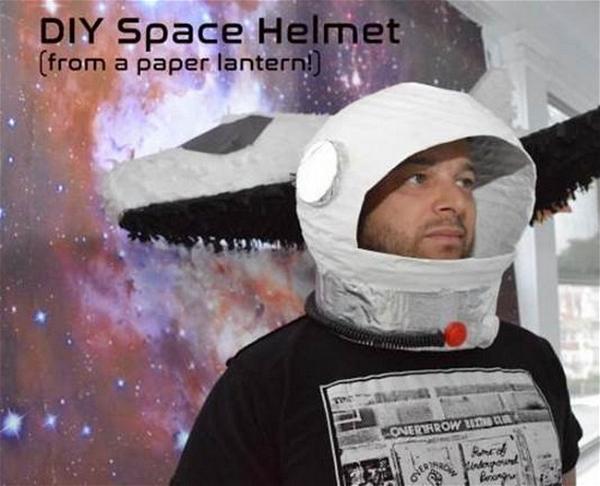 Creating a paper lantern space helmet is very economical, and pretty easy to do. It will not take you very long at all actually. And if you have a party or Halloween event coming up this might be the most fun and creative way for the little ones to have their very own space helmet.
Every kid wants to be an astronaut when they grow up and the first step is having their own space helmet. If you have a sheet of paper in front of you, and a long strip that can be torn from it, then all you need is a little bit of creativity and glue.
How To Make A Space X Helmet
This guide is for beginner makers who have never thrown a pot before and want to give it a shot. It will teach you how to make a space x helmet using an easy-to-learn technique. After watching the first launch of SpaceX's Falcon Heavy rocket and its historic test flight of a Tesla Roadster attached to it, you will inspire to design and make your own version of what a Space X Astronaut Helmet might look like. This will be your own take on a working prototype, although not 100% accurate due to the lack of detail in the footage when it comes to the outline and shape of the helmet.
DIY Martian Space Helmet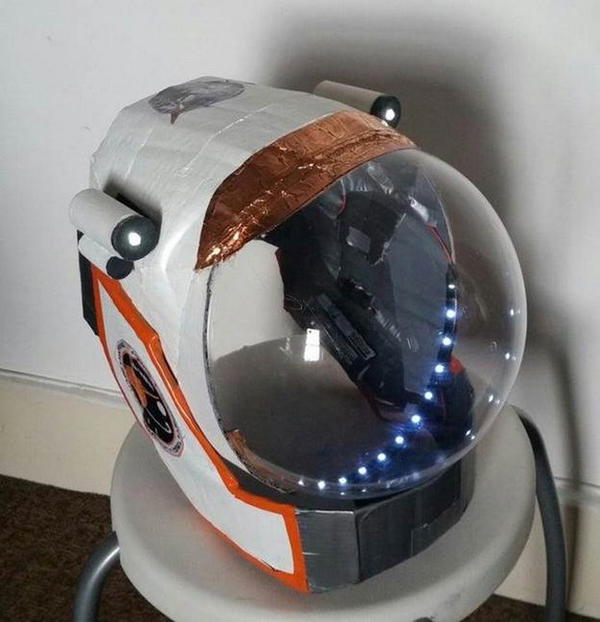 Save the Earth and travel to Mars at the same time. For the DIY space helmet that is pictured was designed with this intention… Yes, you read right! Saddle up and start making your own DIY Martian space helmet. You can now become an astronaut and go to Mars with this DIY Martian Space Helmet that you can make in your free time. It is named because of the red details and its futuristic design. The maker's instructions are clear, but it might take longer to make it.
DIY Cosplay Helmet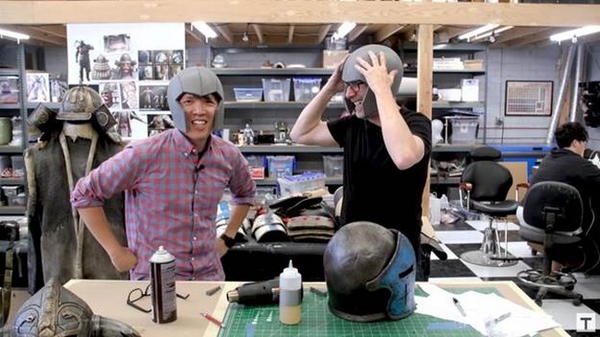 Making your own cosplay helmet is an exciting part of Cosplaying. Not only can you be super creative with the design of your helmet, but you will have a lot of fun along the way as well. This DIY cosplay helmet is a great starter for every beginner who wants to make their own cosplay costume. It will look totally awesome on you and you can wear it like a true badass at Final Fantasy Cosplay Party or whenever you have an event to attend, no matter if it's in the classroom, office, or home, everybody will be talking about this helmet.
DIY Shonduras Inspired Helmet
This DIY Shonduras Inspired Helmet is a great way to stay safe while having fun. You will have an amazing time wearing this helmet and everyone will definitely talk about it. This helmet is lightweight, affordable, and comfortable and the headband doesn't make your ear sore as other similar helmets do. It may take you quite some time, but once it's done, you'll be proud of your work and even more proud to wear it. It's recommended that you read the full DIY tutorial before starting and if you think you are up to the challenge, then let the fun begin!
How To Make A Space X Helmet
Whether you need a helmet for Halloween, costume parties, cosplay, or are a fan of space X in general, this guide will be able to help you make one for yourself. This is yet another guide that will show you how to make a space X helmet. If the previous SpaceX helmet tutorial didn't cut it for you, this guide would probably be better. It has detailed instructions on how to build one with step-by-step instructions and informative photo images. The process is easier than it might look at first sight and could be a unique DIY project for Halloween or just for fun. You can choose to get just the helmet or the whole suit.
DIY A Space Odyssey Helmet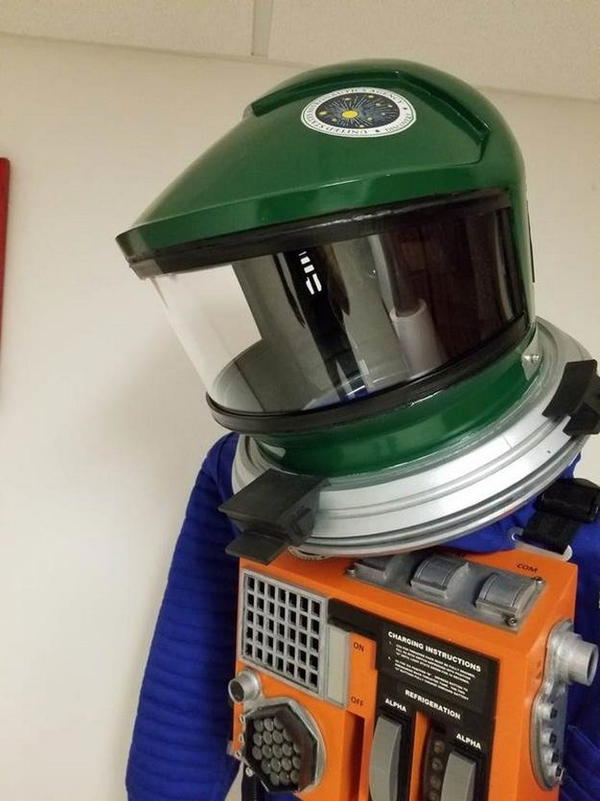 What do you get when you put a brilliant mind together with a cosplayer's dream armory? Space! Here is no exception, this fantastic project shows the process of constructing a suit, helmet, and visor that can be worn at conventions or just to show off around the house. You don't need an official costume for Comic-Con or a fun costume somewhere else where you want to be an astronaut – there are patterns for a full set of three pieces (helmet and bodywear) or just the helmet if you can make your own bodywear. The helmet will be made in sections, starting with the visor, then onto the dome, and lastly the back cap.
Star Wars Dark Helmet DIY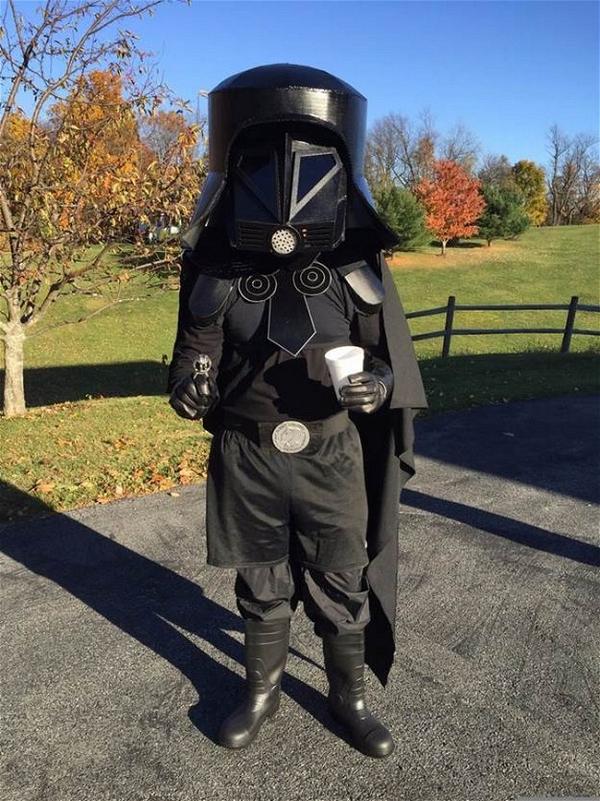 Ever want to build your own Star Wars: Dark Helmet Space Helmet? Well, now you can! It's easy-peasy and fun you need. Your kids will enjoy wearing these helmets as party favors at their Star Wars birthday party and you make these fun little costumes to wear as well. They are cute for Halloween as well. It is a great project for the upcoming holidays. You can make inexpensive homemade space helmets with clear plastic drink bottles and some paint, glue, and elastic string. Just follow the steps in this Instructable and you will be ready to cosplay in no time!