Pendulums have been used since ancient times to access information from the subconscious mind by moving energy. When a pendulum is used, it starts to swing from one side to another in an arc that may tell you the answer to any particular question or situation. This gives us an insight into anyone's life and helps us to make decisions. To make your DIY Pendulum, you'll need a chain length and a small weight at one end. By holding the chain, you can use it as a dowsing rod to answer questions about your life, health, finances, and even the universe. DIY Pendulum ideas can be made from simple materials - using a piece of wood, glass, or crystal.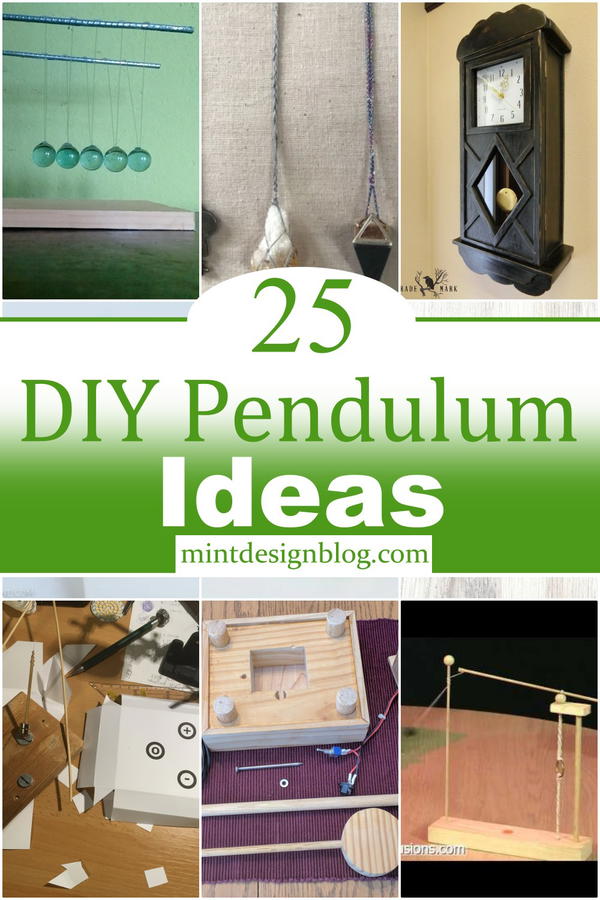 There are many ways to make DIY Pendulums, but here you can see the most beautiful and creative ideas that people have made out there. You don't have to worry about wasting your time as the projects included in this article are not only cool but fun! This article will show some interesting DIY pendulum ideas and projects that are great for learning how to make a pendulum using various materials. Not only are these projects entertaining, but they are also very relaxing and great for your stress relief. So let's get creative and make some beautiful pendulums that can communicate with us!
You Can See: 15 DIY Plywood Projects You Can Build Today
Skill Level:
These DIY Pendulum projects are slightly different from most of our other DIYs. They typically aren't the first thing that comes to mind when you think about making things with wood, but each one is clever and fun to make! All you need is some wood or crystal, a rope or chain, and a good idea, and you're ready to go. This DIY post will help you create different DIY pendulum projects depending on your skill level. Whether you're a beginner and want to learn the basics or advanced, there are many projects you can try.
Uses And Benefits:
Creating your own DIY pendulum plans is a fun and easy way to learn more about yourself, the universe, and your spirit guides. The pendulum is an unmatched divination tool, providing accurate information about your future and often revealing the causes of health problems. It can also help you create a more positive situation for yourself in many different areas. It's very accurate when used for dowsing rods. These unique and amazing DIY pendulums will show you true magic and how to work with them. Make your own with these great ideas for beginners!
In this article, you will find 25 DIY Pendulum Ideas and projects made by creative people out there that are sure to make your own pendulum experience so much fun and interesting!
Handmade DIY Pendulum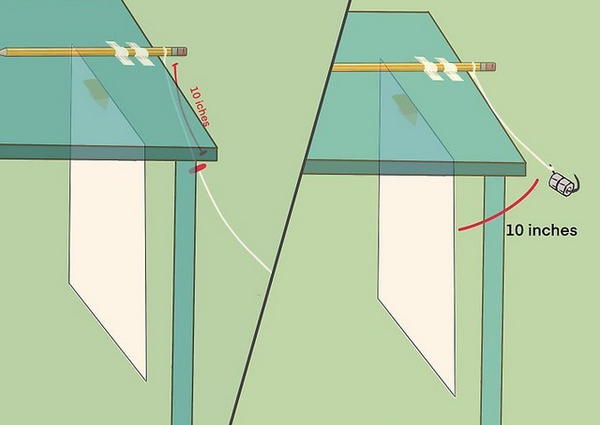 This DIY Pendulum is a classic demonstration of an accurate tool for fortune telling, mineral testing, and more. Using simple supplies, a thread, something to suspend on, and pendulum bob, you can make your own pendulum to explore how it is affected by magnets, water, heat, and cold. The most important thing when making a pendulum is a clear mind, allowing you different channels and thus gathering insight into any situation or problem facing you. The outcome is always fun and exciting!
DIY Pendulum Swinging Salt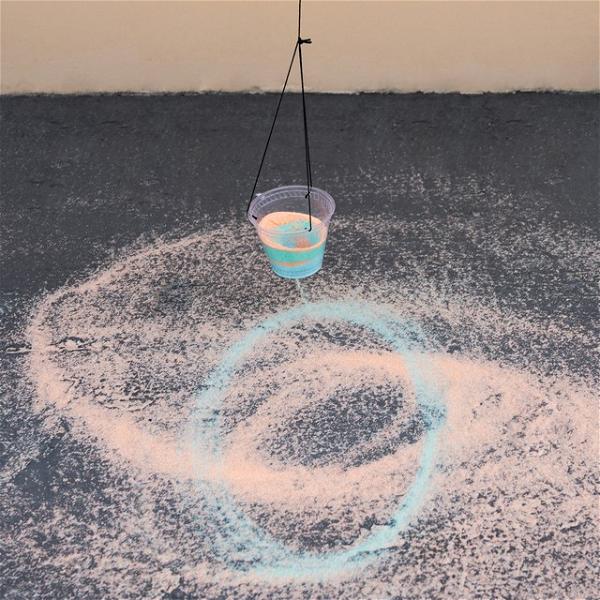 With just a bit of food coloring, some table salt, and a glass jar, you can create an intriguing pendulum that will enchant any visitor to your home. Attach a string to the bottom of the jar and place it over a small roll of paper on a table or floor. Once the string has been cut to size and tied off at one end, add different colors of food coloring into each salt container. One by one, pour them out onto the small paper roll and watch how your pendulum works!
DIY Pendulum - Newton's Cradle
Newton's pendulum is an optical illusion demonstrating centrifugal force's effect on objects. The illusion is created by a looped cylinder whose sides are cut at different angles so that it appears to 'swing' back and forth due to gravity, but it doesn't. For this project, you will need cardboard, glue, thread, and small bead balls to build something beautiful and useful. The structure was made from 3 pieces of cardboard measuring 20cm by 10cm each. Toothpicks were used on one half of the structure to frame a square on which the balls move freely when attached to the thread at regular intervals.
DIY Pendulum For Fortune Telling
In this DIY video tutorial, you'll learn how to create a magical pendulum. You will be able to use any gem or stone and create your own magical pendulum with just a few simple supplies. This is a great beginner project for those who are just starting in the practice of pendulum divination. The pendulum allows you to gain insight into your future without needing a psychic or fortune teller. Want to improve your intuition? Learn how to create your own pendulum today!
DIY Pendulum Wave Idea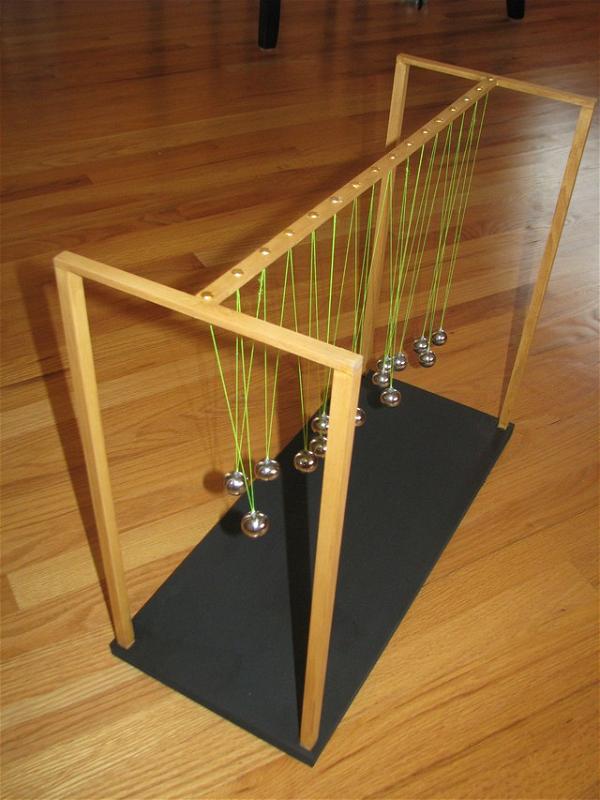 It is important to follow the steps correctly to get the desired result. This wave pendulum requires you to cut, paint, and sand a base. Cut out your design of choice and stain or paint it. Cut two pieces of 2" x 2" wood to attach the wooden pieces together, first predrilling holes through all sides. Next, attach the wooden pieces to the base and use wood glue and screws to keep them in place. Finally, sand down all parts of the pendulum and connect each portion to each other using hinges.
Pendulum For Beginners
When you're a beginner, it cannot be very clear to figure out how to use a pendulum. The best thing to do is take your time learning and testing the tool. In this video tutorial, we will teach you all you need to know about making the Pendulum and its uses. This video tutorial will teach you how to use the Pendulum and its uses. It can be used for divination, map dowsing, or just for fun. Watch the full video tutorial for more information about this project.
How To Make A Pendulum
To make a pendulum, you will need two pencils and a ping pong ball. You can use any coke bottle, but a small glass bottle will give the best results. Your pendulum should be mounted on a heavy base that is stable enough to stay on its own. Arrange the pencils so that they are aligned perpendicularly at an angle of 90°. Attach one end of each pencil to the cap of your bottle such that their perpendicular edges form an angle at 90°with one another. Then suspend your ping pong ball from this arrangement using some string or thread.
How To Make A Simple Pendulum
This simple pendulum is a great way to get started with pendulum dowsing. It has no moving parts and is easy to make so that you can have one in no time. When a mass is suspended from a length of string, gravity pulls the mass toward the center of the earth, while Newton's third law states that an equal force is placed on the string in the opposite direction. The oscillation will continue as long as it is not hindered by friction or other outside forces.
How To Make A Pendulum Wave
This tutorial takes you through the steps to make your pendulum wave. It is a great way to build a pendulum and adopt it by several other pendulums. This device will create amazing patterns as the waves form spiral, double helix shapes and more. In this step-by-step video, we show you what materials are needed, how to assemble these parts into one structure, and how to get it up and run so that it will turn into an amazing show of complex shapes. This video is ideal for quick ideas on how to set up physics experiments in your classroom or home and for children looking forward to engineering careers.
Magnetic Pendulum to DIY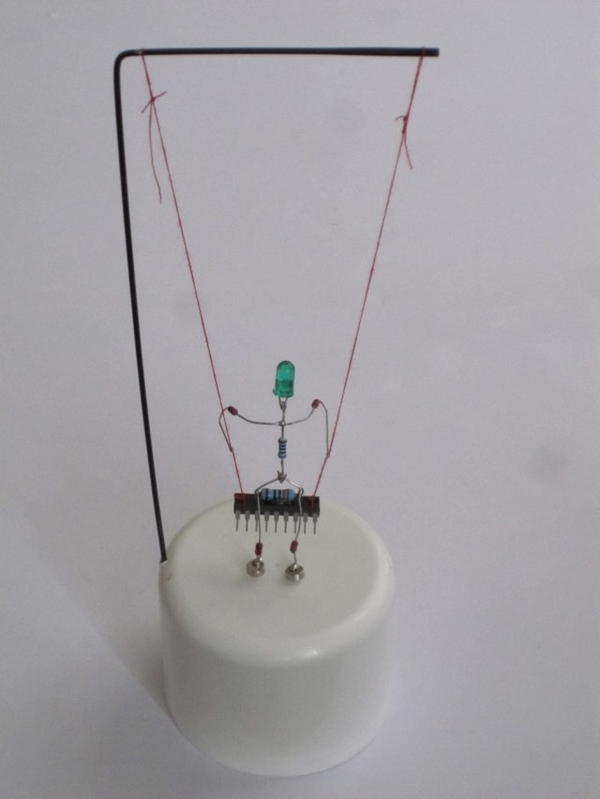 There are many pendulums to choose from on the market. But they are expensive, and if you don't know the science behind those pendulums, then you may get confused. This is why a magnetic pendulum is a good option if you want to try something new in your life. Here we have provided all the materials needed to make this magnetic pendulum, including iron or other metals rods, wire and a strong magnet. This tutorial uses an Arduino, coil, resistor, and magnets to create an analog display that is simple enough for beginners to understand but still leads to a better understanding of electronics.
How Do Pendulums Work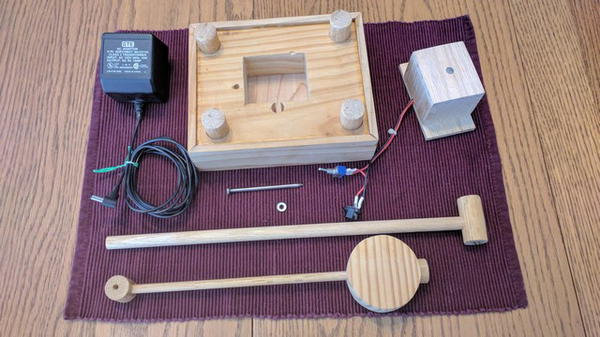 Your electromagnetic Pendulum is very easy to set up and use. Just follow these simple steps: Put the Pendulum on a table, then position your hands, so they are as close to the Pendulum as possible. Next, find a location for your coil circuit about 3 feet away from the tabletop. You can do this in two ways: Use an oscilloscope or multimeter to verify that it works, OR Turn the potentiometer knob until you see motion in your coil circuit. The magnetic field of this magnet creates an electric current in the coil, which causes the pendulum to swing back and forth.
How To Make A Quartz Pendulum
Get a jewelry wire approximately 5 centimeters long. Find a way to hold the pendulum by using a hanger. Wire a loop through the hanger and thread one end of your wire through it. Thread another loop through one end of your wires and wrap both strands together, then tie a knot at the end of each strand so that it will never come apart. Quartz is an attractive stone for this project, but many other stones can also be used. You can use a wooden dowel or rod and copper or silver strands.
DIY Pendulum With 2 Items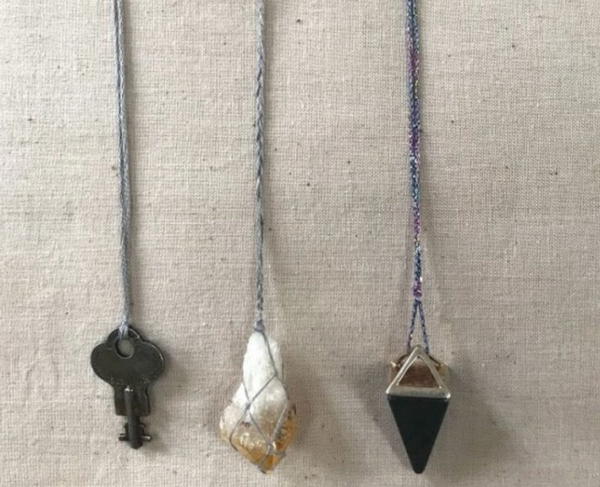 This guide to how to make a pendulum will help you get started with your first magical tool. This simple DIY Pendulum is made with two items and gives accurate answers. Professionals use specialist tools and materials to create their pendulums, but this guide shows you a simple way for beginners to start. The simple Pendulum is an easy-to-carry divination tool you can make at home. You can use keys or any other item that comes in handy for your Pendulum. Keep reading to know how to make a pendulum using cheap items.
DIY Pendulum Wave
You will need wood pieces, super glue, nails and hex nut, transparent tape, a drill and a hammer to build this Pendulum Wave. First, you drill holes in the wood, then nail the wood pieces together like so. After that, you glue them with super glue and tape them with transparent tape to align perfectly. Then use the hex nut to keep them in place. After all this, you can hang them on your wall or display shelf and enjoy their beauty!
Pendulum Board How To Use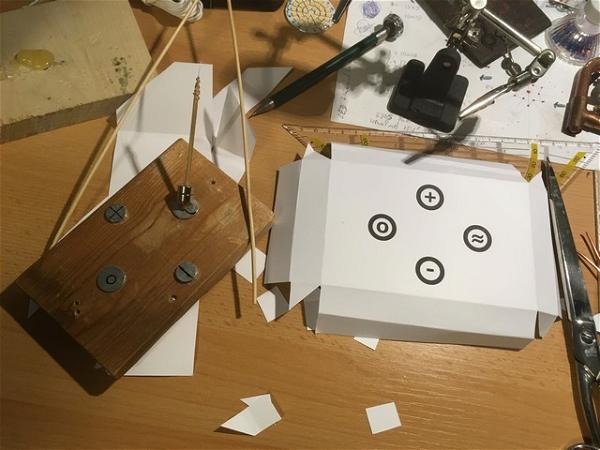 This Pendulum uses Chaos Theory to make it easy for you to receive messages from your subconscious mind. All you have to do is ask a question, and the Pendulum will reveal your answers. It works well with simple and complex questions, as it can interpret any meaning that's blurred because of our own perspective or mental blocks preventing us from seeing something clearly. The system's behavior is considered "random" in some way and exhibits sensitive dependence on initial conditions.
Making A Simple Pendulum
A pendulum is a weight on the end of a string that hangs freely from the point it is attached to some object, like a wall or ceiling. As you move the pendulum in different directions, its weight causes it to swing back and forth in an arc and can be used as a simple clock. In this project, we're making a simple pendulum at home using things you probably already have around your house or can pick up for very little money.
DIY Pendulum And Divination Board
In this project, you will learn how to make a pendulum and divination board. You can make this using cardboard or plywood as the base. Other required materials include jewelry string, lightweight chain, and a crystal or any stone. First, wrap the crystal in wire or string. Then secure all extra wires for safety by wrapping them around the wood base of your pendulum. Once complete with this project, you will have a decorative piece that makes for a great conversation piece for your home or office.
How To Make A Pendulum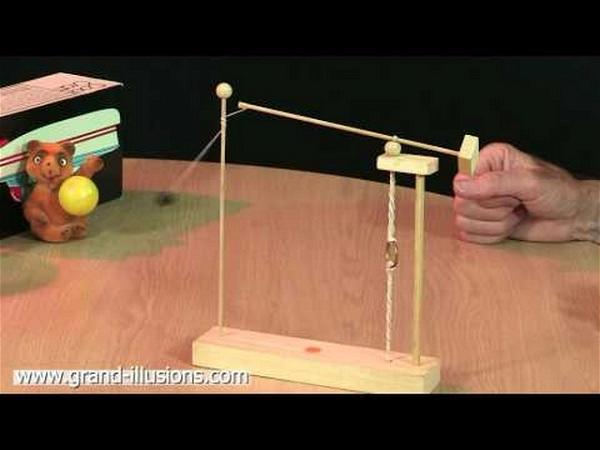 If you're a beginner in craft, here's a simple DIY project to start with. This is your chance to learn how to make a pendulum tether that can be used as an ornament in your home. Using dowels, two different sizes of wood and metal balls, you can make this easy pendulum tether. Drill holes on the wooden board and fit two dowels into them. The rubber band acts as your tether for this pendulum rather than a string or other material. Once you're done building this, you're ready to start testing it out.
Newton's Pendulum Idea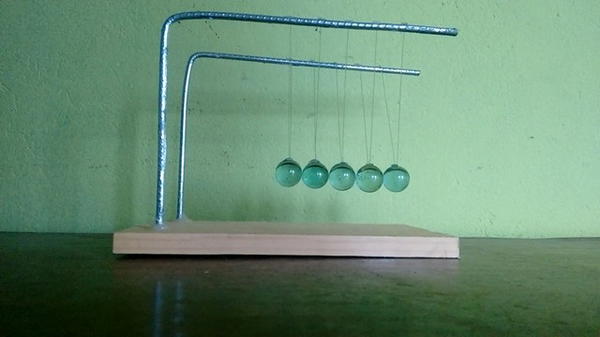 Use this simple pendulum system to learn the laws of physics. This includes the Law of Conservation of Momentum and Newton's Law of Gravitational Force, which states that all objects in space experience a force towards the center of the Earth. Join friends and work together to learn how gravity affects something as simple as a pendulum by connecting a string with two bobs and an angle-cut piece of metal. First, curve the steel rods at an angle of 90° and attach them to two wooden boards. Next, hang bobs from their threads on the angled rods, and you've got your newton's pendulum!
DIY Pendulum Clock With This Plan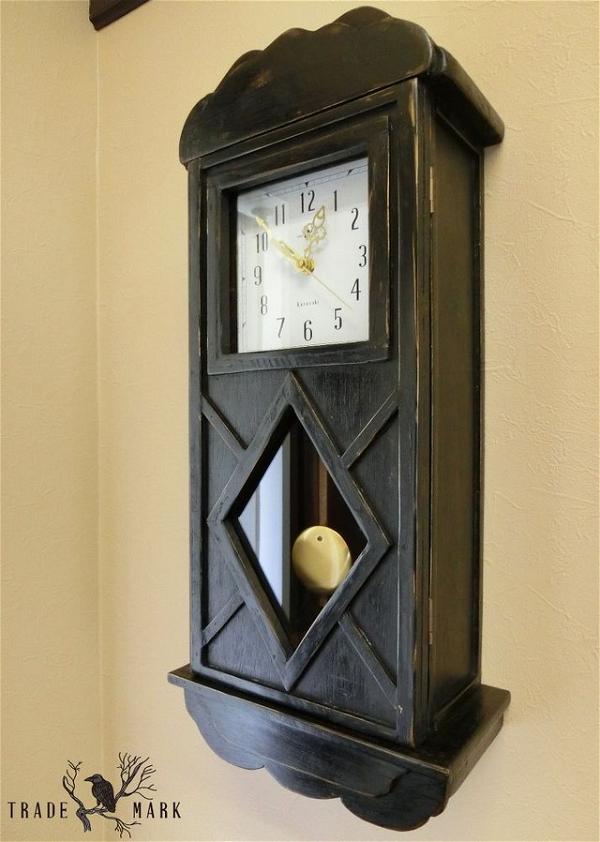 This DIY Pendulum Clock Plan shows you how to design, create and build a new pendulum clock using basic DIY skills. The tutorial provides step-by-step instructions for making your own handmade wooden pendulum clock and diagrams for each part of the project. You can use this plan to create a small or large wall-mounted pendulum timepiece in any style you choose. The finished clock looks gorgeous and is perfect for any room in your home.
How To Make Pendulum Clock
This pendulum clock is a perfect item for your study room. The unique shape and color of the clock would make it look modern, stylish and clear. First, a cardboard tube is cut and glued to form the circular base of the pendulum clock. Second, a more rigid rod with a suspension spring is glued. We want a pendulum that falls slowly enough to see it drop and rise again in our lifetime. This allows us to track time accurately and reliably between seconds, minutes, hours, and days.
How To Make Pendulum Wave
The pendulum device consists of a weight, bob, and suspension line. The pendulum is one of the very simple but precise devices used widely in many types of experiments by physicists. This reflects the concept of relative motion between objects and their acceleration due to gravity. The structure of this pendulum is amazing. It's a triangle followed by a square connected with a line made of sticks. Attach your bob to the pendulum and let it fly!
Newton's Cradle From Cardboard
This simple pendulum is constructed by suspending nine wooden balls on strings and letting them drop when they collide with a stationary ball that sits at the bottom of the structure. The first ball shoots up, collides with the second ball, then the third ball, and so on until all nine balls are in motion. Instead of using cardboard for your base, try making a square base and attaching sticks to it to give it strength. Suspend the bob with thread on one of these wooden sticks, then tie it off at the top of the box for support. Use extra string to attach each ball onto beams sticking out from the base.
DIY Simple Pendulum
In this experiment, you will use a bob, stick, thread, and stopwatch to construct a simple pendulum. The experiment results will help you understand how the simple pendulum works. When you have finished building the pendulum, push the bob into one side of the foam structure and repeat for the other side to get a cross-shaped bob with a suspended thread hanging from both ends. Set up a stopwatch and suspend your bob using the hanging thread on both sides of your foam structure. One end should be long enough to fall below your binoculars when it is released from rest at the top of its arc; as soon as it hits the bottom, press start on your stopwatch.
DIY Pendulum Painting Tutorial
Do you love to paint? Do you love an arts and crafts activity that is both relaxing and therapeutic? Then pendulum painting is for you! Mixing water and paint in a bucket, then creating your masterpiece outdoors is a perfect way to spend the day. Whether you're teaching them how to make a beautiful pendulum painting or already know how we want to hear from you. Follow along with Alissa as she shows you how it's done. It's great for all ages and can be done anywhere!