DIY projects made out of plywood. These projects and plans show you how to make DIY plywood furniture and household items. These projects are made completely of plywood, no screws or glue is required for assembly. Using a jigsaw, table saw router, drill, paint finish and still more you'll have fun making these functional and beautiful DIY projects. From headboards to end-tables, there are a lot of great examples out there made from this versatile material. Plywood is a great material to work with when you're building furniture. Not only is it inexpensive and strong, but it can be painted or stained to create an array of beautiful styles. In fact, plywood was used in the construction of many of the pieces that decorate your home right now. DIY Plywood projects are a versatile material that can be used for furniture, storage space, and home decor.
DIY Plywood Projects

Whether you're looking to spruce up your yard or create something decorative for your home, these DIY plywood projects are great solutions. Building a plywood project can be easy and affordable. Plywood is a material that is widely available and can be used to create just about anything. Not only is it widely available, but it is also inexpensive, lightweight, and easy to cut with a simple jigsaw. Tables and chairs are two of the most common DIY plywood projects. If you have the tools and motivation to build these types of projects, then you are well on your way to creating several other DIY plywood projects. Tables, chairs, cabinets, floors, and more can all be made out of this inexpensive material. Here are 15 DIY plywood projects that will help you transform a piece of plywood into a useful and decorative item at your home.
DIY Modern Birch Table From One Sheet Of Plywood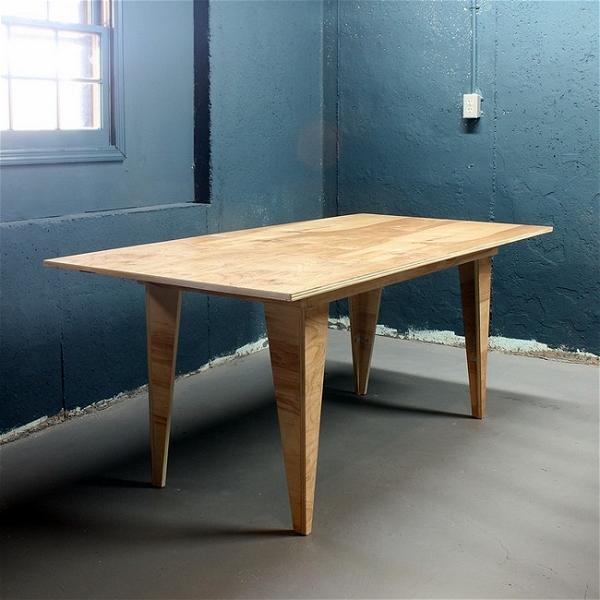 Get inspired by this beautiful DIY modern birch table made from a single sheet of plywood. This table is actually quite easy to make and only requires one sheet of plywood, two birch boards, glue, a nail gun, and straps. Even if you're a beginner you can make this simple yet stylish table in just an afternoon. Make your next DIY project a breeze with one of these gorgeous plywood cutting guides. These aim to help make things easier for you, especially if you don't have a professional wood shop or access to cutting tools.
From a range of products that includes tabletops and shelves, each wooden guide has been created from high-quality birch plywood for strength and minimal shrinkage on the cut pieces. This gorgeous DIY Modern Birch Table from One Sheet of Plywood will surely be the pride of your home. This table is very easy to make, requires minimal tools, does not require any glue, and is made up of standard materials that can be found in your local hardware store.
Build a Plywood Baggo Game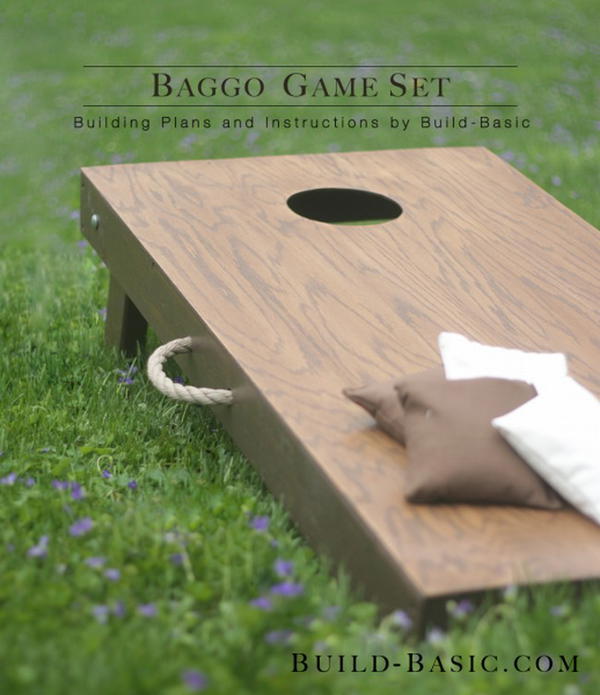 An alternate to horseshoes, Baggo is a game similar to shuffleboard. Building your own plywood Baggo board requires some simple materials and knowledge of power tools. See the "Materials" section for the list of materials and their quantities, as well as detailed illustrations of how to build the plywood Baggo court. If you Tired of always losing to family members at Cornhole? Now you can take matters into your own hands with a great environmentally friendly alternative made out of Plywood.
Sounds hard? It is! So get to the building! Build the best game of Baggo on the block, with plans to build a Plywood Baggo Game. Includes building tips, plywood, and tools list, chalk lines for measuring and cutting, how to put a finished Baggo board together, and color photos, illustrations.  This engaging and creative activity allows children to learn about building, geometric shapes, and physics through hands-on play. Both young children with adult supervision, and older children may build in teams or on their own. Instructions are provided for one level of challenge with guidelines for several other levels of challenge. An entertaining way to build spatial reasoning thinking skills!
DIY Giant Peg Board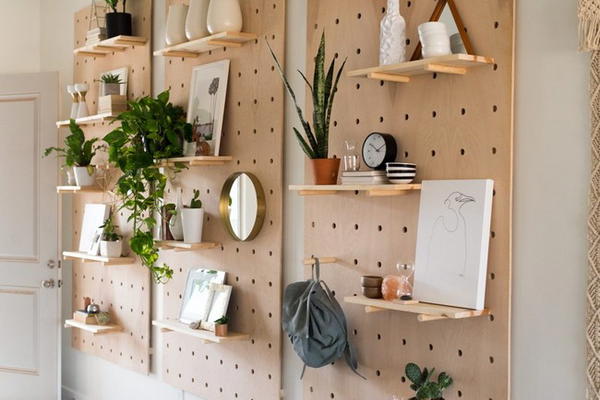 Make your own giant pegboard! The DIY Giant Peg Board is a great solution for storing tons of stuff. The idea here is that the pegboard is spread out over two boards, creating a larger work area. Use this to display or store smaller items or games like a massive Jenga set for your dorm room, living room, or anywhere you need to make a splash in terms of storage. This pegboard can be displayed flat against a wall on its mount or hung on a door with its built-in hardware.
When you're done using it, this DIY giant pegboard folds up easily so it can be stored. This DIY Giant Peg Board is a simple, useful, and cost-effective project idea to add beauty to the room and keep your things organized and off the floor. It is perfect to mount on your wall and store all of your decor pieces like photos, pencils, candles, trophies, books, magazines, and other stuff.
Round Square Wooden Clock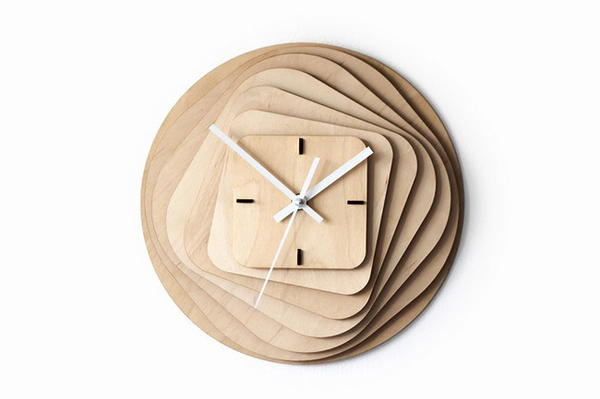 The concept and representation of time travel from the traditional to the contemporary can be found in this fully functional wall timepiece. Combining both old-world artisan techniques with modern design, Round Square is a clock unlike any other, evoking a sense of mystery – simplicity and functionality reign supreme. Round Square Wooden Clock: A fun way to tell time with style. This Round Square Wooden Clock will surely get your attention when you feature this square-shaped clock in your home or office. With its unique design, the Round Square Wooden Clock makes an excellent addition to any contemporary setting. The Round Square clock features a contemporary design that is guaranteed to stand out on the wall of any room. Made with weather-resistant and durable craftsmanship, the clock will last a lifetime. It comes in a range of colors to match your décor needs!
This unique clock is fun for both adults and kids. The D-squared style Round Square Wooden Clock will make a great gift for someone important in your life or just for yourself! Conventional time-keeping tools are for mere mortals. If you're more of a sideshow enthusiast, then we have the answer to all your clock problems: Round Square Wooden Clock. This time-telling device will make time fly like a greased-up pig. Just place the clock in the center of your kitchen table and enjoy the look of perplexity on the faces of your guests.
Plywood Hand Truck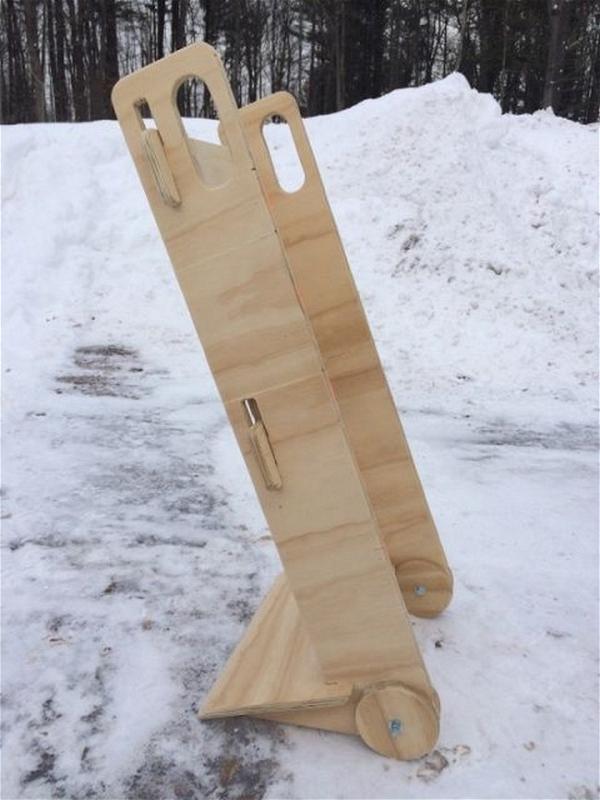 Never struggle to move a project ever again with our Plywood Hand Truck. This versatile cart is great for carrying plywood and other items as it features a wide lower deck, heavy-duty construction, and welded steel framework. Perfect for commercial applications, its two swiveling front casters, and two fixed rear casters ensure you will have complete maneuverability when moving large items around the job site.
The Plywood Hand Truck is designed to move plywood and other large materials. This hand truck features a wide lower deck that takes the weight off your back, making it more comfortable to use, and has a heavy-duty construction for years of service. This plywood hand truck features a wide lower deck and heavy-duty construction. Its ergonomic design makes it easy to transport materials around the job site. Use this hand truck to keep your projects rolling smoothly through every phase of construction. The Plywood Hand Truck is the perfect companion to your heavy-duty jobs. It features a textured, non-slip flat bed and multi-wheels with ball bearings for smooth rolling. Plus, it comes fully assembled right out of the box!
Build Your Own Beautiful Flat-Pack Chair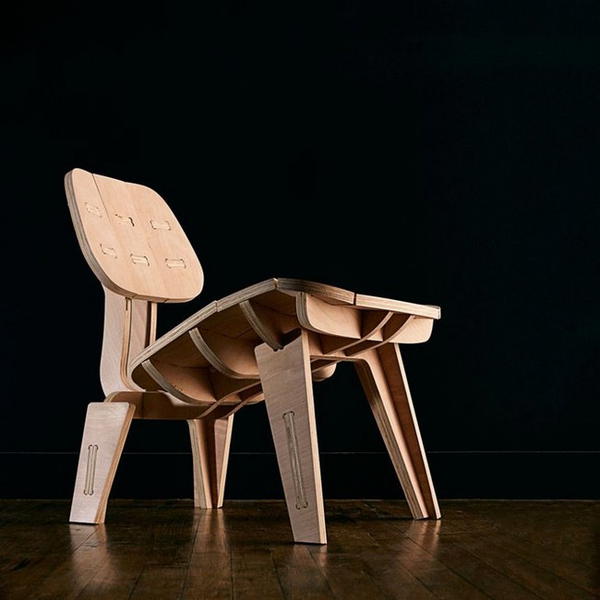 Building furniture from scratch is usually reserved for hobbyists with intricate woodworking machines and expensive workshop space. But there's an affordable alternative. An affordable 3D printer lets you design and builds unique, bespoke pieces without any fancy tools. You'll need to find a space where you can use the digital fabrication tools–some of which are located in maker spaces, community workshops, and educational facilities. It's easy to make a beautiful chair with our DIY flat-pack kit. With no tools or hardware required, it allows you to kit out your space with unique furniture to suit your style.
Getting a gorgeous, ultra-modern chair for the smallest price tag is no longer a pipe dream. With Flash furniture's Build Your Own Beautiful Flat-Pack Chair, you can order the chair of your dreams and have it delivered directly to your doorstep. Made from sustainable, eco-friendly materials such as bamboo and flax, this chair is comfortable, fashionable, and durable. You can build this chair without the need for expensive tools or workshop instruction. This design was created by a famous furniture designer in such a way that you can build the prototype at home using some tools that you probably already own.
Josh & Sarah's Modern Stool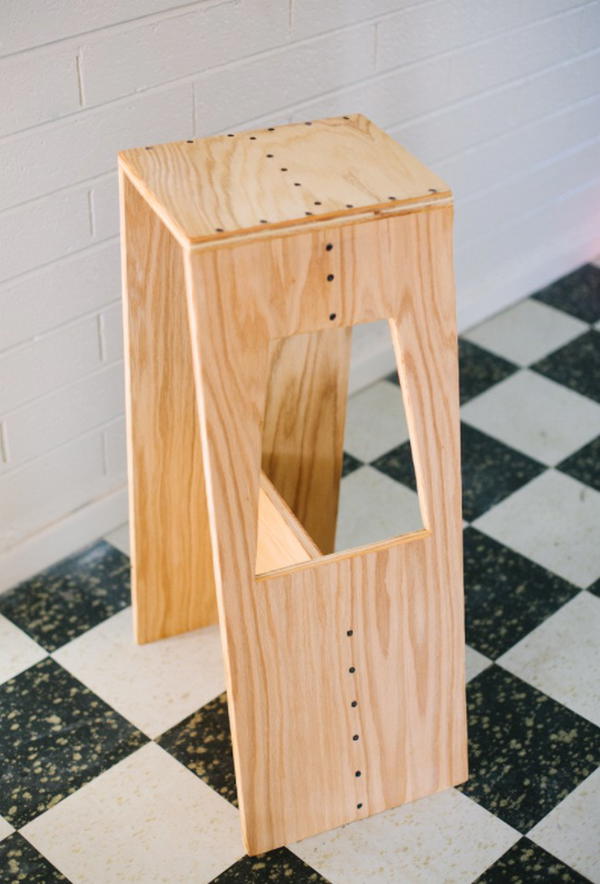 Modern Plywood Stool is a perfect addition to any home. Made from high-quality laminated plywood, this stool will last for years and is good enough to keep you comfortable during your lazy afternoon sitting on it. The classic style stool is crafted from strong and sturdy MDF, features a solid patterned seat and legs which add to the overall look of the stool. A simple yet stylish addition that any home would be proud to have. this stool looks great anywhere around the home or office. Featuring a sturdy base and wooden legs that allow it to blend in with most decor styles.
This Modern Plywood stool is the perfect place for you to rest your feet this stylish stool is functional and durable enough to last for years to come. This plywood stool has a scooped seat and backrest, giving it the look of a traditional barrel chair ... The Modern Plywood Stool is made in Finland from the highest quality birch plywood. Modern plywood Stool is perfect for adding extra seating to a family room, living room, kitchen, or other open space. The stool is designed to be functional, comfortable, and beautiful.
How To Make A Dinosaur Shelf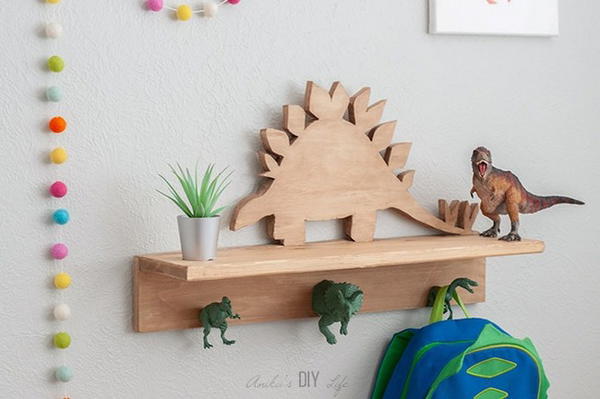 Need a shelf in the playroom? Take an ordinary ladder and turn it into something special. Children will love the prehistoric theme that is created with simple painting, stencils, and construction paper. And all of the materials are easy to find at your local home improvement store. Why spend the time and money to buy a dinosaur shelf when you can make one yourself? This dinosaur shelf is built from an old wooden ladder. The dinosaur shelf is hand-painted for an attractive and unique look.
Transform an old ladder into a fun dinosaur shelf and jungle mural for your child's room. We made this one, but you can easily customize this project using paint colors of your choosing. Making a dinosaur bookshelf is easy and fun! We painted our dinosaur bookshelf with acrylic paint and it turned out great. Here is how we did it in case you are interested in doing this to your own shelf.
DIY Vegetable Storage Bin With Dividers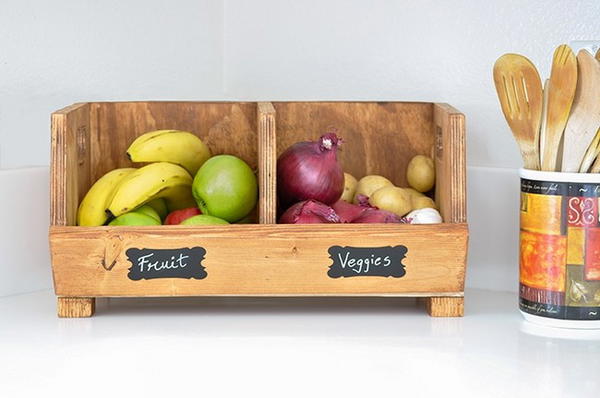 Tired of veggies going bad before you can use them? Try this DIY guide and learn how to build your own DIY Vegetable Storage Bin with Dividers. Ideal for storing potatoes, onions, and garlic because the vertical dividers keep them upright and the holes help with ventilation. With these new plastic bins, they will last a lifetime. These round bins are handwoven from willow branches that have been naturally aged to retain a beautiful. They are ideal for storing potatoes, onions, and garlic because the vertical dividers keep them upright and the holes help with ventilation.
Vegetables will stay fresh longer when stored in a cool, dark place with good air circulation. And this basket also looks attractive in any kitchen! it makes keeping track and preserving your fresh food super easy. Storage bins are used to organize endless supplies and keep them organized. They are available in many different shapes, sizes, and styles that make it easy to purchase one that best fits your needs. Finally, a container that makes organizing your refrigerator easy and fun. The vertical stacking system allows you to store like items together and provides better use of space.
Simple DIY Wood Clock Using Scrap Plywood
This easy-to-make DIY wood clock is made from scrap plywood and available at your local hardware store. This is an inexpensive, customized, and original way to decorate your home or office with a smooth, modern design. Scrap plywood and some nails are all one needs to make these inexpensive DIY wood clocks. We've got an easy way to show you how to etch a clock face onto the wooden slices, and how to arrange the pieces for maximum impact when it's all hung up, along with a shopping list so you'll have everything you need, from paintbrushes and craft knives to nails and picture hooks, at your local hardware or home goods store.
This is a very attractive wall clock made of scrap plywood. You can easily build it at home without costly tools and equipment; This is a great project for beginner woodworkers who loves to do some home improvement projects. The bench and the wall clock are a great combination for the patio or living room where you get easy access to keep an eye on time from any corner of the room. Break free from all your worries with this DIY wood project, you will surely enjoy building this one by yourself.
DIY Plywood Pegboard And Magnetic Board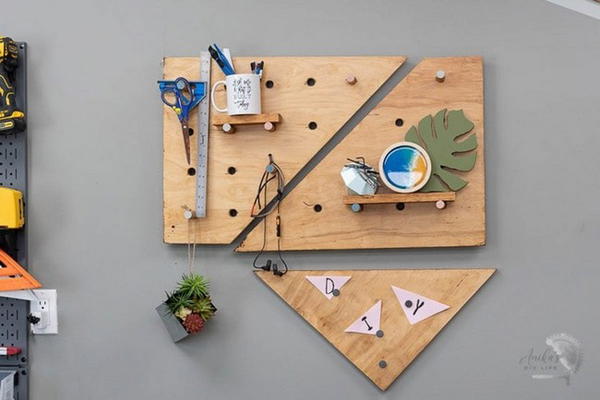 Whether you're trying to hang pictures on your wall or set up the kids' toy storage, a pegboard is always good to have. Plus, this one comes with extra magnets for mounting all kinds of tools, from hand-held drills to screwdrivers. Here's how to make this DIY pegboard and magnetic board in one hour from a sheet of plywood, some wood screws, and a handful of hardware. You can make this DIY pegboard and a magnetic board for your home in one hour from a sheet of plywood.
Perfect for a room, a mudroom, or a workshop, this DIY plywood pegboard, and magnetic board is made from nothing more than a sheet of plywood, some wood screws, and a handful of hardware. It's perfect for displaying your tools, kitchen utensils, picture frames, family keepsakes—anything you can think of! This project is perfect as a wall shelf for tools or to display kitchen utensils.
DIY Patterned Plywood Key Holder
Never fumble through a purse or knapsack again when searching for your house keys with this DIY plywood key holder. Boring, plain doors are a thing of the past thanks to this easy plywood key holder anyone can make. Just drill holes and secure the pieces with bits of rawhide or strong string, and your keys will always be close at hand. The personalized holder is designed to be used on a front or back door, a wall, or anywhere else you would like to keep your keys within easy reach. For a DIY gift project close at hand, never fumble for your house keys again.
This plywood key holder can be used on the front or back door, or with a few screws… even to hold a set of keys on your wall. DIY key holders can save money and it can be used to decorate any part of the house. The unique thing about this DIY key holder is that it's made of light plywood and you can paint it as you wish. key holders can save money and can be used to decorate any part of the house. It's unique because it is made of light plywood and it can be painted by you.
DIY Wood Wall Art From Plywood Scraps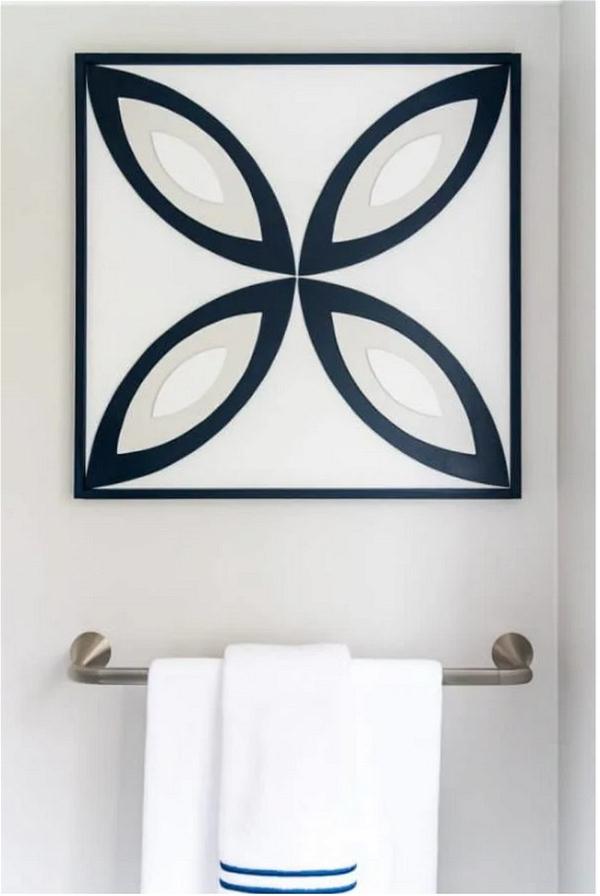 Old and new, damaged, or rain-damaged plywood pieces can be repurposed by cutting them into smaller, interesting shapes and installing them on a wall as a work of art. This arrangement looks great in a kid's room, but it also makes for a handsome accent piece in an entryway or home office. Repurpose that plywood scraps from your latest home improvement project and turn it into customized DIY art. This DIY wood wall art from plywood scraps is a great way to repurpose small bits of your leftover plywood.
It's inexpensive, quick, and easy to make, and looks fabulous! Give your home a unique look with these DIY wood wall art creations made from plywood scraps. Create a simple DIY wall art display using wooden pieces you have lying around your house. The best part is that it's made of plywood scraps so you're recycling while you create!
How To Make A Sunburst Mirror Using Scrap Wood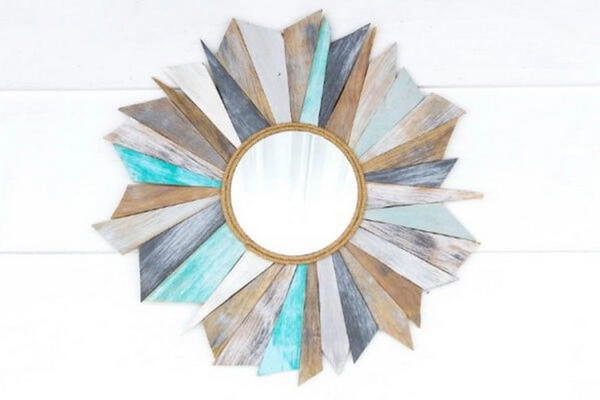 These easy to hang mirrors are a great way to add a pop of DIY style almost anywhere. Hang in your entryway above the console table, or place on the wall behind your bed. The possibilities are endless.The sunburst mirror has been used as a small decorative mirror with simple elegance for many years; however, it can be made from a few salvaged boards. You may find this project an ideal way to make use of scrap wood and turn it into something beautiful that will bring you joy for years to come. This sunburst mirror is a great project to use up scrap wood without having to buy any.
This can be made with or without the glass mirror. Hang it on a wall or lean it against a shelf, or prop it up against a tabletop. A sunburst mirror makes an attractive focal point for any room of your home or garden. The pattern helps fill small spaces because of its three-dimensional effect. Make this framed sunburst mirror from scrap wood to add a burst of reflected light anywhere in your home.
How To Make A Wooden Barn Quilt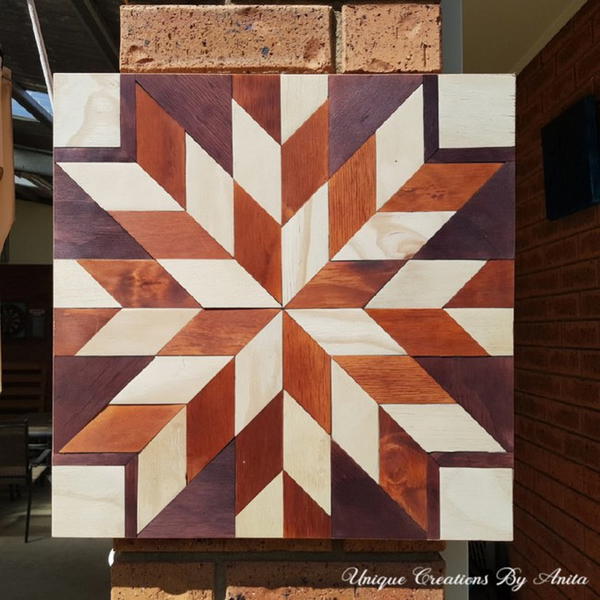 If you love to quilt, but tend to get bored easily with projects because there are only so many variations on the original, this how-to book is for you: Never again will you be bored by traditional quilt sampler designs. You'll learn how to make jaw-dropping barn quilts that never go out of style. And, once your friends and family see what you can do, they'll start asking for one for Christmas, birthdays, and even baby showers. From start to finish, the author takes you along the historic journey of how a wooden barn quilt is made.
This includes tips on choosing a pattern, finding and cutting the right wood, creating traditional hand-cut dovetails, and even tips on using an airbrush to finish your masterpiece. A must for anyone who collects makes or just admires one of these lovely woodwork pieces. This wooden barn quilt brings the joy of a country scene to any room. Featuring a variety of shapes and patterns, it pairs perfectly with our collection of vinyl wall decals to give your child's room an overall toy-filled feel. It will simply look adorable in that first bedroom.