Your search for building secret rooms in your house ends here, at this collection of DIY hidden door ideas. This site is full of different examples, covering all sorts of different categories such as hidden bookcases, hidden rooms, and more. There is also a section showing you how to tell if your door is set up to let you convert it into a secret room, which we thought was a really neat feature. You are going to love the time you spend browsing through the pages on this site. A hidden door is a great feature to have in any room because it will add to the overall decor of the room. The purpose of a hidden door is to make things look better and more eye appealing.
DIY Hidden Door Plans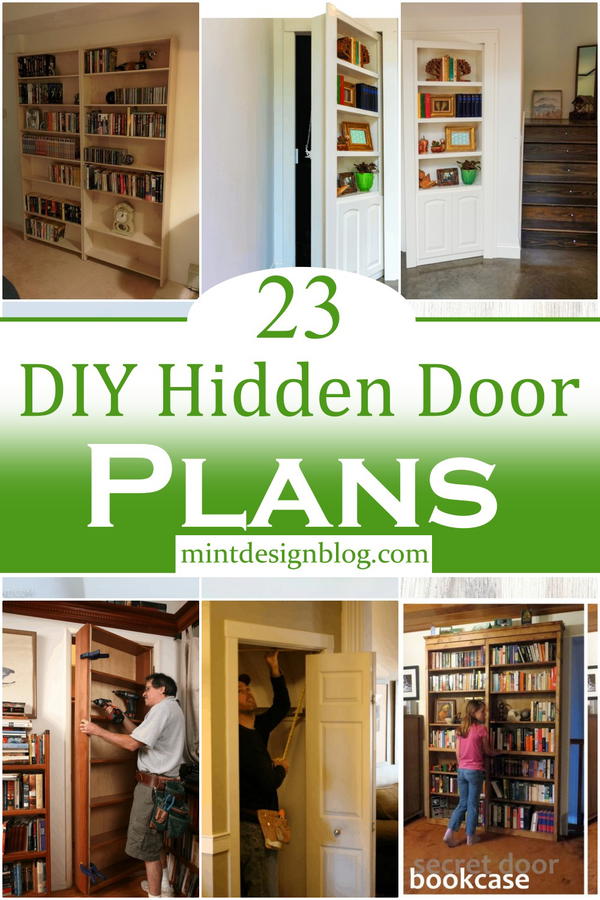 They can be made out of wood, glass, or even mirrors. You may already have some built into your home or you may want to build one yourself. DIY hidden door plans are available online, but they're not that easy to find. If you're looking for free DIY hidden door plans, you've come to the right place. Hidden doors may not be the most common type of invisible door, but they can be a great addition to any home. These doors are some of the best paths to secret rooms and other fun spaces that can give your house a unique feel. Hidden door plans are also great for people who want to add a bit of flair to their abode. No matter what good reason you have for making this kind of door, there's no denying that it can make your home look really cool.
Cheap Sliding Hidden Secret Door
Our fantastic sliding door looks just like a normal door so that once it's closed it blends perfectly with the surrounding decorations. But when rolled open this incredibly easy-to-install sliding doorway creates an instant secret access way no one will even know about. Hiding a safe, alcohol storage, or even the entrance to your secret room, the possibilities of how to use this sliding door is endless. You can make these sliding hidden door that hides the room where you store your stuff. This will give you some extra privacy, so you don't have to worry about anyone sneaking up on you while lifting weights or taking a nap!
Cabinets like these do not come cheap so if you can't afford an expensive new one, you might want to check out this plan. The materials needed for construction are also easy to find, and the assembly is super simple. This door conceals a small closet that has room for plenty of clothes and some small items. We really like the idea of this design, as it's original, cheap, and effective. This is one of our absolute favorite designs on the site - it just looks fantastic! So let's get started!
How To Make A Secret Bookcase Door to Hide A Safe Room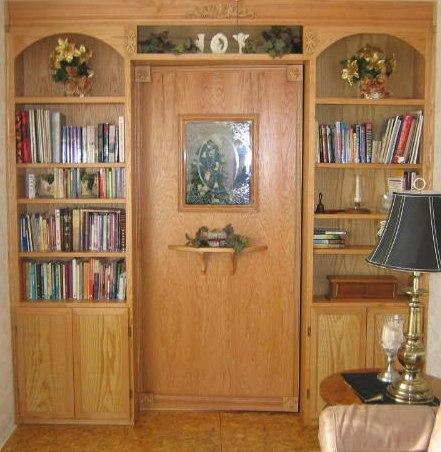 Secret Bookcase Door to Hide A Safe Room. Tired of your stuff getting stolen? Want a safe place to hide your valuables that's not obvious? You don't need to buy an expensive safe, though you can if you want. You just need this bookcase door! A secret bookcase door to make your own safe room! No one will know this door is there! Keep it hidden from burglars, intruders, and criminals.
This secret bookcase door conceals a secure, safe room for your valuables. Unless you know it is there, no one will suspect it, and the room is made of quality materials and built to last. This unit comes with everything you need and is fairly simple to install. This is the bookcase door that hides a safe room. When pushed into the wall, the secret bookshelf swings open to reveal a hidden room. There's even a portable bed inside so you can sleep and escape if you're in danger. This is perfect for locking yourself away to get away from and be safe from an armed intruder looking for valuables.
Hidden Door Bookcase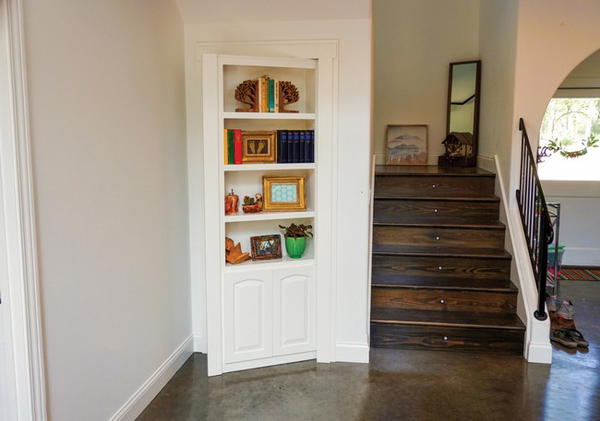 Disguised as a typical wall of books, the Hidden Door Bookcase is designed to blend into any home or office environment. Welcome to The Hidden Door Bookcase. The bookcase actually opens up to a secret room. The interior hardwood framing is a block of beautiful cherry wood. This room can be used as a mini-libraries or a safe room or whatever you can imagine. Bookcases are impressive pieces of furniture with the benefit of storing your books and being decorative as well.
This bookcase door is made from tempered glass so it will not shatter on you and the damage it could create upon impact. The knob turn allows plenty of room for your fingers to grab through the bookcase door. When turned on its side, the bookcase looks like a normal bookcase, housing your books and displaying them to ooze with charm. And it can be used as a regular bookcase, too! Simply open the door, flip the bookcase back up, and you're ready to go.
Secret Door Bookcase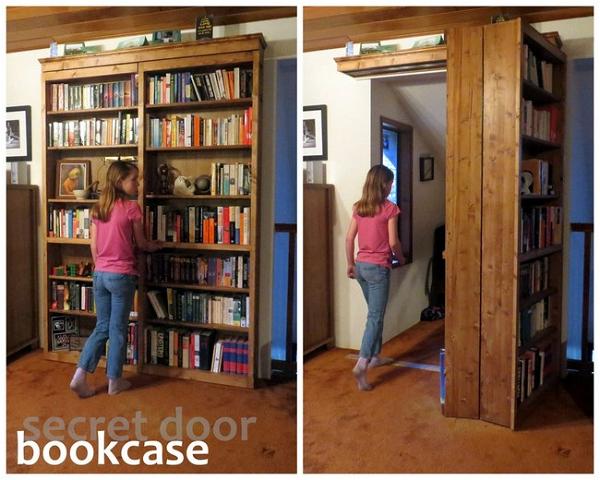 Have you ever wished for a secret door? Does your house need a bit more space for things, but you don't want to be visible? Do you have so many collections of albums, trinkets, and other personal possessions that you just need one more room to store them all? If any of these are true (or if none of these are true but you just want something new), the Secret Door Bookcase is for you! With a real working door and enough space to fit anything from bags of peanuts to rifles, this bookcase is stylish and functional. It folds easily under most beds, doesn't take up much space, and yeah, it's cool.
The secret door bookcase is a great way to maximize space in your home or office. The secret door bookcase is a great way to maximize space in your home or office. Out of sight and under the bed, it can store anything from bags of peanuts to magazines, whatever you need! Also, just like a real secret door, it has capabilities beyond what it appears to be. Creative storage solutions are always stylish ways to outsmart clutter while saving a little room in the process. The secret door bookcase is the perfect place for all those small items you need to hide away until they're needed again. Secret Door Bookcases also have capabilities beyond what they appear to be. Ambient room lighting and reactive characters bring the bookshelf to life and take your Harry Potter experience to an entirely new level!
Hidden Bookcase Doors to Secret Lair
A simple, yet effective design and a short bill of materials make this project both cheap and easy to build. The secret doors slide out from the hinges to open and swing inward so they don't take up any space when they're closed. You can customize the width of the bookshelf to fit your walls exactly or bring it all the way across, opening into a room or hallway. A fully functioning bookcase that hides a secret door. It has a unique opening mechanism; the bookcase hinges inward and then slides outward. This way it doesn't take much room inside or outside the house. You can make it out of any hardwood you have laying around your house.
The secret door is a mechanism that is fully functional. The bookcase hinges inward and then slides outward. This way it doesn't take up much space inside or outside the house. This secret lair is a fully functioning bookcase that hides a secret door, which opens with a unique opening mechanism. You can make it out of any hardwood you have laying around your house.
You can also see: DIY Sliding Door Ideas
'On The Fly…DIY' Secret Bookcase Door
The On the Fly…DIY's Secret Bookcase Door product is from a leader in the manufacturing of doors and fittings. The bookshelf door itself offers great quality whilst being pleasing to the eye. It also offers excellent security, as it can be locked off with a simple turn of the key and will make keeping books or other items of small value in your house a little easier. A bookcase can be a great way to hide compartment secret doors, and we'll show you how to make one. This is also a great project for added storage in living spaces where square foot alone is at a premium.
On The Fly... DIY shows how simple it is to make your home a better place to live. In each issue, you will find hundreds of ideas that are easy and very economical, along with an eclectic selection of products designed to make life simpler. We believe a little creativity can transform any home into a more personal, economical, and fun place to be. This project can be used for books, toys, or anything your imagination wants it to be.
 How To Make A Secret Door Bookcase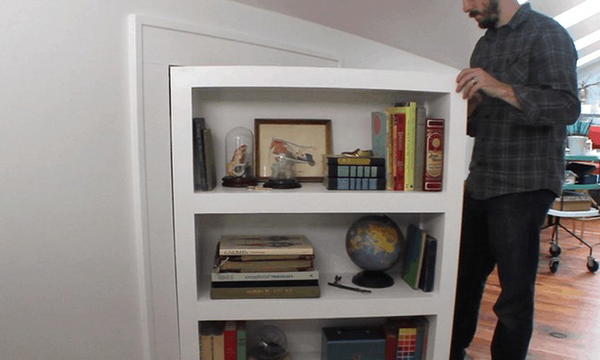 Building a secret door bookcase is an excellent project for the beginner. There are numerous do-it-yourself sites that present the building and installation of everything from indoor swing sets to bookcases with secret doors. The plan is adaptable to just about any space that we've found to be fairly common in homes. And it will allow you to build a very cool piece of furniture that you and your family will enjoy for years to come.
8. DIY Minimalistic Trimless Door
The beauty of a minimal look is that it can be simple and clean or elegant and chic, depending on your taste. So if you are more into simple elegance that's exactly what you need! The DIY Minimalistic Trimless Door can also be modified to suit any room, from a laundry closet to an elegant dining room. Best of all this door makes use of wasted space. It's great for a small nook or for creating an invisible door. This design will give you a minimalistic look of a hidden door.
DIY Minimalistic Trimless Door - this means the door can be fitted with a vertical hinge in the center, so it's totally invisible from both sides when closed. One of the things that makes this such a simple and easy hidden door is the fact that no trim is required, and no wallboard nails or other hardware for the mount. The vertical hinge can be installed directly into the stud using screws through some pilot holes, or if you're handy, you can just drill a hole and thread the screw right into it. To make it easier to open and close, you can add some cabinet hinges on each side, but they are not necessary either.
Hidden Door Bookcase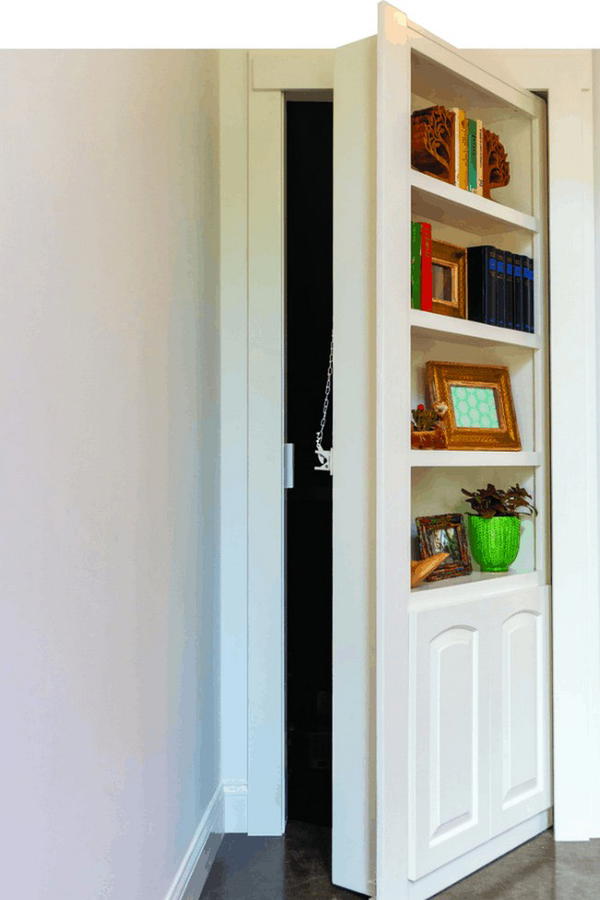 Find out how to build a hidden door. Using a number of attractive and easy-to-create bookcases you will easily be able to create your own concealed cupboard door, complete with a secret space for your valuables and items secreted away in drawers. You will also need to budget at least two days to finish it, the highly impressive results are probably worth it. This is a well-written plan with lots of useful pics, so if you want to build a hidden door, give it a read. Hidden Door Bookcase is one of the most common projects that many of us take up.
It's a great project because it can be built in the afternoon and used right away. Furthermore, the end result is very classy and even though the plans are simple, they are published by an experienced DIY pro. While the end result isn't complicated, you will need to make a fair amount of measurements (some of them taken at exact angles) and do some minor carpentry work.
How To Make A Secret Door/Towel Rack
As you look over at your towels hanging on a dowel in the bathroom, you wonder why they're not organized like in hotel bathrooms. The answer is simple: this little towel rack works great for concealing a secret door! By drilling four small holes and screwing in hinges, you'll be able to open a doorway behind your towels for storing emergency clothes or toiletries under the sink or in another room. This door can be used in your home to get access to a hidden utility room or to an attic.
It can also be used as a towel rack in your bathroom if you find that you don't have enough space in your bathroom for a regular towel rack or a cupboard for extra towels. A secret door is a must-have for any home that's trying to have a little adventure. For example, it can be used as a towel rack in your bathroom or as a way to access an attic or utility room wherever you keep it, so if you ever need extra space, you'll know where to look. The good thing about having a door in your wall is that no one will be able to see it as they walk past your room
Hidden Pivot Bookcase Installation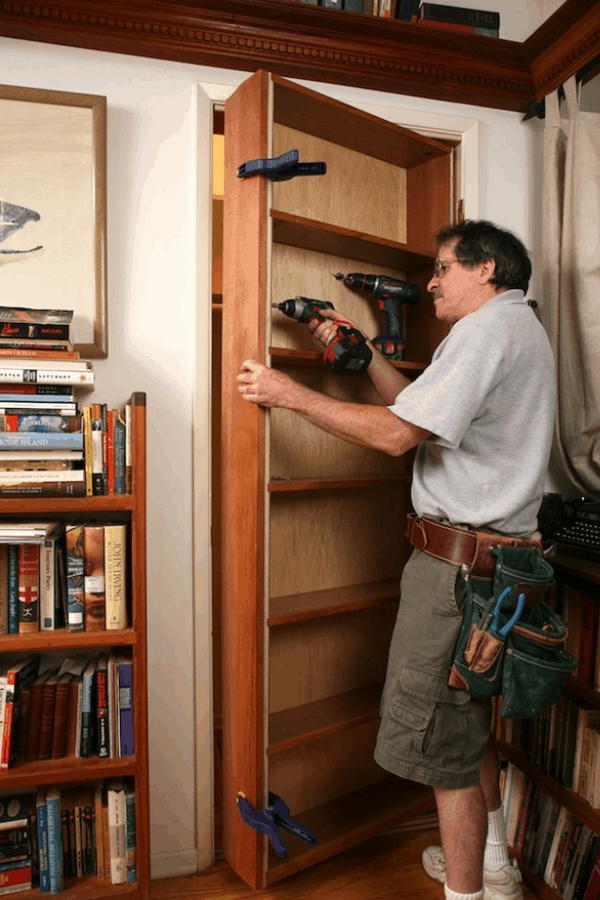 The Hidden Pivot Bookcase Installation is the ideal way to save space and create more of an attractive atmosphere in your home. The Hidden Pivot Bookcase is a perfect accent piece for any room in your house. Most bookcases are placed perpendicular to the wall which can be a pain when space is limited. The Hidden Pivot Bookcase moves into the wall, allowing you to store both books and decorative pieces in just one unit without them taking up too much space, making them perfect for little spaces or as extra storage in your home.
This very neat bookcase takes up little space but offers a lot of storage in an attractive way. You might have to do some research on the installation before you buy this furniture. You can get lots of different pieces of furniture to decor your home and office, but you will never feel as comfortable as you do in that place with a hidden pivot bookcase installation close to you.
How To Build A Secret Man Cave Door
Do you have a secret room in your house where you can hideaway? Or Do you have a man cave? If so, you need to check out our new secret door project. It's a super-simple way of turning an ordinary doorway into something extraordinary. Learn how easy it is to install acoustic foam and a heavy-duty seal on the outside of your door, and visually-transparent black mesh on the inside of your door with this fun Do-It-Yourself project. Where if anyone walks in, there's no way for them to know what is on the other side of this door. Well, how cool would it be if that door had a secret passageway leading somewhere completely unexpected? A secret entrance to a man cave is a great idea. You'll get to save money because you won't be needing to construct a special room with an expensive remodeling project.
Don't be fooled by the simplicity of this design. It's really incredibly clever, and you can actually create it using only a few items, most of which you may already have lying around the house! We'll be honest: building a secret door is a right-royal pain in the posterior. It takes time, patience, and skill. In fact, it requires all the traits necessary to keep the Queen's rear end comfortable on her many palaces and castles.
The Mysterious Bookcase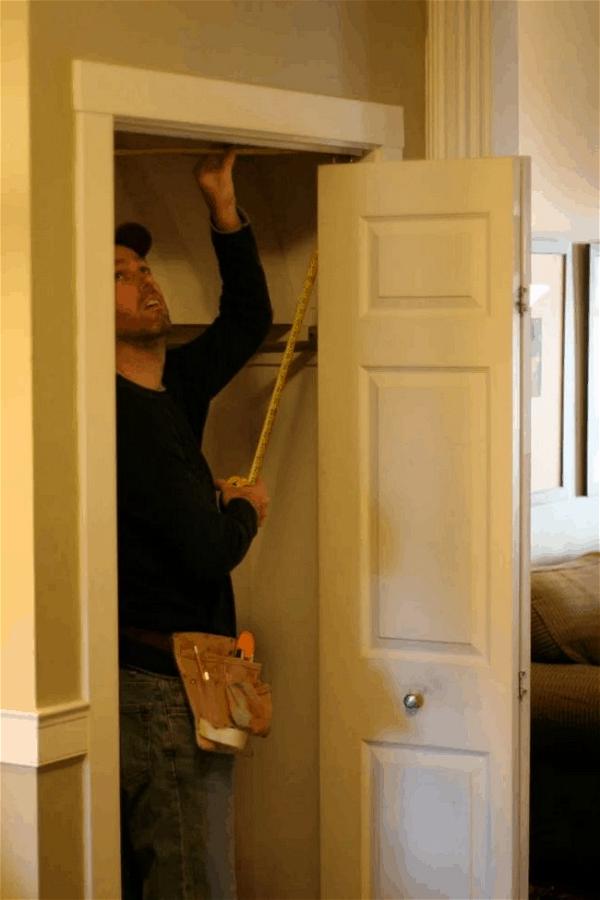 Looking for a lock system to secure your items? Try the Mysterious bookcase, Its two book sections can be opened and closed easily thanks to a latch system. The case is made of high-quality mahogany wood, and the books are painted with acrylic paint. It comes in different sizes, small, medium, and large. When closed, this full-size bookcase is just an ordinary bookcase. But if you pull a book on the top shelf, the bookcase will slide apart from the side where it's pulled and open up to give you a secret place to conceal all of your belongings. The top of each shelf has 2 built-in peep holes for spying on unsuspected trespassers.
Anyone who has ever read one of these Harry Potter books knows that there is a secret door hidden behind an ordinary-looking bookcase. This Instructable plan is for a more simple but still mysterious bookcase. The idea here is to have a real-looking bookcase with a fake door in it so that you can hide anything behind the bookcase but have them easily accessible when you pull out the correct book. The Mysterious Bookcase, aka the Mission Impossible bookcase. A bookcase door that opens with a single book. High tech in its way, but easily made with off-the-shelf items and tools this one can be customized to match any decor or make the perfect secret passage in an existing piece of furniture.
Check this Hidden Door Ideas
Very Cheap And Easy Secret Room/Safe
Do you want to hide a secret room/safe? Would you like for it to be cheap and easy? A hidden door is a perfect solution for keeping your belongings safe. This one is incredibly easy to build and only requires two sliding glass doors, liquid nails, screws, and wood. Once everything is in place your room or safe will be virtually undetectable. You may have seen inexpensive versions of these secret rooms before but those take away from the space. With this design, the room remains untouched and functional.
This is the ideal solution for hiding an unwanted room to make use of an unused area such as a hallway or doorway. This will work in any room of your home, but you may want to put it in your bedroom or bathroom since you won't want anyone walking in on you while you're getting dressed in the morning and/or undressed at night.
Building Secret Rooms In Your House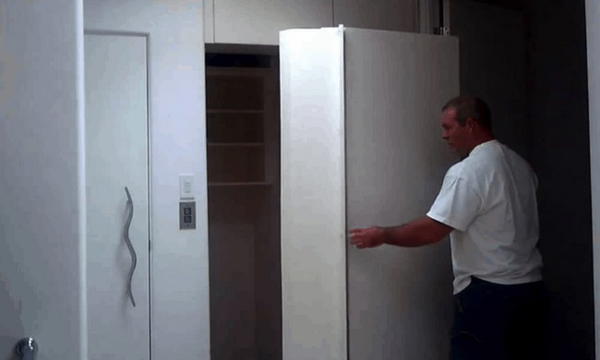 If you're looking for inspiration on creating a hidden room in your house then look no further! Here are some plans and pictures of secret rooms, hidden doors, and sliding walls – we've even included videos so you can actually see some of the projects.  Every house is different, so there's not just one way to build a secret door. That said, there are several common elements that you can use in most houses you design. This site will give you a general idea of how things are done and hopefully get your creative juices flowing as you start to work out exactly how to build your secret doors.
You can now add your own hidden room to your house without spending too much money or effort. All you need is a little bit of imagination and the determination to get it done. Hidden rooms make your home unique and add value to your property. The right hidden room in the right place can transform your home into the envy of your neighborhood, put a sparkle into family life and perhaps even allow you to fulfill that childhood fantasy or two.
DIY Hidden Doorway Bookcase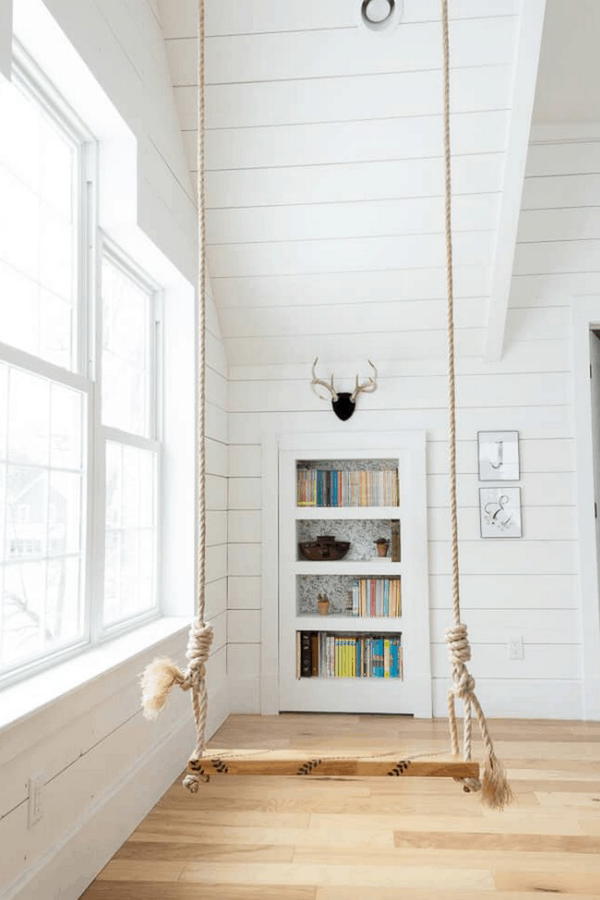 The hidden door bookcase has a door tucked away in a totally normal-looking bookcase that holds books, displaying the outside spine of the book – just like any other bookcase. This is a super cool, very functional, and also very attractive piece of furniture. The plans are easy to follow and anyone with some basic tools and moderate level DIY skills will be able to build this easily. Who doesn't need a hidden doorway bookcase? This one is not only easy to build, but it will cover that awkward space in your house you don't know what to do with! It will add some storage and style to any room in your house.
Have you ever looked for that favorite book or piece of art on your wall and wound up frustrated? It's usually not until we're in the middle of a project that we realize we don't have a drill or an extra step stool. The solution is to combine both! This is a plan to build a pretty cool hidden door bookcase that's totally believable. You wouldn't imagine there was a door hidden there – which is the whole point, really! You'll find a list of everything you need to complete the project along with clear and well-written instructions that just about anyone with even a moderate level of DIY competence will be able to follow. A great plan for a fun project.
Secret Door In Your House – Simple Setup Using A Standard Door
Secret Door in Your House: Most of the secret door plans we've seen for a bookcase door involve using a bookcase, but the problem with this is that it needs to go deep into the wall to work. This makes it impossible to use a regular, standard-sized door. And the great thing about it is that even when your friends know how to see the secret door, they don't know what it's actually hiding, so it's a fun little secret to have set up whenever you have people over. Sometimes when you need a secret door, you don't necessarily have the space to fit a secret bookcase door. That's where this idea comes in.
This is the most simple method we have ever seen for creating a great-looking secret door, and it can work with a standard door or another surface. It will only take you an hour to set up and complete. This is the easiest plan we've ever seen that uses a standard door to make a hidden room. Since it doesn't require a ton of construction or modification, it's perfect for renters, people who are short on time, or anyone else who wants to hide away but doesn't want to spend too much money doing it.
3. How To Build A Hidden Door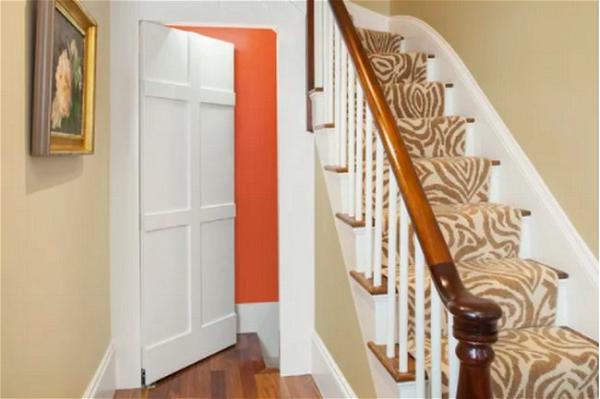 Building a hidden door inside the wall of your home is a fun, challenging, and exciting project for you to try. It's very necessary and ought to be done by everyone. Unlike the traditional and boring way of making your home more attractive with expensive decorations, this method is cost-effective. This can result in great savings as well as creating an amazing look that will leave your visitors stunned and your friends envious. It gives you all the information you need to know when building a hidden door, or pocket door, in your home.
It will focus on giving you the knowledge to build a professional and finished product. This project can be difficult if you have never tackled any sort of carpentry or construction before. With the right skills and tools, though, most homeowners should be able to tackle this project fairly easily. Here are the best ways to build one.
 DIY Secret Room With A Mirror Door
As the saying goes "an illusion is halfway to success." Looking for a secret room of your own? With the DIY Secret Room With A Mirror Door, you can create a unique, hidden space that's perfect for anything from an additional bedroom to a home office. Make a secret room out of a closet. Sometimes, the best party tricks are the simplest—and you don't need to be a professional magician to pull them off. A great idea for both kids and adults, this DIY Secret Room With A Mirror Door will add just enough surprise and intrigue to make it worth your house guests' time to stop by.
Doors on the outside give the room a truly secret look, yet it has all of the features of any other bedroom with an attached bathroom and folding closet. Turn an unused Room into an exciting new game room, hideaway, office, or home theater. Behind its seemingly normal mirrored door are a fully functional opening and closing door with a latch strap. The sturdy wood door is held closed by the latch strap with a lock and key. Also includes a working keyhole with a key and chain so it can be locked when the room is not in use.
Secret Door Bookcase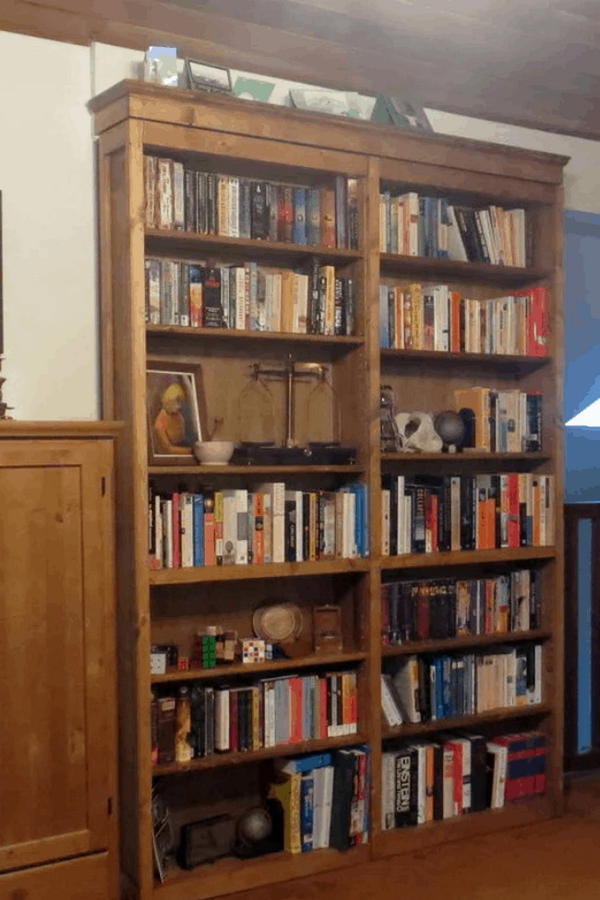 Finally, you can have a secret door bookcase that lives up to its reputation! This plan for a secret door bookcase lives up to this reputation - it has clear and logical instructions, plenty of useful photos and illustrations and they even added sound effects to show you what the secret is when the door is opened or locked. This plan for a secret door bookcase is a fun way to add storage and a little surprise to your room or office. There are two knobs on the outside of the door that the reader can turn to make the bookcase open. This fine project shows you how to build a Secret Bookcase Door with a working latch or lock, complete with sound effects. It also works extremely well as a way to hide your TV or other stuff you don't want to see.
This secret door bookcase is a cool way to add storage and a little surprise to your room or office. It works best in a room with smaller doors, but you can scale it up to fit any door size. All the measurements for materials are listed below so you can make it exactly how you want it! There are two knobs on the outside of the door that the reader can turn to make the bookcase open. The inside of the door looks nice too – think about finishing it with wood veneer or paint.
Secret Hidden Room Behind Bookshelf
We are offering a unique and original product that has never before been seen on the market or in any furniture store in the United States. Here's a secret hidden room behind a bookshelf for you. It's very easy to make and is great for keeping things hidden. This bookshelf opens easily by pulling one book forward.That's right — it seems impossible, but there is actually a secret room behind this bookshelf! the bookcase swings open to reveal the hidden room and a bed that's big enough for two people to sleep comfortably. Rest assured, your books are protected inside, with concealed storage that holds your book collection behind the swinging bookcase.
This neat piece of furniture is designed to look like one massive bookshelf with nothing out of the ordinary. Behind the books, however, is a large enough space to use as an office, reading room, or small bedroom. A perfect solution for any small home or apartment. To access the secret room, just pull out the book on the bookshelf to get in. You can even store things in there. The only downside of this hidden doorway is that it does require you to cut a hole in your wall and sneakily install several hinges. But for the look on your guests' faces when you mention that you have a secret room in your house, it's totally worth it.
How To Build A Secret Bookcase Door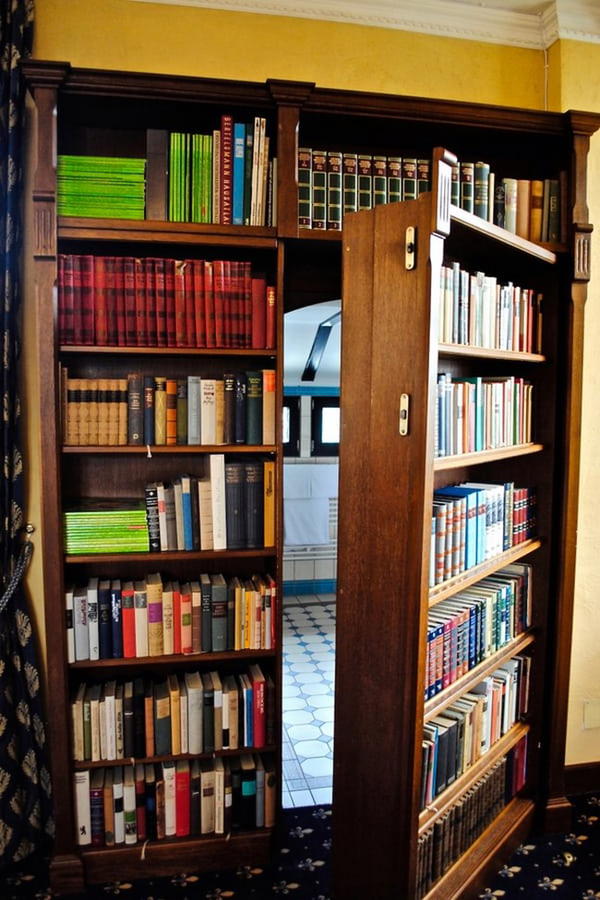 Wouldn't it be awesome to have a secret door built into your house? Whether you're looking for a cool way to hide a room, or you need to stash away extra supplies in case of an emergency. This guide will show you how to build a hidden bookcase door. And don't forget, if you won't turn the bookcase around and hide things inside it, that's no problem. Either one can even be built inside a standard entryway, allowing access to the rest of your home while keeping the secret room hidden. The bookcase door also provides extra storage space and can be customized on nearly any budget, some taking only a few hours to put together.
How To Create A Secret Room In Your House
Secret rooms are so exciting! The thought of having a place to go in your house where no one would be able to find you is what makes them so fun. If you have an extra room that you feel is just too boring to be a bedroom, study, or playroom because it's lacking in character. You can easily create a secret door that leads to a special room and it can help you add mystery, excitement, and character. Whether you are trying to convert a spare bedroom and use it as a nursery for your child, or an adult room for yourself. Making a place that is difficult to get into will certainly make it the place you do your most private things. This is the ideal method for creating a secret doorway without having to make modifications to the entire building.
It's also a great project for those who are looking for something off the beaten path and away from the mainstream. This book provides unique and fun knowledge of how to create a secret room in your house. It is best in an easy-to-read format accompany by professional-level illustrations. This book shows you how to construct a false wall within your own home which, when opened, will give you access to a fascinating little world where you can hide things and view them in private. Believe it or not, nearly all homes have one thing in common: They all have a spare room. A spare room that can add value to your home or turn into a secret room. Secret rooms are becoming very popular in homes today. There are several advantages of having a secret room in your house and that's why you should consider doing it yourself.