Home decor trends have taken a sharp turn towards walls adorned with rustic wood. Not too long ago, whitewashed shiplap was all the rage. Now, interior designers and everyday decorators alike are discovering that the simple beauty of raw wood can be an even better touch to your walls' overall design. For instant texture, colors, and ambiance, as well as a warmer feel to your rooms, wood walls are a great choice. These DIY wood wall ideas will show you how to incorporate a rustic accent into your home. Whether you want something with rough, unfinished edges or a clean, simple barn door style, you can get the look for almost no money at all!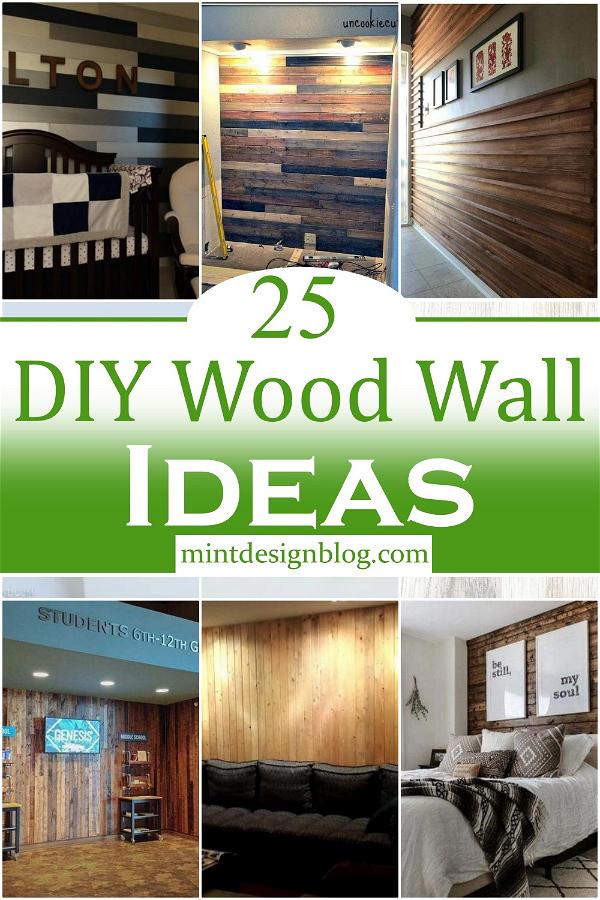 A wood wall has a way of giving your room a unique modern look. If you do not have spare wood laying around in your backyard, doing this might cost you some money. However, the little you would have to spend would be worth it in the end. Definitely, there are numerous reasons why we believe wooden walls are something to consider if you're looking for great ideas on beautifying and protecting your homes without spending as much money. Some of these benefits include: They can be used to complement other types of interior decors such as brick walls in living rooms and kitchens. Here are 25 DIY Wood Wall Ideas that you can easily DIY in such cases and various tutorials to see how you can make them.
Material Needed To DIY wood wall Ideas
You'll need:
A hammer
Nails
Roofing felt (or something similar)
Sheets of plywood or reclaimed wood stapler and staples
Wood planks
Measuring tape
Power drill & screws
Paint & paintbrush
Sandpaper
How To Build Wood Accent Wall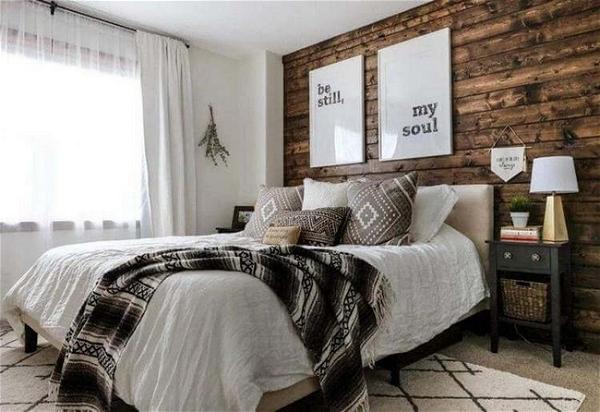 Add a cozy touch to your home with this do-it-yourself How to Build a Wood Accent Wall. With just some boards, you can create custom wall art and add a pop of rustic color to any room in no time. Spruce up the look of a plain wall with this easy-to-complete DIY project. You'll need tongue and groove boards, Minwax stain, and a few other tools to create this wood accent wall that will give your space a new dimension.
SKILL LEVEL: EASY
How To Build A Pallet Wall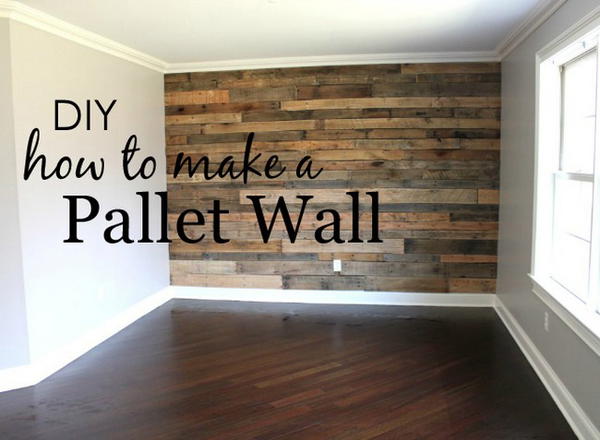 The end of your dreamy DIY project is just at the beginning! This smart guide and these proven tips will help you to make your dream come true in the best way and take the wood pallet wall project successfully with finishing. Create a stunning accent wall, backsplash, or distressing sign using this easy DIY pallet tutorial! It's amazing what you can do with just a few reclaimed wood boards and a can of stain. Make it a part of your home, office, or anywhere else where the need for privacy is felt.
SKILL LEVEL: EASY
DIY Wood Wall
The wall is one of the most important areas in any room, especially when decorating your home. Raise the style of your wall with a DIY wood wall. Make a bold statement with this wall that is sure to give a perfect touch to any space. You can create an accent wall in any room of your house. Its thin design with a natural texture complements any décor without overwhelming the space. This simple project is easily customizable to fit your needs, and with a few hours of work, you can create a stunning feature in any space.
SKILL LEVEL: EASY
Reclaimed Pallet Wood Wall
Transform the look and feel of your home with free-form wall decorations made from reclaimed pallet wood. This project is a great way to add texture and interest to your walls. The pallet pieces give a beautiful rustic look, and since you can choose the color stain that you want, it works well with any wall color. The project begins with a plain plywood wall. Then, taking apart an old shipping pallet and drilling out the nails will give you all the wood pieces you need to create a work of art.
SKILL LEVEL: EASY
Rustic Wood Wall
Want to make your house or apartment homey but aren't sure what type of decorations to use? Tired of finding cute decorations at expensive prices? This wall is a DIY project that is both cheap and easy, and it is an awesome way to spruce up any space. DIY wood slat wall is a great way to add texture and dimension to your space. It's a rustic centerpiece and definitely gives the "Wow" factor we're looking for in any room. The best thing about it – how easy it is to put together! With just a few simple tools, you can create a rustic wall treatment for any space. The finished look is much more expensive than the cost or labor would indicate.
SKILL LEVEL: EASY
DIY Wood Wall And Floating Shelves
Transform any room with a stunning, authentic wood wall done on a weekend. If you love the look of woodsy wood but don't want to mess with refinishing it all the time, consider this DIY project. It creates a gorgeous wood background for your wall that makes any room pop. This project guide gives you simple, do-it-yourself instructions on how to create your own wood wall and floating shelves. You'll find helpful hints that can make all the difference in helping you achieve professional-quality results on this and other home improvement projects.
SKILL LEVEL: ADVANCED
Mixed Wood Wall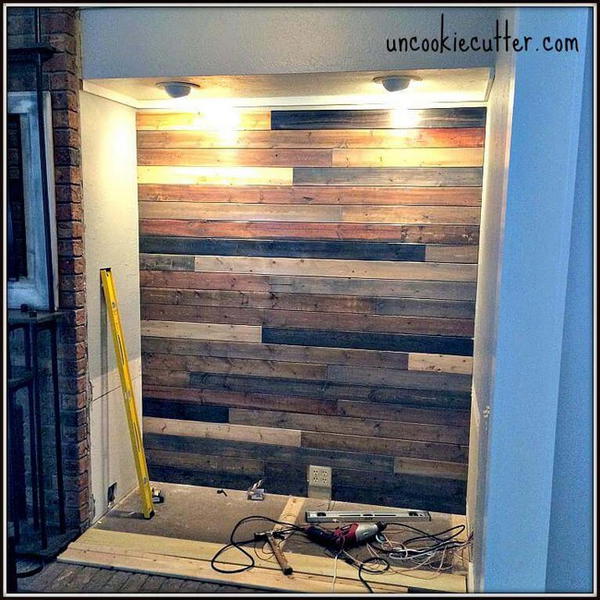 Add a rustic, farmhouse look to your home with these easy-to-create mixed wood wall shelves. Grab a few pallets, some old fence posts, or wooden furniture lying around and create this beautiful set of mixed wood walls. With equal parts of rustic charm and modern simplicity, the DIY Mixed Wood Wall is well worth an afternoon in the garage. Install the DIY Mixed Wood Wall for a bright and cozy focal point in your bedroom, living room, or apartment. It's easy to install, simply nail into place and paint, stain, or leave as is for a rustic look.
SKILL LEVEL: ADVANCED
How To Plank A Wall For $30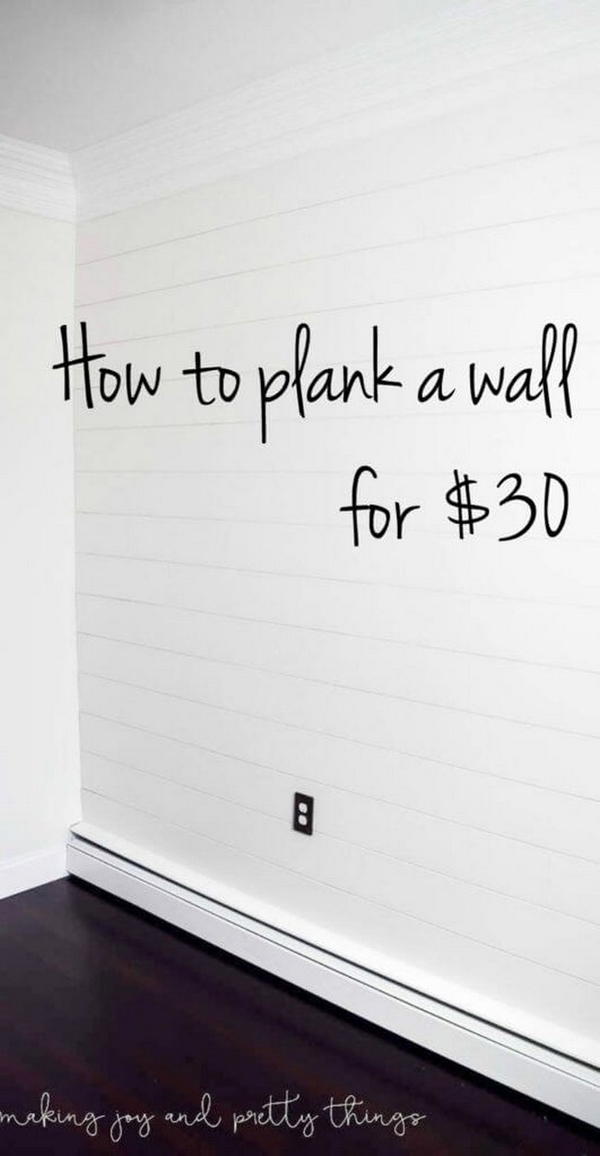 Give your living room a dramatic face-lift with this easy, budget-friendly project. This project can be completed in a couple of hours and will make your home look like a beautiful rustic interior. It's as simple as it sounds: Just mount a thin plywood panel over a slightly larger opening in the wall to create a recessed frame for displaying your favorite artwork or even everyday items like family photos and kids' drawings. With this exclusive tutorial, you'll learn everything you need to know about how to plank a wall – from start to finish.
SKILL LEVEL: EASY
DIY Accent Plank Wall Build
If you need to add a nice accent wall to a room, shiplap is a great way to go and you can even DIY it. Shiplap boards are typically made from smooth-planed pine but we decided to try a less expensive version and make ours from rough-cut pine fencing boards that you can find in your local home improvement store. This is such a fun and easy DIY project to do over the weekend. You will absolutely love the finished result, plus is easy on your budget!
SKILL LEVEL: ADVANCED
DIY Wood Wall Under $40
This is a very simple and inexpensive shiplap you can put up on your wall in a couple of hours. It is made from vinyl wood planks. Create an authentic wood wall, in a matter of minutes, using Achieve the look of beautifully weathered wood planks without the hassle of traditional shiplap or board and batten application. This is a very simple and inexpensive shiplap you can put up on your wall in a couple of hours. It is made from vinyl wood planks that have already been stained. Cut the planks into pieces of different sizes and lengths, then install them on the wall.
SKILL LEVEL: EASY
DIY Wood Wall
Transform your room with this DIY wood wall. With materials from the local hardware store, you can create a piece of art for an empty space in your home in just a few simple steps. All you need are fencing boards and nails, a roofing torch, and a stud finder. Start by locating the studs and marking the spots with a pencil. From there, use a circular saw to rip down your boards into pieces. Then, paint them and install them on the wall using finishing nails. This project will cover roughly 50 square feet, so it's perfect for most spaces. It's also easy to scale if you have more or less space to fill.
SKILL LEVEL: EASY
DIY Barn Wood Herringbone Wall
Give your walls a unique look with this DIY Barn Wood Herringbone Wall, made from reclaimed wood. A herringbone pattern never goes out of style and it always makes a statement on your walls! By using reclaimed wood that you can find at any local home improvement store, this project becomes inexpensive and an eco-friendly way to design your walls. This DIY Barnwood paneling is made from reclaimed wood for the perfect look in your space." This easy-to-install system will give your home or office walls an eye-catching new look.
SKILL LEVEL: ADVANCED
DIY Wood Wall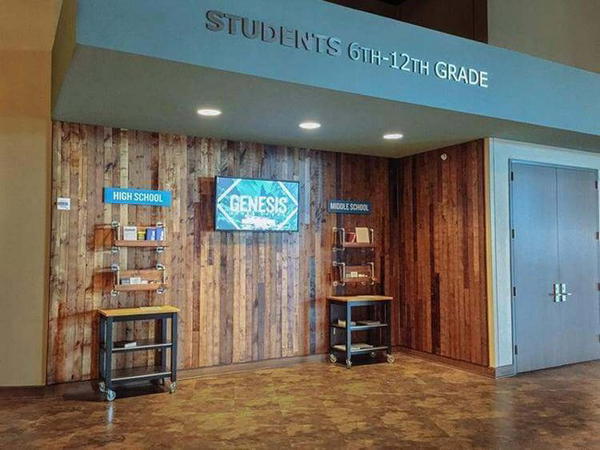 Looking for a way to create a feature wall or add some texture to your home? Then you've come to the right place. You can create this amazing wood wall by simply laying out the OSB first, and then staining your wood strips. After that, it's just a matter of screwing them in! Installing process involves nailing the wood to the wall vertically, horizontally, or diagonally. This technique is called shiplap and gives the wall a rustic look. With this DIY guide, you'll be able to complete this project in no time!
SKILL LEVEL: ADVANCED
How To Make A Wood Wall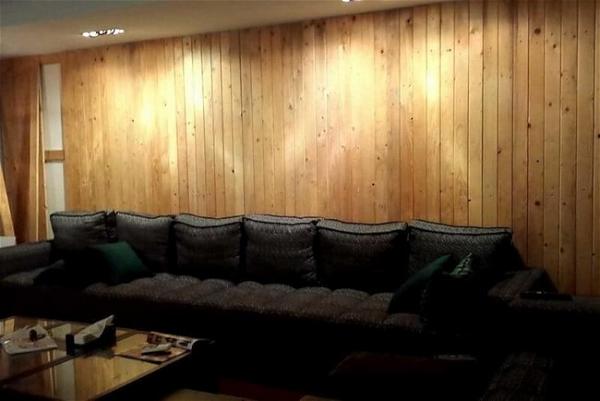 The beautiful part of a DIY wood wall is that you can use different types of lumber, and cut them to fit your space. Once the pieces are secured into place with glue, use a nail gun to hold them together. The nail gun will ensure that all of the pieces are consistent and tight together, which comes in handy for this project. Use the drill to create a hole in the wood. This will help position your nails. After this step drills all of the pre-marked points and place the wood on your wall. Personalize it by adding a splash of paint or hanging eclectic art pieces.
SKILL LEVEL: EASY
DIY Wood Slat Wall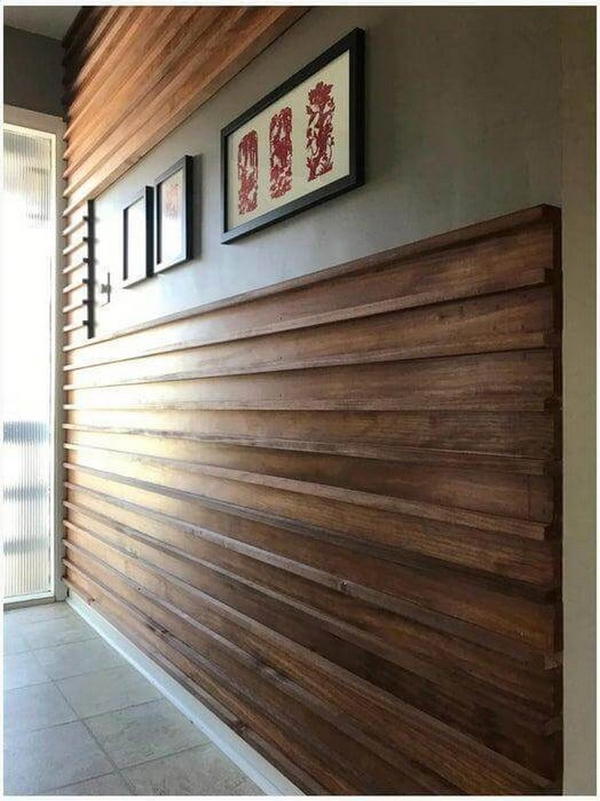 Looking for an easy and inexpensive way to add character to a room in your home? This DIY wood slat wall is one of the simplest projects you can do. The materials needed are inexpensive and can be built in less than half a day! Wood slat walls are easy to do and inexpensive, which is great for beginner DIY-ers. You'll need tools like a miter saw, drill, and an old rag. Use splatter brushes to apply one layer of sealer on both sides of the boards, then remove the excess with an old rag before the stain dries. Stain your line boards while they're still on the wall in case you make any adjustments.
SKILL LEVEL: ADVANCED
DIY Metallic Wood Wall Nursery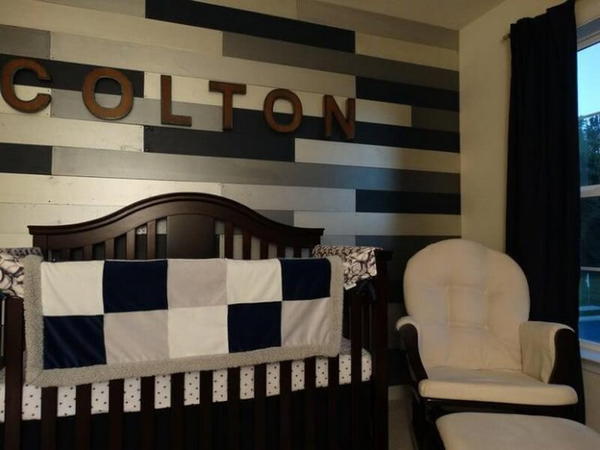 Inspired by the metallic wall trend, this DIY project gives luxe vibes while adding a touch of woodsy warmth with a minimalist edge. For those without a ton of room in their kids' rooms, this streamlined project can be completed in just a few hours over the weekend. After painting the walls and adding the wood, use pillowcases and linens to match the gold and white palette for a truly cohesive look. This stylish design is so easy to make that you'd just want to recreate it over and over again. You'll only need a few hours to complete this project and you can easily customize it for your own home décor style.
SKILL LEVEL: ADVANCED
Easy Herringbone Accent Wall
Ever dream of having a herringbone accent wall in your bedroom? It's easier to create than you may think. Turn the Herringbone wall into an art feature of your home or office. You'll love how the simplicity of a herringbone pattern adds energy and beauty to your space in a very organic way using real wood. This DIY project requires a table saw, some plywood, and about four hours on a lazy Saturday. This is not only an inexpensive way to give your room a makeover but also great bonding time with family or friends. You can customize the wall by using different board sizes or paint instead of staining.
SKILL LEVEL: ADVANCED
DIY Accent Wall
There is nothing more dramatic than a wall with a new paint color. While you can't always paint an entire room, you can give your wall a bold new look by choosing a dark or bright color to accent the space. This DIY will show you how to create a beautiful and colorful focal wall, step-by-step. You will acquire all the materials necessary, as well as all the methods and techniques to complete your project correctly from start to finish. This is an easy project and should take you a couple of hours to accomplish.
SKILL LEVEL: EASY
DIY Wood Slat Ceiling
Spruce up your home office with a new coat of paint and a DIY wood slat ceiling. If you love the look of wood but can't afford to bring it into your home, why not try a DIY wood accent ceiling like this one instead? In addition to giving your room more character, the wood on the ceiling adds warmth and texture to your space. Its minimalistic design fits in any space, whether the traditional office or in an industrial warehouse. Since it's such an easy project, it can be started and completed in one weekend. And don't stop there - try it next in the kitchen with a beamed ceiling.
SKILL LEVEL: EASY
DIY Wood Wall Guide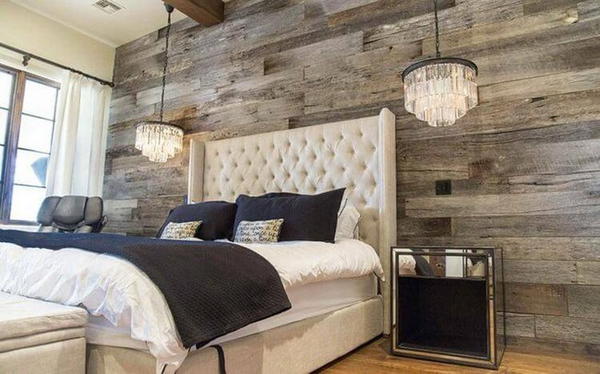 Build a wood wall anywhere in your home with pallets. You only need minimal tools and materials, including slabs of pallet wood. You can find the boards for free on Craigslist or disassemble them yourself! The best part is that this project only requires two steps: sanding and staining if you want a rustic look, or just install them as-is for a natural-looking patina! Once installed, you can finish them off with a stain if you like a rustic look.
SKILL LEVEL: EASY
DIY Wood Wall Decor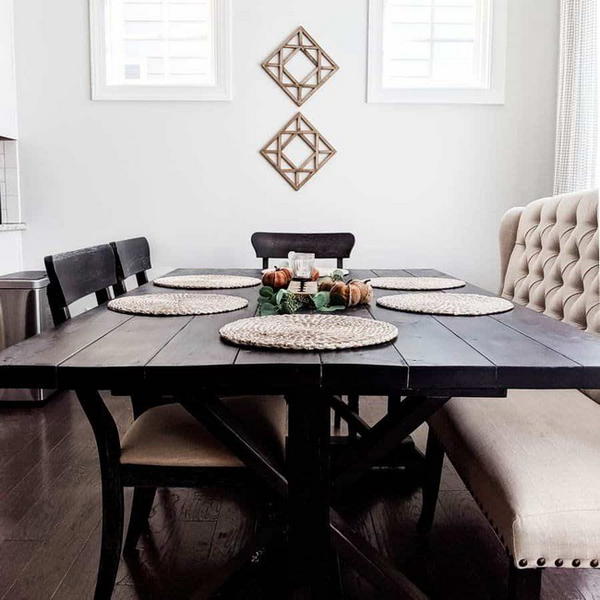 Make it a weekend! Want to create something unique and personalized? The DIY Wood Wall Decor is an easy project you can craft at home. It's perfect for your space. This room decor will make your place look different than ever before. Create this item this weekend and enjoy the unbelievable results! Making your own wall decor has never been easier! These DIY wood squares are the easy way to add unique, stylish seasonal decor to your walls. You can paint or stain them any color you want; or leave them as-is, and let their lovely golden knotted grain shine through.
SKILL LEVEL: EASY
DIY Easy Peel & Stick Wood Wall Decor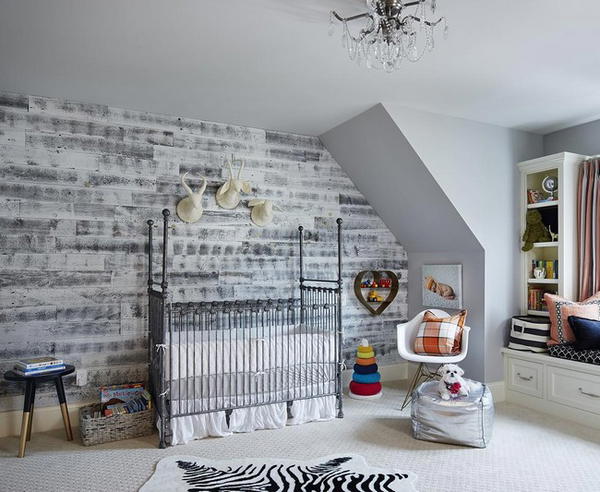 Upgrade your room and add some rustic wood charm with these Peel & Stick Wood Wall Decor. These repositionable wall decals are made from real wood and are easy to remove and reapply so you can rearrange it whenever you want. DIY Easy Peel & Stick Wood Wall Decor requires no sanding, no priming, and no painting. Simply peel and stick to create your next accent wall or revitalize any smooth surface. Give your space a rustic modern farmhouse look with this authentic-looking paneling.
SKILL LEVEL: EASY
Create A Beautiful Wood Accent Wall For Less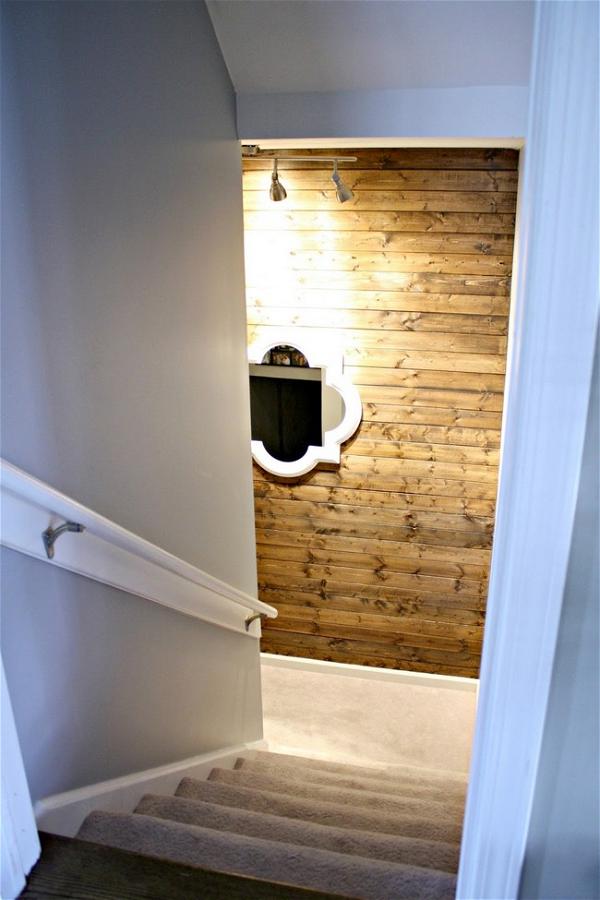 Accent walls are a fun and easy way to add instant character to your living space. And with this set of DIY instructions, you can achieve the same effect for a fraction of the cost of pre-made paneling. Create a beautiful, accent wall for less than the cost of wallpaper, stain, and stencils with this faux wood product. It looks just like real reclaimed wood at a fraction of the price, making it the perfect choice for your next project. Transform any room in your home or office by applying this product like wallpaper. You can paint or stain it to match your decor or add warmth to any room.
SKILL LEVEL: ADVANCED
DIY Herringbone Plank Wall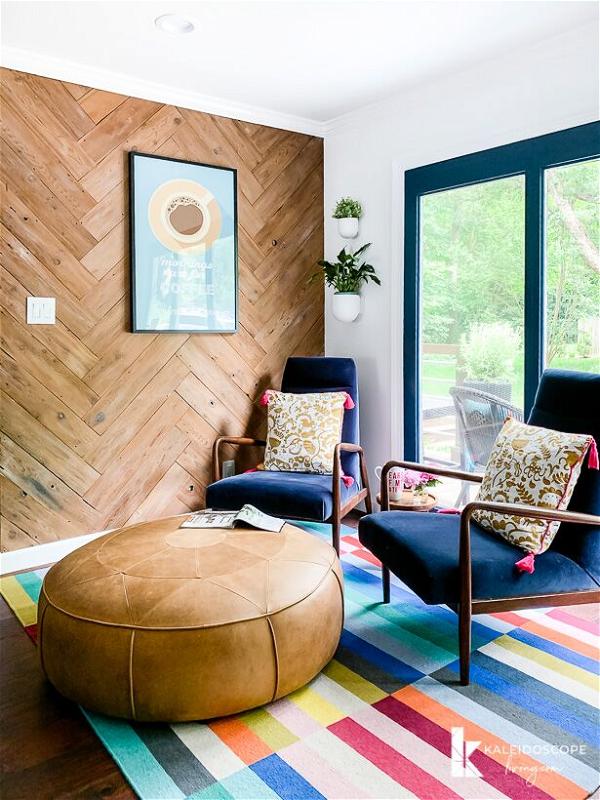 Herringbone-patterned craft projects have been trending for a few years now, and this DIY herringbone plank wall is the perfect way to get in on the trend. This fun weekend project uses basic supplies and will lend some classic charm to any space you choose to makeover. This is the perfect wall paneling if you're looking to add texture and interest to your space. The herringbone pattern is such a classic style and you will love it because it can be incorporated in any type of style – rustic, modern, farmhouse, glamour, etc! This is actually a super easy DIY project as we will show you how to create faux herringbone planks that are made out of MDF.
SKILL LEVEL: EASY
DIY Shiplap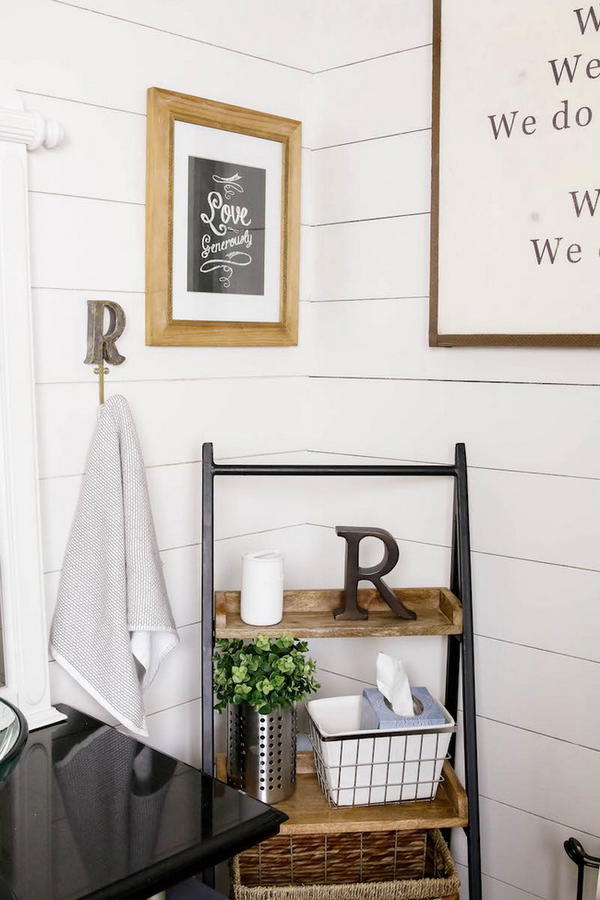 Real wood, peel and stick shiplap is a trending décor style that has been popular for its rustic, farmhouse feel. Shiplap is a great way to add modern yet rustic decor to any home. It's the perfect way to give a space a warm and rustic feel, however, it can be expensive and often tricky to install yourself. This revolutionary Shiplap design offers you this trend in gorgeous honey color with easy installation and damage-free removal. To create a DIY shiplap wall, you'll simply be attaching thin pieces of plywood up onto the wall to look like a real shiplap. It's a simple idea that saves you tons of money and is VERY easy to do.
SKILL LEVEL: EASY
conclusion
DIY Wood Walls is a great new trend that we're very excited about. Transform your room with an original wood pallet wall. Whether it's a rustic wood wall behind your bed or a cozy wood wall bathroom, each pallet wall adds beautiful texture and charm to your home. There's nothing like a wood wall to add a focal point and character to any room. Whether you have a cozy house or living in a beach shack, wood walls are perfect for every home. You can also make it even easier with these DIY Wood Wall Decor Projects to decorate your home with lots of styles. With 25 great wood wall ideas, there are literally endless possibilities of where and how to use wood walls in your home...